Website Copywriting: The Complete Guide for Beginners (2022)
Matthew Turner
Updated by Tara Malone
There are many ways to attract new leads in today's fast-paced world, including social media, online ads, content marketing, and podcasts.
But all these different methods have one thing in common – they drive traffic back to your website, the place where you sell your products.
And in order to be effective, your site needs to accomplish the following:
Capture your audience's attention
Begin to build their trust immediately
Share your story but focus on their own
Provide social proof, authority, and an instant understanding of what you do
A website that doesn't achieve this has a huge negative impact on your lead generation. So although there are many important aspects that go into your marketing strategy, none of it matters unless your website copywriting is on point.
But suppose you aren't a trained copywriter, and don't have the resources to hire a professional one. Can you really learn to write convincing website copy without years of training?
The good news is you can, as long as you know what you're doing. That's our aim with this article: to show you how to create an effective website copywriting strategy for your site, whether you have experience writing copy or not.
Let's get started!
The Difference Between Good & Bad Website Copywriting
Before we dive in, I'd first like to share with you what the difference between good and bad website copywriting actually looks like. At first, the differences may seem subtle. Yet as you work through this article you'll realize how big they actually are.
When the team from Kopywriting Kourse worked with DataStories.com to improve their website copywriting, a complete re-work took place.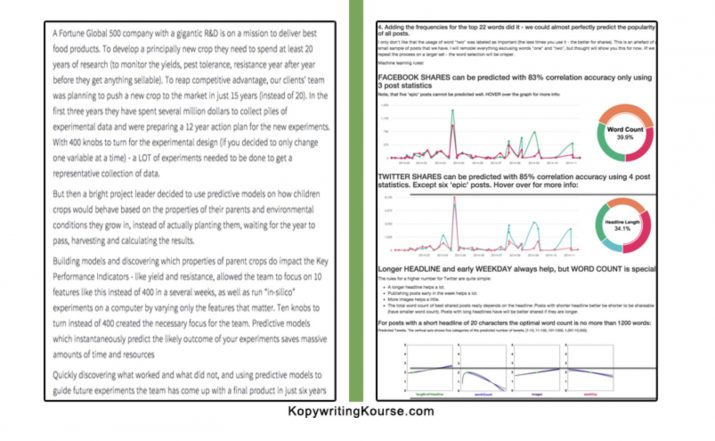 Datastories.com is run by and for engineers. As such, attention to detail is important. Yet the before-shot of this image was likely too much even for the engineers and scientists of this world.
When we talk about good copywriting for websites, this is a great visual example.
As we work through the following process, you'll begin to see why. Let's dive in.
How to Create an Effective Website Copywriting Strategy
The following 5-step process shows you how to create your effective website copywriting strategy. A lot of the advice you'll see online focuses on actual copywriting tips and rules. While these are important, this process starts long before you actually write your copy.
And it all begins with understanding your target audience.
Step 1: Know Your Target Audience
"But lots of different people come to my website."
This is a common resistance. The idea of focusing on just one or two customer avatars sends many entrepreneurs into a panic. But this doesn't have to be as stressful as you think.
Ultimately, it isn't about only choosing one, two, three, or five avatars, but rather getting to know who your audience is. Who are they? Where are they? What's their biggest problem right now? What is the solution they need, even if they don't know they need it?
What motivates them?
Who do they want to become?
All this and more defines the copy you write later in the process.
Unless you write it for somebody, you may as well write it for nobody.
Because nobody will care. There's too much content out there already that only skims the surface. The website copywriting that hits home the best is that with purpose. This requires you to write it for someone.
So, who is that someone?
Less is often more. You may like the idea of targeting five or more different avatars, but in the beginning, this is hard to achieve. So sit back and think about who you can help the most.
This whole journey begins with you getting to know your audience and finding those key people so that you know who you're writing for.
Nothing else will matter unless you do this first.
Step 2: Research Your Competition
No matter what industry you're in, you have many competitors doing the same thing as you and targeting the same type of people. In today's hyper-connected and global world, competition isn't all that bad.
In fact, having competitors can massively help when creating your website copywriting strategy.
Some of these competitors will be farther along than you, with larger businesses.
Some may be at the same level as you, or possibly a little further behind.
You can learn from them all!
By researching your competitors you can learn about the:
types of content they use (videos, infographics, visuals, articles…)
kind of language they use and how they use it
keywords they target (and how they optimize for SEO)
All this can help you create more compelling website copy. So, how do you do it?
Research Your Competitors
To research your competition, you must first identify your top 10 to 15 competitors.
These are the people appearing on the first page of Google, who have tons of social media followers and have built great authority.
There are a few ways to build this initial list:
Google Search: Search your industry or the type of product you offer and see who appears high in the search rankings.
Buzzsumo: Search for your industry and type of product, and see which of your competitors get mentioned or featured in the web's most popular articles.
These three approaches should give you a list of at least 10 to 15 competitors no matter what industry you're in. From there you can move onto the next step…
Analyze Your Competitor's Content
Go through your list of competitors and make a note of the:
content they use (blog posts, videos, whitepapers, guides)
language they use (what words and language style stands out)
way they structure their pages (visuals, page layout)
As you do, compare this to the content you've already created. How does it compare? Is there anything missing that you could take advantage of? What approaches are they currently using that you aren't?
This provides you with an overview of what other people are doing. This is often the starting point of your own website copywriting strategy. It isn't about copying your competitors, but rather knowing what they're doing so you can do it better, differently, and from a fresh new angle your audience will love.
Step 3: Conduct Keyword and SEO Research
This step is a continuation of the last one because much of your keyword and SEO research centers around your competition. There are many tools you can use to "spy" on your competition, as Neil Patel lists in this article.
Much of what you need can be done with a tool like SEMrush or SERPed. These tools allow you to:
Analyze specific keywords relevant to you and your industry
Highlight competitors who rank high in these keywords
Compare your site to theirs and spot opportunities for growth
Identify new keywords that your competitors aren't targeting
All this allows you to highlight certain keywords, phrases, and topics you can build your website copywriting around. It isn't to say you should base all your website copy around a certain keyword. The last thing you want to do is write copy solely for SEO purposes.
Yet ranking high on Google should be a focal point.
Your website copywriting plays a massive role in this.
By identifying what your competitors do and don't do, you can fill in the gaps.
Step 4: Develop a Clear Plan and Wireframe
So, why does all this matter? Why invest time into:
Defining and getting to know your target audience
Researching your competition and analyzing their content
SEO and keyword research, and what your competitors are doing
How does this affect your website copywriting strategy?
Well, it lays the foundation for everything you create next. It allows you to build an effective copywriting strategy that converts your audience and ranks well with Google.
This potentially places your lead generation into overdrive.
Not just converting more people, but bringing more people in!
Whereas, if you create copy based on what you think will work, you'll likely fall short. Not because you don't know what you're doing, but rather you're too close to what you're doing.
Expanding out like this helps you spot areas you would otherwise miss.
And it highlights opportunities you're unaware of.
With this being said, your next step is to create a clear plan and wireframe your website copywriting strategy.
Consider the following:
What keywords and phrases will you use?
Which pages form part of this website copywriting strategy?
What visuals will you use and how will you use them?
What is the journey you want to take your audience on?
Then, create a visual wireframe like these…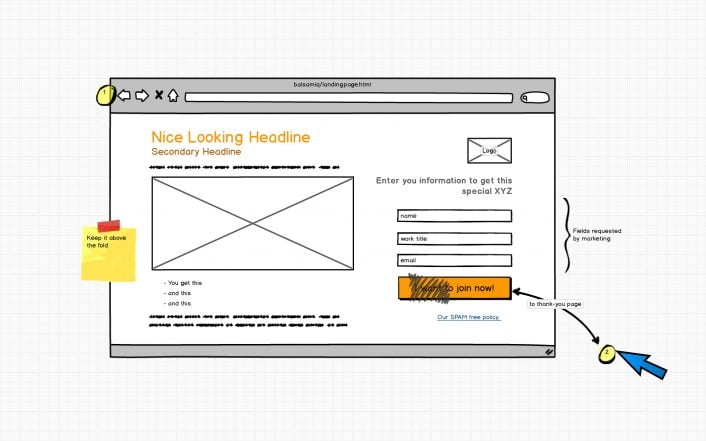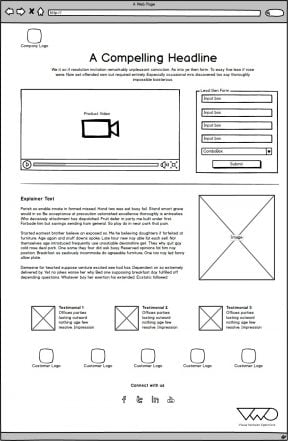 Map out where different parts of your copy will go. Build a story, and create an engaging flow of text and visuals before you even write your first sentence.
Visualizing your plan helps you spot further opportunities and potential gaps to fill.
It allows you to create compelling content with your ideal user in mind that ranks well with Google. Laying the foundations results in a more effective website copywriting strategy. This saves you both a lot of time and a lot of money.
Best of all, it makes you more money now and in the future.
All that's left to do is to write your copy, which takes us to the fifth and final step.
Step 5: Create Compelling Content for Your Target Customer
This is the step where you transform planning into action.
At this stage, you know who you're writing for and how to do so in a way that sets you apart from your competition. Writing great copy isn't easy, but it isn't so hard so long as you follow these best practices.
That's what we'll focus on now, sharing 8 best practices for creating compelling website copy. By following these practices, you'll not only craft better copy but save more time as you do.
8 Website Copywriting Best Practices
1: Make It About Them, Not You
Although your website may be about you, you should spend more time talking about them.
Their story
What causes them pain
Their biggest problem
Why they should care about you and your story
How they will benefit from following you
Instead of using the words "me" and "I", turn the focus on them with words like:
These final two words can be powerful because it creates a connection between you and them.
Yet the focus, almost all of the time, should remain on them.
Even as you share your story, it has to focus on them and the benefits they get from reading it.
2: Write Powerful Headlines
There's an art form to writing powerful headlines, and it's one you'll need to learn if you want your website copywriting to stand out.
As soon as your new lead lands on your website, what do they see? Are the first words:
Enticing?
Informative?
Striking?
Memorable?
Take this example from WAQA Studios "One Week Website" service: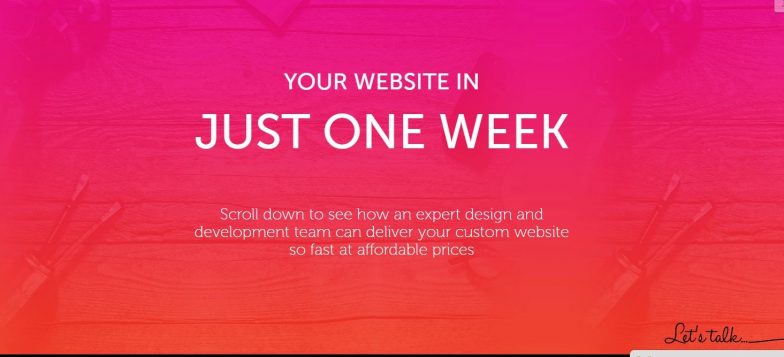 "Your Website In Just One Week"…not only does this stand out, but says all it needs to.
In the same way a book's cover should matter to an author, the headlines you create need to matter to you. Your website deserves impactful headlines that build instant trust and sparks curiosity.
Use a tool like CoSchedule's Headline Analyzer to fine-tune your copy.
Think about how you can address your new lead's biggest problem straight away, and explain what you do and how you can help. Keep it short, and ensure it stands out for the right reasons.
3: Address Their Biggest Problem
Speaking of your new prospect's pain and biggest problem…you need to address this in your website copy.
They are on your website for a reason.
Yet they don't have much time to spare.
And there are many other websites they could go to instead of yours.
Address why they are on yours and why they should stay.
Highlight their problem
Illuminate and trigger their pain
Evoke emotion and make your copy relatable!
A good example of this comes from Freshbooks: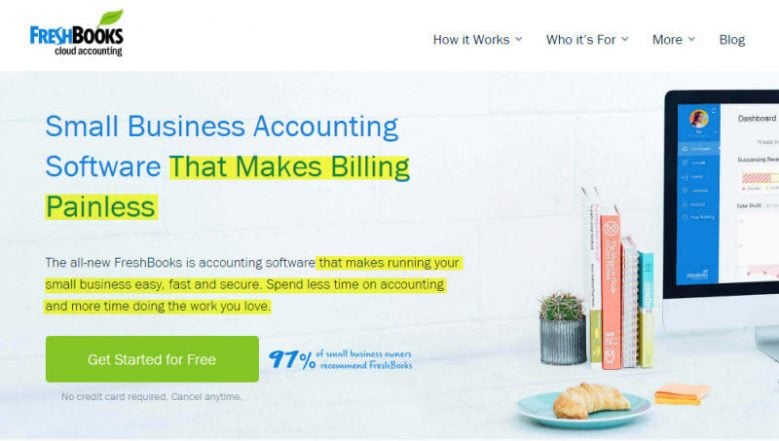 By stating how their software makes billing painless, it forces the reader to think about the pain they face each time they sit down to create an invoice.
When it comes to compelling copywriting for websites, the other person's pain and/or problem should remain at the center. This helps keep them on your page because you're suddenly relevant.
You appreciate what their problem is, and they're curious about whether you can help solve it.
4: Present a Solution to Their Problems
It isn't enough to trigger your prospect's curiosity. You need to reassure them that there's a solution and that you can help. Let's look at the above example again: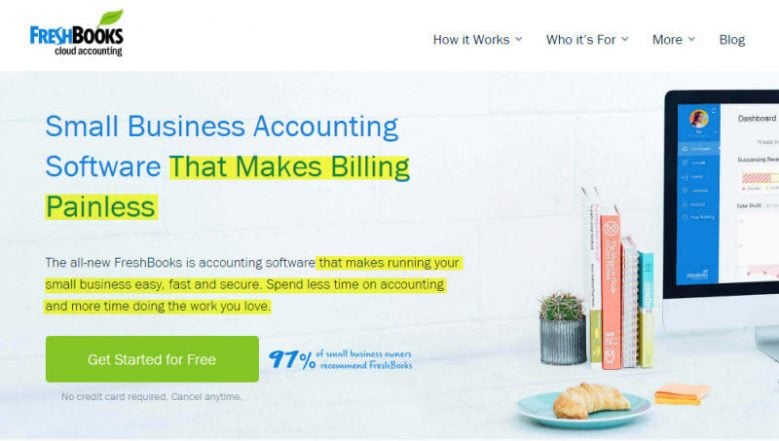 "The all-new Freshbooks is accounting software that makes running your small business easy, fast, and secure. Spend less time on accounting and more time doing the work you love."
In under forty words, Freshbooks triggers their prospect's pain and presents them with a solution.
A popular method in copywriting is to use the PAS Formula: Pain >> Agitate >> Solve.
You can use this formula inside your website copy by highlighting their pain point, agitating it further (evoking emotion), and then presenting a solution. You can do this over a long piece of content or in a few sentences.
The point is to use your prospect's pain as a focal point of your copy.
And to then hint at how you can help bridge this gap.
5: Tell a Story and Make It Conversational
One of the core reasons why the human species evolved into what we are today is due to communication.
Our use of language, and in particular our ability to tell stories. Long before Google (and even books), we learned through stories.
Keep this in mind when doing website copywriting.
Not only by sharing your personal story, but by creating a conversation through the art of the story.
The more you make it feel like a conversation, the easier you'll find it is to gain their trust.
Your prospect doesn't want to be spoken at or down to. They don't even want educating. They want to feel like they're in conversation with you; on the same level.
By turning your website copywriting into a story, you achieve this and tune into their emotions.
6: Be Concise
Whatever you write the first time around, edit it.
When writing a book, the author faces the tough task of killing their darlings. So must you when creating copywriting for websites. It doesn't matter how skilled of a copywriter you are, your first version is always too long.
You're going to need to rework your initial copy and focus on making your language more concise.
You need to share enough but never too much. Your audience simply doesn't have the time. Attention spans are at an all-time low. As the world gets ever more chaotic, this isn't likely to change.
7: Create a Sense of Urgency With Scarcity
Due to this growing trend of dwindling attention spans, it's important you create a sense of urgency when writing your website copy.
Why should they stay on your site?
What action should they take next?
How can you help them right now?
This may be your one and only chance. You've got them, so how can you tempt them to take action now, not later?
When it comes to scarcity, you can learn a lot from eCommerce sites.
Take this example from Booking.com:

You now know three other people are looking at the same room you're interested in.
What if they reserve it before you do?
There are many ways to achieve this type of urgency:
Only 9 left in stock (Amazon often uses this tactic)
33 people have bought this already (creates social proof)
This is a limited time offer (exclusivity and urgency)
Only 9 hours left before the price increases…
Whether you're in eCommerce or not, search for a way to add urgency to your website copywriting.
So long as you have them on your page, you have a chance to begin a relationship with them.
If they leave without taking action, you may never get that chance again.
8: Develop a Compelling CTA
This brings us to the final important copywriting practice you need to follow – your call to action.
What action should they take next?
Why should they take it?
How will it benefit them?
You need to make this clear with a single headline!
A great example comes from TheHustle.co: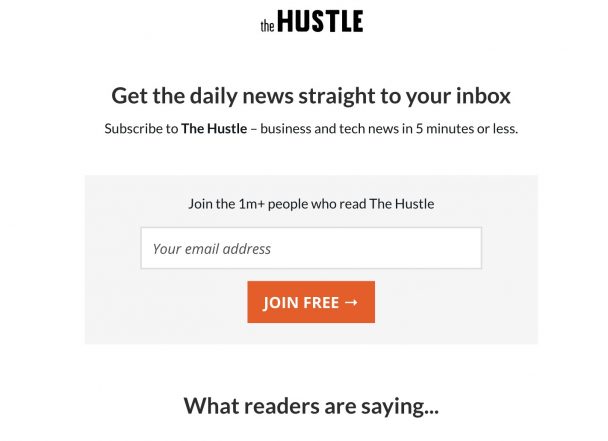 Appearing at the top of the page, this CTA is front and center.
It explains what it does and what you get, and how you'll join more than 1 million people if you do.
Don't overcomplicate this. Don't give your prospect 5+ options they could take.
Make it clear what their next steps need to be.
No matter what page they land on, you should always provide a clear call to action that entices them to take the next step with you.
This 8-step process gives you the blueprint to create compelling copy for websites over and over again. Although this journey we're on isn't over yet. Because as important as these website copywriting best practices are, they'll likely fall short unless you stick to some copywriting golden rules that help you create clear messaging that truly hits home.
This is what we finally focus on.
The 7 Rules of Effective Copywriting for Websites
Writing great copy is an art form. There are certain rules to live by, whether you're writing sales copy, social media copy, ad copy, or website copy.
By utilizing these rules, you greatly improve your chances of success.
1: Use Active Voice
This isn't just a copywriting golden rule but a writing one in general.
Be active, not passive!
Here's an example of what Active Copy looks like:
Our new program helps you save time by working smarter, not harder.
Whereas this is what it looks like in a Passive Voice:
The new program created by our company can help you save time by working smarter instead of harder.
Passive copy bogs down the flow and is often longer than active copy.
2: Make Your Text Skimmable
Remember that example from Datastories.com?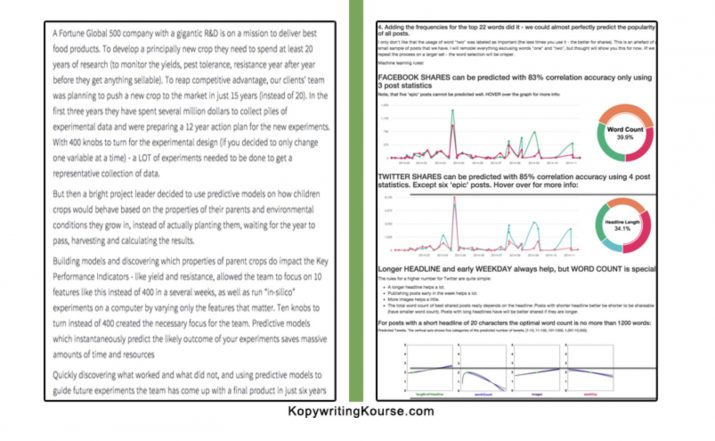 The before shot is long and overwhelming. Unless you're reading a book, you don't want to read passage after passage like this.
Your prospects want to skim through your website copy and get a feel for what's on offer.
Use bullet points
Incorporate visuals
Break up paragraphs
Add different fonts, sizes, and text formatting
Use headings and subheadings to break up sections. This is modern-day copywriting 101, whether you're creating a blog post, Facebook message, email, or copywriting for websites.
3: Use Short, Simple Words
Get rid of the jargon. Stop trying to impress your prospect.
Keep it simple, use short words, and get to the point!
Why write "obtain" when you can simply use "get".
Or why use "assist" when you can just say "help".
4: Use Positive Language
This is an important one that's easy to forget, especially when trying to highlight your prospect's pain.
It comes down to mindset and getting your prospect in the right frame of mind. If you focus on negative language that focuses too much on what they don't have, you risk them slipping into a negative state.
You don't want this, because in a negative state of mind they're less likely to act.
So instead of writing:
Don't Get Stuck Behind The Competition.
Use:
Move Ahead of Your Competition.
Focus on the positives and what they will get.
Keep your website copywriting as uplifting and positive as you can.
5: Speak THEIR Language
This comes back to knowing who you're writing for.
Yes, you want to keep your brand style and voice.
But you must also speak as your prospect does.
The language you use for millennials differs from boomers.
The language for corporate types differs from tech startups.
Focus on who you're writing your website copy for.
Use their language and speak as they do.
6: Balance Your Text With Visuals
One way to ensure your website copy flows and remains skimmable is to use visuals!
A picture can say a thousand words.
But even if it doesn't, it gives your eyes a rest.
The reality is, reading's a time-consuming task.
If your website only has text, it may turn your prospect off.
7: Include Emotion In Your Copy
This is possibly the most important rule and tip of all.
No matter who your prospect is, they're human.
Humans run on their emotions most of the time.
We make decisions based on our emotions.
We form beliefs and cast judgments.
We're not aware we do. We just do it; subconsciously in the background.
This can be a problem when copywriting for websites. But only if you're unaware of it.
Once you are aware, you can quickly turn this into a positive opportunity.
Because throughout your copy, you can evoke emotion and make your prospect feel.
Tell stories.
Share relatable case studies.
Involve them in conversation with you and yours
Illuminate their biggest problem
Trigger their pain and fears
Reassure them that there is a solution and a better way
Include emotion in your copy and you'll build their trust sooner than you think.
Once you make them feel something, you set yourself apart from everyone else.
So, now that you know what to do when writing your website copy, all that's left to ask is…what next?
Your First Step To Writing Effective Website Copy
Your first step is to take action and develop an initial version of your website copywriting strategy.
It's important to remember that a marketing strategy means little if the copy on your website doesn't hit home. This means that developing your website copywriting strategy needs to begin with knowing the person you serve.
Who is your ideal customer?
What is their avatar?
Why are they feeling the pain they feel?
The key to successful website copywriting is understanding who your customers actually are. Once you get clear on who they are, the rest of the process will flow much more easily from there.
If you need help figuring out who your ideal customer is, you can check out our Step-by-Step Guide to Defining Your Target Market. In this guide, we'll walk you through the steps of how to identify your ideal customer and use that as the foundation for your website copywriting strategy.
Find Your Target Market
Knowing who you sell to is as important as what you sell. Get the exact steps to identify your ideal customer and lay a solid foundation for your business.