How to Set Up a Twitter Advertising Campaign: Guide for 2022
Andrew Folkler
Are you looking to get started with Twitter advertising? With a massive user base of approximately 230 million users, Twitter has been a powerful platform for advertisers. Of those 230 million users, Statista estimates there are around 217 million monetizable daily active users on Twitter.
This audience pool opens up a vast ocean of possibilities when marketing on Twitter. However, just because the population of Twitter is so vast, it doesn't mean we should forget our marketing fundamentals. Like other platforms, Twitter advertising takes careful planning.
In this guide, we'll show you how to set up your first Twitter ad campaign so that you can start promoting your tweets and driving more engagement on the platform.
What are the Different Types of Twitter Ads?
There are several different types of Twitter ads that you can use to promote your tweets and reach your target audience on the platform. The different types of Twitter ads include:
Promoted Tweets
These are regular tweets you pay to have promoted to a larger audience, increasing their visibility and engagement. Promoted tweets will appear in timelines, search results, and user profiles.
Promoted Accounts
If you want more followers on Twitter, you can promote your account to a larger audience using this type of ad. These ads are excellent if you are looking to grow your Twitter following. These ads will appear in your feed under the 'Who to follow section'.
Promoted Trends
These highly-targeted ads allow you to place your tweet at the top of the trending topics list, increasing its visibility and potential reach. Trends are updated daily, so targeting these ads towards timely events can be a great way to generate buzz around your brand or product launch.
How to Set Up a Twitter Advertising Campaign
1. Set Up a Twitter Ads Account
There are two ways to open up a Twitter ads account.
The first way is to open Twitter and look to the left-hand sidebar. Click on 'more' next to the three dots icon.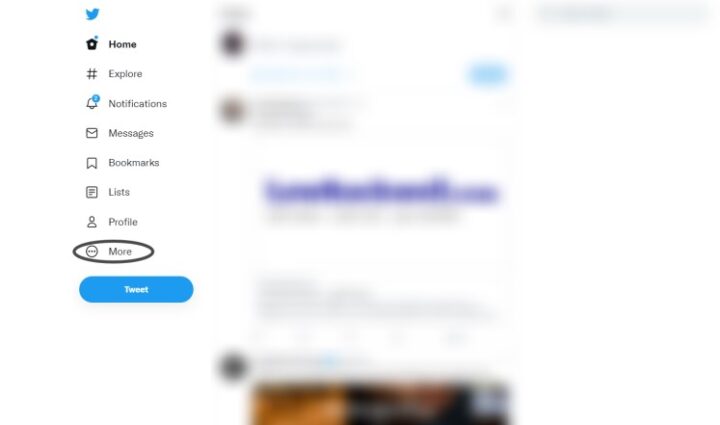 Then click Twitter ads. This will take you to the Twitter Ads sign-up page.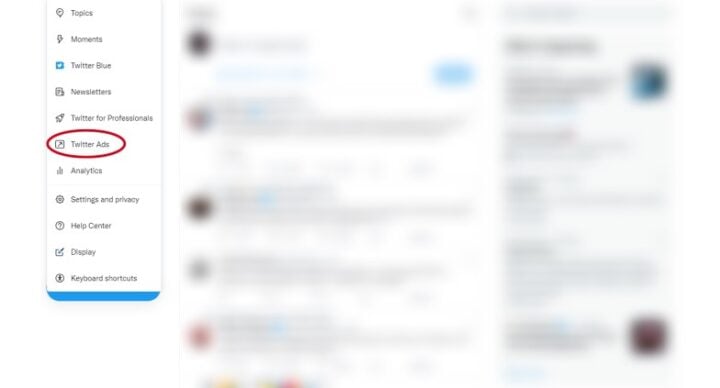 The second way to set up a Twitter ads account is to go directly to ads.twitter.com and click on the blue 'Login now' button in the top right-hand corner. You will be prompted to log in with your Twitter account credentials.
You will be taken to a page where you can set your ads according to the country and time zone that you are in.  
Once you have entered your country and time zone, you will be taken to the Twitter Ads dashboard. Here, you can start creating your first campaign.
2. Choose Your Advertising Campaign Objective
The first step in creating a Twitter ad campaign is to choose your advertising campaign objective. Depending on the position of your ad in your marketing funnel, you will have several options.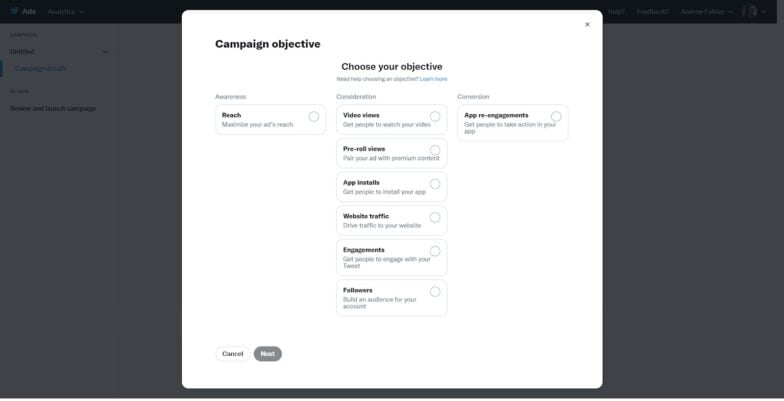 In the Awareness section, Twitter has an objective that can help you generate awareness for your brand or product.
The 'Reach' objective is one of the simplest Twitter ad types. You simply enter how much you're willing to spend per day, and Twitter will show your ad to as many people as possible within that budget.
There are several campaign objectives from the 'Consideration' section that you could pick from. This section is best for advertisers who want to generate leads or drive website traffic.
The first objective is 'Video Views.' This ad would promote a video tweet that you've already created.
The second campaign objective is 'Pre-roll Views'. This ad is perfect for advertisers who want to promote longer videos that would benefit from a pre-roll ad.
The third objective is 'App Installs.' These ads are designed to get people to download your app from the App Store or Google Play.
The fourth objective is 'Website Traffic'. As the name suggests, this objective is best for advertisers who want to drive traffic to their website.
The fifth objective is 'Engagements'. These ads are designed to get more people to interact with your tweet. The interactions could be anything from Retweets to Likes, Replies, or Mentions.
The final objective in the Consideration section is 'Followers.' These ads are designed to get people to follow your Twitter account.
In the Conversion section, one objective is called 'App Re-engagements.' This objective is designed for companies that want to re-engage people who have already downloaded their app.
After choosing your advertising campaign and objectives, the next step will be deciding where and when you will show your ads.
3. Add in Your Campaign Details
Now it is time to start building your campaign.

Give your campaign a name. Naming your campaigns will help you identify all your different Twitter campaigns in the future.
4. Set your Budget and Bidding
The next step is to enter your daily budget and bidding strategy.
Your budget will determine how much you're willing to spend on Twitter ads every day. There are a few ways your funding can be allocated: by campaign, ad group within the campaign, or tweet. Typically, it's best to give your ad campaigns a separate budget, as this will help you track the performance of each campaign.
Bidding is the amount that you're willing to pay for each interaction. The amount you bid will depend on your budget and your goals for the campaign. There are a few different bidding strategies to choose from:
Automated bidding: Twitter will automatically bid on your behalf to get the most engagement for your budget.
Target cost bidding: You set a target cost-per-engagement, and Twitter will make sure that your ads stay within that budget.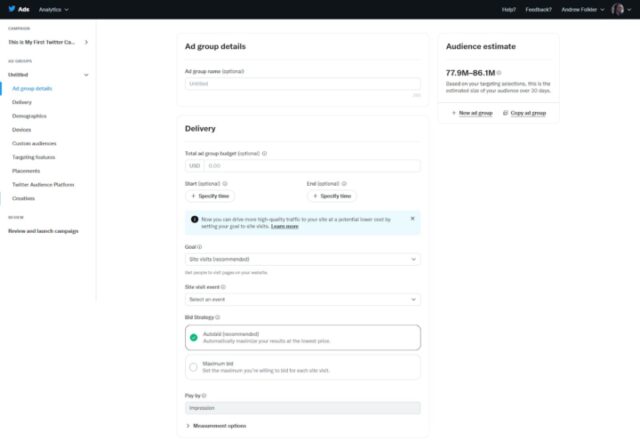 5. Clarify Your Target Audience
Now you are ready to clarify your target audience. This is done through Twitter's targeting options.
It is important to remember to be specific when picking your target audience. Remember, if your ad targets everyone, it speaks to no one.
You can target people based on several attributes, such as demographics, interests, behaviors, and keywords.
To get the most out of your Twitter ads, make sure that you take the time to understand your target audience. This will help you create relevant content and build relationships with your customers.
There are two main types of targeting in Twitter ads: Demographics and Targeting Features.
Demographics allow you to target people based on their age, gender, language, location, etc.
Targeting Features are based on your audience's interests and behaviors. With Twitter ads, it is possible to create highly targeted campaigns that reach precisely the right audience. This can help you get the best results from your advertising efforts.
Keyword targeting allows you to show your ad to users when searching for specific topics or keywords. For example, if you're a car dealership, you could target people who search for terms related to buying cars and new car models.
Follower-Lookalikes are a great way to target new users who are likely to be interested in your brand. Twitter will show your ad to people who follow similar accounts to those you choose.
You can also target people based on their interests and behaviors. Interest targeting allows you to target people based on their interests. Behavior targeting will enable you to target people based on their buying behavior and lifestyle.
Once you've selected your targeting options and added your budget and bidding information, it's time to choose your ad placement.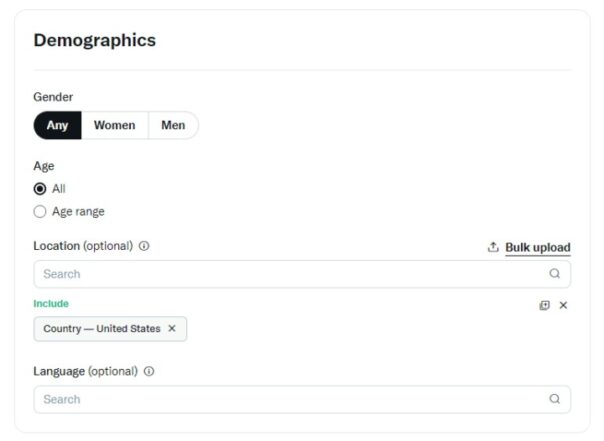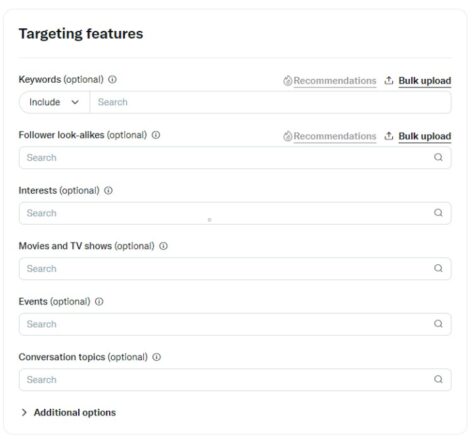 6. Select Your Ad Placement, Custom Targeting, and Ad Creatives
Once you have chosen your target demographics, you will need to select your ad placement. This will determine where and when your ads are displayed to users.
There are many different options to choose from, including:
– Home Timelines
– Profiles
– Search Results
It is essential to carefully consider your ad placement to get the best results from your campaign. You may need to try a few different posts before finding the one that works best for your goals and budget.
Once you've selected your ad placement, you're ready to launch your campaign!
In addition, you can also target your audience based on the device they use to go on Twitter. For example, you could run a Twitter ad that solely targets IOS users or Android users. Or set your campaign to target Desktop users.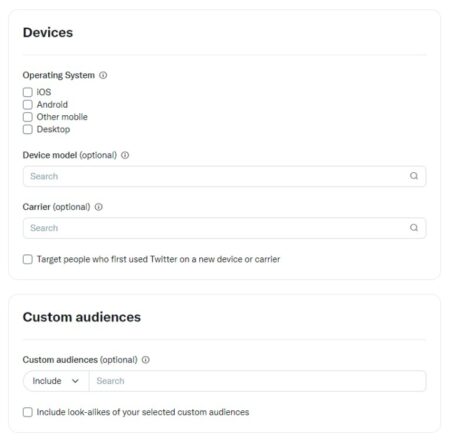 If you have any custom audiences, be sure to fill in that section. This can allow you to target your ads to people who have visited your website or used one of your applications.
The last two sections you need to fill out are the Twitter Audience Platform and the Creatives Platform.
The Twitter Audience Platform allows you to target people through their social graphs. You can reach people who use both Twitter and other apps and cross-promote your content to different audiences.
The Creatives Platform is where you upload your ad creative, such as your images or video. This is where you will also write your ad copy.
Once you've filled out all the necessary information, you are almost ready to launch your campaign!
7. Review and Submit Your Ads
Before you launch your Twitter ad campaign, it is vital to take a moment to review your settings and make sure that everything looks correct. Don't worry; if you have any changes you need to make with the targeting in the future, you can adjust your campaign.
Once you're happy with your campaign, click the "Launch Campaign" button, and your ads will go live!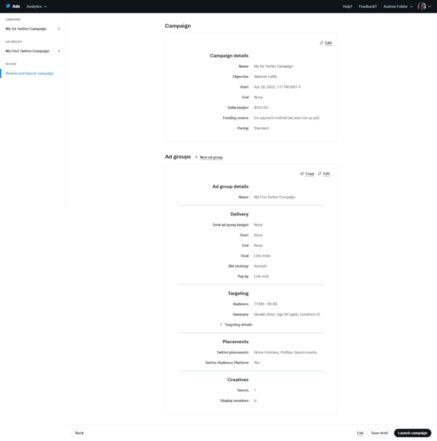 8. Launch your Twitter Ad Campaign
If you are launching your first Twitter Ad Campaign, you'll need to fill in your business information and payment details. Once you submit your details, your campaign will be officially running.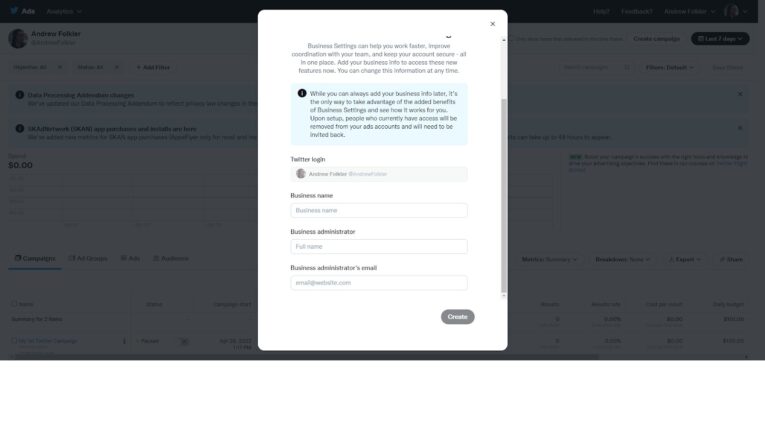 Now you will be able to view your Twitter campaign analytics and compare them to your other campaigns. This can help you see which tactics are working best to continue to optimize and improve your Twitter ads in the future.
This section will have all of your campaign data from different campaigns. You will also see how many people have seen your ad and how many times they have clicked on it. This data is essential in helping you understand whether or not your Twitter ad campaign is successful. If you do not see the results you want, don't be afraid to adjust your targeting or budget until you find a combination that works for you.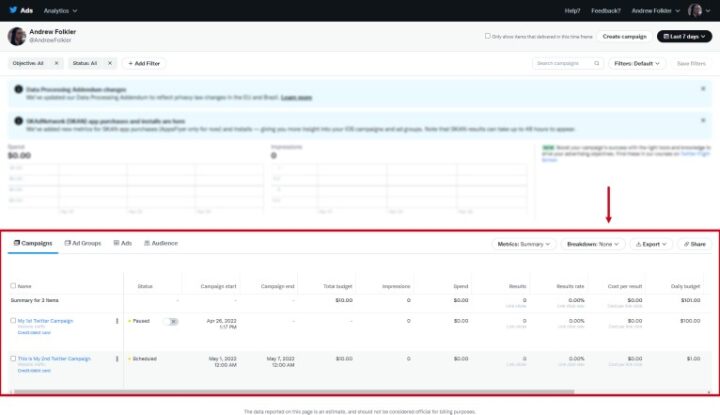 Twitter advertising can be a potent tool in your marketing arsenal – as long as you use it correctly! By taking the time to create and launch your first Twitter ad campaign carefully, you can reap the benefits of reaching a highly targeted audience with unique content. Whether you are trying to increase brand awareness or drive sales, Twitter ads can help you achieve your goals.
Twitter Advertising Campaign Best Practices
Now that you know how to launch a Twitter ad campaign, it's time to learn some best practices to make sure your campaigns are as successful as possible.
1. Stay True to Your Brand Voice
When creating your Twitter ads, it is essential to keep your brand voice and tone consistent. Whether you are trying to promote a new product or drive website traffic, choosing the correct words for your ad copy can help you authentically reach your target audience.
2. Keep Your Copy Concise and Engaging
Since Twitter ads are limited to a short amount of text, it is crucial to make every word count. Write concise and engaging copy, and be sure to include a call-to-action so that users know what you want them to do.
3. Use Captivating, High-Quality Images Or Videos
To stand out in a crowded Twitter feed, using high-quality images and videos in your ads is essential. This can help catch the attention of potential customers and encourage them to engage with your content.
4. Have a Clear and Compelling Call to Action
Your Twitter ads should have a clear and compelling call to action, as with all marketing content. Whether you want users to click on your website or download your app, make sure your call to action is specific and easy to understand. The action you want users to take will depend on where you have placed your Twitter ads in your sales funnel.
5. Track and Analyze Your Results
Finally, it is vital to continuously track and analyze your Twitter advertising results to optimize your campaigns. By carefully reviewing your campaign data, you can determine which tactics are working well and make adjustments as needed. With the right strategies, you can use Twitter ads to reach new customers and grow your business effectively.
Grow Your Sales With Twitter Advertising
Whether you are looking to build your brand, grow your following, or increase conversions, Twitter is an excellent platform to tap into. And with Twitter ads, you can create targeted campaigns that reach your specific goals.
When done correctly, Twitter ads can be a potent marketing tool. If you follow the tips and best practices outlined in this article, you can set up your first Twitter ad campaign and start seeing results in no time.
So what are you waiting for? Get started today and see how Twitter advertising can help you grow your business!