What Does Mirasee Mean?
The root, mira, means "vision" or "see." It forms the words mirage, miracle, mirror, image and admire. The Latin root, mira- or mir-, means "to wonder at" or "causing one to smile."
By joining these two concepts—See and Mir—we recognize the relationship of the great teachers and their greatest students. They are a reflection of each other. And in that relationship, we see the essence of who we are as a brand.
See, we think of ourselves as partners with our students. We grow alongside them. As a result, we are each reflections of the other.
We also understand the desire to create income through impact. Our goal is to show you the path, walking with you as a teacher and guide, for as long as you're willing to do the work.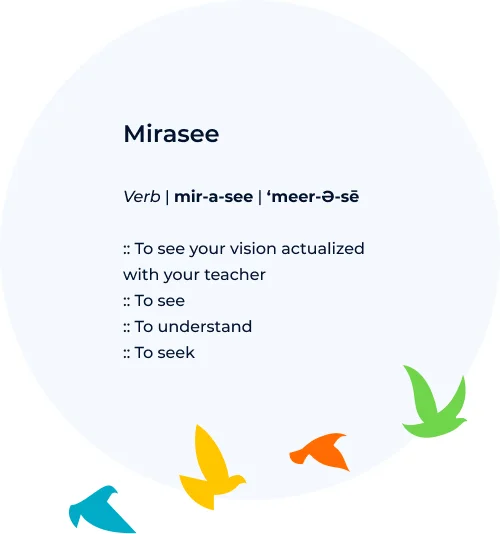 Who We Serve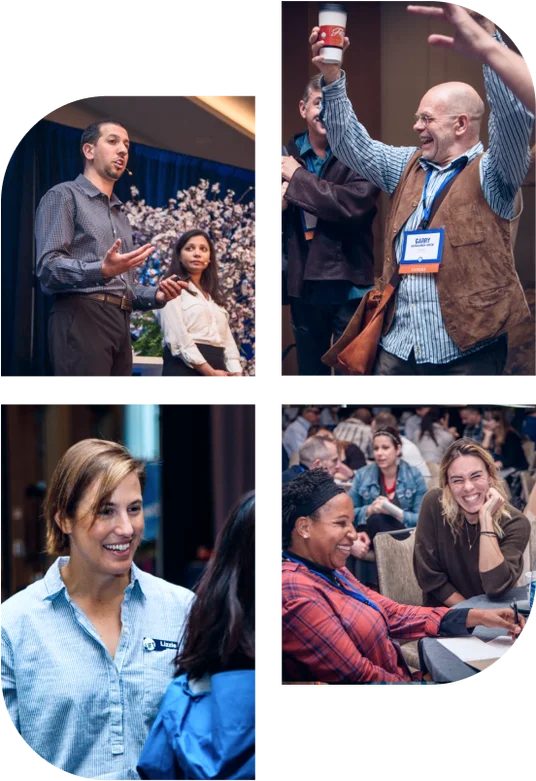 We help coaches, consultants, speakers, authors, and other experts who want to share their gifts and talents with a greater audience.
You're a good fit for our community if...
You are driven by a genuine desire to improve the world. You aspire for financial and lifestyle freedom. You want a business that you can design around your life, instead of having to fit your life around your work. You're willing to roll up your sleeves and do whatever work is necessary to achieve those goals.
Also, you're a good fit if you aren't in business just for the money. You understand that people drive profits, so you strive to keep people first. Just like us. We'll help you create a business that lets you realize your vision.
What We Do
We'll help you share your gift with the world.
We offer training programs that help you build a business around the things that matter most to you.
We specialize in helping entrepreneurs create sustainable, profitable businesses that educate others. Many of our students build and sell an online course. Others educate others via coaching, consulting, speaking, or writing.
Whether you're just starting out or you already have an established business, we'll show you how to reach more people, earn more money, and create more impact.
We prioritize partnership.
We consider our students to be partners. That means as long as you're still committed to your goal, we'll be there to help you achieve it. In practical terms, that means that our programs include lifetime support, so you always have access to expert coaches.
We are educators first.
That means you won't be given access to your training and left to figure it out on your own. You'll be assigned a personal coach who will walk with you as you pursue your goals.
We've helped more than 8,000 entrepreneurs realize their dreams. We can help you too.
Our Story
Mirasee was founded by Danny Iny. Today, Danny is a best-selling author, sought-after business consultant, and highly regarded expert in online education and innovative business training. But he started out just like most online entrepreneurs. He had an idea and message to share, but no idea how to do it.
Danny approached the challenge the way many entrepreneurs do. He took lots of advice -- some good, some bad -- and he tested lots of different ways of building an audience and growing a business.
After several wrong turns and the costly failure of a new course launch, Danny developed a system for launching programs and courses that his audience craved -- and for selling them even before he built the product.
This system became the engine of Mirasee's growth. In just 5 years, Mirasee (then called Firepole Marketing) grew to $7 million in annual revenues and a team of 30 people operating from all corners of the globe.
Today, Mirasee has a portfolio of courses and coaching programs that serve online entrepreneurs at every stage of their journey. And we employ a team of experienced business coaches and other experts who walk with our students every step of the way.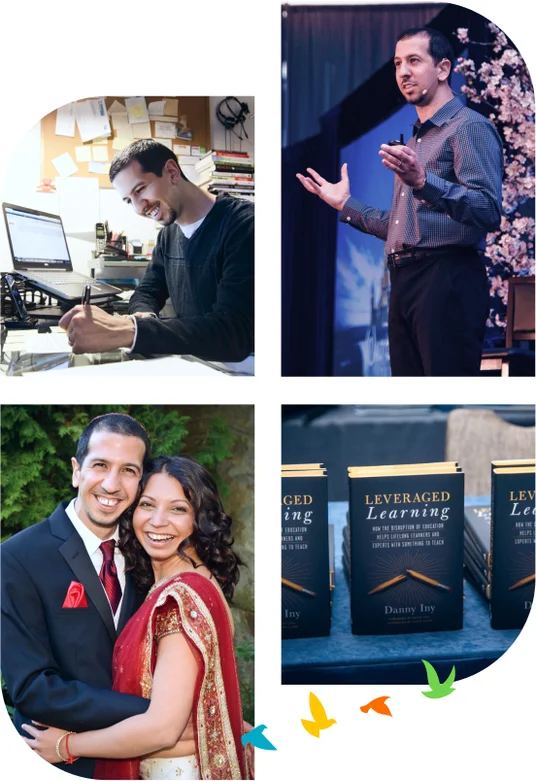 Our Values
Our Core Values Drive Everything We Do
Respect, Appreciation
and Humility
Empowerment via
Learning and Growth
At a retreat in 2015, the entire Mirasee team sat down to articulate our values. We began by looking at what we already believed and how we already operated. From that conversation, we derived a set of seven core values that inform every action we take.
But identifying our values was only the first step. In order to preserve those values over time, we needed to be sure that we were living them every day.
So we built systems to keep us in touch with our values at all times. We hire based on our values. We ask team members to reflect on the way their actions have been influenced by our values. And when we face tough decisions, we turn to our values for guidance.
Our values were designed for internal use, but they impact everything we do. They serve as a compass that helps us make better choices. And they seep into every customer interaction.
We're deeply committed to partnership with and the transformation of all our students.
We want to partner with you in your learning experience, empowering you with innovative ideas and solutions.
We hope, through our transparency and humility, that every touch will be positive.
Our ultimate goal? To help you see your vision of success fully actualized.
A win for you is a win for us.
Do Mirasee's Beliefs
Resonate With You?
Our beliefs drive our actions, often without any conscious thought.
That's why understanding the beliefs of those around us is so important. It makes it a whole lot easier to know what to expect from them, and whether their deep values align with yours.
That's why we think it's important to share what *we* believe here at Mirasee. So you know what you can expect from us and whether our values align.
So we made a video! Click play to learn more about what Mirasee believes.