12+ Amazing Examples of Mobile Marketing Campaigns
Emjae Williams
Do you know the ads that pop up on your phone in the middle of a game? The ones that flash across the screen when you're using your favorite apps? You might not pay much attention to them but every now and again there's that one that makes you stop in your tracks.
If you've been thinking about incorporating mobile marketing into your strategy, that's the kind of ad you want to create. We've taken a look at over a dozen of the best mobile marketing examples to inspire your next idea.
These kinds of ads, ones that are so appealing they make users stop mid-scroll, don't happen by chance. We're looking at the strategy used, why each example was so effective and lessons to be learned from each campaign.
12+ Great Examples of Mobile Marketing Campaigns
Before diving into the examples, let's get clear on what exactly mobile marketing is. Mobile marketing is any form of advertising that is served through or executed on mobile devices such as tablets and smartphones. SMS mobile marketing is perhaps the most popular form of mobile marketing but as technology and communication have evolved, so too have the formats used.
Here are some great examples of mobile marketing campaigns that truly won over consumers. You might even recognize a few of your favorites.
Budweiser's #GiveADamn Superbowl Ad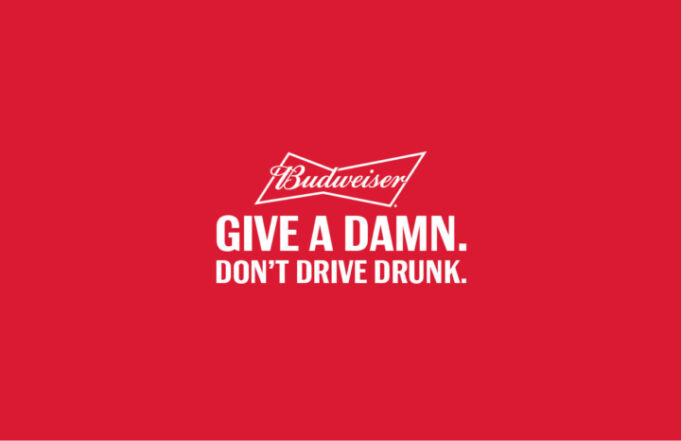 [Source: LATF USA News]
The Super Bowl is known for 3 things – amazing football, mind blowing half-time performances, and incredible ads. These ads are usually only shown on the big screen but in 2016 Budweiser took a different approach. They included mobile ads, taking advantage of the fact that many viewers watch the game on their mobile devices or are also posting on social media during the game. This worked well because instead of competing for attention with other advertisers, they were reaching their key targets exactly where they were and with fewer distractions.
It doesn't hurt that they had the likes of Helen Mirren delivering the snarky script that truly drove home what a bad idea it is to drink and drive.
Wendy's Infiltrates Twitch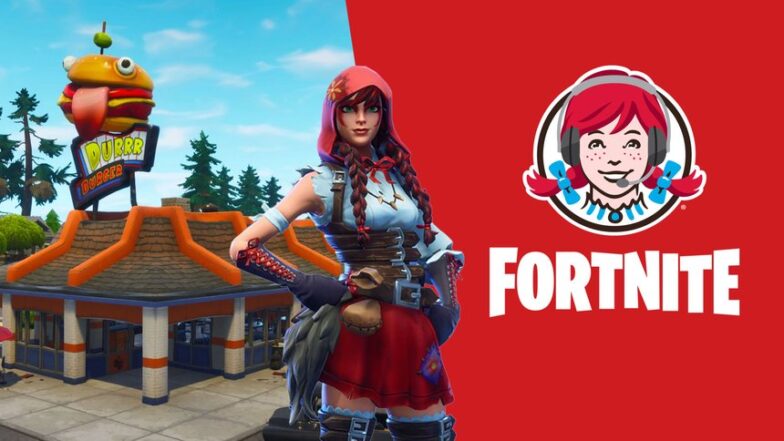 [Source: D&AD]
The main appeal of mobile marketing for advertisers is how disruptive it is. It takes viewers out of the moment and pushes them to focus on their marketing message. Wendy's took this disruption a step further by creating a Fortnite character to get around TwitchTv's policy of not allowing advertising within its space.
Their video went viral and resulted in increased user engagement – all without violating Twitch's policy. This worked because they were able to step into a space no other brand had been able to advertise in and they did it in a way that appealed to the demographic of the platform.
Just for Men Interactive Quiz
Another brand that worked its way into a space packed with its ideal target was Just For Men with their interactive quiz. They piggybacked on the sports app, the Score, which it knew its demographic frequented. While you wouldn't think to find a hair care brand on a sports app, they were able to create an experience that perfectly suited the expectation – sports trivia! Just for Men found that this mobile marketing campaign increased the chances of those users making a purchase.
Their approach worked because they found a unique way to appeal to their audience that was slightly off-brand but relevant to where the ad was placed.
Levi's Geo-Targeted App
If you aren't comfortable with a disruptive approach, you might consider modeling Levi's strategy. The denim brand partnered with Boost Mobile to offer users a discount on their monthly bill if they downloaded an app. This app would be used to serve targeted Levi's ads with the goal of influencing users to visit their nearest Levi's store.
This non-intrusive approach meant that users were opting in to get these mobile ads which increased their chances of converting those viewers into paying customers. Additionally, Levi's offered them an instant reward for participating which made this approach a true winner!
Absolut Exclusive Access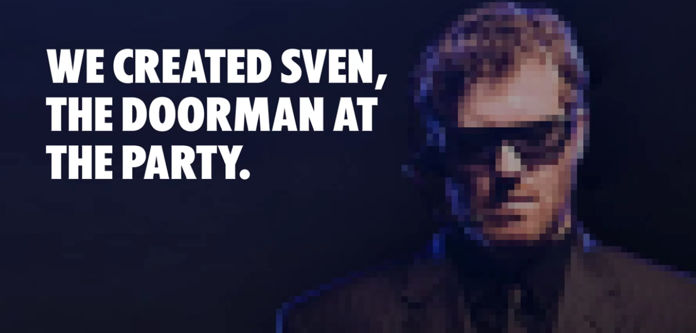 [Source: Bryn Medium]
When Absolut vodka launched its limited edition collection to Argentine consumers in 2013, they wanted to find a unique way to engage their audience. They opted to host an exclusive launch party with two tickets up for grabs. But consumers couldn't purchase these tickets – they had to message 'Sven', an imaginary character created by the Absolut team. The brand used WhatsApp for this execution as they had found that their demographic primarily used that communication tool.
This approach worked because they leveraged scarcity, used the right tool for their audience, and allowed the consumers to initiate interactions. Another great non-intrusive approach!
Burger King – Burn That Ad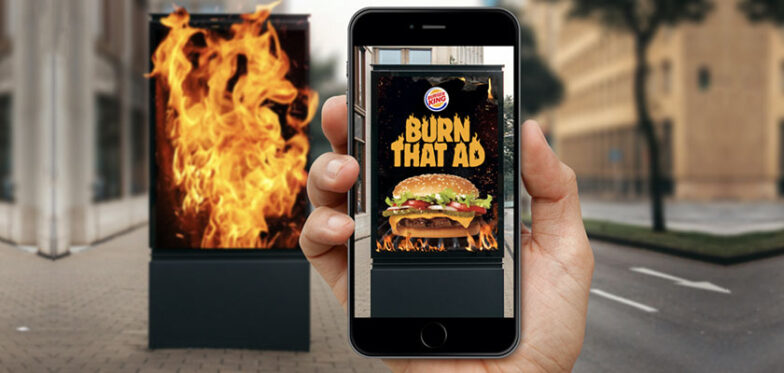 [Source: Digital Agency Network]
Burger King was quick on the uptake when augmented reality revolutionized how content was consumed and interacted with. They added a feature in their app that allowed users to 'burn' ads from Burger King's competitors. Users who participated received a coupon for a free Whopper that they could redeem at any BK outlet.
This also gave the franchise a bank of content they could use online to further promote the campaign. Their approach was particularly effective because it required little action from the users, rewarded them for their efforts, and was easily measured by the company.
Ikea's Augmented Reality Catalog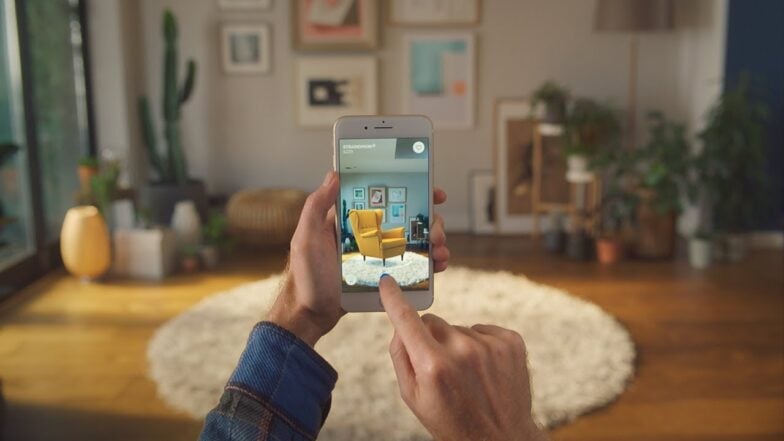 [Source: Ikea]
Another example of how to effectively use augmented reality comes from Ikea. The furniture company recognized that one of their customer's biggest issues was not knowing if a specific piece of furniture would work well in their home. How did they solve this? They offered an AR catalog through their app that allowed users to virtually see how pieces would look in their homes.
Naturally, this was a huge turn for the company because it was an easy fix to a major problem. It showed that Ikea was in tune with their customers' needs which added to the effectiveness of this campaign.
Snickers Partners with Spotify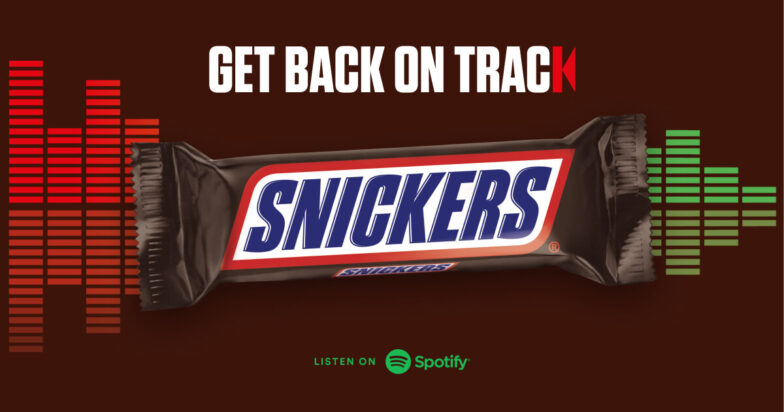 [Source: snickers.withspotify.com]
After attempts to increase sales using traditional advertising did not go as planned for Snickers in the UK market, they were forced to revise their approach. Through research, they found that the target audience spent a significant amount of time consuming content on Spotify. They moved their You're Not You campaign to the Spotify app and saw an increase in conversions.
This approach worked because it was driven by customer insight – Snickers knew that Spotify was the best platform to reach its audience. They didn't need to do an overhaul of the campaign, just where it was placed.
Dominos Referral Program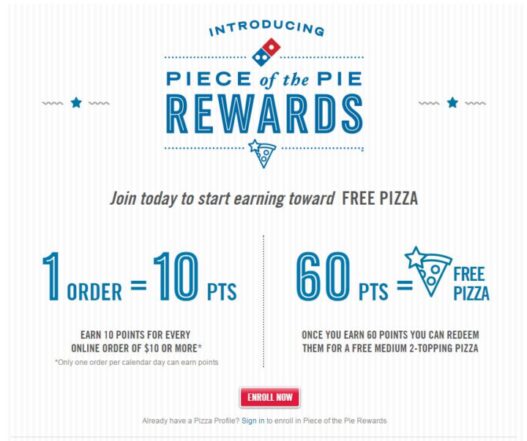 [Source: Fast Food Geek]
With rivals Pizza Hut being a sponsor of the Super Bowl, Dominos had to find a way to compete with them. They launched their referral program on the night of the Super Bowl, rewarding consumers for making purchases through their app. 1 order earned them 10 points and they could redeem 60 points to get a free pizza.
This worked because consumers could order through the app from anywhere – including viewing parties where Pizza Hut branding would be front and center. With all the buzz around their launch, they quickly overshadowed their competitors both in purchases and social media conversations on their big night!
Starbucks Mobile Payment
Today mobile payments are practically the norm but in 2011 it seemed like something straight out of science fiction! Starbucks led the charge with its campaign that prompted users to download their app, place their order for pick-up at their nearest store and pay with their mobile device.
To call it a hit is an understatement. The Starbucks app had over 7 million downloads and the company profits grew by 22%. This was an effective campaign because of its novelty and the convenience it offered consumers.
Chipotle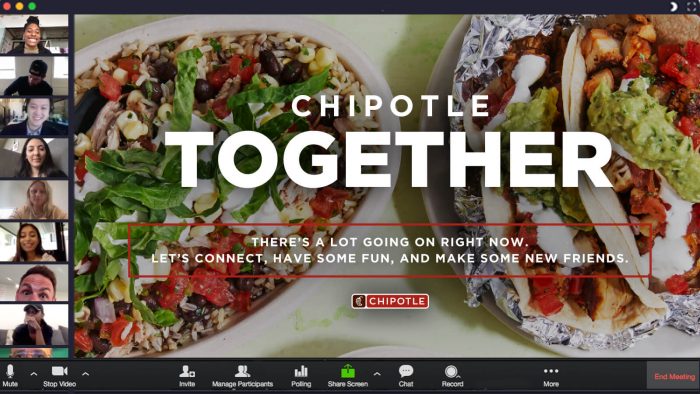 [Source: Chipotle]
To combat the isolation of social distancing in 2020, Chipotle launched its Chipotle Together campaign which encouraged customers to join Zoom lunch parties and dine together. To ramp up activity on the Chipotle app, the franchise offered free delivery on orders over $10.
This campaign led to a major surge in searches for Chipotle online and purchases through the app. It also showed that the company cared about its customers and started a trend for other brands to follow by creating new opportunities for interaction in what was, at the time, an isolated period.
Nissan's Mobile Game
What if you could test drive your dream car from the comfort of your home? With no pressure to buy? Nissan offered users a new, interactive experience through their interactive mobile game. Users were given a code for various vehicles through the Nissan website that they could enter into their phones to sync it with their computers. They could then control the chosen vehicle through the ad on their phones.
This was effective because 'playing' the game was how potential buyers could learn more about the vehicles. Nissan found a fun, interactive way to share information about their products remotely.
Sephora 
[Source: Criteo]
Another company that used mobile marketing to keep customers informed was Sephora. They wanted to remain top of mind at all times with their consumers. Through the mobile app, users would get a notification about existing deals and specials whenever they were in or near a Sephora outlet. Once the user left the store, they would be given additional information such as tutorials and product updates.
What made this campaign so effective was that the sales team had special training so the experience delivered through the app and in-store was seamless. It was also a smart move on their part because these notifications and additional information were served at exactly the right time.
Time to Incorporate Mobile Marketing?
Mobile marketing gives you a new way to target your ideal customers. It steps away from the passive nature of traditional marketing and pushes your targets to take action.
Because mobile marketing ads are served to them where they spend most of their time, it's more likely these efforts will pay off. Emails are easy to ignore but an engaging ad that pops up in the middle of a game is hard to swipe away from.
Done right, these ads will help you show off a new side of your business and influence the right people to work with you!