Pinterest Marketing Strategy: A Beginner's Guide for 2023
Andrew Folkler
Every month, approximately 433 million people use Pinterest to research a purchase they want to make. Some are looking for inspiration, and others are looking for the right product to fit their needs.
Pinterest is a social media platform built for images. The platform works best for businesses targeting an internet-savvy audience. This audience includes but is not limited to online business owners, retailers, designers, and influencers.
With a thorough understanding of Pinterest marketing, you can craft a strategy that will direct your followers to your website, boosting your online presence and revenue. In this article, you will learn about Pinterest business accounts and how you can craft your Pinterest marketing strategy.
What is Pinterest Marketing?
Founded in 2010, Pinterest has snowballed as a social media platform, contending with other image-focused platforms like Instagram. Users can build a collection of images called boards. Boards are created by selecting pictures and sorting them into their group.
Pinterest provides a massive opportunity for businesses to market their products to Pinterest users. All a company has to do is design graphics to attract customers. Potential buyers will go on Pinterest to research a project or find a style of product that fits their needs. When they see the graphic of a product that appeals to them, they will find the company website linked to the photo, directing them to the company store to make the purchase.
Thus, Pinterest marketing is the strategic use of Pinterest to raise brand awareness, engage your audience, and raise conversions and sales.
Pinterest Marketing Tips For Your Business
Sign Up For a Business Account
If you are new to Pinterest or have a personal account, start by clicking here to set up your Pinterest business account. Typically you will want to separate your personal account and your business account.
This is because your business account will offer you more features to promote your company, while a personal account is reserved for casual viewing. Also, you will want to avoid conflating your business analytics with your personal account.
To open an account, you will be prompted to fill in your business name and details. Pinterest offers several templates based on your niche.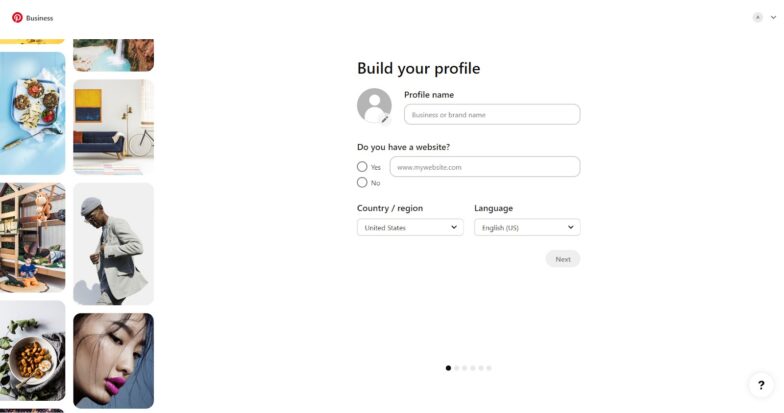 Now that you have your account set up, you should see the Pinterest Business Hub shown below. Here you will be able to create boards, view your analytics, and launch ad campaigns to promote your business.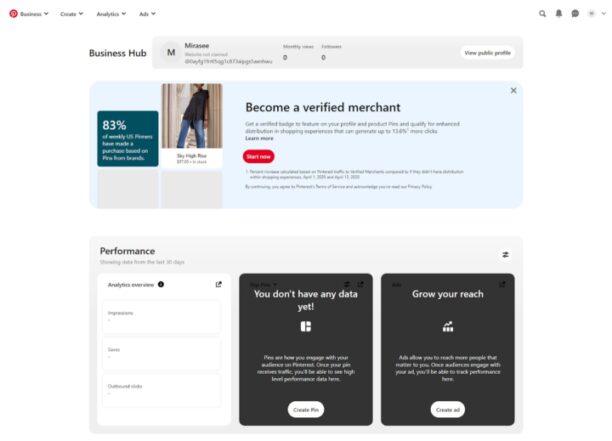 Choose Popular Categories For Your Pins
The next step is to select one of the popular categories for your pins. Adding categories makes your photos easier to find using Pinterest's search bar.
Here are some popular categories to consider for your pins.
Food and Beverages
Beauty
Travel
Women's Fashion
Men's Fashion
Health and Wellness
DIY Home Renovation
Motivational Quotes
Home Decor
Events Planning
Holidays
Weddings
Animals
Finance
Art
Vehicles
Lawn and Garden
Tattoos
Marketing
Use Keywords in Your Profile and Descriptions
Using keywords can also improve your visibility on Pinterest. Keywords are industry-specific words and phrases your target audience would search for to solve a problem. For example, if you are a pet supplier, you could use the keyword "durable cat tree" to promote your cat climbing towers and scratchers.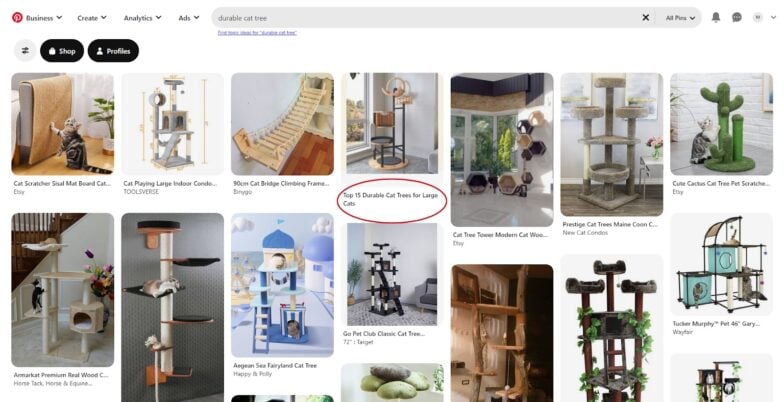 In the photo above, you will see another business that used the keyword "durable cat tree" in their post title. When you combine keywords with a compelling title, you will be more likely to attract new customers to your pins. Keywords help you boost your organic traffic as the customer is already looking for products like yours.
Ensure that you use keywords in your profile, Pin titles, and Pin descriptions. Use keywords that accurately describe your post and the niche you are targeting. Avoid keyword stuffing, which is the act of using too many keywords to attempt to cheat the search algorithm. Instead, focus on posting quality content with 1 – 2 keywords that adequately explain what the Pin is about.
Curate Engaging Images and Videos
Curating engaging images and videos might seem like a no-brainer, but it is definitely not as easy as it sounds. Over 5 billion Pins exist on Pinterest, and everyone is competing for the attention of the platform users.
When you craft your Pins, ensure that you apply the best principles of
Color theory
Quality audio and lighting
Market and target audience research
Graphic design and video editing
The last important technique for crafting engaging images and videos is to optimize your Pins for mobile devices. According to Pinterest, approximately 85% of users access the app via mobile devices. Therefore, when you are crafting your images and videos, mobile optimization is a top priority. The last thing you want is to have an image partially cut off due to its sizing.
Use a 2:3 aspect ratio and ensure that your font size is legible. In addition, mobile screens do not have much room for words, so apply the principle of "less is more." All Pins will share the same width but can have an unlimited length. This opens the opportunity for posting long infographics that users can scroll down to view.
Post Pins Frequently
Growing your Pinterest following requires that you post daily. A consistent practice of posting daily will remind your followers that your brand is something they should remember.
A core element of social media marketing is the principle of touchpoints. A user requires a certain number of touchpoints or interactions with your brand before they make a purchase. Different sources have said customers need 7, 9, or 49 touchpoints. While the total number of brand interactions may be under dispute, there is no doubt that the frequency of seeing your posts matters.
Not only does posting daily improve your brand awareness, but Pinterest's algorithms will also be more likely to show your Pins to more users. Social media algorithms want to ensure that users stay on the platform and curate their feeds based on new content that may interest them.
So how many Pins should you post each day? Ideally, you should post 5 – 30 Pins daily to ensure that you frequently engage with your audience.
Make Use of Rich Pins
Rich Pins are where you can organically link information from your website directly to your Pin. They are available to anyone with a business account. You can spot them easily by looking at the bottom of the Pin for extra information, such as a website, pricing, a recipe, or an article!
There are three types of rich Pins: product, recipe, and article.
Product rich Pins feature an item within your inventory with the most up-to-date information on its pricing, availability, and product information.
Recipe rich Pins allow you to add a title, serving size, cook time, ratings, diet preference, and a list of ingredients to recipes that you save from your site.
Article rich Pins link your Pin to a blog article on your website.
The benefit of rich Pins lies in their ability to connect your product directly to the consumer. Below is an example of a rich Pin recipe.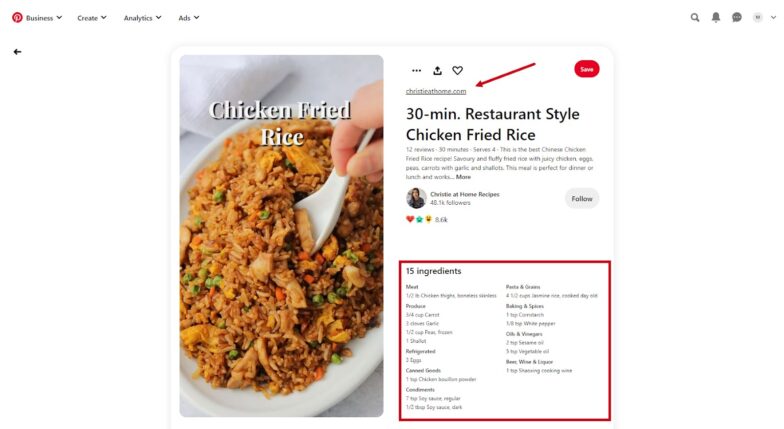 To set up a rich Pin, you must validate your information by adding rich meta tags to your website. Once the information is validated, your rich Pins will update in real-time if you change any product information.
Engage With Your Followers
Engagement is a two-way street. If you want to increase your following and engagement, you will need to engage with your followers. Engaging with your followers is more than an act of customer service. In addition to addressing questions and concerns, engaging with your followers helps build a relationship.
Your followers will trust your brand, which leads to a higher conversion rate. If your Pin has a higher amount of rePins and comments, the algorithm will naturally want to promote your Pin to other users. This improves your visibility and helps you close more sales.
Share Your Content on Other Social Media Accounts
In addition to linking your content to your website via rich Pins, you should also share your content on other social media platforms. Image and video content can be repurposed in Facebook, Instagram, and TikTok.
Sharing your content on other social media sites boosts your reach exponentially. Not only will you reach more people, but you will also grow your following much faster. Since your content will be optimized for mobile devices, your Pins will not need any resizing for other social media applications.
Share pins on your blog and email newsletter
Pins can be embedded into your blog and newsletter using some HTML code. Simply go to the Pin you want to embed and click the three dots next to the image. This will open a drop-down menu. Next, pick the option Get Pin Embed Code.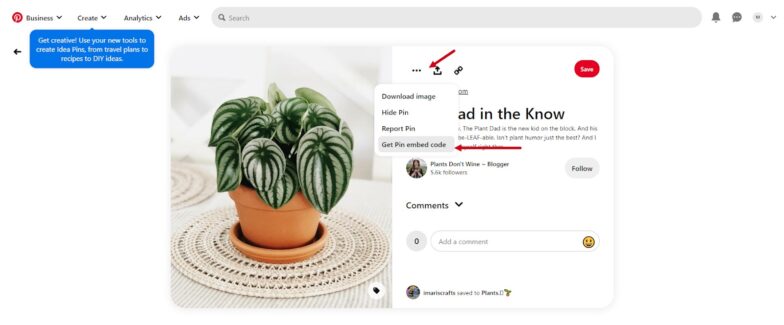 You will choose from four different image sizes according to your needs.
Small – 520×236 px
Medium – 713×345 px
Large – 900×450
Extra Large – 1166x600px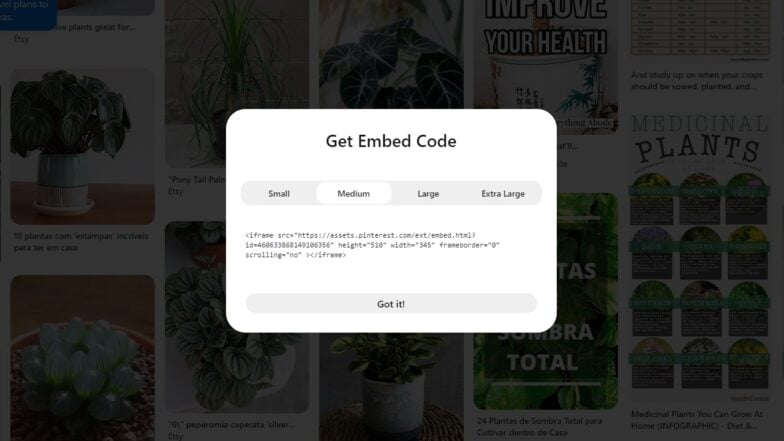 Copy this HTML code into your blog article or your email service provider. To paste the code into a blog article or your email newsletter, you will need to paste it into the plain text section of your blog. This helps your platform recognize the code so that it can import the information from Pinterest and embed the Pin to your content.
Follow and Engage With Other Pinterest Accounts
Another tip to boost your engagement rates on Pinterest is to follow and engage with other accounts. Social media profiles thrive when they are social. The more you engage your audience, the stronger your relationships with them will be.
There are three significant benefits to following and engaging with other accounts. The first notable benefit is increasing the chances of bringing people to your profile. For example, if you comment on a Pin that is tangentially related to your business, you create a touchpoint with everyone who also sees that Pin. As you continue to comment and interact with other accounts, colder audiences will become more acquainted with your brand. This will lead to more followers and, ultimately, higher engagement on your profile. Also, consider collaborating with businesses to boost your following through the audience of another brand.
Another benefit is that you build trust with your target audience. If you show genuine interest in your followers, they will reciprocate by following you. This requires your brand to focus on relationship building first before promoting products. As you continue to provide value to your audience, they will be more likely to purchase your products as trust has already been established.
The last benefit is that you can follow competitors to see what they are doing. You can conduct thorough research on their branding, product innovations, and customer service to find opportunities to grow your business.
How to Craft Your Pinterest Marketing Strategy
Step 1: Conduct Target Audience Research
Crafting a Pinterest marketing strategy starts with thorough target audience research. You will need to uncover the challenges and pain points your ideal customer is experiencing. Without target audience research, your marketing strategy will target everyone. And a strategy that targets everyone targets no one.
There are two facets of your target audience: demographics and psychographics. Demographics include data like your target audience's age, educational level, and income level. On the other hand, psychographics focus on the thinking process of your target audience. It includes their desired transformation, pain points, and the methods they have tried without success.
Your target audience research will help you innovate new products and solutions which will motivate your ideal customers to buy from you. In addition, you will be able to write your promotional material as if you are speaking directly to them.
Step 2: Dive into Market Research
Market research includes but is not limited to product, competitor, and logistical analysis. To ensure you make the most of your Pinterest marketing strategy, you will need to know what products are available in the market, who is selling them, and how they walk the buyer through the customer journey.
Market research is just as important as your target audience research as it helps you avoid bottlenecks. It saves you time from solving the wrong problems. Most importantly, market research enables you to identify opportunities for your business to stand out from the competition.
The more thorough your research, the better prepared you will be when you begin creating content for your Pinterest account.
Step 3: Create a Compelling Content Calendar
A content calendar is a schedule you create to release specific content. Typically 30 – 90 days long, a content calendar lets you know exactly what you need to produce week to week.
Once you complete your market and target audience research, you should have a myriad of ideas that you can use for different pieces of content. Taking these ideas, you can start designating each content piece to a specific day until you have mapped out 30 – 90 days of content.
Step 4: Produce Quality Content
Once you have your content calendar, you can start producing your images and videos for your Pinterest boards. Follow your content calendar so that you stay on track. As mentioned before, the resonance of your content will be heavily influenced by your target audience and market research.
But before you start to feel overwhelmed, remember you do not need to produce all of your Pinterest content ahead of time. You only need to have enough content to get you started, and then you can create more as you go along.
To create a Pin, click on the "Create" tab in your Business account dashboard.

This will show you a drop-down menu where you can click "Create Pin." Here you can upload your pictures and images and type in a short description for your Pin. You can include a destination link to direct viewers to your website or a sales page.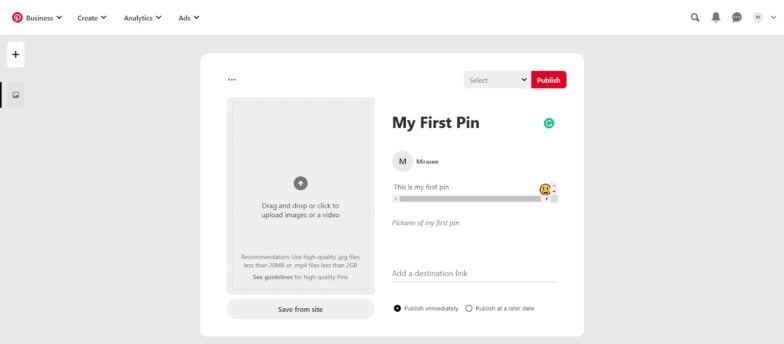 Once you are finished, you hit Publish, and boom, you have your first Pin!
If you are producing a high volume of content, you might worry that you will never have enough time to publish your Pins.
In this case, we recommend that you start by creating your content in advance. Once you have enough content created, you can start to schedule your Pins ahead of time.
There are several benefits to planning your content. First, it saves you a lot of time. If you look at different business accounts, you will find that they are posting several times a day. Then, you will quickly realize that no one has enough time to post all of this content! What is actually happening is that social media managers are taking the content they have created ahead of time and scheduling it to release on a specific day and time.
Scheduling your posts all at once will give you greater peace of mind. You will save time, allowing you to focus your attention on creating new content for your followers. Consider investing in a social media management platform such as Hootsuite or Sprout Social to schedule your content if you are going to be posting a high volume of content daily.
Step 5: Use Paid Advertising to Boost Your Reach
Paid Ads can be powerful tools in boosting your reach to your target audience. Based on your research, you can take your best Pins and promote them to maximize the number of people who see your boards. Start by clicking on the "Create" tab under your Pinterest Business account dashboard. Then select "Create Ad," which will bring you to a screen that looks like this.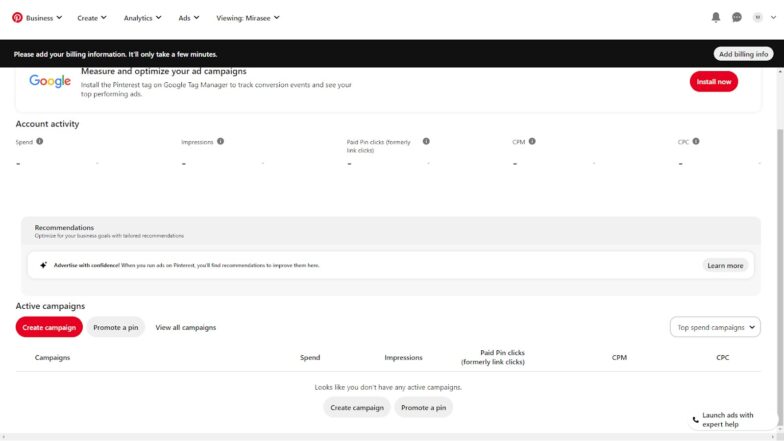 You can select a campaign objective, budget, and timeline. Once you launch your ad campaign, you will be able to track your campaign metrics. In the Ads Overview tab below, you can see your total ad spend, paid Pin clicks, and cost per click. In addition, you can track the stats between multiple campaigns.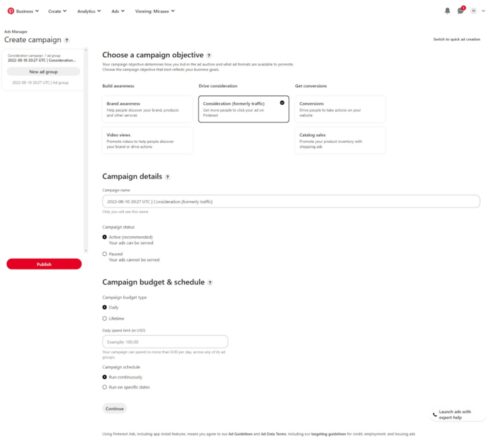 Step 6: Analyze Your Data and Optimize Your Campaigns
Data analysis is pivotal in examining whether your Pinterest marketing strategy is resonating with your target audience.
Under the Analytics tab, you will see a wide array of metrics to study your pins.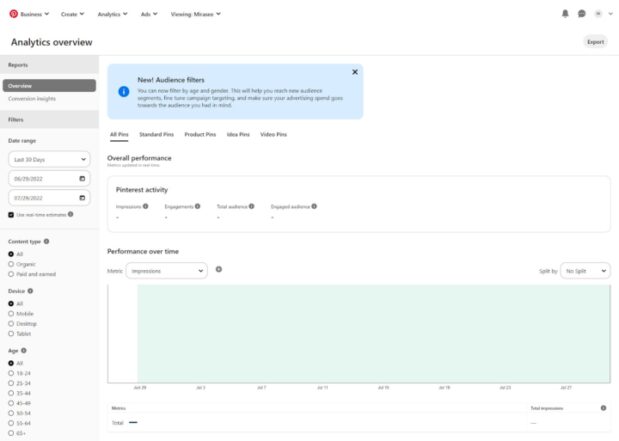 The overview tab will show you the 30,000-foot perspective of your Pin performance. You can track how many people have viewed your Pins, what device they used to view them, and even how old the user is. Under the Conversion Insights tab, you will be able to see the impact your Pinterest marketing has had on your conversions. You can track how many people were directed to your website and determine if they found you organically or through paid advertising. Once you have actionable data, you can start to optimize your campaigns to increase your following. Analyze which Pins perform better over others and the reasons why, and then use these insights to create Pins that better resonate with your audience.
Craft Your Pinterest Marketing Strategy Today
Now you have everything that you need to start developing your Pinterest marketing strategy.
Pinterest is an excellent platform to broadcast your products and services to a vast audience. With a business account, you can curate rich Pins that can direct users to your website to grow your sales.
Pinterest is one of the best platforms for users to research their buying decisions. So start now and craft your Pinterest marketing strategy today!