The 12 Best AI Copywriting Tools for 2023 (Jasper, CopyAI & More)
Andrew Folkler
In 1991, the internet was opened to the public. By the mid-90s, most people could afford to buy the equipment to access the internet.
Reactions to the internet were mixed. Some people felt it was not worth the money, and some felt it was a fad that would lose its hype after a while.
And yet, the internet has proved to be one of the most empowering tools in human history.
Likewise, AI tools carry the potential to create a massive shift in how we work, communicate, and innovate.
Whether you are a business owner or a copywriter, AI copywriting tools carry many implications for the future of marketing.
This article will dive into these implications in-depth and explore what AI copywriting might look like down the road.
To top it off, we will list some of the most popular AI copywriting tools you could integrate into your workflow. And at the end, you find answers to the most pressing FAQs about AI and its implications for the future.
Let's jump right in.
What Is AI Copywriting and How Does It Work?
AI copywriting is where the writer leverages AI to produce, edit, and proofread copy and content.
And what makes AI so magical is that the writer just enters a prompt detailing what they need and the AI tool generates the desired output.

But how do AI copywriting tools work exactly?
In computer science, there is a concept known as Machine Learning, where computers use algorithms to imitate how humans learn. Combine Machine Learning with another concept called Natural Language Processing, and you have a tool that can imitate patterns in language writing.
These AI tools are trained on portions of the internet and large databases known as language models.
This gives AI tools the ability to tap into a huge reservoir of written content that it can reference and imitate when creating new output.
What Are AI Copywriting Tools?
AI copywriting tools are programs designed to create marketing content.
These tools can help you create the following kinds of content and copy:
SEO Optimized Blog Posts
Sales Letters
Case Studies
Product Descriptions
White Papers
Books
Web Page Copywriting
SEO Meta Descriptions
Social Media Posts
Email Campaigns
Press Releases
Newsletters
Video Scripts
Newsletters
And much more!
Now generating content does not mean that the writing is done. As writers, you still need to revise and fact-check everything to ensure you publish the best possible content for your audience.
Now that you know what AI copywriting tools are capable of, let's dive into some of the different tools you can use in your writing.
12 Best AI Copywriting Tools
Anyword

Free Trial Available: Yes (7 days or 5,000 credits, whichever ends faster).
Available Plans (Annual Rates)
Starter: $24/Month for 20,000 word credits
Data Driven: $83/Month for 30,000 word credits
Anyword AI is an easy-to-use AI copywriting tool you can leverage to create a wide variety of content or copy. Their free trial allows you to experiment with their software before committing to a subscription.
Chat-GPT

Free Plan Available: Yes
Available Plans
Free Plan: Unlimited Generations with Chat-GPT 3.5
GPT Plus: $20/Month + Access to GPT-4 and Prompt Generation Priority
OpenAI's tool Chat-GPT garnered tremendous media attention last year when they released GPT-3 to the public. Since then, millions of users have flocked to set up free accounts to create anything from blog posts, software code, or even song lyrics in the style of their favorite artist. Unlike most AI copywriting tools, Chat-GPT does not charge for the total words generated.
Instead, they only charge for early access to GPT-4 and lower latency after you submit a prompt. Due to the high volume of users, there is a lag when you submit a free prompt, which may push you to consider an alternative tool or the GPT-Plus plan.
Chat-GPT can write in 29 languages and perform additional tasks like translations, summarization, and proofreading.

ContentBot

Free Plan Available: No
Available Plans (Annual rates)
Pay as You Go Plan: $1/1000 Words
Starter Plan: $19/Month for 50,000 Words
Premium Plan: $59/Month for 150,000 Words
Premium+ Plan: $99/Month for 400,000 Words
One unique aspect of ContentBot is you can prepay for the total number of words you need to generate. Their premium plans offer built-in SEO tools, and all paid plans have plagiarism detection to ensure your content does not copy anyone's work. ContentBot can write in over 110 languages, making it easy for you to write for almost any audience.
Content Bot also makes it incredibly easy to create additional accounts so you can outsource your content creation to your team without paying for extra user accounts.
CopyAI

Free Plan Available: Yes
Available Plans (Annual rates)
Free Plan: 2000 words per month
Pro Plan: $36/Month for unlimited words generated
Copy AI is another popular pick for AI copywriting tools. Their free plan makes it easy for you to experiment with the tool and even write small amounts of content consistently each month. Copy AI also allows you to write content in 29 different languages. Their Pro plan is affordable for small businesses, making it an excellent tool for business owners who cannot hire writers.
Copysmith

Free Plan Available: Yes (7 Day free trial at 2000 words per day).
Available Plans (Annual rates)
Starter Plan: $228/Year ($19/Month) for unlimited words generated
Pro Plan: $490/Year (Approx. $40.80/month) for unlimited words generated
Copysmith AI offers two separate plans based on your company's needs. If you are a small business looking to have only one person create your content, the starter plan will work best for you. The starter plan only has one user license, and it comes with a plagiarism checker.
The Pro plan works best for companies with a marketing team requiring more user accounts and robust 3rd party integrations.
Hypotenuse AI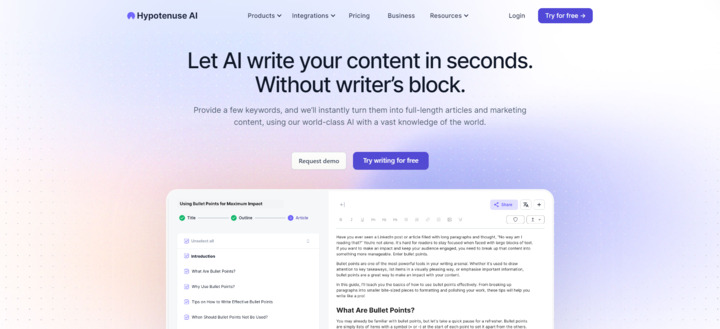 Free Plan Available: No
Available Plans (Annual Rates)
Starter Plan: $24/Month for approx. 25,000 words
Growth Plan: $49/Month for approx. 87,500 words
Hypotenuse AI is another popular AI copywriting tool you can use. In addition to their content generation, Hypotenuse also offers AI image generation as part of their plans. They support over 25 languages, and any leftover word credits are rolled over into the next month.
The Growth Plan offers more user accounts in the event you have a team writing your content. Additionally, you also can check for plagiarism up to 25 times per month.
Jasper (Formerly known as Jarvis)

Free Trial Available: Yes
Available Plans
Creator Plan: $39/Month for unlimited words generated
Teams Plan: $99/Month for unlimited words generated
Formerly known as Jarvis, Jasper AI is one of the most popular AI copywriting tools and has been around since 2021. Jasper recently updated their pricing model to reflect more competitive pricing and a 7-day free trial.
Their Creator Plan works best for smaller businesses and freelancers needing only one user account. Jasper's newest feature, creating a unique brand voice, is also included in this plan.
The Teams Plan allows you to create up to 3 user accounts, with each additional account costing $49/month. You can make up to 3 brand voices, and you can create dynamic templates that are unique to your account.
Jenni AI

Free Plan Available: Yes
Available Plans
Free Plan: Up to 200 words generated per day
Unlimited Plan: $20/Month for unlimited words generated
Jenni AI is another new AI tool surfacing during the AI boom. The free plan does not give you much to work with compared to other AI copywriting tools but their paid unlimited plan does offer more flexibility for lower cost.
Both plans offer journal and web citations, a unique feature not commonly provided by other AI tools.
Their paid plan offers priority support but not much else beyond the benefit of unlimited words.
Outranking

Free Plan Available: No
Available Plans (Annual Rates)
Solo Plan: $59/Month for 1 Website
Pro Plan: $109/Month for 3 Websites
Company Plan: $209/Month for 10 Websites
Outranking is a great tool that works well for marketing agencies. Unlike most AI copywriting tools, Outranking doesn't base its pricing model around the number of words generated. Instead, they price according to SEO strategy.
With Outranking's Solo Plan, you can connect your website to their platform to create a personalized SEO strategy for your business. The yearly plan allows you to create up to 120 content briefs which can be used to create AI-generated content. In addition, Outranking offers up to 400 keyword assessments.
The Pro Plan scales this up to 360 content briefs and AI first drafts, and 1000 keyword assessments per year.
The Company Plan provides 840 content briefs and AI first drafts, and 3000 keyword assessments annually.
Rytr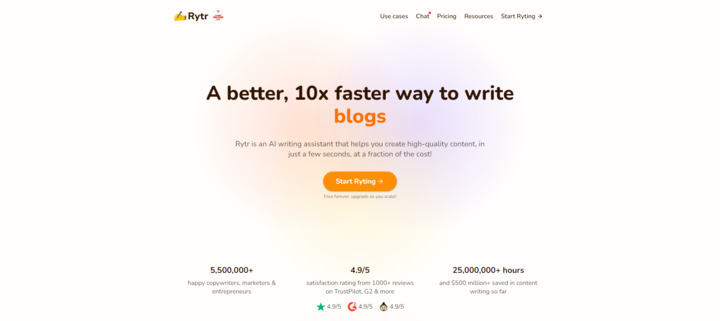 Free Plan Available: Yes
Available Plans
Free Plan: Up to 10,000 characters (approximately 1500 – 2500 words)
Saver Plan: $9/Month for 100,000 characters (approximately 14K – 25K words)
Unlimited Plan: $29/Month for unlimited character generation
Founded in 2021, Rytr is another low-cost AI writing tool you can use to start creating content for your business. One challenge that may arise with Rytr is that their pricing plans are built around character count instead of word count. Rytr does not specify if spaces are included as characters in their pricing so there is a great deal of variability regarding how many words you can generate with their platform.
Their Free Plan offers a built-in plagiarism checker, 5 AI-generated images per month, and can support up to 30 languages.
The Saver Plan has all the features of the Free Plan and can generate up to 20 AI images per month.
The Unlimited Plan has all the features of the Saver Plan but can generate up to 100 AI images per month. You will also have a dedicated account manager to assist you with your content creation.
Writecream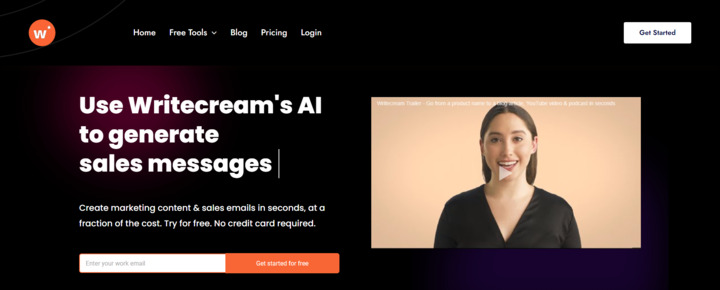 Free Plan Available: Yes
Available Plans
Free Plan: Limited to a total of 20 credits which equals approximately 40,000 characters generated
Standard Plan: $49/Month for 200 credits which equals approximately 400,000 characters generated
Extended Plan: $69/Month for 750 credits which equals approximately 1.5 million characters generated
Writecream AI is an AI copywriting tool that prices based on credits instead of words or characters. Each plan provides the user with a specific number of credits they can spend to create different forms of content. Content that requires more words will consume more credits.
Between each plan, there is not much difference besides the increase in output by the AI tool.
As a result, Writecream might not have all the features you are looking for unless you need a simple AI writing tool to produce your content.
Writesonic

Free Plan Available: Yes
Available Plans
Free Plan: Up to a total of 10,000 words generated
Long Form Plan: Range from $12.67/Month for 60,000 words to $665/Month for 4 million words
Writesonic AI offers highly customizable plans based on AI word generation.
Their free plan supports over 25 languages and has a built-in editor. It also comes with an AI chatbot builder, which can be handy if you have a website. 
The Long Form Plan is highly customizable according to your content needs. You can adjust your plan to include more user accounts and word generations. Additionally, it leverages the latest AI model, GPT-4, which will generate better content.
Frequently Asked Questions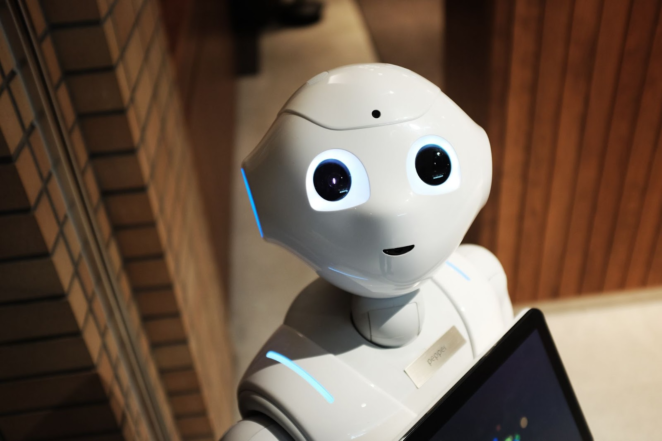 Will AI replace human copywriters?
One of the biggest fears people have with technology is that there may come a day when technology takes over people's jobs. We have seen this in all industries: kiosks replacing cashiers, giant robots replacing auto manufacturers, or computerized voices replacing teleprompters.
If AI copywriting tools can generate entire blog posts and marketing copy, what stops CEOs and business executives from laying off their marketing team and having a core team just use AI to write their content?
And the truthful answer is… nothing. In fact, there are businesses out there doing so already.
However, it would not be a wise decision because AI lacks the human touch. As human beings, we have the ability to infuse a part of ourselves into the writing that we create. There is a greater sense of authenticity and trustworthiness that a machine cannot accurately replicate.
Another challenge that arises from AI is that it is only as accurate as the model it is trained on. Therefore, it is prone to inaccuracies and creating misinformation. As a human writer, you have the ability to vet your sources and think critically about the content you are producing. AI cannot match that.
AI's last challenge is that it lacks the ability to innovate. All of the AI generations are based on aggregating relevant information in its data models. As a result, the outputs may be polished and have all the relevant information, but it looks the same as other content.
Your creativity, critical thinking, and human touch cannot be replicated as a human. Businesses that choose to replace their writers with AI are opting to create plain vanilla content that will not adequately capture their audience's attention.
Smaller businesses with less affordability might resort to using AI content to get started, but larger companies will likely still rely on the talent of human writers.
Overall, AI can serve as a productivity tool that can dramatically increase a writer's output.
You should not ask whether teams will be downsized to where one writer can do the work of 10. The question you should ask yourself is, what is your company capable of when your team of ten writers can produce the work of 100?
So will AI replace copywriters? No, because you need a human to ensure that the content or copy is authentic, accurate, and innovative so that you can connect with your target audience.
And in case you were wondering, this blog post was 100% written by a human and not AI-generated.
Who retains copyright over AI-Generated content and copy?
The US Copyright Office recently announced that copyright will only be issued to the human generated portions of work. This creates some major implications regarding how AI will be used moving forward. The reasoning is that AI prompts do not provide the user enough control over the AI generation and therefore cannot be subject to copyright.
This includes but is not limited to AI generated text and images. The big question for courts moving forward is how much human influence is considered sufficient to qualify for copyright.
Thus, it is important to stay up to date on AI legalities as they are subject to change. This is a new area for the world and policies will continue to evolve.
How can AI help writers?
So if AI will not replace writers, how can it help them?
AI can help you research, outline, draft, edit, and proofread your content and copy. This means that the writer has more time to focus on strategy and the content of the written material rather than the grunt work of writing.
Let's say a writer wants to write a blog post about executive leadership. Traditionally, a writer would use a search engine like Google to look up existing blog posts and identify a key topic they want to focus on. Then, they would look at other articles on that topic to gather research.
With AI copywriting tools, a writer can enter a prompt such as, "Give me 10 topic ideas for a blog post about executive leadership." Then they can select the response that fits their needs or re-enter another prompt.
When the writer is ready to create a draft, they can enter a prompt like, "Write me a blog article about creating a learning culture in executive leadership." The AI tool will produce a first draft, and then the writer can revise and edit the draft before publishing.
The most significant advantage of AI is it can save you time. The average blog post takes between 6-10 hours to write at a length of approximately 1500 – 2500 words.
With AI, you can dramatically shorten the time to write a single article which opens you up to create more content in less time or focus more on your content strategy.
What are the limitations of AI copywriting tools?
As of now, AI cannot do everything.

Over time, the limitations will shift, but most AI copywriting tools are not equipped to perform keyword research, citation of sources, or emotionally nuanced writing.
Many blog articles claim that AI tools can perform keyword research. However, we have found that keywords suggested by AI writing tools do not account for significant factors such as domain ranking, keyword ranking difficulty, and other SEO copywriting metrics. Furthermore, the content created needs to be revised by a human. Otherwise, it risks being flagged as spam content by search engines like Google.
AI still needs to learn to cite information and provide citations. As the tools evolve, we can expect this issue to be resolved, but citing sources is not a current feature. As a writer, it is our responsibility to ensure that we do not contribute to posting misinformation and false data. If you use AI to write factual information, ensure you have a rigorous fact-checking process in place.
Last but not least, AI copywriting tools are trained to find patterns in written language and therefore do not understand the nuance of human emotion. You may find that if you generate content with AI, you will have to humanize the writing before you publish it.
Is AI copywriting worth it?
Over 2000 years ago, Socrates believed that the written word would be the downfall of Humanity. He felt that humans should only rely on their memory and critical thinking. With books, Socrates argued that humans would have the illusion of possessing knowledge. Yet today, books have helped advance the world in ways beyond our own comprehension.
So today, we are privy to a significant milestone in human history where automation may be scaled exponentially.
This can be daunting due to the vast ambiguity surrounding the conversation.
As a writer, AI copywriting tools can be just another tool in your toolbox. You may be using grammar checkers, word processing software like Google Docs or Microsoft Word, and the internet. AI is just another tool available at your disposal.
As an artisan of your craft, you don't have to use that tool if you do not want to. The world will always need authentic writing that connects with other people.
So is AI copywriting worth it? The answer lies in the final product – the writing itself. If you use AI to create bland, generic content or copy, the answer is a flat no.
However, if you use AI copywriting tools to create a rough draft that you revise to fit your audience's needs, then you can cut down the time required to create that specific piece of content.
AI copywriting is only worth it if you know how to leverage it.
Creating Leverage with AI Copywriting Tools
The good news is that AI copywriting tools will not replace writers.
Whether you are an entrepreneur looking to grow your business or a copywriter looking to hone your craft, you are not going obsolete.
A writer is someone who translates ideas into a form that can be received and understood by others. Over the millennia of human existence, the modality of writing has changed dramatically. Now we are experiencing a new chapter in the world of writing.
But make no mistake, AI copywriting will enable bad writers to do mediocre writing. This means that the demand for quality writing will increase dramatically.
You may be on one side of the fence, looking to incorporate AI copywriting tools into your workflow. Or you may feel it is better to stick to your guns and keep it human.
Regardless of your feelings about AI, you should at least play with the tools to see their capabilities. The more you expose yourself to the opportunities and limitations of AI copywriting tools, the better equipped you will be to adapt to an AI-centric future.
So if you haven't done so already, start your journey with AI copywriting today!
And, of course, keep it human.