10+ Best Copywriting Courses for 2023
Willy Wood
Every year, the amount of business done across the globe continues to increase. In fact, in 2022 five million new businesses were created in the United States alone, a 42% increase from pre-pandemic levels.
Of course, starting a business is one thing. Succeeding in business is something else entirely. And to succeed in business, you need to make sales.
And what's the main thing that drives sales? No, it's not your branding, or your fancy logo, or the slick slide show on your site. It's not even the products and services themselves.
It's the words.
Powerful, persuasive language that convinces readers that the product or service you're selling is going to solve their problems.
And that, my friend, is copywriting.
And since more and more products and services are being sold every year, the demand for copywriters is higher than ever—and steadily increasing.
That's good news for you if you're already a copywriter or are looking to get started in the field.
But, like any other job, you have to have the chops if you're going to make it.
That's where a good copywriting course comes in. Sure, you already have some natural writing talent, or you wouldn't be pursuing this career. Now add in a great instructor who's experienced and successful in the field and a course curriculum that teaches all the inside tips and tricks for writing successful copy, and you have a recipe for success.
And that's what we're here to help you achieve in this article.
We've identified 11 of the best copywriting courses available today and we've broken them down into maxi-sized courses (comprehensive), midi-sized courses (slightly less comprehensive), and mini-sized courses (focused on a single aspect of copywriting).
Ready to find the course that will take your copywriting career to the next level?
Then let's begin!
Best Copywriting Courses for 2023
Maxi-Sized Courses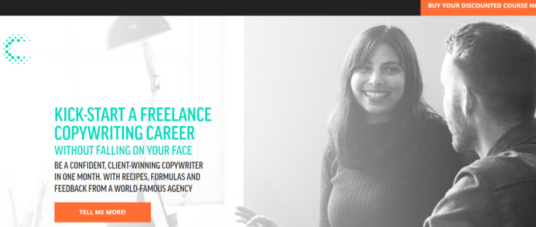 This copywriting course is designed to get newbie copywriters up and running with a completely built-out system. It will teach you the copywriting business from the ground up. This means that you won't just learn how to write well, you'll also learn how to run your copywriting business like a pro. This includes strategies for reaching out to clients, getting the gig, and building a relationship with them so they come back to you for repeat work.
And the people at the Creative Copywriter Academy know what they're talking about. They've done work for some real heavyweights, including TikTok, Adidas, and Hyundai.
The structure of the course itself is both flexible and supportive. "Flexible" because it's self-paced. Some people crank through it in a few weeks; others take their time and master one skill at a time before moving on. "Supportive" because you'll have access to feedback on your work from both the experts running the course and your fellow students.
One other bonus: If your work in the course is top-notch, CCA will add you to their network of trusted freelancers and help prospective employers find you. You can't beat that!
Focus: The course is designed for new and early-career copywriters.
Scope: You will have everything you need by the end of the course. From marketing and branding fundamentals to advanced copywriting techniques to book-keeping and invoicing to winning gigs. The course is truly comprehensive, teaching you how to write well and how to grow a full-blown copywriting business.
Delivery Method: Self-paced video training and 86 exercises to help you learn the concepts hands-on as you go. There are also 30 downloadable templates and worksheets and feedback from instructors and other learners. You also get lifetime access to all the course materials.
Cost: They say that this course costs $3,196, but then they say that you'll actually only pay $290 with a "Special COVID Discount." No idea if that $290 pricing will disappear now that COVID has abated, so if you're looking for a comprehensive course, you might want to jump on this one now.
Pros:
A complete system that provides everything you need to build a copywriting business from the ground up.
A complete system for only $290 is a great value.
The course is self-paced, so you can devote however much time you have available to working through the course.
Includes a community of like-minded new copywriters to share with and learn beside.
You get feedback on your efforts from copywriting pros.
Cons:
Those who prefer a paced course with deadlines for completing each step won't find that here.
If you're only looking for help with a few aspects of copywriting or a few business challenges, the comprehensive nature of the course may be overkill.
This popular, comprehensive course covers both the techniques required to write copy that sells and the ins and outs of creating a copywriting business from the ground up.
Here's just a partial list of the materials you'll be able to access. Each of these is actually a separate course within the training site:
Copywriting Course (the original video training)
Copywriting Concepts
Email Writing
Email Autoresponders
Content Writing
SEO
Social Media
Creating Ads
Creating Images
Creating Online Courses
Newsletter Course
How to Get Your First Freelance Gig
In addition, by signing up, you join a growing community of copywriters that you can stay plugged into long after you've completed the course. You can even write some copy, post it in the community, and get feedback from professional writers before you even send it out!
The course was created by Neville Medhora, a world-class copywriter who has applied the techniques taught in this course to a number of businesses, including AppSumo, and TheHustle. He also runs SwipeFile.com (a free resource for marketers), a podcast (Neville Medhora Talks), and his own YouTube Channel. If you're hesitant to take a course unless you're absolutely sure that the people running it know their stuff, then you can put your fears to rest with this course.
Focus: This course contains all the training materials the company has ever produced in one comprehensive course. The focus is practical – you can have your copy assignments reviewed by a community of professional copywriters.
Scope: Very comprehensive, but you can stay subscribed and take as long as you like to complete it.
Delivery Method: Online training plus live coaching calls, office hours, and a highly engaged, interactive community of copywriters.
Cost: This course is offered on a subscription basis—either $97 a month or $750 for the first year and $365 per year afterwards.
Pros:
Covers many specific areas of copywriting: emails, sales copy, ads.
You get access to a large and growing community of copywriters where you can get feedback on work in progress.
Your questions are answered and your copy is reviewed throughout the course.
Become Copywriting Course Certified with a stamp of approval that you can use in all your marketing materials.
Cons:
The course isn't written in an easily digestible format. Instead, it's a collection of individual courses, so there's not necessarily an intuitive flow for consuming the material.
If you can't work your way through the materials fairly quickly, the subscription fees start to add up.
This course is broader than most others on the list, in two ways:
It includes content writing instruction as well as copywriting instruction, and
It focuses on the needs of both B2B businesses and B2C businesses.
On the content marketing side, you'll learn how to create a content marketing strategy for a business, how to write content that attracts leads, and how to avoid some of the common content mistakes.
On the copywriting side, you'll learn how to write killer copy for ads, emails, landing pages and more. You'll also discover how to write powerful headlines and how to apply proven psychological principles to get people to buy the products and services you're pitching.
Throughout the course, you'll study real-world examples of each technique and read case studies of businesses who used the approaches in their copy.
The course is taught by marketing executive Dekker Fraser, who has served as Director of Marketing for Ironclad Games / Flame Design, as a Vice President of Marketing for a Google accelerator startup, and as a Global Product Marketing and Brand Manager for Sony PlayStation.
Focus: B2B and B2C copywriting and content writing for online businesses. The courses covers everything from lead generation ads to email nurture sequences, from case studies to funnel content.
Scope: The course includes 12 sections and 124 lectures, totaling 13 hours of video instruction. It also includes five downloadable resources and 17 articles that expand on the video content.
Delivery Method: Recorded video lectures with downloadable resources.
Cost: $84.99
Pros:
The course covers both content writing and copywriting and how the two work together to help a business succeed.
The course teaches specific strategies for B2B and B2C businesses.
Reasonable cost for such a wide-ranging course.
A certificate of completion is provided.
Cons:
With the broad range of material covered, some of the material likely won't apply to your specific situation.
Midi-Sized Courses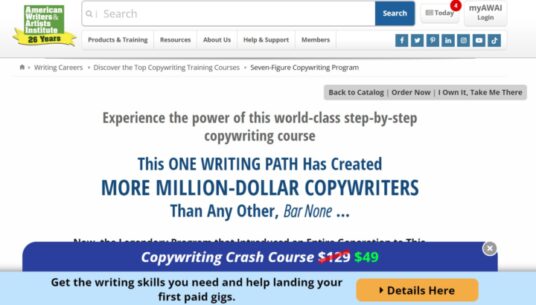 AWAI has long been considered one of the leaders in the field of copywriting training, and The Accelerated Program for Seven-Figure Copywriting course is their flagship offering. They claim this course "has created more million-dollar copywriters than any other."
In this course, you'll learn from some of the best copywriters in the world. Also, some version of this course has been around since 1997, and it's constantly updated to meet the most current demands of the market and the profession. In the latest update, AWAI has made the learning even more immersive—with more feedback and direction on your writing, more work samples, and more of what works in today's digital marketing era.
One totally unique aspect of this course is the "$10,000 Challenge." Everyone who takes the program has an opportunity to win a contract for $10,000 from AWAI. At least one $10,000 contract is awarded each year to an AWAI-trained writer. How's that for motivation?!
Focus: This course focuses on direct response copywriting (writing that converts), especially writing long-form sales letters—the kind of work that not only pays big fees, but also pays royalties from winning sales letters that become controls.
Scope: Comprehensive as far as sales letter writing is concerned. Filled with all the tips and tricks of the very best direct response copywriters in the field. In addition, it covers everything you need to know about the direct response copywriting industry and how to launch your copywriting career.
Delivery Method: Online, including assignments and access to tutors as you work through the course. This is a "hands on" course; you actually create a body of work as you go. Also, you can complete the course at your own pace—knock it out in a matter of weeks if you're hyper-motivated or take a whole year.
Cost: This course is usually offered for $497, but you can get it on sale at the time of this writing for $297.
Pros:
Originally created by Mark Ford (pen name, Michael Masterson), one of the giants of the direct response copywriting field.
The most in-depth coverage of sales letter writing you'll find anywhere.
Self-paced, so you can learn from home as it fits your schedule.
Moderately priced for such a comprehensive training.
You also get access to their writers' community to network and ask questions.
The $10,000 Challenge!
Cons:
The intense focus on direct response copywriting means that you won't learn how to write some of the ancillary sub-genres of copywriting.
This is a two-day training designed for copywriters, marketers, and small business people who work with copy regularly. It has been held as a live event in the past, but all of the upcoming 2023 sessions as of this writing are virtual.
In the course, you'll learn how to generate ideas, organize them, and capture the reader's attention. You'll also learn how to write persuasively for a number of different channels, how to manage copy briefs, and how to sharpen your editing skills.
The course is led by Alan Barker, a specialist in communication skills with 25 years of experience as a copywriter, trainer, and coach. His clients include the National Gallery, the British Museum, the International Criminal Court (in The Hague) and the Korean National Diplomatic Academy. He has written almost thirty books and ebooks, including Improve Your Communication Skills, How to Solve Almost Any Problem and Creativity at Work.
Focus: Advanced copywriting techniques, including tone, content, various mediums, audiences, copy-stream management, and more.
Scope: Two-day masterclass.
Delivery Method: All upcoming sessions are listed as virtual.
Cost: £1,249 (over $1,500 at current rates) for in-person training and £999 (almost $1,250) for virtual training.
Pros:
The Chartered Institute of Marketing is known as one of the most reputable marketing organizations in the UK.
Small class sizes—no more than 15 attendees per cohort.
Covers both advanced copywriting techniques and marketing strategies.
You will receive constructive advice about your own writing. The Copywriting Masterclass includes a series of writing assignments, including detailed feedback from the course director.
Cons:
On the expensive side for a two-day training.
No matter how good the trainers and materials are, you aren't going to get a comprehensive understanding of copywriting in two days.
This course covers topics such as how to understand the audience you're writing for, how to write copy that appeals to an audience based on their level of awareness, how to effectively format web copy, how to write headlines that get clicked, and how to use testimonials to support your sales copy.
Yeah, these are all basics of good copywriting, but the people at Copyhackers do a great job of teaching this stuff. So, if you're trying to get your copywriting "sea legs" underneath you or feel like it's time for a refresher on the basics, this class will do the trick.
The course is taught by Joanna Wiebe, the CEO of Copyhackers, who has been called "the original conversion copywriter" (because she literally coined the term). Joanna has driven multi-millions in revenue writing copy for the likes of Shopify, Huel, and Wistia and has been invited to teach conversion copy on 100+ international stages and to sales and marketing teams at Google and Amazon. That's a big-time instructor for a course that costs less than eating out for the evening!
Focus: The focus is "conversion copywriting,", or how to write high-converting sales copy.
Scope: Basic foundational concepts and formulas that can be applied to most copywriting jobs. There's enough content here to give you great value, but not so much as to overwhelm you (like some copywriting courses do). You can work through the course in a single day, if you like, or you can take your time.
Delivery Method: Includes 10 actionable lessons (with transcripts), 10 over-the-shoulder video tutorials (with transcripts), three copywriting frameworks that you can use over and over again, and proven headline and call to action formulas. You can download transcripts of all these lessons and go back to them over and over again.
Cost: $25
Pros:
Extremely knowledgeable instructor.
No fluff, all actionable content.
Enough content to make significant improvements in your writing, not enough to overwhelm you.
Great value.
Cons:
If you're already solid on all the basics of copywriting and are looking for advanced techniques, you won't find that here.
As the title states, this course is for those just beginning their copywriting careers. The instructor, Jesse Forrest, is the founder and chief copywriter at StartCopywriting.com and is one of Australia's most experienced and successful copywriters. When he teaches a technique, he almost always follows it with several real-life examples so you can see how to use it in your own work.
You'll learn copywriting fundamentals such as how to write attention-grabbing headlines (using three proven templates), how to read your target audience's minds (using an 8-point research questionnaire) and how to use a free research tool to uncover the exact words your target market uses (so you can write copy that speaks directly to them).
In addition, you'll get three easy exercises to help you break free of writer's block and get back to writing, fill-in-the-blank templates for writing sub-headlines and call-to-action button copy, and two simple questions that help you turn boring features into irresistible benefits.
Focus: Primarily focuses on beginning copywriters and targets how to write three of the main genres in copywriting: websites, landing pages, and emails.
Scope: Limited to the basic fundamentals of copywriting that beginning copywriters need to master to be effective. One area of emphasis that you don't find in every copywriting course is the focus on analyzing the target audience's problems and the language they use. This allows you to speak to their needs using their own words, which is very powerful!
Delivery Method: 60 minutes of total instruction delivered through 16 short videos. You can work through the material in a couple of hours.
Cost: You can't purchase the course separately. To get access, you'll need to sign up for a Skillshare plan, which normally starts at $13.99 a month. That's the bad news. On the positive side, you can take advantage of a free trial and take the course during the trial period, then cancel the subscription. And if you like what you see on the Skillshare platform during the trial, you can keep the subscription and get access to literally thousands of other courses! If you don't have a Skillshare account and don't want to get one, this course is also available on Udemy.
Pros:
A strong focus on learning about your target audience and how they think and speak about their problems. This is a crucial topic not always covered in copywriting courses.
Includes a number of templates to use for a variety of copywriting purposes.
Includes several writing exercises to help you practice your new skills.
A certificate of completion is provided.
Cons:
This is an introductory course, so the instruction is on the basics, rather than advanced techniques.
You won't be a professional copywriter after taking this course, but it will lay a strong foundation upon which you can build.
8. The Copy Cure, Marie Forleo and Laura Belgray
This course is Laura Belgray's flagship copywriting course, which she created in cooperation with #1 NY Times best-selling author Marie Forleo.
Laura is the founder of one of the best copywriting sites out there—Talking Shrimp—so she knows a thing or three about copywriting. What's more, the course itself is a delight to take, as it's easy to follow and written in an engaging, witty style.
The thing that really sets this course apart is it focuses on teaching you how to identify, trust, and use your authentic voice when writing copy. And while there are many "tricks of the trade" when it comes to copywriting, writing in a natural, non-salesy, conversational voice trumps them all. Because that's the kind of voice that's naturally attractive to your ideal clients and customers.
Focus: This course isn't actually designed for copywriters. Rather, it's designed primarily for solopreneurs and small business owners who want to learn how to write better copy for their businesses, so they don't have to hire a copywriter. Some of the business owners who have been helped by the course include a pet portraitist, a Renaissance history podcaster, a brick-and-mortar skate shop owner, and a Hungarian entrepreneur selling Dog Mom t-shirts. You can't make this stuff up!
Scope: You could binge watch your way through the lessons in about the time it would take to binge a season of your favorite Netflix show. That said, most people apply the lessons as they go, which means you'll probably consume the lessons over the course of a few weeks.
Delivery Method: The main course materials include streaming videos, "fun sheets", writing tools and resources, eight masterclasses, writing templates, live group coaching calls with Marie and Laura, and the chance to have your copy workshopped in one of the real-time copy makeovers.
Cost: The most recent iteration of The Copy Cure cost $1,499. There's no guarantee that the price will stay the same for the next cohort.
Pros:
Created by a leading copywriter and a best-selling business author.
Its focus on writing authentic, conversational copy is unique.
Offers a 100% money back guarantee (as long as you do the work).
Cons:
The course is only open once a year and runs on a cohort basis. If it's not currently open for new sign-ups, you'll need to get on the waiting list for the next cohort.
It's on the expensive side when compared to most copywriting courses.
Mini-Sized Courses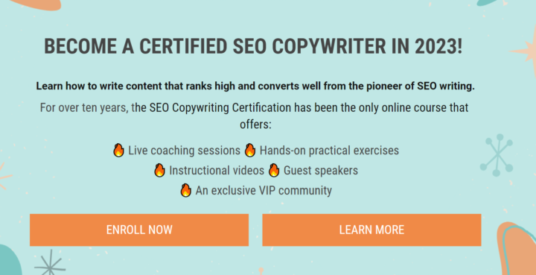 This course is for both freelance copywriters and in-house agency SEO copywriters. Whichever role you fill, in this course you'll learn how to help B2B businesses who want to get more traffic to their sites through targeted SEO copywriting.
SuccessWorks was the first agency to specialize in SEO and created the first SEO Copywriting Certification in 2010.
The course is taught by Heather Lloyd-Martin, who has been teaching copywriting for 25 years and who Forbes has called "the pioneer of SEO copywriting."
Topics covered include writing for the web and social media and how to use keyword research to guide your writing, so you create copy that both human readers and the search bots love.
The course offers an industry-endorsed SEO copywriting certificate and is trusted by Dow Jones, NBC, and many other large companies.
Focus: This course is a deep exploration of SEO copywriting. It will teach you everything you need to know about optimizing copy for search engines. You'll also learn how to get clients and how to charge (and get!) high fees for your work.
Scope: This is a "deep dive" into SEO, so it takes most people about three months to work through it.
Delivery Method: Online video lessons, with live calls every month with Heather and some amazing guests. In addition, you get hands-on practical exercises to help you practice what you're learning, and you get access to an exclusive VIP community.
Cost: $995
Pros:
Created by one of the world's top SEO experts.
Self-paced online course, so it's very flexible.
You come out of it a certified SEO copywriting expert, which can be a great selling point for clients.
In addition to learning from Heather Lloyd-Martin, you'll also learn from other ace copywriters on the training calls (people like Copyblogger's Brian Clark and AWAI's Pam Foster).
Cons:
The focus is almost entirely on SEO copywriting, and doesn't cover broader topics like branding and marketing.
Fairly expensive.
In this beginner-level course designed for copywriters and business owners, you'll learn how to write effective copy to attract and engage your brand's audience via social media.
The instructor is Paul Anglin, Copywriting Director at Craft Copywriting, who has twenty years of experience working with brands like Apple, Nike, and Microsoft. In this course, he shows you his process for producing engaging social media copy.

You'll start by learning how to use basic writing tools to easily brainstorm ideas, develop them with insight, and deliver them creatively on your social media channels. You'll learn how to craft a campaign for your brand with relevant copy that captures your audience's attention.
Some of the specifics covered include:
Understanding the Brief
Looking at Research
Finding the Idea
Developing the Idea
Understanding Social Media Copywriting
Using a Formula
Giving Your Posts a Creative Twist
Focus: Tightly focused on writing for various social media platforms. You'll walk away from this course with a solid understanding of social media writing, but don't expect anything beyond that.
Scope: Since the focus is strictly on social media, the scope is necessarily narrow.
Delivery Method: 100% online video instruction with lifetime access. Includes 14 lessons for a total of 2 ½ hours video time. Also included are 21 additional resources.
Cost: Currently $9.99 (75% discount off normal $39.99 price)
Pros:
If your goal is to learn how to be an effective social media copywriter, you'll learn many valuable skills to that effect in this course.
If you're a Domestika Plus member, you can get a custom certificate to share on your portfolio, social media, or wherever you like.
The course includes a single project, but it's an in-depth one—to develop a copywriting campaign for your brand, from the initial brief, to the strategy, methods, and ideas, to the final copy.
Very inexpensive. Lots of value for your buck.
Cons:
This course focuses strictly on social media copywriting, so you won't learn about other copywriting genres such as email, sales letters, or landing pages.
If your company or your clients are branching out into paid advertising, this might be just the course for you. You'll learn how to write ad copy that converts for different platforms.
The course is taught by Michael Duquet, Conversion Optimization and Growth Strategist at social media marketing platform Hootsuite. Duquet has over a decade of experience leading marketing and website content teams, so he definitely knows what he's talking about.
Focus: This course focuses on writing paid ads that convert. Included in the course are lessons on how to write for various media types (websites, email, direct mail, social media) and how to adjust your message and tone based on your target audience. But it's not all about writing techniques. The course also delves into topics such as psychological triggers and the future of advertising.
Scope: Narrowly focused on creating paid ads that convert.
Delivery Method: The course consists of seven modules and 22 short video lessons. This totals up to about an hour of viewing time if you watch straight through. Also includes a quiz to test your knowledge at the end of each module.
Cost: If you have an account with LinkedIn Learning, you can access the course. There's also a free trial available, so it's possible to take the course for nada.
Pros:
This is a "deep dive" into ad copywriting, so if you've already done some work with paid ads and are looking to "level up," this course might be for you.
The instructor is an experienced professional in the marketing field.
There is a certificate of completion available.
Cons:
This is an intermediate level course, so if you're a beginner, some of the material may be a bit over your head.
Since the course focuses on ad copywriting, don't expect to learn about other aspects of copywriting outside of that focus.
These Copywriting Courses are Ready for You… Are You Ready for Them?
So, there you have it. 11 of the best copywriting courses available today.
Whether you're an up-and-coming copywriter or an entrepreneur looking to write your own copy, whether you're looking to take your very first copywriting course or just looking for a refresher, whether you want a comprehensive course or a more narrowly focused one, we hope you've found something here that's gotten you excited.
So, what are you waiting for? Everything you need to learn is probably included in one or more of these courses. All you have to do now is take action.
Best of luck!
As an online course creator, copywriting is an essential skill that can help you create more engaging courses. To learn more about what it takes to create a successful online course, we invite you to join our FREE Hybrid Courses Bootcamp.
Let's Start Building Your Online Course!
In our FREE Hybrid Courses Bootcamp, we'll walk you through how to transform your knowledge and expertise into a profitable online course… one your students will love.