What is Content Marketing? (The Complete Guide + Examples)
Andrew Folkler
During the 2020 pandemic, businesses worldwide had to pivot dramatically due to the global lockdown. Companies that relied heavily on in-person events were impacted by social distancing restrictions and had to find a way to sell their products online.
Then, business coaches and influencers began releasing videos and social media posts about the benefits of using content marketing in your business. The companies that adopted this strategy found themselves able to connect with their audience again. By releasing consistent quality content, they were able to stay relevant despite losing the in-person interactions they were so reliant on in the past.
Today, content marketing is in huge demand. According to Hubspot, 82% of marketers actively use content marketing in their business. Content marketing is here to stay, and it remains one of the best ways to generate leads and build your brand. In a study by PR Newswire, 82% of consumers said they purchased a product because of content marketing.
Although the term content marketing might sound intimidating, it's not as complicated as you think. We've created this guide to provide you with the knowledge and tools necessary to build a content marketing strategy for your business.
You will learn about the different forms of content, look at some examples of content, and go through a step-by-step process to build your own content marketing strategy. Additionally, you will discover the exact tools many content marketers use to produce high-quality content.
Let's jump right into it.
What is Content Marketing?
Content marketing is the strategic process of preparing, publishing, and optimizing your content to grow your business. As recent studies show, content marketing plays a huge role in achieving success throughout your campaigns.
According to the latest data, 71% of content marketers have seen content marketing grow in significance in the past year, and 40% of marketers have a well-documented content marketing strategy. Additionally, 78% of content marketers reported that their organizations plan to invest or continue investing in video, with 48% of marketers having a monthly budget of up to $5000 dedicated to content marketing.
Each piece of content is an opportunity for your business to interact with your audience and build a meaningful relationship. Through content marketing, you are taking a 30,000-foot view and analyzing how your content builds the relationship over time.
For example, let's say you are a business owner selling an online course on cooking healthy meals without sacrificing flavor. Most of your content is going to be recipes and cooking tutorials.
To this end, you may create videos and take stunning photos and put them on your Pinterest Boards. Your target audience would look for healthy recipes and discover your channel. Then, they would follow your content and learn so many new things, but they want to learn more! That is when you can direct them to your online course.
Content marketing is about the customer journey as a whole. Each piece of content leads them closer to trusting your brand and building a meaningful relationship.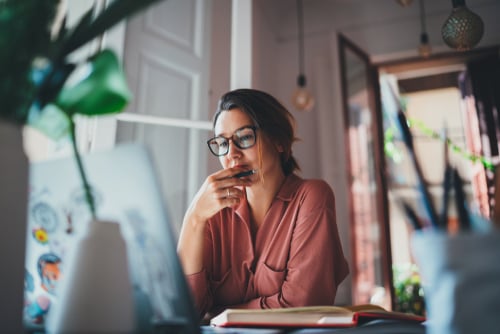 Why is Content Marketing Important?
Now you might be thinking, "This seems like a lot of effort…I don't know if I can do this" or "Only big businesses have the bandwidth to do this."

While these might be valid concerns, that doesn't mean you should not look at how you can leverage content marketing in your business… even if you are a one-person business.
There are four key benefits to content marketing that will help grow your business.
Benefit 1: Positions You As An Authority
The first benefit is you position your business as an authority in the industry. When your audience discovers your brand, they are likely searching for a solution to a challenge they face. If they find your content and it helps them with their problem, they will be more likely to seek your business out for additional help.
Benefit 2: Builds Brand Awareness
The second benefit is that content marketing builds brand awareness. The moment you launch your business, you need to attract the attention of your audience. How do you get eyeballs on your brand if nobody has ever heard of you?
The secret sauce is content. When you produce quality content that educates and nurtures your readers, they will be more likely to remember you. People relate to brands in the same way they relate to people. You are more likely to remember someone who helped you several times than a faceless stranger in the crowd.
Benefit 3: Lead Generation
The third benefit is lead generation. Now that you have a bunch of people who are becoming increasingly aware of your brand, you can filter them as leads for your products and services. One way you can do this is to produce content that helps you identify whether your leads would be likely buyers. For example, you could produce a report and those who opt-in for the report would be more likely to also purchase your product or service.
Benefit 4: Lead Nurturing
The final benefit is lead nurturing. Your leads will all be unique and in different stages of their growth. Therefore, you will want to present to your leads with all the relevant information to guide them to the right products and services that you offer.
Say you have a group of leads who bought an online course from you. What happens after they complete the course? You could allow that to be the end of your relationship with them, but that does not make good business sense. You will need to present to that audience the next step in their relationship with your brand, whether that is a higher-tiered program, a mastermind or other products and services.
So is it worth the effort? Absolutely.
But what is the right form of content marketing for your business?
What Are the Different Types of Content Marketing?
Content comes in all shapes, sizes, and colors. It is a form of expression and creativity. Every day, marketers and business owners innovate new ways to present their products and services to interested parties. And it will continue to evolve into new modalities in the future.
Just think about it. 100 years ago, content came in the forms of books, newspaper editorials, radio, black and white movies, word of mouth, artwork, and rudimentary photos. With the advent of the internet, content has exploded. Today anyone can write a book, host a podcast, or film a video.
Let's dive into the different forms of content marketing.
Written Content
Starting with one of the oldest forms of content marketing, written content continues to be one of the most popular forms today.
There are so many forms of written content that you could use in your business. You could write blog posts, journal articles, books, ebooks, reports, email sequences, press releases, case studies, or white papers.
And with all these different options… which one should you choose?
If you are writing extensively about a specific topic, you will mostly publish that information in a book or ebook. The average printed non-fiction book has about 230 words per page, which means a 200-page book would have approximately 60,000 words.
For content less than 60,000 words, you may consider an ebook, white paper, or a report. White papers and reports are excellent selling tools that allow you to present research findings and relevant data to your audience while educating them on a common issue in your field. Content this size typically ranges from 5,000 to 25,000 words.
Going even smaller, blog posts, journal articles, and case studies are excellent ways to focus on a specific topic. Ranging from 750 – 5,000 words, shorter written content gives you the leeway to really dig into the meat and potatoes of your ideas. Case studies are a great tool to leverage the positive experiences of past clients and use that information to encourage new clients to purchase your products or services.
Press releases are another type of written content that allows you to summarize a large piece of content so that journalists and podcast hosts can get up to speed about what you are offering. Typically, you would write a press release to garner media attention if you are publishing a book or hosting an event.
Last but not least, there is email marketing. Emails are an excellent way to interact directly with your audience. Typically emails are 50 – 300 words, containing links to different resources, products, and other content your audience might be interested in.
Podcasts
The podcast industry is booming right now. According to Statista, there were approximately 120 million podcast listeners in 2021, which is expected to rise to 160 million listeners in 2023.
Podcasting allows you to teach and host conversations with subject matter experts all over the globe. Listeners can tune in while doing chores, working out, traveling, or even lying down.

One common fear many people have is they think they must have a bunch of expensive tech to run a podcast. They may be concerned about lighting, audio and camera quality and think you have to hire a professional editor to put it all together. While all these features are important, you don't need them to start producing a professional podcast.

You just need to start and keep going. Optimizing comes later after you have started. 
Podcasts work well in almost all niches. All you need to start a podcast is a microphone (even the one on your phone works), and you can record a podcast episode.
Paid Advertising
Paid advertising is another popular medium of content. Paid advertising jumps straight into the selling process, enticing your audience to purchase your products or sign up for a lead magnet. Typically paid advertising shows up in social media ads and on Google ads.

If you are selling a specific product, it's common to see a photo with some ad copy to motivate buyers to click on the ad to make a purchase. This is a common form of content in e-commerce.

For more expensive products and services, you might see a paid ad for a lead magnet (report, webinar, or ebook). This would intrigue interested buyers to opt-in, giving the business owner new leads which they can nurture down the customer journey.
Infographics
Infographics are perfect for representing data and research in easy-to-consume visuals. They can be used as a lead magnet or as a bonus resource in your offer. Infographics are easy to create. You only need a few design tools like Canva, and you can create an infographic that your audience can consume.
Video
Whether it is on YouTube, Vimeo, your online course, or social media, video is one of the most popular mediums for content marketing. According to the VARK learning methods, people learn through visuals, audio, reading, and kinesthetics. Thus, video is one of the few content mediums that can combine these different learning styles into one form of consumable content.
Like podcasting, it is easy to feel overwhelmed. You may feel camera shy and worry about whether people will watch your videos. And it is okay to feel like that. Most people who are confident on camera start creating videos feeling nervous.
What is important is that you find a way to push through that nervousness. And once you do, you will have a powerful content medium at your fingertips.
Social Media
Love it or hate it, social media is here to stay. According to a recent study in Statista, 4.89 billion people are projected to be using social media in 2023. And that number is expected to grow to 5.85 billion in 2027.
The greatest value of social media lies in its ability to bring people together in communities. Through social media, you can build relationships with your audience by bringing people together with similar interests. Not only will they be able to connect with your brand, they can also interact with other people who have similar passions and challenges.
With a community, you can create posts containing images and links to your other content resources. Through ads, you can direct your target audience to your products to encourage people to make a purchase and continue building their relationship with your brand.
Online Courses
The last content medium in our list is online courses. Creating online course materials is an excellent way to position yourself as a teacher and share your knowledge and expertise with your audience.
Online courses typically contain a collection of videos, articles, and worksheets that help educate the student. With this teacher-student dynamic, you can build a meaningful relationship with your audience so they continue to come back to you again and again.
Content Marketing Examples
With so many different types of content, it is easy to become overwhelmed. So before diving into the 9 steps to planning a content marketing strategy, let's look at some real-world examples. In each of these examples, take a moment to think about the content topics, the structure of the content, and how you might be able to adapt some of these lessons into your content marketing strategy.
Mirasee FM

One day, Danny Iny was looking at several major podcasting studios and thought to himself, "What if Mirasee had its own podcasting studio?"

And then, Mirasee FM was born.
Mirasee FM is one of the most popular forms of content produced by Mirasee. You might be listening to amazing coaching insights from Melinda Cohan in Just Between Coaches. Or perhaps you enjoy immersing yourself in the different stories Lisa Bloom shares in Once Upon a Business. If you are an entrepreneur, you might be a fan of Making It, where other entrepreneurs share their journey to success.
Each week, Mirasee FM podcasts garner thousands of downloads from listeners across the globe.
But what are the core takeaways from Mirasee FM? Well, you won't be able to fully experience it without listening to a few episodes yourself. Pick an episode and take a notepad to write down your thoughts. Examine how the episode navigates through its main topic. How does that topic matter to the target audience? How is the audience transformed after listening?

Good content will convey information clearly to the audience, but great content creates an experience. Each episode is a masterclass in creating content that resonates with your audience. So if podcasting is a medium you wish to include in your content marketing strategy, tune in and try to extrapolate how you can create content your audience wants to listen to.
2 Sigma Sundays

Everyone needs a friend who shares the latest and greatest tools and resources. A friend who wants to see you succeed and so they always look out for things you might like. Maybe you are that friend to someone else!

My colleague, Emjae, is also that kind of friend with the Mirasee Newsletter 2 Sigma Sundays.
2 Sigma Sundays is a perfect example of how you can continuously interact with your audience and provide them with a great amount of value. Every Sunday, a newsletter is sent out to thousands of people. When you open the email, you will see podcasts, books, blog articles, and events that are recommended. All of which are highly relevant to coaches and online course creators.
While there are many golden nuggets to glean from 2 Sigma Sundays, there is one I want to highlight here. Not everyone will see your content once you hit publish, and it is not because they don't care. They just didn't know that content existed. That is why it is important to use all your different platforms and channels to broadcast your content to your audience.
You may consider sharing your updates on a newsletter, a blog, social media, or an online community. Many people feel worried that they are being too pushy about their content. However, that is not the case. Your audience will be thankful when they consume your content.
But they can only be thankful if they know it is there.
Mirasee's Online Communities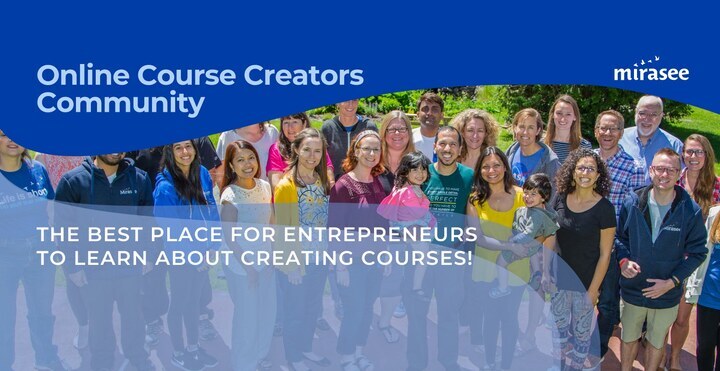 You may have heard of Mirasee's paid communities like Aces and Teach Your Gift Pro but you may not have heard about the Mirasee online community on Facebook called Online Coaches and Course Creators (OCCC for short).
OCCC has over 15,000 entrepreneurs, course creators, and coaches looking to grow their businesses. Each week, the group shares key resources like blog articles, podcast episodes, and Mirasee event updates. Additionally, each week a live stream is recorded where entrepreneurs, coaches, and writers are interviewed for their best insights.

You might notice a similar pattern with the newsletter. The online Facebook community is another platform to broadcast your content to your followers. However, there is something else that I want to share with you that might not seem so obvious.
Online communities create an opportunity for discussion between its members. Maybe a new member wants to introduce themself or a current member has a question about something they are stuck with. When other community members chime in and share their thoughts and experiences, it creates a dialogue.
Online communities like OCCC create a platform for members to think about their ambitions in a new light. It is an opportunity to share ideas and pursue a passion together, creating an experience that your audience will remember.
How to Plan a Content Marketing Strategy
You know what content marketing is. You have seen the different types and looked through several examples. Now it is time to talk about the elephant in the room.

How do you plan a content marketing strategy?
Here is the 9-step process we recommend to produce a winning content marketing strategy.
Step 1: Brainstorm SMART Content Marketing Goals
As always, you cannot aim for a target you cannot see.

A SMART goal is an acronym for goals that are:

S – Specific
M – Measurable
A – Achievable
R – Realistic
T – Timely
When setting your SMART goals, consider what objectives you need to achieve for your content marketing strategy. Are you looking to increase your brand awareness or nurture your current audience? What are your revenue targets based on your content marketing?
Here are a few examples of SMART goals you could set for your content marketing strategy.

In 3 months, I will have released ten new episodes for my podcast.
In 1 month, I will write two new blog articles and post them on my website.
In 1 year, I will finish my draft for my new book and send it to my editor.
Step 2: Choose Your KPIs
Now that your goals are set, you need to know how you will measure your success. Key performance indicators (KPIs) are specific metrics that you can track as you publish your content to determine how well it is performing.

Your KPIs will differ based on the medium you choose.

If you sell a product like a book or a report, your KPIs might be units sold and the number of unique visits to a specific link.

If you are podcasting, you will be measuring weekly downloads and how long people are listening.

For emails, you will measure the open rates, spam reports, and click-through rates.
And for social media, you might track impressions, engagement, and click-through rates.

Ultimately, you will want to be clear on what you are measuring so you can track your progress. Afterwards, you can optimize your content marketing strategies to improve your performance.
Step 3: Get Clear on Your Target Audience
Success is achieved when you master the basics, and that is why it's imperative that you are clear about your target audience.
Your target audience will determine how you communicate with them and what you offer them. There are two core elements of understanding your target audience: demographics and psychographics.

Demographics refers to the physical characteristics and qualities of the target audience, such as gender, age, education level, financial status, geographical location, and status.
Psychographics refers to the psychological characteristics of the target audience, such as their fears, personal challenges, desires, and motivations.
Step 4: Figure out the best type of content for your business
Now that you have your goals and a clear picture of your target audience, you can start to assess what kind of content works best for your brand.

Is it more beneficial to focus on creating blog articles, podcasts, videos, or webinars? Or is it better to create email campaigns with thoughtful newsletters and content upgrades?
The type of content you choose will depend on the goals you have set for your business and what your audience prefers. It is important to test different types of content to see what resonates with your target audience.
Step 5: Select your content marketing channels
Once you have chosen the type of content you will create, now it is time to choose where you will publish your content.
Will you use social media channels such as Facebook, Twitter, or Instagram? Or do you prefer blogging platforms such as Medium and WordPress? What about advertising opportunities such as Google Ads or YouTube ads?
Each of these channels has different advantages. However, it is crucial to pick the one that's most suited for your content and audience.
Step 6: Set your content marketing budget
Now that you have chosen the type of content, how you will measure it, and your channels for promotion – now it is time to decide on your budget.
Your budget should be based on the goals you set in step one. If your goal is to increase web traffic by 10% over a year-long period, then that should be reflected in the budget.
When setting your budget, assess how much you can realistically afford and adjust accordingly. While the suggested figures vary across businesses and industries, typically it is advised that you spend no more than 25 – 30% on your marketing budget. It is also important to remember that content marketing takes time and effort – so factor in extra costs such as outsourcing tasks or hiring additional employees.
Step 7: Develop your content marketing calendar
Now that you have your budget and your goals in place, it is time to develop a content marketing calendar. This will help keep you organized and on track with your content creation, promotion, and measurement.
Your calendar should include dates for when you plan to create content, what type of content will be created, when the content will be published, and when you plan to measure the success of each piece. Your content calendar can be measured in 30, 60, or 90-day cycles. Typically you do not want to create detailed plans more than 90 days ahead as you will likely adjust your content marketing campaign based on current performance.
Step 8: Create and optimize your content
Now it is time to create your content. When creating content, it is important to focus on delivering quality and engaging pieces optimized for SEO and social media.
When optimizing your content, use keywords relevant to the topic you are writing about, and make sure to include visuals such as images or videos. Use social sharing buttons to make it easier for readers to share your content.
Once you have published your content, utilize analytics tools such as Google Analytics or BuzzSumo to track the performance of each piece and adjust accordingly.
Step 9: Track, Analyze, and Optimize
The final step in your content marketing plan is to track, analyze, and optimize. This will help you understand what works best for your brand and audience and make adjustments. Use analytics tools such as Google Analytics or BuzzSumo to track the performance of each piece of content. Assess which types of content are performing best and adjust your content calendar accordingly.
You should also use A/B testing to analyze the success of different elements, such as headlines, graphics, or call-to-action buttons. This will help you determine what works best for each piece of content. Finally, optimize your content by making tweaks and adjustments as needed to ensure that you are delivering the best possible content for your audience.
Best Content Marketing Tips
1. Be Authentic
While it might sound cliche, authenticity is critical in creating quality content. You might feel like you need to craft your content in a specific way, but no one can be a better you than you. If you are worried about whether people will like your content, write it anyway. You can always adjust and optimize to improve your KPIs without sacrificing authenticity.
If you write inauthentically, you risk attracting an audience you do not feel connected to. As a result, your offer will not resonate with them, and you may even lose heart over time.
2. Produce Consistent and Quality Content
There are two elements you want to focus on when you produce content: consistency and quality. Both are equally important, and without them, your content will gain little traction.
One of the most common mistakes content creators make is creating content that is irrelevant to the audience and posting it irregularly.
To avoid this, ensure that you are following your content calendar. As you track your KPIs, analyze what content your followers resonate with and create more content in that vein.
If you must reduce the amount of content you are creating, ensure that you are still posting at a consistent rate so that your followers are able to know when they can expect new material from you.
3. Leverage Content Multiplication
As the saying goes, "Work smarter, not harder."
Content multiplication is a process of taking large pieces of content and repurposing them into other formats. For example, a video interview could be turned into a podcast episode. Then the podcast could be transcribed and repurposed as a blog post. You could then take that transcription and look for quotes. With each quote, you could create a graphic and post it on social media, linking back to the podcast and the video.
Another example is you could write a white paper. Then take each section of the white paper and repurpose them into a blog post. Larger blog articles could be sliced into smaller articles that you could post on LinkedIn or Medium. Small paragraphs could be posted on social media as posts, and key quotes can be used as graphics.
4. Learn to Beat Writer's Block
Writer's block can be a huge challenge if you are the one who needs to draft new content for your business. So how do you beat writer's block? Here are a few ways you can get the ideas flowing so that you can create your content.

Start by gathering more ideas and sources for your content drafts. Often, writer's block occurs when you don't know enough about what you are writing about. Once you have more research and ideas, outline your notes so you can visually see the structure of your content. You can even write bullet points for each idea and then rewrite those bullet points into sentences.
If you are struggling with how to start, write something temporary and come back to it. You can always edit the temporary line later.
Best Content Marketing Resources
For English Clarity
Sometimes, it can be tough to catch all those misspelled words, typos, and broken grammar. Oftentimes, even the regular spell check doesn't quite catch them. That is why resources like Readable, Grammarly, and Hemingway can help you keep your content easy to read for your readers.

English Clarity tools:
For SEO Content
When you write blog content or web content, you may need SEO tools to find keywords and check your rankings in search engines.

For Podcasting
If you want to edit and transcribe your podcasts, you may find these tools valuable.
For Video Production
One barrier in video editing is the cost factor. Here are several video tools that you can use. Da Vinci Resolve works as an alternative to Adobe Premiere Pro. Loom is great for recording your screen, and Unscreen is handy if you want to remove the background in your videos.
For Dynamic Presentations
If you are looking to create dynamic videos with complex graphics or dynamic presentation slides, then these tools will help you hook your audience and hold their attention.
For Social Media Management
One way you can maximize your social media content is to post ahead of time. That is why tools like Buffer and Hootsuite can help you schedule your social media posts in advance, so you don't have to constantly post at all hours of the day. Hashtag Stack can also help you identify popular hashtags to add to your posts.
For Creating Graphics
One of the big challenges in creating graphics is cost. That is why tools like Canva and Photopea work well as alternatives to professional graphic design tools, allowing you to create professionally with ease. Unsplash is also handy, as you can easily find royalty-free images to use in your graphics!
For Website Analytics
Analytics is critical in assessing your website traffic and content. Use tools like Google Analytics or Buzzsumo to track your website metrics so that you can optimize your content marketing strategy.
Should You Use AI-Generated Content?
If you have been following the recent technological developments, you may have heard about the rising popularity of AI tools like Chat-GPT3, Midjourney, Dall-e, Jasper.ai, and many more.

These AI tools will likely revolutionize content creation as they can generate text, images, and even code for programmers. For writers, marketers, and entrepreneurs, these tools have the capacity to cut down on the time spent to generate content so you can work on other projects.
Still, it is not as simple as entering a prompt and hitting the generate button. In an interview, Google Search Advocate Jon Mueller stated that AI-generated content violates Google's Webmaster Guidelines and is SPAM content.
However, as things currently stand, Google cannot penalize websites for publishing content generated by AI because there is no way to track it. However, it is best to keep in mind, if you are using AI-generated content, other people will be as well.

Like most tools, AI-generated content will never get you precisely what you need. You still need a human to review and edit the content before publishing it.
With AI art, there is a lot of discussion on the ownership of content. AI art generators sample from an art database and can create artwork in another person's style. Legally, this poses several challenges which have not been resolved yet.

So should you use AI-generated content in your content marketing strategy?

At the current level, AI cannot beat a seasoned writer, artist, or entrepreneur. It can only produce content at a superficial level. One of the current dangers with AI is that there are times when a prompt generates an incorrect response, creating another issue of potential misinformation. An expert in the field can spot this misinformation, but an inexperienced person might take it to be true.
AI programs can be valuable tools to help speed up your content creation process. However, AI cannot replace the overarching vision and planning that goes into building a winning content marketing strategy. Current AI models cannot conduct thorough research. You will still need the guidance of an experienced human to take the generated content and revise it.

As AI continues to evolve, there will likely be more opportunities to incorporate it into your workflow. However, you will still need a human to manage and revise the generated content.
Build Your Content Marketing Strategy Today
Content marketing is a massive part of a business' success. Whether you want to connect with your audience, generate leads, or earn revenue, content marketing is instrumental.
Now that you know the different forms of content and how to market them, you can start examining what strategy would work best for you. Content marketing doesn't have to be a big fancy word marketing directors use. It is just a process of producing materials your audience will resonate with and benefit from.
So start creating your content today! Whether you are an entrepreneur, a coach, an online course creator, or a combination of the three, you can create a content marketing strategy that works for you. Creating content is fun, so start planning today and build your brand!