Customer Profile Template: Finding Your ONE Person
Peter Vogopoulos
Post updated by Tara Malone
How would you like to know EXACTLY what to say in your marketing messaging? To know EXACTLY what sort of blog post to write to generate lots of comments? To know EXACTLY what brand identity you need to have in order to inspire a large group of people and turn them into raving fans?
These are exactly the kinds of things you'll know when you clearly understand your ideal customer or client.
It's a critical piece of foundational marketing that you absolutely NEED to have. How do you get it? Good news: you can have it one hour from now just by following the steps in this post.
Getting Started: What Is a Customer Profile?
A customer profile, also known as a buyer persona or avatar, is a vividly-written description of one person who represents your ideal customer.
This "ideal customer" can either be imaginary or based on a real person, and you describe this individual in great detail, from general demographic information (age, gender, occupation), to emotional factors (fears, hopes, dreams), to details about their intimate lives, such as what breakfast cereal they eat, which bands they listen to, and what guilty pleasure they indulge in.
At the same time, any details that you include in your ideal customer profile should be useful in helping you make marketing decisions. Let's say your ideal customer's favorite ice cream is chocolate chip cookie dough.
If you sell ice cream cakes, knowing your customer's favorite ice cream flavor can help you market your product. You might develop a special ice cream cake that includes chocolate chip cookie dough ice cream and showcase it as one of your specialty cakes.
On the other hand, if you sell cars, knowing their favorite ice cream flavor probably won't help you market your business. It might even distract you from what's really important.
But let's say your target audience loves Halo Top's vegan cinnamon roll ice cream. If they're vegan, there's a pretty good chance that they care about the environment, and are likely to opt for electric cars. Knowing this can help you tailor your marketing to emphasize how electric cars help the environment.
It's also important to keep in mind that while your actual customers will be diverse, your customer profile gives you an easy shorthand to crystallize precisely who you are targeting, what challenges they experience, and how you will communicate with them.
Ready to figure out what your ideal customer profile looks like? Click below to download your template!
Why Do You Need a Customer Profile Anyway?
So why is having a customer profile such a big deal?
Basically, a customer profile helps you understand exactly who your ideal customer is. You can then design a business that specifically meets your target customer's needs and direct your marketing messages to him or her.
Getting clear on your ideal customer helps you align your business with his or her needs and wants. Your goal is to develop content that resonates with your ideal customer so they will come to you for a solution to the problem they're facing.
Having this clarity can make or break your business right from the start.
Let's take a look at what happens if you don't have a detailed customer profile.
Imagine there's a wellness coach named Amy whose goal is to set up a coaching practice.
She's heard that a customer profile is important, so she tries her hand at creating one. This is what she comes up with:
Women, 40-55, married, educated, who want to live healthier lives.
The problem with this profile is that it's way too broad and really doesn't help Amy clarify who her ideal customer really is.
I mean, doesn't practically everyone want to live a healthier life? And a healthy life means different things to different people. But what does a healthier life look like to the women Amy's trying to help?
In order to resonate emotionally with her audience, Amy needs to narrow things down and paint a clear picture of who they really are.
She revises her customer profile to capture her ideal customer. Here's the updated version:
Marie, 40 years old. Master's degree in English. Works as a high school English teacher and writing tutor. Married, with two kids ages 5 and 7. Used to eat healthy, work out regularly and run marathons, but now finds it hard to maintain her healthy habits between working and raising her family. She feels guilty that she rarely has time to work out and feels stressed most of the time."
This tells us a whole lot more about Amy's target customer, right?
Now we know that her target customer is 40 years old and struggling to find a work-life balance. She wants to eat healthier, get back in shape, and manage her stress better.
With this detailed customer profile, Amy can now develop a website, blog content, and marketing strategy that's directly tailored to her ideal customer. And this is essential in helping her win them over.
Another major advantage to having a clear cut customer profile is that it helps you figure out the best way to communicate with your prospects at each stage of the buyer's journey.
For example, each buyer's journey starts with the awareness stage, which can be divided into four phases. Knowing these phases can help you figure out who you're actually targeting.
Phase 1: Unaware
Customers at this stage have no idea your product or service exists and haven't identified the problem they're facing. At this point, Amy's ideal client Marie might be thinking, "Maybe I'm not in such great shape anymore, but that's just part of turning 40."
At this point, Marie hasn't yet acknowledged the problem, and there's nothing that Amy can say or do to make her admit to it. It's best to avoid trying to reach unaware prospects, because they haven't acknowledged their problem and don't think your services or offer applies to them.
Phase 2: Symptom Aware
Prospects who are symptom aware know that they're experiencing symptoms of the problem but they don't yet understand the root cause. If Marie is in this phase, she might acknowledge that she's feeling sluggish and doesn't have the energy she once did.
But at this point, she's not attributing her low energy to not getting enough exercise. Instead, she's thinking, "I don't have the energy I used to have, but I'll just drink more coffee and I'll feel better."
At this stage, Marie still isn't looking for solutions or truly acknowledging her problem. This means she isn't ready to invest in wellness coaching, but with proper nurturing she might eventually become a client.
Amy might begin nurturing Marie by writing a blog post describing a woman in the same situation as Marie, who feels like she's gotten out of shape but assumes it's an inevitable part of aging. But the post then goes on to say that it doesn't have to be this way.
Amy then presents some alternatives for how things could be different – and hints at possible solutions. She might say that it's possible to get in shape and have more energy at 40, if only you commit to taking action.
Phase 3: Problem Aware
Once prospects reach the third phase of awareness, they've acknowledged there's a problem they want to solve or a goal they want to achieve. At this stage, Marie acknowledges her low energy and why she's feeling this way. "I'm feeling sluggish, and I think it's because I'm out of shape."
Still, she is not yet ready to actively start looking for solutions. Prospects who are problem aware aren't looking to buy anything, but are good candidates for nurturing.
At this point Amy can focus on creating content that presents possible solutions. She still doesn't want to pitch her solutions, but just give Marie a sense of what kinds of solutions are out there. She might create a blog post called"5 Workouts for Boosting Energy Levels" or upload a video showcasing 5 foods that can give people more energy.
Phase 4: Solution Aware
This is the point where prospects are aware of their problem and are looking for solutions. But there's a chance they've misdiagnosed the problem and are looking for the wrong solutions. For example, Marie might conclude that she needs to try a cleanse or lose 10 pounds quickly to increase her energy.
That said, since Marie is actively looking for solutions, she's ready to learn more about what she can do to solve her problem. Prospects who are solution aware are most likely to become buyers, so they're the ones you want to focus on the most.
Now Amy is free to tell Marie more about the possible solutions out there, including her own. Amy's still not pitching anything directly, but just explaining how working with a wellness coach can help Marie get on a better diet and exercise plan and hold her accountable as she works to achieve her goal.
So now you know why you need a customer profile.
But you might still be wondering why you would narrow down your customer base. Aren't you missing out on prospective customers this way?
Let's take a look at why it pays off to have a highly detailed customer profile.
Benefits of Speaking to an Ideal Customer Profile vs a Target Market
Most of the time people go about identifying their niche the wrong way. Their first mistake? Defining their audience or target market.
Here are examples of target markets I pulled out of real business plans I received to review (some changes have been made to protect the innocent):
"Women, 27-39, single, educated, income of over $40,000 and who like eating chocolate."
"Men, 18-28, who sell information products, consulting and/or professional services via a website, have a blog with a small audience and want to increase their organic traffic."
Now, if you are a chocolatier or an SEO specialist, you might be pretty proud of yourself, thinking you narrowed your focus from "everybody" to a subset of the market.
But have you, really?
I don't know about you, but I don't know any woman who doesn't like chocolate!
And the second statement pretty much includes all young men with any sort of online business!
These descriptions of target markets are not specific enough. They describe a ton of people—too many people, in fact.
And the more people you try to speak to, the more diluted your message becomes, because you're trying to appeal to pretty much everyone. And the more diluted your message, the more ineffective it becomes.
The problem? We tend to think "target market," which implies a group of people.
How to Address Your Target Customer Profile
Instead, I'd like you to start thinking "customer profile," which implies ONE person—the ONE person for whom you exist to serve with your product or service.
You don't want to be lots of things to lots of people. You want to be inspirational to the RIGHT person—the ONE person. And if you inspire that ONE person and enough numbers of that ONE person, then you will dominate your niche.
Speaking to the ONE person means you never describe your audience as being: "women, 27-39, single, educated, income of over $40,000 and who like eating chocolate" ever again.
No ONE person is 27-38, anyway (except for my friend, Bess, whose age has been known to fluctuate in relation to the number of eligible bachelors in the room).
No, from now on, you'll describe your audience like this:
"Jane. 30 years old. Bachelor's degree in the Arts. Works in an account management job she doesn't like and is currently scoping out a new career. Thinking about getting a Master's degree. Single, having recently dumped a loser boyfriend. Has lots of friends she hangs with watching 'Sex in the City' and eating expensive ice cream. She drives a Honda, works out three times a week and goes to the spa about once a month."
Now Jane is a real, living, breathing person, isn't she? And isn't it a lot easier to speak to her?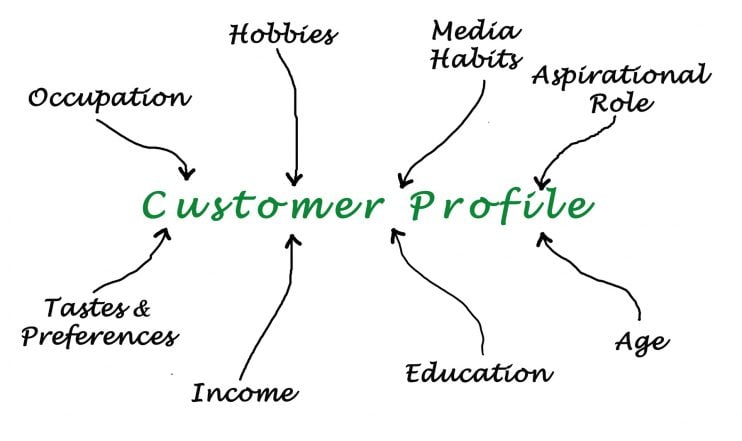 I can hear you protesting: "But if I talk to Jane, won't I be leaving out other people?"
Yes, and no. You won't be speaking directly to people who aren't Jane. And that's a good thing.
The idea of talking to only one person scares entrepreneurs because they think that's the only person who will ever buy from them again. Good grief—not true at ALL!
Let me ask you something. Who buys Apple products? Who is Apple's ONE person. Can you imagine him or her?
I bet you conjured up this image: Young, urbanite, hip, tech-savvy, trendy, on-the-go, about-the-town, forward-looking, and always pushing boundaries. Apple speaks to this persona, just watch one of their ads:
So if this is Apple's ONE person, how do you explain the fact that I saw a charming grandmother enjoying her iPad at a local coffee shop?Clearly, even though Apple talks to ONE person, other people buy Apple products, too. And I'm sure we all know someone who is a rabid Apple fan but doesn't fit the mold of Apple's ONE person.
So what gives? Well, here's the crux of the whole deal. The ONE person is never going to be the only one buying from you. It's simply the only ONE you should be speaking to at all times.
And not just because it makes marketing a ton simpler.
When you direct your messaging to your ONE person, your message and consistency will inspire a whole bunch of others who either: (a) feel affinity with that ONE person, (b) aspire to be that ONE person, or (c) admire that ONE person—and then all these people will ALSO become your clients. Grandma wants to feel connected and modern. Let her!
So quit worrying about shutting everyone else out if you talk to the ONE person. You won't. If anything, you will attract loads more people with your precise and clear brand.
Ready for some examples?
Ideal Customer Profile Examples
Example #1: Heather
Heather is a 26-year old single, female, solo entrepreneur with a graphic design business. She completed a graphic design degree at the local college. She is an expert designer, quite tech-savvy, but still learning the ropes when it comes to being an entrepreneur.
She's energetic and spunky, and her energy and charisma usually land her the gigs. She makes $37,000 a year, but wants that to go over $45,000 next year. She dreams of eventually being able to charge top dollar for her work, but for now she knows she needs to develop her portfolio and to systemize her business a bit better.
She's very worried that she'll always be fighting to fill the pipeline with new clients. She works from her home office, the second bedroom of a condo she bought a couple of years ago. She works out at the gym three times a week to stay in shape, she used to be an athlete in high school. When she is not working, she enjoys going out to clubs with her friends and travelling.
Now that you've described Heather, everything you do, every blog post, every piece of marketing, every product, every branding decision should be examined through Heather's eyes.
Will Heather like this? If the answer is yes, then you're successfully sticking to your brand identity and talking to the right person. And she will recognize that and reward you with her business.
Example #2: Laura
Laura is a 45-year-old executive in a Fortune 500 company. She has a great salary and has experienced an upward trajectory throughout her career, but she feels like she has reached the upper limits of growth in her current position. This is causing her to feel unfulfilled and restless, despite the fact that people like and approve of her work. She is spending a lot of hours at the office and would love to spend more time with her family, but she needs an alternative income stream in order to be able to do that.
Laura is feeling a lot of turbulence around the fact that she's just going through the motions at work, but she has two children who are about to hit their college years, so she needs to maintain her income. She wants something different and dreams of doing bigger things, but she's nervous about navigating the process of either changing jobs or taking the plunge into entrepreneurship.
Deep down, Laura dreams of developing her hobby of calligraphy and hand lettering into a side business. She is extremely artistic and gifted at what she does, but she isn't sure it can be turned into a big income generator. Still, she's open to trying different ideas and pursuing growth in that area.
What kind of business might create a customer profile like Laura's? Can you think of a product or service that might consider Laura an "ideal client"? Perhaps it is a career coach, a salary negotiation service, or a product in the personal development space. Or it might be someone who is helping others to turn their hobby into an income stream.
Example #3: Frank
Frank owns a million-dollar business, but he hasn't been able to scale and break through an invisible barrier to double the company. Every time he tries to scale, things tend to fall apart. He fluctuates between $900,000 and $1.2 million, but he has stayed stagnant at that level for two years, despite growing to a million in revenue very fast.
Frank has never defined an actual organizational structure. He didn't think his team needed one, as people were cooperative and he felt like structure would just impose a bunch of red tape on the day-to-day operations. However, all of the decision making in his business invariably comes back to him, and there's not much of a company culture to speak of.
Frank feels stuck, because even though he has decent margins, he feels like the whole business is held together by duct tape and chicken wire. Every day feels hectic and exhausting. His goal is not to build a million dollar business and then relax. Instead, he wants to keep growing. He just can't figure out what it takes.
What kind of business might consider Frank to be their ideal customer?
Some possibilities might be an I/O psychologist or a corporate consulting firm. Another option might be a company that offers online courses geared to helping entrepreneurs scale their business.
These examples show how companies in all kinds of industries can create a clear customer profile that speaks to their target customer.
But how can you create a winning profile for YOUR target customer?
Let's find out!
How to Create Your Target Customer Profile
So now it's time to create your target customer profile. Before you can write a profile that really speaks to your ideal customer, you need to know exactly who he or she is.
But just how do you find out who your target customer is?
Here's how to uncover what you need to know about your target customer – and what to do with that information.
To begin, create a simple chart with categories like Demographics, Interests, Socioeconomic Status, and Problems, Pains, and Desires. As you research your target customer, organize your findings by category. This will make things easier when the time comes to create your customer profile.
Do you have your chart ready? Great!
Now let's find out more about your target customer.
Here's what you need to do.
1. Check Out Your Existing Customers
Your existing customer base can give you tons of useful insights into who's using your products and services right now. Start by going to your website's CRM, or to whatever account you use to track your sales.

Then sort out your customers by revenue and take a close look at the ones who've spent the most on your company's offerings. When you examine this group of customers, ask yourself what they have in common. Do they order the same type of product? What company do they work for? What's their job title?

Chances are, you'll start to notice some trends among these customers. Maybe they work for the same type of company or industry. Maybe they're all buying your online courses on how to publish an eBook. Or maybe most of them are HR managers.

Make notes of these trends as you see them, and organize them by category. For example, online courses on e-publishing would go under Interests, while industry and job title like HR Manager would help you find out their income level and socioeconomic status.
2. Find Out Who Your Visitors Are
Who's visiting your website anyway? Taking a closer look at who your site visitors are is another useful way to find out more about them.
When it comes to uncovering information about your site visitors, Google Analytics is your best friend. Chances are you already use Analytics, so the process should be pretty straightforward. From your Analytics dashboard, select Audience, Demographics, and then Overview to find out basic information like their age and gender.
To learn more about their interests, go back to Audience and select Interests and then Overview. This can help you uncover whether they're business professionals, value shoppers, or music lovers. It will also help you understand what kinds of products they like to purchase, such as travel accommodations, business services, or dating services.

As you begin to discover what they're interested in, be sure to list your findings under your Interests category.
3. Talk To Your Audience
If you really want to understand what your target customers need, you have to actually talk to them.
Don't worry, I don't mean pulling over random strangers on the street. There are many more effective ways to find out about your customers' wants, desires, and pain points.
One way to go about this is to create surveys or polls to embed in your website using a tool like Hotjar. You can ask them for feedback on your site's content, what kinds of products they're looking for, or why they're visiting your site, to name a few. This can give you some insight into what's bothering them or what they really want.
You can also use sites like Meetup and Eventbrite to locate people who are likely to be interested in what you offer. Try connecting with some of these individuals to find out why they joined the group and what they're really looking to gain from their involvement with it.
For example, say you connect with a group called Entrepreneurs Under 30. By asking these kinds of questions, you might find out that they've started a new business but have no idea how to run it effectively. Or maybe they're feeling isolated and want to connect with other young entrepreneurs.
Another possible option is to use a tool like Buzzsumo. This tool lets you find out what kinds of questions people are asking about a certain keyword. By entering a keyword related to your niche, you can see what types of questions are trending with your target audience.
As you get a sense of what kinds of problems they're facing, what they want, and what their pain points are, add your findings to your chart.
After you've uncovered all the essentials about your target audience and added them to your chart, it's time to carefully review what you've learned.
As you look over this information, you'll begin to get a clearer sense of who your target audience actually is.
But you're not finished yet. Now it's time to pull all of these pieces together and start crafting a coherent customer profile.
Here's how to do that.
Use this customer profile template to define YOUR one person!
Think about your ONE person. The one who you were thinking of when you started your business. The one for whom you developed your product or service.
We've got a customer persona template that you can use to get crystal clear on every detail about your one person. Click below to download it now.
Please leave a comment! Have you defined your ONE person? If not, will you right now? What did you learn from your ONE person exercise?