You're in the process of developing your first online course, when you come face to face with a major roadblock - which online course software to choose. You were sure that selecting your online course builder would be a breeze after you'd gone through the process of validating your course idea, planning your content, and recording your lessons.
Yet here you are, completely overwhelmed by all the online course platforms out there. Maybe you're even dealing with a full-blown case of decision paralysis and are unable to narrow down your list of choices.
To help you zero in on the right online course platform for you, we've uncovered the 28 best online course platforms for 2023. And we've also divided them into different categories to help you uncover which online course platform is the best fit for you.
Ready to find your perfect online course platform? Then let's dive in!
The Different Types of Online Course Platforms
There are many different kinds of online course software, and it can be challenging to know which one is best for you. To simplify this process, we've divided the different kinds of online course software into several broad categories and provided some examples for each category.
Standalone Online Course Platforms
A standalone online course platform is one that allows you to create and host your very own online course or school. They typically provide all the tools you need to build an online course as well as sell your course on your own site.
Although they generally offer similar features, there can be significant differences between various standalone online course platforms. For example, some of these platforms are much easier to navigate than others, and these platforms also differ widely in the amount of support they provide course creators.
Some of the best standalone online course platforms include Thinkific, LearnWorlds, and Teachable.
All-in-One Online Course Platforms
The next category of online course platforms are all-in-one platforms, which provide you with all the tools you need to develop online courses and manage your online business.
This means that in addition to features dedicated to building an online course, all-in-one platforms also frequently include web content management tools, as well as marketing, sales, and customer service tools.
Kajabi is probably the most popular of the all-in-one platforms, but other options include Kartra, Podia, and New Zenler.
WordPress Online Course Plugins
The third category of online course software consists of WordPress plugins, which you install on your existing WordPress site. These plugins are a good option if you want to host your course on your own WordPress site and have complete control over your online course.
A second big advantage of WordPress plugins is that they are one of the easiest ways to manage your self-hosted course. They work by adding the features you want to your site without interfering with the functioning of the site.
There are a wide variety of WordPress plugins available, and some of the most popular ones include LearnDash, Access Ally, and LifterLMS.
Online Course Marketplaces
Finally, we have online course marketplaces such as Udemy and Skillshare, which are web-based online course platforms where you can easily build your course and promote it to an established audience. These types of course platforms tend to be pretty user-friendly, and many have drag and drop features for easy course creation.
Another big advantage is that an online course marketplace already has an established audience that you instantly get access to. They also give you everything you need to build your course, as well as many useful tools to promote it.
There are also tons of online course marketplaces you can choose from if you decide to go this route. In addition to Udemy and Skillshare, some other options include LinkedIn Learning, Coursera, Udacity, and Treehouse.
Free Online Course Platforms
Last but not least are the free online course platforms. Maybe you are a teacher looking for a simple and free LMS for your classroom. Or perhaps you are an entrepreneur looking for a bare-bones platform to launch your pilot.
What makes free online course platforms so great is they are easy for you to jump in and explore your online course needs without having to worry about money, 7-day trial periods, or spending beyond your budget.
The tradeoff is limited functionality. Most free online course platforms will not have as smooth of a user experience compared to paid platforms. Additionally, it is unlikely to see third-party app integrations and built-in marketing tools to complement your online course.
However, this does not mean that free online course platforms are less reliable. Rather, they are cost-effective options that serve smaller audiences best. In fact, you might have used some of these platforms before as a student in school! Some popular examples include Moodle, EdApp, and Schoology.
The 28 Best Online Course Platforms
Now that we're clear on the five main kinds of online course platforms let's go ahead and take a look at the 28 best online course platforms for 2023.
Standalone Online Course Platforms
Thinkific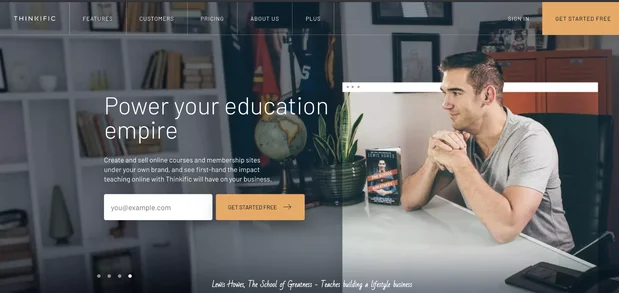 Thinkific is one of the top-rated standalone course platforms out there, and for good reason. This platform provides one of the most robust online course hosting options in the marketplace, and also offers many additional features, including email marketing, membership integration, and course bundle options.
Another fantastic benefit of Thinkific is that it's designed to make online course creation easy for the average person - no tech experience required! This means that your course and its content are hosted by Thinkific, your marketing, sales, payment plans and processing are handled by Thinkific, your affiliate program is managed in Thinkific, and much more! Thinkific also prides itself on having an excellent customer support team that's committed to helping users have a first-rate experience with the platform.
There are several Thinkific plans available, which include a Free plan, $49 per month Basic plan, $99 per month Pro plan, and $499 per month Premier plan. To learn more about Thinkific, we recommend you check out our Thinkific Review and our comparison of Thinkific vs Teachable.
LearnWorlds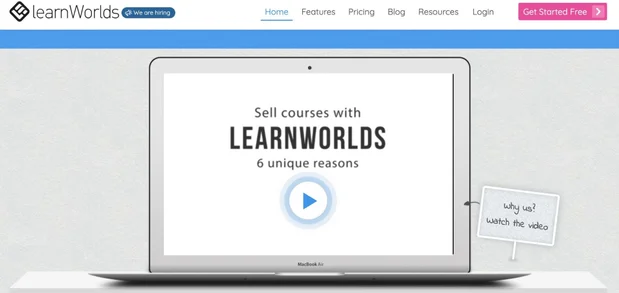 LearnWorlds is another platform that provides an all-in-one solution that focuses heavily on the user experience. From its intuitive course builder to its landing page software, Learnworlds offers A LOT for the price you pay.
This unique course creation platform lets you create interactive videos (on the Learning Center plan) and ebooks. That means learners can skip to specific parts of a video and even answer questions within the video. With interactive ebooks, they can highlight and add notes to their ebooks from within the LearnWorlds platform.
LearnWorlds offers many student-focused features, including a "built-in community" for each of your courses. Here, students can discuss lessons, like and comment on each other's posts, and answer polls. You can also use this online community to interact with your students, answer their questions, and offer support. In addition, LearnWorlds has advanced assessment features, such as informal and formal quizzes, assignments, and an integrated workflow for open-ended assignments.
There's no doubt that LearnWorlds allows you to create an amazing experience for your students, and to build a course that has a lasting impact on those you serve.
LearnWorlds offers 4 plans, which include a $24 per month Starter plan, a $79 per month Pro Trainer Plan, and a $249 per month Learning Center plan.
Teachable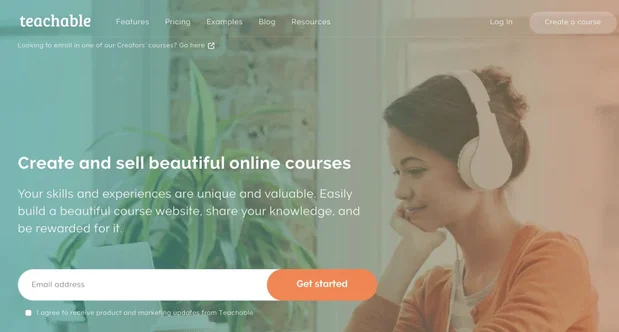 Similar to Thinkific, Teachable offers you an array of features to build your online course. Again, this is a type of course creation software, meaning there's no marketplace to promote your course to.
One big advantage to Teachable is that it's a very user-friendly option, perfect for those who are brand new to creating online courses. They offer a template-based website builder that requires no prior coding experience and lets you easily connect your course to your website or build a new landing page through Teachable.
On top of this, Teachable does a lot of important things for you – they'll host your course content, publish your sales pages, process payments [for a small fee] and even pay your joint venture partners or course authors if you set that up through their payment gateway. With quizzes and forums, conversion attribution, email segmentation and built-in affiliate marketing, everything's kept in one place for you.
Teachable offers the following plans: Free, Basic ($39 per month), Professional ($99 per month), and High Volume ($299 per month). To learn more about the platform, click here to read our Teachable review and our Teachable vs Udemy comparison.
Ruzuku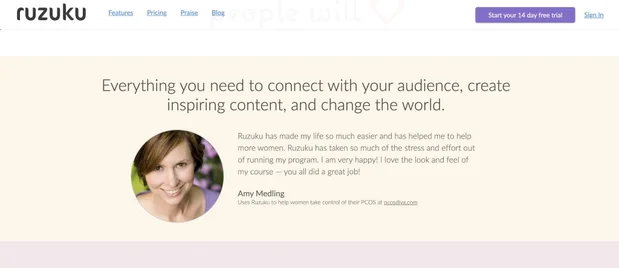 Ruzuku promises to make your life as easy as possible when creating your course. They provide beautiful templates to help save you time and a step-by-step building system that allows you to create your whole course in a fraction of the time (compared to other online course platforms). It also offers a live webinar feature, as well as built-in e-commerce tools that help you sell your courses and collect tuition payments. On top of this, Ruzuku integrates nicely with Mailchimp for email marketing and student engagement emails.
Ruzuku also takes customer support to the next level and promises to support your students in buying and using your courses, as well as support you in creating them. When you join Ruzuku, you get access to a team of people dedicated to helping you serve your students at a high level.
Ruzuku offers three plans: the $99 per month Bootstrapper plan, the $149 per month Up-and-Comer plan, and the $199 per month University plan. Choosing annual billing instead of monthly gets you a discount, depending which plan you're on. The platform also offers a 14-day free trial.
To learn more, you can check out our Ruzuku review.
Teachery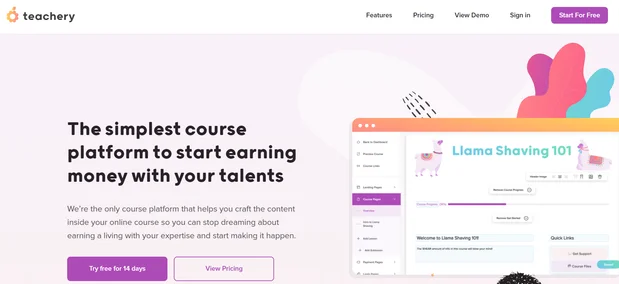 Teachery is a standalone course platform that makes online course creation as simple as possible. The platform lets you create and sell beautiful online courses in just minutes (instead of hours or days), without incurring any transaction fees. The platform is also very easy to navigate, with a live course editor that allows you to easily customize your course lessons, sales pages, and payment pages.
Teachery is a great option for those who don't need a ton of fancy features and who place more importance on having an easily-made course quickly.
The platform offers two very affordable plans, a Monthly plan (which costs $49 per month), and an Annual plan (which costs $470 per year), both of which come with a 14-day free trial.
To figure out if Teachery might be a good platform for you, you can take a look at our Teachery Review.
Pathwright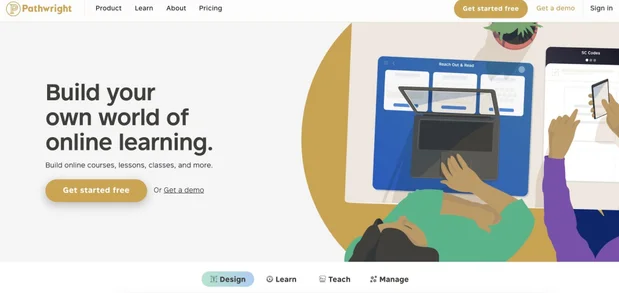 The course platform Pathwright focuses on creating a seamless learning experience that immerses both the teacher and the student. Instead of simply focusing on course creation, Pathwright takes the entire e-learning experience into consideration. This makes it one of the better online course hosting options on this list for those who wish to go 'deep' with their students.
Another notable feature of this platform is that instead of just creating an online course, Pathwright empowers you to build an entire school. It's a platform that can grow with you and continue to give you exactly what you need as you expand your online course business.
Pathwright also offers great community features and has an excellent support team that is committed to serving both teachers and students.
In terms of pricing, Pathwright has three main options: a Starter plan ($99 per month), an Essentials plan ($199 per month) and a Complete plan ($499 per month).
Xperiencify Courses
Xperiencify is a relatively new online course platform, but it's one that seems to be going places. Like many platforms, it primarily features video content, and also allows course creators to add many different supporting resources to each lesson, which includes handouts, slide presentations, audio files, and much more.
A particularly noteworthy feature about Xperiencify is that it provides course creators with many gamification features, which allows you to make your courses more engaging and motivating for learners and increases the chance they will actually complete your course.
Some of these features include the ability for students to earn experience points for each module they complete, and to achieve course milestones. Instructors can set the number of points and design unique milestones for each module.
As far as pricing options, Xperiencify offers the following plans: the Launch plan ($49 per month), the Growth plan ($149 per month), and the Scale plan ($499 per month). Users also have the option to earn a discount by paying annually.
All-in-One Online Course Platforms
Kajabi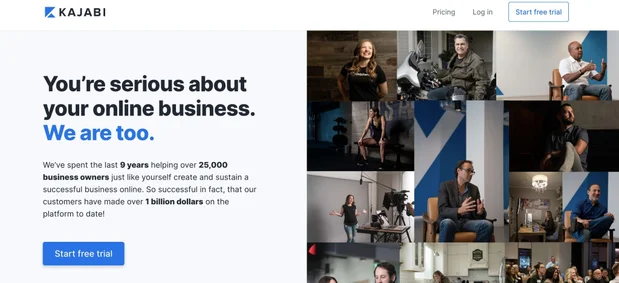 Kajabi is a feature-rich online course platform that's been around for years of iterative improvement, so you can expect a good experience with it. As Kajabi says it's "the one system you need to market, sell, and deliver your knowledge online." And sure enough, Kajabi provides one of the more in-depth course builders.
The system includes tools for marketing and selling your course, from a landing page builder to email marketing and even affiliate management for joint venture promotions. It's customizable and integrates with most of the popular third-party apps you might use, including Zapier for even more integrations and automations.
The analytics and reporting available from your Kajabi dashboard are detailed and useful, and you can hook up Google Analytics for more insight. You won't need to worry about the learning curve too much, because you'll get a lot of help from Kajabi University, which offers plenty of free training.
To see Kajabi in action and judge the learning curve for yourself, check out their demo. We also recommend you read our Kajabi review to learn more, as well as our Kajabi vs. Teachable and Kajabi vs. Thinkific comparisons.
Kartra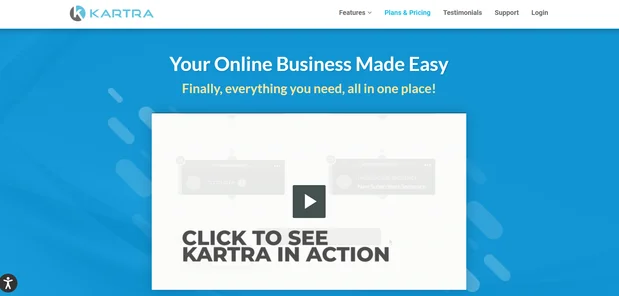 Kartra calls themselves "the greatest all-in-one platform… ever," and claims to be a one-stop shop for everything you need to create, market, and launch your online courses. The platform includes checkouts (with both credit card and PayPal payments), a drag-and-drop page builder with hundreds of professionally designed templates, funnels and campaigns, email marketing, memberships, calendars, forms, and affiliates.
Because they are an all-in-one system, you won't need much of the other software you might need with another course platform. And since everything is in one place, their tracking analytics allows you to see the entire customer journey.
The difference between their pricing packages stems from the size of your contact list and the amount of traffic bandwidth you use. There are four Kartra plans available: the Starter plan ($99 per month), the Silver plan ($199 per month), the Gold plan ($299 per month, and the Platinum plan ($499 per month). You can save up to 25% if you purchase an annual plan.
New Zenler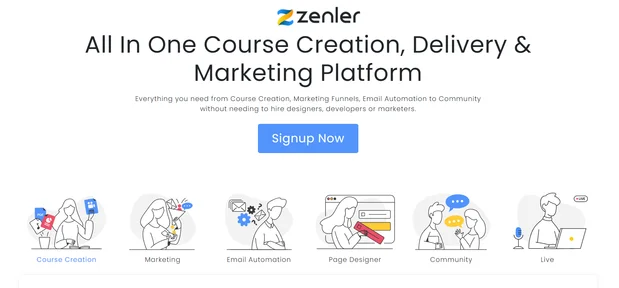 New Zenler is an all-in-one platform that also offers many sales, marketing, and delivery features. This means that in addition to creating courses, New Zenler helps you set up and run your entire online business.
Aside from an easy-to-use online course builder, some of the other features it offers include marketing and sales funnels, email automation, a user-friendly page designer, and the ability to create online communities and membership sites. Since it has a lot of similarities with Kajabi, New Zenler appears to be setting itself up as a more cost-effective alternative to Kajabi.
Podia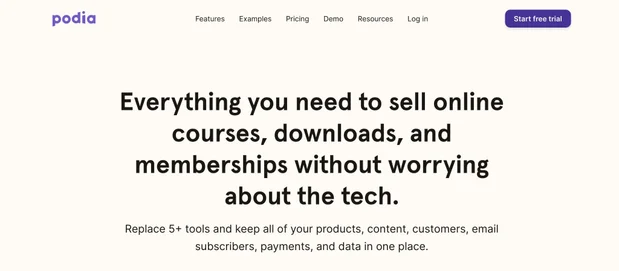 Podia is an affordable all-in-one platform that gives you everything you need to create, promote, and sell your course online. It has a fully customizable storefront, landing pages, and courses, perfect for those who wish to brand their course and have complete control over what it looks like.
Podia also gives you the ability to sell other products, such as memberships and digital downloads, as well as online courses. On top of that, it includes an email service for collecting email addresses and sending drip emails and newsletters.
Podia's standout feature is the ability to create your own Affiliate Program. You can view your affiliates, make payments, and check analytics…all inside Podia with no other 3rd party tool. It's a great option for course creators who wish to make joint ventures a key part of their marketing.
With Podia, you pay one flat fee per month. There are no transaction fees and no limits on the number of students, buyers, and email subscribers you can have.
Currently Podia offers three plans: the Mover ($39 per month), the Shaker ($79 per month), and the Earthquaker ($179 per month). It also offers new users a 14-day free trial.
Mighty Networks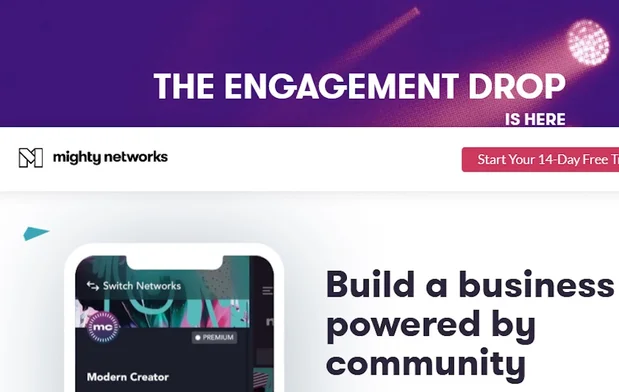 Mighty Networks allows you to build an amazing online course and provides plenty of features to help you build a thriving student community.
In addition to an online course builder, it offers a wide range of community building tools that allow students to participate in relevant conversations and support one another. They can also share many different kinds of files with each other, from videos to memes, audios, and links.
These community building features can help you establish an engaged student community for the long term, whether you're starting from scratch or already have an active audience.
Mighty Networks offers a Free Plan, which gives you a great opportunity to test out the platform before you commit. If you decide to stick with Mighty Networks, you can choose between two paid plans: the Community Plan ($28 per month) and the Business Plan ($98 per month).
Academy of Mine
Academy of Mine is another platform that makes it easy to create and manage your online courses all in one place.
The platform has a drag and drop course builder and website builder that allows you to create courses and landing pages without any coding knowledge, which makes it ideal for first time course creators. You also have the option of uploading SCORM 2004 and 1.2 if you prefer.
Academy of Mine also supports many different kinds of content, including video, quizzes, assignments, surveys, and more. And it also provides many features that allow you to track your students' progress and their level of engagement in your lessons.
This learning management system also provides a powerful marketing dashboard and integration with Google Analytics and webmaster tools.
Currently, Academy of Mine offers three plans: the Essentials plan ($599 per month), the Professional plan ($999 per month), and an Enterprise plan, which is geared toward larger organizations that require more customization.
WordPress Online Course Plugins
LearnDash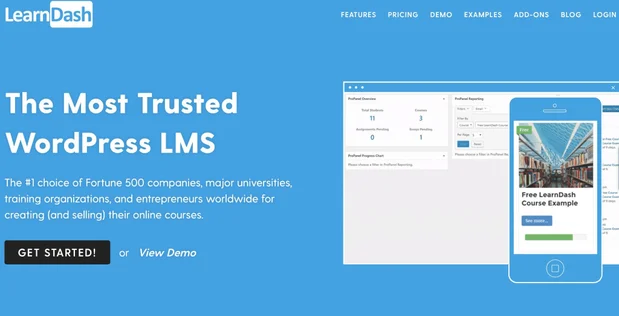 LearnDash is a WordPress plugin, connecting directly to your site. It's used by some large companies, including Infusionsoft, Yoast, and WP Elevation. A plugin like this isn't ideal for all course creators, but it is an attractive online course hosting option for many. If you want to keep everything on your own site, this is likely the online course platform you need.
One of LearnDash's standout features is its Focus Mode, which students turn on to eliminate distractions while viewing your course material. This can help students to retain more of what they've learned and is an incredibly valuable feature in a world full of distractions.
In addition, LearnDash is an extremely affordable option, gives you the complete freedom to create a course on your own terms, and utilizes Gradebook Technology to improve student engagement.
LearnDash has several pricing options, which include: a Basic plan ($189 per year), a Plus plan ($189), and a Pro plan ($329 per year).
AccessAlly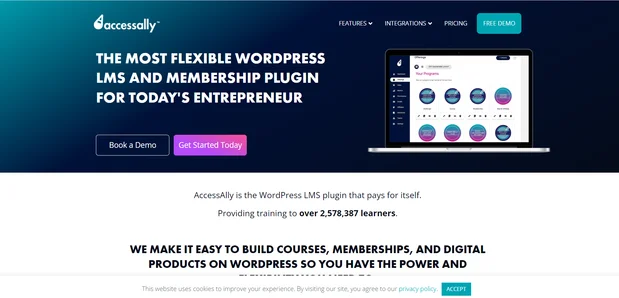 The AccessAlly plugin provides a complete platform for WordPress users to create online courses, as well as membership sites and digital products.
It offers a drag-and-drop course builder, a course creation workflow wizard, content drip delivery, sales and payment processing, affiliate marketing, quizzes, certificates and more. AccessAlly even has some gamification features, such as a user progress indicator to help keep students more engaged.
It also integrates with many different programs and apps, such as PayPal, Stripe, Infusionsoft, Ontraport, ConvertKit, ActiveCampaign, Drip, Keap, Kartra.
There are three pricing plans to choose from: AccessAlly Essentials at $99 per month, AccessAlly Pro at $129 per month, and AccessAlly In-House Training at $250 per month. They also offer a discount if you opt to pay yearly instead of monthly.
LifterLMS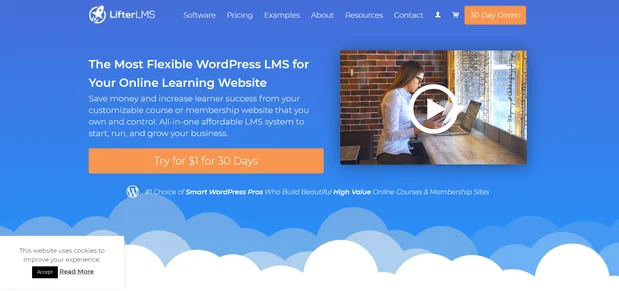 Offering similar features to LearnDash, LifterLMS is a great alternative that provides superior service, integrations, and many add-ons so you can tailor your course around your needs.
One of LifterLMS's most notable features is the ability to choose from a huge selection of integrations with other tools and platforms. For example, you can buy add-on integrations with PayPal, Stripe, Authorize.net, WooCommerce, Infusionsoft, Ontraport, Mailchimp, ConvertKit, iDevAffiliate and AffiliateWP.
LifterLMS also integrates with drag-and-drop WordPress editors like Divi, allowing you to make beautiful pages and designs without any coding knowledge or experience. In addition, it offers built-in payment processing, drip and scheduled content, certificates and badges, quizzes, and gamification.
Pricing starts at $120 per year and can go all the way up to $1200 per year, depending on which plan you choose.
Tutor LMS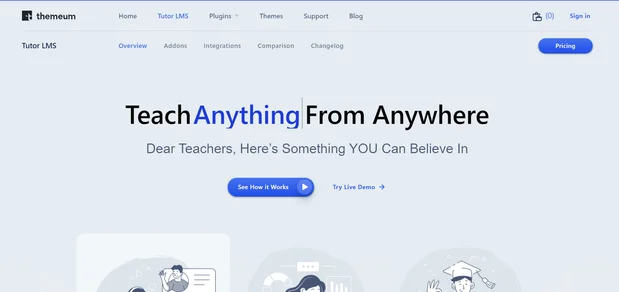 Another extremely popular WordPress online course plugin is Tutor LMS, which has all the essential elements you need to get your online course up and running.
One of the plugin's standout features is its drag and drop course builder, which allows you to create professional-looking courses quickly and easily. The plugin also lets you add many additional resources to your course, including quizzes, assignments, and student forums.
It's also easy to sell your courses with Tutor LMS, through its integration with shopping carts like WooCommerce, Easy Digital Downloads, Restrict Content Pro, and Paid Membership Pro.
You can set up your courses for free, but to sell your courses you'll need to purchase an annual license, which will cost you $149 a year for a single WordPress site.
Online Course Marketplaces
OpenSesame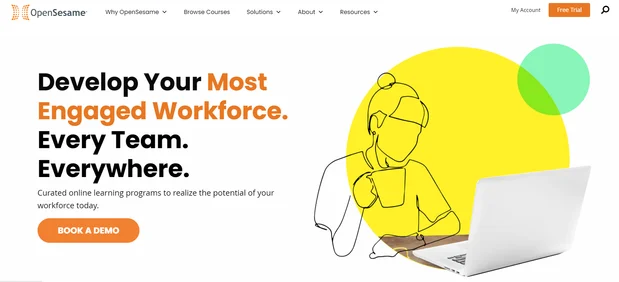 OpenSesame calls itself "The trusted provider of on-demand elearning courses for the enterprise." Not surprisingly, its course catalog seems to be primarily geared towards corporate employees in the following industries: academia, banking, construction, criminal justice, electrical, engineering, healthcare, hospitality, manufacturing, mechanical, oil and gas, retail, sustainability, and transportation.
To teach, all you have to do is register, then upload your video courses. You can also add courses you've already built on other learning management systems, such as Docebo. This means if you already have courses on an LMS or another non-exclusive marketplace, you can keep it there and still sell it on OpenSesame.
Unlike other marketplaces, OpenSesame lets you set the pricing for your course. The company then takes a 40% cut from the sales you make through the OpenSesame platform.
Skillshare

Skillshare has more than 2 million students and hosts over 15,000 courses in creative fields like design, photography, business, entrepreneurship, film, fashion, music, technology, and writing. The platform places a huge emphasis on video production and video-based courses, and is ideal if you want to teach quick, streamlined lessons.
As you would expect, Skillshare largely caters to creatives, including artists, photographers, designers, writers, and musicians. If this fits in with your customer profile, then Skillshare may be the one of the best online course platforms for you.
One of the major benefits of Skillshare is that it gives you access to a very large marketplace of people seeking creative education.This can potentially make it much easier to market and sell your course - especially if you don't have an existing audience.
Another perk is that it's totally free to sign up and create a course on Skillshare, which makes it a good option for course creators who are working with a limited budget. You can find out more about the platform by reading our Skillshare review.
Udemy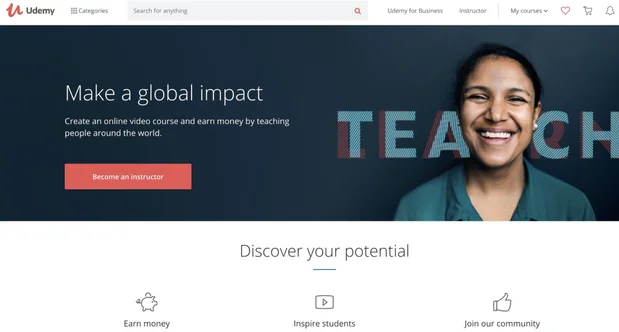 Without question, Udemy is one of the biggest online course platforms: with 30+ million students, 40,000+ instructors, and an unbelievable 80,000+ courses! Like Skillshare, it's free to become an instructor and create as many courses as you like.
In contrast to Skillshare, there are many more categories in Udemy, which makes it accessible to more course creators in a wide variety of niches and industries.
Udemy's standout feature is the mass reach it creates. With access to potentially millions of students, you can quickly earn a lot of passive income each month (with minimal time invested). It's also a very simple platform to use, and you can create your course in as little as an hour. And the Udemy community is renowned for leaving reviews, which provides great social proof.
In addition, it's totally free to join and create an online course on Udemy. It's important to note that Udemy courses are heavily video-based, and they require that 60% of your course consists of video content.
The amount you earn also depends on whether you promote your course or if Udemy promotes it. From course sales that arise from your own promotion of your course, you get to keep an incredible 97% of the revenue. But when Udemy promotes it, you get only 50%. On the other hand, you can only price your course between $20 and $200.
To learn more about Udemy and whether it's right for you, check out our Udemy review, as well as our Udemy vs Skillshare comparison and Udemy vs Udacity comparison.
Coursera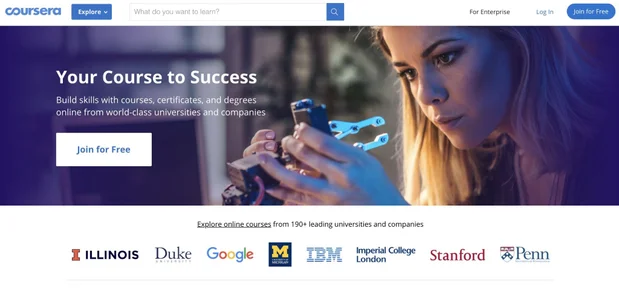 One of the things that makes the online course marketplace Coursera unique is that it is an exclusive marketplace dedicated to offering its students the best education possible. Similar to a university course, the courses you take through Coursera are in-depth and comprehensive, and have the potential to have a major impact on students.
Coursera, unlike the other platforms on our list, is not an open marketplace that anyone can use. Instructors at Coursera teach at some of the world's top universities, which means it isn't a simple program to get accepted into.
However, if you're an experienced teacher, have a proven track record with previous online courses (and are considered an authority in your field), the opportunity to teach through Coursera may be an option worth considering.
LinkedIn Learning
Previously known as Lynda.com LinkedIn Learning is an online course marketplace that's now part of the professional social networking site LinkedIn.
LinkedIn Learning currently offers more than 17,000 courses under three main categories: Business, Technology, and Creative and is constantly adding more classes.
Although the LinkedIn Learning platform is known to pay instructors well, it's not easy to become an instructor for LinkedIn Learning. Much like Coursera, they have extremely high standards for instructors and require that you submit an application in order to be considered.
So if you're established and experienced in your field, with professional credentials and previous teaching experience, you might want to consider applying to be a LinkedIn Learning instructor.
Free Online Course Platforms
Moodle

Moodle is a popular platform that offers a free version to users. Moodle is often used by non-profit organizations and educational institutions. Often teachers, especially those in K-12, use Moodle to manage small classes for online learning.
Moodle's free version requires the user to self-host, which means the user must download the program onto their computer and set it up. But before that scares you away, the installation process is incredibly simple, and you are invited to use Moodle resources like the Moodle community forums and Moodle academy to assist you in setting up your online course.
Moodle does offer an option to host your classes on their cloud server. However, this is part of their paid plan and is better suited for larger educational institutions.
EdApp

EdApp is another platform that can help you get started building your online course for free. Their free plan offers a myriad of features, including but not limited to unlimited users, unlimited courses, AI Create to assist with creating educational materials, and built-in gamification features.
EdApp is a great resource for a variety of industries, including employee training, personal development skills, education, and much more. They offer a library with over 1000 courses for you to pick and choose from to build your online course.
MyiCourse

Myicourse allows you to host your own "public college," where you can enroll an unlimited number of students in as many courses as you want for free. The catch is if you are setting up a cost structure for your online course, Myicourse charges 10% for all revenue earned on their platform. Also, as a public college, you are able to offer all your programs to the public.
On the flip side, if you choose to create a "private college," your course is restricted to a private audience. You will be limited to a maximum of 100 students and 100 assignments with a private college before needing to pay for a subscription.
One feature that Myicourse has is that they offer a number of bonus features that are available a-la-carte. If you are on a tight budget, this feature enables you to pick and choose the elements you need without paying a large subscription fee for everything.
Schoology Learning by PowerSchool

Widely used in educational institutions like K-12 Schools and universities, Schoology Learning is another platform that offers free hosting for online learning. Educators can track a wide variety of metrics, such as attendance and assignment grades. Furthermore, it comes with the ability to integrate with Student Information Systems (SIS).
Educators can leverage the new AI tool, ContentNav, to assist with creating lesson plans and other learning materials. Parent accounts can be created to make it easier for students to have support from home as well.
Coggno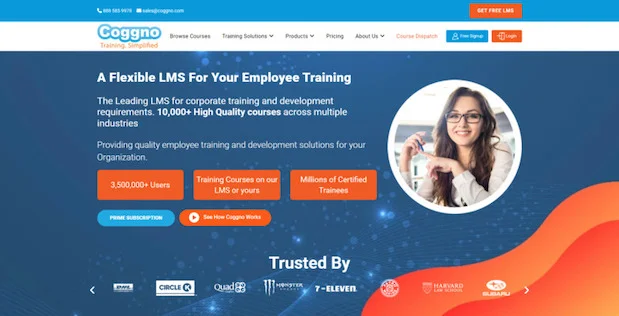 When you are running a business, you might be considering an LMS to automate all your employee training. That is where Coggno comes in. Trusted by major corporations like Monster, 7-Eleven, Harvard Law School, and Subaru, Coggno is a free LMS that enables businesses to enroll an unlimited number of employees into their courses.
Coggno allows companies to customize their branding and assign training materials to employees. Additional features are available for a monthly subscription.
Another exciting feature of Coggno is that you can purchase pre-built courses instead of building them yourself. Coggno has a vast library of purchasable online courses in categories like construction safety, workplace diversity, sexual harassment, workplace safety, HIPAA training, and UST operations.
Sakai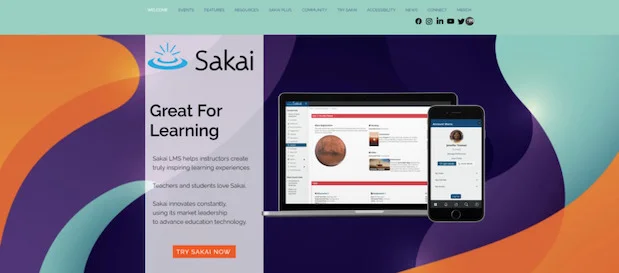 Sakai is an open-source LMS platform that was created for educators. Sakai comes with a myriad of features. Not only are you able to upload learning materials into an easy-to-use platform, but you also have the ability to integrate Sakai with 3rd party applications.
Additionally, Sakai also enables you to create community spaces for deeper learning discussions. You can choose whether you wish to self-host or use Sakai's cloud-based hosting. Sakai also has a number of resources and training materials to help you make the most of their LMS.
3 Major Considerations When Choosing an Online Course Platform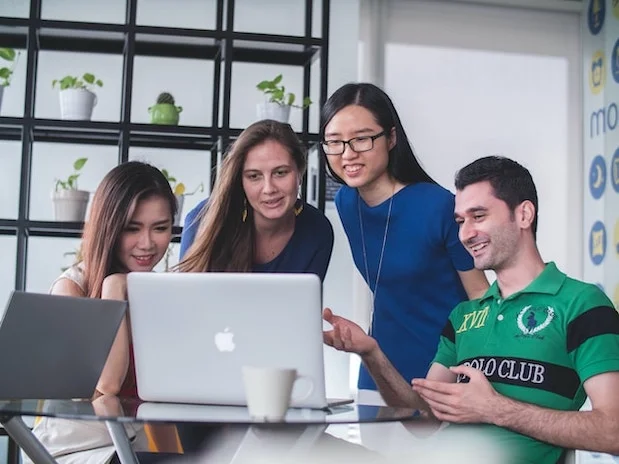 Choosing an online course platform can be a huge undertaking. The LMS serves as the backbone of your e-learning platform. It influences the user experience, content delivery, and overall effectiveness of your courses. Choose the right platform, and your students will have a powerful tool to support their learning. However, the wrong platform can confuse your students and create repeated moments of frustration during your course.
There are three primary considerations to consider when you are choosing an online course platform: the functionality of the online course platform, potential expenses associated with the platform, and the potential benefit to your students.
Let's dive into each of these in depth.
Functionality of the Online Course Platform
Before you commit to an online course platform, you need to know that the platform works within your current needs.
First, assess the course deliverability. Are you able to upload all the learning materials that your students will be studying from? Will you need an online community to continue the learning discussion during the course? Versatile course deliverability will enable you to create a smooth learning experience for your students from start to finish.
Another critical function to consider is its ability to fit within your current business systems. Does the platform allow you to integrate other 3rd party applications for a seamless experience? If your business already leverages tools like an email service provider, website, or online store, you will need to ensure that your platform integrates with your current tech stack. Platforms with 3rd party integrations make it much easier to automate administrative tasks that would otherwise take up a bulk of your time. And when you save time, you can focus on other things like student success and lead generation.
The last critical function to consider in online course platforms is scalability. Depending on your business needs, you may choose to maintain small cohorts or target large groups of students and enroll as many students as you can. As your business grows, your online course needs may change. Some platforms have higher-tiered subscription plans available for businesses that have a high volume of students. While you do not need to make any long-term commitments to any particular online course platform, it is good to keep in mind that you will need to be cognizant of scalability. Otherwise, you may find yourself in a situation where you have to migrate to another platform.
Potential Expenses Associated with the Platform
Once you have a platform that fits your needs, it is time to get to brass tacks. How much is it going to cost you?
As you build your online course, you will need to account for the platform cost. Most platforms offer monthly and discounted annual prices, and some platforms charge by the user. Factor these pricing elements into your decision so that you can price your online course accordingly.
Another cost to consider is your time investment. The easier a platform is for you to use, the less time you will spend learning the platform and building your online courses. This may seem less significant than financial costs, but you do not want to risk spending too much time working on the online course when you should be focused on growing your business.
Online Course Platform Benefits to Your Students
The final consideration is the student benefit. After all, student success is a key driver of your growth as an online course creator.
One of the first things to consider is the ease of use within the platform. Is the user interface easy for the student to navigate through the course? For example, older students might struggle more with the technological aspects of getting set up and accessing the course. Refer to your target audience research to ensure that your online course platform is able to simplify the technology enough so that your users can smoothly navigate the platform.
Another benefit to students comes with the feature of gamification. Gamification is where an online course platform implements game-like elements, principles, and mechanics to enhance the learning experience and engage learners. These features can be as simple as a progress bar showing the current status of the student in their learning journey.
Online course platforms often have badges, certificates, and awards. These achievements help build motivation within students to complete specific tasks or milestones so that they can earn these rewards.
Ultimately the primary goal of gamification in an online course platform is to encourage active participation, foster competition (if desired), and promote a sense of achievement among learners, ultimately enhancing their engagement and retention of course content.
Lastly, you should consider whether your online course platform supports a diverse set of learning styles. Students are likely to need a variety of learning materials, from video, reading materials, podcasts, live calls, and community engagement. They will access these materials from a variety of devices, and some might need to learn offline so they can study in their own time. Consider the needs of your students and pick the platform that serves most, if not all, of these learning styles.
How to Choose Your Best Online Course Platform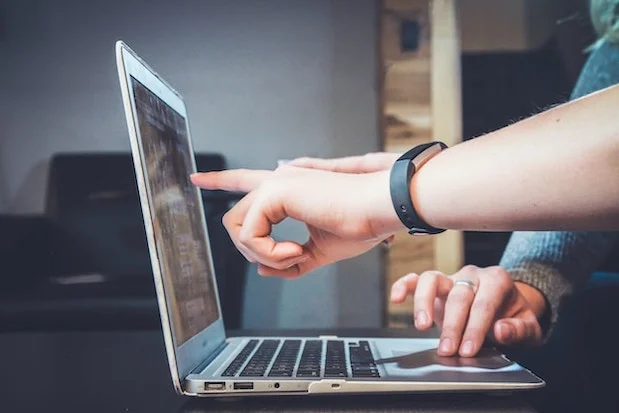 We've covered a lot of ground, and by now, you should have a clear understanding of the different kinds of online course software and which type is best for you.
Hopefully, you're feeling excited about choosing your online course software and are ready to go and choose one.
Before you begin to weigh your options, we'd like to recommend some next steps for you to take.
Step 1 - Research Your Target Audience
Before you can choose the right platform, you need to know the needs of your target audience. If you have not compiled a list of your target audience's key demographics and psychographics, take some time to research who you want to target for your online course.
Your target audience will strongly influence your online course design, marketing strategy, and your learning management system.
Consider factors such as:
Financial affordability
Age category
Tech skills and proficiency
Learning styles
Geographical location
Motivation and engagement
Prior knowledge of your subject area
Internal values
Personal fears and objections
The core challenge they are experiencing
Step 2 - Review your Business Needs
Now that you are familiar with your target audience, it is time to turn your attention to your business needs. Your financial buying power, online course materials, and your marketing calendar will all impact your decision-making.
As we mentioned above, you will want to examine the functionality of the online course platform, the costs, and the benefits it will bring to your students.
Make a list of all the potential needs your business will have. Here are some to consider:
AI tools
Third-party application integrations
Smooth user experience
Gamification
Supported on all devices
Customizable courses, quizzes, and other learning activities
Online communities and forums
Scalability
Data and analytics
Different monetization structures
Multiple account types (Student, admin, instructor, etc.)
Privacy compliance
Branding customization
Step 3 - Identify Which Platform Category Best Fits Both Your Needs And Your Student's Needs
On one side, you have your business needs. On the other side are the needs of your target audience. The next step is to look for points of intersection between the two. Think of it like a Venn diagram. The overlap between your business needs and your student needs is where your best options lie. Start first by identifying which category of online course platforms fits best.
For example, let's say you have a WordPress website. You may consider hosting your online course on your website, which would require an LMS plugin. If you are a teacher looking for a cost-effective platform to teach your students, then choose a free online course platform. For those looking to leverage an existing audience but lacking a course website, you may want to consider a standalone or all-in-one platform to fit your needs.
Step 4 - Identify The Top 3 Options
Once you have identified the best online course platform categories, you can start narrowing your search. Review the different options listed above to see which platform caters to your business and student needs.
List the top three contenders that tick the most boxes.
Step 5 - Test Out The 3 Finalists
From here, we encourage you to test out your top choices if possible. Sign up for the platform's free plan if they offer one, or take advantage of a free trial. This will provide you with actual hands-on experience that will be invaluable in helping you decide which platform is best for you.
Ready to Choose an Online Course Platform?
Creating an online course is a great opportunity to share your gift with the world and build a business that fosters student success. Take some time to review your business needs and that of your students. Cross-reference them with the different platforms listed above and explore the possible candidates.
Play with the different platforms and push their capabilities so that you can see what hard limitations exist. That way, you can be certain that you will be able to provide your students with the best possible education platform for their journey.
If you need more assistance in choosing your online course platform, or if you want to learn more about creating online courses, you might also consider enrolling in our free program, Hybrid Courses Bootcamp. In this program, you will learn our proven process for successful online course creation and start laying the foundation for your winning online course.