Kajabi Review: Features, Pricing, & More
Andrew Folkler
Updated for 2023
When building an online course, one of the most important decisions is what learning management system (LMS) you will use.
Your LMS directly impacts the learning experience of your students, which means you need to choose wisely. For example, you need to make sure that your LMS integrates with your website and any other platforms you use. And, of course, you have to weigh the costs of the LMS against the features provided.
When researching what LMS you should choose, there's a good chance you've come across Kajabi, which is a very popular online course platform.
In this article, we will dive deep into Kajabi. You'll get a look at Kajabi's updated features, pricing, pros and cons, and learn how to create a course on this platform.
Let's begin!
What is Kajabi?
Kajabi is an LMS for hosting online courses. It features an all-in-one platform where you can host your website, run analytics, and engage your students for a powerful learning experience.
Since Kajabi is built around hosting online courses, its higher price point makes it a strong candidate for businesses that need an all-in-one platform to teach online.
Today Kajabi serves over 50,000 entrepreneurs in over 120 different countries. Through their courses, they have helped these entrepreneurs teach their classes to over 60 million students, generating over 3.5 billion in revenue.
Kajabi Pricing
When it comes to pricing, Kajabi is one of the more expensive options out there. While these price points might be jarring, Kajabi's value lies in its all-in-one platform.
To build an online course, you will likely need to invest in a website, email marketing software, the LMS, payment processors, and many other automations. Kajabi aims to simplify the process of building an online course by creating a centralized location to facilitate each component.
| | | |
| --- | --- | --- |
| | Billed Monthly | Billed Annually (20% off) |
| Basic Plan | $149/month | $119/month |
| Growth Plan | $199/month | $159/month |
| Pro Plan | $399/month | $319/month |
Depending on the needs of your business, Kajabi offers three different subscription plans. Each plan, if billed annually, provides a 20% discount on your subscription.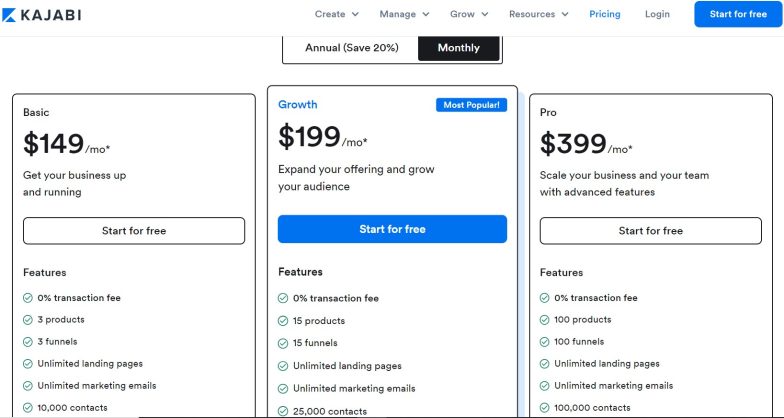 Each pricing tier offers you support through Kajabi University and a customer success activation call. Kajabi University will provide you with tutorial videos to navigate through different challenges. Your customer success activation call will be a strategy call with an on-staff customer success manager.
The higher-tier plans offer greater levels of support. In addition to 24/7 chat support, you gain the ability to remove the Kajabi branding from the website and access their affiliate program. You have the option to set up additional admin user accounts, and you can serve more active students.
At the highest tier, you can manage up to 3 websites and access your source code. Changing your website code is especially valuable to technical users who want to make specific changes to their site via the code editor.
If your business requires a custom plan to allow for more students or products, you also have the option to speak with the Kajabi sales team.
Kajabi also offers a 14-day free trial. However, a credit card is required to sign up, so be sure to cancel your subscription if you choose not to use Kajabi. Otherwise, you will be automatically billed according to the selected subscription rate.
Now that you have an idea of what you would get for each price point let's dive into the meat and potatoes of the Kajabi platform itself.
Review of Kajabi Features
Online Course Builder
As we mentioned, Kajabi is known for being an LMS. The rest of the features are there to support the online course. So naturally, the first feature we need to look at is their LMS.
Depending on your subscription plan, you have a limit to the number of online courses you can host and the number of active students you can take on. Each online course you create counts as a product.
| | | |
| --- | --- | --- |
| | Max Number of Products | Max Active Students |
| Basic Plan | 3 | 1000 |
| Growth Plan | 15 | 10,000 |
| Pro Plan | 100 | 20,000 |
When you build an online course, you can teach through various mediums. Kajabi allows you to train your students through text, downloadable documents, audio, and video. Videos are restricted to 4GB per lesson as Wistia hosts them. Therefore, it is best to split the video into segments if you have a long video. Then you can turn each piece into another lesson in your online course.
Your online course content can be released to your students in several ways. You can drip content based on a set schedule or make each lesson or module locked until previous modules are completed. Or, if you prefer, you can release all your content at once to allow your students to choose which lessons they want to go through first.
You can include live video conferencing through webinars and prerecorded events. With Kajabi's automation tools, you can sell tickets to access your online events. If the event is a part of your online course, you can take the recordings and connect them.
If your online course has assignments, you have several options available. You can create quizzes and tasks that your students can complete online, or you can have them upload their work. Students can upload Word Docs, PDFs, videos, or MP3s, depending on the requirements of the course.
When it comes to creating quizzes and surveys, you can make these easily. Surveys allow you to get clarification from your students on a particular course-related issue, while quizzes help assess their learning. You can determine whether these assessments are graded. There are four types of questions that you can ask your students in your assessments.
Multiple Choice
Multiple Selection (Choose all that apply)
Paragraph (Type in your answer)
Upload a document
Multiple choice and multiple selection questions are graded automatically by Kajabi. However, paragraph questions and uploaded documents will require the teacher to grade them.
As a teacher, you can track your students' progress and grades. Students can win badges for completing milestones and a certificate for completing the course.
Community
Communities are often a bonus for students who purchase an online course. Traditionally, platforms such as Facebook are an easy go-to for creating a community. As an alternative, Kajabi has released its own community feature. A community counts as a product, and you can offer it to your students as a bonus or as a separate item.
The community feature allows you to post announcements, and students can also create posts. This central online venue can help your students keep everything related to their online learning together. You also are helping them minimize distractions by not hosting your community on a social media platform.
The community feed allows users to post videos, images, and links, as well as the ability to like and comment. All posts appear on the community feed, which you can scroll through like any other social media platform.
Website Builder
Another popular feature of Kajabi is its website builder. Constructing a website can be intimidating, especially if you are not technically savvy. With Kajabi's website builder, you can build your website with different blocks. These various blocks stack on top of each other just like legos to create your website.
To make things even easier, Kajabi has a variety of templates available that you can incorporate into your web pages. All you would need to do is change the text, photos, and colors to match your brand, and voila, you have a new web page.
In addition to building your site for desktops, Kajabi allows you to optimize your website for phones and tablets. Students can download the Kajabi app to use their different devices to complete your course.
Sales Pages
To get some students, you will need to build a sales funnel to attract them to your online course. Here's where your sales page comes in.
Kajabi offers multiple templates for sales pages, opt-in forms, and lead magnets. With these templates, you can easily create a compelling offer.
To create a sales page, go into pipelines and then select one of the many templates. Then update the branding and the copy to fit your business.
Email Marketing
Depending on your plan, you can grow an email list through Kajabi. You can use Kajabi's in-house email marketing platform or integrate with email service providers like MailChimp, Drip, ConvertKit, Segment, ActiveCampaign, ClickFunnels, and Aweber.
| | |
| --- | --- |
| | Max Email List |
| Basic Plan | 10,000 |
| Growth Plan | 25,000 |
| Pro Plan | 100,000 |
Kajabi also offers a variety of templates to set up your email sequences. Once again, you will find these templates under pipelines. Kajabi makes it easy for you to implement these templates into a cohesive email marketing strategy. You can track key metrics such as open rates, bounce rates, and click-through rates.
Analytics
Kajabi allows you to integrate your website with Google Analytics. Analytics is an excellent way to track how many people visit your website and measure their activity. It also helps you to learn new insights about your target audience.
Furthermore, you can use this data to optimize your website to raise your incoming traffic.
One thing to note is that as of July 1st, 2023, Google no longer supports Universal Analytics. Google has encouraged businesses to migrate their analytics to the newer Google Analytics 4 (GA4) as the metrics will be more accurate than Universal Analytics.
Kajabi has kept on top on this change and now allows users to integrate their sites to GA4.
Simplified Payment Processes
Kajabi's integrations with Paypal and Stripe make it easy to collect payments for your hard work. In addition, you can install third-party apps like Zapier to manage more complex automations relating to compensation.
You can also create different payment structures based on your offers. You have the option to create subscription plans, payment plans, or accept one-time payments for products. If you are hosting a sale, you can offer coupons, bundle pricing, or create limited-time offers with seasonal discounts.
Additional Support
Kajabi offers several forms of support in the event you get stuck. One of the first resources available to you is Kajabi University. Kajabi University is a series of Kajabi courses built to help you create the best possible online course. Kajabi University offers insight into every element of Kajabi – from website building to online course building, to email marketing, to Google Analytics.
Another great tool that Kajabi offers is its Facebook group Official Kajabi Hero Community. With over 33,500 members, you can ask questions within the community and get support quickly. You can also use this group as a means of getting inspiration for your online course as well.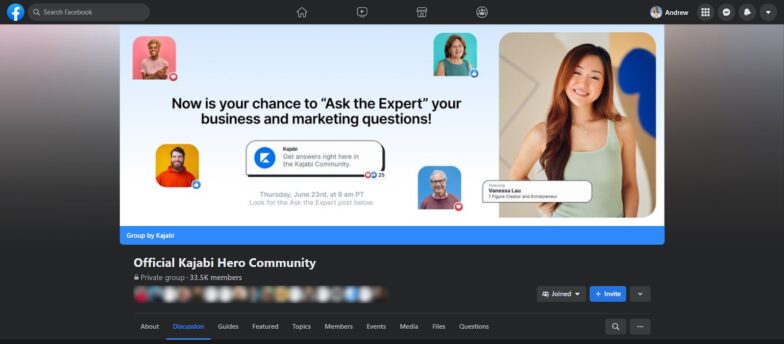 Kajabi also has a chat support service where you can request help with technical and billing issues.
Now that you know what Kajabi offers, let's dive into its strengths and weaknesses.
What are the Pros and Cons of Kajabi?
Pros
Kajabi's all-in-one platform makes it much easier to manage your online course business. This saves you the trouble of searching for the right integrations for email marketing, analytics, website building, etc. All the tools are compatible and work with third-party platforms.
Course creators can easily craft professional-looking pages using page builders. In addition, their templates make it easy to get started, even if you are not technically savvy. This is a huge benefit for course creators who can't afford to hire a third party to create a complex website or marketing funnel.
Kajabi's online course builder allows you to create state-of-the-art courses for your students. You can easily upload a video and an audio recording of your lessons. Your students can access these lessons anywhere and anytime with their phones or tablets. With the graded assessments, you can cut down time grading and focus more of your time on helping your students succeed.
Cons
Kajabi is a premium course-building product without a free plan. Therefore, it may not be the best option for entrepreneurs who are just starting and have little capital. The basic plan costs $119/month if you pay annually. That totals out to $1428 per year.
You cannot customize your pages as much unless you have some technical knowledge. This requires you to understand a bit of HTML, CSS, and the code Liquid (the coding language used by Kajabi). You can still use the website builder without requiring any knowledge of coding. However, if you want a specific adjustment, such as moving a box several pixels to the right, you need to know how to code that change. If you do not have this specific knowledge, you may need to hire a third-party Kajabi expert to help you with these detailed customizations.
Compared to other third-party email marketing platforms, Kajabi seems to be lacking in functionality and deliverability. Kajabi does not deliver all your emails to people on your list as effectively, resulting in lower open rates. When it comes to email marketing, having your emails land in spam can dramatically hurt your deliverability. Most people do not check their spam box. As a result, your emails don't even reach your audience, costing you time and money.
Kajabi has no integration to Google Analytics 4, so businesses that don't use the Universal Analytics will find little value in it. In addition, the analytics provided are somewhat limited. Some metrics that Google can measure are not tracked in Kajabi. One example would be the number of unique views of a particular post. This means you cannot see which blog post is performing the best.
How to Get Started With Kajabi
Now that you're familiar with Kajabi's pricing, features, and pros and cons, let's take a look at how to get started on the platform.
Set Up Your Kajabi Account
To get started with Kajabi, you will need to set up an account first. To begin, choose a subscription plan appropriate to your business needs, and then register. Once you have created your account and verified your email address, Kajabi will ask you to answer a quick questionnaire. These questions help Kajabi direct you to the resources that would likely be most valuable to you.
Once you have completed the questionnaire, you should see your dashboard.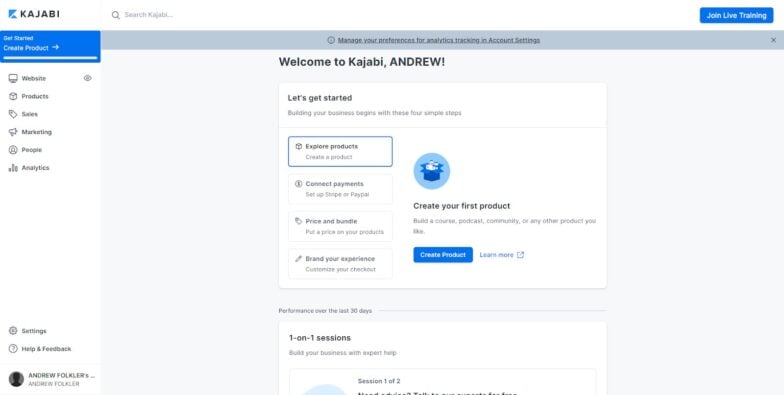 Now that you can see your dashboard, there are several sections to note. You can view your website, products, sales, marketing, students, and analytics on the left sidebar.
Towards the bottom of the sidebar are your account and profile settings.
If you click on the settings tab, you can personalize your account and website.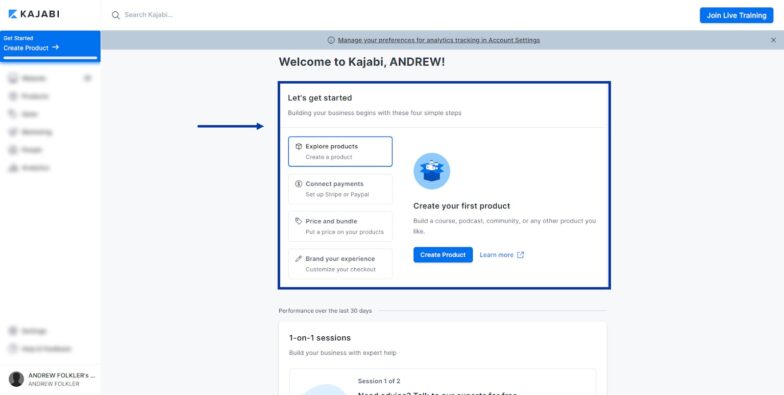 In the center of your dashboard will be a box of tasks that Kajabi recommends you complete first. This is a quick and easy way to start creating your first online course, syncing your payment details with Kajabi, deciding on your prices, and setting up your brand.

Below the suggestions box will be another box where you can set up your 1-on-1 Customer Success call. Additional calls would require you to activate your subscription if you signed up using the 14-day free trial.
Set Up Your Website
If you have an existing website, you can link your Kajabi courses to your website. However, starting from scratch, you can use Kajabi's template websites to get yourself going.
Begin by clicking on the website tab on the left sidebar.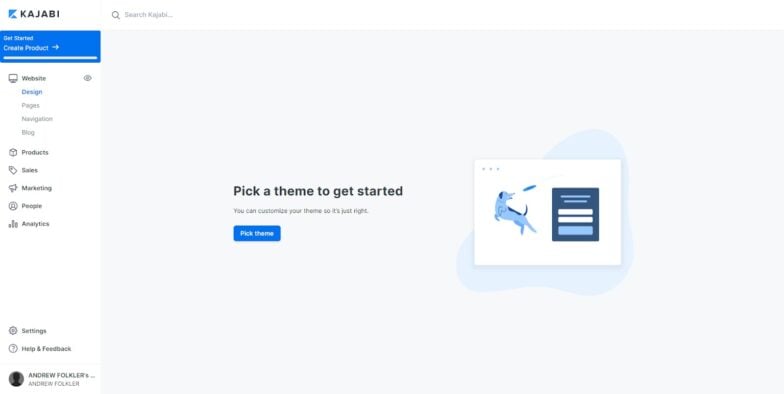 Under the subtab 'Designs,' you can pick from a wide selection of templates. Go ahead and choose the best theme for your business.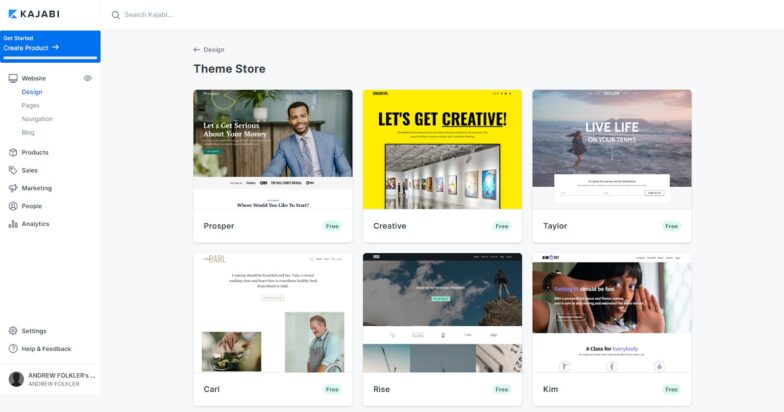 Once you have selected your theme, you can begin customizing by changing the text, pictures, and color schemes. If you have previously changed your brand settings, some elements should already appear on your web design.
In the customization tab, you will also be able to change the URLs for the subdomain of your webpage. You can add pages for your blog, sales letters, and link to your courses.
How to Create an Online Course
To create an online course, start by clicking on the products tab on the left sidebar. There are four types of courses that you can choose. Or, you can select the blank option if you prefer to create your course entirely from scratch. If you have a small course, then choose the mini-course box. For longer courses, you can select the online course option. If you prefer your students to work on your course material over a specific schedule for several weeks, then a drip course would be your best option.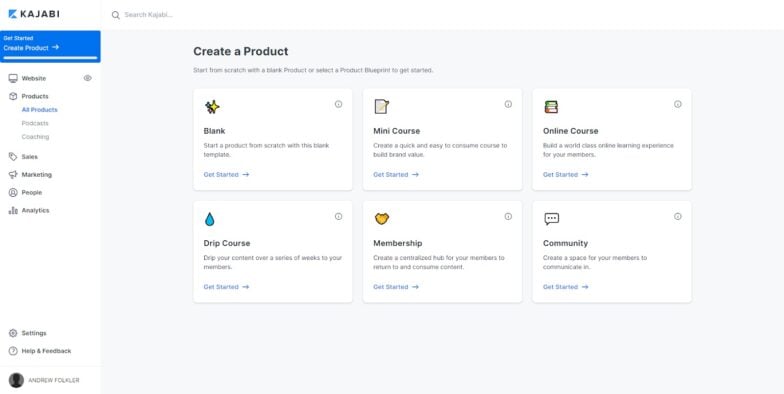 Once you pick your course template, fill in the basic information for your course.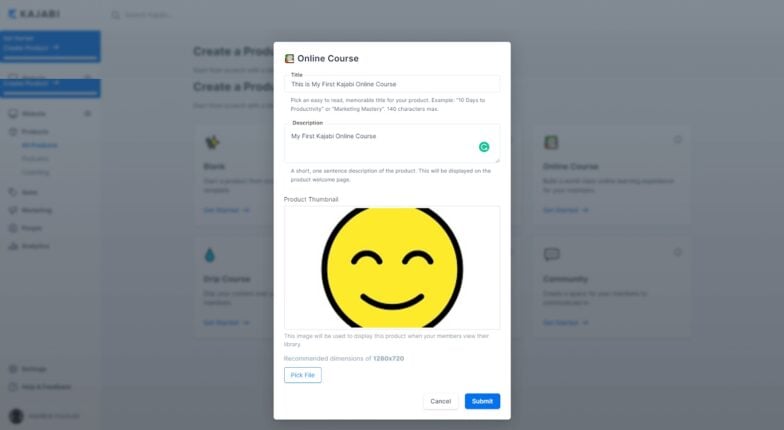 Once you create your course, you can start to add your lessons. You will find that the course material is separated by categories and posts. Categories represent a whole module of your course, while posts are individual lessons.
To add more content, click on the blue button that says, "Add Content." This button will allow you to add more categories, subcategories, and posts. In addition, you can upload multiple videos at once to help you save time.
To manage your course, click on the three dots next to the blue button. These three dots will allow you to make announcements and manage comments. You will be able to view the progress of your students.

If you have to release a similar course, you can clone your course to save you time and effort. Cloning is beneficial for separating your main online course from products tailored to specific companies or audiences.
Now that you have created your course, you can change the theme under the customize tab.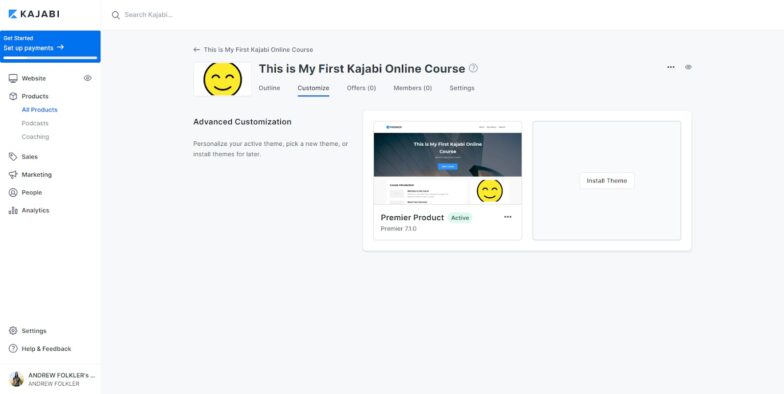 Once you have chosen your theme, you can start to customize your student's learning experience.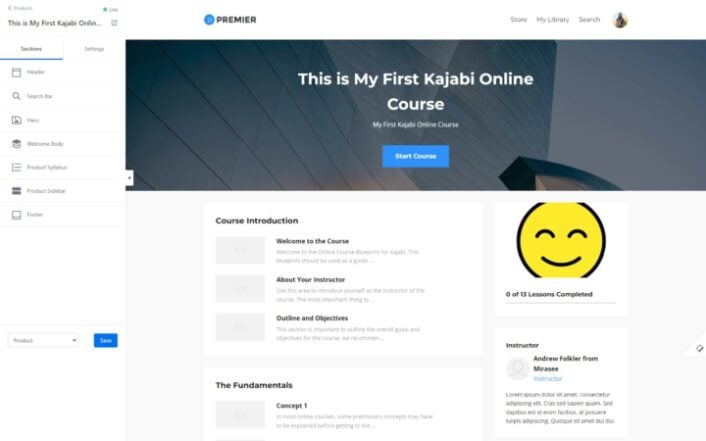 After these steps, you will have your first course and a website.
But let's say you also want to set up a coaching program. Let's take a look at how this is done.
How to Create a Coaching Program
Creating a coaching program is similar to creating an online course. On your main dashboard, click on products, then click coaching.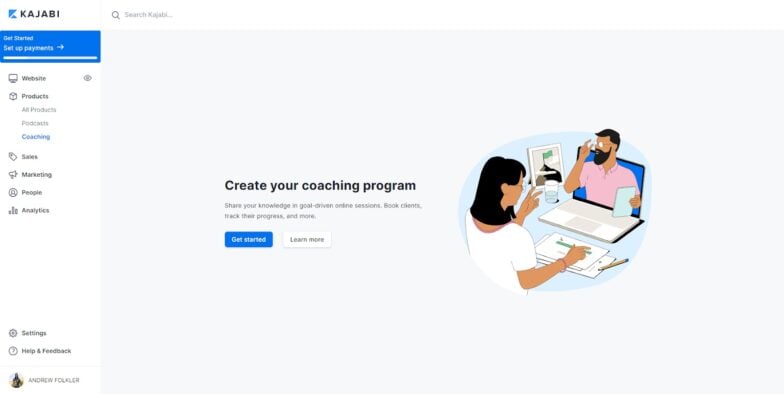 There are three things Kajabi will ask you to get your coaching program started. First, they will ask you whether you are selling a single coaching session or a package.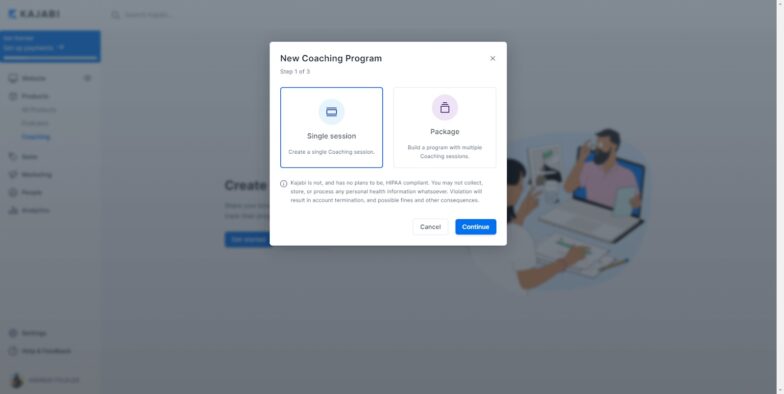 Next, you will need to fill out some basic information about your coaching program. You will also need to upload a thumbnail.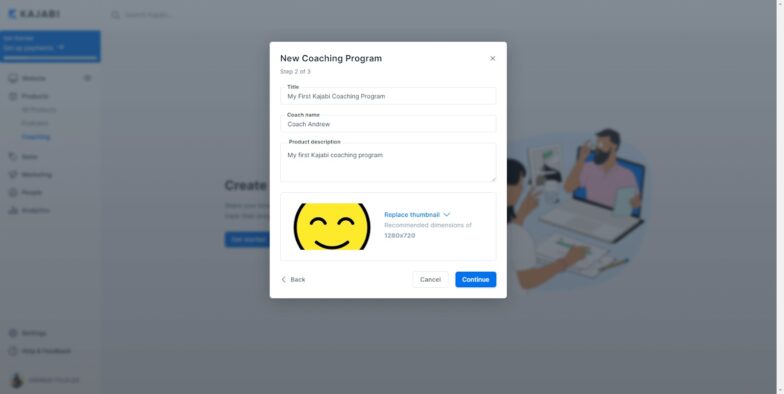 Lastly, you will need to link your coaching program to your preferred mode of scheduling your sessions. Kajabi does integrate with Calendly, or you can use another calendar-booking app.
Once you set up your coaching program, you are ready to release and start bringing in students!
Check Out Kajabi University
If you are stuck or have a challenge in Kajabi, then make sure you leverage their biggest learning tool, Kajabi University. To use Kajabi University, click on your profile on the left sidebar. This button will open a box with one tab being Kajabi University.
Select Kajabi University, and you should be brought to a page that looks like this.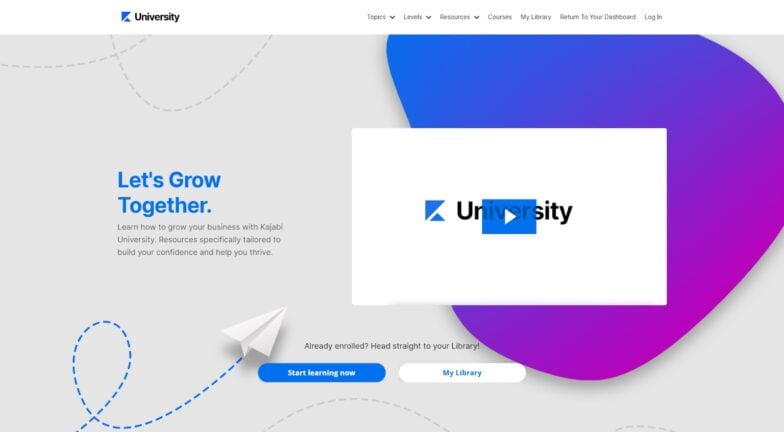 Here, you will be able to view different courses about how to build and grow a successful online course business using Kajabi.
What Are Some Kajabi Alternatives?
Choosing an LMS is not an easy decision and Kajabi is only one option among many. If you are unsure about whether Kajabi is right for you, then it may be beneficial to look at other LMS alternatives to make a more informed decision.
Here are some Kajabi alternatives to consider:
Kajabi FAQs
Is there a Free Trial?
Yes, there is a 14-day free trial. However, you will have to enter your credit card information in order to make an account. At the end of the 14 days, your account will be billed unless you cancel it.
Is There a Money-Back Guarantee?
Yes. There is a 30-day money-back guarantee. Simply email the billing department within 30 days, and they will refund you.
Is Kajabi Right For Me?
Now you might be wondering, is Kajabi worth it?
Well, it comes down to what your business needs are. Kajabi's pricing may make it an unrealistic option if your business does not have much capital. However, if you can afford the monthly subscription, you may benefit significantly from their all-in-one platform.
You will need some technical knowledge to make the most of your Kajabi account, but you can easily outsource this to a Kajabi expert.
Overall, Kajabi is a premium platform that can help you build quality online courses. In addition, you can create a community and coaching programs. These different products allow you to sell them as a bundle.
If you are still unsure if Kajabi suits you, sign up for their 14-day free trial. Play around with the features and see if the LMS is right for you. And if you find Kajabi to be LMS your business needs, start creating your premium courses!
To learn more about the process of creating online courses, you may want to join us on our Hybrid Courses Bootcamp. It's completely free to join and teaches you how to create a successful and profitable online course.
Let's Start Building Your Online Course!
In our FREE Hybrid Courses Bootcamp, we'll walk you through how to transform your knowledge and expertise into a profitable online course… one your students will love.