Kajabi Review [2021 Update]: A Professional Option That's Both Simple and Elegant
Lindsey Hayward
Post updated by Jessica Glendinning
Searching for the perfect learning management system (LMS) can be grueling, so it's nice to have someone (like me!) do the dirty research work to save you time and energy.
Kajabi is a well-known LMS that states you can "easily market, sell, and deliver your content online," even if you possess the design skills of an infant (the latter might not be their exact words).
The site is beautiful, and sign up is pretty simple and straightforward. Much like most free trials these days, you do have to add a credit card to obtain their two-week test run. But it's not a big deal if you just pop a reminder in your calendar a couple days before they plan to charge.
Once you start poking around and check out the pricing, you'll see that Kajabi isn't for the faint of heart or wallet. It's definitely a professional's LMS, and you're getting what you pay for.
Kajabi Pricing
Here's a rundown on their pricing structure, including the impressive 20% discount for paying upfront for a year's worth of service:
| | | |
| --- | --- | --- |
| Kajabi LMS Pricing | ANNUAL PAY | MONTHLY PAY |
| BASIC: | $103/mo. ($1,236) | $129/mo. ($1,548) |
| PRO: | $311/mo. ($3,732) | $389/mo. ($4,668) |
| PREMIUM: | $719/mo. ($8,628) | $899/mo. ($10,788) |
Pro Tip: When you visit the pricing page, the annual fees load automatically. If you want to switch to the monthly pricing model, you'll have to click the "Monthly Plans" tab.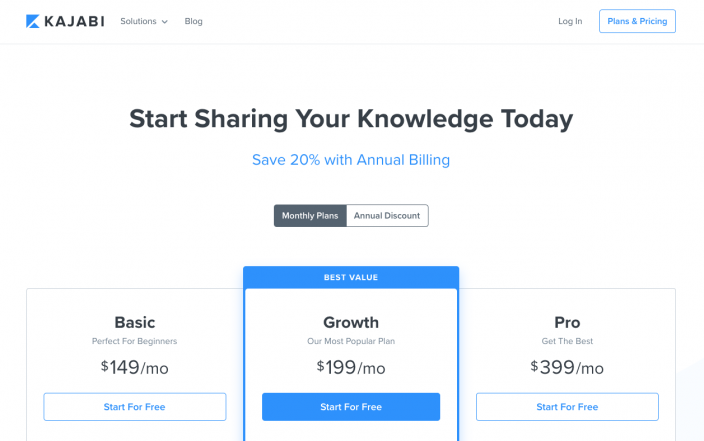 Getting Started
Once you're all signed up and ready to go, they ask three multiple-choice questions to tailor your experience. The questions ask if you've created a course before, sold content online, and have a list or audience.
After a short welcome video encouraging you to watch the overview video, check out Kajabi University, and try the Course Creation 101 and Building Blocks 101 tutorials within, you're taken to a clean dashboard with a nice inspirational quote. There's a "KajabiHero" (one of their successful course creators), announcements, and the easy-to-navigate menu bar all in plain view.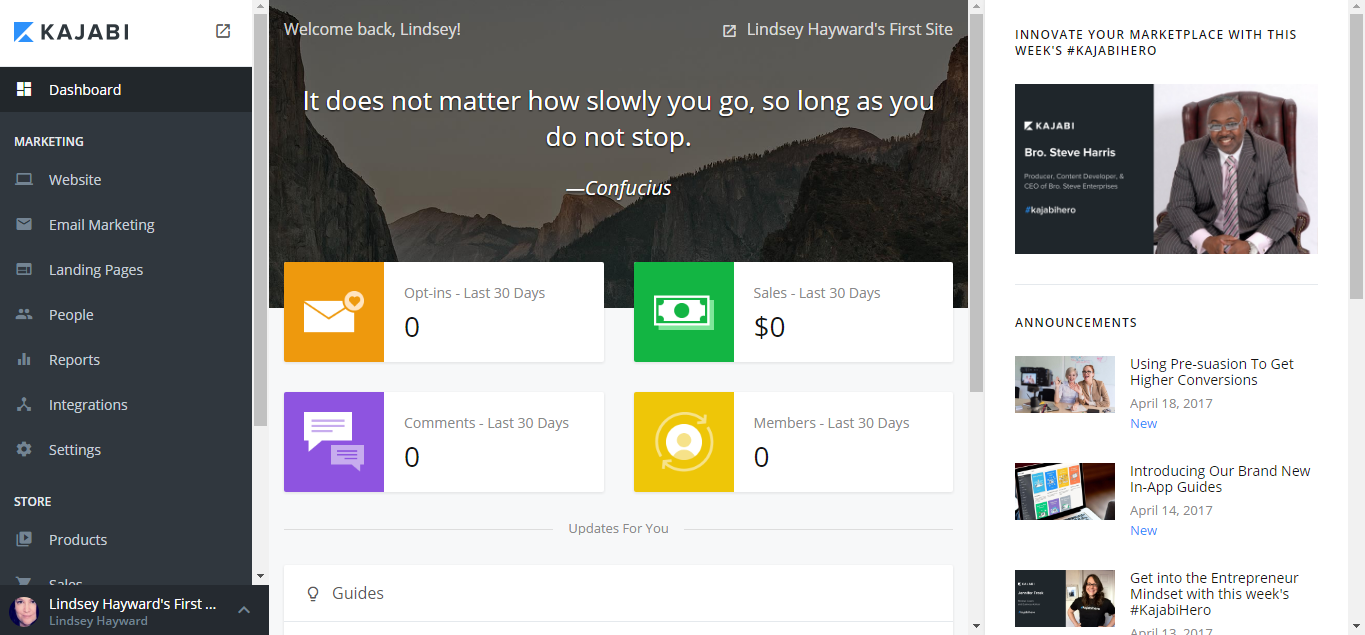 After poking around a bit, I noticed the dashboard changed to the following format when I returned: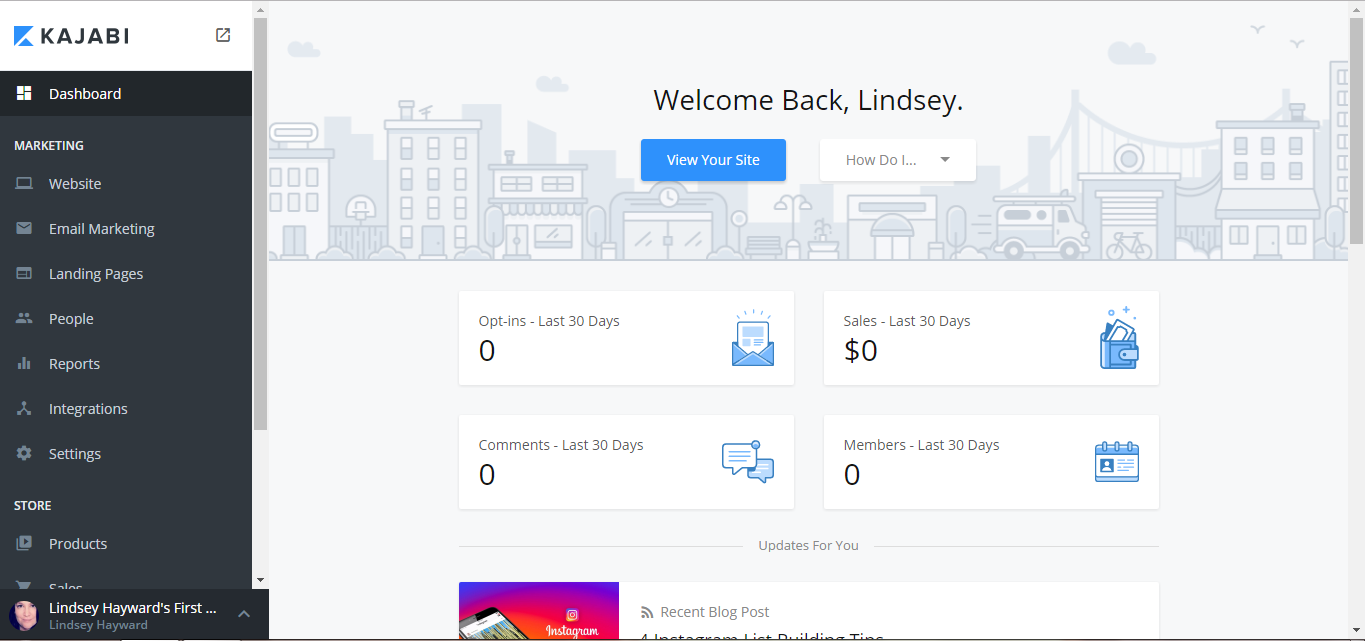 Now, before we move along, I want to interject a disclaimer here. I'm fairly adept at technology and can find my way around pretty well, but this came only after a couple years of earnest effort, and after being more technologically backward than a Neanderthal grandmother. So occasionally that old woman in me rears her bespeckled head and shouts, "Where do I do this? How do I find that? What did I just do?" in very non-inquisitive tones.
I say this to give you technophobes out there hope. If I can beat my Neanderthal grandmother into submission with Google and YouTube tutorials, so can you!
Like the good student you want to attract, you'll probably want to familiarize yourself with the provided info. Two great places to start are the "How do I…" tab (Granny loved that!) and Kajabi University.
The "How do I…" tab drops down into a nice little walk-through of getting your plans together, but doesn't—surprisingly—clearly explain how to implement them within Kajabi.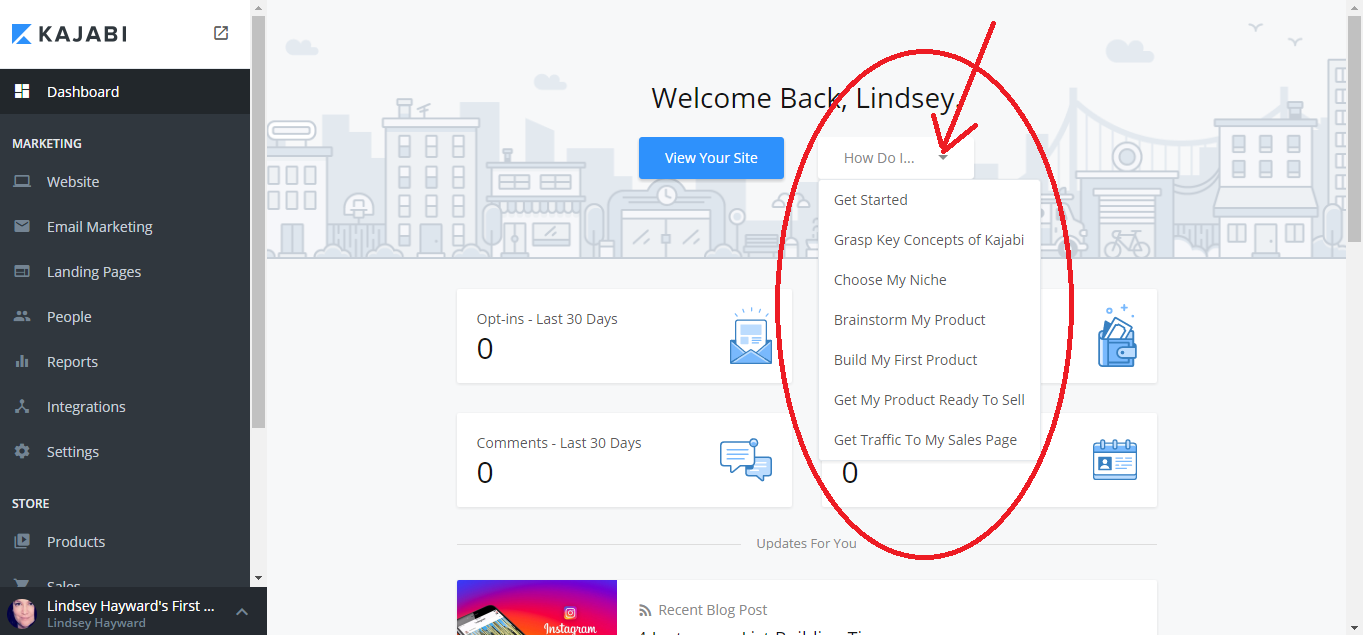 For example, when you click the "Build My First Product" option, you're taken to a page explaining the different parts of the "product," which in this case means your course.
Here's an excerpt:

Under the hood, every product is made up of the exact same components: Posts and Categories.

Posts contain your actual content (videos, text, downloads, etc). You can think of posts as lessons, or pages in a book.

Categories are used to divide your posts into logical groupings. You can think of categories as modules, sections, or even chapters in a book.
Now, while it's great to know they've created posts (which I see more broadly as lessons) and categories (which I see more broadly as modules), it doesn't really explain where to find them on the dashboard, or give examples on creating a post within a category. Or how to publish them, etc. You're on your own if you rely solely on this little blurb.
Pro Tip: Make sure you read your welcome emails from support! I found what I was looking for in the videos they emailed after I joined. You'll want to be sure to bookmark this one, as it's a tutorial on creating your course!
One thing I did appreciate was how they broke down different product types like courses, consulting, and memberships, and then suggested different themes for each that would best suit the situation.
And speaking of themes, Kajabi has A LOT! I was impressed with their design selection, and though I had trouble switching themes and keeping the content (Grrrrr…anny), it's doable. Just don't get sucked into the analysis paralysis of choosing one, and you're good to go.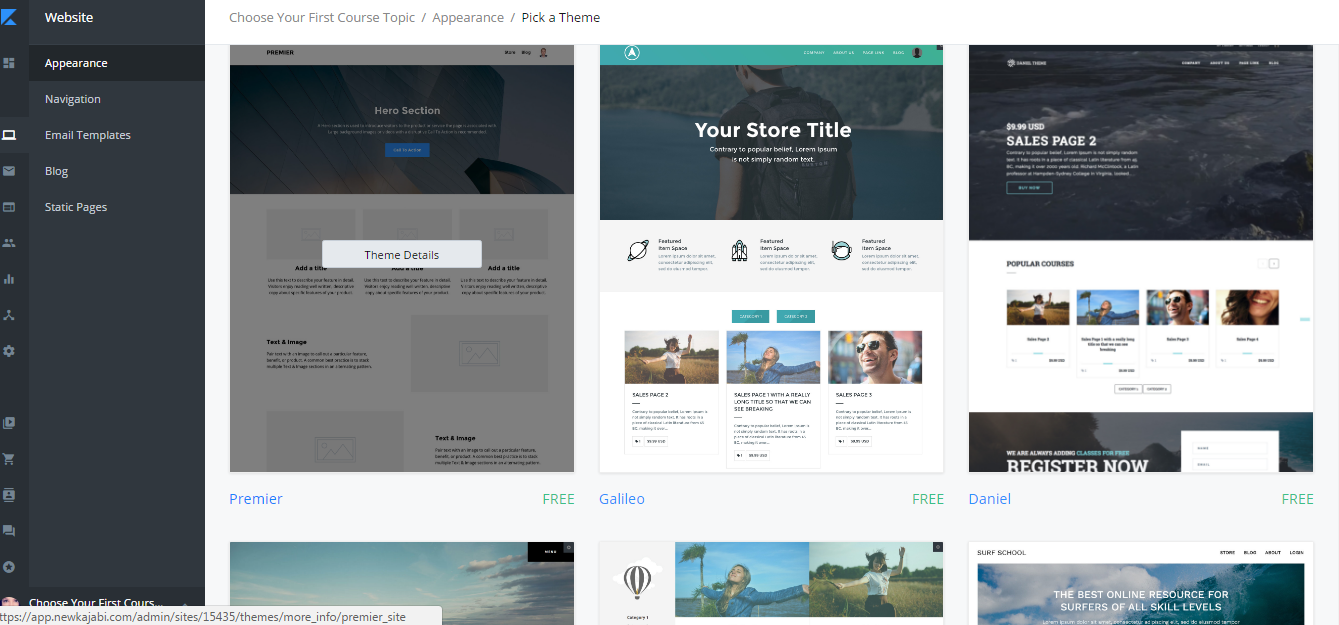 Now, before you start putting those themes to use, you'll want to be sure to check out the Kajabi University resources I mentioned above. Just go to the bottom left of the dashboard, and click on your little profile picture (or bar, or the upward expansion arrow. Same outcome).
You can find them here: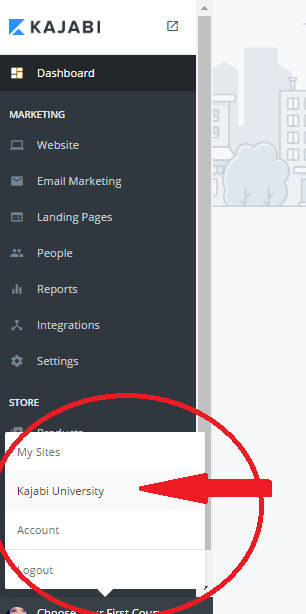 Another place you'll want to be familiar with is the help option in the same lower left corner. (If you have a smaller screen, make sure you've scrolled down the menu enough to see it.)


That helpful little friend will pull up a search bar for you to look for specific topics or questions. And if you can't find your answer in the database, it helps you send a message directly to the Kajabi support team.
Speaking of Support
Coming from an elite support team like Mirasee has me setting the support bar pretty high, and because I've been on the other side of the ticket, I know what to look for. And, to be fair, my own immersion in the Mirasee support world might have created some pretty big expectations because those are some massive shoes to fill.
But even when I tried lowering my bar a bit, I was still left with a lackluster experience. Testing the limits, I sent my first request for help on a Friday shortly before noon. Surprisingly, I got a "Did that solve your problem?" follow-up email two days later (on a Sunday!), but hadn't yet received a reply to the problem. Kinda funny, but not when you really want answers.
However, as soon as I got in touch with the poor sucker who had to reply to me, I had much better luck (Thanks, Adam!). He hopped on the issue, gave appropriate apologies, made it right, and left me happy.
So even though I was disenchanted at first, I think it was likely a combination of weekend timing and system glitch or oversight. Otherwise, the way they handled my support ticket was top notch.
Kajabi Tutorial: Creating Your Course
Once you've explored around and exhausted yourself on the plethora of available bunny trails to get lost in (landing pages, and payment processors, and email marketing, oh my!), you'll want to refocus and get to putting your course together.
You'll navigate to the products section on the left menu bar in the lower half, right under "Store." Then it's a matter of clicking "+ New Product" on the top right and filling in some basics. Once you've saved, then you'll want to move on to creating your posts (lessons) and categories (modules).
I started off by creating all my categories (modules) and then creating posts (lessons) which I could then file under the already-established categories (modules). The tutorial video they email does it a bit differently, and you may find your own preferred method, but once you figure out what's what, it's simple and easy to use.
You'll see the categories page, the posts tab, and your categories' status (draft, published, drip fed after X number of days) in the image below: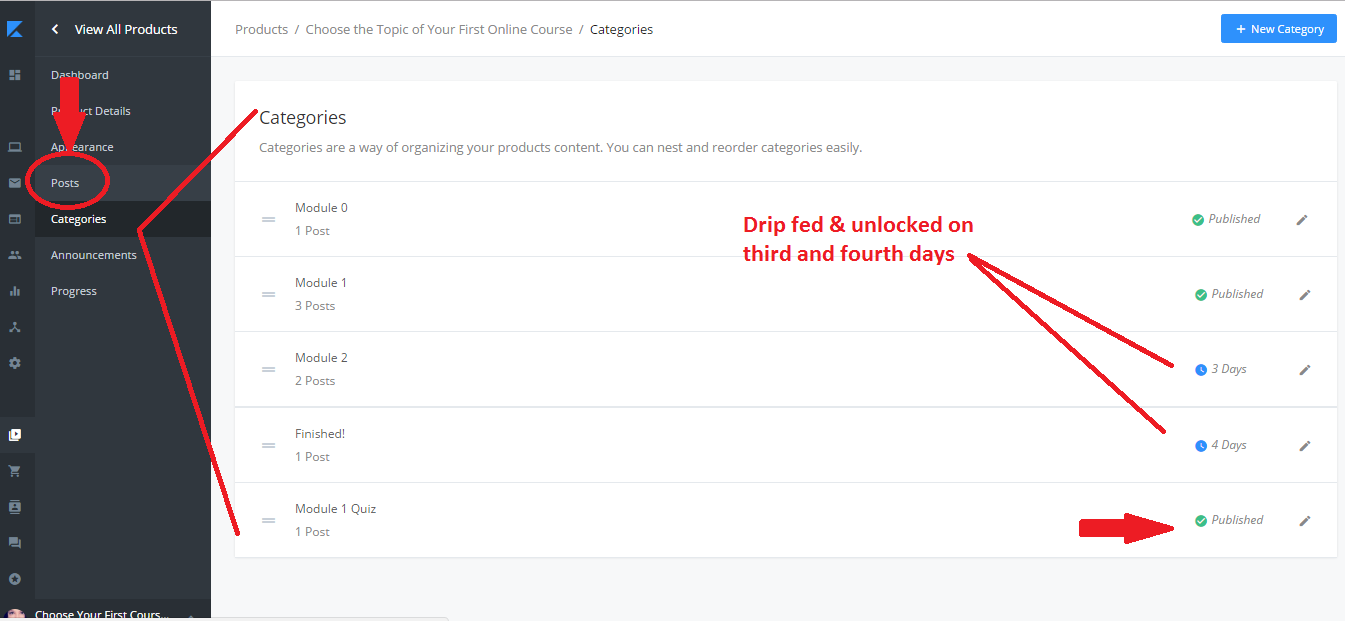 Within the posts page, you can upload all kinds of good stuff like text, videos, and images, and embed code for quizzes or homework.
After you've filled in your lessons and modules, your individual product page will look something like this: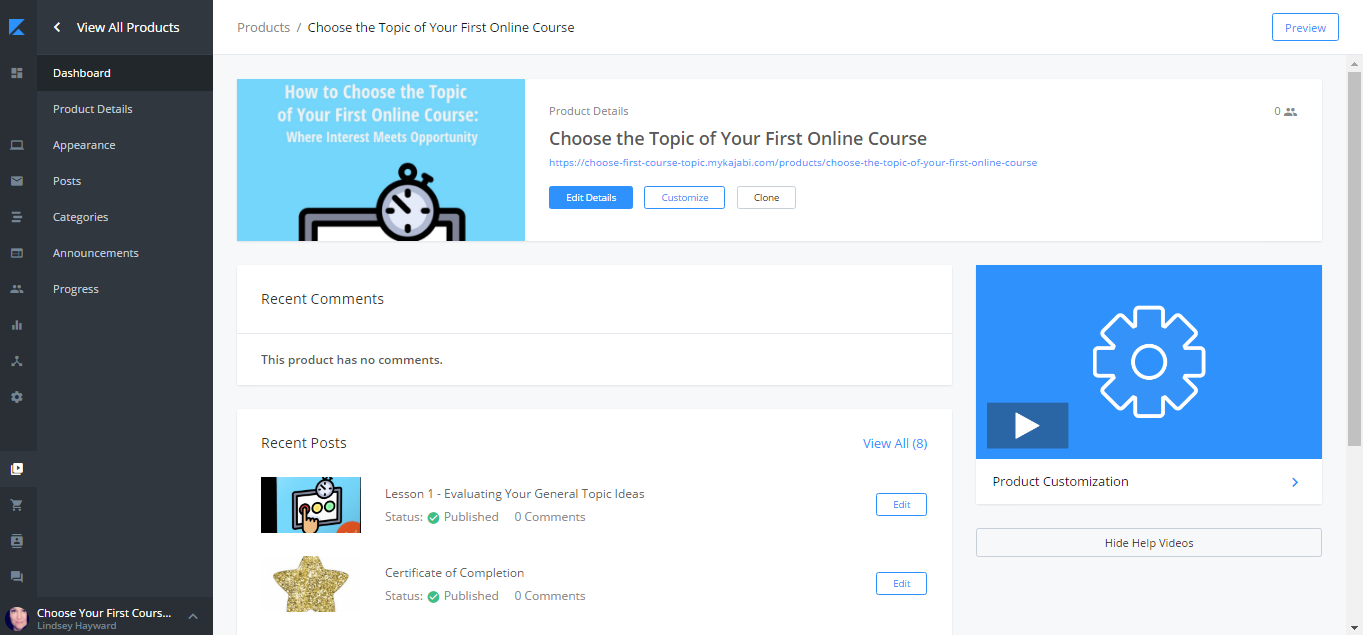 From there, you can play around with your theme preferences in "Appearance," post announcements for you students, see progress by lessons/modules or students, and adjust course details like the title, description, or image.
Once you get the hang of it, it's smooth and simple to use!
Here's a look at my finished course page: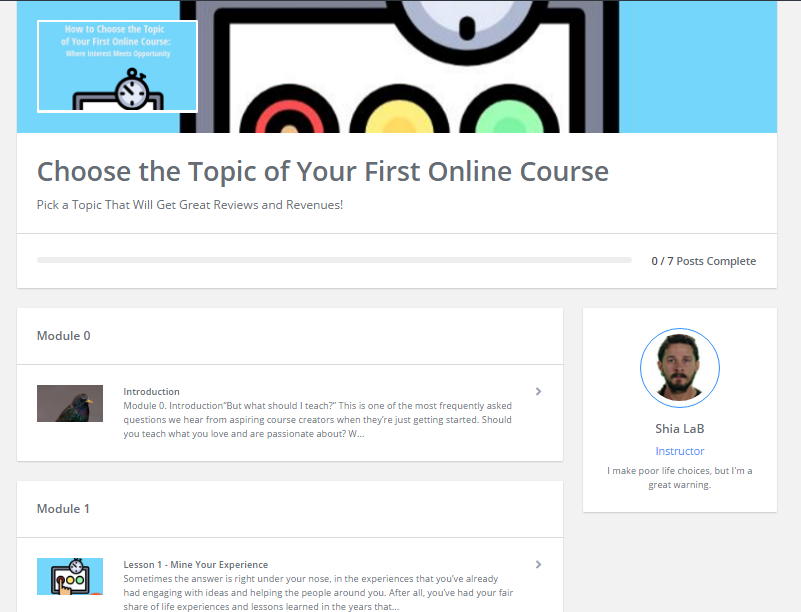 Summary of Features
FEATURES
YES, NO, AND/OR DETAILS

Number of Courses and Students (called "Active Members")
Basic: 3 Courses, 1,000 students

Growth: 15 Courses, 10,000 students

Pro: 100 Courses, 20,000 students

Course Content

Drip according to schedule

Yes

Self-directed (unlock next module as student completes previous)

Yes

All modules available as soon as student enrolls

Yes
Yes, all subscription plans include unlimited hosting!

Kajabi hosts

Kajabi hosts

Kajabi hosts (through Wistia), 4G limit per lesson/post


All plans support live and pre-recorded webinars and events.

Sales Page

Yes

Yes

Other landing pages available (if so, what?)

Yes, offers landing page templates with multiple themes, opt-in forms, email sequences, email broadcasts, and lead magnet templates (within "Pipelines")

Payments

Integration with payment processors

Stripe and PayPal. You can also integrate with other third-party apps via Zapier.

Can you set up different payment arrangements:

Yes

Yes

Yes, coupon codes, bundle pricing, and limited-time offers

Email Marketing

Integration with email service providers

MailChimp, Drip, ConvertKit, Segment, ActiveCampaign, ClickFunnels, and Aweber

Email broadcasts and sequences.

Quizzes

Yes. Called Assessments.

Yes

Yes

Assignments from Students

Students can only submit comments at this time – no ability to upload files. However, if students want the instructor to check out work, they can post a link to the file of choice within the comments.

Community/Discussion forum

"Community" is currently in beta testing with select Kajabi users.

No

No

Badges/Certificates

Yes

Certificates of completion

No

Analytics

With the Google Analytics integration, you can track Page Views, Sessions, Users, Bounce rates, %New Sessions, Average Session Duration, and Demographics.

Which metrics are available?

You can track individual student progress, average progress within lessons, number of students who completed within lessons, sales (by day, week, month, and offer), affiliate sales (with Pro and Premium versions), opt-ins, landing page conversions, and hosted email marketing stats.

Individual student tracking

Yes

No

Affiliate management

Available with Growth and Pro plans

Customer Support

Promptness

Quality of support

I personally experienced a minor support glitch with my first ticket submission, but it was quickly rectified, and subsequent help was timely and high quality. They claim to respond to most emails within 1-8 business hours, and all within 24. I personally got a reply two days later, after emailing on a Friday. When I got in touch a second time on a late afternoon, I had a very thorough answer before noon the following day. And when I emailed a third time, it was nearly after hours, but I got a reply within the hour!After making a pest of myself, I'd say the support was pretty great.

(Note: as of our 2019 update, an intrepid blog reader pointed out that Kajabi's customer support includes not only email, but also live chat and a "huge and active" Facebook group.)
Kajabi Alternatives
Kajabi vs. Teachable
Teachable's premise is "Everything is Teachable." They promise effortless setup and simple (yet powerful) website customization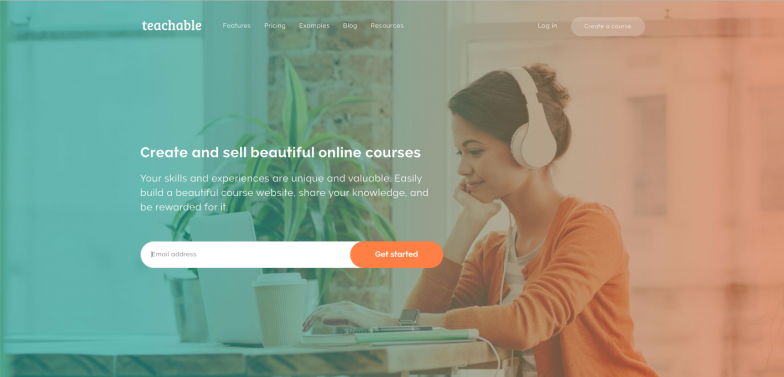 One of the most obvious differences in the platforms is the monthly price — but remember that Kajabi includes a lot of the services you might have to pay for separately with Teachable.
Kajabi allows for a large number of 3rd party integrations, if there's a tool you just can't live without. With Teachable, you have to be on a paid plan to access integrations.
There are transaction fees for the free and lower cost Teachable plans (so add those in to the "things you have to pay for separately" list). Remember that Kajabi doesn't take any kind of transaction fees from your course sale.
Both Teachable and Kajabi are mobile-friendly, offering an iOS app for students on the go.
The takeaway:
Teachable is great for first-time course creators. This platform might be the right choice for you if you don't have the time or desire to mess with a fussy site, and just want a simple plug-and-play LMS system.
Click here for a more in-depth review of Teachable.
Kajabi vs Thinkific
Thinkific is an all-in-one learning management system that promises to give you "everything you need to easily create, market, and sell your own online courses."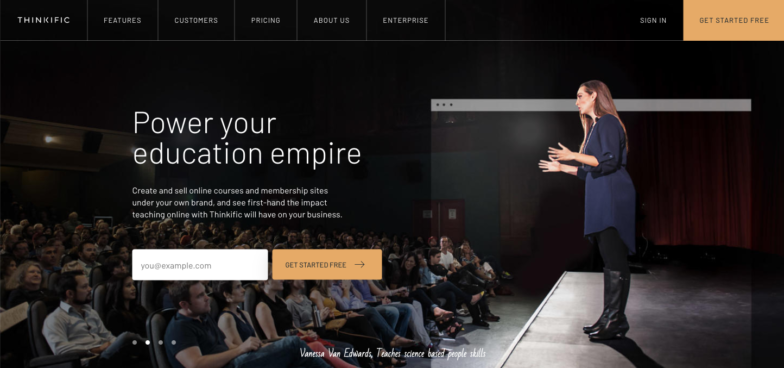 Similar to our Teachable review above, the most obvious differences in the platforms is the monthly price — but don't forget about the tools Kajabi offers that the other two platforms don't.
With Thinkific, you'll need to be on a paid plan to access integrations, but neither platform charges a transaction fee for your course sales. And Thinkific and Kajabi both integrate with PayPal and Stripe (which do charge fees).
Similar to Teachable, a "pro" for Thinkific is that they offer an always-free plan, as opposed to Kajabi's 14-day free trial.
The takeaway:
Thinkific is a great platform for creating, marketing, and selling your courses. This platform might be the right choice for you if you're a teacher who needs advanced tools as part of their LMS, or you want to create a good looking course without having to touch code.
Resources:
The Verdict
Kajabi boasts users the likes of Chalene Johnson and Brendan Burchard, and I can see why. One of my favorite personal development gurus, David Bayer, uses Kajabi for a couple of his courses and loves it. And as a student, I found them beautifully simple to work through and complete.
The features this LMS offers are impressive, and I'd say it's a good choice if you're looking for a customizable design and want multiple options and flexibility while still keeping things fairly user-friendly.
It definitely delivered on the promise of, "Easily sell your content online." It also offers a robust option for those who don't want to juggle multiple tools or platforms to grow their online business. Kajabi offers a lot in a tidy little package.
My favorite aspects are its various theme options, hearty analytics, the availability of a Certificate of Completion, user-friendly interface, and excellent video tutorials (even if they were a bit spread around).
I'd like to see them allow member uploads, add forums, and be clearer on the whole "post" (lesson!) and "category" (module!) thing within the "Products" section.
With no true deal breakers in sight, Kajabi is an LMS I'd be comfortable recommending to a friend.
I wouldn't recommend it to an absolute brand new course builder. All those bells and whistles might become a distraction for someone who just needs to put a course out there and get rolling. The technological side of things is very manageable, but might be too much for someone who isn't familiar with things like analytics, landing pages, affiliates, email campaigns, and the like.
But for an entrepreneur who has at least a good beginning grasp on course building, technology, and basic online marketing terminology, Kajabi could be the perfect option. It's a robust platform that offers a professional appeal without frustration or regret. Definitely a win in my book!
Additional Resources:
Does Kajabi make your shortlist of LMS platforms? Why or why not?
Find a Sellable Topic for Your Online Course!
Get this primer and learn our process for identifying a viable topic for your very first online course.