Teachery Review: Simple, No Frills, and Wallet Friendly
Lindsey Hayward
With all the LMS platforms to choose from, Teachery is gaining a foothold in the ever-increasing course-building industry.
And if you're into simplicity and a more basic production, and might need a little prodding to get things done, you'll want to listen up. Teachery helps spur you into action, and newer course builders will love how easy it is to use.
"Need a course building system without tons of bells & whistles? Our Teachery review:"

Tweet Me
Teachery is a great option for those who don't need a ton of bells and whistles and who place more importance on having an easily-made course quickly. So if you're the type who goes into analysis paralysis when flooded with too many choices and tantalizing avenues, the straightforward approach of the Teachery platform might be your dream come true.

What Makes Teachery Special?
Teachery claims you can create and sell beautiful online courses in just minutes (instead of hours or days), without incurring any transaction fees. And I have to say they indeed deliver on enabling you to create a basic course in just minutes.
Upon signing up for a free trial, I began a step-by-step process where I start filling in basic information about my course. In a genius flow of prompting questions, they steadily drew information from me (some of which I didn't even realize I possessed) in a fun series until, before I knew it, they congratulated me on creating a course.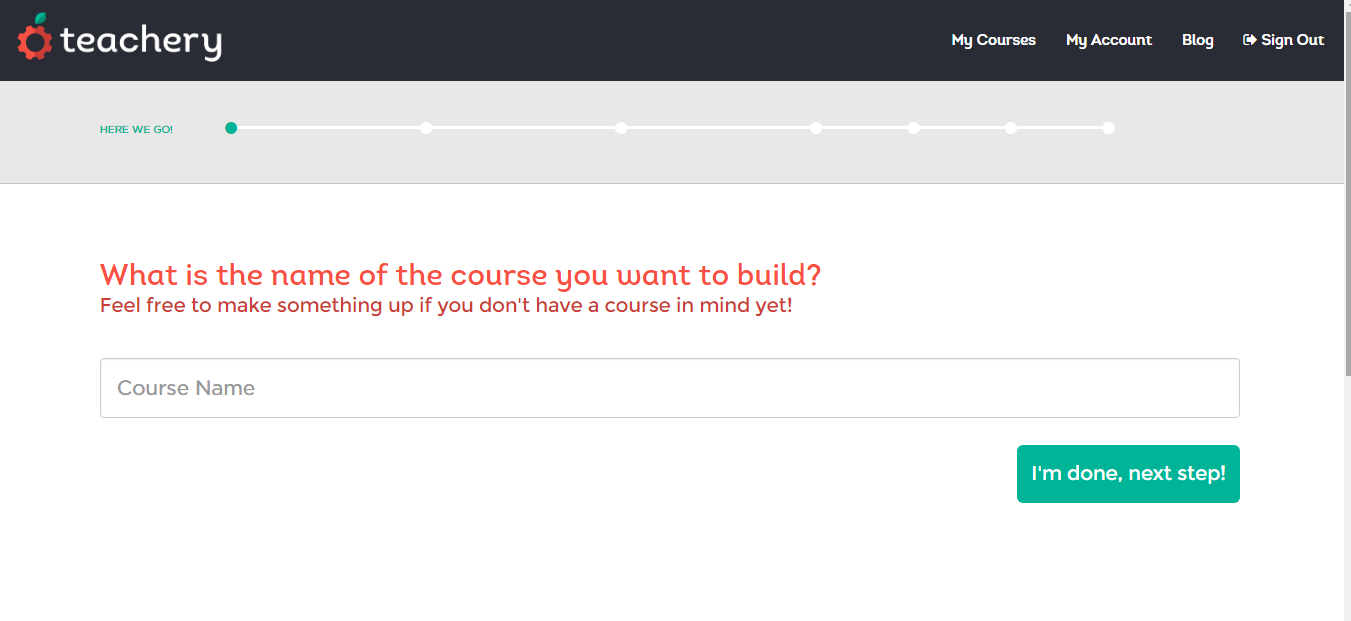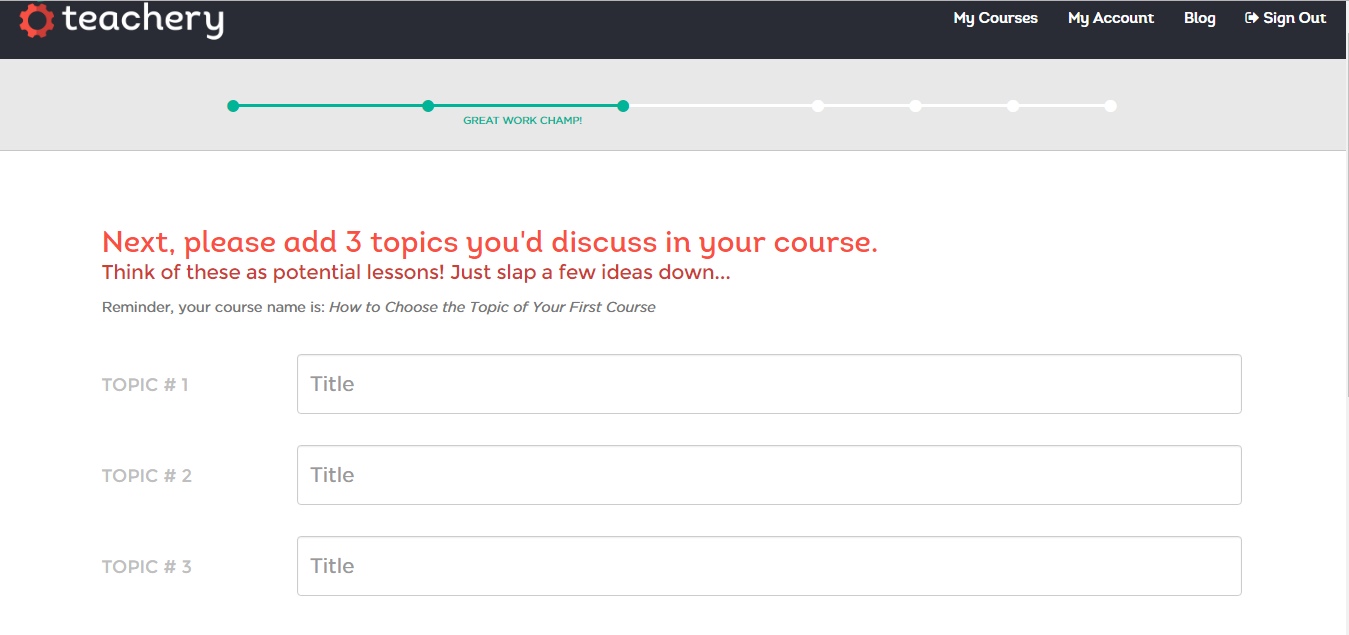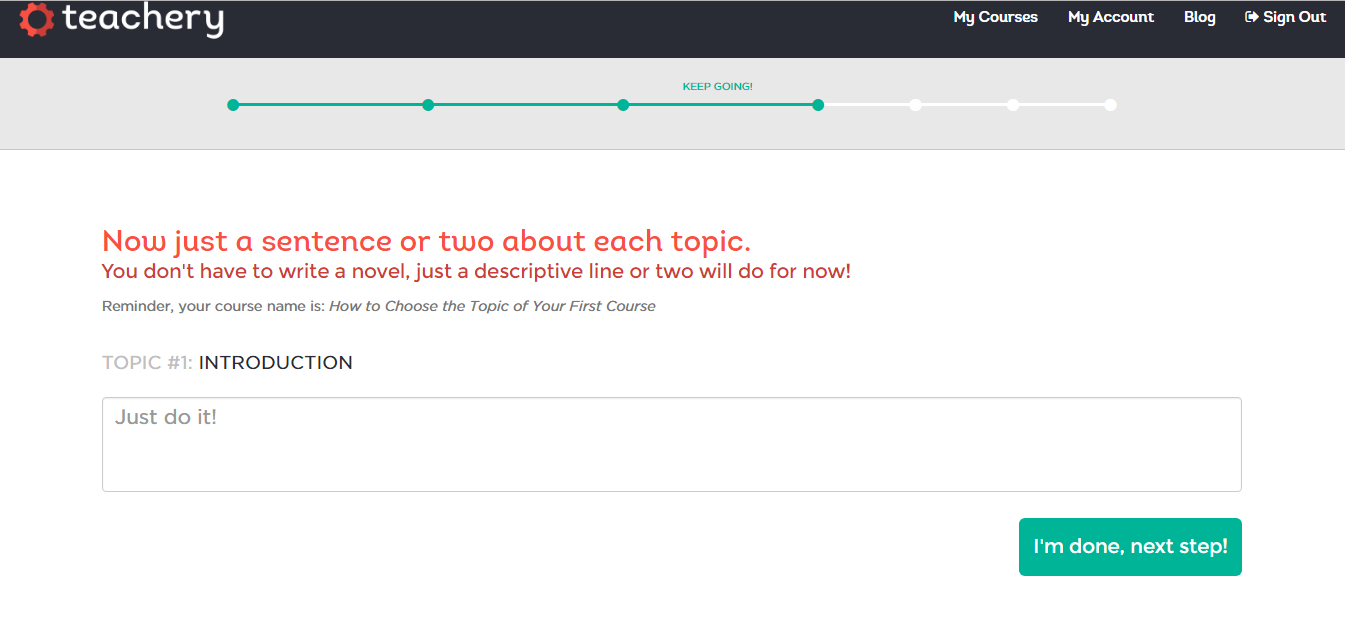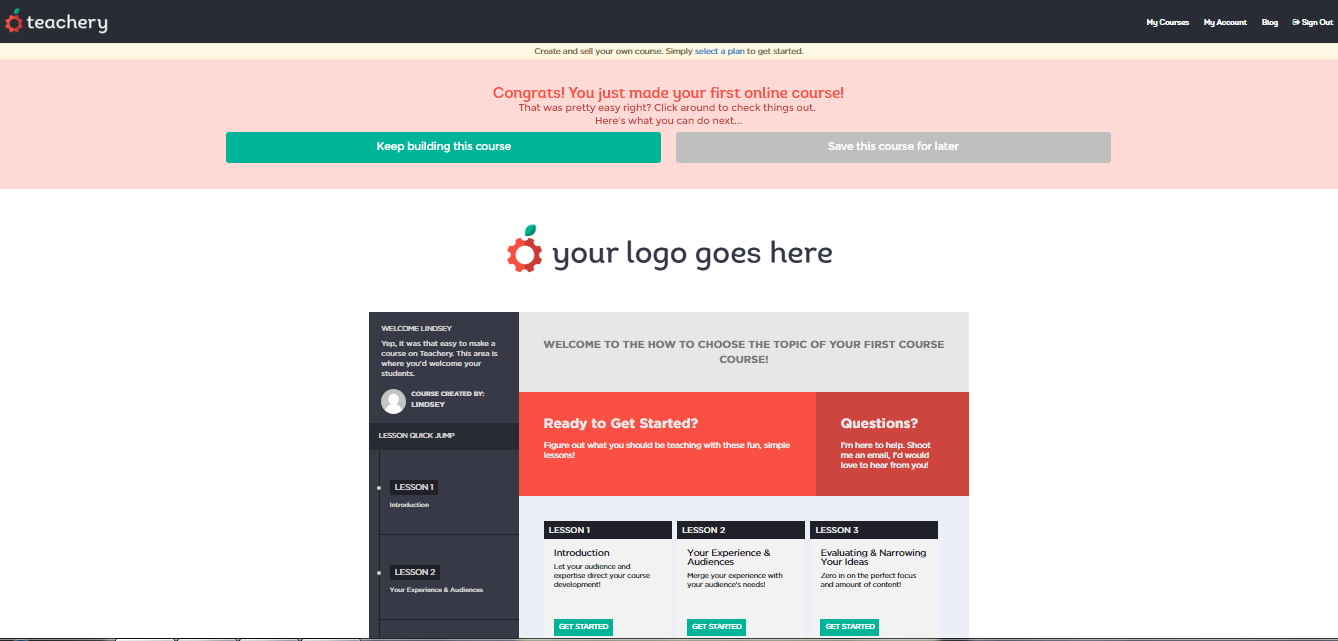 Wait, what?!
Indeed, as Teachery guided me through their info-drawing questions and I happily filled in my flowing thoughts on my flavor-of-the-month course idea as if I were taking some fun online quiz, they were, in fact, building a high-level outline of my course.
But after what felt like 10 minutes, I was surprised with a congratulatory page outlining the course I had just created.
I mean, sure, the end result wasn't a fancy-pants vision of wonder, but Teachery had lulled me into creating a full course outline in less time than it takes me to shower when a good song comes on, demanding I belt out a few tunes.
And for someone who has a recurring membership to the Procrastinator's Guild, I was frankly stunned by my own productivity.
In addition, having so much great info detailed in an easy-to-read overview actually motivated me to fill out the few remaining details. So I had everything I would possibly need (before selling the course itself) complete in this super short process.
"When it comes to course building systems, Teachery is a winner in several ways: "

Tweet Me
When you add in Teachery's amazing sense of humor (look below to see how they Rickroll you when creating a landing page!), how easy it is to use, and that crazy burst of productivity from the get-go, it's a winner in several ways.
(Disclaimer: Loving a good laugh as much as I do, I had a hard time being a critical evaluator when they have such a killer sense of humor.)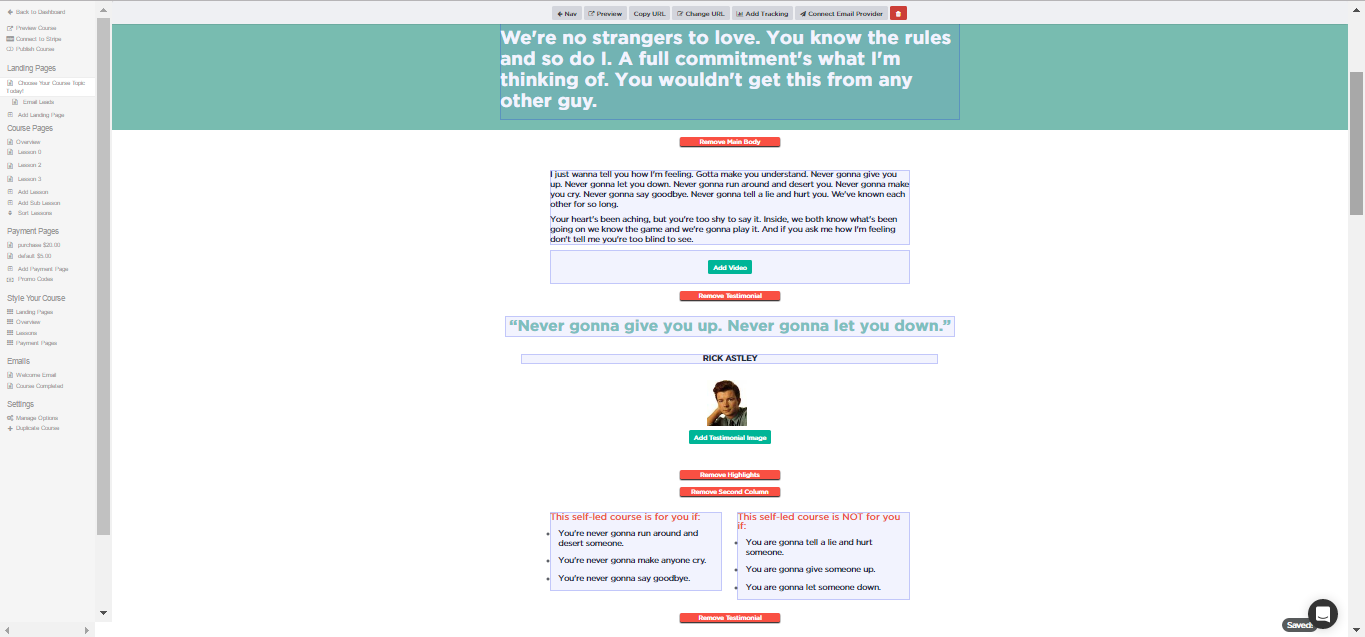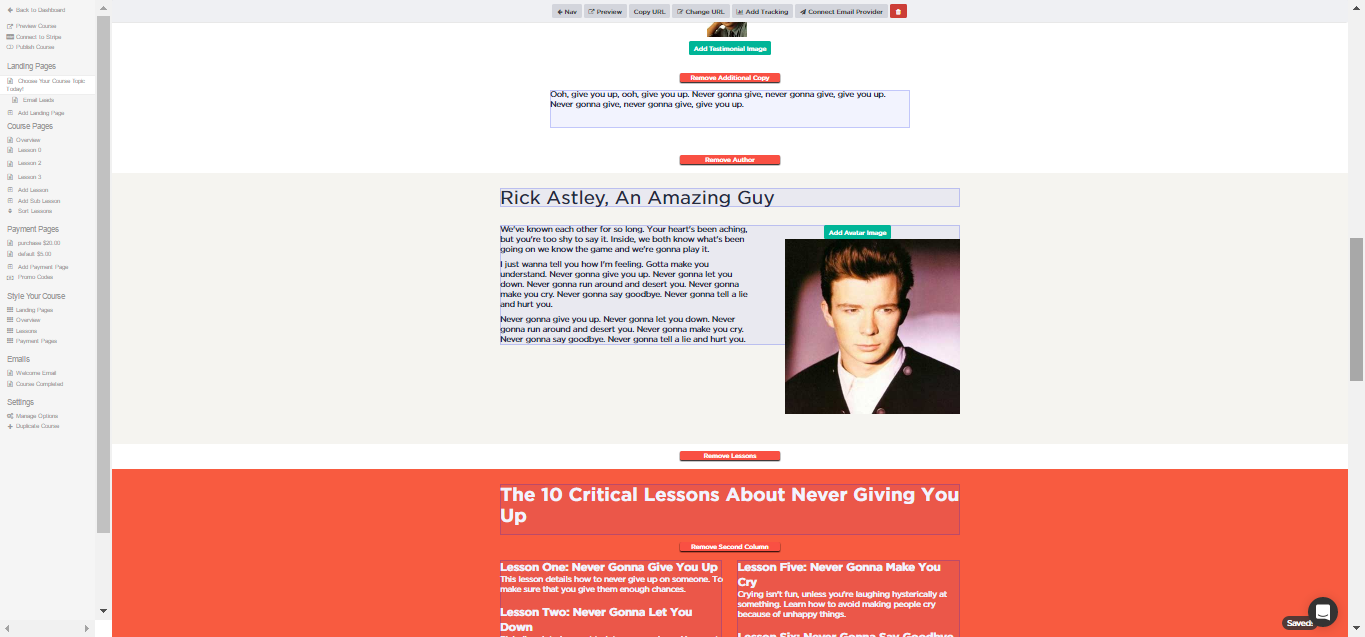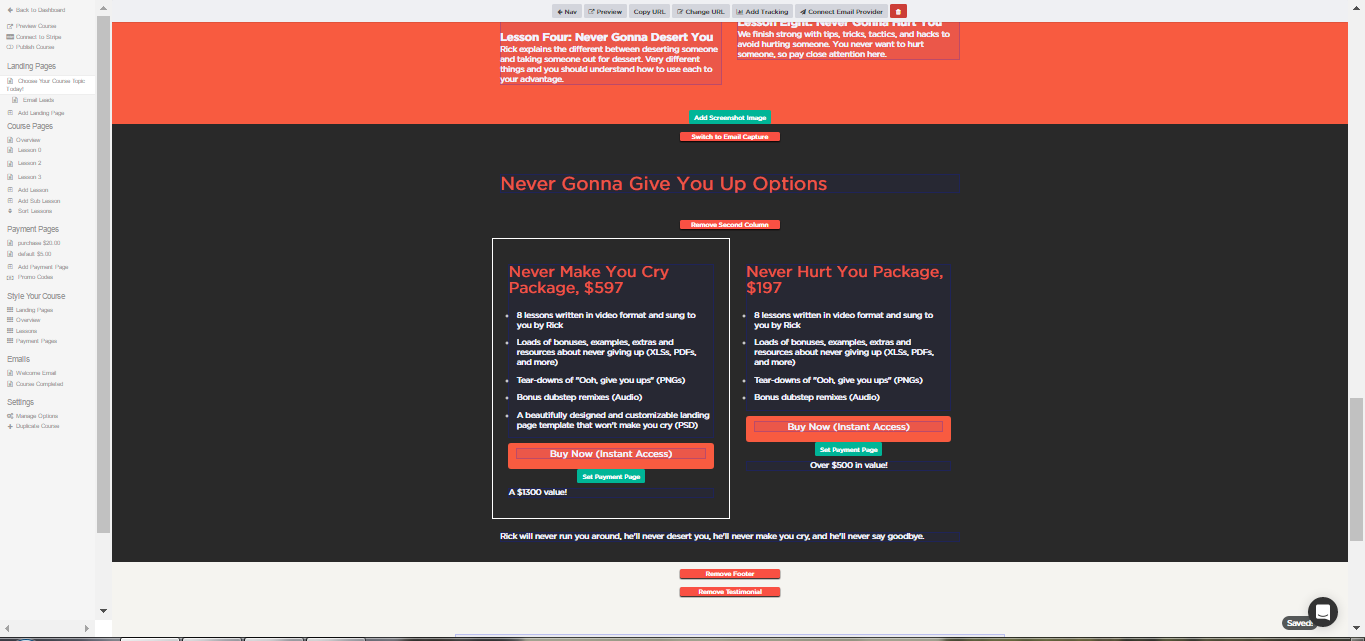 The best part is, this jolly vibe is carried over into the support side (if you provoke it, anyhow), and their support was impressive for its size, as you'll see below.
Course Creation on Teachery
All that had me singing their praises, but I hit a few hiccups as I tried to create my course.
First, I entered all the basics in the course "Overview" section: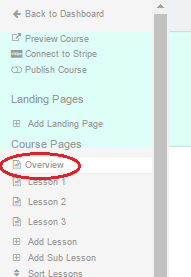 From there, you can update things like your course logo (which you can directly upload—yay!), instructor avatar and info, and a welcome message.
Here's what the Overview page looks like: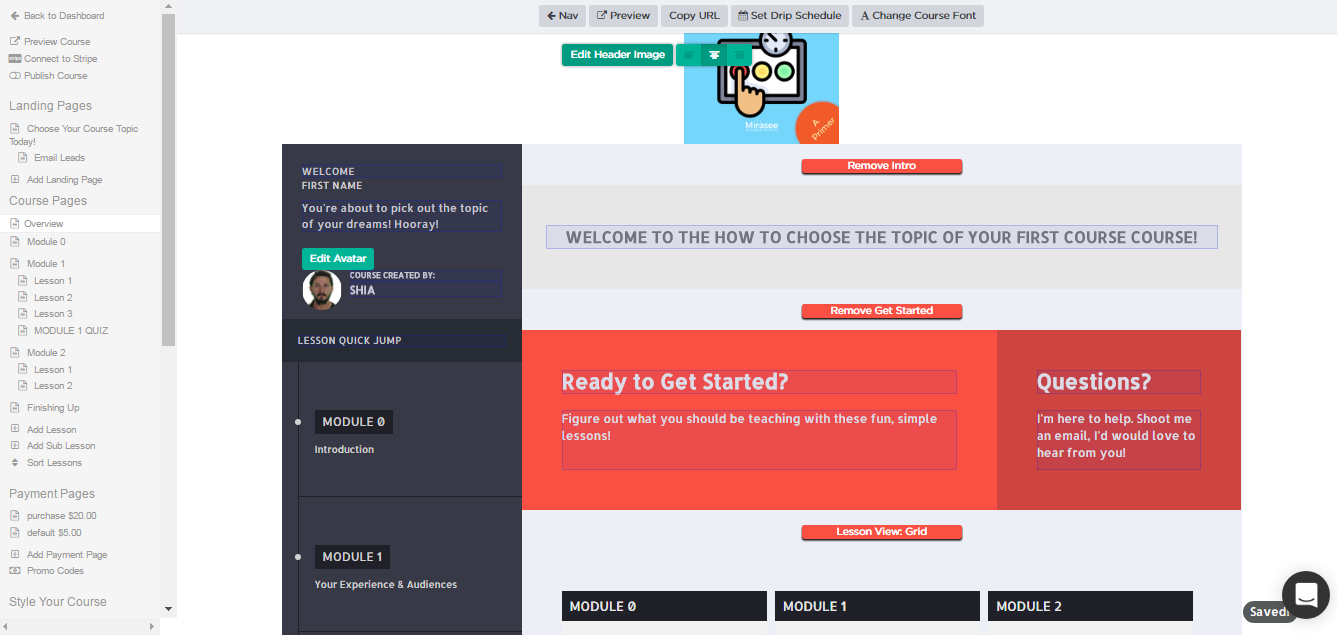 The first hiccup was in adding content to my lessons. As you'll see below, I got an error saying I needed to re-paste my content. I did so, but it still didn't populate in the field. No bueno. I tried in a few different boxes in cases I was being dense, but no dice on any of them.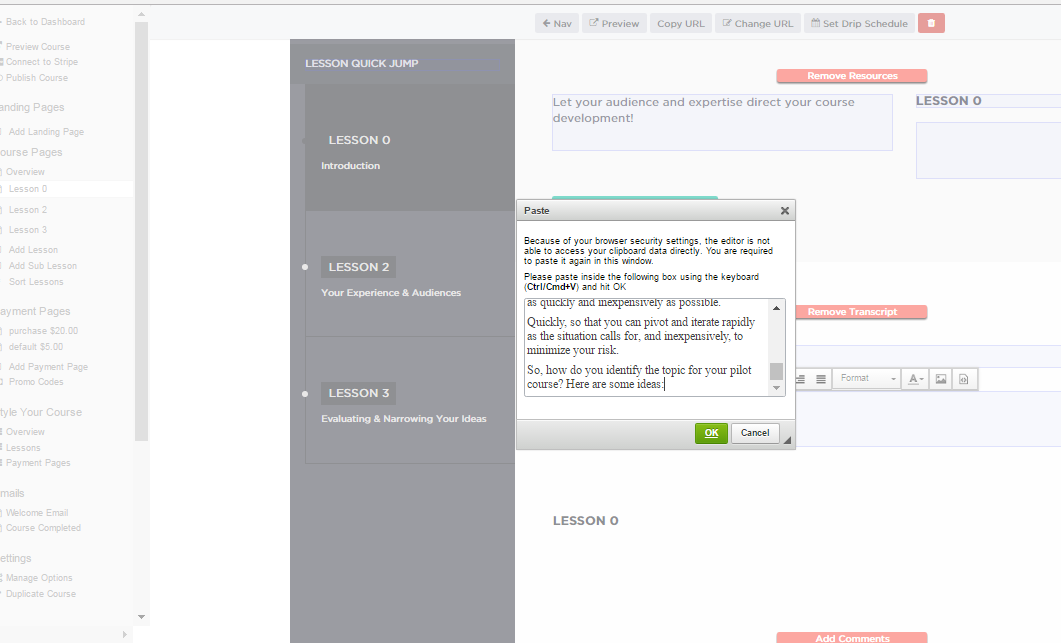 After I used the handy-dandy chat box to ask what the deal was, I expected a decent wait for a reply. They pleasantly surprised me by responding in less than half an hour! That's impressive for a smaller-scale LMS, I'd say.
(Btw, my Teachery friend, Jason, said that Microsoft Word and Evernote sometimes cause cut-and-paste errors for some reason. However, it was still happening when I pasted from Google Docs, as well.)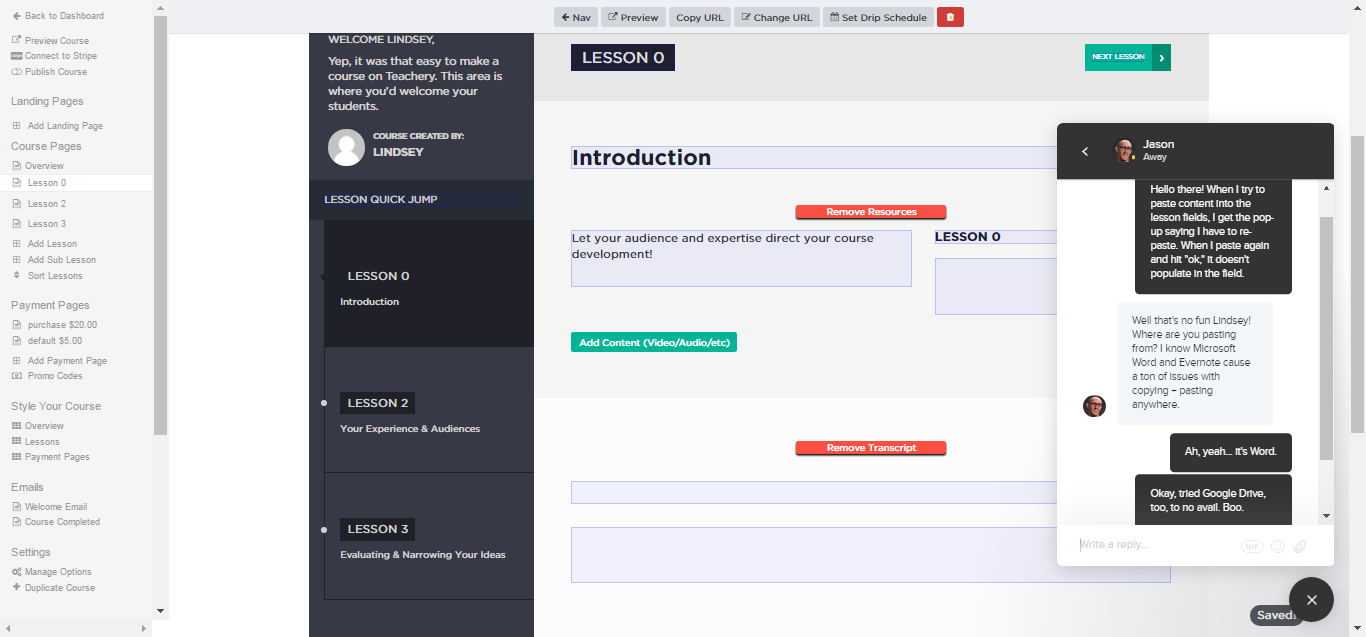 Jason told me to try removing the formatting, and though I still couldn't right click and paste using the mouse, when I did a "CTRL+V" paste, it populated just fine. (He said it's usually best to paste from Google Docs or the like, though, just to prevent formatting errors.)
After I got that sorted, I had an issue with the content I pasted in the Transcript part, but the content I pasted in the "Add Content" text block saved just fine. My only complaint was the fact that images and video had to be embedded since Teachery doesn't host media files for you, but it's not too big a deal if you can figure how to do some easy embedding.
When creating Lessons within your Modules, you need to click on the "+Add Sub Lesson" option in the navigation menu on the left.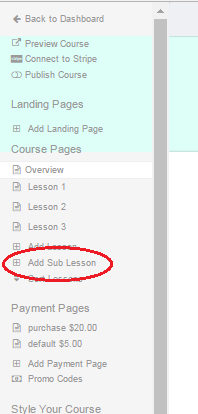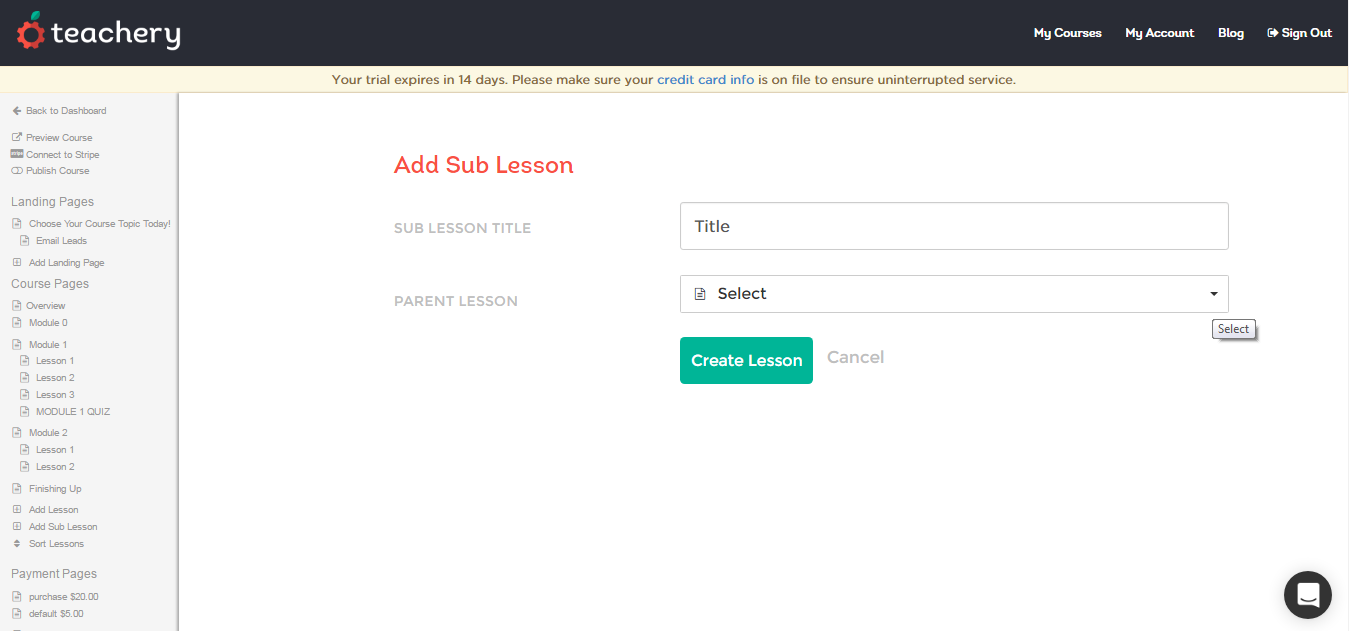 The rest of the course-building process was simple and easy to finish, and I was able to pop in my content with ease.
They have a handy Resources section within each module/lesson. You can easily add a hyperlink to the text, making handouts and homework much easier to share with your students.
I even created a separate "lesson" that I titled as an end-of-module quiz, and simply added clickable text for them to take their quiz on Google forms. Easy peasy!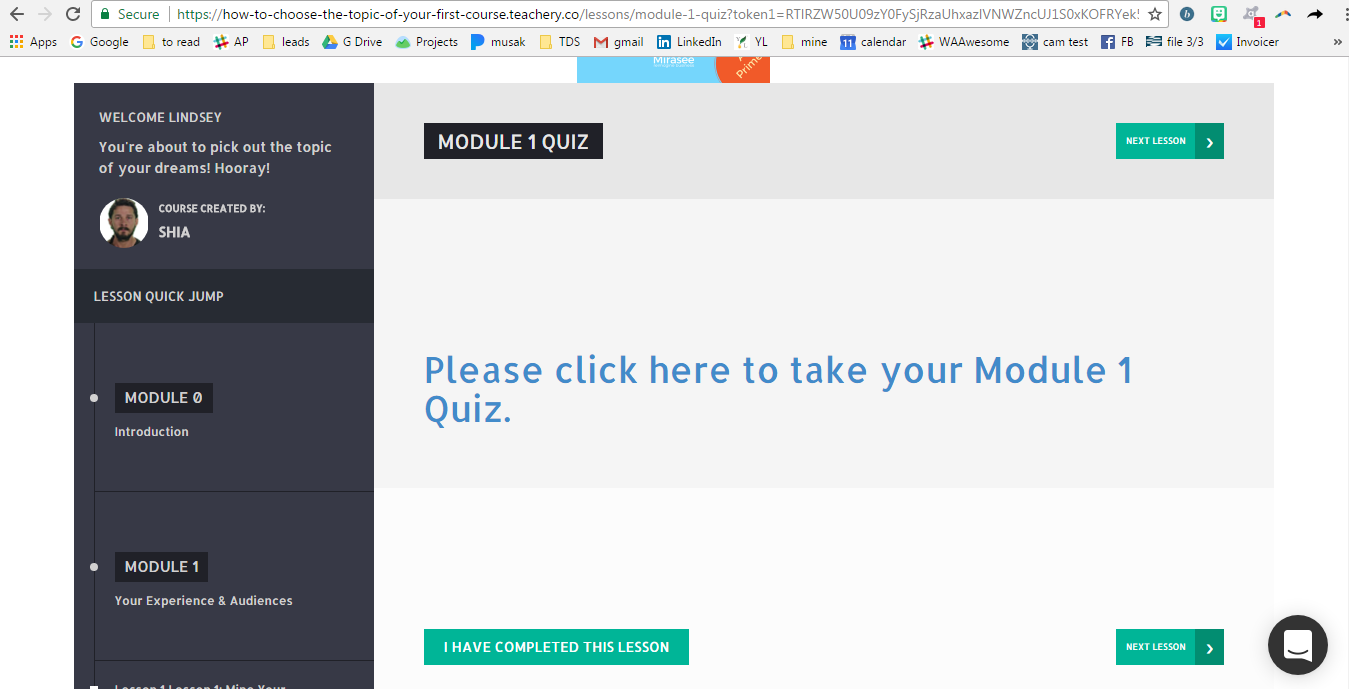 What's In It for You?
Some of Teachery's enticing features include:
Completely free, no-strings-attached, 14-day trial that doesn't require your credit card details
Unlimited courses, lessons, and students
Reasonable pricing ($49 monthly, $470 yearly, or just $900 for lifetime access)
Simplistic design
Guide-you-there process for creating a detailed outline of your course
Customer exporting
Custom domains
Integrated sales and landing pages, as well as email opt-in page
Payment pages, recurring payment setup, and ability to use promo codes
No transaction fees (aside from the unrelated Swipe fees, of course)
And, like I mentioned before, in addition to all this great stuff, you get to thoroughly enjoy a steady dose of humor as you create and build. It definitely keeps things fun!
Summary of Features
FEATURES
YES, NO, AND/OR DETAILS
Number of Courses and Students
Unlimited
Course Content

Drip according to schedule

Yes, by days out from purchase.

Self-directed (unlock next module as student completes previous)

No

All modules available as soon as student enrolls

Yes

For third-party platforms: Hosted by vendor (If so, what are the file size limits?) or do you need to host the files yourself (such as on AS3)?

Not hosted by vendor; Need to embed media from. (Bummer!)
Yes
Embed images from Google Drive or Dropbox
Embed from SoundCloud (free or paid)
Embed from Wistia (paid), YouTube (free), Vimeo (free or paid)
Embed
Sales Page
Yes
Yes

Other landing pages available (if so, what?)

Payment pages
Payments

Integration with payment processors

Stripe (preferred) or Zapier

Can you set up different payment arrangements:

Possibly, though only after jumping through hoops.
Yes
Yes
Yes
Email Marketing

Integration with email service providers

MailChimp and ConvertKit
No, but do have the option of sending a welcome email and course-complete email.
Quizzes
No
No
No
No
Assignments- What types of assignments can be submitted
No
No
No
No
No
No
Community/Discussion forum

What type? (e.g., student forum; comments at the bottom of each lesson; etc.)

Can enable comments with Disqus, but need to sign up for a free Disqus account.

Features? (e.g., search within the forum; can students share images/video)

No
Badges/Certificates
No
No
No
Analytics

Which metrics are available?

Can use Google Analytics identifier (code) or JavaScript for other provider

Individual student tracking

No
No
Affiliate management
No
Customer Support
The first ticket I submitted with questions got a friendly and straightforward response 8 hours later.

The second time I reached out, I got a response in less than half an hour from one of the founders himself!

I was super happy with the support, and it's definitely one of their strong suits, especially considering their size.
Key Takeaways
Teachery Might Not Be a Fit If…
"Looking at Teachery for your LMS? Read this first: "

Tweet Me
No platform is perfect, and Teachery is no exception. When they're pitted against some of the bigger guns out there, they might appear feeble. But for having been around just three years, they've definitely got the basics.
However, some people want more than just the basics, and though Teachery rules when it comes to inexpensive simplicity and ease of use, there are a few things that might be deal-breakers for some course builders:
Email integrates only with MailChimp and Convertkit
No self-directed course schedule (though drip feed is available)
Doesn't host most content, including pictures, video, audio, etc.
Can't upload items to lesson content (have to embed code)
Basic design options unless you want to use a plug-in (though after watching their video walkthrough, you can adjust styling enough to make it more visually appealing, and to be fair, I might not be the most adept at design. *cough cough* Jason says they offer beautiful course templates because they care about the end-user experience of having a great looking course that's custom branded.)
Can't create student quizzes
Students can't upload any materials
Have to jump through a few hoops to accept non-Stripe payments
Getting course login page URL is surprisingly difficult
No affiliate management capabilities
No certification or gamification
You'll Definitely Want to Use Teachery If…
If you want a super speedy setup-to-selling process, aren't too hung up on hosting, and don't require a lot of bells and whistles, this might be the platform for you!
Same goes if you're on a tight budget and would like a solid platform that's wallet friendly.
And if you're a master procrastinator who just needs something put up and ready to deliver in a short amount of time, this could definitely fit the bill.
Top-notch support is a huge part of Teachery's appeal, and even though they're a smaller company, the fact that founders take the time to interact and reply to customers is awesome. You know they have a pulse on what's going on, where bugs are happening, what people want, and all the truly important stuff.
Not only did I get a timely reply with each ticket, I actually had one of the founders answer my help request (offered within the Teachery site) in less than 30 minutes! And as I mentioned before, the whole company has such a fun and jovial vibe that make you look forward to asking questions!
The Verdict
If you're okay with a basic, no-frills option that will have you taking action instead of trying to decide what color your "Enroll Now!" button should be, Teachery could be just what you need.
It will draw your course from your gray matter and get it into digital form, banishing the perfectionistic procrastination monster. You'll have a detailed course outline in just minutes, and seeing such progress will likely spur you to take even more action until you've got a solid course you can sell within 24 hours of signing up.
But if you crave insane graphics, on-site student quizzes, global email integration, multiple payment options, and other higher-end features, it may not be the best pick.
I'd probably recommend this platform for first-time course creators, those wanting to test a basic course idea, and anyone who needs that "progress over perfection" kick in the pants. The decision rests heavily on the material you'll be delivering, your student objectives, and your integration needs. If your course is simple and straightforward, this could be a perfect fit.
Overall, Teachery is an efficient platform that gets the job done very inexpensively, but might be an LMS more gung-ho course builders could outgrow given time. I'd feel absolutely comfortable recommending it to beginners and simplicity lovers, but hesitate to endorse it to course builders who need extra features and options.
But I can 100% safely say that anyone who interacts with the Teachery platform and its team will appreciate their budget-friendly and "get 'em done" approach.
Does Teachery have all the basics you're looking for? Or is the lack of the bells and whistles a deal breaker for you?
Find a Sellable Topic for Your Online Course!
Get this primer and learn our process for identifying a viable topic for your very first online course.