Thinkific Review: An All-in-One Learning Management System
Learning management systems (LMS) have a big job.
Not only do they need to house your course work, they should help you market and sell your course as well.
Thinkific strives to do just that.
After trialing a number of online course platforms, I found Thinkific to be a stout platform that can be just the right fit for many course builders' needs.
Thinkific is a stout platform that may be the right fit for many course builders' needs.
Click To Tweet
Overview of Thinkific
Thinkific is an all-in-one learning management system that promises to give you "everything you need to easily create, market, and sell your own online courses."
Their main page touts the following features to get you up and running your course:
Start selling immediately
Create compelling content
A platform that grows with you
They have a tiered pricing structure, including a Starter plan that doesn't have a monthly fee like the higher tiers, but instead has a higher transaction fee of 10%.
For demonstration purposes, I'm testing out the free account.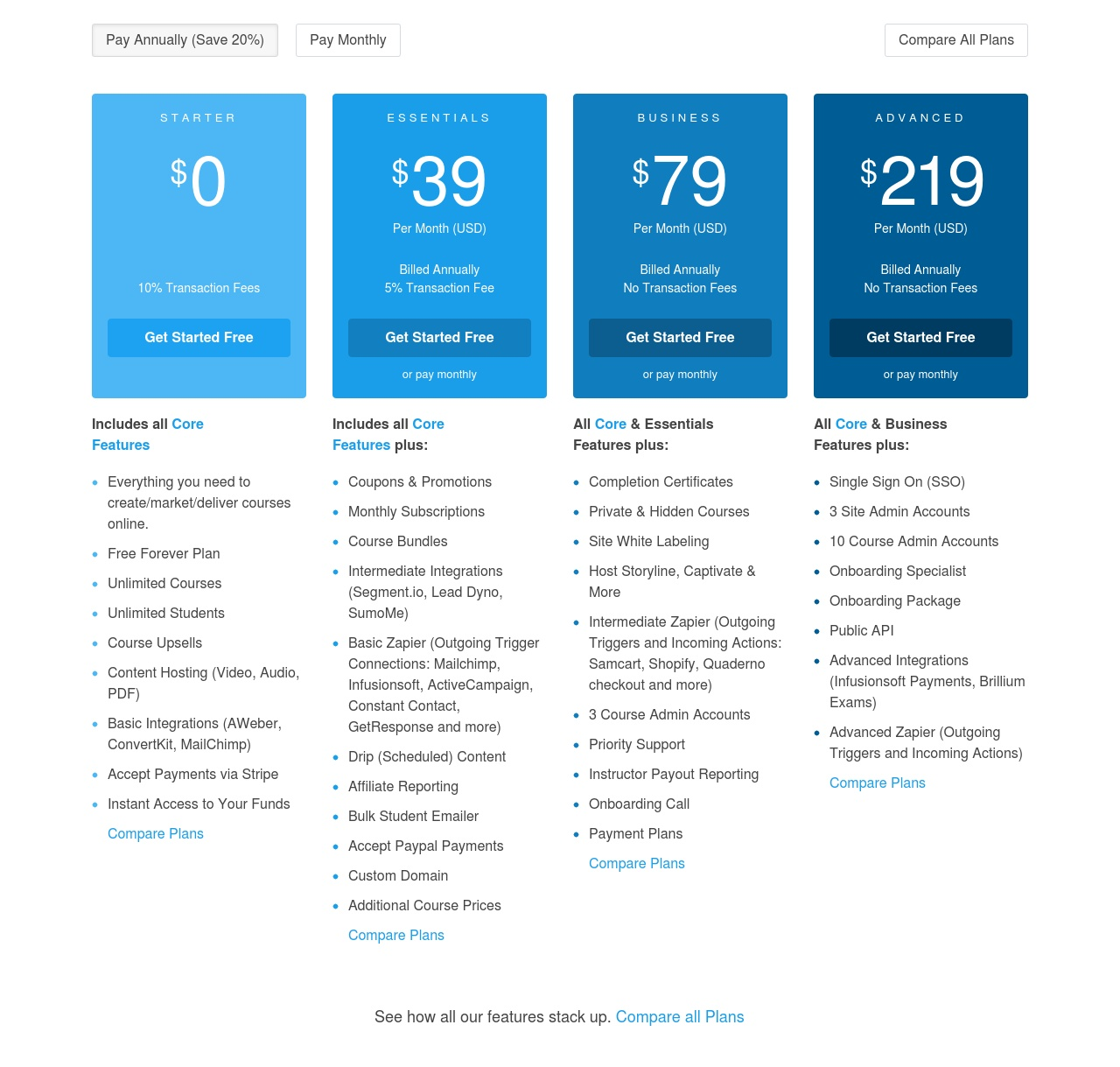 Thinkific boasts of over 6,800 people and companies users, including some pretty big names, like:
Kristen Bailey, Director of Online Education Products at Hootsuite
Chris Brogan of the Owner Media Group
Dayna House of Design Course 101
Vanessa Van Edwards of the Science of People
Aaron Ross, author of

Predictable Revenue
Setting Up My School
Like other LMS platforms, Thinkific promises to make setting up my school and course easy. Well, I accepted that challenge because who doesn't like a challenge? 😉
Step 1: Enter your email address, password, and the name of your Thinkific site.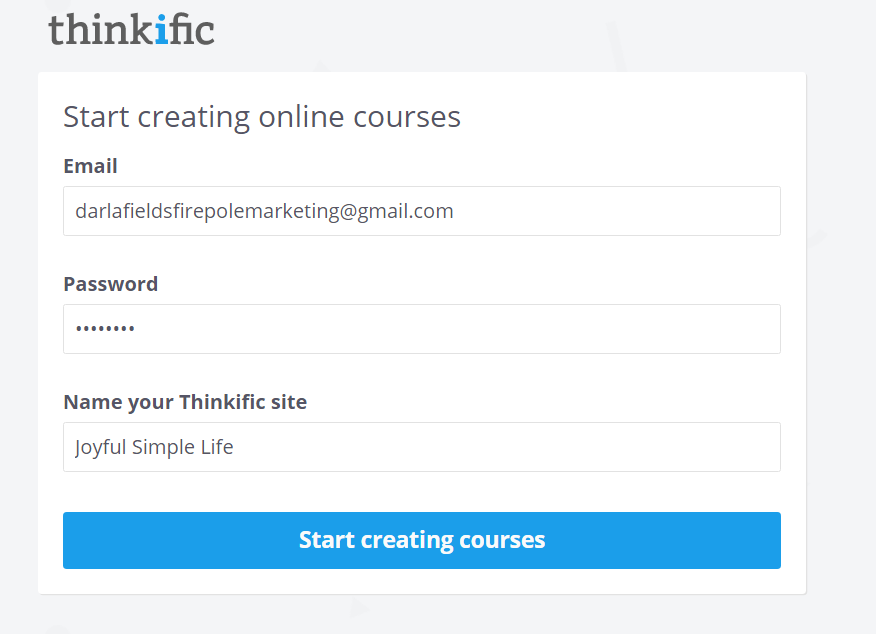 Step 2: Choose a color scheme.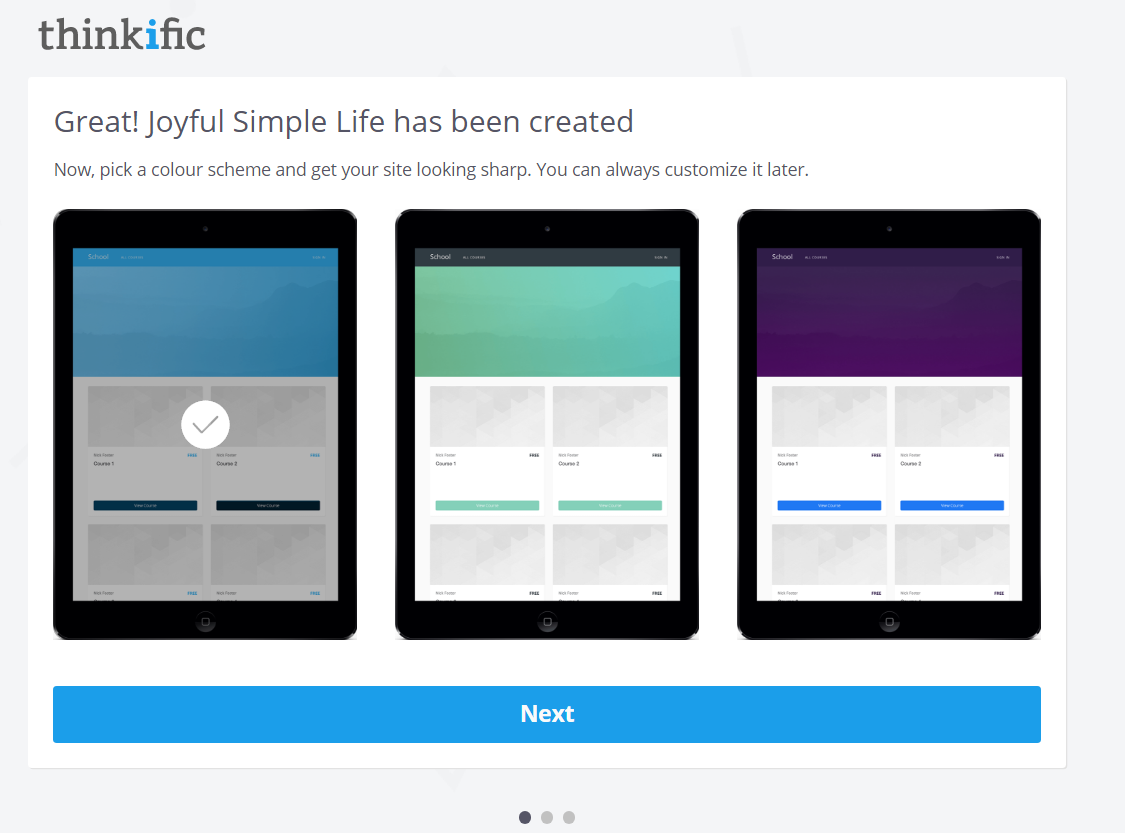 I chose the blue scheme to start. You can easily customize the colors, even variant shades of colors for your site, by going into the branding area under "Site," located in the left sidebar of Thinkific. Additionally, you can add your logo in the branding area as well.
Step 3: Enter your name – well my name anyway. 🙂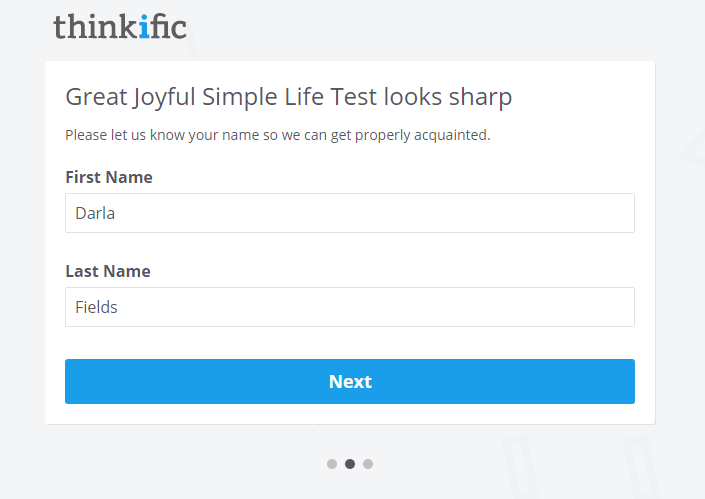 Step 4: Tell Them More About Me.
(Beginning to think we're going to start dating.)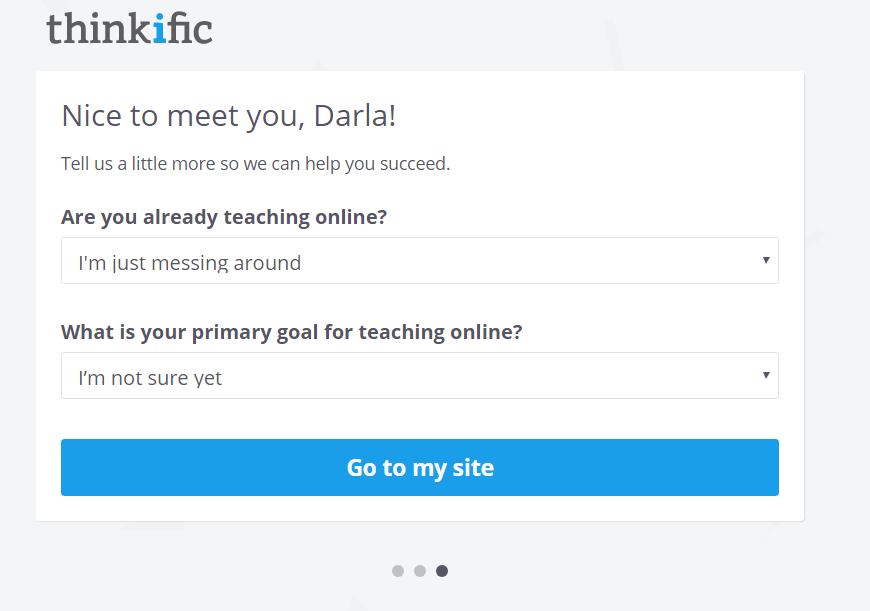 Step 5: Successful school creation
Finally!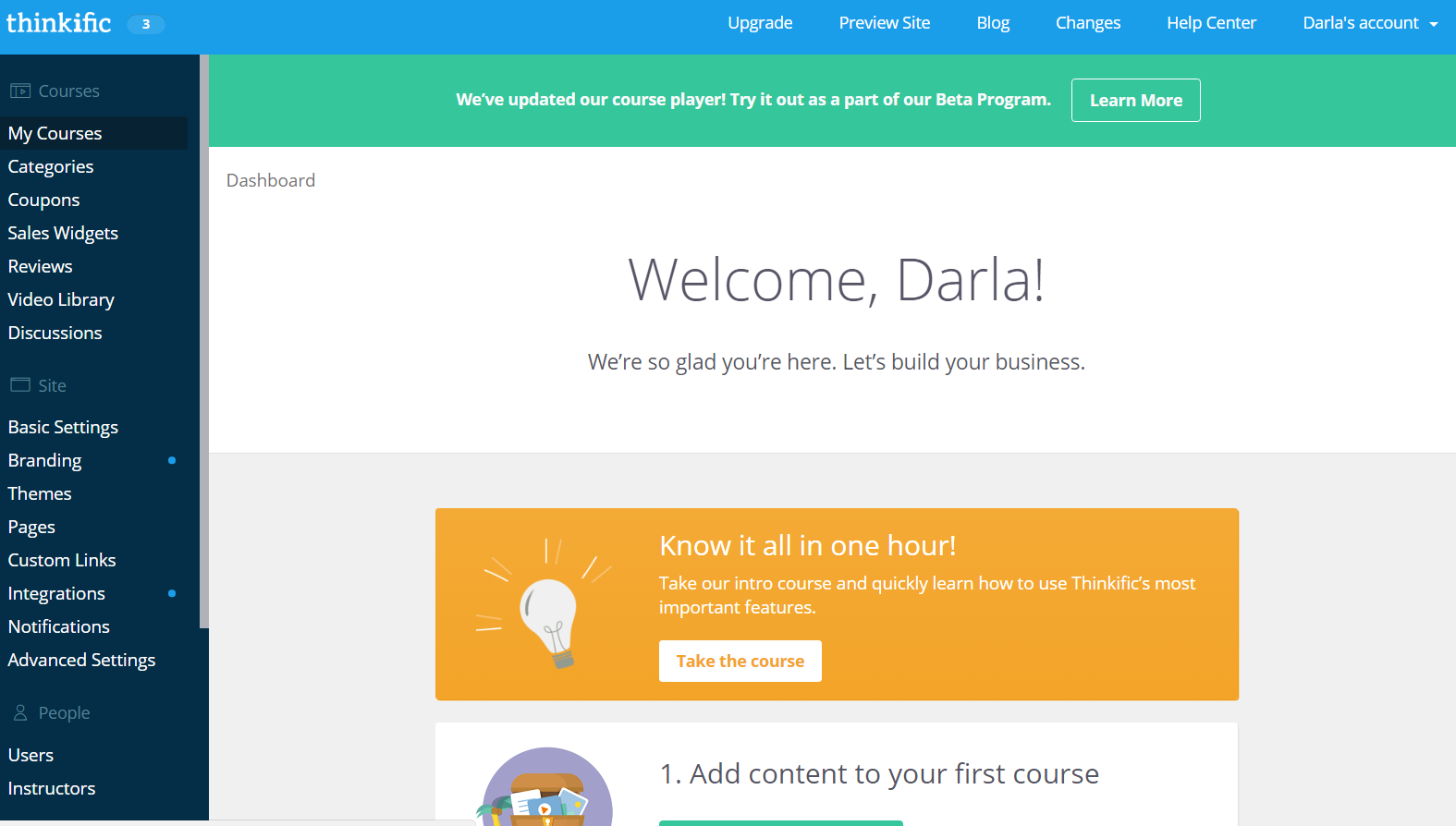 I have to admit, setting up my school took longer than I wanted. Maybe it was me being impatient, but I was ready to get my course created, not sign up for a dating service.
On the other hand, it was nice to answer some of the questions about why I was setting my school up. It gave me a little pause for contemplation. For example, what is my primary purpose for setting up my online school? Branding? Lead generation? Sharing my knowledge for free?
While I couldn't see a specific reason for Thinkific to learn this about me, these thought-provoking questions made me stop to think if there were—how shall I say this—possibly nefarious reasons behind them. Like, adding me to some AI algorithm that retargets me in my Facebook feed later.  😉
Seriously, they don't say why they need to know this. I set up another test site with a different email, answered the questions differently, and didn't see any differences. So, who knows?
Setting Up My First Course
Now for the fun part: creating my first course. Woo hoo!
Even my dashboard was glad to see me: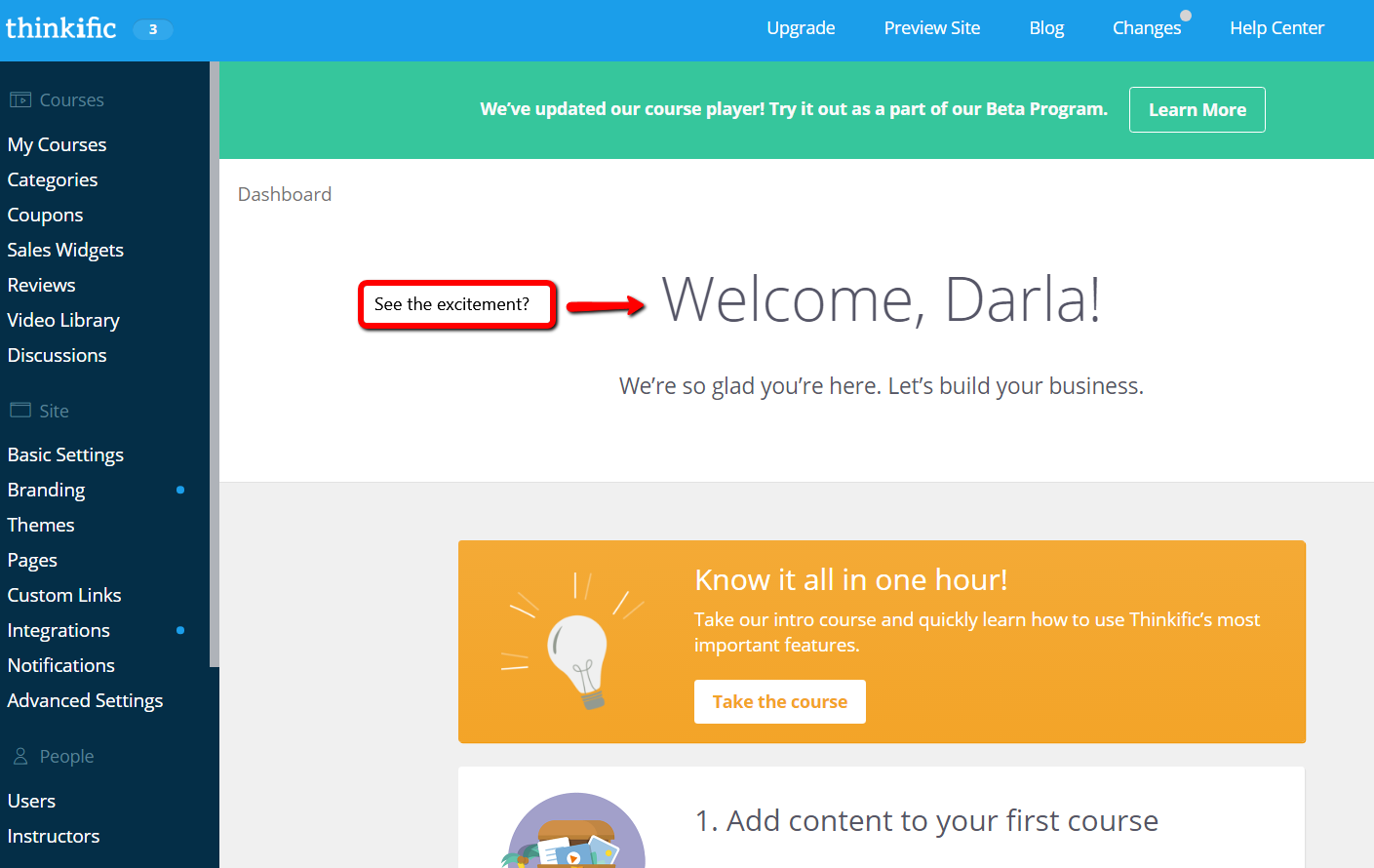 I didn't want to spend an hour taking a course on Thinkific. So I decided to dive headlong in the expanse of course building space and get to it.
When you click on My Courses from your dashboard, you then can click on the new course that was created for you. Opening up your course brings you to a templated landing page, like this: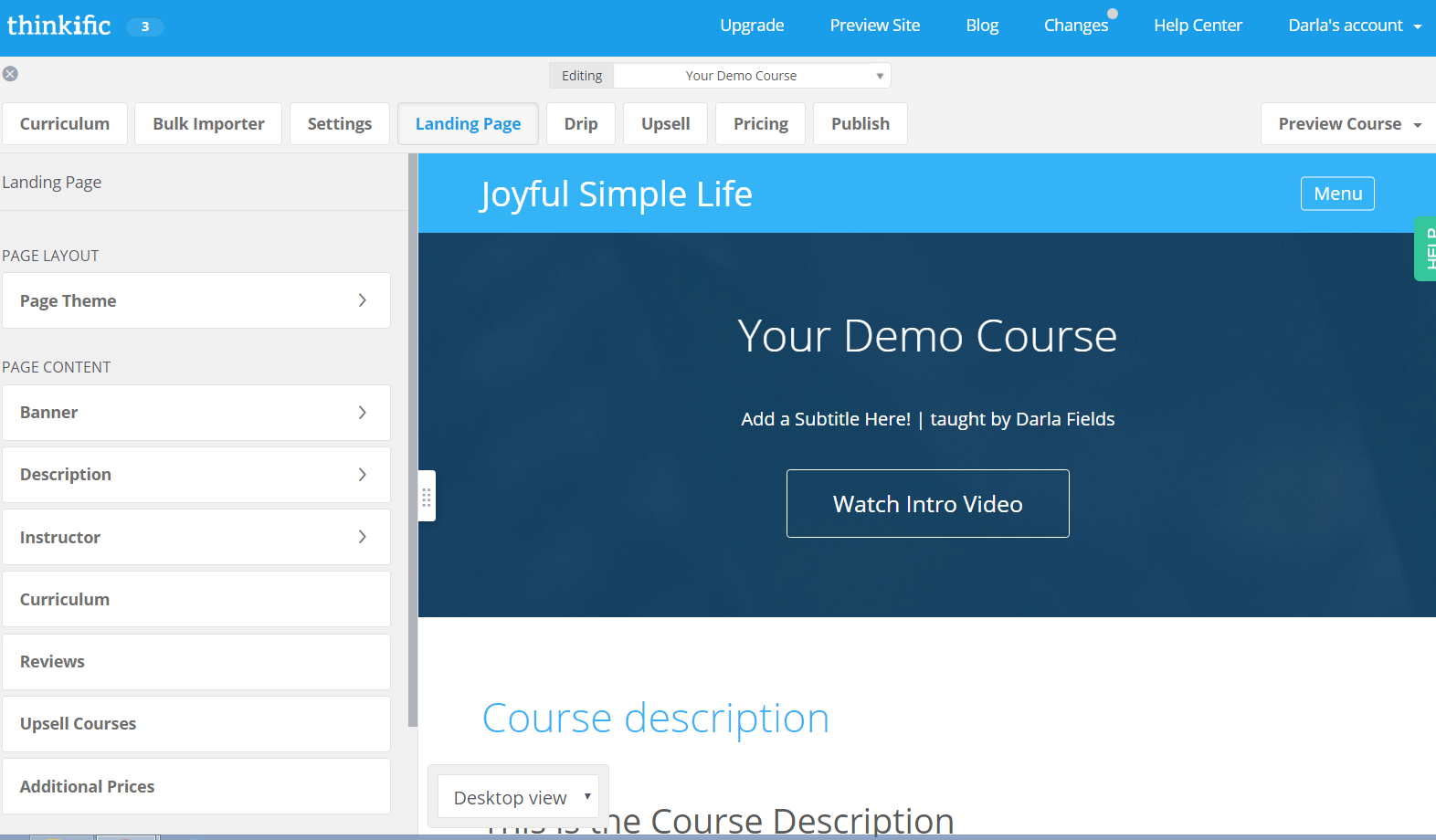 From here you can make changes to titles, subtitles, copy, and all that exciting stuff. So, I tried my hand at it: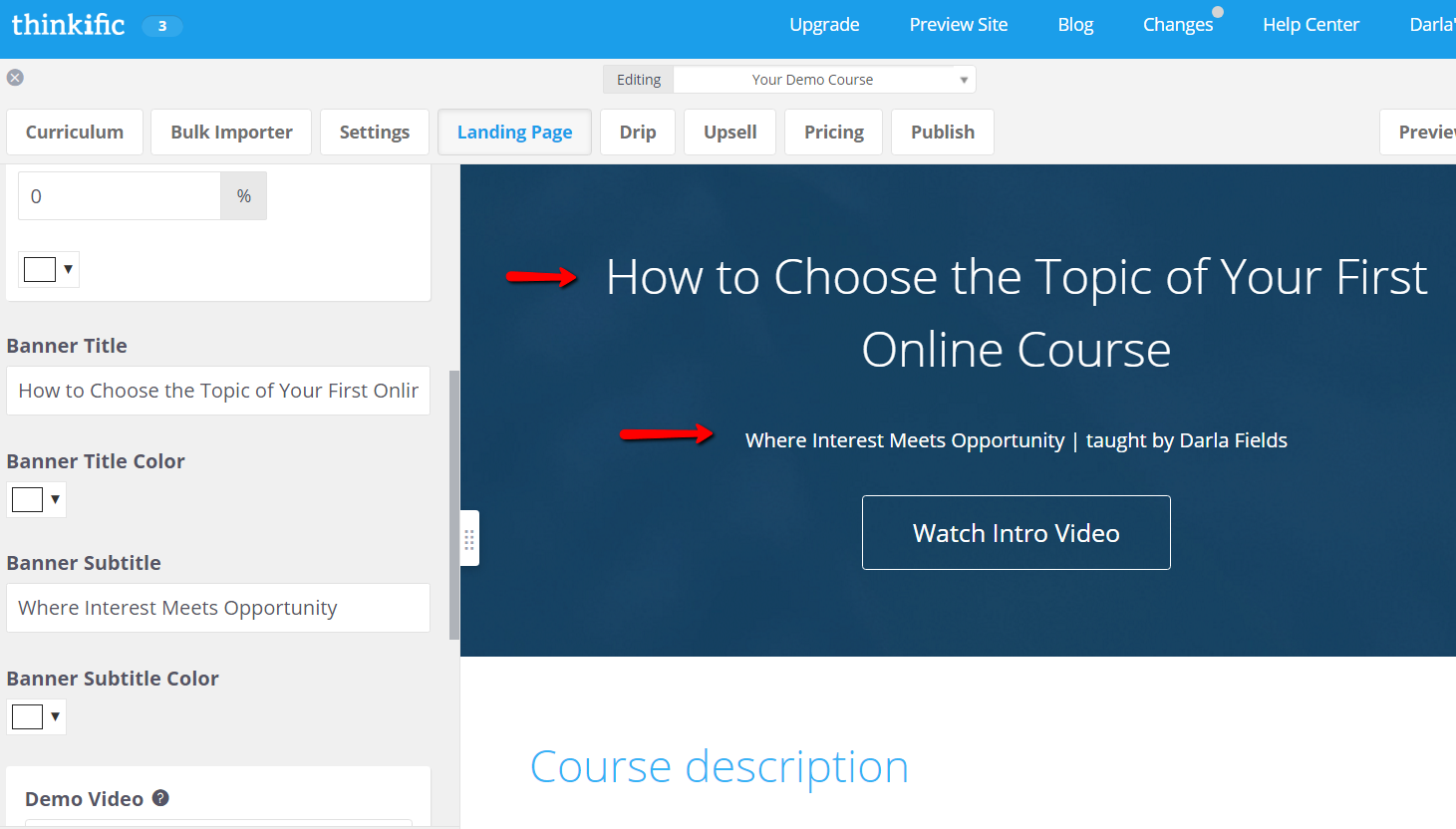 Not too bad for this non-techy, if I do say so myself. 🙂
As you scroll down the template, Thinkific gives you suggestions and examples to create a beautiful (and converting) course landing page.
Let's head over to the Curriculum tab and get this course started.
Just like the landing page template, the curriculum page gives you placeholder content and suggestions on what to put in your lessons: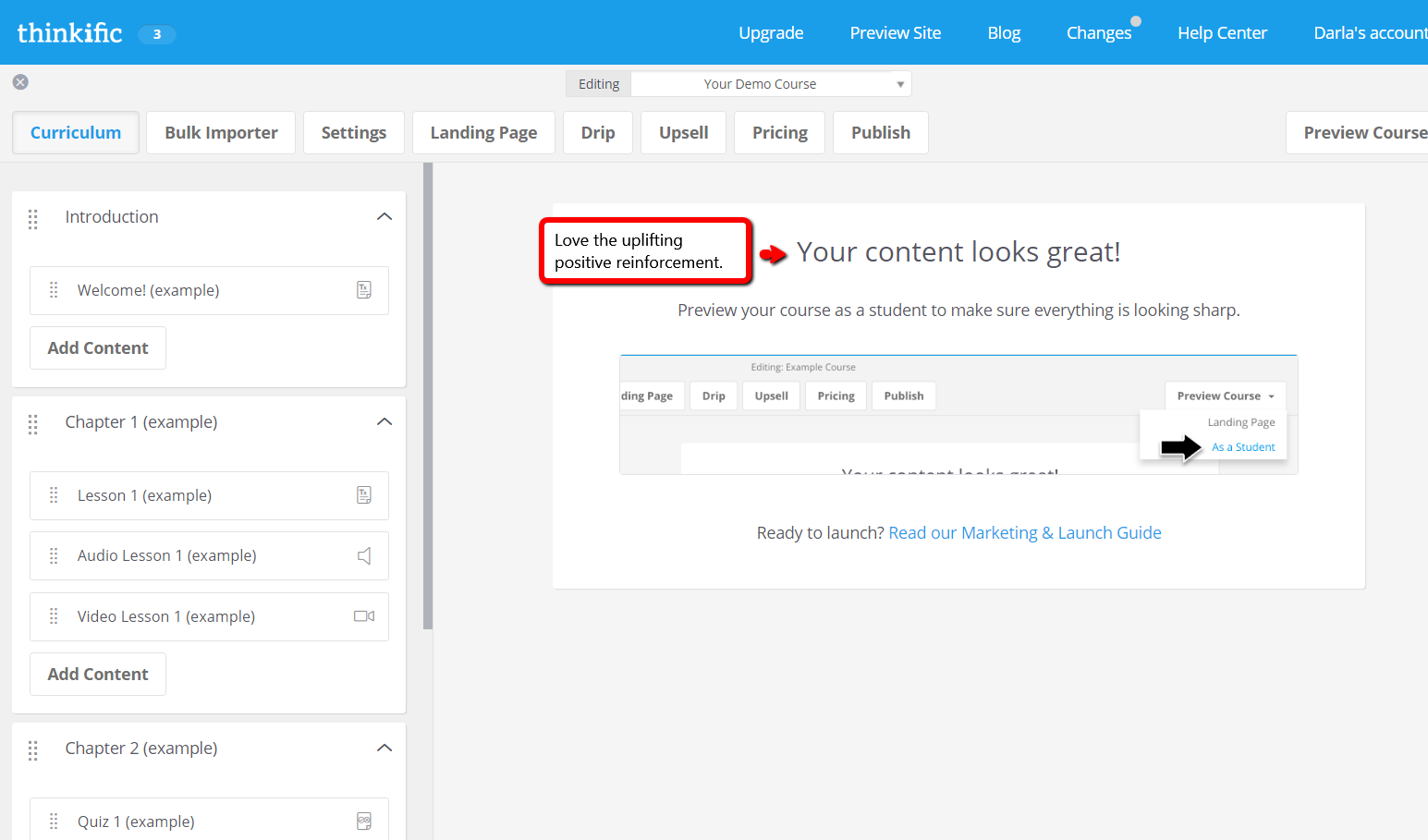 First lesson entered and saved: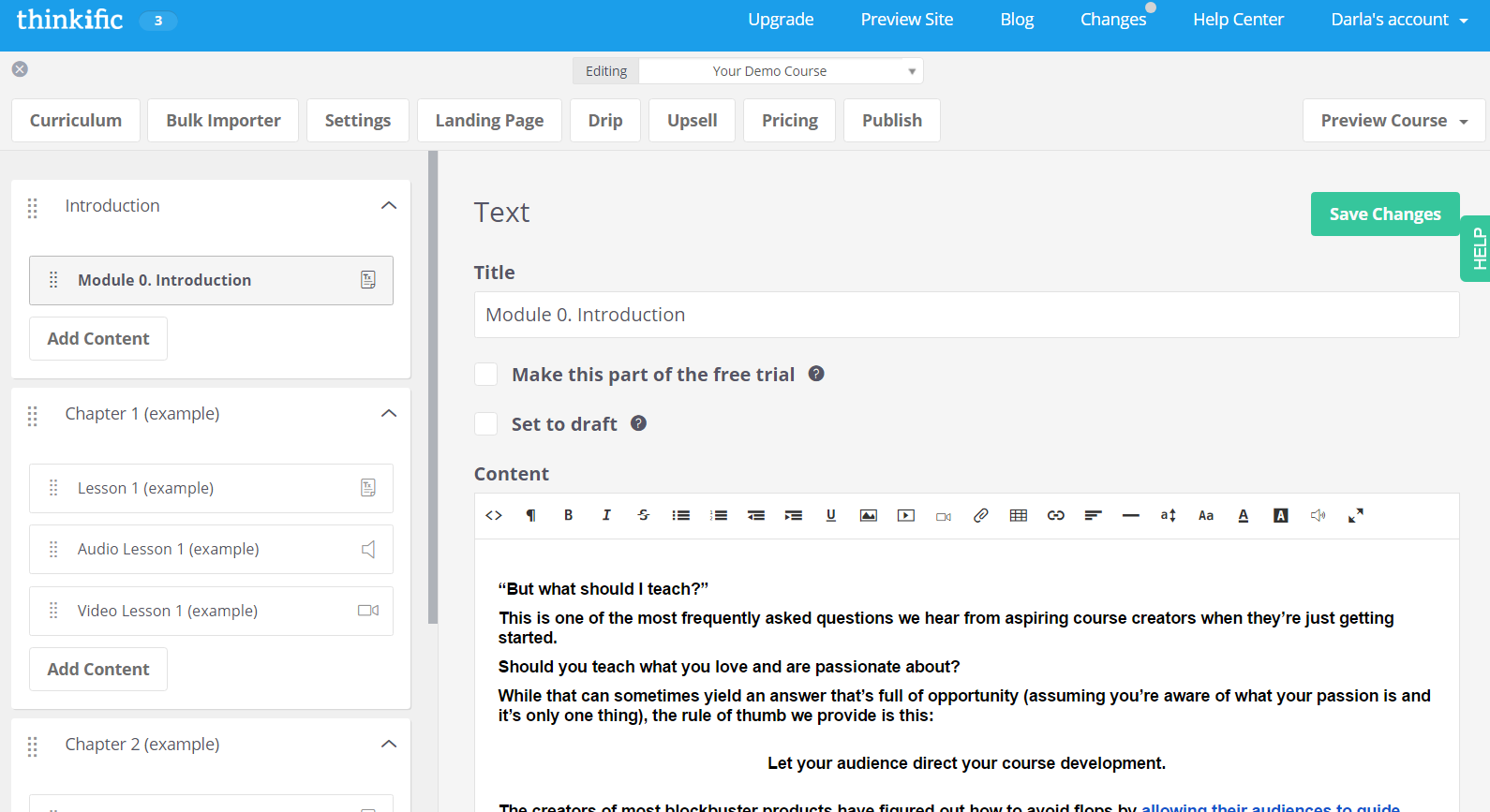 As I was getting ready to enter Module 1, Lesson 1, I got this pleasant surprise: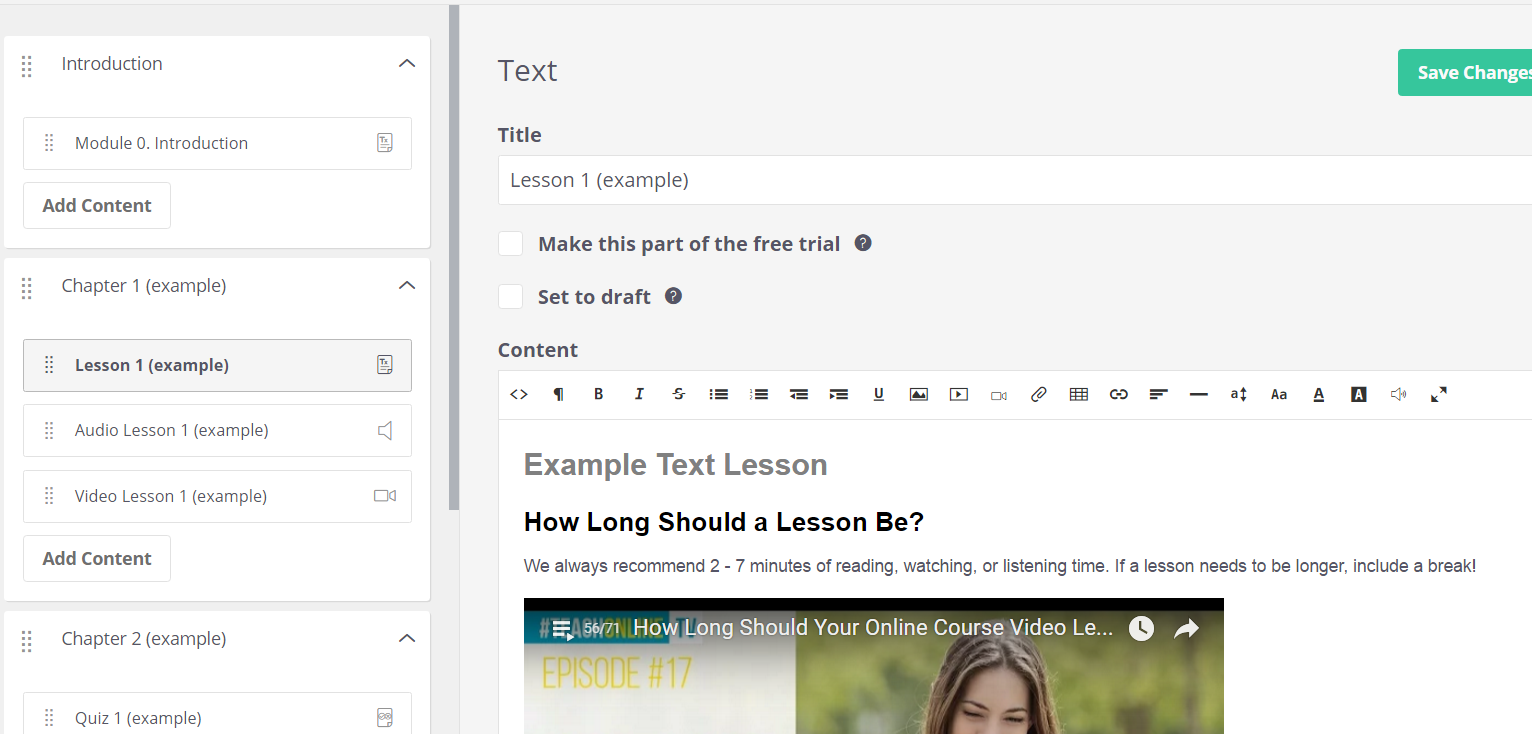 See it? More suggestions on how long each lesson should be. Nice way to guide newbies.
My Module 1 had a few lessons in it. It was easy to add or delete lessons with a click of a button to open up your choices of copy/pasting text, uploading files, uploading media, etc.
For example…
To add a lesson to a module, click "Add Content."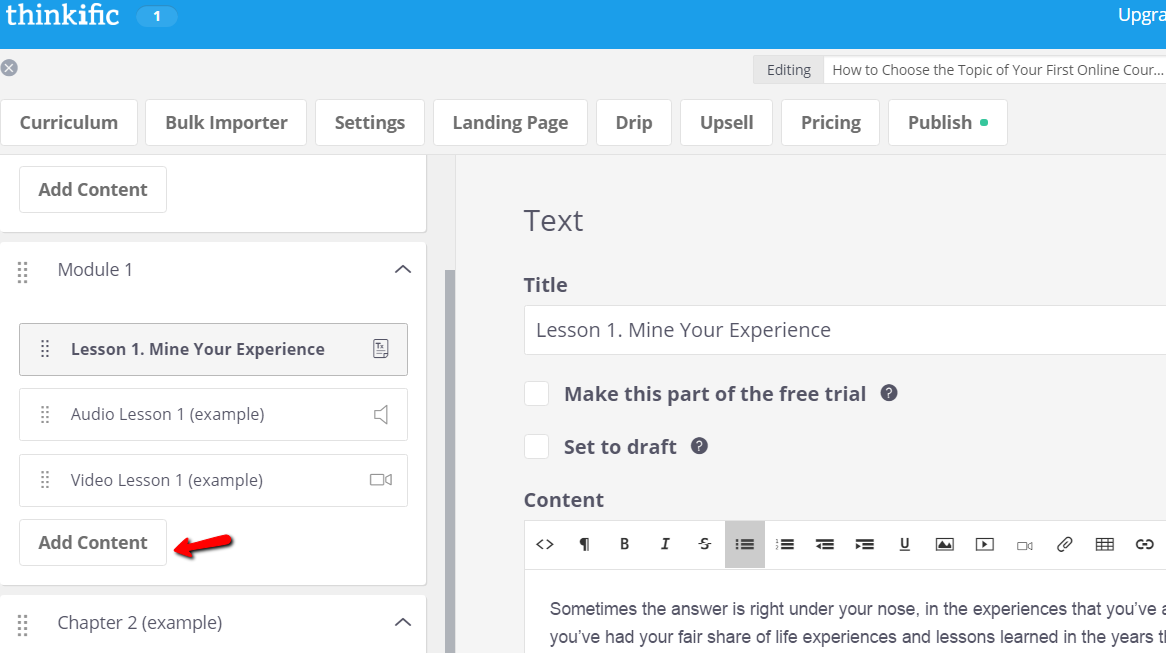 It opens up a number of choices for you to add new content: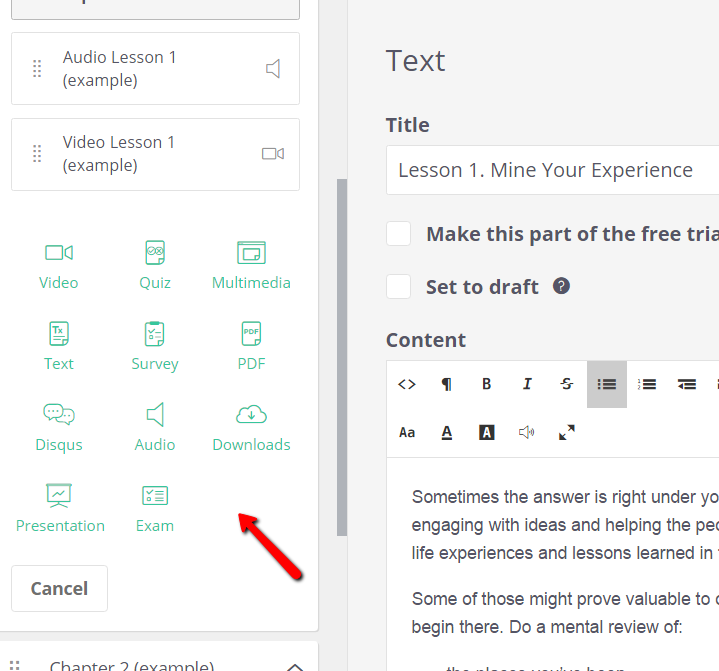 It was pretty simple to delete or add what I needed and wanted for my lessons, leaving a nice, clean look: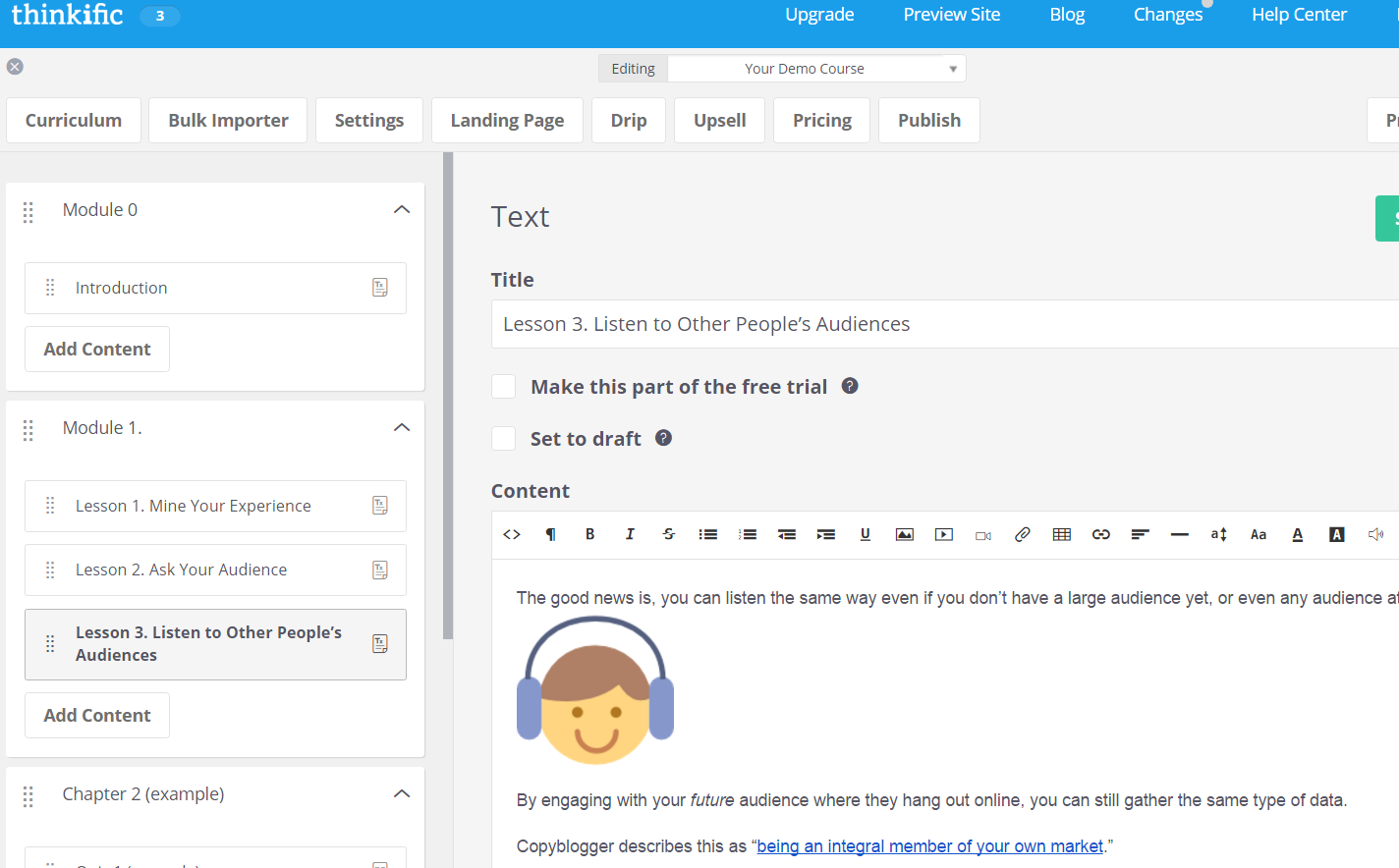 After adding all the lessons to Module 1, it was time to add the quiz. It wasn't hard, and Thinkific lets you mark the correct answer.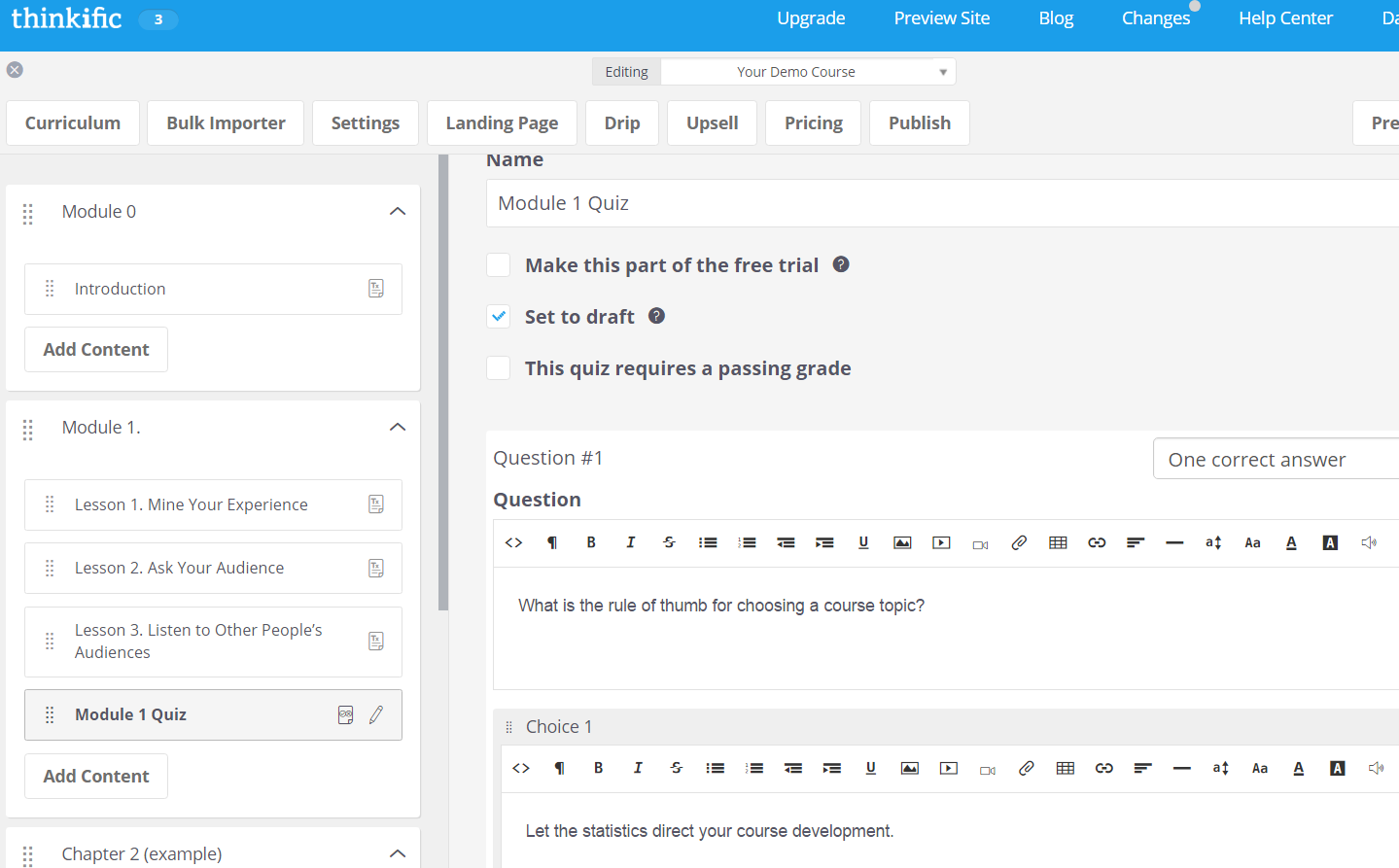 All questions entered and ready for my students.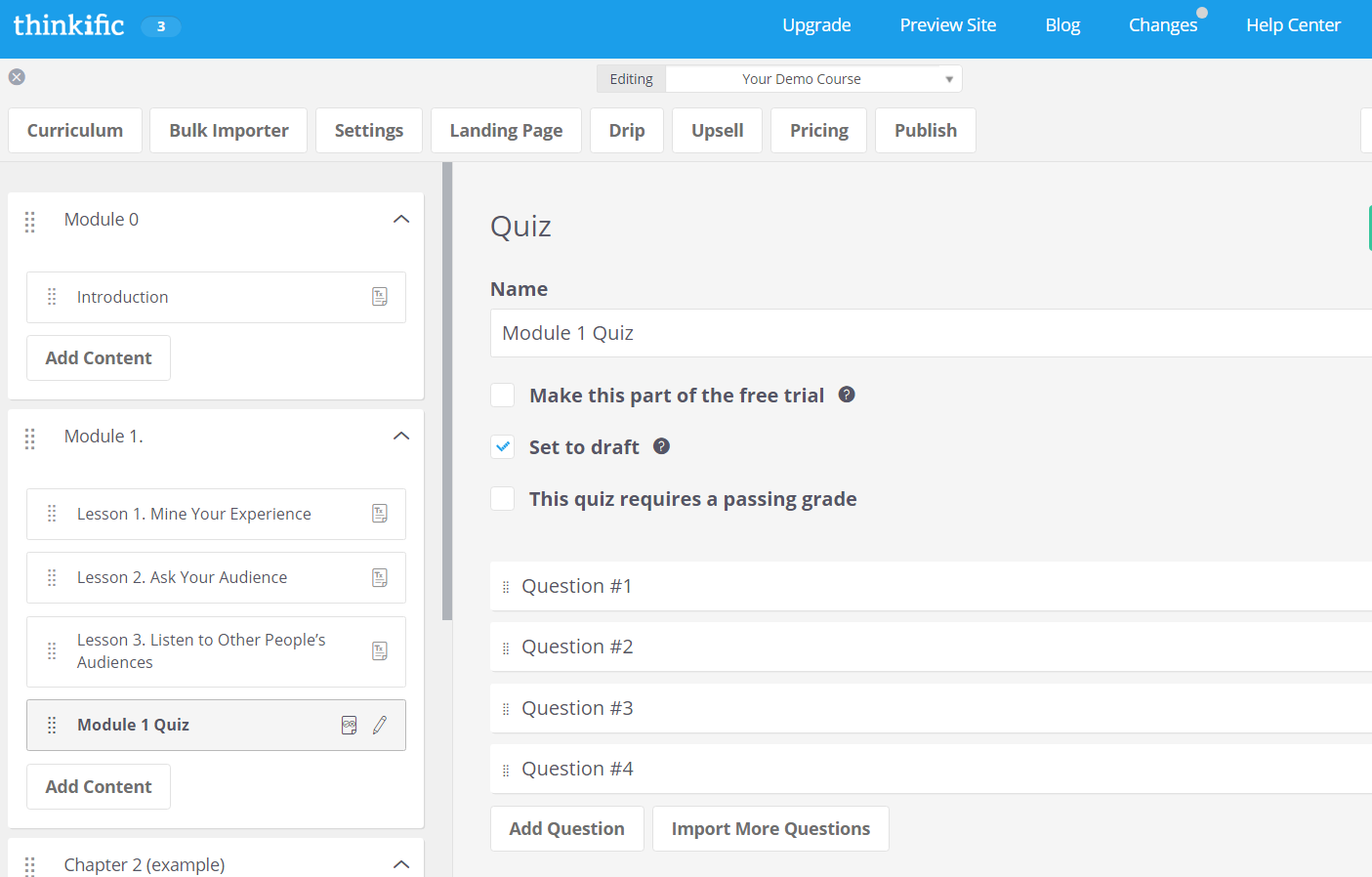 Besides the multiple choice quiz, there's the survey type question that allows students to submit free text.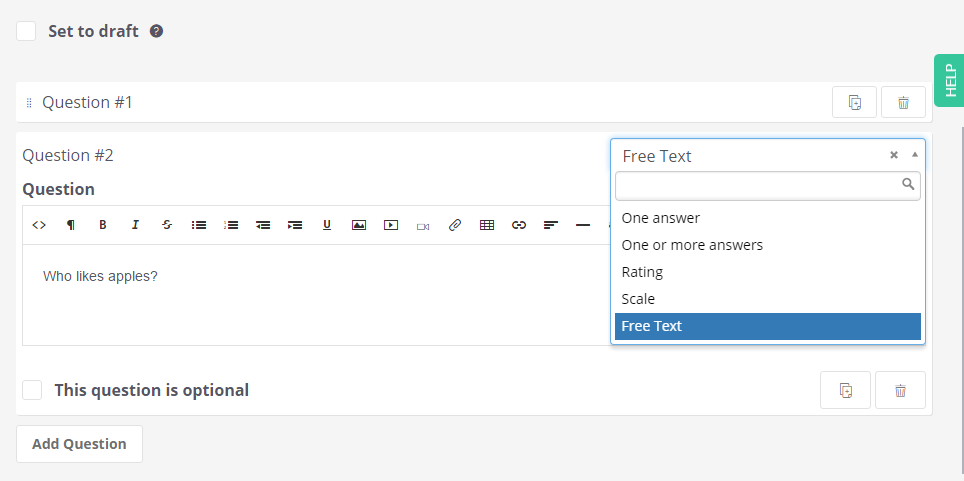 After getting my course content in, I'm ready to price this bad boy and hit the publish button. Since I'm testing out the Free Forever Version, that apparently means all my courses have to be free, unless I set up a payment method. Probably a good idea if you're in this to make some money
With the free account, I could set a one-time price for my course. However, if I wanted to charge a monthly subscription, provide payment plans, or set other course prices, I would have to upgrade to a paid plan: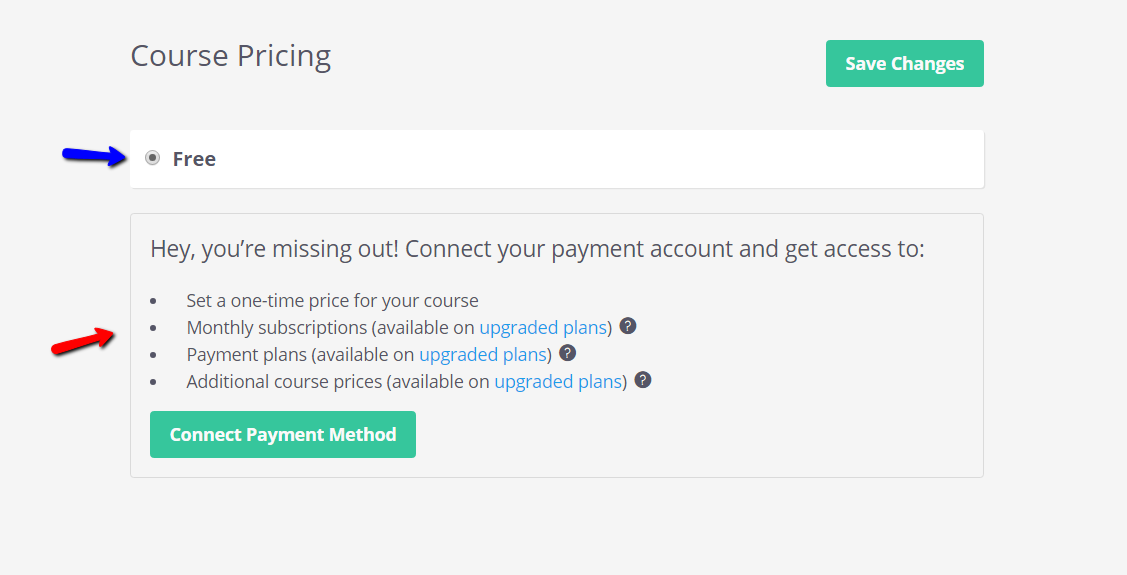 And when it's all ready, simply click the big, green button to publish: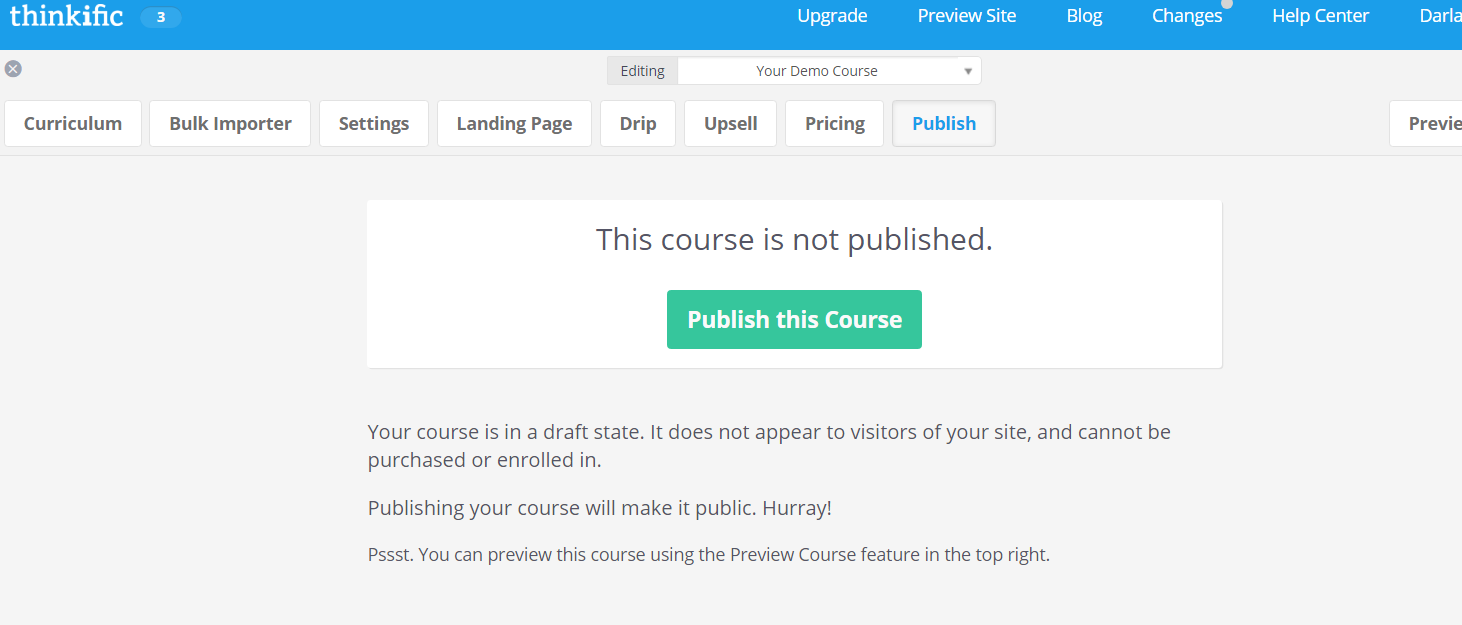 Wanna take a peek at my magnum opus?
Now, don't get too overwhelmed. 😉
Here you go: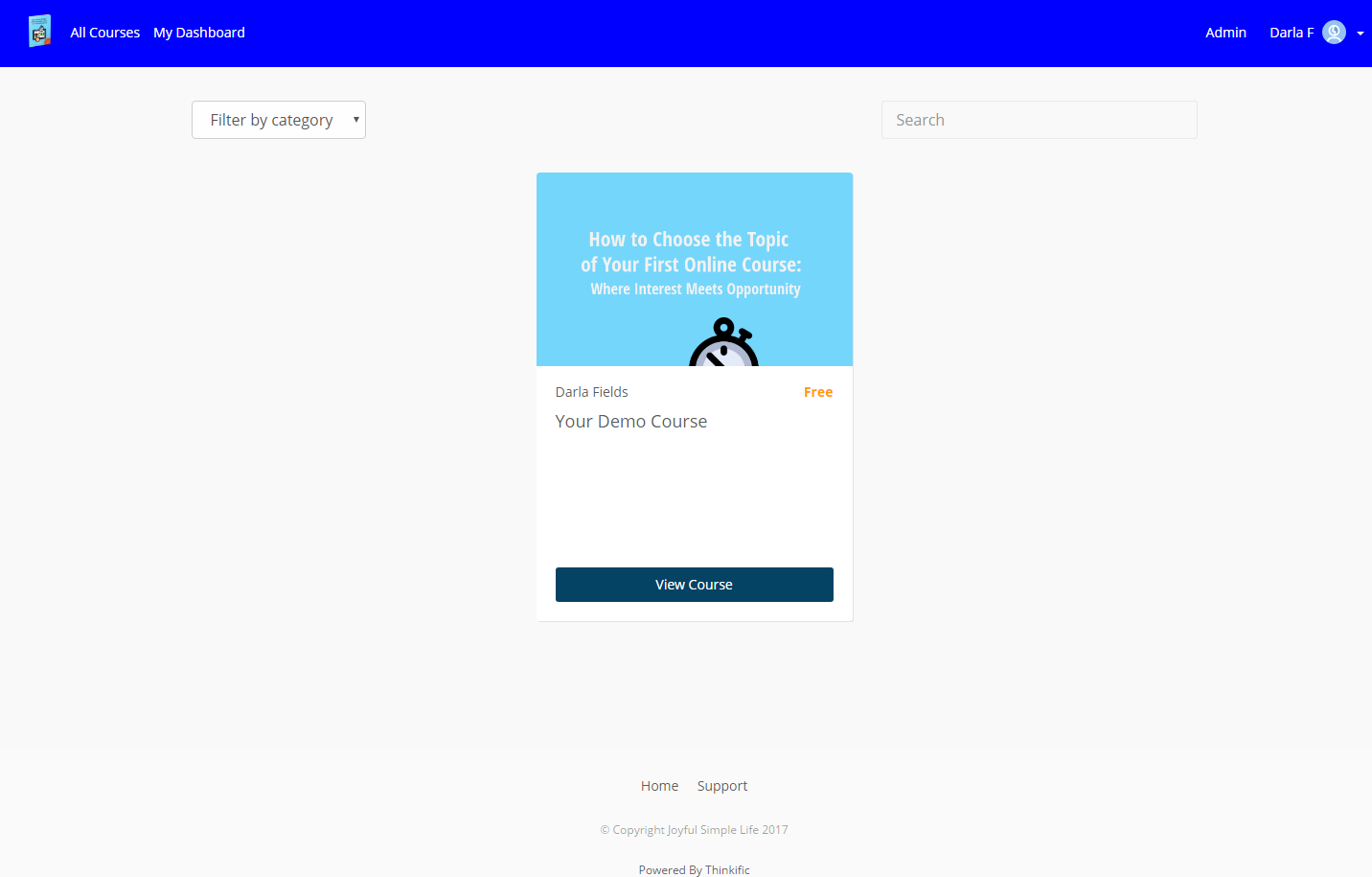 Okay, I admit, it needs work. But, I can envision what it can be as I keep adding courses: tiles of courses flooding the page, students from around the world making a difference in their lives and their families' lives. And it all started here.
As for the course itself, when you click "View Course," you see the landing page: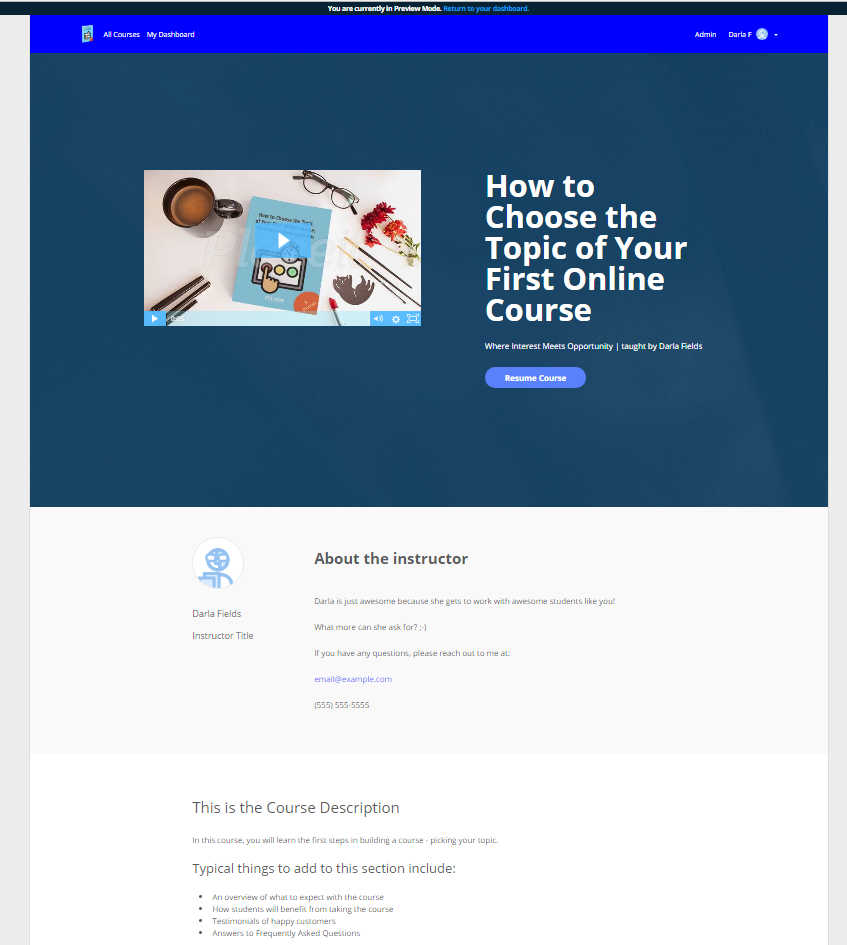 Notice, like the lessons, the landing page has placeholders and suggestions to make your page *pop* and engage your potential students.
Additionally, you can easily preview your course as a student: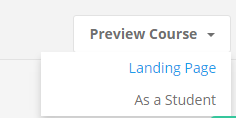 Here's what Module 1, Lesson 1 looks like from my student's perspective: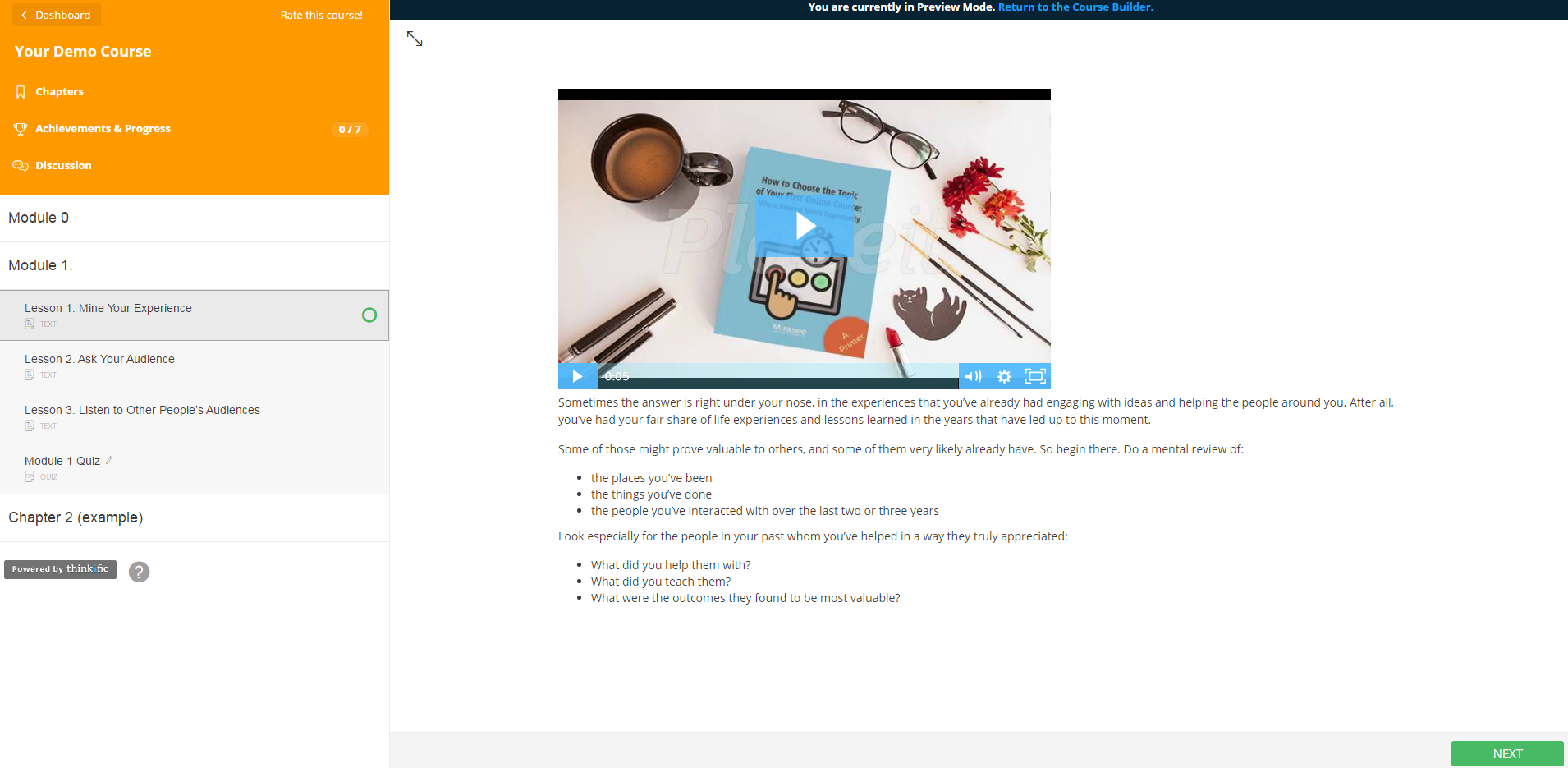 The student can click on the left-hand bar to switch between modules or click the "next" button in the bottom right corner.
The pages are clean and easy to navigate-a huge bonus for your students.
Here's what the quiz looks like from the student's perspective: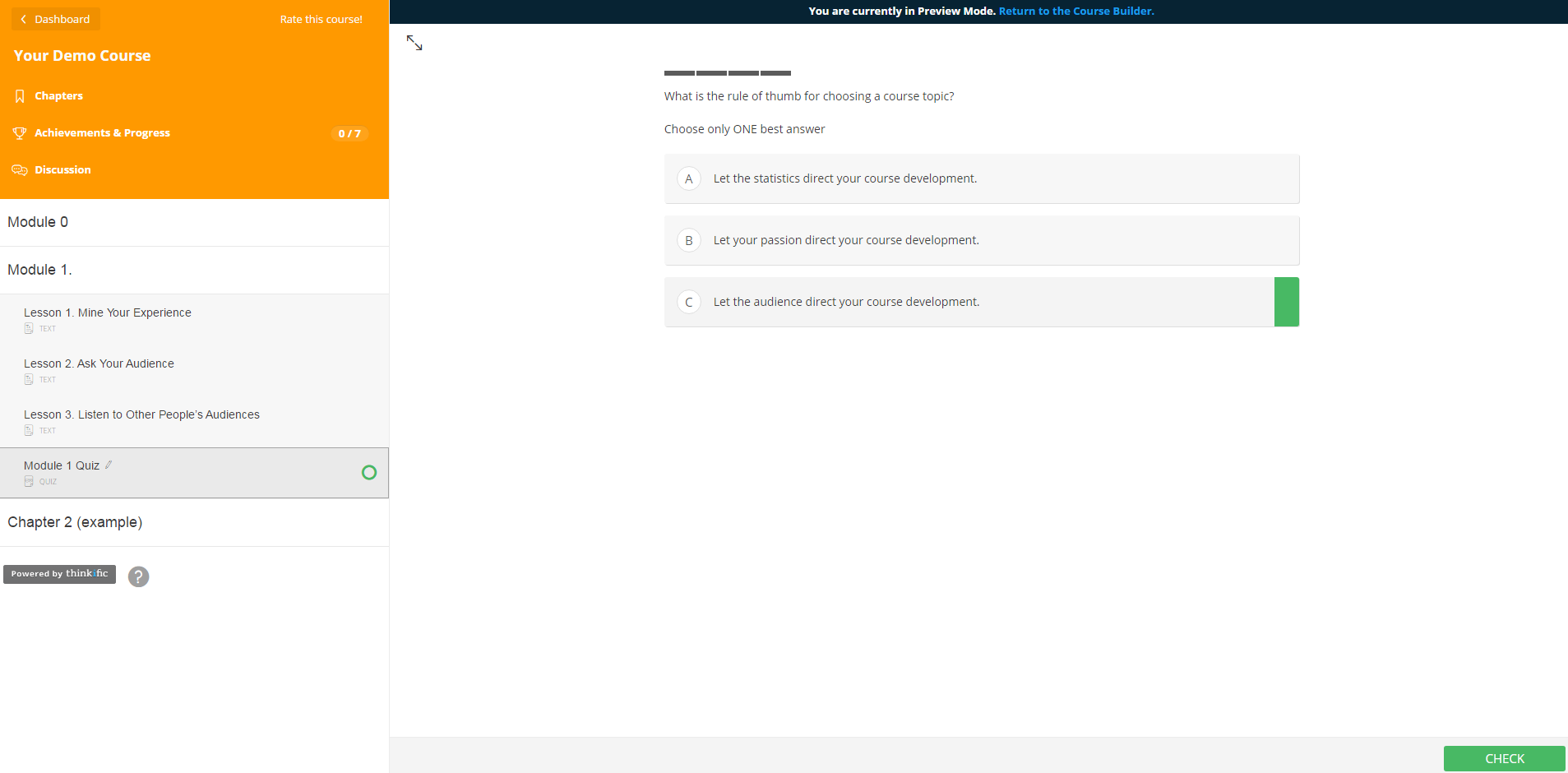 You might also have noticed the upper left-hand corner offers opportunities for students to check their progress and make comments-a great way to engage with your students.
Ready for the main features to help you determine if Thinkific is right for you?
Summary of Features
FEATURES
YES, NO, AND/OR DETAILS

Number of Courses and Students

Unlimited Courses/ Students

Course Content

Drip according to schedule

Not in Starter ($0) version. Only in Essentials and higher.

Self-directed (unlock next module as student completes previous)

No.

All modules available as soon as student enrolls

Yes. Drip is also available with paid versions.

WYSIWYG + source code

mp2, mp3, mpga, ogg, wav

Hosted on Thinkific [2 GB]

You can upload files with the extensions: 3g2, 3gp, 3gpp, 3gpp2, asf, asx, avi, dv, f4p, f4v, flv, mjpeg, mjpg, mkv, mov, movie, mp2, mp3g, mp4, mpe, mpeg, mpg, mpg4, ogg, ogv, ogx, qt, rm, viv, vivo, webm, wm, wmv, wmx, wvx, m4v

No

Sales Page

Yes

Yes

Other landing pages available

FAQ, About Page, etc.

Payments

Integration with payment processors

Stripe and PayPal (depending on the pricing tier)

Can you set up different payment arrangements:

Through Stripe, directly

Only in the business versions

On upgraded plans

Only in the Essentials

Email Marketing

Integration with email service providers

Aweber, Mailchimp, and Zapier

Yes. Automated Welcome/Course completion emails are in Starter. In Essentials, you also get access to Bulk Email Students.

Quizzes

Yes, via the Quiz

Yes, via the Survey

No

Assignments

Files can only be submitted via third-party tools, like Dropbox

Community/Discussion forum

Yes

Student forum, which appears publicly.

Students can share files within discussions for group assessment and feedback.

Badges/Certificates

No badges. Certificates can be issued with paid versions.

Progression graphics (like completing a lesson, percentage of course complete)

Analytics

Which metrics are available?

Course progress of the whole student body, as well as segmentation based on filters like join date, progression, coupons used, etc.

Individual student tracking

Minor, can see what they're enrolled in, and their activity feed.

Yes, through segmentation.

Affiliate management

Yes, allows you to assign users as affiliates, provide them links, and allow for payouts.

Customer Support

Sent quick question. Got auto-response with instructions that answer will come within 1 business day. I got my answer within an hour. 🙂
Takeaways
As I mentioned earlier, Thinkific promises you "everything you need to easily create, market, and sell your own online courses." I believe it delivered on that promise.
Quickly create a course without having to spend a lot of time on design or technology.
Click To Tweet
You can quickly create a course without having to spend a lot of time on design or technology. It has the ease of an all-in-one, plug-n'-play platform within the feel of the backend of a WordPress site. They also have a blog where experts weigh in on course creation.
What I Liked Most
I loved the ease and speed of being able to jump right in (and ignore the tutorial video) to make your course. Also, the placeholder lessons teach you best practices so you can quickly get started—super helpful if you're unsure. And everything loaded quickly.
Finally, the prominent "Help" button on the right side of the page was comforting when I had questions.
What I Liked Least
My short answer is: the potential for overwhelm. Even though I'm not a techy person, I'm not afraid of technology; yet, I found myself thinking, contemplating, and feeling my anxiety level rise at times.
The platform is not as clean as other ones I've tried. A more detailed step-by-step checklist would benefit users. With that being said, if I had taken the time to watch the one-hour intro video, maybe I wouldn't have felt as overwhelmed.
A possible deal breaker is the lack of gamification within Thinkific. When I researched how to add badges, the last mention was from 2016. It's on the horizon—just in the faint distance. If you want to gamify your course, you may not want to choose Thinkific. Or be patient for future developments.
Who Thinkific Is Best For
If you're comfortable with technology, have your course content ready, and don't fret over a little bit of a learning curve, you can get up and running relatively quickly with Thinkific.
I can recommend this to Mirasee's Course Builder's Laboratory (CBL) students. Having your content prepared can help ease some of the learning curve. Also, since CBL students are taught to get feedback and provide methods for student interaction, Thinkific provides ways to do that, such as through open comments and surveys.
Tips for New Thinkific Users
These tips may help you when you start building your course in Thinkific:
If you are

hesitant

around technology, don't be like Darla. Take the time to sit through the tutorial before beginning. You'll get the 30,000-foot view of what you'll be creating.
Take advantage of the placeholder prompts and enhance your course presentation. Thinkific offers a variety of options to add media, audio, text, PDFs, and suggestions of best practices. When you're building your pilot course and only have an outline of what you'll be teaching, the drag-and-drop feature will be a huge help in serving your students.
Like some other platforms, the free plan may be handy for your pilot, but remember that it doesn't allow for drip content. So, your students may try clicking into lessons they're not quite ready for. Consider what your course needs are and choose your Thinkific plan appropriately.
Remember, if you want to use games and badges, it's not going to happen with Thinkific.
The Verdict
Thinkific is a great platform for creating, marketing, and selling your courses. Think of it as a user-friendly platform with a backend WordPress feel. It's easy to plug in your curriculum and rearrange items by dragging and dropping them. The suggestions in the placeholders are fantastic for making your site look as professional as possible to prospective students.
However, if you want gamification, you probably ought to pass on Thinkific. Same thing if you shudder at the thought of a platform looking (and working) anything remotely like the backend of WordPress. It does have a more "technical" feel than other platforms.
Bottom line: Thinkific is a great choice for you if you're a little more tech-savvy and don't mind a bit of a learning curve while you create your course.
What are your thoughts on Thinkific? Does it provide all the features you're looking for in an online course platform?
Find a Sellable Topic for Your Online Course!
Get this primer and learn our process for identifying a viable topic for your very first online course.