Kajabi vs. Thinkific Comparision (2023): Which Platform Is Best?
Jessica Glendinning
Updated by Tara Malone
You're a brand new course creator with amazing knowledge and expertise to share with the world. Your audience needs what you're teaching. And you're ready to start building your course so you can share it and create an additional income stream for your business.
Problem is, you're stuck at the part where you need to choose the right learning management system (LMS) for your specific needs.
It's completely understandable to be cautious. This is a big choice, after all. Different platforms will have different features, specialties, and so much more. And every difference could impact the future of your course.
That's why we've done a ton of work (and research) to help you confidently make the right choice for your online course business.
Because let's face it, you didn't get into course building because you wanted to spend hours looking at LMS options. You want to start building your course – now – and get on with your life.
Kajabi and Thinkific both provide great platforms to build your course, but which one is best suited for you and your expertise?
In this Kajabi vs. Thinkific comparison, we'll provide all the information you need to determine which platform is right for your course.
Let's get started!
Kajabi vs. Thinkific: Pricing
Let's be honest. When it comes to choosing a course creation platform, the BIGGEST question on your mind is probably:
How much is this going to cost me?
Here's a detailed look at how Kajabi and Thinkific pricing stacks up.
Kajabi Pricing
First, let's take a quick look at Kajabi's three pricing tiers — Basic, Growth, and Pro.
Here's a breakdown of monthly vs. annual pricing: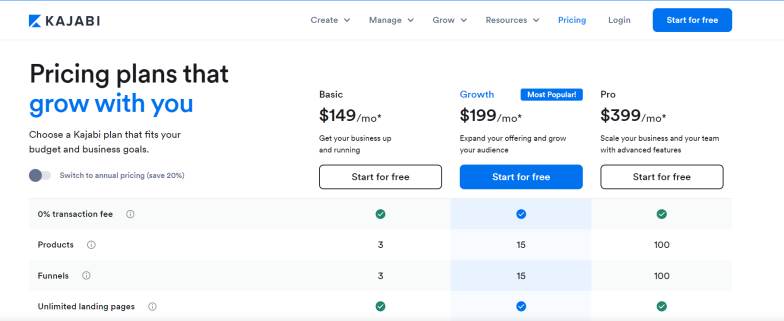 Pricing structure when you pay monthly:
Basic: $1,788 ($149/month)
Growth: $2,388 ($199/month)
Pro: $4,788 ($399/month)
Pricing structure when you pay annually:
Basic: $1,428 ($119/month)
Growth: $1,908 ($159/month)
Pro: $3,828 ($319/month)
As you can see, the Kajabi plans cost more than the Thinkific ones.
There's a reason for Kajabi's higher prices — they start their users off with a huge number of features. 
Kajabi offers a robust set of features at every level, and the higher price includes other marketing tools you would typically have to pay for separately with other platforms (a website, blog, and email marketing capabilities, for example).
At the end of the day, the math could be a no brainer if you need those extra features, but you may not need such a robust set of options.
Kajabi offers a 14-day free trial, which allows you to play around with the different features if you don't know which ones you need just yet. 
Thinkific Pricing
Now, let's take a look at Thinkific's pricing plans – Basic, Start, and Grow.
Here's a breakdown of monthly vs. annual pricing: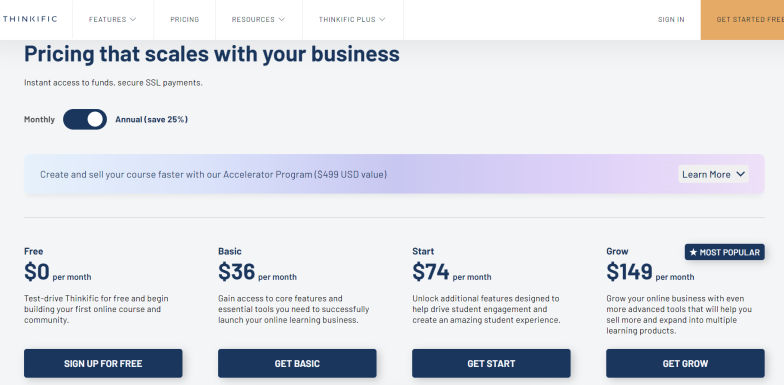 Pricing structure when you pay monthly:
Basic: $588 ($49/month)
Start: $1,188 ($99/month)
Grow: $2,388 ($199/month)
Pricing structure when you pay annually:
Basic: $432 ($36/month) 
Start: $888 ($74/month)
Grow: $1,788 ($149/month)
Each Thinkific plan offers unlimited courses and students (making it a great choice if you want to focus on streamlined content creation).
Remember, the features may be less extensive starting off — but they grow as you go.
The Thinkific Basic plan may not include all the bells and whistles of Kajabi's Basic plan, but Thinkific offers a simple, effective, and affordable platform for aspiring course creators.
Next, let's take a look at how easy it can be to set up your course.
Kajabi vs. Thinkific: Setting Up Your Course
The ease – or difficulty – of setting up a course is a huge factor in deciding which learning management system you should use.
Depending on how tech-savvy you are, you may want an LMS that allows for a ton of customization — or you might need something with less of a learning curve.
Here's what course setup looks like for each platform.
Kajabi Course Setup
First things first, it's time to create your course. Here's how.
1. From your dashboard, select the online course option.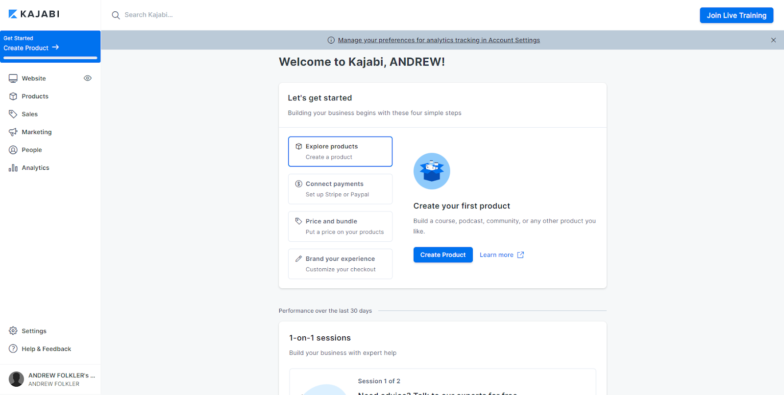 2. Fill in the basic information for your course.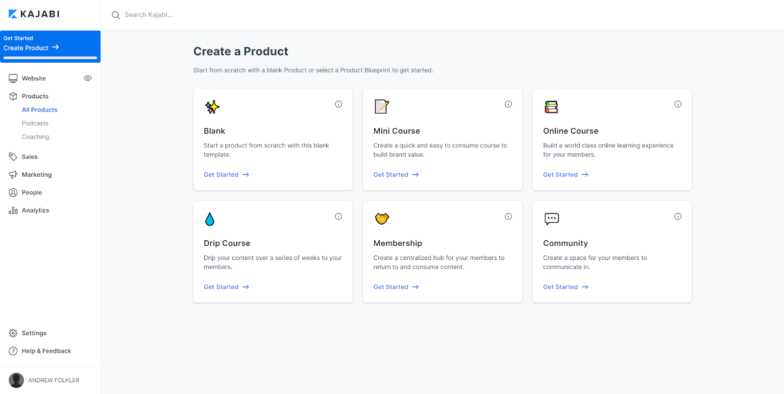 3. Add your course content and customize your theme.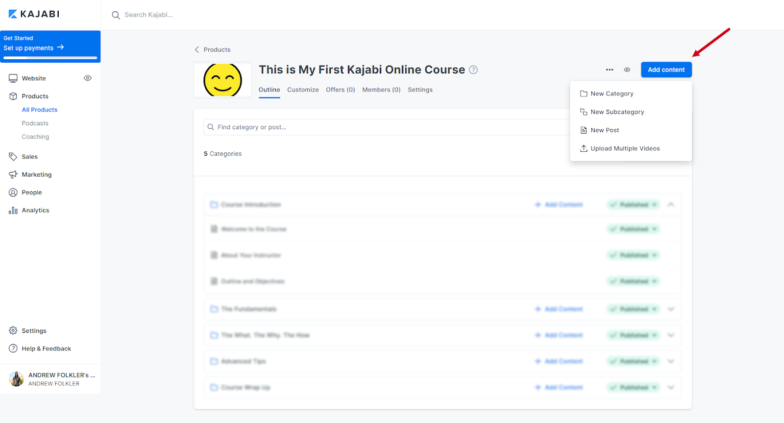 4. Customize your students' learning experience.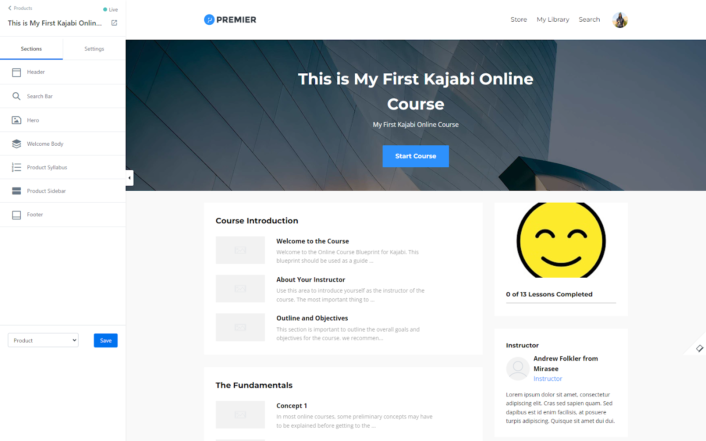 In addition to creating your course,
In addition to creating online courses, Kajabi also offers many different marketing options that sets the platform apart from the competition. The platform supports its own email marketing and pipeline creation, giving you an all-in-one platform to create and sell your course.
This robust marketing pipeline is part of the reason for the higher price point.
Now, let's take a look at setting up a course in Thinkific.
Thinkific Course Setup
Your course setup in Thinkific starts a little bit differently.
1. Select a name for your school.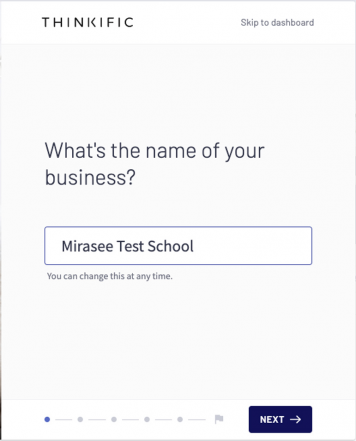 2. Choose a name for your course.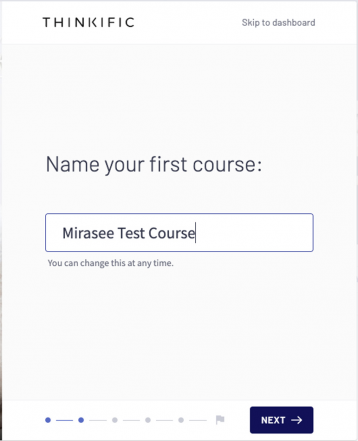 3. Start building your course.
Thinkific offers a course template you can use to make course setup a breeze.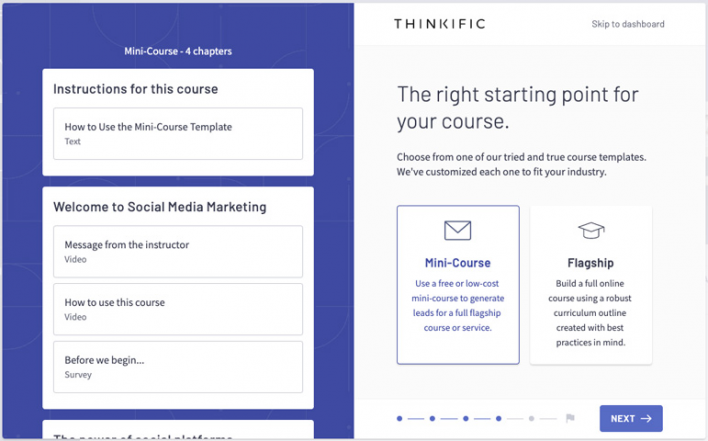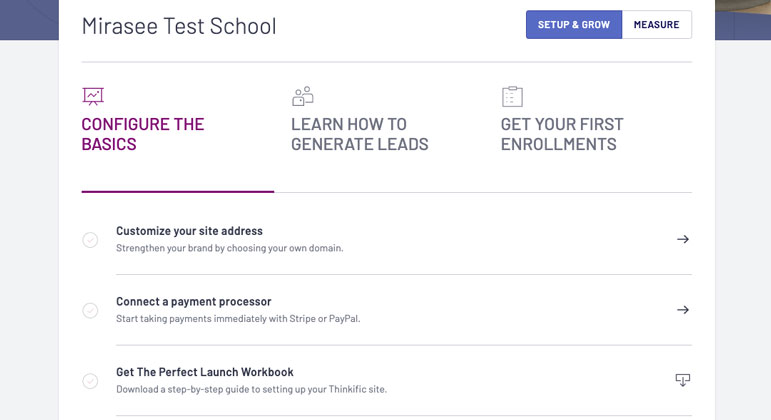 4. Learn how to generate leads.
Use Thinkific's tools to learn how to generate leads.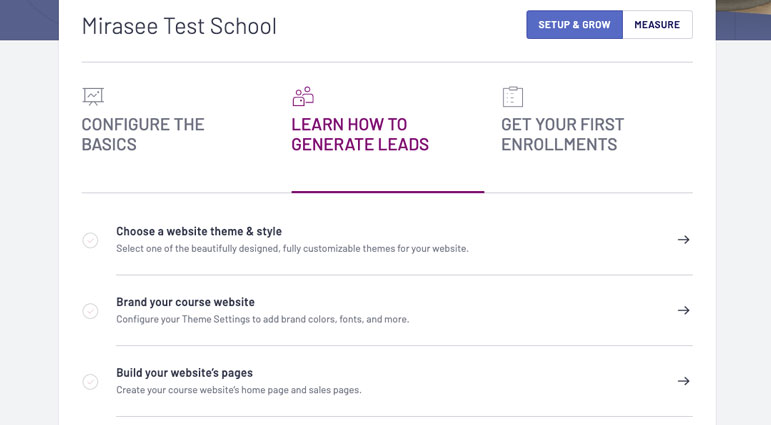 5. Get your first enrollments.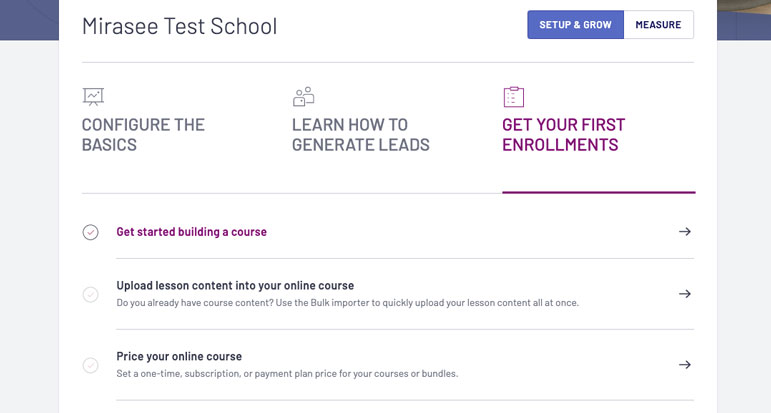 Thinkific offers an incredibly user-friendly solution for course creation.
That said, you wouldn't be here if it weren't for your students. What's the experience like for them?
Kajabi vs. Thinkific: Student Experience
Your students' experience while taking your course is hugely important when it comes to getting referrals, testimonials, and encouraging word-of-mouth marketing.
Ultimately, you're creating your course for your students.
With that in mind, let's take a look at how each platform performs on the student side of things:
Kajabi Student Experience
Kajabi offers different themes to help you tailor the course just the way you want.
The platform offers a complete student experience, giving them access to your website, blog, and tools like assignments, if you choose to use those features.
Thinkific Student Experience
Thinkific's presentation is visually appealing and easy to follow. It offers a clear dashboard that shows students their progress, and allows them to look ahead to see what's next in your course.
After they open your course, the students can expand or collapse each lesson via a drop-down menu, which holds all the different things you've added to that lesson — text, audio, video, etc.
Both platforms offer quality user experiences, making it super easy for the student to achieve the outcomes they want.
Now it's time to make the big choice…
Kajabi vs. Thinkific: Which Platform is Best for Your Course?
It's time for the critical question: Is Kajabi or Thinkific the right choice for your needs as a course creator?
Both offer quality experiences for your students, and both have tools to make the experience unique. Both are relatively user-friendly and can help you set up a course the way you want, with just a few differences along the way.
But this post wouldn't be very helpful if we didn't help you pick which is right for you and your courses, now would it?
Let's take a quick look at the circumstances where you might choose one over the other:
Kajabi is better for course creators who are looking for an all-in-one course building and marketing tool — and are willing to pay for those extra features.
Thinkific, on the other hand, is better for course creators who already have a website, blog, and marketing funnels, and just want to create an amazing course.
Regardless of your decision, remember that you can take advantage of the free trials that both platforms offer, so you can get a first-hand feel for each one.
Now it's time for you to get back to the real work: creating amazing courses and helping your students overcome their biggest challenges and achieve their greatest dreams.
And if you're still not sure exactly how to help them do that, or you need some assistance to clarify or clean up your current course, you can sign up for our free Hybrid Courses Bootcamp!
Let's Start Building Your Online Course!
In our FREE Hybrid Courses Bootcamp, we'll walk you through how to transform your knowledge and expertise into a profitable online course… one your students will love.