Udemy vs. Udacity: Which is Best for Your Online Course?
Matthew Turner
Updated by Tara Malone
Are you an expert in your niche who's determined to share your knowledge with others?
If so, one of the best ways to accomplish this is by creating an online course.
There are many reasons to consider building an online course. For one thing, teaching others what you know can have a great impact on their lives and careers.
Selling an online course can also benefit you, the course creator. An online course is an extremely effective way to supplement your existing income by creating a new revenue stream.
And the good news is you can succeed at online course creation no matter what niche or industry you're in. At Mirasee, we've helped course creators from all different industries make hundreds, thousands, and even tens of thousands per month from a single course.
The one thing all these people have in common is their passion to share what they know.
In this guide, we'll show you how to do this using the online course platforms Udemy and Udacity. Both platforms offer amazing opportunities for course creators, yet they do so in very different ways. In this Udemy vs. Udacity review, we'll introduce you to them both, explain how they differ, and walk you through their main features.
Let's dive right in!
What is Udemy?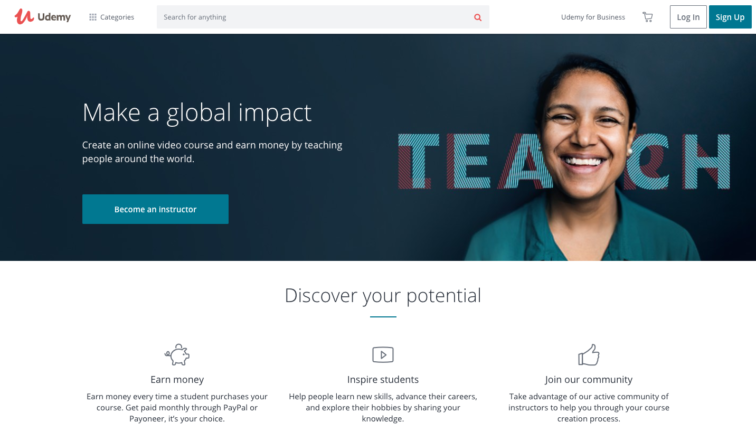 Udemy offers the largest collection of online courses, with 100,000+ available across dozens of categories, including:
Design
Marketing
Personal Development
Health & Fitness
Finance
Photography
Students purchase courses on Udemy on an individual basis, and although the price of these courses varies, most are available for under $100.
As a course creator or instructor, publishing your course on Udemy costs you nothing. You can set up your account for free and publish as many courses as you like. It's an open platform that anyone can join, making it an ideal place for new course creators wishing to test their teaching skills.
What is Udacity?
Udacity is designed for those wishing to get hired by some of the world's largest tech companies. Dubbed as an alternative to tech bootcamps and in-person events, Udacity provides self-paced learning that's intended to supplement traditional education.
It's much more specific than Udemy, focusing solely on the tech industry:
Data science
Artificial intelligence
Programming
System creation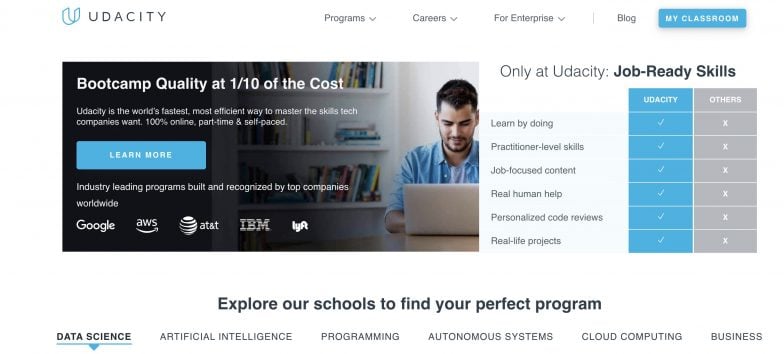 Pricing is a little more complex compared to Udemy because although Udacity does provide free courses (that come without a certificate), their Nanodegrees start at $399 per month (each one varying in price and duration).
But again, as a course creator or instructor, there's no cost to you. However, this is not an open platform that anyone can join. You must apply to become an instructor with Udacity, and it's not necessarily an easy platform to get accepted into. That's because Udacity seeks established industry professionals that have worked at Fortune 500 organizations or owned their own successful tech businesses.
Udemy vs. Udacity Review: What You Can Earn
As you'll soon see in this guide, Udemy and Udacity are designed for very different types of course creators. Both are excellent options for certain people, so it's important you learn which one is best suited for you.
An important part of this is understanding how much you can earn on each platform. Let's start with Udemy, and what you can expect to receive as one of their instructors.
Udemy
On Udemy, you can publish as many paid and free courses as you like. The money you earn depends on the number of courses you sell, with the breakdown as such:
Instructor Promotion: 97% revenue share on sales made by instructors where the student purchases their course using an Instructor's coupon or course referral link.
Udemy Organic: 50% revenue share on organic Udemy sales where no Instructor Coupon is used.
Paid User Acquisition Channel Sales: 25% instructor revenue share in most cases. In order to optimize sales, Udemy partners with affiliates or pays to advertise for courses.
NOTE: if you publish a Free Course, you get no commission from that.
Technically, you can price your course for as much as $199 (based on Udemy's Price Matrix and Price standards), yet in reality, most courses are sold for under $100 (with many coming in at under $50).
So although you can potentially earn good passive income on Udemy, it comes at the price of the competition. There are literally tens of thousands of courses, and because most are under $100, you'll likely have to do the same for your courses.
You can potentially earn thousands of dollars of passive income each month through your online course(s) on Udemy, but doing so isn't easy when you take the competition into consideration.
Udacity
The way you earn money through Udacity is completely different compared to Udemy. You're paid based on your experience rather than the number of courses you sell. It's more aligned with how colleges pay their professors, bringing the traditional learning model into the online realm.
It's reported that the average Udacity instructor earns $91,630 per year.
The ceiling is lower compared to a platform like Udemy because there you can potentially earn much more than this if you create multiple successful courses. Through Udacity it doesn't matter how successful and popular your courses are. You're compensated based on your skillset, demand, experience, and authority.
If accepted into Udacity, though, there's less risk of failure on your part. You're paid regardless of how popular your courses are. So long as you fulfill your role, you're compensated accordingly.
Of course, what you earn isn't the only factor in your decision. There are many other features, benefits, and negatives to consider, which is where we turn our attention to next.
Udemy vs. Udacity Review: The Core Features and Benefits
Both Udemy and Udacity offer many features and benefits to their instructors, yet they both have areas where they fall short. Here are some of the features to take into account before you make your decision.
Udemy
You get full control over your course design, content, and structure.
You get greater control over the pricing of your online course.
Udemy heavily promotes, advertises, and markets your courses.
You get access to a large community of 30+ million students.
You have the ability to create both free and paid courses (and link them to one another).
You're able to create online quizzes and generate greater engagement with students.
You can access coupons and discounts, and drive new traffic toward your courses.
Udemy creates external partnerships with companies, helping to reach new audiences.
Action-based email campaigns help create greater engagement with students.
There's a wide selection of categories catering to almost any course creator.
Udacity
You get a great deal of support from the Udacity team to help create your course.
You continue to have full access to the Udacity Content Team even after your course launches.
Udacity Mentors are on-hand to help both you and your students, releasing some of the burdens from your shoulders.
You're able to work remotely at all times.
Each year, you're flown out to California to film content at the Udacity production studios.
You're paid based on your experience rather than the number of courses sold.
For the most part, Udacity takes care of all marketing and sales (all you have to do is focus on content creation and teaching).
You get to collaborate with other Udacity Instructors (who are also experts in their fields).
You get to work with some very talented students who go on to work at some of the world's largest companies.
There's a wide selection of course features available to you, and developers who can help you build the course you need to.
As you can see, both Udemy and Udacity provide many features, benefits, and opportunities. Although contrasting and aimed at different types of course creators, both platforms provide a lot of value.
So, what are the next steps if you wish to create a course on either platform?
Udemy vs. Udacity Review: How to Create Your Course
Udemy and Udacity are very different. Anyone can create and publish a course on Udemy, while you must apply to become an instructor through Udacity. We'll now walk you through the process of creating and applying, starting with how to create your first course on Udemy.
Udemy:
To begin with, you need to create a new Udemy account.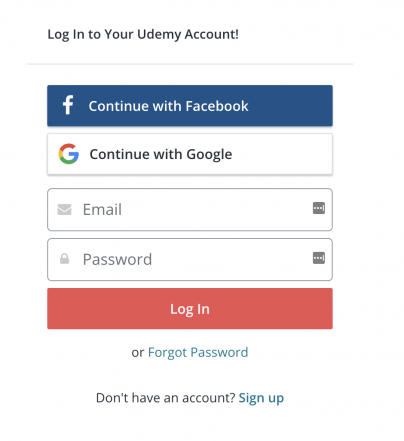 Step 1: Once signed in, create either a new course or a practice test.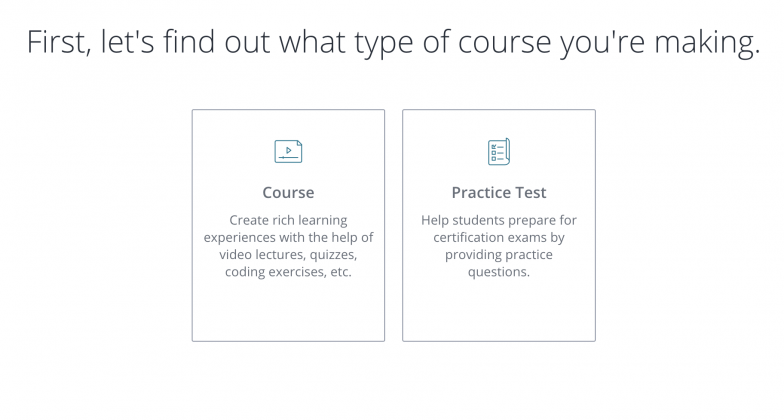 Step 2: Create a Title for your new online course. Don't worry if it's not perfect, you can always change it later.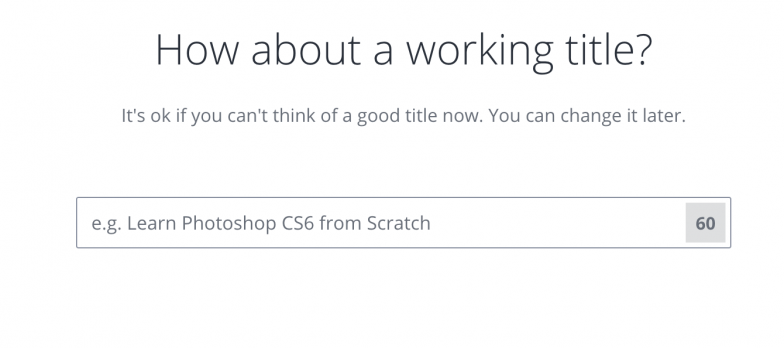 Step 3: Choose a category for your new online course. You can always change it later if you need to.

Step 4: State how much time you can spend creating your course each week.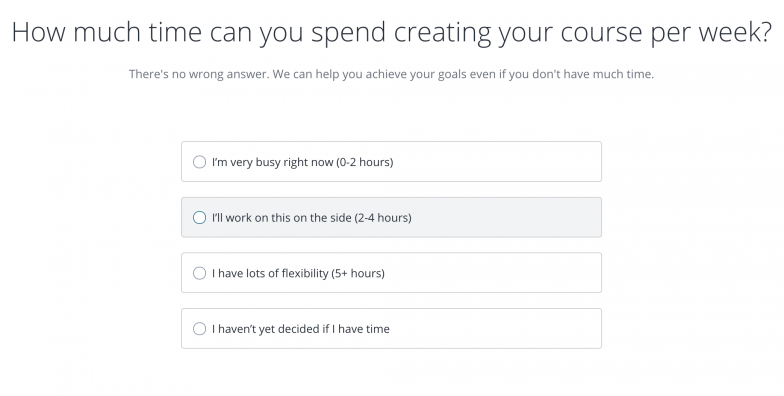 Step 5: Fill in details about who your target student is, and any requirements you have of them.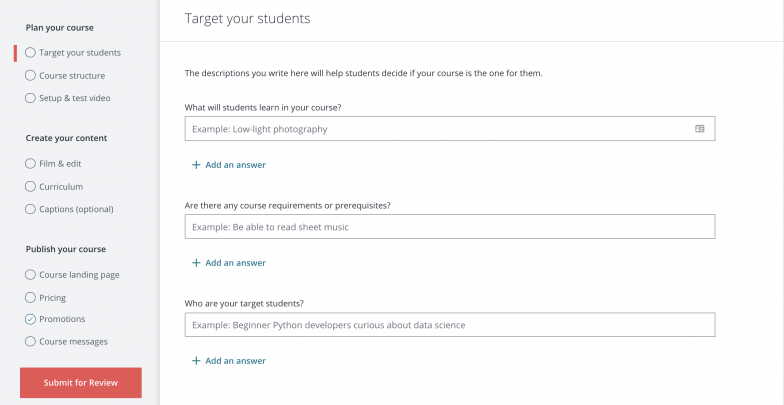 In addition to this, Udemy shares several resources on how to Plan and Structure your course (as well as testing your video and audio). Some of these core resources include:
Step 6: Once you've planned your course, it's time to upload each individual lesson (and its accompanying videos and resources).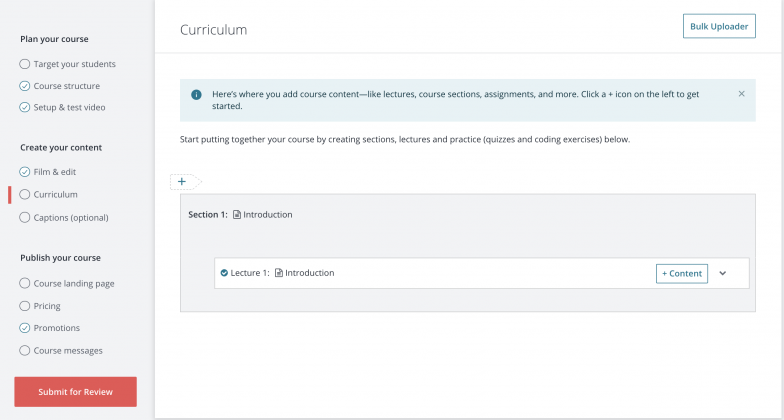 You can choose different content types for each lecture: video, video and slide mashup, and article.

In addition, you can also add a description to each lecture, and upload additional resources like PDFs, graphics, and external links.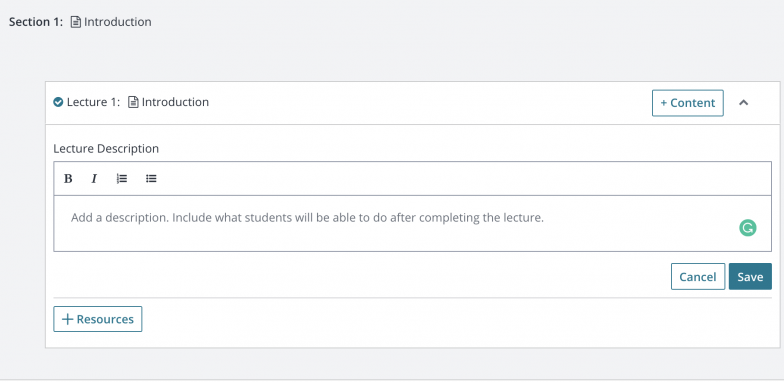 You can add as many lectures per section as you like, and create different sections within your course to split up your content. Once you've uploaded your content, you can preview what your course looks like both from an instructor's point of view and your students'.
Step 7: Once complete, it's time to publish your new online course. You need to start by publishing your Landing Page.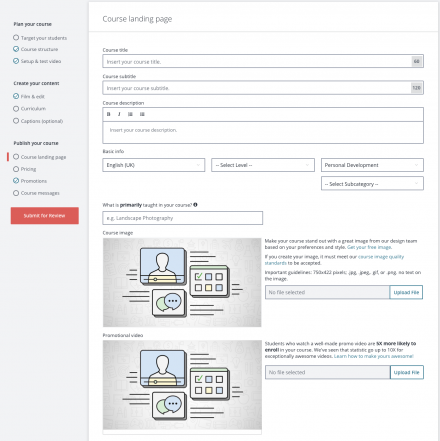 Step 8: Next, it's time to price your online course. The pricing options start at Free and go as high as $199.99.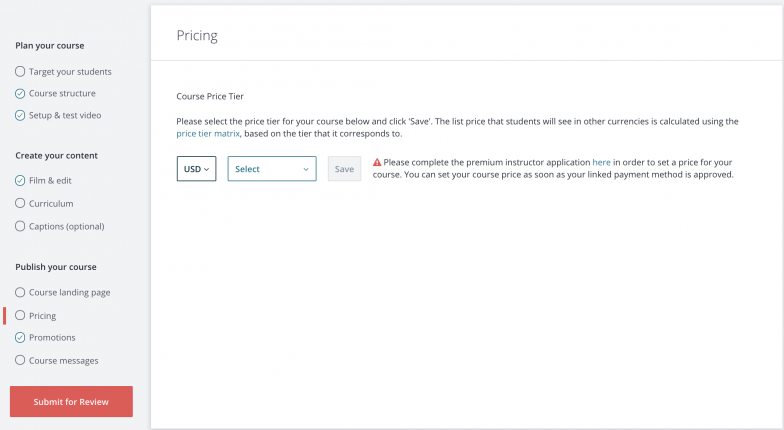 Step 9: Finally, you can create a Welcome and Congratulations Message for your students, before submitting your course for review.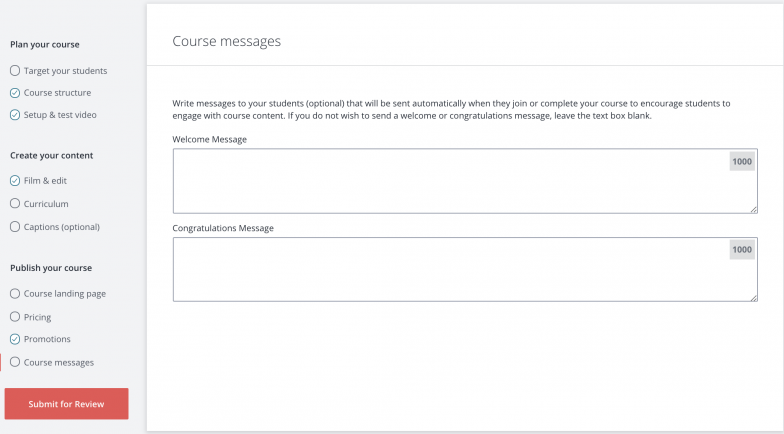 Udemy provides several resources to help you create, promote, and price your course effectively. A few of the most useful resources include:
Udacity
To start off, you must first create a new Udacity account: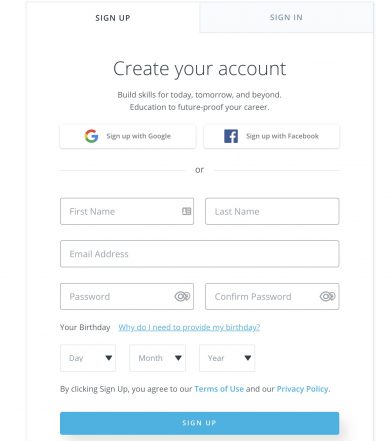 Step 1: Once you're signed up, you'll automatically get redirected to an application page so you can begin the process. To begin with, you must complete a few essential details such as your name, email address, and the company you work for/own.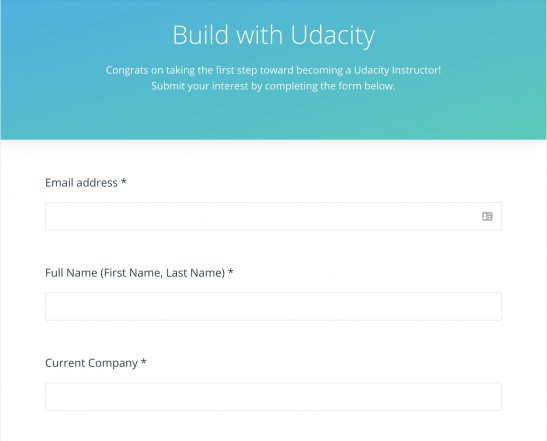 Step 2: You're then asked to fill in your role at your company as well as a link to your LinkedIn profile.
You must then link to a shareable document (Google Doc, Dropbox, etc) that acts as a resume for your past work, projects, and accomplishments. This is where you must highlight your expertise and authority, so you'll need to create a comprehensive resume that showcases everything you have to offer.
Finally, before you move on, you must state whether you have any legal or immigration-related limitations.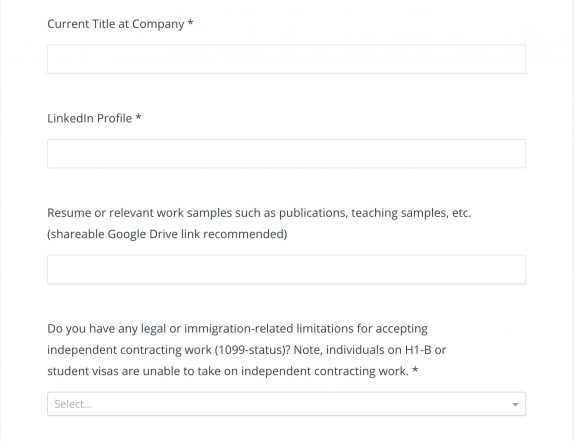 Step 3: Next, you must state how many hours you can commit to each week. Overall, they expect most instructors to work at least 7 to 10 hours per week, and the more you're able to focus on their students, the more likely you are to get accepted.
They also ask if you've taken a Udacity course before. It's not essential to have done so.
Finally, you must specifically discuss your previous teaching, coaching, and education experience. It isn't essential that you've had prior teaching experience, yet it does help your cause. Ultimately though, your application is based on your expertise and industry experience.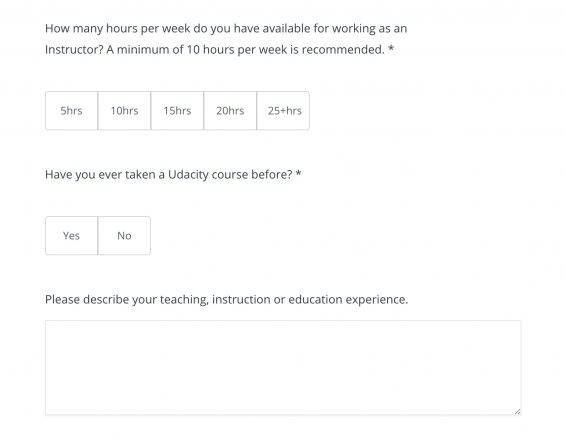 Step 4: At this stage, you must tick the subjects you're interested in teaching. These must align with your experience and background, so only choose those you have relevant knowledge of.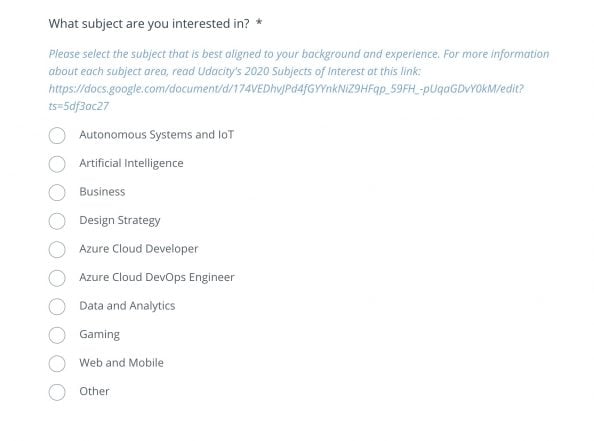 Step 5: You must then explain the types of topics you would like to teach for each of the categories (or schools) you have chosen. For instance, if you ticked "Business", you may go into further detail by explaining how you can teach: Marketing Strategy, Financial Forecasting, Business Plan Strategy, etc.
Step 6: Finally, you must rate how important each of the following areas is to you:
Career Development & Advancement
Giving Back to Students & Your Field
Growth in Pedagogy & Education
Financial Incentives & Awards
Professional & Personal Branding
This helps Udacity know why you want to become an instructor.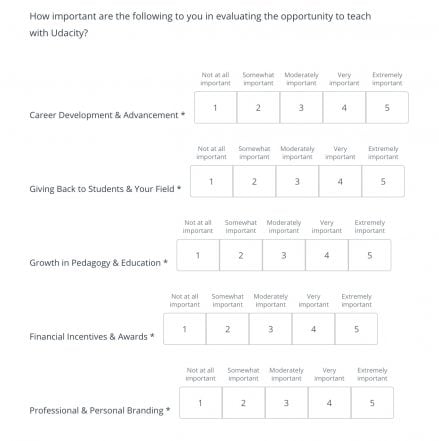 At this stage, you're ready to submit your application and wait to see if you're successful. It's a very different process to Udemy, and if accepted, they'll walk you through how to create your course in person. You'll work with a dedicated member of their content team, as well as other members of Udacity with specific skill sets such as video production, editing, and the user experience.
Udemy vs. Udacity Review: The Student Experience
No matter what online course you create, the most important people are those you create it for.
Who are they?
Where are they?
What do they need help with?
How do they best learn?
What are their future plans?
For this reason, we can't complete this Udemy vs. Udacity comparison without taking into account the student experience. It's not just about you finding the right platform for you… but also the one that will help you serve the people you need to.
Let's begin with an important factor…Price!
Pricing
There's a big difference in price between Udemy vs. Udacity. Most Udemy courses come in at under $100. It's a one-time fee, and they get lifetime access to the courses they purchase. As such, Udemy is a more appealing option for those not yet ready to commit to any one skillset.
Udacity, on the other hand, prices most of their courses at $399+ per month (the duration of each course differing). They do offer free courses, yet these are not accredited and not what most of their students need. As such, Udacity is the more appealing option for young professionals who are very focused on the type of career they want.
Categories
Udemy appeals to the masses, providing courses in dozens of categories across dozens of industries (including business, sales, marketing, design, personal development, and many more).
Whereas Udacity focuses largely on the tech industries, specifically catering to those looking to learn complex skills such as artificial intelligence, data science, programming, and cloud computing.
Community
Overall, Udemy caters to those who like to learn on their own. They get access to the course material, and although there are certain community features, they're minimal. It's an ideal platform for courses that don't require much one-to-one work, and that allow the student to learn in their own time.
Udacity couldn't be more different because it's similar to a college experience (just online, rather than set in an old building). You work with and get access to other students, as well as the instructor(s) themselves and other Udacity Mentors.
Community plays a huge role in the learning experience, making it a more personal journey for each student.
Customer Service
Due to its size, Udemy isn't renowned for its service. You do get help and guidance, but the wait time may be days (or even weeks). This is in contrast to Udacity, where you get on-hand help when needed.
Your students not only get access to you but other Udacity Mentors (and the dedicated customer service team). It often comes down to what you pay for. At Udacity, students pay for a complete service. Through Udemy, they pay for the course content and that's about it.
At this stage, you should have a clear idea of whether Udacity or Udemy is right for you.
To help bring this home, here are a few final yet important points to consider.
Udemy vs. Udacity Review: 4 Key Points to Consider
Before you make your decision, consider these four important points as they're essential to helping you choose between Udemy and Udacity.
1. Time Commitment
How much time can you commit to your online course? Not just in the beginning, as you create it, but ongoing for the foreseeable future?
With a platform like Udemy, most of your time goes into creating your course. Whereas with Udacity you'll be expected to commit at least 7 to 10 hours per week for as long as you're part of their program. This doesn't only include creating content but also continuing to teach students as they progress.
Of course, with a platform like Udemy, you'll have to commit more time and resources toward marketing and sales (something you don't need to worry about with Udacity).
Still, the amount of time you can commit each week plays an important role in your decision. If you wish to create a passive income stream, Udacity may not be the solution you're after.
2. Income
Another important aspect to consider is income (not only how much, but how passive it is).
Again, Udacity doesn't provide a good source of passive income. You have to continue to work on your course, and you're unable to outsource any coaching or mentorship like you may choose to do with Udemy. So if passive income is what you're after, Udemy makes the most sense.
However, earning a good income on Udemy isn't easy. There's a lot of competition, so you run the risk of creating a course that won't sell. If Udacity accepts you as an instructor, you'll get a regular income month after month.
3. Marketing
Do you enjoy sales and marketing? Are you good at it?
If you do, Udemy is what you need. The online marketing effort is possibly more important than the course you create. On the other hand, if you create a course with Udacity, you won't have to do much (if any) marketing. Their team takes care of everything, leaving you more time to focus on the content.
So, right now, a big question you must ask yourself is: do I like marketing, or would I rather have a dedicated team focus on that so I don't have to?
4. Experience:
Finally, it's important you consider how much experience you have in your industry. Not just experience in terms of years, but success and authority that you can back up with proof.
Are you a leader in your field?
Have you appeared in multiple, highly credible publications?
Have you worked your way up the ladder (or built a successful business)?
Udacity only wants experts. If you don't fit this bill, you'll struggle to get past the application.
Udemy, on the other hand, is an open platform for anyone with a good course to share. If you're still finding your feet and building authority, it may be the best solution for you right now (although that isn't to say Udacity won't be further down the line).
Udemy vs. Udacity Review: Which One is Right for Your Course?
Whether Udemy or Udacity is right for your business is up to you.
Both offer great solutions to course creators, yet both go about offering very different services and appeal to different people. Having read this Udemy vs. Udacity review, you should now be clear on whether one of these platforms is right for your online course.
And if neither of them seem like a good fit, we encourage you to check out our round up of some other online course platforms.

The truth is, there's an online course platform out there for every type of course creator. Now go ahead and find yours!
If you want to ensure you choose the right online platform for your course, you may like to register for our Hybrid Courses Bootcamp. In this FREE Bootcamp you'll learn how to Create, Sell, and Profit from your Online Course BEFORE you build it.
Let's Start Building Your Online Course!
In our FREE Hybrid Courses Bootcamp, we'll walk you through how to transform your knowledge and expertise into a profitable online course… one your students will love.