Teachable vs. Udemy: Which is Best for Your Online Course?
Matthew Turner
Updated by Tara Malone
For months, you've dreamed of creating an online course.
The only problem is, you don't know where to begin.
What sort of online course should you build? Which online course platform should you choose?
There are countless online course platforms out there, but only one is the right choice for your course. That's why, in this article, we'll take an in-depth look at two popular course platforms – Teachable vs. Udemy – to help you decide if one of them is right for you.
But before you consider if one of these platforms will be good for your course, be sure to choose your course idea first. It's crucial to have a clear picture of your course topic before you even start thinking about your online course platform.
If you're still new to this and have yet to get clear on your course idea, you may like to check out a few of these other resources first:
But if you have your course idea down and you're ready to build the perfect course…then let's dive right into our Teachable vs. Udemy comparison.
Teachable vs. Udemy: Pricing
It's difficult to compare Teachable vs. Udemy for pricing because they have different business models:
Udemy is free to join and pays a percentage of revenue
Teachable charges a monthly fee (+ small transaction fee for each sale)
Both of these options come with opportunities and limitations.
Let's dive deeper into each, starting with Udemy.
It's completely free to join Udemy and upload as many courses as you like. There is no fee to you, and there likely never will be. However…this does come with the caveat of splitting your course sales.
And, depending on how your student finds you, the revenue split differs greatly.
50% to you when a student buys a course organically through Udemy.
97% to you if a student buys through your coupon code or self-promoted link.
25% to you if a purchase is made through an affiliate link.
25% to you if a sale is made through Udemy's ad program.
As you'll see later in this article, you have less flexibility in pricing your course on Udemy. So unless you're driving the majority of your sales to the platform, your ability to earn is lower.
Teachable, on the other hand, passes more control over to you.
Minus a Transaction Fee (5%), you get to keep all of your sales.
The downside to this is that you do have to pay a monthly subscription.
This increases your ability to earn, so long as you can confidently drive new sales to your course each month. For most new course creators, their basic plan of $39 per month will suffice. Yet if you want some of their more sophisticated features, you may, in time, have to upgrade to their $99 plan.
Still, if you're selling a course that's $200…$300…$500 or $1,000+ this isn't a problem.
So long as you drive new students to your course each month, that is.
Which is what sets Udemy apart, as we'll discuss next.
Teachable vs. Udemy: The Core Features and Benefits
If you want to compare Teachable vs. Udemy, the feature that arguably sets Udemy apart is that you get access to 30+ million students.
Unlike Teachable, where you have to bring in your own students, Udemy promotes you to an established marketplace. With dozens of available categories and a global audience, you can potentially reach a lot of people with your course.
The downside to this is, of course, the intense competition you face.
Teachable, on the other hand, gives you the freedom to create the course you need, promote it on your site, and build a private community of students. It provides the best features for scaling your course, building partnerships, and offering upgrades now or in the future.
Both platforms offer opportunities and limitations.
By diving a little deeper into these core features and benefits, it should become clearer which platform best suits you.
Udemy's Standout Features and Benefits
Udemy heavily promotes, advertises, and markets your courses.
A large community of 30+ million students.
The ability to create both free and paid courses.
The chance to create Online Quizzes to engage more students.
Coupons and discounts are available on courses, driving new traffic to you.
Udemy creates external partnerships with companies, helping to reach new audiences.
Action-based email campaigns help create greater engagement with students.
A wider selection of categories catering to almost any course creator.
Dozens of categories to classify your course and make it easier for students to find.
Tools for sending direct messages back and forth between students.
Bookmarks for your students to save your courses for later.
Support for promotional videos.
An area to show instructor announcements.
Supplemental resources such as class exercises and worksheets.
Options to give out certificates of completion.
A built-in customer review section.
Question and answer tools.
Downloadable lectures.
A mobile interface.
Teachable's Standout Features and Benefits
Multimedia options such as audio, images, videos, and PDF files.
Built-in payment processor that accepts PayPal and all major credit cards.
A drag-and-drop page builder for constructing a website dedicated to your courses.
A mobile interface.
The option to use your own domain.
Quizzes and completion certificates.
Sophisticated Integrations (including Facebook, Sumo, ConvertKit, and Zapier).
Marketing options like coupons, promotions, and advanced pricing.
An affiliate program so you can build partnerships with brands, influencers, and bloggers.
Multiple instructor support.
Processing of full or partial refunds.
Discussion forums and messaging tools for your students to communicate with you.
The opportunity to build a community for students to communicate with one another.
Send student feedback forms (including surveys and Google Forms).
A user-friendly dashboard with student insights.
Analytics that dive into your revenue, core metrics, and student progress.
A complete website building interface with hosting and an SSL certificate.
Email list segmentation to send targeted mailers.
First touch and last touch attribution to determine how your students converted.
Import content from Dropbox, Google Drive, or OneDrive.
Language modification to reach international students.
As you can see, Teachable offers a lot more freedom to build the course you need. If freedom and the ability to scale is what you're looking for, Teachable may be the option for you.
Yet there is such a thing as too much choice, which is where a platform like Udemy comes in.
Teachable vs. Udemy: How To Set Up Your Course
It's a relatively simple process to create your first course on both Teachable and Udemy.
There are more layers and features involved with Teachable, yet most of these come later; after you've set up your first course. The initial process is a simple one, which we'll now demonstrate.
Starting with Udemy…
How To Create Your Course on UDEMY
To begin with, you will first need to create a new Udemy account.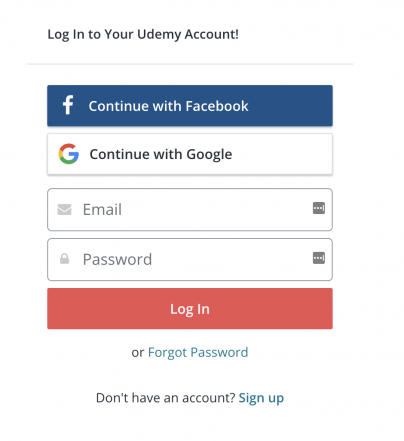 Step 1: Create either a new course or a practice test.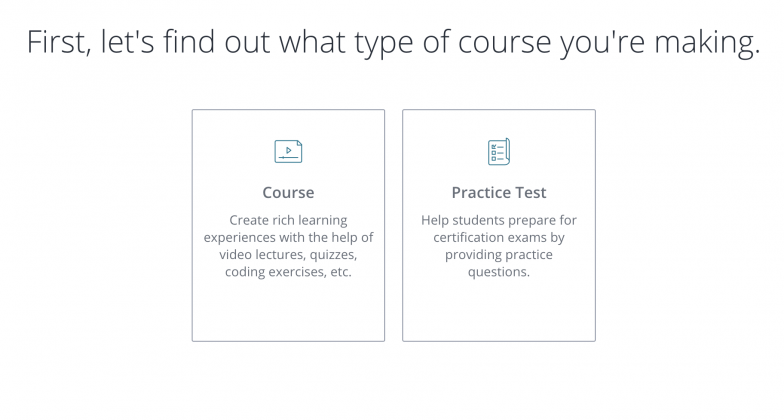 Step 2: Create a Title for your new online course.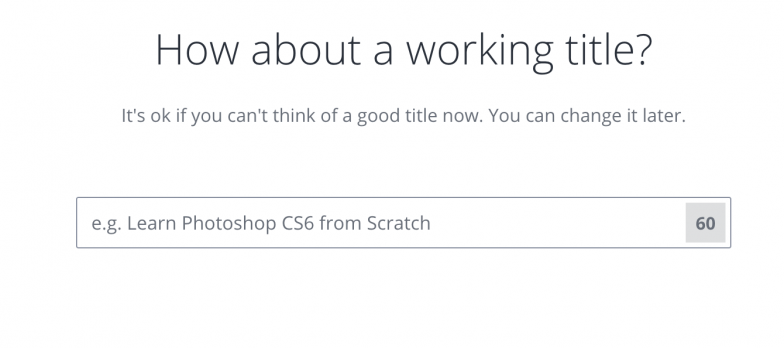 Step 3: Choose a category for your new online course.

Step 4: State how much time you can spend creating your course each week.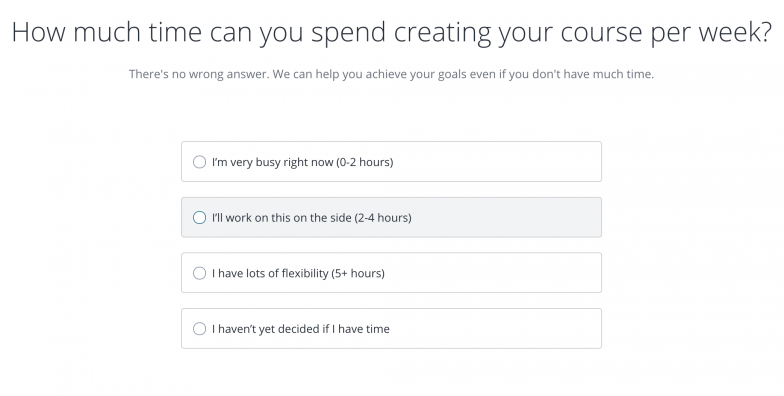 Step 5: Fill in details about who your target student is, and any requirements you have of them.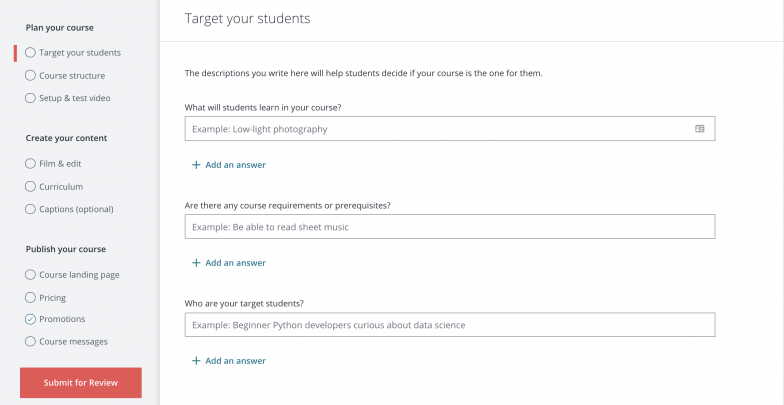 In addition to this, Udemy shares several resources on how to plan and structure your course. Some of these core resources include:
Step 6: Once you've planned your course, upload each individual lesson.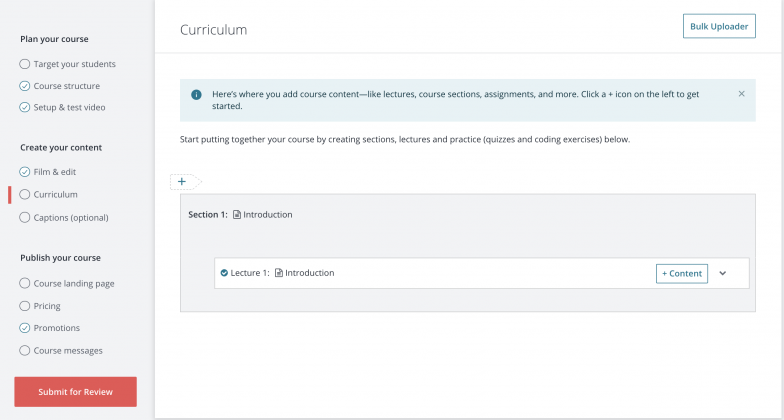 You can choose different content types for each lecture: video, video and slide mashup, and article.

You can also add a description to each lecture and upload additional resources like PDFs, graphics, and external links.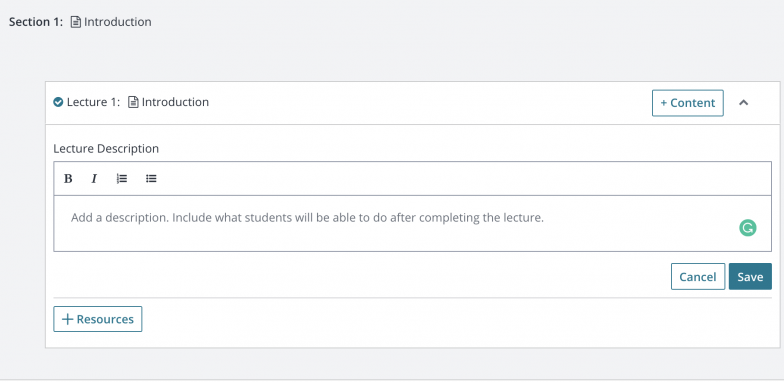 You can add as many lectures per section as you like, and create different sections within your course to split up your content. Once you've uploaded your content, you can preview what your course looks like both from an instructor's and student's point of view.
Step 7: Once complete, publish your new online course, starting with your Landing Page.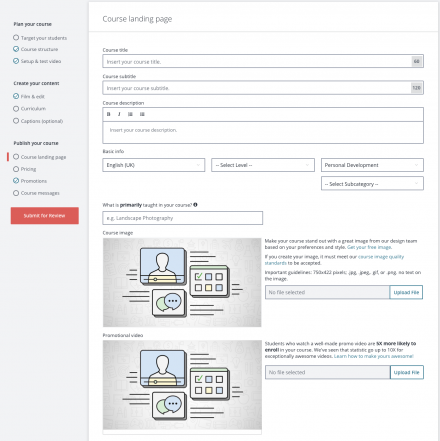 Step 8: Next, it's time to price your online course.
You can choose from several different currencies and various pricing options.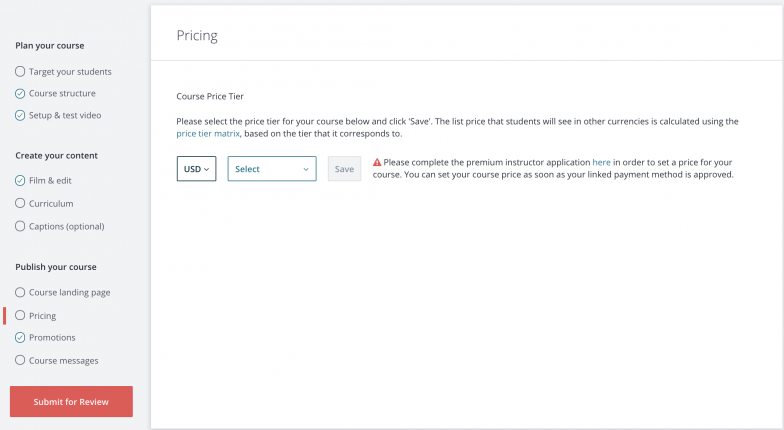 Step 9: Finally, create a Welcome Message for your students and submit your course for review.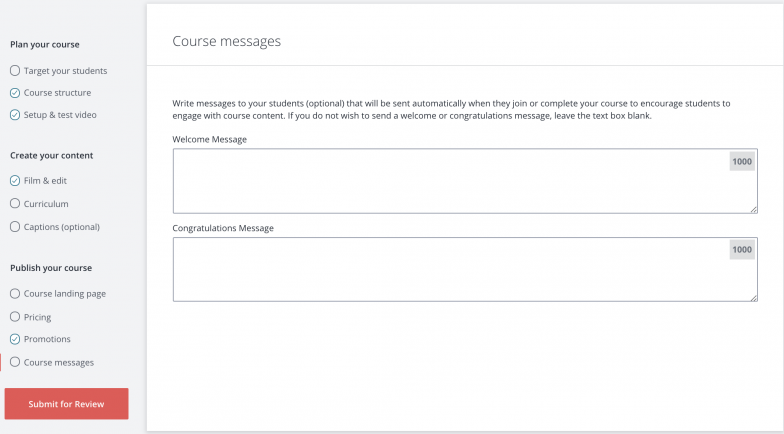 Udemy provides several resources to help you create, promote, and price your course effectively.
A few of the most useful resources include:
Creating your first course on Udemy is a simple and quick process.
So, how does this compare to Teachable?
How To Create Your Course on TEACHABLE
To get started you will first need to create a new Teachable account.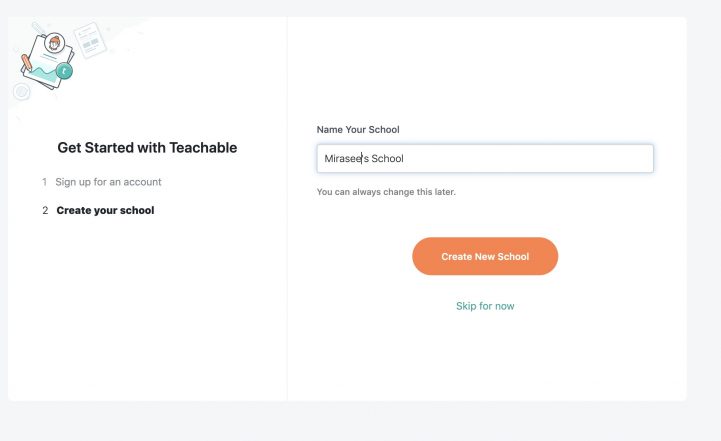 Step 1: Once you're signed in you will need to name your "School".
Step 2: Tell them more about your school and the courses you plan to create.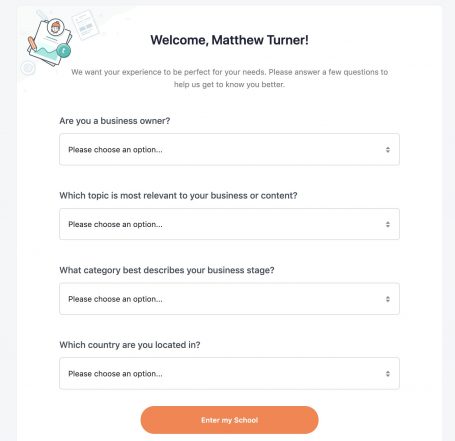 Step 3: You'll automatically get taken to your dashboard where you can create your first course.
However, we advise that you sign up for their Free Live Webinar and take a look around the various features. Many of them won't apply to you, at least, not in the beginning. But get comfortable with where everything is and how it all works.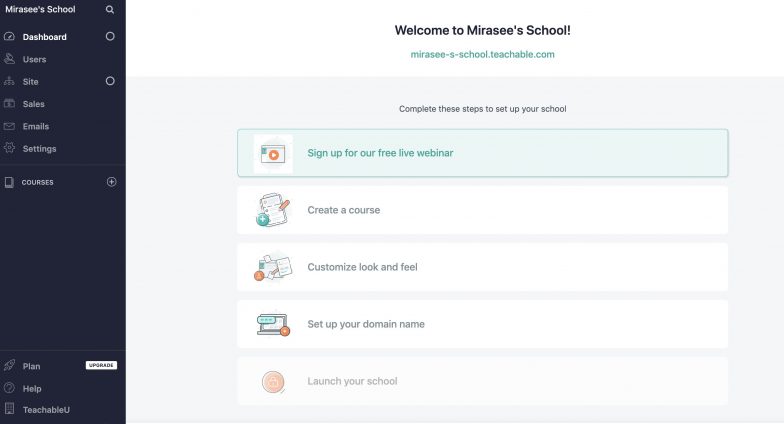 Step 4: Once ready, create a new course and fill out the initial details:
Course Title,
Sub-Title,
Course Creator,
and whether to create from a blank template or an existing one.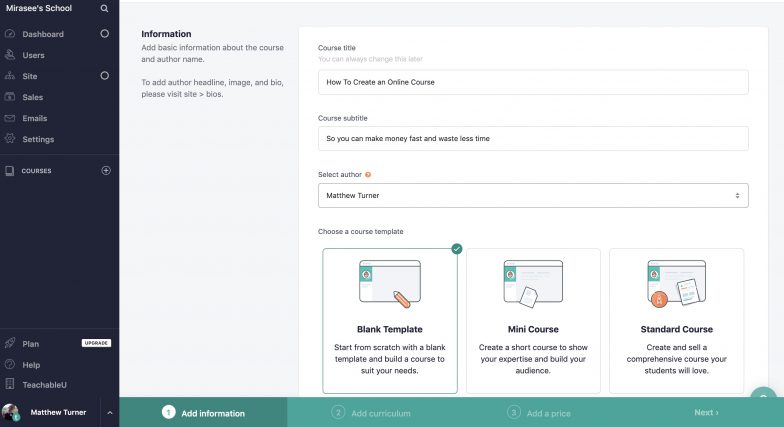 Step 5: Build your curriculum, create each lesson, and upload the necessary course materials.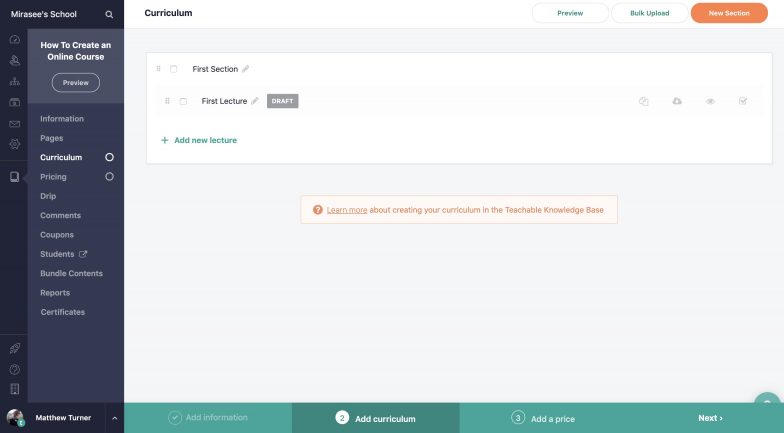 You can create different sections and modules, and add specific lessons to each one.
For each individual lesson, you can add layers of multimedia such as videos, audios, quizzes, downloads, and more.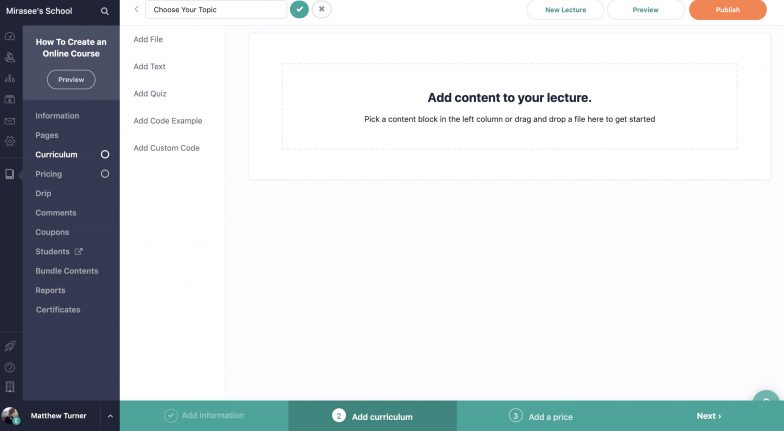 Step 6: Once you have set up your new course and added the lessons, price your course.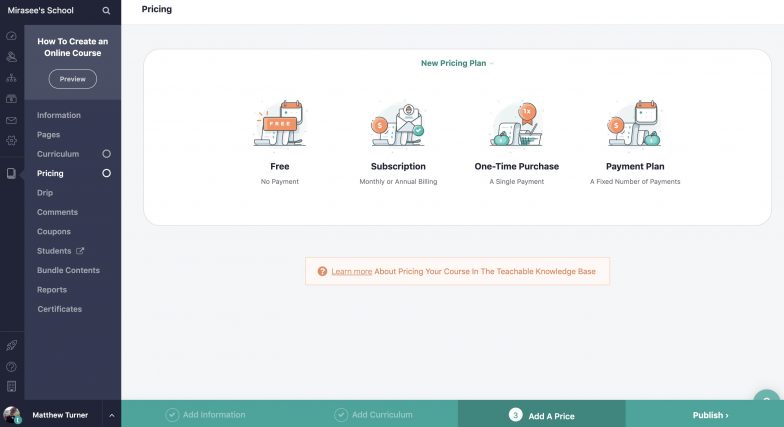 You can offer it for free, sell it for a one-time fee or set up a subscription and/or payment plan.
Step 7: Once published, you can edit your course, add new lessons and set up other integrations and features.
These may include a drip email sequence, coupon/discount codes, and run reports.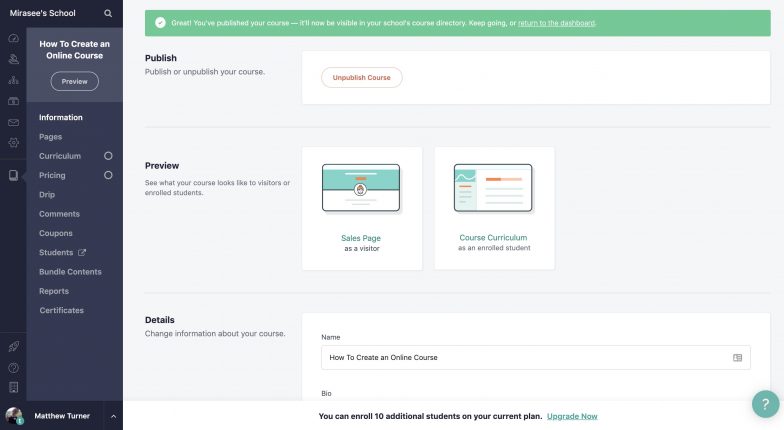 Step 8: Finally, you'll need to choose your own Pricing Plan.
The free option you're currently on has many limitations and may suffice for a short period, but it likely will not serve you for long.
As such, get familiar with the payment plan that makes the most sense to you.
As well as exploring all the other features that Teachable has to offer…
Here are some resources that will help you do this:
How To Create and Edit Your Course
Drip Your Course Material
How To Customize Your Site
How To Sell Your Course
How To Manage Your School
Both Teachable and Udemy provide a quick and seamless process when creating your first course. Teachable offers many more features. Yet in the beginning, you only need a small number of them.
It's hard to say how long this whole process will take, as that depends on the size of your course.
You can expect to get your first course ready within a couple of hours on each platform (although the process is usually quicker on Udemy).
So that takes care of you and your experience…
But what about your students?
What experience can they expect to receive on Teachable vs. Udemy?
Teachable vs. Udemy: The Student Experience
The most important part of creating an online course is to create the one your students need.
Without this, it doesn't matter what platform you choose.
You need to know your students and understand what they need.
Who are they?
What do they need help with?
How do they best learn?
Where are they?
What do they want their future to look like?
Because of this, we cannot compare Teachable vs. Udemy without diving into the student experience.
Knowing who they are and what they need will help you figure out the right platform for you.
And makes the rest of this process much easier for you…
Pricing
When it comes to Pricing, Udemy has its limitations both for you and your students.
For starters, you, as the course creator, can only price your course as high as $199.
This is certainly a benefit to your students if they have a limited budget.
Yet this also limits how deep you can go into any one topic.
If you need to offer them a comprehensive experience, you'll almost certainly have to price your course higher than $200. At this level, the ability to create a payment plan or subscription model may better suit your student.
So although Udemy's low price may appeal to some of your students, Teachable's greater options will appeal to others.
Content Type and Size
If your student needs shorter, more 'to the point' content, Udemy may be the ideal platform.
Although it offers a lot of great features, it does limit the amount of material you can create.
It's great for smaller courses that offer a step-by-step tutorial.
Whereas for courses that go deeper into a subject, Teachable provides greater flexibility.
With the ability to create a private community, blog, drip sequences, and more, Teachable's ideal for more comprehensive courses.
If this is what your students need (and expect), a platform like Udemy may not suffice.
Community
Udemy's renowned for being a great platform for those who like to work on their own. Although there are certain community features, these are limited when compared to other marketplaces like Skillshare.
Again, this may be ideal for your students.
If they like courses that leave them to get on with their work, Udemy could be perfect.
Yet if they want more access to you and your team (and to build connections with other students), Teachable provides many more features. Through Teachable, you can create forums and membership sites to build an engaging community.
If this is what your students crave, Teachable is what you need.
Engagement
Udemy does offer some great features that encourage active learning, including forms and quizzes.
However, as with the above, these are limited.
Because Teachable integrates with hundreds of other tools, your ability to engage your students are limitless. Although again, the question you need to ask is: do your students want this?
If they want greater engagement from you, Udemy may not offer them enough.
Yet if all they need are practical lessons that show them what to do, maybe it will.
Giving your students what they need is one of the most important aspects of building a successful online course. A certain platform may suit you better, but does the same one serve your students?
It's important to take this into consideration. Picking the right one for your students makes marketing and selling to them easier.
This is where we turn our attention next.
Teachable vs. Udemy: Marketing Your Course
Marketing plays a large role in any online course. Building one is only part of the process.
The most important part is to get your course in front of the right people.
Some platforms make it easier than others.
And, on the surface, Udemy seems like the perfect marketing partner.
The reason for this is that Udemy has one focus when it comes to marketing: have more people enter their marketplace and keep returning.
But ultimately, Udemy doesn't care about your course. They care about all the courses on their platform.
As such, they do promote courses and they do set up partnerships. Yet they will always promote the most popular courses; those that help them acquire and retain more customers.
If you're just getting started, this means you'll likely get lost in the competition.
Another thing to note about Udemy is that your students don't become your customers. You don't get access to their email address or other details. This means you cannot target them for future promotions and courses. Or retarget them with ads and other content.
You're an instructor for Udemy. At times, it may feel like you work for them.
Again, this may be the ideal situation for you and your students. It's a great way to create passive income and let the Udemy Marketplace do most of the work for you.
With Teachable, most (if not, all) the sales and marketing falls on your shoulders.
You get complete control of the marketing process:
Pricing your course.
Setting up promotions and discounts.
Creating affiliate partnerships.
Run advertising campaigns to your sales page.
Retarget your leads and place them into a nurture funnel.
If you build your course through Teachable, you're more than a course creator: you are a business owner.
On Udemy, you're an instructor. You have minimal influence or anything else. Udemy can heavily discount your course and will choose who (and how often) to promote you.
You get access to a marketplace of 30+ million people, yet it's on their terms.
So although Udemy seems like the perfect marketing partner, they may not be.
In fact, if you value a degree of control over marketing, they're more than likely not.
Teachable vs. Udemy: Customer Service and Support
Another important part of this whole process is Customer Service and Support: both for you and your students.
As you would expect from a platform with 30+ million students, Udemy provides a robust support network for their students and instructors. Through a massive knowledge base and a dedicated customer support team, they're always on hand to troubleshoot problems.
This benefits you in two ways:
You personally get support when building your course.
You don't have to personally provide support for your students.
The second point is a big one. If your students come across an issue or error, they'll speak directly to Udemy. Your role in the whole process is to act as their instructor. That's it.
Whereas with Teachable, you are their customer support!
Like Udemy, Teachable provides a great knowledge base to help you overcome any issues.
Yet if your students come across any, they will expect you to help them.
So although both platforms offer a robust knowledge base, Udemy removes a lot of responsibility from your shoulders. This once again comes down to you, your students, and the purpose of your course.
What do you need, and what does your student need?
This is the question you should keep coming back to. So, to end this article, let's dive into some of the key points to help you compare Teachable vs. Udemy more easily.
Comparing Teachable vs. Udemy: 5 Points To Consider
It isn't easy to compare Teachable vs. Udemy because they operate on different business models.
Teachable provides you the tools you need to create the course you want. They give you control.
While Udemy gives you access to a large marketplace of loyal customers.
At this stage, you should have a good understanding of which platform makes the most sense to you. Let's bring this home by highlighting some of the key points you need to finally consider.
1. Time Commitment
Your time is important. Each day you're given 1,400 minutes. How you spend these is up to you.
Overall, Udemy is far kinder on your time. Because they limit the freedom you have, you'll have fewer moving pieces to consider. Your job is to create a simple, affordable, (yet high-impact) course. From there, you do a little promotion but leave the rest to them.
If you're looking for some low-burden passive income, Udemy may tick your boxes.
Teachable, on the other hand, is a more time-intensive platform. More of the marketing and sales fall on you. The courses you create on Teachable may be more in-depth. In fact, creating a course on Teachable is more like a business venture.
A few important questions to ask:
How much time can you invest in your course each week?
Can you continue to invest time in your course once you launch it?
How much do you value your time and how you use it?
2. Income Potential
If you want low-burden passive income, Udemy is an attractive platform. With just a few hours of focused work, you can publish a course that potentially could create consistent monthly income.
However, the reality is most course creators on Udemy don't make a lot of money.
At best, most creators on platforms like Udemy build an extra income stream.
It's hard to say how much this will generate, but it will likely be in the hundreds, not thousands.
Teachable, on the other hand, allows you to lay the foundations for a high-impact product.
It's not uncommon for our students and clients to make tens of thousands each month.
Most of the work falls on your shoulders. Yet you have the freedom to scale your course.
There's no limit to what you can achieve, whereas you're always limited on a platform like Udemy.
A few important questions to ask:
How much money would you like to generate from your course(s) each month?
Do you have a vision for your course that includes other products and services?
What sort of ROI do you want to get from your first course?
3. Promotion + Marketing + Reach
Although Udemy provides a marketing service that Teachable doesn't, much of it is out of your control.
Udemy chooses which courses to promote…
They choose who to promote your course to…
They have the freedom to heavily discount your course…
And they keep your students' details, meaning they have total control!
This may be the ideal situation for you if all you want to do is create a course.
But if you value freedom and control, Teachable offers more of what you need.
You don't have access to 30+ million students, but you do get access to your students' details.
Someone else won't do the marketing for you, but you do get to decide how you promote your course.
A few important questions to ask:
How experienced and skilled are you at marketing?
How much time do you have to invest in marketing each month?
Do you have an existing audience, or are you starting from zero?
4. Content Creation + Features
If you want to create an in-depth course that involves 1 to 1 coaching, community support, and regular masterclasses, Udemy is not the platform for you.
It's a great platform for shorter, practical courses.
Students on Udemy want actionable lessons, now!
Within a few hours, they want you to show them what to do and how.
If your course goes beyond this, you may need to consider a platform like Teachable.
Not only does it offer greater features, integrations, and possibilities, it also provides more opportunities to scale your course.
A few important questions to ask:
How in-depth does your course need to be?
What features do you NEED to build your course?
What features would be nice to have, but you'll likely not use them often?
5. Student Experience
Above all, you need to create the course your student needs.
As a course creator, your job is to create the course your students need. Whichever platform helps you achieve this is likely the platform you should use.
Knowing exactly who your ideal students are can help you determine which platform is better suited for them.
If you don't feel like you know your student well enough yet, you may like to read our guide that shows you How To Create a Customer Profile.
Comparing Teachable vs. Udemy: Which One is Best?
It isn't easy to compare Teachable vs. Udemy. They're both great platforms, but serve different types of course creators.
Having read this article, I hope you have a greater understanding of the course creator you are.
There is no right or wrong answer. Only the answer that makes the most sense to you.
Ultimately though, while the platform you choose is important, there's a lot more to this process.
Oftentimes the platform you need won't make sense until you complete more of the journey. This is why I would like to introduce you to our Course Business Bootcamp, which shows you how to create a profitable online course—before you build it.
Going through this process further helps you choose the best platform for you and your students. You may find that Teachable, or maybe Udemy will make more sense. Whichever platform you choose, we're here to ensure you make money, save time, and build the best course you can. To register for our next Bootcamp, complete the form on this page.
Let's Start Building Your Online Course!
In our FREE Hybrid Courses Bootcamp, we'll walk you through how to transform your knowledge and expertise into a profitable online course… one your students will love.