Skillshare Review 2023: Is This the Platform for You?
Willy Wood
Not too many years ago, if you wanted to learn about a topic or develop a new skill, you were pretty much limited to taking a college course, which was expensive, time-consuming, and often left you unsatisfied.
Fast forward to today, where online courses have become mainstream and online course platforms are everywhere. Today, you can find the perfect course for your learning goals, for much less money than a college class, and you can often knock it out in a few days.
We've gone from only a couple of rudimentary online course platforms to dozens and from very few courses available to literally hundreds of thousands in just a few years.
And that's fantastic. But…
Today we have a different problem—in fact, the opposite problem. There are so many online course platforms available that it can be overwhelming deciding which is best for you.
In this post, we'll do a deep dive into one of the more popular online course platforms: Skillshare.
We'll run down the platform's focus, its features, how much it costs, and all the pros and cons. Finally, we'll compare Skillshare to a few of its competitors, so you can decide if Skillshare is for you.
What is Skillshare?
In Skillshare's own words from their website,
"Skillshare is an online learning community with thousands of classes for creative and curious people, on topics including illustration, design, photography, video, freelancing, and more. On Skillshare, members come together to find inspiration and take the next step in their creative journey."
Skillshare was founded in New York in 2010 by two veterans of the digital world, Michael Karnjanaprakorn and Malcolm Ong. It's a digital platform that offers more than 35,000 courses and has 5 million+ users, making it one of the most popular e-learning platforms in the world. In addition to the millions of individual learners on the platform, companies such as Staples, Mailchimp, Evernote, and Disney use Skillshare for their employees' professional development.
Skillshare's primary focus from the beginning has been providing practical, hands-on courses for creative workers, entrepreneurs, and freelancers. Almost all courses focus on creating, building, and/or designing something.
Skillshare lumps classes into three broad categories—Create, Build, and Thrive—with several sub-categories under each.
To give you a sense of the kinds of courses you'll find on Skillshare, here's a short list of some of the most popular courses at the time of this writing:
Lettering for Designers: One Drop Cap Letterform at a Time
Animating with Ease in Adobe After Effects
Hand-Code Your First Website: HTML + CSS Basics
Creative Ideas to Improve Your Drawing Skills
Entrepreneurship: Online Business Planning 101
On average, Skillshare classes last between 20 and 60 minutes (classes must last a minimum of 10 minutes), usually with one large video lesson split into multiple shorter videos (2-3 minutes each is common).
Skillshare also has a strong community component, where you can interact with other students about your work.
For Learners: How Much Does Skillshare Cost?
With Skillshare, a student purchases a subscription and then has access to any of the 35,000+ courses on the platform for the duration of their subscription. In this way, it's like a subscription to Netflix or Amazon Prime.
Skillshare's monthly and annual prices have risen and fallen a few times in the past couple of years, so it's been a bit of a moving target. Currently, the monthly price is $32, and the annual price is $167.88, which works out to $13.99 a month. So, the annual price is a much better deal than the monthly price.
Sad to say, Skillshare no longer offers free classes (this change was made in late 2021), so to access any of the platform's content, you must either be on a free trial or have a Premium subscription.
When you compare Skillshare's prices to other subscription-based online platforms, though, a Skillshare personal account compares quite favorably.
For comparison, MasterClass costs $180 per year, which works out to an average of $15 per month (but there's no option for a monthly subscription). LinkedIn Learning is only available to LinkedIn Premium members and starts at $29.99 per month. Their annual fee is $239.88, which works out to $19.99 per month.
Other sites that offer practical skills training don't use the subscription model. With Udemy, for example, you'll find some courses for free, but others cost anywhere from $11.99 to $199.99 per course. Udacity is even more expensive, with a single one-month course costing $399 and a four-month "nanodegree" costing $1,436.
Skillshare currently offers a one-month free trial, during which you can take as many classes as you want. After the month is up, billing for your Premium membership will start. With the one-month trial, you have plenty of time to check out multiple courses since most courses aren't that long. This will allow you to decide if going to a paid subscription is right for you.
Skillshare doesn't only offer classes for individuals, it also has plans for businesses who want to administer Skillshare accounts for their staff. There are three different Skillshare Teams plans:
Starter, for teams of 2-19 at $159 per user, billed annually;
Enterprise, for teams of 20+ at a custom price, based on your team's size and needs; and
Revive, for teams of 50+, also at a custom price.
There's no monthly option for Teams accounts. All three plans include unlimited access to all 35,000+ courses, Skillshare Originals, Class Lists by topic or skill, mobile use and the ability to watch offline, teacher and peer feedback, and tech support. The more expensive plans offer more advanced features such as a dedicated Customer Success Manager, custom reports, and onboarding and engagement support.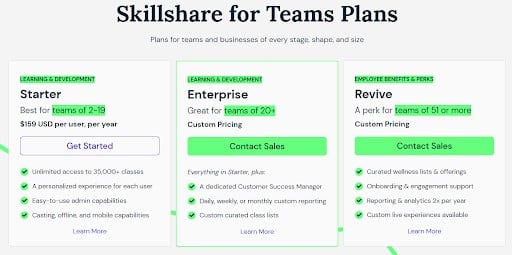 You might be wondering, "Can I get a refund if I start a paid membership?" Yes…within limits.
You can get a refund on the annual membership only, not the monthly plan. You need to request the refund within seven days of the charge being processed. And you can only get one refund. If you try Skillshare out and then cancel, then try it out again at a later time and try to cancel again, you won't get a second refund.
For Course Creators: How Much Does Skillshare Pay?
As a teacher on Skillshare, you can earn money two ways:
1. Through the Royalty System
Each month, Skillshare takes 30% of the premium Membership revenue and puts it into a royalty pool for teachers (the rest of the money goes to marketing and website improvements).
Second, Skillshare adds up the number of minutes that Premium members (both paying and those on the free trial) watched your videos. You must have at least 75 Premium minutes watched across all your videos to qualify for payment that month. (Another negative note: the speed at which your students watch your videos determines how this metric is measured. If a student watches 20 minutes of video at 2X speed, you'll only get credit for 10 minutes).
So, the actual revenue you earn will depend on several factors, especially how popular your courses are. If you get 1% of all the minutes watched in a month, you'll get 1% of the royalty pot.
One major drawback to this system is that this pool of money varies each month, so it's hard to know how much you'll earn, even when you know how many students watched your videos.
2. Through the Referral System
You also get paid a referral fee for every new student you refer to the platform who signs up. This is an additional way to make income, especially if you have your own following and email list that you can drive to your Skillshare courses.
Starting on April 1, 2022, Skillshare referral payments work like this. For every new student you refer to Skillshare through any of your referral links, you will earn an amount equal to 60% of that student's first subscription payment for a Skillshare membership. Skillshare calculates the exact amount based on the membership fees they receive from a user who becomes a paid subscriber via your referral link, net of refunds.
So, if someone that you refer to the site signs up, they get a free one-month trial like anyone else. You don't get paid for that subscriber in that first month. If, however, this new subscriber then decides to keep the subscription and is charged the annual fee in the following month, you would receive a payment equal to 60% of the annual fee (for example, at $167.88, this would come to $100.73).
While it is possible to make a decent amount of money on Skillshare, detractors might caution that there's always a cap on your earnings because students pay so little for the platform. Many course creators use their online courses to drive traffic to the other higher-ticket products and services they offer (and vice versa)—coaching, consulting, membership sites, etc. It's hard to do this when your course students value your courses at just a few dollars a month.
How Does Skillshare Work?
As previously mentioned, Skillshare's primary focus is providing courses for creative workers, entrepreneurs, and freelancers. And since these kinds of people aren't just interested in learning information about a skill, but rather learning how to actually do it, Skillshare focuses on Project-Based Learning. This is how they describe it:
"A project-based class walks students through the process of creating something. We believe that learning by doing is the best way to gain new skills and expand your creativity. By the end of a project-based class, not only have you learned a new skill, but you have something awesome to show for it."
Obviously, Skillshare wants teachers who show their students how to do something, not just talk about a topic. That said, the quality of work projects built into the courses and the amount of participation in those projects varies dramatically from course to course.
The Create category has subtopics for creators of all stripes: animators, creative writers, filmmakers, artists, graphic designers, illustrators, musicians, photographers, UI and UX designers, and web developers.
The Build category has subtopics related to business: analytics, freelancing and entrepreneurship, leadership and management, and marketing.
The Thrive category has only two subtopics at the moment: lifestyle and productivity.
So, if you're looking for a course on how to write character-driven short stories, or if you'd like to learn how to retain high performers and build a strong team in your business, or if you want to learn how to be productive without burning out, then Skillshare is the perfect platform for you.
Types of Classes Offered by Skillshare:
1. Skillshare Originals
These are courses produced by Skillshare, some co-created with partners such as Mailchimp and Patreon. These courses may have semi-celebrity instructors, and the production quality is always high. These classes almost always contain several videos of about eight to 10 minutes each, clearly labeled and meant to be watched in order. You can pause and resume watching these videos as needed, making it possible to set your own learning pace.
2. Classes Created by Individuals
These courses vary much more than Skillshare Originals, both in structure and quality. The best of these classes are structured like the Skillshare Originals, but you will also see some classes that contain as many as 50 short one- or two-minute videos.
In either of these two types of classes, students work on one or more projects and share their work with others who have taken the class, usually in a comments section for the course. The Skillshare community of learners is generally positive in their comments (which is good), but you will rarely see deep, critical analysis (which is bad, if that's what you're looking for).
3. Chroma Courses
Skillshare also offers four-week, immersive small group courses called Chroma Courses. The idea here is to give a small group of learners access to exclusive content from expert teachers with live Q & As and personalized feedback on assignments.
Anyone can enroll in a Chroma Course. You don't need to be a Skillshare member (they accept debit or credit cards only). All you need is access to Slack and Zoom and a good internet connection so you can participate in the live sessions. New Chroma Courses are launched each month, and if a course you'd like to take is full, there's a waiting list option.
Chroma Courses may have other specific materials required for full participation, so be sure to read through the details on the specific course you're interested in.
Finding a Class
From the main page, you can select a category and sub-category that you're interested in to drill down to classes you'd be interested in.
Alternatively, classes are also sorted on the main page based on Featured, Popular, and Trending categories, which means that Skillshare is actively examining how people are engaging with courses and filtering the good ones to the top—which is good news for you if you're looking to take a class.
And you can combine these two search methodologies. Say, for example, you know you want to take a class on music. You can click on the sub-category Music in the Create category, and then browse the Featured, Popular, and Trending music classes.
As far as the student's experience goes, you can turn on Closed Captioning (available in English, Spanish, French, Dutch, and Portuguese), speed up or slow down the videos, pause, skip ahead, go back, etc. When videos are short and have accurate titles, you can easily go back and find specific parts of the course you'd like to watch again.
The Pros and Cons of Skillshare
As with any online learning platform, Skillshare has both pros and cons when compared to other platforms. Here are some of Skillshare's main strengths and drawbacks:
Pros:
1. Lots of Choice: There are tons of classes to choose from. Skillshare has over 35,000 courses available—with more coming every day. If you find yourself scrolling past the same set of courses on another platform, wondering when they'll add some new content, you'll love all the choices you have on Skillshare. You can choose to do a dive deep into a narrow topic or go wide on a broader topic—either way, you'll find all the material you could ever need.
2. Designed for Creatives: If you're a creative, Skillshare could be a great platform for you. There are thousands of classes to choose from, and the bulk of the courses are designed for creatives. This means there's a thriving community of creatives—both teachers and students—on the platform. You'll find a whole community of people who share your values, interests, and ambitions.
3. Project-Based Learning Focus: Skillshare courses focus on project-based learning. This means that most courses contain lots of short lessons that focus on helping students take action now. If you're a learner who loves hands-on learning, this set-up will match your learning style. And for course creators who have a sharply focused topic with multiple small actions steps, it's a perfect fit for your teaching.
4. A Live Course Option: With their new Chroma Courses, Skillshare offers a number of live courses. While there aren't that many in comparison to all the pre-recorded courses Skillshare offers, these classes are a nice option, especially if you like asking questions of the teacher and getting answers in real time. You don't find this option on many other online course platforms.
5. For Teachers, a Low Barrier to Entry: While Skillshare does have a few B-list celebrities teaching on the platform (venture capitalist Guy Kawasaki, author and business expert Seth Godin), the vast majority of courses are taught by "real people" who are experts in their own particular areas. Some platforms require a certain level of experience to become a teacher, but there aren't any formal requirements to publish a course on Skillshare. As long as you follow the rules, you have the ability to tap into a large student marketplace ready to learn.
6. Emphasis on Community: The Skillshare community of engaged creatives benefits both teachers and students. For teachers building their brand, this could be a great way to get in front of a bunch of your ideal customers/clients. For students, finding and feeling like part of a peer group can be hard when your interest is in a niche area, but the interactive community on Skillshare can make classes engaging and fun. Between the thousands of teachers and tens of thousands of courses, there's a good chance that you'll find your "people" on Skillshare.
7. A Very User-Friendly Experience: The platform is easy to use for both students and teachers. It doesn't overcomplicate the process. For students, you can create an account in five minutes, find one or more courses you're interested in, and be learning in less than half an hour. The interface is easy to navigate in both the desktop and mobile platforms and the start/stop functionality that syncs across devices allows you to continue learning in short snatches of time throughout your day, wherever you are.

You can also tailor the learning experience to fit your learning style. Need Closed Captioning? There's a button for it at the bottom of the screen. Like to listen at 1.5X speed? 2X? One click does it. And the ability to "favorite" certain teachers and save Skillshare classes into personalized lists allows you to quickly find your next learning experience when you finish your current class.
8. Accessible on Multiple Devices = Flexibility: Skillshare courses are accessible using just about any device. You can use your browser on your computer, access courses on a tablet, use the mobile app, or even watch on a Smart TV. You can start a class on your lunch break at work, watch more of the class on the bus or subway home, and finish it up on your couch at home.
9. Low Price: Skillshare's pricing is affordable, especially if you commit to a yearly deal, as you'll get more than a 50% discount (billed annually, $167.88; billed monthly, $32 per month). Skillshare also offers a one-month free trial on its Premium membership, so you can test out the full learning experience before committing financially.
10. Earn Free Months with the Referral Program: Skillshare also offers a referral program for members. If you're a Skillshare Premium member, you can refer friends and family to Premium. Your friend signs up for their one-month free trial. If they then transition to a paid Premium membership, you get a whole month free! Earned months will automatically be applied to your account and will be used before your next billing period. Now, that's a sweet deal!
Cons:
1. Lots of Choice: This was listed as a Pro in the list above, but that was referring to students. For teachers, one problem with joining an established platform like Skillshare is that you go up against a lot of other course creators. When you're first starting out, this makes it hard to gain traction (and make money).
2. Designed for Creatives: Again, this is the flip side of Pro #2, above. While Skillshare is great for people in creative fields, if you aren't a creative, Skillshare may not be the best platform for you because the community is so slanted toward creatives.
3. Scope of Courses is Smaller Compared to Other Platforms: For course creators who have a bigger topic to teach, or a more academic topic, or like to go more in-depth, Skillshare's not a good fit. Likewise, students who are looking for an in-depth, multi-week class on a topic aren't going to find what they're looking for here. Most courses are 30 minutes to an hour long—really more of a crash course in a lot of cases. If you need to study more traditional academic topics, like trigonometry and organic chemistry, Khan Academy is the way to go.
4. Most Courses Taught by People You've Never Heard Of: If you're a student looking to learn from a big name in your field (think Neil Gaiman teaching writing, or Bono teaching song writing, or Tim Ferriss teaching entrepreneurial business principles), you aren't going to find that on Skillshare. The platform has thousands of teachers on it, many who are great at teaching their area of expertise, but you probably haven't heard of most of them, so you'll need to explore for a while to find which of these "no name" instructors are a good fit for you. If you're looking for inspirational words and advice from people at the very top of their fields, MasterClass is better.
5. The Quality Varies Widely: The quality of the teaching and content varies greatly from course to course. The upside of having 35,000+ courses is that there's lots to choose from. But the quality of the courses is all over the place. Some are great, some are poor, and many are right in the middle. This means that you'll probably spend a lot of time checking out many teachers and courses just to find the ones that are a good fit for you. Of course, you can use the reviews and the number of students a course has hosted as indicators of quality, but these aren't perfect indicators.
6. Skillshare Courses Aren't Accredited: Students don't receive an official credential for having completed a Skillshare course. This may keep some prospective students away from the platform. Students do, however, get a URL link to show the projects they complete for each course, which is a nice, tangible way to demonstrate your skills. If a credential is something you're looking for, perhaps Coursera or Udacity would be a better fit.
If you're a teacher, lack of accreditation doesn't impact you directly, but it could impact the quality of students you get in your courses, so it may impact you indirectly. That said, accreditation isn't as important for many employers today as it once was; they're more interested in a prospective employee's skills, so maybe this isn't as big of an issue as it would have been in the past.
7. Skillshare Does a Good Job of Marketing Skillshare—Not Such a Great Job of Marketing You: Skillshare does a good job of branding Skillshare, but they don't leave much room for teachers to brand themselves on the platform. Your brand, style, colors, and voice all get swallowed up in Skillshare's own branding. So, if you're trying to use your Skillshare courses to build some credibility in your own field, this set-up works against that. Also, with Skillshare, you don't get access to your students' data, which limits your ability to follow up with them and build a relationship outside of the platform. If your primary goal is to build your following in your own business, this is a problem.
8. Low Price: Once again, this is the flip side of one of the Pros listed above (#9). While a low price is great for students, if you're a teacher on the platform, no matter how good your courses are, students will likely perceive them as having low value because they don't pay much to take courses on Skillshare. This perception is a serious problem if you're trying to build a reputation as a high-value expert in your field.
Getting Started on Skillshare
Opening a Skillshare account is easy. Just follow these steps.
First, go to Skillshare and create a new Skillshare account.
Decide what registration system you'd like to use: your own email, Facebook, Apple, or your Google account.
Once you hit "Continue," check your confirmation email. In this email, you'll see the date you signed up (the date your free one-month trial starts), the cost of the subscription plan that will kick in once your free trial is up, and the date you'll be charged for your first payment. You can also navigate directly back to Skillshare from this email by clicking the "Explore Classes" button at the bottom.
Finding Classes of Interest
Once you've signed up for Skillshare and you're ready to start looking for courses to take, you'll likely quickly realize that the biggest challenge might be finding the right course for your needs. There are, after all, tens of thousands of courses available. It can definitely be overwhelming.
Once you've created an account, you're prompted to choose some areas of interest so the site can suggest classes. Skillshare will then suggest a number of classes from your interest areas right there on your Home screen.
You can also find classes by browsing topics (click Browse in the top left corner), where you can choose All Classes or select one of the categories listed. Once you've made any of these selections, you'll be given suggestions for Featured, Popular, and Trending classes, or you can use the search bar to look for a class on the topic of your choice.
When you find an interesting course, you can bookmark it to watch later. Your account saves all the courses you bookmark, and you can also organize them into playlists, so you don't have to go through the browsing process all over again to find your next class.
Another unique feature of Skillshare is the "Related Skills" section. Teachers can tag their courses for the skills they teach, which helps students find the courses that focus on the skills they're looking to learn. When you click on a tag, Skillshare will give you suggestions for other courses that have been tagged with the same skill. Very handy!
With these tips, you should easily find your first group of classes to take. Now, all that's left to do is pick the one you're most excited about and get started!
Navigating the Interface
Once you click on a class, you arrive at the About page, which includes the introductory video for the course and a list of the individual lessons and their run times.
Below the video player, you'll find several paragraphs of explanation about the class and what you'll accomplish, as well as a teacher bio, where the teacher tells who they are, describes their professional experience, and explains their teaching goals. Reading this should give you a good feel for whether you will resonate with a particular teacher's personality and teaching approach.
You can also find other information about the class on this screen, from the difficulty level (beginner to advanced), how many students have taken the class, and links to class reviews, discussions, a description of the class project(s), and links to resources such as other readings and workbooks.
When selecting courses, you'll want to pay special attention to the student ratings and reviews. Skillshare members can give their opinions about whether a class is appropriate for beginners, for more experienced people, or people at all levels; they can indicate what they liked most about a class; and they can rate a class based on a four-point scale.
The Reviews tab gives you real reviews left by previous students, allowing you to see how well-received the class has been by other Skillshare members. Sometimes a course sounds excellent when you look at the information, but reviews show that perhaps it isn't as good as it sounds. Other times that dynamic is reversed, with a somewhat meh-sounding course getting amazing reviews.
You should probably read at least a handful of the reviews, but be aware that Skillshare sorts them by default from best to worst. To get a more balanced view of the reviews, it might be better to sort them by "Most Recent."
If you click on the Discussions tab, you can comment on the course and help others who may be having difficulty. It's a great way to get further involved in the topic.
The Projects & Resources tab is where you can download any class worksheets and instructions for a class project. Each Skillshare class has an associated project that you complete and upload at the end of the class. This is one of Skillshare's defining features, and it's a great way to cement your learning in place.
For Course Creators: How to Set Up an Online Course on Skillshare
As a Skillshare instructor, you'll be in charge of designing your course, producing the videos and materials, uploading the resources to Skillshare, and keeping in touch with your students, but Skillshare offers many helpful resources to help you get it all done.
Yes, there are guidelines for teachers when creating classes for the platform, but they're mostly common sense:
Teach on a permitted topic
Meet minimum standards for length
Include an introductory video
Include a class project
Have well-organized content
Meet standards for audio and video quality
Vary your visual presentation
Limit self-promotion
Foster genuine learning
Share unique educational value
Adhere to community guidelines and teaching policies
As you prepare to create your first class, you'll want to work through the voluminous teacher resources offered by Skillshare.
Once you're ready to upload the material for your first class, follow these steps:
Step 1:
On the Home screen, click on Teach at the upper right and select Create a Class from the drop-down menu.
Step 2:
On the next screen, click the Start a Class button at the top right.
Step 3:
Next, click on Class Details on the left and enter your class information: your Class Language, Class Title, Class Description, and Project Description.
Step 4:
Use the drop-down menus to enter your Class Category and Subcategory and to indicate the appropriate Level (Beginning, Intermediate, Advanced, or All) and enter your Class Skills tags. When all the fields are filled, save your class information.
Step 5:
Next, click on Video Lessons on the left and start the process of adding your videos. You'll notice that there are a variety of helpful resources that you can access if you need help during the process.
Once you've created your first Class, click Submit and make sure everything looks and works as it should. Your class layout will populate with all the material you've entered during this process.
That's all there is to it!
What are Some Skillshare Alternatives?
You might be wondering how Skillshare measures up to some of the other big online course platforms out there. Let's take a look at how Skillshare compares to three other popular platforms: Udemy, Coursera, and MasterClass.
Udemy is a huge platform. In fact, it's the most popular e-learning platform in the world (with over 150,000 courses, it's more than four times as large as Skillshare). Udemy serves just about every industry and has a course for pretty much anything you could think of. There are a lot of similarities between Udemy and Skillshare, but Udemy focuses more on "hard skills" like learning a new coding language instead of emphasizing the arts and other creative skills, as Skillshare does.
One big difference between the two platforms is the pricing. While Skillshare uses a subscription model which gives you access to all the content on the platform, with Udemy, you pay by the course. Classes start at $11.99 and go up to $199.99. So, if you're just looking for a specific, in-depth course on a topic and don't want to get tied into a subscription, Udemy might be your best bet. If you'd like to take many different courses and not have to pay for them all separately, Skillshare's your jam.
With over 50 million students and more than 4,000 courses created in conjunction with major universities and large companies, Coursera is a big fish in the e-learning world. The main perk of Coursera is that you can earn accredited certificates, something Skillshare is unable to offer. The courses, not surprisingly, are much longer and in-depth.
Pricing for Coursera is very confusing, though. There are multiple programs and price points, depending on whether or not you're taking a course with a certificate option or a degree program. The best way to purchase Coursera is probably by signing up for Coursera Plus, a program that costs $59 a month (a lot more expensive than Skillshare) and allows you to get certificates from every program you take.
MasterClass
Masterclass is another hugely popular online course platform, but it fills a different niche than Skillshare. As the name suggests, the platform is all about learning from Masters in their fields. This means that, with MasterClass, you'll be learning from people like Alicia Keys, Gordon Ramsay, and Neil deGrasse Tyson—people who are well-known, maybe even downright famous.
As is the case with Coursera, the classes on MasterClass are much longer than those on Skillshare, most of them three hours or longer, divided into dozens of lessons. On the other hand, there are many fewer classes – less than 200 classes, compared to Skillshare's 35,000+.
With MasterClass, the focus is more on quality than quantity. The production value is very high and consistent. MasterClass doesn't prioritize project-based learning as Skillshare does, though, so many courses might be closer to what you'd expect to get from a high-quality college lecture.
MasterClass costs $180 a year, which is just a little more expensive than Skillshare. So, if you're looking for longer classes taught by "big name" teachers, go with Masterclass; if you're looking for shorter, hands-on classes taught by people who you may not know but who nevertheless know their stuff, go with Skillshare.
Frequently Asked Questions (FAQs) about Skillshare
During the course of this review, we've answered a few of the commonly-asked questions about Skillshare, for example:
How many classes are there on the Skillshare platform? (35,000+)
How long is the average Skillshare class? (20-60 minutes)
How much does Skillshare cost? ($167.88 per year)
Can you get a refund of your paid membership? (within limits)
How much does Skillshare pay teachers? (a percentage of the royalty pool based on how many minutes of your videos your students watch)
Here are a few more FAQs about Skillshare:
How Do You Cancel a Skillshare Subscription?
You can cancel at any time you want and renew your membership if you decide to return. If you started your membership or signed up for a free trial on the Skillshare website, you'll need to visit www.skillshare.com from a desktop or mobile web browser to cancel your membership.
To cancel your subscription, you will need to log into the account settings of your Skillshare account. The steps to cancel your membership will vary based on your payment method, and you can find all the details on the website.
Can I Pause My Skillshare Membership?
Yes. If you're on a monthly membership plan, you can pause your membership for a maximum of three months via your Payments page. To resume your paused membership, go to your Payments page and click "Resume membership."
What Kind of Support does Skillshare Offer?
For students, there's written material on the website, plus you can access support via email or chat. Teachers have a separate help section with many helpful articles. They can also contact Skillshare's Teacher Support team at teach@skillshare.com. Businesses or organizations signed up for Skillshare Teams can contact Skillshare for Teams for direct assistance at teamhelp@skillshare.com.
Is Skillshare Worth It?
Skillshare offers over 35,000 short video courses, mostly focused on the arts and creative work. The focus is on pragmatic classes where you learn a very defined skill, practice it through a project, and then share your project with the class.
The annual price is affordable, especially when you consider how many courses your $167.88 annual subscription gives you access to.
No, Skillshare isn't the perfect fit for everyone and every situation (what course platform is?), but if you're looking to beef up your skills in a specific creative niche, Skillshare is absolutely worth it.
To learn more about online course creation, we invite you to enroll in our Free Hybrid Courses Bootcamp so you can set yourself up for long-term success.
Let's Start Building Your Online Course!
In our FREE Hybrid Courses Bootcamp, we'll walk you through how to transform your knowledge and expertise into a profitable online course… one your students will love.