The Complete 2023 Teachable Review: Features, Pricing & More
Emjae Williams
Updated by Willy Wood
You've come up with a great course idea, done the research, wrote the content, and recorded the videos… Now what?
Your next step will be deciding how to deliver and manage your amazing new course. To successfully do this, you need a learning management system that frees up more of your time so you can be more focused on delivering quality content.
If you've started looking into learning management systems, chances are you've come across Teachable, one of the most popular systems used by course creators today. We're doing a complete review of Teachable to help you decide if it's the ideal system for your needs.
You'll learn:
What features Teachable offers,
What the different plans cost,
The pros and cons of the platform,
How to set up your first online course on Teachable,
Who the platform is best for, and
We'll even compare and contrast it with a few other popular platforms.
Ready? Let's dive in!
What is Teachable?
Teachable is an all-in-one learning management platform designed to help course creators produce and sell their course content online. The platform was founded in 2013 by Ankur Nagpal but at the time was called Fedora. As a course creator himself, Ankur created the platform with other course creators in mind.
In two years, Fedora grew from a team of 1 to a team of 15 and was eventually renamed Teachable. At this stage, it then evolved to include managing coaching services. In keeping with its original mandate to make course creation and delivery more seamless, Teachable handles everything from hosting to sales monitoring and payment processing.
As of 2023, Teachable has over 100,000 instructors, and entrepreneurs have used the platform to sell over $500 million worth of courses and coaching products to over 18 million students.
Teachable Pricing
Teachable wants to be accessible to course creators – after all, it exists to make their lives easier. With this in mind, they have a variety of pricings plans catering to different types of course creators:
Free: Yes, they offer a free plan! This option is perfect for those who aren't yet sure if this is their calling or just want to get a feel for the platform.
Teachable breaks its paid plans down into tiers, each offering new perks than the tier below it. That said, all plans offer you the ability to serve an unlimited number of students.
Basic: This includes all the features of the free plan and costs $59 per month or $39 per month with an annual subscription. In addition to the free features, you'll only pay 5% per transaction, be able to conduct live group coaching, and be able to sell five products of each type (courses, coaching, and downloads).

Pro: This is their most popular plan and costs $159 per month or $119 per month with an annual subscription. At this price point, there are no transaction fees, so all the income you earn is yours to keep. You'll also be able to create upsells to increase order value, incorporate affiliate marketing, and you can also take advantage of removable branding so you can brand your courses with your own business's logo and colors. You can sell up to 50 products of each type with this plan.

Pro+: This level takes the amount of products you're able to sell to the next level–up to 200 products of each type. Pro+ costs $249 a month or $199 per month with an annual plan.

Business: Priced at $665 per month or $499 per month with an annual subscription, this plan is ideal for large teams or education-based businesses. There are no transaction fees, the account allows for 20 admin-level users, custom user roles, and advanced theme customization to make it true to your brand. Plus, you can create an unlimited number of products of all types.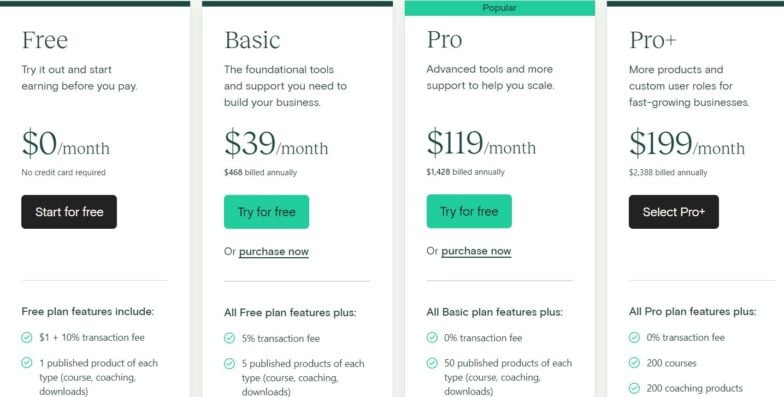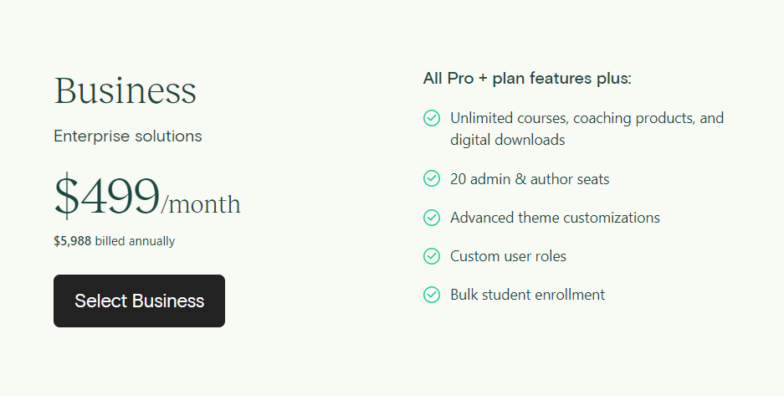 Review of Teachable Features
We touched on some of the features of each plan but what does that mean for your and your students? Let's take a closer look!
Security
Not only will you receive confidential details from your students, but you'll also be sharing personal details of your own. Teachable is aware of this and has in place numerous security features to keep its users safe.
They have a dedicated fraud team and a 2048-bit SSL certificate to protect their users' information during login and checkout. The team manages outages 24/7 to ensure constant and seamless access to your account and content. The platform also offers instant upgrades so their software is always up-to-date.
To keep financial information safe, they only partner with payment providers that are PCI (Payment Card Industry) level-1 compliant.
Course Delivery and Student Engagement
Teachable hosts all course content in the Cloud, giving you and your students easy access, without installing bulky software. Since Teachable hosts all your content, you don't need a website to start building your course. But if you do already have a website, you can easily link it to your Teachable account with a custom domain.
Teachable's numerous built-in features allow you to create basic and graded quizzes to help track your students' progress and keep them engaged. With the Pro plan and above, you can offer certificates to make your courses more appealing. You can also allow limited access to specific content until your students meet certain criteria (such as completing a particular course/unit).
For an even more integrated experience, create milestones and challenges, create a community, and set up one-on-one sessions with your students. Teachable integration with Calendly allows students to book these sessions and schedule their classes at their convenience.
Customization and Integration
Make the experience your own by incorporating your brand persona into the design of your domain and courses. Using the power editor, you can create compelling videos, multimedia lectures, quizzes, and coaching sessions. You'll have access to design templates and training to help you create a truly unique experience for your users.
You aren't only limited to what Teachable offers as they also have an extensive list of integrations. This allows you to connect your account to various scheduling platforms, analytics services, email service providers, and community platforms. Some of the most popular integrations include Google Analytics, Zapier, ConvertKit, Facebook Pixel, and MailChimp.
Payment Management
Teachable helps you to create an easy-to-use sales page that you can customize to suit your needs. You can also accept payment in over 130 currencies and accept PayPal or mobile payments. In addition, they offer a buy now, pay later option. If you need assistance with managing payouts, you can set up your account so Teachable can make payouts to affiliates, your team, and course collaborators.
And they don't just help you manage and track payments – they offer you ways to increase your revenue. You can generate coupons or vouchers, create a referral rewards program, subscription/membership plans, course bundles and so much more! Teachable tracks all this within their system so you can keep an eye on how things are going.
Reporting/Data Tracking
As a course creator, you'll want to be sure that all your efforts are paying off. This means you'll need to closely monitor your sales and course performance. Teachable's comprehensive dashboard allows you to easily track your sales and student insights. You can monitor student enrollment, engagement in sessions, and course completion rate to keep better tabs on their progress. Using third-party integrations, you can even create surveys to get direct student feedback so you'll know what areas are successful or need improvement.
What are the Pros and Cons of Teachable?
Teachable is undoubtedly a great platform for course creators but no platform is perfect. To help you make a properly informed decision, here are some of the pros and cons to consider.
Teachable Pros
Great plan options: If you just want to see what Teachable has to offer, you can create a free account that gives you access to basic features. Each tier includes all the features of the one prior along with additional perks that allow you to create a better experience for your students. You're also given the option to purchase monthly subscriptions or an annual plan at a discounted rate.
Easy to set up and manage: With design templates, tutorials, and tech support, it's fairly simple to set up your account, even if you aren't tech-savvy. Teachable automates many of your processes so you won't have to spend as much time closely monitoring your account. Payments, registrations, bookings, and site upgrades all happen without your active involvement so you can focus on delivering great content.
Supports various content formats: There are many great Teachable features but this is among the best. You won't be restricted in how you deliver your content as Teachable supports PDFs, images, video, and audio files. This will allow you to create more dynamic courses and cater to different learning styles.
Built-in payment system: Teachable removes the need for third-party payment systems, giving you additional assurance of security. Though you do have the option to integrate any of the popular portals if you so choose. Their system processes all your transactions so you don't have to manage incoming payments or payouts.
Teachable Cons
Challenging site builder: Based on Teachable reviews, one of the most common complaints about the platform is the challenge of building pages. While they offer one-click upsell pages, designing them can be difficult as the input boxes are small and copy-and-paste is not facilitated with templates. Additionally, if you aren't tech-savvy, you might need a web designer to make any advanced changes to the templates they offer.
Few customization options: In trying to make course creation simple, Teachable has created a very templated approach that isn't readily customizable. While creators can diversify the content they deliver, it all has the same layout. The templated pages within the system also offer limited customization. This can make it hard to stand out from other course creators.
Transaction fees: Both the free and basic plans attract fees with every transaction and while the rates seem low, over time they begin to add up. To avoid these fees, you'd need to purchase one of the more expensive plans which is a huge price leap. This is especially true if you don't need the additional features.
How to Set Up an Online Course on Teachable
Though Teachable makes the process of creating a course fairly simple, it is quite tedious. Your first step is to create an account on the site by clicking the 'Start for Free' option at the top of the homepage.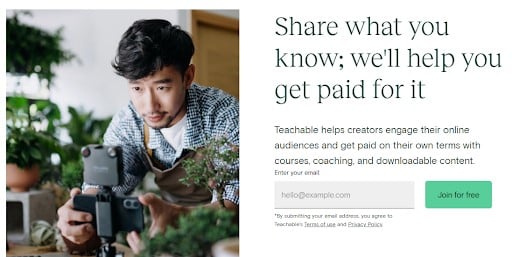 You'll then receive a confirmation email to authorize access.
After which you'll be prompted to share a few basic details about your business.
Now that your account is completely set up, you can work on branding, setting up landing pages or payment, and creating a course, coaching program, or digital download.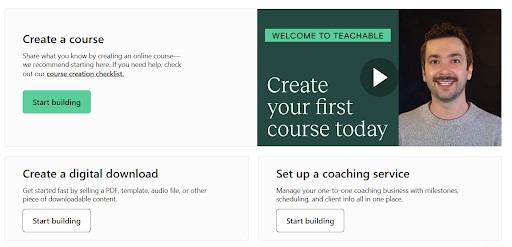 Let's say you want to create a course. Once you select that option, you'll be asked to add the name of your course.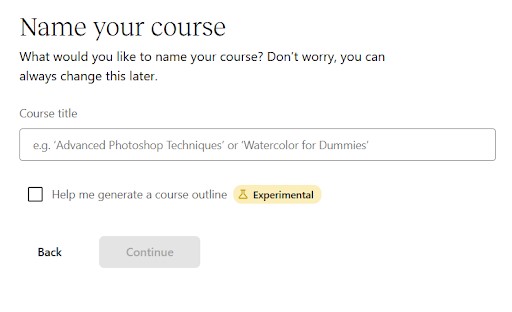 Select a course name that makes it clear what the course is about. You can change this at any point while working on your course material.
Once you've named your course, you can move on to adding the learning material. Remember – Teachable supports various file formats, so you don't have to stick to written or video content.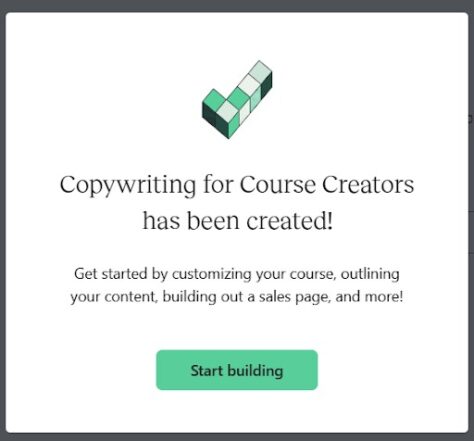 You will then be taken to a screen where you can create an outline for your course. You have the option to create your course outline manually, have AI create your outline from a simple description, or to copy material from an existing course.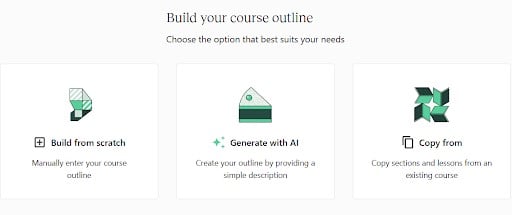 If you choose to build your course from scratch, the standard course template will automatically be generated and this is where you decide how many sections and subsections your course will contain. You can click to import content or click the plus signs to create new lessons and sections.

You can also go to the Templates tab and choose either the Simple template or the Colossal template.
Also, you can preview your content before publishing by hitting the Preview button. This will give you an idea of what your students will see so you can make any necessary changes.
Once you're satisfied with the curriculum, layout, and course material, you can move on to adding your price option(s).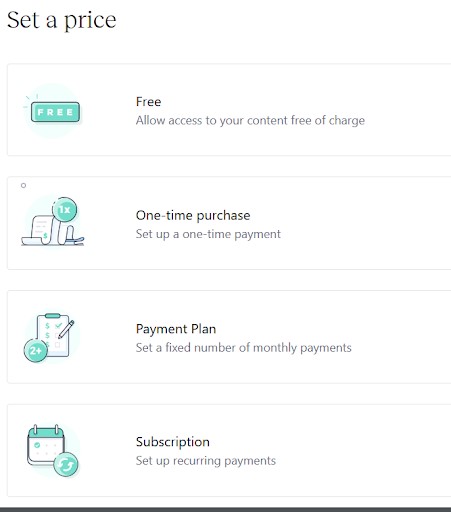 Each payment plan requires a name and description and allows you to set a limit on students' access. If you have a paid account, you can also set an enrollment cap so courses are not overbooked.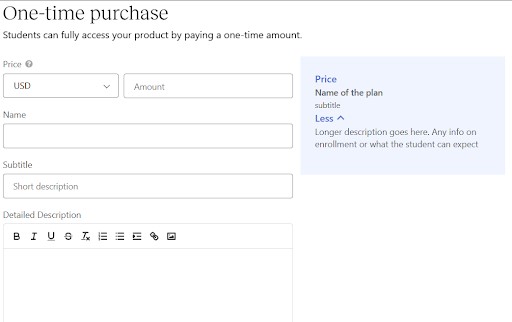 This is your final step in setting up your course, but once this is completed, you'll need to customize your pages to reflect your brand.
The most time-consuming aspect of this process is importing and formatting your course content, especially if it wasn't designed with this layout in mind.
Who Teachable Is Best For
Teachable is perfect for anyone who runs an expert business looking to teach their audience about their area of expertise. These educator-entrepreneurs (or "edupreneurs," if you like) include consultants, coaches, speakers, authors, and trainers.
Consultants: You can use Teachable to reach out to and serve clients from all over the world without having to commit massive resources to your marketing campaigns and without having to hop on a plane and do site visits.
Coaches: If coaching is a major part of your business, Teachable is a great way for you to charge for and deliver your services to a global audience through integrations like Zoom and the Calendly scheduling app. Add prospects, reach out to book a call, deliver your coaching, and bill your clients all within the platform.
Speakers: Teachable's no-code software lets you package your knowledge and skills and share what you know with the world. During the COVID pandemic, people who make the bulk of their income from speaking learned that there were some big advantages to speaking virtually as opposed to in person. You can do all your virtual presentations through the Teachable platform with Zoom integration.
Authors: Teachable provides built-in marketing and sales tools for authors to build and scale their businesses without increasing marketing costs. Many authors know that expecting a publisher to do all their marketing usually doesn't work all that well. On the other hand, many have also discovered how hard it is to do all the work themselves. Teachable offers a best-of-both-worlds option.
Trainers: You can use Teachable to get your services in front of your target audience by providing recorded workshops and live webinars (by embedding a third-party streaming platform into your Teachable school) to share your knowledge and sell your products.
And don't worry if you don't consider yourself to be a "techy." You can build stunning, full-featured course websites even with limited technical knowledge and incorporate your business's own branding with a Pro subscription or above.
So, whether you're a yoga instructor, a musician, a financial advisor, a watercolor artist, or a mountain climber–or anything else–if you have expertise to share and a passion to share it, Teachable is the perfect platform for you.
What Are Some Teachable Alternatives?
We've covered quite a lot of ground on what Teachable has to offer course creators, but maybe you'd like to do a little comparison shopping. There are many other options to choose from and we'll take a brief look at three of the most popular ones.
Skillshare

Thanks to its stellar marketing, particularly during the pandemic, Skillshare is one of the most well-known online learning platforms. Much like Teachable, it hosts thousands of courses from hundreds of creators in various industries.
Some of the perks of Skillshare are that it is extremely easy to use for both creators and students, it places a strong emphasis on communities, and it's the go-to earning platform for creatives.
On the other hand, Skillshare doesn't do such a great job of helping course creators become established as it focuses its marketing more on the platform than on the courses. There also isn't the same earning potential as subscribers pay for the platform and not directly for your courses.
Thinkific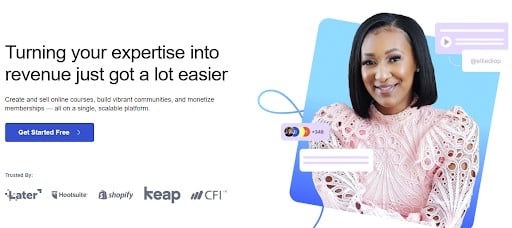 Another excellent alternative to Teachable is Thinkific. They offer a wider range of payment plans to suit the varied needs and budgets of their users.
Like Teachable, there is a free option and 3 additional paid-for tiers: Basic ($49/month or $36/month if paid annually), Start ($99/month or $74/month if paid annually), and Grow ($199/month or $149/month if paid annually). These prices are a little more affordable than Teachable's prices, but what you get at each price point varies between the two programs, so be sure to do a point-by-point comparison. Thinkific does also offer a Thinkific Plus premium plan, but you have to contact their sales team to discuss pricing.
For their part, Thinkific doesn't charge a transaction fee and offers more technical support than Teachable through their team of experts and peers within the Thinkific community. They also offer easy-to-use web design options without the need for extensive coding, so you can customize your pages without being a web design expert.
Teachery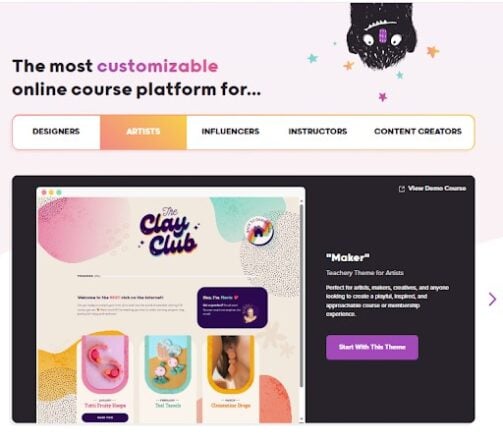 While perhaps not as widely known as the other options, Teachery offers course creators a simple, straightforward approach to course creation. Much like Teachable, they aim to offer an easy way for course creators to earn by sharing their knowledge online. What this has resulted in is a platform that is perfect for creators who aren't tech-savvy but want to present a visually appealing page to their students.
With that said, it might not be ideal for more advanced creators who want to have more control over their page setup. Teachery has only one payment plan – $49 per month or $470 annually with a free 14-day trial. They don't charge fees on transactions, and creators are not restricted to a specific number of courses, enrollments, or payments.
The bottom line is, while Teachable is an amazing option, there are many other course creation platforms and software you can consider if it doesn't check all your boxes.
Teachable FAQs
Do I Own My Content/Courses?
Though Teachable hosts your content, all the data, information, or material produced by you that you upload or otherwise share via the platform is and remains yours. Teachable does not claim any intellectual property rights over its users' content. They cannot use the content you produce in any way other than was agreed to in the terms and conditions when you created your account.
How Will I Receive My Payments?
Payouts are made directly to your bank account through Stripe according to the payout schedule you've selected. You can choose to have payments made daily, weekly, or monthly. Note, however, that there is a processing period for these payments. Daily payments are processed every 2 business days, so sales made on Monday would be paid out on Wednesday. Weekly payouts are done only on Thursdays, whereas monthly payments are made every 30 days on the first business day of each month.
Are There Any Fees for Payments?
Teachable charges students a processing fee depending on the method of payment used and this applies across all Teachable plans. The processing fees to date are:
US Card fee – 2.9% + 30¢
US PayPal fee – 3.49% + 49¢
International card fee – 3.9% + 30¢
International PayPal fee – 4.99% + 49¢
Teachable also charges transaction fees which they calculate on the total transaction earnings (the amount before taxes) minus any credit card/PayPal processing fees as follows:
Free plan – 10% + $1 fixed fee
Basic plan – 5%
The platform will only waive these fees if you set up a custom payment gateway with a third-party payment option such as PayPal or Stripe. In that case, only their transaction fees would apply.
How Much Do Other Course Creators Make On Teachable?
Some full-time Teachable content creators earn up to $10,000 monthly or more selling a mix of courses, coaching, and digital products. Of course, you should note that how much you earn from a Teachable course is dependent on how you price and market your course.
The platform offers four payment plans for you to choose from – free, one-time payment, subscription, and monthly payment plans. You can use one or any combination of these for your courses.
Is Teachable Right For You?
This breakdown of Teachable has covered most of the key points you need to consider when choosing a course creation platform. There are many clear benefits to using Teachable such as the easy-to-use templates, the number of administrative and technical functions they manage, and its reputation for being a safe and secure platform.
Despite this, it does have drawbacks that might not make it ideal for you. There are transaction fees for both you and your students, limitations to how much you can customize, and the user interface for creators can be hard to navigate.
Whether you chose to create your courses with Teachable, one of the alternatives we shared, or a completely different course builder, remember that what will ultimately make it successful is you and your passion.
To learn more about the process of creating online courses, you may want to join us on our Hybrid Courses Bootcamp. It's completely free to join and teaches you how to create a successful and profitable online course.
Let's Start Building Your Online Course!
In our FREE Hybrid Courses Bootcamp, we'll walk you through how to transform your knowledge and expertise into a profitable online course… one your students will love.