Teachable Review: A Simple, Easy-to-Use Learning Management System
Course creation is tough work.
You spend hours pulling all your hard-earned knowledge out of your head and into a course format that you hope will make sense to your students. You don't want to struggle with learning a new platform in which to place your fabulous course.
I've spent a little time playing in some learning management systems (or LMS) to give you a better feel for what is out there and help you make an informed decision for your next steps.
Today we'll focus on Teachable.
Teachable Review: A Simple, Easy-to-Use Learning Management System
Click To Tweet
Overview of Teachable
Teachable's premise is "Everything is Teachable." They promise that you can provide a "world-class learning experience" through their platform, with features such as:
Exceptional learning experience
Simple yet powerful website customization
Fully optimized for web and mobile
User-friendly website builder
Advanced developer customization
They have a tiered pricing structure to fit a variety of needs and budgets, as shown here (I opted for the free version to take a test drive of the platform.):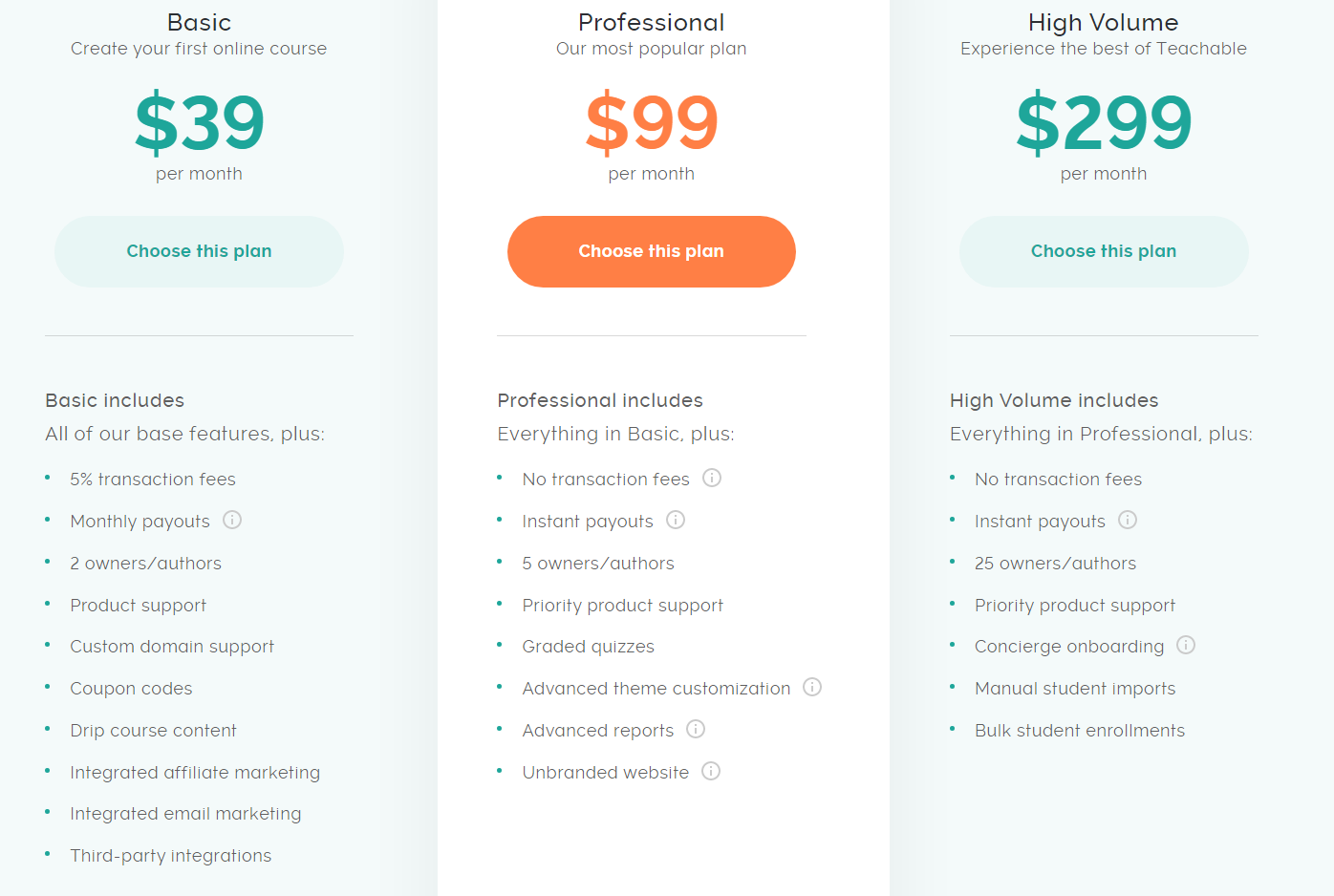 Additionally, they have a reassuring track record that includes 4 million students, 20,000 active courses, 7500 online instructors, and $50 million earned by instructors to date.
Some of the big names who use Teachable include authors like Joanna Penn and Mark Dawson, enterprises like The New York Times, niche experts like Alec Steele who teaches online blacksmithing. Oh, and this guy: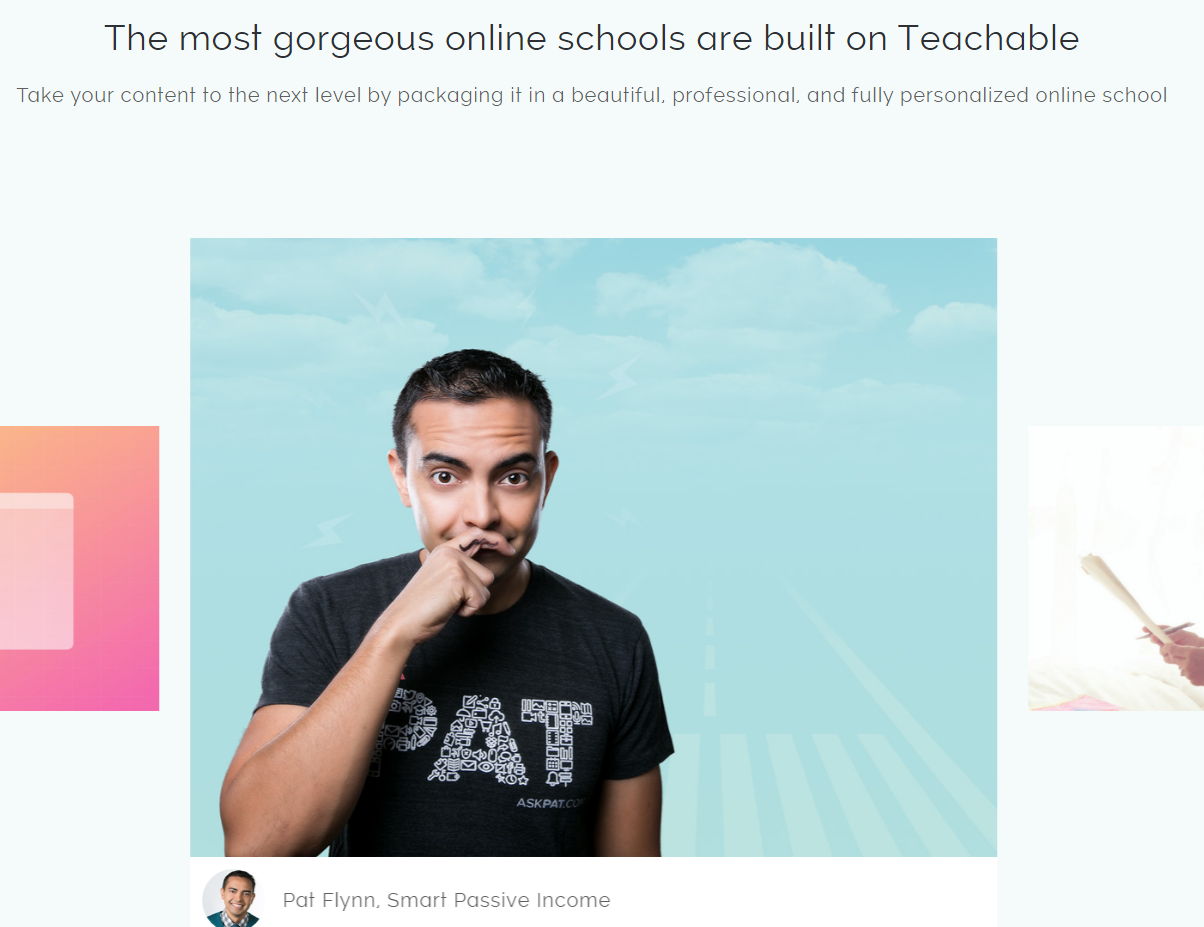 How cool is that?  😉
Setting Up My School
The website promises that setting up my school and course should be effortless. Of course, I had to find out if this was true.
Step 1: Enter your name, email address, and password.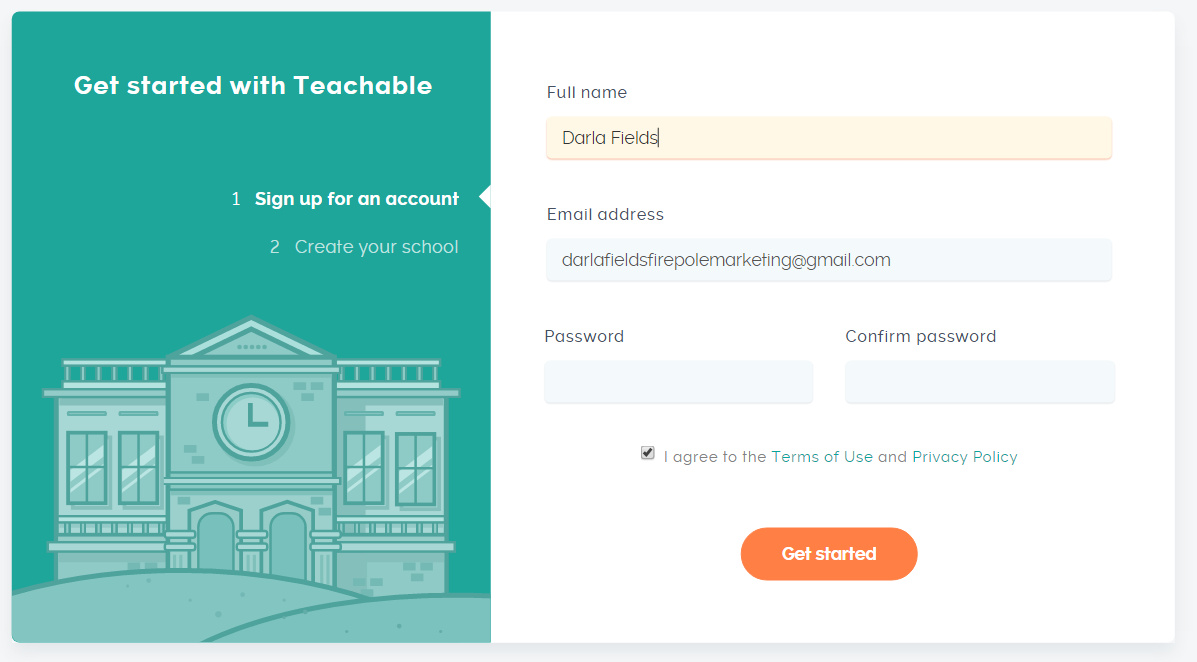 Step 2: Name your school.
(I know… mine's not very original.)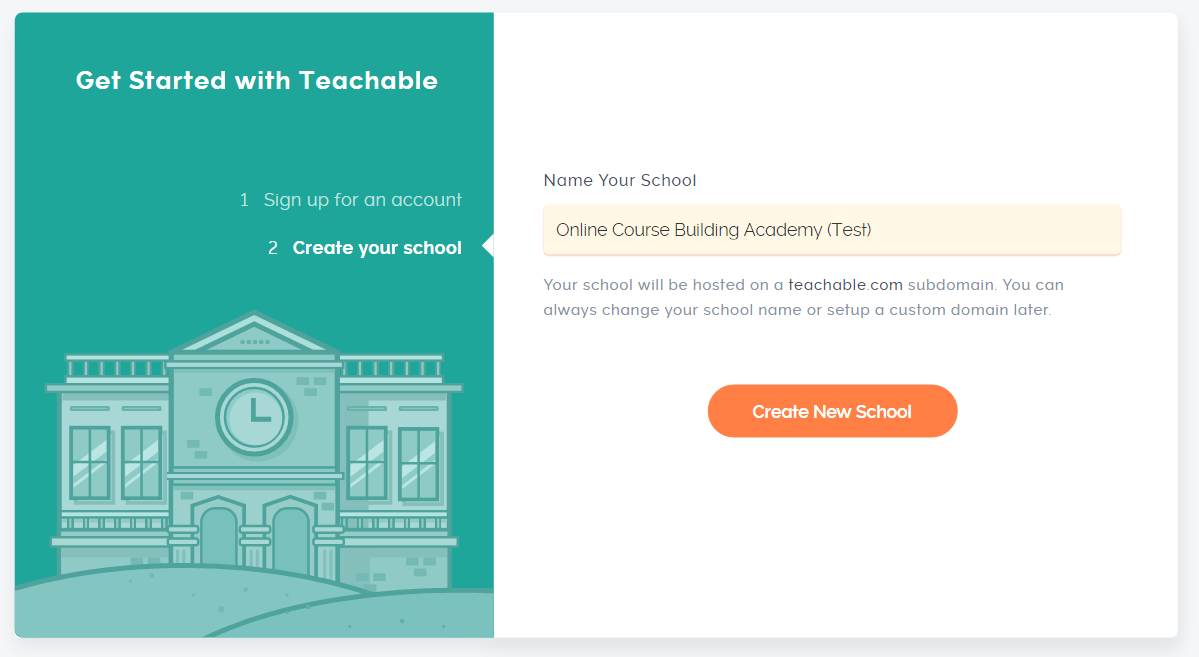 Step 3: Confirm your email address.


Step 4: You're ready to build.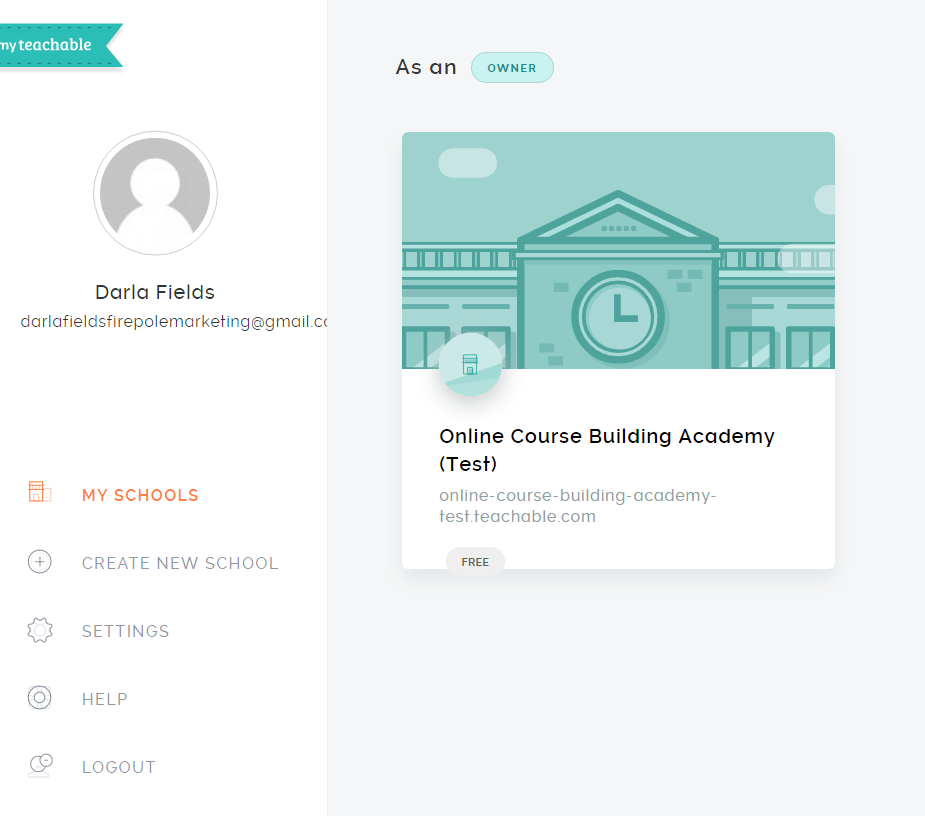 Setting up my school was super easy. But what about setting up my first course?
Setting Up My First Course
I was a little concerned about what to expect. I had my coursework ready but when you're learning new tools, you just never know what may pop up.
Let's just say I was pleasantly surprised at the process. Starting with the dashboard.

Since there was a tutorial, why not see what they had to say instead of forging ahead into the abyss? When you're a busy entrepreneur, you need all the help you can get.
After watching the 5-minute video, I created my first course: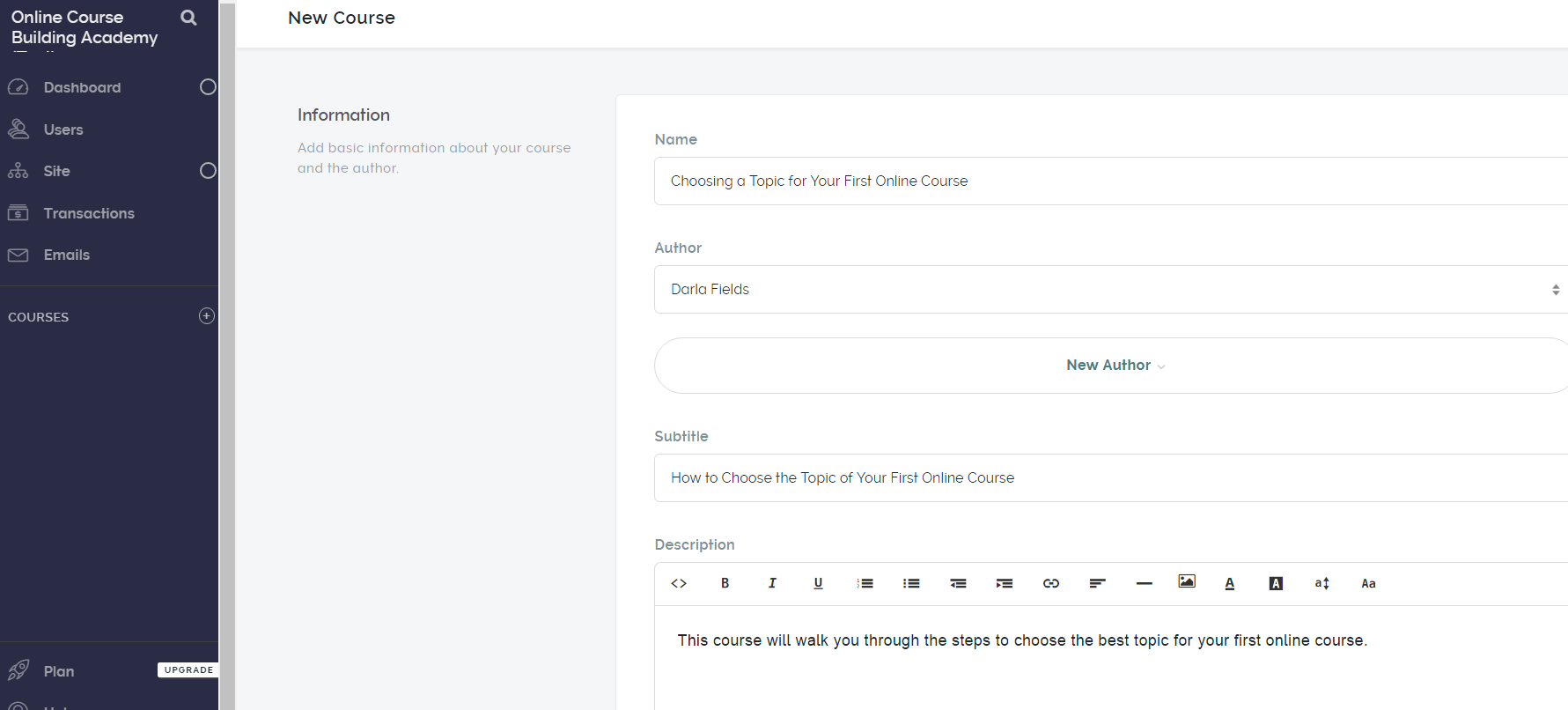 And now I could add my curriculum:


You can drag and drop files into each lesson: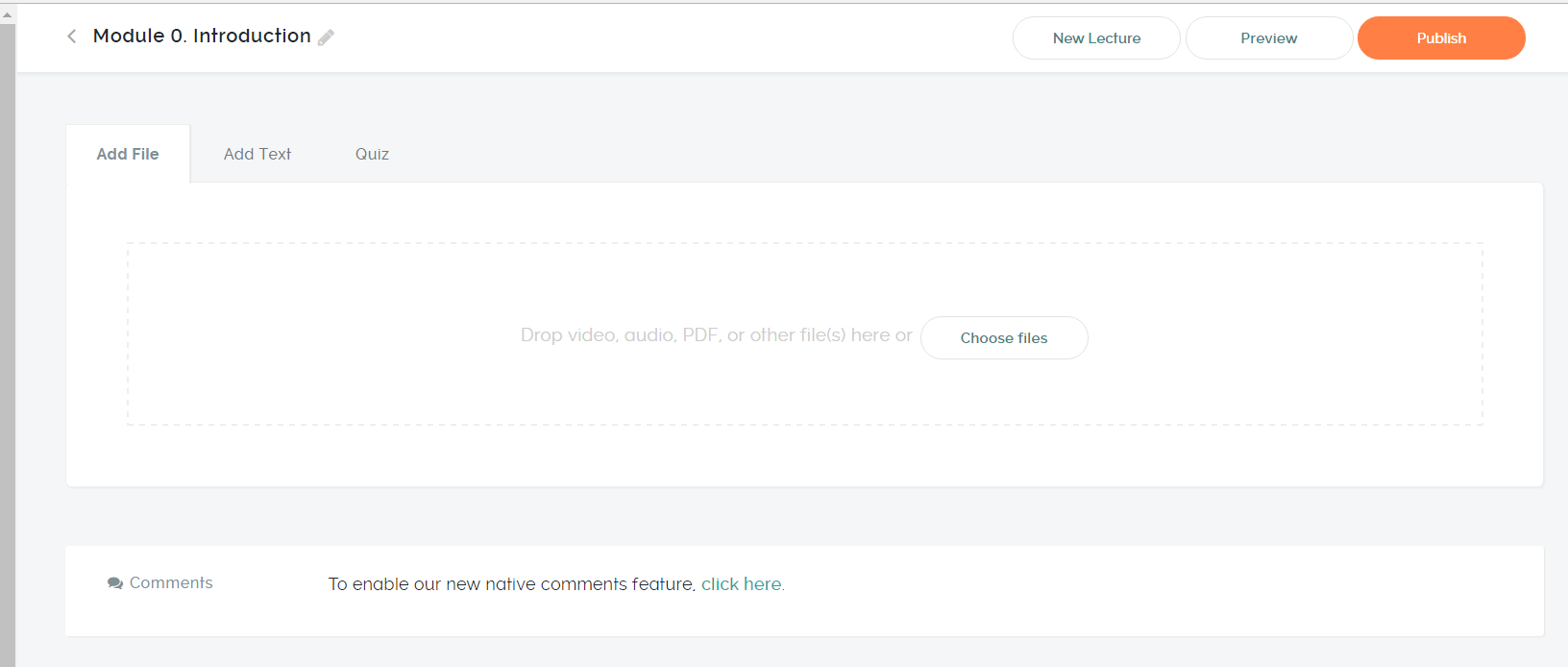 To add a new lesson, I just clicked here:


But then I realized I only had one lesson for Module 0, so I needed a new Module. What to do, what to do?
I looked at the Knowledge Base….

After a few quick clicks, I discovered that I could use "Sections" to build out each Module. While it might seem like a no-brainer to some, I needed the ease of the knowledge base to show me the way to go. Who has time to dissect everything?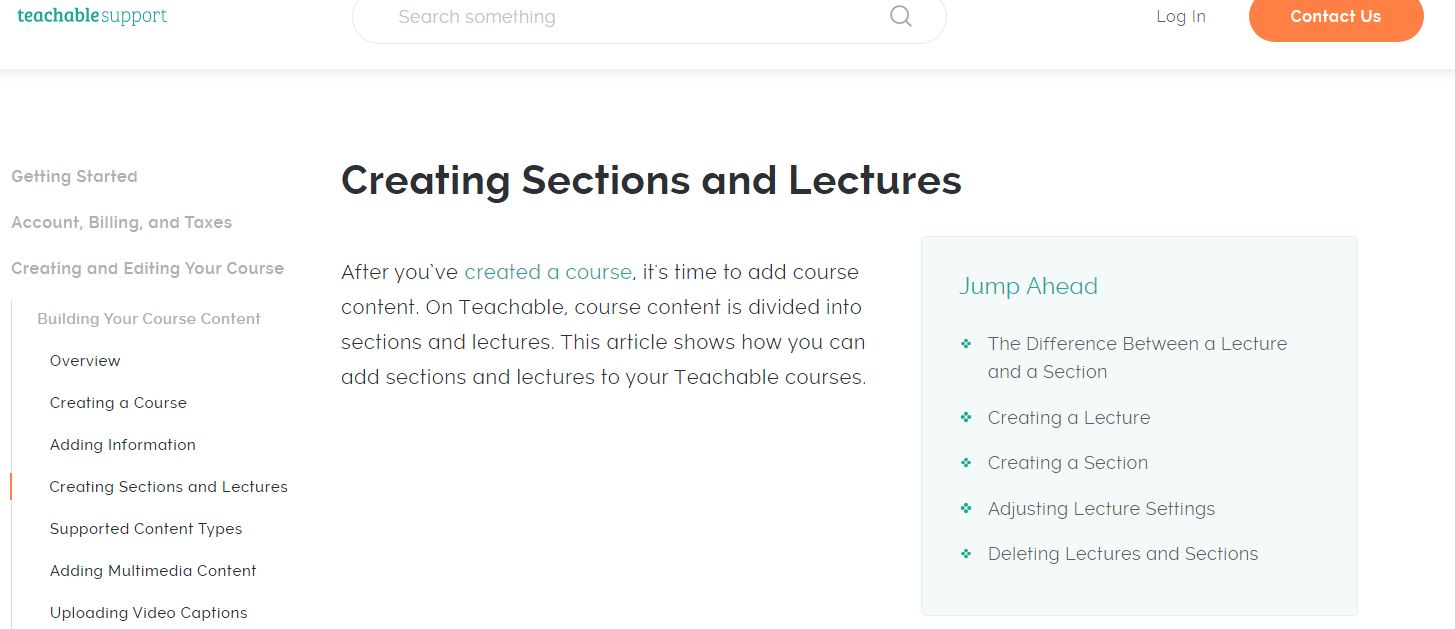 As I continued to enter my lessons, I realized something: I missed Lesson 1 of Module 1.


But it was an easy fix. Simply input the lesson…


… then click and drag to where you want it to go.


Super easy!
Now to add my quiz.
I created a new lecture in Module 1, titled it Module 1 Quiz, clicked on the Quiz tab, and added my questions and answers. It lets you mark the correct answer. Pretty easy, really.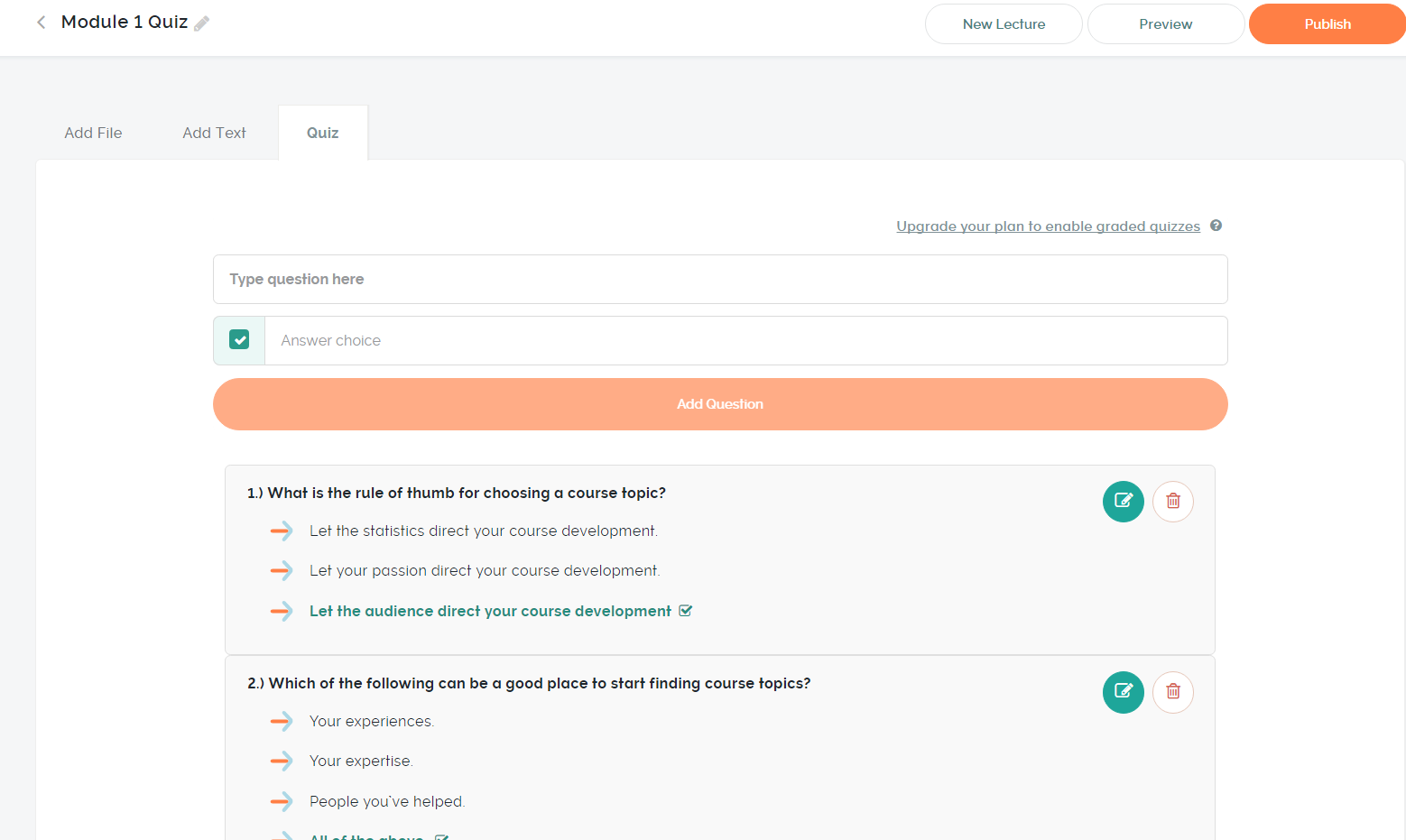 Since I'm using the free version of Teachable, I don't have graded quizzes. However, when I took the quiz as a student, it told me I got 100% correct.
Good thing it was an open book test. 😉
I was going to add a certificate of completion, but I didn't find a simple way to do it within my course. I scoped out the Knowledge Base and discovered it could be done using Teachable, WebMerge, and Zapier. Not as easy a fix as I would have liked, but at least I know it's possible.
With the course entered, I went to the next step: pricing. You can set up free, monthly or subscription, one-time payment, or payment plans. I made the course an easy $10 a month and headed to check out my sales page: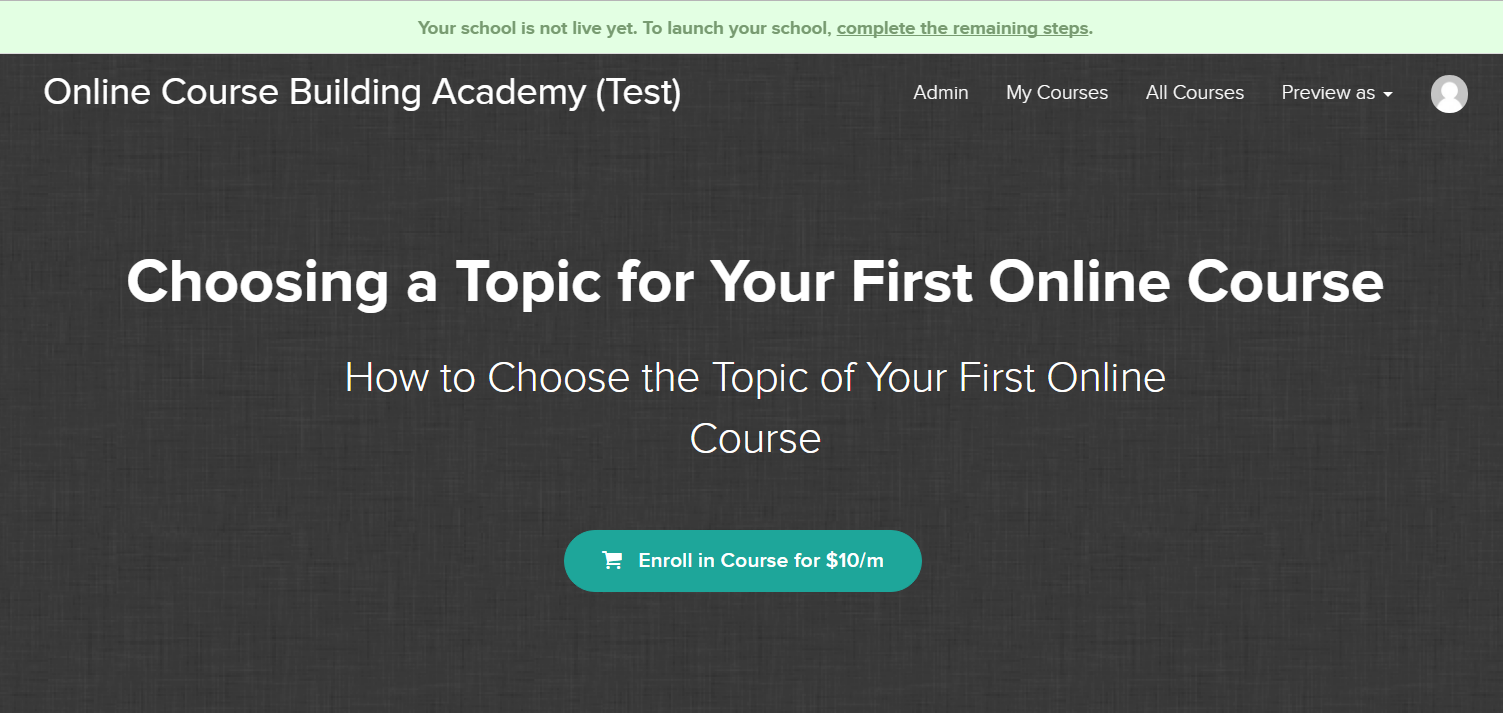 Oops! A little boring. Let's try again: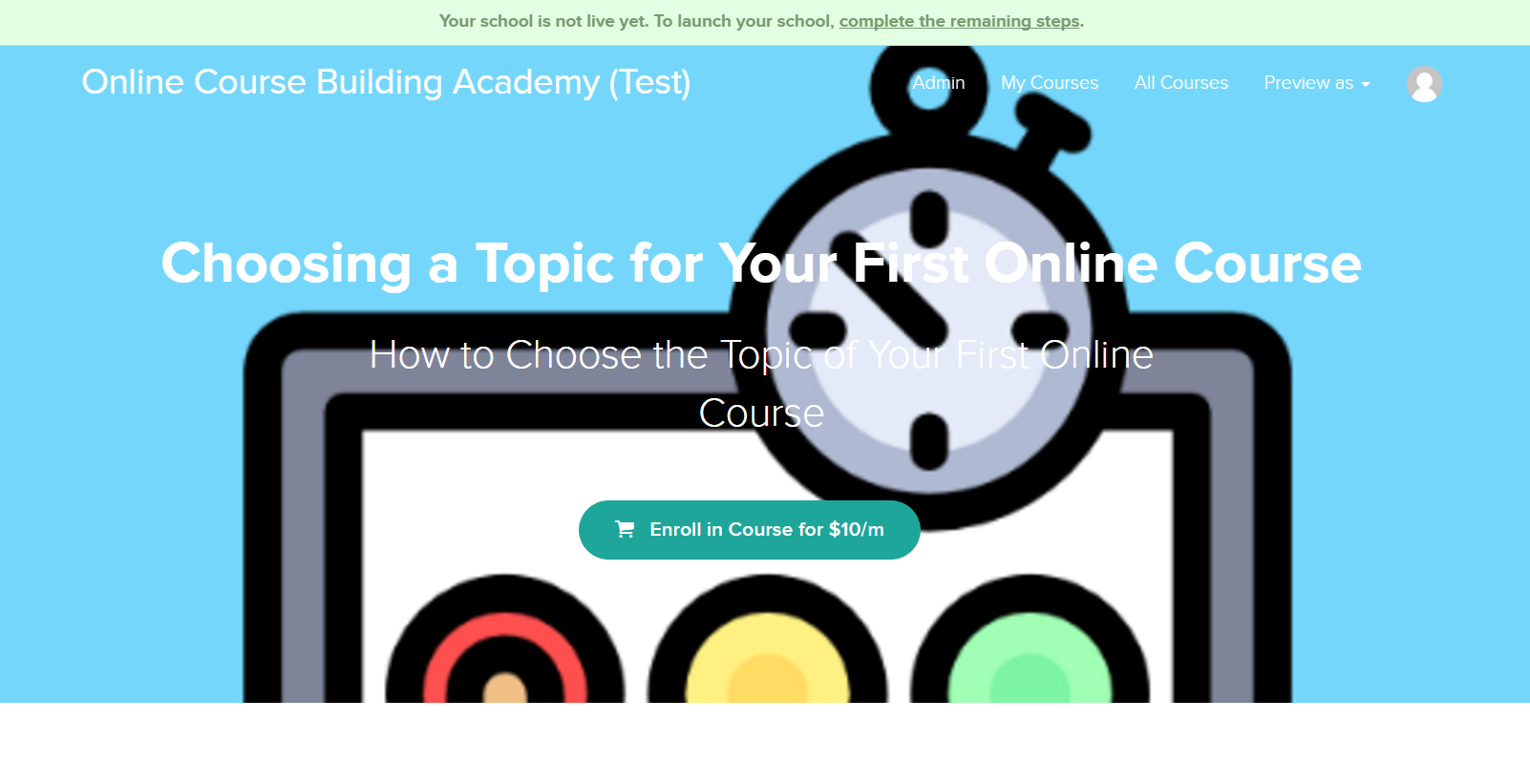 That's better. I was able to easily upload an image on my sales page. I also used a template, but you can completely customize your landing pages.
While I didn't add much to my sales page by way of copy, there's room for additional sales copy. Here is a reduced size screenshot of the whole sales page format from a viewer's perspective: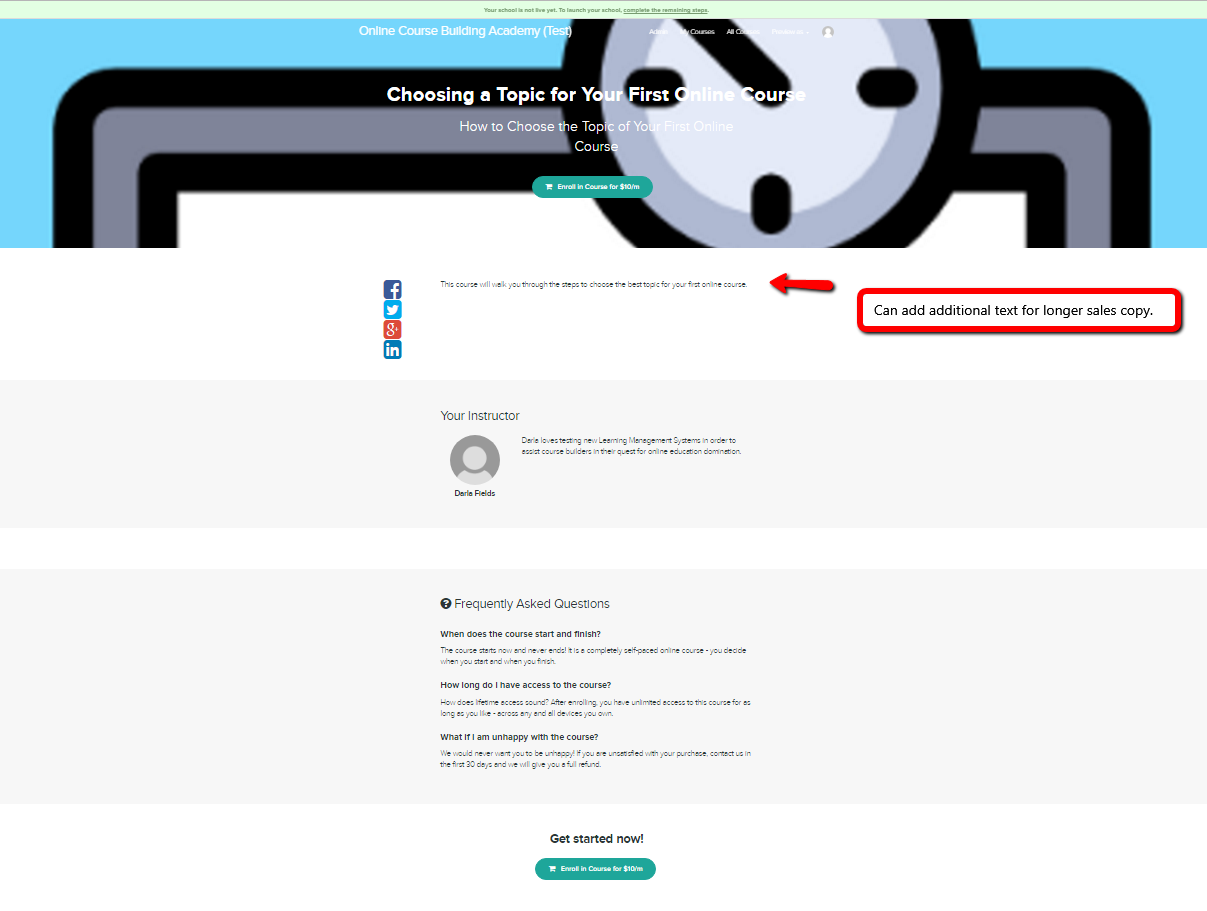 When all was said and done, I put in about 2.5 to 3 hours on my course so it was up and ready to publish. I'm sure that with each course I build, the process would become quicker and easier.
Summary of Features
FEATURES
YES, NO, AND/OR DETAILS

Number of Courses and Students

Unlimited courses and students

Course Content

Drip according to schedule

Yes – with paid versions

Self-directed (unlock next module as student completes previous)

No

All modules available as soon as student enrolls

Yes

Upload and hosted on site

Yes

Yes

Yes, mp4, m4v, avi, smaller than 1.5GB

Only via third-party platforms like: LiveStream, UStream, Adobe Connect, YouTube, Twitch.tv

Sales Page

Yes

Yes

Other landing pages available

Thank You page, Privacy Policy, Terms of Use.

Payments

Integrates with which payment processors

Stripe, PayPal, Mastercard, Visa, AmEx

Can you set up different payment arrangements:

Yes

Yes

Yes

Email Marketing

Integration with email service providers

Mailchimp, AWeber, Infusionsoft, Mixpanel, and others. All via Zapier.

Yes

Quizzes

Yes

No

True/False

Assignments

No
No
No
No

Community/Discussion forum

Yes

Can enable comments at the bottom of each lesson.

Google forms, surveys, etc.

Just add comments.

Badges/Certificates

Certificate of Completion can be set up with Teachable, WebMerge, and Zapier. Not automatically in the system.

Analytics

Which metrics are available?

Sign-ups, revenue, coupons used.

Google Analytics

Individual student tracking

Yes

Yes

Affiliate management

Yes

Customer Support

Got an automated reply with a ticket number within a couple of minutes from submitting the question. Received an answer to my question within approximately 24 hours.
Takeaways
If you remember from the beginning of this post, Teachable promises an effortless setup and a simple yet powerful website customization. It delivered. The platform is intuitive and easy to work through. Even though Teachable offers website customization, if you don't know code, you don't have to use it.
This learning management system is intuitive and easy to work through.
Click To Tweet
What I Liked Most
I loved that I could easily copy and paste my content into the course. Uploading images was simple.
The knowledge base was, well, pretty knowledgeable and super easy to navigate.
What I Liked Least
I was surprised that the platform didn't have a built-in gamification or badge system. Instead, you have to use Zapier between Teachable and WebMerge to institute a certificate of completion. It doesn't appear that you can use gamification on Teachable.
This could be a deal breaker. If you're big into badges and games, Teachable may not be the best choice for you.
I didn't find a way to allow students to submit homework other than in the form of quizzes. For homework submissions, your students would have to use email.
Who Teachable Is Best For
This platform is best for those who, while not necessarily afraid of technology, don't have the time or desire to mess with a fussy site. Teachable's platform offers the ease of "plug-n-play" with the flexibility for customization.
You can quickly get your course up and monetized without a lot of fuss, which is great for busy course creators.
I give this platform two thumbs up for use by a Course Builder's Laboratory student. You're busy enough researching your market and selling seats to your course. You don't need the additional demands of learning a complicated learning management system.
Tips for New Teachable Users
Here are a few tips that may help you when you start building your course on Teachable:
Take a peek at the 5-minute tutorial before beginning. It gives you a great opportunity to have the big picture of the platform and what you'll be working with.
Play around with your content in Teachable. The drag-and-drop feature is great for getting just the right look. Additionally, when you're building your pilot course and only have an outline of what you'll be teaching, you can easily move topics around as you co-create the course with your beta students.
The free plan may be handy for your pilot course, but remember that it doesn't allow for drip content, so your students may try clicking into lessons before they're ready for them. Consider what your course needs are and choose your plan appropriately.
Remember, if you want to use games and badges, then you'll need to use Zapier to tie your badges to your course.
The Verdict 
Teachable is a fun and effortless all-in-one platform. As soon as you set up your school, you are taken step-by-step through the process to create your first course quickly and without much fuss. While you may have to utilize third-party apps for badges, Teachable offers you additional flexibility in the designing of your course.
The drag-and-drop feature is an added benefit not only for designing your course but also for making quick, last minute changes. This is especially helpful when you are running a pilot course and need to adjust the curriculum on the fly, in response to your pilot students' needs.
Bottom line: Teachable is a fantastic choice for course creators who want to spend more time teaching and less time messing with their site.
Let's keep the conversation going. Does Teachable have all the features you're looking for in an online course platform? Is the lack of a built-in badge/certificate generator a deal breaker for you?

Additional resource: Teachable vs. Ruzuku
Find a Sellable Topic for Your Online Course!
Get this primer and learn our process for identifying a viable topic for your very first online course.