Skillshare vs. Udemy: Which One Is Best For Your Business?
It's the Holy Grail of the business world…
Passive Income!
To have one or more income streams that automatically create revenue each month, without much input from you and your team…it's often the difference between a business scaling to new levels and one that stays where it is.
Maybe you see other entrepreneurs talk about their passive income streams.
Do you wonder why they're able to do it? And why you can't seem to figure it out?
Maybe you believe an online course is the answer.
After all, you hear it's set to become a $132 billion industry by 2023.
If you're already providing great value to your one-to-one clients, why not help more people with an online course that could exponentially scale?
There are many reasons not to…
There are enough online courses available already…
Building a good online course takes a lot of time…
There's no guarantee you'll make a lot of passive income…
In fact, with all the competition, there's a chance you'll make nothing!
Do any of these come to mind?
You wouldn't be alone if these objections appeared each time you thought about creating an online course. We work with a lot of course creators at Mirasee, and this is what we often hear.
They're valid, too.
There's a chance the world doesn't NEED your online course.
If you only create one to generate passive income, chances are you won't build a valuable course that helps people. The world doesn't need any more courses like that. Yet if you want to have a positive impact on your audience and you believe you have something new and unique to offer…the world does need your online course.
The way we're learning continues to evolve, transitioning away from the classroom and into the digital realm. We live in a truly connected world, and for the first time, people who previously didn't have access to knowledge now do.
This rise of online courses isn't a fad.
It's part of the future of education.
If you get into it for the right reasons, those you serve will benefit. And because they do, you could potentially build a massive new passive income stream that redefines your entire business.
Skillshare vs. Udemy…Which is Right For ME?
In this article, we focus on and compare two of the largest online course platforms: Skillshare vs. Udemy.
In this Udemy vs. Skillshare comparison we'll overview:
Pricing (and how much you could potentially earn)
The Core Features
How To Set Up an Account and Create Your First Online Course
The Student Experience
and a few other core aspects you need to consider…
Both Skillshare and Udemy could be right for you, but neither will be unless you create your online course for the right reasons. Generating passive income is one of these reasons but cannot be the only one.
Doing so leads to shortcuts, cut corners, and poor quality courses that help nobody.
There are enough so-called course creators doing this already — we don't need any more of them.
So as you read this article and realize which is the right choice for you: Skillshare vs. Udemy — constantly think about how you can create the course your audience needs.
Success on both of these platforms (and on any other platform) centers around this.
If you want to build a course that generates thousands of dollars each month without you (or anyone else on your team) having to commit much time, energy, or resources…lay the right foundations NOW.
Let's dive into this Udemy vs. Skillshare comparison…
Skillshare vs. Udemy: How Much It Costs and What You Earn
Before we get to the all-important revenue you can generate on each platform, let's answer this burning question:
What is Skillshare?
Skillshare is an online learning community for creators, freelancers, and lifelong learners.
With dozens of categories covering the Creative, Business, Technology, and Lifestyle industries, there are thousands of classes to choose from.
What makes Skillshare different from a lot of other platforms is that a student purchases a subscription and then has access to any course they like. In this way, it's like the Netflix of the online course world.
And What is Udemy?
Udemy offers the largest collection of online courses, with 100,000+ available across dozens of categories (ranging from Design and Marketing to Personal Development and Health & Fitness).


Unlike Skillshare, students purchase a course on an individual basis.
The price of courses varies, but most are available for under $100.
And speaking of PRICE…what does it cost YOU, the course creator, to join each platform?
The answer is NOTHING!
As a Course Creator (on Skillshare you're referred to as a Teacher, and on Udemy you're called an Instructor), it costs you nothing to set up an account and create a course.
You can create one course or ten, and the cost to you remains ZERO!
The way you earn money does differ, though, and depending on how popular your course becomes, it could have a massive impact on the passive income you generate.
Skillshare: How Much You Can Expect To Make Each Month
As a Teacher on Skillshare, you earn money based on a royalty system.
Each month, between 30% and 50% of Skillshare's total Premium Membership revenue goes to a royalty pool for teachers. The rest of the money goes toward marketing, website improvements, and keeping the Skillshare platform afloat.
And because Skillshare is a subscription-based service, the total pool does vary each month.
The more members Skillshare has, the bigger the pool for teachers.
The fewer members Skillshare has, the smaller the pool is.
However, the actual revenue YOU earn depends on the number of minutes your videos get watched.
The more students you have watching your videos, the more money you earn.
So let's say your courses account for 10% of ALL minutes watched by Premium students across the platform each month. The pool for the month is $150,000, meaning you earn $15,000.
It's a simple and transparent process that Skillshare says earns its top teachers $3,000+ per month and those just starting out $200 (in their first month).
Udemy: How Much You Can Expect To Make Each Month
On Udemy, you can publish as many paid and free courses as you like. The money you earn depends on the actual number of courses you sell. The breakdown is:
Instructor Promotion: 97% revenue share on sales made by instructors where the student purchases their course using an Instructor's coupon or course referral link.

Udemy Organic: 50% revenue share on organic Udemy sales where no Instructor Coupon is used.
Paid User Acquisition Channel Sales: 25% instructor revenue share in most cases. In order to optimize sales, Udemy partners with affiliates or pays to advertise for courses.
NOTE: if you publish a Free Course, you get no commission from that.
Technically, you can price your course for as much as $199 (based on Udemy's Price Matrix and Price standards). Yet the reality is that most courses are under $100 (with many sold at under $50).
So although you can potentially earn more passive income on Udemy, you do face greater competition.
As you can see from this Udemy vs. Skillshare comparison, there's potential to earn thousands of dollars of passive income each month through your Online Course(s). Udemy certainly offers a greater chance to earn more, but it does come at a price (i.e. competition).
So, does this mean Udemy is the platform for you? Maybe.
But as the features available to you show, maybe not…
Skillshare vs. Udemy: The Core Features and Benefits
Although Skillshare and Udemy share many of the same features and benefits, there are a few differences. As a course creator, it's important that you choose the platform that aligns best with you and your business.
Here are some of the standout features and benefits for each platform:
Skillshare: The Standout Features and Benefits
Low-cost monthly subscription for students (with the first 2 months free).
A smaller platform, meaning your online course gets greater visibility.
For each student you refer to Skillshare, you get a $10 referral fee.
Skillshare's renowned for having great customer service (for students and teachers).
A smaller, tight-knit community of students who are loyal to the platform.
Skillshare provides its students with offline access to courses.
A great resources section to help you build and promote your online courses.
Skillshare classes and courses are shorter and digestible by design.
There's a strong focus on Project-Based learning, which enhances engagement.
Udemy: The Standout Features and Benefits
Greater control over the pricing of your online course.
Udemy heavily promotes, advertises, and markets your courses.
A large community of 30+ million students.
The ability to create both free and paid courses (and link them to one another).
The chance to create Online Quizzes to create greater engagement with students.
Coupons and discounts available on courses, driving new traffic to you.
Udemy creates external partnerships with companies, helping to reach new audiences.
Action-based email campaigns help create greater engagement with students.
A wider selection of categories catering to almost any course creator.
What Each Platform is Missing:
Although both platforms offer a lot of important features and benefits, both fall short in a few areas.
Skillshare:
A platform aimed at creatives (less relevant for business, marketing, and personal development).
No certificates or accreditation for students who complete your course.
The inability to upload additional class resources or materials (like workbooks or quizzes).
Udemy:
Although Udemy does provide certificates to students, they're not accredited.
There are A LOT of poor quality courses on Udemy (this can negatively affect perception).
As with larger platforms, customer service and communication isn't great.
Many of the features in this Udemy vs. Skillshare comparison are similar to one another. They largely provide the same core benefits, mainly differing in how students access these courses.
Udemy = pay as you go
Skillshare = subscription based
As such, the deciding factor for many course creators is the time it takes to set up, publish, and promote their course. Time dictates all, so just how easy is to create a course on Skillshare and Udemy?
Skillshare vs. Udemy: How To Create Your Course…
Creating your online course on both Skillshare and Udemy is simple, yet each process differs. We'll walk you through the general account set up for each now, as well as the steps you need to take to create your first course.
How To Create Your Course on SKILLSHARE
To begin with, you will need to create a new Skillshare account.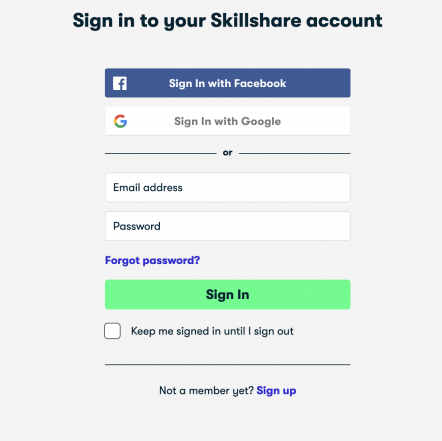 Once you're signed in, the process can begin.
Step 1: Choose your category.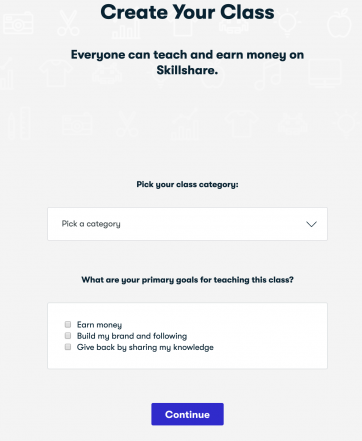 Step 2: Fill in your Class Info, starting with your Class Name, Class Description and Class Project.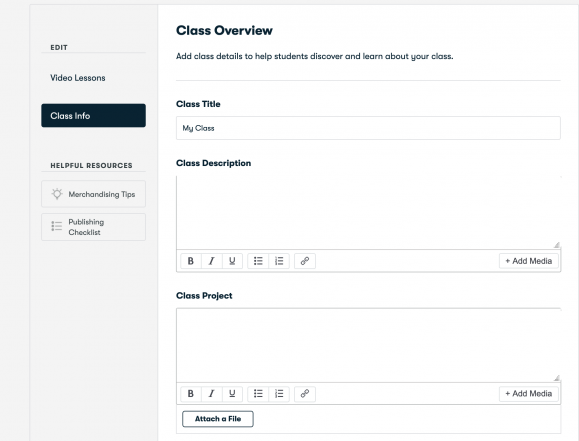 For help planning your class and creating your Class Project, you may find the following resource useful (click here to open in a new tab).
Step 3: Choose your Class Type, Skill Level, and Categories.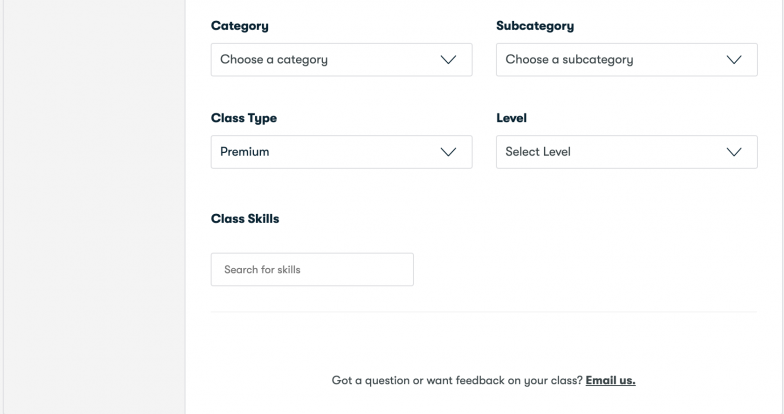 Step 4: Save your Class Info and then upload your first Video Lesson.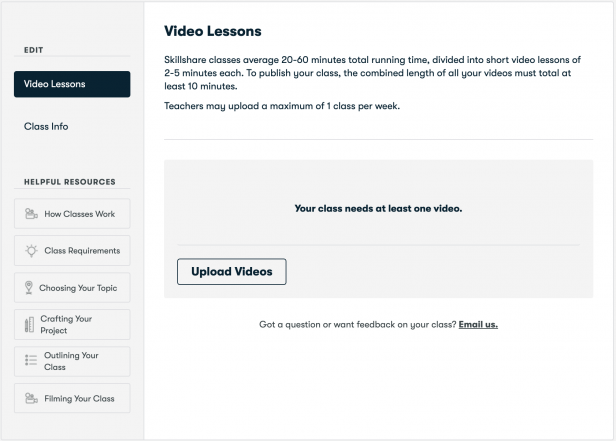 On average, Skillshare Classes last between 20 and 60 minutes. Yet it's advised that you split this into smaller 2 to 3 minute videos (your class must be at least 10 minutes in length).
Unlike other course platforms, you cannot upload additional class resources, run quizzes, or publish audio descriptions/interviews. Focus is solely on video, which is a benefit for many course creators.
But not for everyone…
For further help on creating your first Skillshare Class, consider these resources:
Once you've created and built your first Class, click Publish and make sure everything looks and works as it should do. Once complete, your Class layout will look something like this: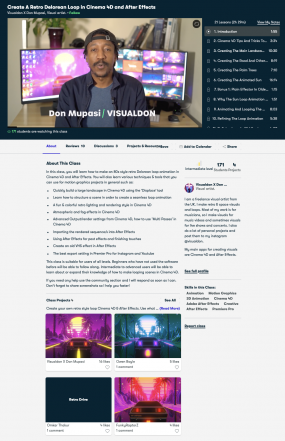 In terms of speed and ease, Skillshare certainly makes your life easy. Without the worry of additional resources and creating materials for each video, you can quickly create and upload your Classes.
(note: a teacher can create a maximum of one new class per week).
So, how does this compare to Udemy?
How To Create Your Course on UDEMY
Like before, you will first need to create a new Udemy account.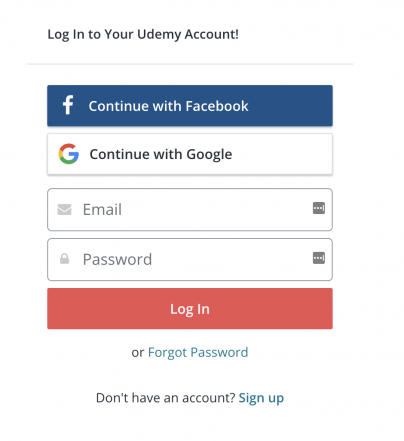 Step 1: Once signed in, create either a new course or a practice test.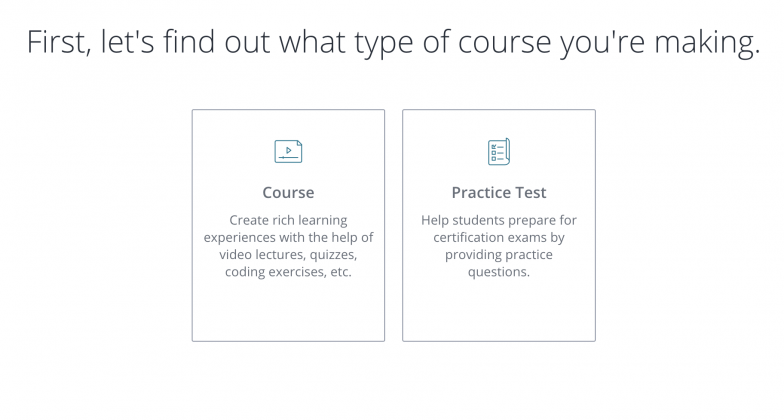 Step 2: Create a Title for your new Online Course.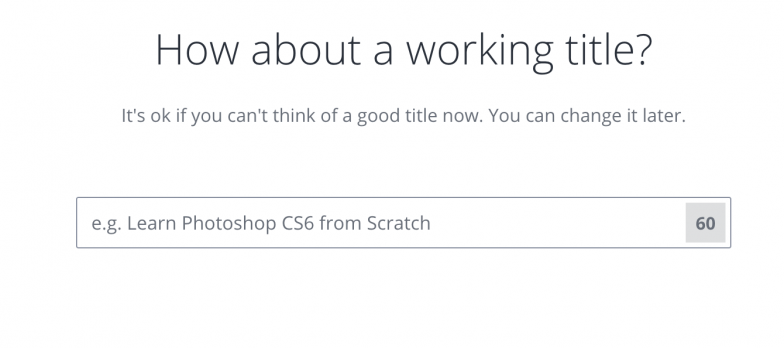 Step 3: Choose a category for your new online course.

Step 4: State how much time you can spend creating your course each week.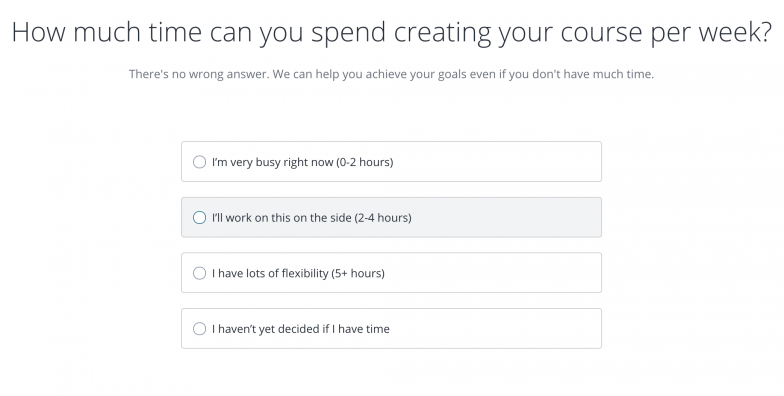 Step 5: Fill in details about who your target student is, and any requirements you have of them.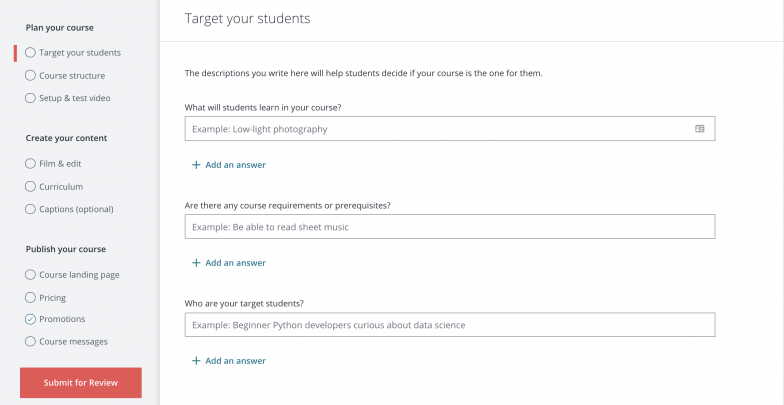 In addition to this, Udemy shares several resources on how to Plan and Structure your course (as well as testing your video and audio). Some of these core resources include:
Step 6: Once you've planned your course, it's time to upload each individual lesson (and its accompanying videos and resources).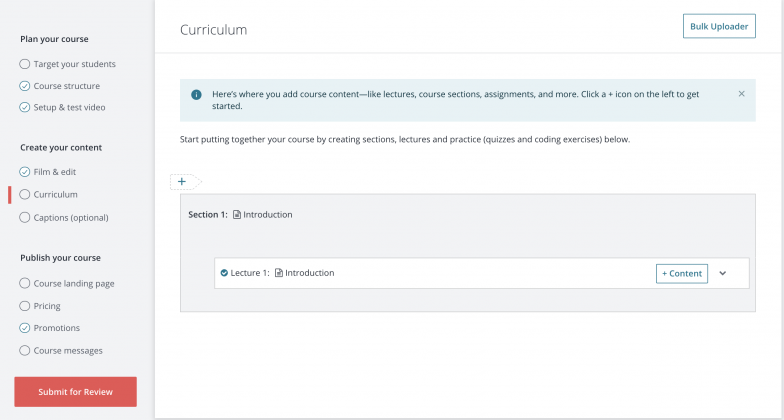 You can choose different content types for each lecture: video, video and slide mashup, and article.
(for more details on different content types, click here).


You can also add a description to each lecture, and upload additional resources like PDFs, graphics, and external links.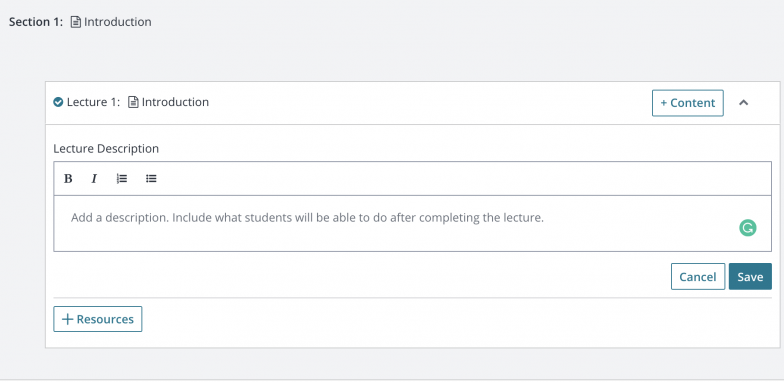 You can add as many lectures per section as you like, and create different sections within your course to split up your content. Once you've uploaded your content, you can preview what your course looks like both from an instructor's point of view and your students'.
Step 7: Once complete, it's time to publish your new online course, starting with your Landing Page.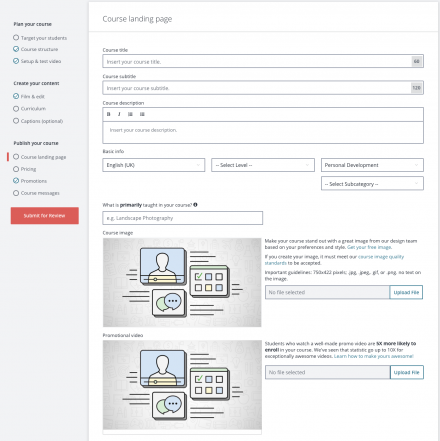 Step 8: Next, it's time to price your online course, choosing from several different currencies and various pricing options (starting at Free and going as high as $199.99).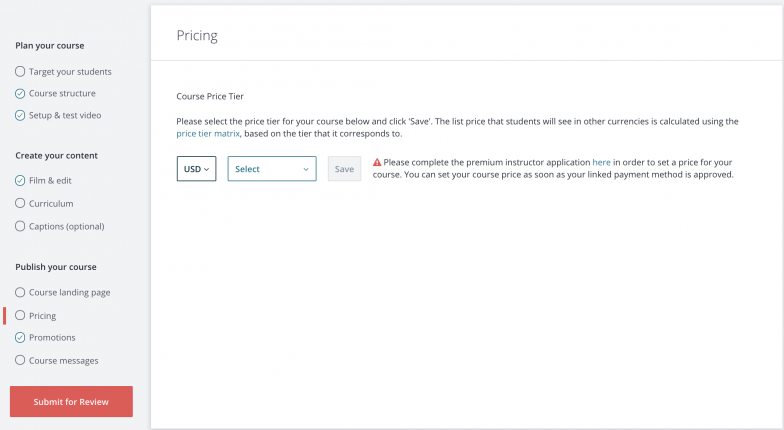 Step 9: Finally, you can create a Welcome and Congratulations Message for your students, before submitting your course for review.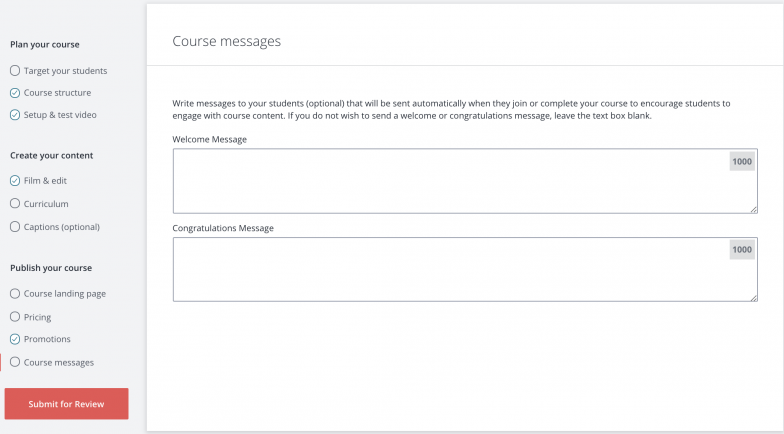 Like Skillshare, Udemy provides several resources to help you create, promote and price your course effectively. A few of the most useful resources include:
Compared to Skillshare, Udemy offers a lot more in terms of options and flexibility. But this does come at the expense of time. Even with a short, free course, you'll likely need to reserve at least 2 to 3 hours to get your first course up and running.
Skillshare vs. Udemy Students: The Student Experience
No matter what online course you create, the most important people are those you create it for.
Who are they?
What do they need help with?
How do they best learn?
Where are they?
What do they want their future to look like?
As such, no Udemy vs. Skillshare Comparison could be complete without taking into account the Skillshare vs. Udemy student experience (and which platform aligns best with different personality types).
Let's begin with what's often the most important factor…Price!
Pricing
Skillshare's subscription model is a popular one among today's younger generations. Used to the likes of Netflix, the option to pay $15 per month for an unlimited number of courses and classes appeals to many.
And with a free two-month trial available, it gives students a chance to test 2 to 3 courses with no risk.
However, unless you wish to constantly take new classes and learn each week, Udemy's one-time payments could be more appealing. You also get lifetime access when purchasing a course on Udemy.
So although a subscription model does work for many, if your students are busy business owners with little time to spare (and may want to return to your course in the future), Udemy may make more sense.
Categories
Skillshare targets creative people and craft-makers. Although they have some "lifestyle" classes, the majority of their teachers focus on the arts. If your students fall under this description, Skillshare could be ideal for you.
Whereas Udemy appeals to the masses, providing courses in dozens of categories across dozens of industries (including business, sales, marketing, design, personal development, and many more).
Content Type and Size
Skillshare appeals to students that prefer bite-sized content that requires little time to consume. Most classes last around 60 minutes, with most videos split into 2 to 5 minute segments. It's fast and digestible, and aligns with its subscription model.
Udemy, on the other hand, offers more in-depth courses that expand beyond video.
It allows instructors to delve deeper into a subject and give their students what they need.
Whereas with Skillshare, most classes focus on the basics without going too deep.
Community
One of the standout features for Skillshare is that many of their classes are community-based, which means you don't learn on your own. Instead, you're part of a small, tight-knit community that drives one another to complete each class.
Whereas courses on Udemy cater to those who like to work on their own. There are still community features, but these are less relevant (especially with the size of the Udemy universe).
If community is important to your students and you, Skillshare has the upper hand.
Engagement
Although Skillshare offers more in terms of community, Udemy provides greater features that drive engagement. Through quizzes, feedback forms, and surveys, they encourage students to actively learn and take part.
With Skillshare, everything centers around videos (and to then participate in the comments section).
Udemy also offers this but takes it further with several engaging features that encourage ACTION.
Customer Service
With a smaller community, Skillshare is able to offer its students (and teachers) more help, guidance, and support. It's renowned for its customer service and personal touch.
Whereas with Udemy, as often is the case with larger products, you may have to wait for help.
Overall, your students get a great experience on both platforms. Yet each one caters to different learning styles, situations, and industries. It's important to take into account the Skillshare vs. Udemy student experience when choosing the platform for your own course.
It isn't just about you and what you need.
It's about THEM, too — in fact, it's mainly about them!
So before you complete these Udemy vs. Skillshare comparison, let's overview the key points to consider.
Udemy vs. Skillshare Comparison: 5 Key Points to Consider
To complete this Udemy vs. Skillshare comparison, let's overview the key points to consider as you decide which platform is right for you and your students.
1: Time Commitment
You need to consider how much time you can commit to your online course (and how quickly you wish to publish it). It's also important to take into account how many courses you wish to create in the future.
If your time's limited, Skillshare may appeal to you. Within a few hours, you could record, edit, and upload your entire course. It's also easier to create new courses on Skillshare, without it taking up much of your time each week.
Whereas the entire process takes much longer on Udemy. If you wish to create a GREAT course with additional resources that utilize features like Quizzes, you'll likely need to set aside 3 to 5 hours per week over a couple of months.
2: Passive Income Potential
One of the main reasons entrepreneurs and business owners create an online course is to generate extra passive income. Both Skillshare and Udemy provide this, yet the ceiling is set much lower on Skillshare.
They state that their best-performing teachers earn upwards of $100,000 per year. This is substantial, yet it likely takes a lot of classes and a lot of ongoing community engagement.
Plus, your income is directly linked to Skillshare's growth.
If they lose subscribers, your ability to earn passive income goes down with it.
Whereas with Udemy you not only have access to more people but have greater freedom over how you price your courses. Udemy's size comes with its negatives (competition), but the potential to earn more passive income is greater compared to Skillshare.
3: Promotion + Reach
One of Udemy's core benefits is both the size of its platform and how it actively promotes, advertises, and creates partnerships with other online influencers. This results in greater reach for you as a content creator, and therefore the potential to earn more income.
Skillshare, on the other hand, caters to a smaller audience. This does create loyalty and more of a community feel. But it comes at the expense of promotion and reach.
4: Content Creation + Features
How do you envision your online course?
If it's solely video-based with few other resources — and you like the idea of creating bite-sized content that's easy to digest — Skillshare is the platform for you.
Whereas if you want to create a more comprehensive course that dives deeper into your subject (with workbooks, interviews, slide shows, quizzes and more), Udemy offers you greater freedom.
5: Student Experience
Once again, the most important person in this whole process is your student.
What do they want?
How do they learn?
How much time do they have?
Skillshare offers the perfect solution and experience for some students.
Udemy offers it to others. What matters is that YOU take into account who YOU serve.
By providing your students with what they need, you massively increase your chances of success.
So, with all this in mind…which platform should YOU choose?
Skillshare vs. Udemy: Which One is Right For YOU?
Having read this Udemy vs. Skillshare comparison, you should now know which platform is best for:
You and your time
Your business as a whole
Your students!!
There is no platform that's right for everyone.
Each offers its own features and benefits.
What matters the most is choosing the right one for YOU. Having read this Udemy vs. Skillshare comparison, I hope you appreciate which is. Of course, choosing the platform for your online course is only one of the steps.
An important step, but not the only one…
You need to learn how to create, sell, and profit from your online course.
Not only this…you need to know how to create a course that has a big impact!
Remember, the world doesn't need any more online courses that skim the surface. The e-learning industry is full of poor quality courses that waste time and energy.
The potential to make huge amounts of passive income is there for you to take advantage of. But you need to commit to creating the course your audience NEEDS.
At Mirasee, we've seen a lot of great online courses from inspiring content creators.
We've also seen a lot of poor quality courses that make no impact whatsoever.
If you'd like to save time and make fewer mistakes, you may want to join us on our next Course Builder's Bootcamp. It's free to join and teaches you:
Why it makes sense to sell your course *before* you build it (and why YOUR paying students will be happy to help you with the course creation process)!
Why most courses fail to sell (and how you can get a different outcome).
What it *really* takes to become a successful (and profitable!) builder of online courses.
How to design and build your course quickly and painlessly, without getting tangled up in technology or getting confused about content strategy.
It doesn't matter whether you choose Skillshare or Udemy or if you don't know how to create an online course that sells, grows and creates passive income. I hope you'll join us on our next Free Bootcamp.
FREE Course Builder's Bootcamp!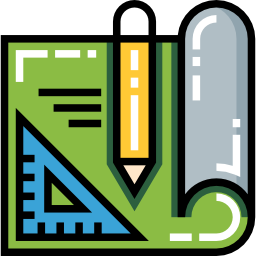 In just 6 days, learn all the essentials to create a successful online course!