How to Build a Winning Customer Engagement Strategy
Matthew Turner
Updated by Tara Malone
Getting new customers is hard, but keeping them is even harder.
I imagine you already know this and have experienced it. It feels great to welcome a new customer into your business, but maybe that nagging worry of keeping them is always there in the back of your mind.
Just how do you keep them engaged so they stick around?
The answer is actually pretty simple: you need a solid customer engagement strategy.
A customer engagement strategy helps you build a loyal tribe that drives referrals, testimonials, word-of-mouth marketing, and so much more.
But how do you build an effective customer engagement strategy?
Look no further, because in this article we're going to show you exactly how to develop a winning customer engagement strategy.
So if you want to stand out for the right reasons, reduce your churn rate, lower your customer acquisition costs, and build a tribe of loyal fans… this article is for you.
Let's jump right in!
What is Customer Engagement?
Customer engagement is how your customers interact and engage with you throughout their customer experience. This happens whether you consciously act on it or not. The problem is, many businesses aren't intentional about the customer experience they create.
This leads to poor customer engagement marketing that often breeds frustration, miscommunication, and a customer that's happy to walk away. Simply by creating a plan and taking your customer on a specific journey, you will stand out for the better and build trust and rapport.
There are certain fundamentals that are essential to any customer engagement strategy, which is where we'll begin this article. Take note of each of these fundamentals and think about how they apply to you and your customers.
The 6 Fundamentals of Customer Engagement
No matter what your customer engagement strategy, these proven fundamentals ensure you lay the right foundations, build trust, and create the sort of rapport with your audience that produces long-term success.
Fundamental 1. It Starts With You
A good customer engagement model begins with you. It's important you take ownership of this and lay the foundations for everyone else.
Ask yourself:
Why is this customer engagement plan important?
What impact will it have on your customers?
How will it impact your business as a whole?
What impact will it have on your team?
How does this all come together to help you achieve your mission?
It starts with you. If you think you can just say it's important and have everyone buy into your idea, think again. Your team is already busy. They want to provide your customers with an excellent service, but they're worried about how they can do it.
You have to make them believe in the big picture.
Lead from the front and take full ownership of this.
Fundamental 2. Have Everyone on The Same Page
The next step is to have everyone in your team on the same page. It isn't enough to pass this customer engagement model to a few team members.
Great customer engagement happens when everyone buys into it.
Everyone, no matter their role, is on the same page.
One company that excels at this is Zappos. They set a high standard that everyone must live up to. They focus on making their customers happy, no matter what, fully embracing their WOW Philosophy. It's their customer service representatives that are on the front line of this.
Yet it doesn't end with them.
Everyone is responsible.
A great customer engagement strategy only happens when everyone inside your business is on the same page, striving toward a common goal.
Fundamental 3. Create a Detailed Avatar of Your Customer
Who is your customer? How well do you know them?
Do you have a detailed avatar that's clear to anyone who looks at it?
It may sound obvious, but your customer should remain at the center of your entire customer engagement model. Yet it's often easy to lose sight of this as you get caught up in the details. Step back. Keep thinking about who they are and who you're building this for.
Having a defined avatar helps. It acts as a guide to keep you on the right path at all times.
Fundamental 4. Create a Customer Experience Map
Your customer experience map is a general outline of the journey they will take with you.
At this stage, you do not need to have all the answers.
You'll create a more detailed customer map over time.
Yet it's important to have a general idea before you begin.
Ask yourself:
Where does your customer enter the journey?
What does their first impression look like?
What touchpoints take place in the first 7 days…14 days…30 days…60 days?
Where do they end up at the end of their customer journey?
Who are they then compared to who they were in the beginning?
Do all your customers go on the same journey, or are there different segments/paths?
Once you know who your customer is, it's vital you're conscious of the journey you take them on. It begins with a general outline, which you can improve over time as you implement the customer engagement strategies we discuss later in this article.
Fundamental 5. Create a Memorable Moments
In their book, 'The Power of Moments', Dan and Chip Heath talk about the importance of creating memorable moments. These moments take place throughout your customer journey. They help you stand out from everyone else, while also engaging with your customers.
A few examples include:
First impressions (how they walk away from that first moment)
Key achievements (how you celebrate when they win or make progress)
Important dates (their birthday, anniversary, or a celebrated time of year)
Transition periods (what you do when they transition from one stage to the next)
There are many points in your customer journey where you can place memorable moments. Which ones you choose depend on you and your customer. The point is to create them because so few businesses do, which means those that do stand out for the right reasons.
Fundamental 6. Observe, Track, and Analyze
The final fundamental of a strong customer engagement strategy is to observe, track, and analyze.
Observe what does and does not work
Track the data, and measure those key touchpoints and memorable moments.
Analyze all this on a regular basis.
Your customer engagement strategy is not static. It evolves and adapts with time. You'll have the opportunity to improve this over the long term. But this can't happen unless you observe, track, and analyze.
Be conscious of this. Create objectives. Set KPIs. Run regular reports and treat your customer engagement strategy like you would any other marketing campaign or product launch.
This isn't something you create once and then leave to one side. It's ever-evolving and becomes a huge part of your company culture and ethos.
13 Effective Customer Engagement Strategies
Now that we've covered the fundamentals of customer engagement, let's turn our attention to some effective customer engagement strategies you can use.
These customer engagement strategies allow you to go deeper and provide a more memorable experience for your customers. You likely won't need all 13 of these customer engagement ideas, although in time you may implement most of them.
After reading each one, stop and ask: is this relevant for my customer engagement plan?
If it is, consider what you can specifically use and what you can get rid of.
1. Social Media
As well as marketing, you can use social media for online customer engagement.
The problem is, most businesses don't use it for this.
Instead, they push one piece of content after another to their audience. Which is fine. Social media is a great way to promote your content and products.
That said, its true nature is in its name… social. As in, be social with those you know. Speak with them. Have conversations. Engage, build trust, and create a lasting rapport.
Which platforms can you do this with? All of them! They're all social in this way.
Your best bet is to use the platform(s) that your customers use. Allow your customers to ask questions via this platform, and use it as a customer service hub. Yet it doesn't have to stop there.
Take this example from Morton's Steakhouse.

An influencer in the "steak" world, Peter Shankman has 150,000+ followers. I imagine this tweet was in jest, yet Morton's took it as an opportunity to create a memorable moment for Shankman.
When he landed, they were there with a Porterhouse steak, shrimp, potatoes, bread and silverware. They could have ignored it or engaged with the tweet in a humorous manner. Or they could create a WOW moment that will stick with their newest and biggest fan for years to come.
2. Provide Multiple Platforms to Support
Like Zappos, don't settle with one or two options of customer support. In today's age of true connectedness, push the boundaries and be there for your customers in a way that suits them.
Live Chat
Email
Phone
Call Back Service
Arrange a Demo
Text Message Service
Video Call
In-Person Hotspot
I imagine you've had a frustrating experience where you wanted to speak to a real person only to have an email or Live Chat option. Or maybe you wanted to fire a quick email because you're busy, but the only option was to jump on a call and wait on hold for twenty minutes.
Provide multiple platforms and options. For example, Pharma brands use best HCP engagement platforms in virtual place to promote their brands and connect with relevant audience."
Each customer is different. Each situation is, too.
Don't frustrate them. Don't create a lasting, negative memory like the one you've just thought about.
3. Personalize Your Communication
One of the most important elements of online customer engagement is to personalize it for them.
Don't send everyone the same email or show them all the same ad.
Don't direct them to the same page or content.
Personalize their details, of course. Use their real names. Speak with them, rather than at them. Yet don't stop there. Today, you can create relevant, memorable experiences based on their own unique situation.
Make a note of where they live
Refer to the previous product(s) they bought.
Share relevant promotions based on their past experiences.
Build content that speaks to them.
Create memorable moments unique to them.
Use their birthday as an opportunity to engage. Use their anniversary of becoming a customer, or a key milestone along their journey with you. Personalize your communication and tailor your experience as much as you can.
This couldn't be easier these days, with the software and tools you have access to.
This brings us to the next customer engagement idea.
4. Build an Email Funnel That Nurtures, Not Sells
For years, email funnels centered around a sale, launch, or some sort of promotion. There is nothing wrong with this as email marketing continues to be one of the best ways to sell.
However, email marketing goes way beyond selling in today's hyper-connected world.
Through an email funnel that nurtures, you're able to build rapport, share your story, and create memorable moments along the way. By the time you do have something to sell, they trust you.
The work Scott Oldford does through his ROI Method is a good example of this. It takes your customer on a journey that largely focuses on building trust and rapport. Its purpose is to help you create an emotional connection with your audience and give them the most relevant information they need, when they need it.
This is what a customer engagement strategy is all about.
Yet hardly anyone does this because we seem to live in a world where everyone's in a rush to promote a webinar, kick straight into a launch, and hard-sell from the offset. This only harms your customer engagement. It may bring short-term success, but often at the expense of loyalty and retention.
Email provides a great opportunity to engage your audience.
Use it to nurture them, as well as sell them your latest offer.
5. Embrace Omnipresence and Omnichannel Marketing
Don't stop at email. An email funnel can be effective, but in a world of white noise it's important to get top of mind and engage with your customers throughout their day.
Text messaging
Facebook ads
Organic Facebook content
Twitter
Instagram
LinkedIn
Google ads
Content marketing
Podcasts
Mobile apps
In-product messaging
Your customer engagement plan doesn't have to only take place online. Bring your engagement into the real world, over the phone, and through special events. It's not about trying to do all these things, but rather ensure you don't just do the obvious.
Where are your customers?
What are they using?
How do they communicate with other people?
Where do they spend most of their time?
Go there and show up in their life. Become top of mind. Remind them of the journey you're on together. Communicate and engage, and give them as much value as you can.
In their inbox, sure. But outside of it, too.
6. Create a Platform For Your Customer
One of the byproducts of creating an incredible customer engagement model is that you build a tribe of loyal customers. As their trust grows, so does their engagement. They want to speak to you, but more importantly, they want to communicate with other people like them.
It becomes your duty to connect them, which is where a custom platform can become beneficial.
A private forum
A dedicated mobile app
An invite-only Slack channel
A Facebook group just for customers
Microsoft provides a private forum for their XBOX customers, not only providing customer service and troubleshooting but also a chance for fellow gamers to connect with one another.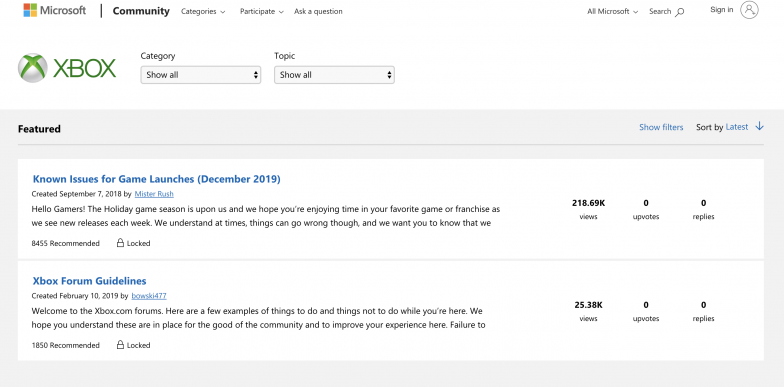 Starbucks offers its customers an app, that, among other benefits, allows you to collect points, pay, and redeem special rewards. It makes your life as a consumer easier, but also gives you direct contact with them (to ask questions, leave feedback, and enter special promotions).
For some industries, a mobile app is essential. But even in less obvious industries, an app can still provide a great opportunity to engage with your customers.
Buffer invites its users to join a private Slack Channel, which once more goes way beyond customer service. It brings like-minded people together to share examples, ask questions, and connect with one another.
It gives Buffer a chance to directly connect with its most loyal users. But again, the real point is that it creates a community that empowers everyone to come together.
Finally, you can create a private Facebook group that you add your new customers to. This is one of the more common approaches to customer engagement marketing, as it's free and Facebook is a platform most people are already a part of. Whatever the platform, the point is to turn the focus from you to your customers.
7. Involve Your Power Users
This builds on the previous customer engagement idea because once you bring customers together and empower them to engage, some will naturally take ownership.
These Power Users become your VIPs. Not only in terms of referrals, case studies, and testimonials… but having them play a more serious role in your company.
Take WordPress, and how they use their private forums for troubleshooting and other customer issues. As you can imagine, WordPress has a lot of users. Each person's site differs, so the potential for varying issues occurring is high.
They do have customer service reps and they do use this forum to help their users.
Yet they also empower their Power Users to become moderators.
These moderators take ownership of certain forums, clean up spam, engage users, and offer practical help. They play a huge role in WordPress's team even though they aren't an official team member.
8. Provide Rewards
Be generous to your customers, especially those that engage with you. Reward them with personalized, unique, and specific offers.
Send them a gift on their birthday
Surprise them with something extra when they renew their contract
Share a special promotion/discount specific to them and their situation
Reward them based on how much they engage or use your product
Again, coffee shops provide a good example. Through their apps, you gather points or stamps each time you buy a coffee. You can clearly see how you benefit each time you use the app. You have reason to use it, and you have further reason to visit that coffee shop ahead of all the other options.
Good customer engagement doesn't begin and end with rewards, but it is important to reward your customers as often as you can. Not just with a generic offer that goes out to everyone, but personalized gifts that make them feel special.
9. Gather Feedback Along The Journey
One of the fundamental aspects of a good customer engagement strategy is to observe, track, and analyze the data. Often, this doesn't require you to speak to your customers.
The data is there for you to see in black and white…
Yet it's also important to speak with your customers and gather their feedback.
Ask questions
Invite them on to a call
Send customer service surveys or questionnaires
Invite them to review or leave comments
Make it fun. Have it play an interactive role in the journey they're on. Above all, make it valuable for them. The value to you is obvious, but what is the value to them if they fill out your survey? Why should they spend their time helping you out like that?
You might accomplish this by providing a reward, gift, or discount. At the very least show them why their feedback is so important and how it will benefit them down the line with better service, improved features and new offers.
10. Create Content That Solves Their Pain
One of the best ways to engage your customers is to create relevant content. Oftentimes you get caught up creating content that will attract new customers. This is an essential part of growth, but it's dangerous to forget about the customers you already have.
What content do they need?
What are their biggest issues?
What questions are they asking?
Most websites have an FAQ page based on their most common questions.
Yet few provide more than a few lines of text for each answer.
This is an opportunity for you to create relevant, engaging content that your customers need right now.
Once more, Buffer provides a good example.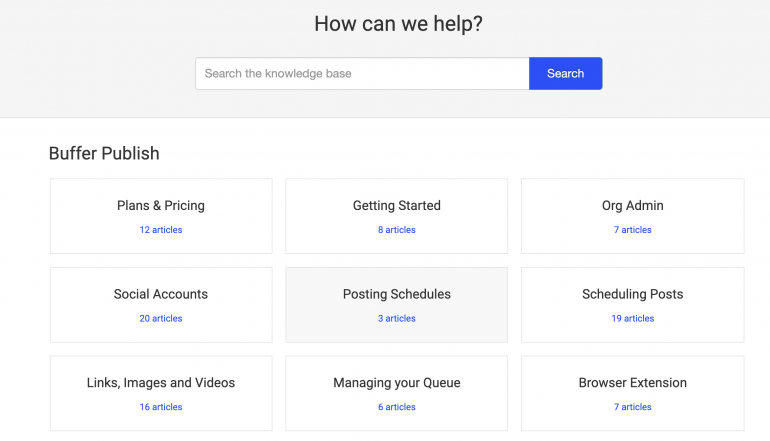 Each main section houses several articles that go into the question in-depth. This not only creates engaging content but content that will drive further organic traffic and help improve SEO.
Get creative with this. Use screenshots, explainer-videos, live demos, and anything that provides your customers with the valuable content they need.
11. Create Content That Involves Your Customers
As well as crafting content that's most relevant to your customers, create content that involves them.
Case study articles
Interviews
Social media stories
Video success stories
Highlighting the successes of your customers is a great way to engage them. Shopify does this through its Customer Success story page. Doing this not only provides great social proof and authority for you as a business, but it showcases your customer.
It links back to their site and exposes their brand to a new audience.
It creates a true win-win, and it helps build that all-important trust and rapport.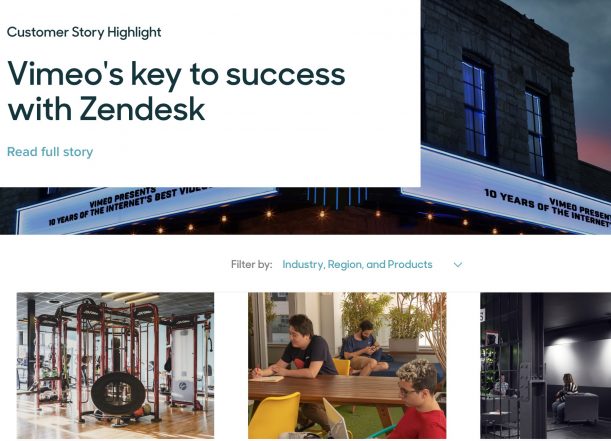 Zendesk is another business that takes its success stories and brings them to life. It's some of the best content you can create and share because it not only turns leads into customers but creates huge amounts of engagement with your existing ones.
12. Run a Customer Engagement Event
Content plays an important role in online customer engagement. It can come in many forms, including articles, videos, podcasts, social media, and case studies.
An approach that can bring all of these together is an online summit designed to inspire, teach, and engage your customers.
The WordPress Agency Summit is a good example of this. It brings together some of the world's foremost WordPress experts into a single event. A virtual summit like this provides your customers a chance to engage with thought leaders, ask questions, and enhance their skills.
Of course, you don't need to keep your event online. More and more companies are heading into the real world, running live summits that bring together engaging talks and workshops.
ConvertKit runs its annual Craft and Commerce Conference, and Adobe has its annual summit that it takes across the world.
Much of your customer engagement will take place online. Yet this doesn't mean you can't meet your customers in person, connect with them in the real world, and engage them on a deeper level.
13. Share Your Story
The final customer engagement strategy idea brings it back to you, your story, and your team.
Yes, you need to make this whole customer experience about your customer.
But that shouldn't detract from you sharing your story and inviting them to get involved.
Bring in your team members and allow your customers to get to know them
Share your origins, your mission, and the vision you have for the future
Be transparent, sharing both your successes and your failures
Your story is one of your most valuable assets. Nobody can replicate it. It's yours to own and has the power to forge deep connections with your customers.
Not only does sharing your story create a powerful message, but it forces you to tailor your customer engagement model around you and your customer.
Customer Engagement Examples
Now that we've covered all of our top customer engagement strategies, let's shift gears and look at two amazing examples of customer engagement in action.
Zappos
Zappos is obsessed with customer service.
They describe themselves as maniacal about it. It defines their culture and plays a huge role in their core values, vision, and company ethos. They center everything around their WOW Philosophy where their sole aim is to ensure their customer is happy, no matter what.
Their customer service team is at the heart of this:
Unlimited call times (they stay on the phone with you as long as necessary)
Multiple ways to contact them (and easy-to-find contact information)
Friendly, solution-oriented people (they're clear on their objective, and it's YOU)
No phone tree (meaning no waiting as they pass you from one department to the next)
No scripts (meaning they actually listen to understand your problem)
They're empowered to help you (no waiting for their manager to sign something off)
The list goes on. This is a company with over 1,500 employees that generates annual revenue in the billions. They have a large team that makes managing a customer engagement strategy like this nearly impossible. Yet they do so because it plays such a fundamental role in who they are!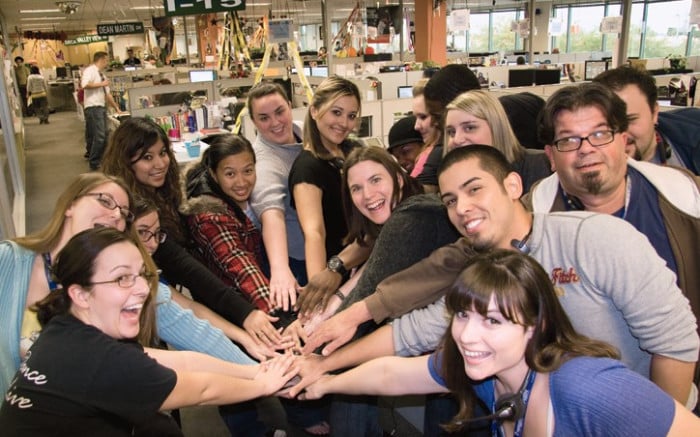 Zappos proves that great customer service is possible, no matter what industry you're in and how big or small your company may be. Another business that does this is one that's even bigger.
Disney World
With 74,000 employees, Disney World has a lot of people to keep on the same page. They also have a lot of customers, which makes getting to know them on a deep level difficult. Despite this, they're renowned for the incredible customer experience, which extends way beyond the parks themselves.
Online
Via mobile/app
In the hotels
While booking
After your visit
The Disney World experience is immersive and memorable each step of the way.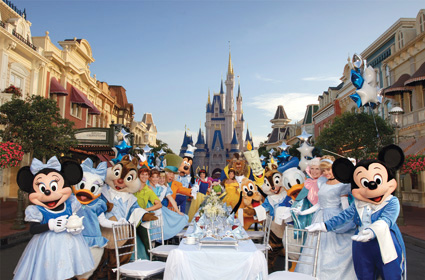 It comes back to those fundamentals we focused on earlier:
They have a top-down approach and have an organizational-wide purpose.
They have knowledgeable staff that are on the same page (no matter their role).
They know their customers on a deep level.
They think about the WHOLE journey and dive deep into the finer details.
They create WOW moments and personalize the experience as much as possible.
They capture feedback, track data, and continue to improve at all times.
If you've ever been to Disney World, spend a few minutes thinking about your experience. Visit their website and spend some time there. Throw yourself into their customer journey and enjoy the experience they provide.
Both Disney World and Zappos offer incredible customer engagement examples that prove what's possible. You can do the same for your own customers, in a way that serves them best.
How to Develop Your Customer Engagement Plan
Unless you want to create short-term wins that require you to pivot and make huge changes every six months, the customer engagement strategy you create matters.
Placing your customer at the heart of what you do elevates you above the rest. By engaging them and taking them on a relevant, purposeful journey you build trust and rapport that breeds long-term success.
They are at the center of it all.
Yet all this begins with you.
Now you've read the article, take a few minutes to think about the experience you want to take your customers on.
Remember that while the product and services you offer are important, the journey your customers go on with you is equally so.
To learn more about building an engaged audience, you can download a copy of our free book 'Engagement From Scratch'. It features insights from 30 of the world's most successful community builders on how to turn your internet business into a true audience business, and will help you create a winning customer engagement strategy. Download your free copy of 'Engagement From Scratch' here.