Outreach Marketing: The Complete Guide for Beginners
Matthew Turner
Updated by Tara Malone
Email…you both love it and hate it, right?
As a marketer, you love it. You can connect with anyone, build new relationships and turn a lead into a customer. Everyone uses email, and most people spend a lot of time in their inbox.
Yet you're not just a marketer. You're also a consumer who's overwhelmed with all the emails you get.
In other words, you experience both sides of the love/hate relationship with email. You know how annoying it can be, yet also get annoyed when someone doesn't open yours. Especially after you take the time to build a list of people to connect with and devise an outreach marketing plan, only to have your emails get ignored.
It's totally frustrating, and leaves you wondering what you did wrong.
The good news is that outreach marketing doesn't have to be this way.
Done correctly, it is possible to reach out to hundreds of people without annoying them and get more engagement, build relationships, develop new leads, and more.
And in this article, we'll show you exactly how it's done. We'll also cover the 4 main types of outreach campaigns and provide you with some effective outreach templates.
No matter what your niche is, at least one of these outreach campaigns will have a huge impact on you, your business, and your connections.
So let's get started!
The 4 Main Types of Outreach Marketing Campaigns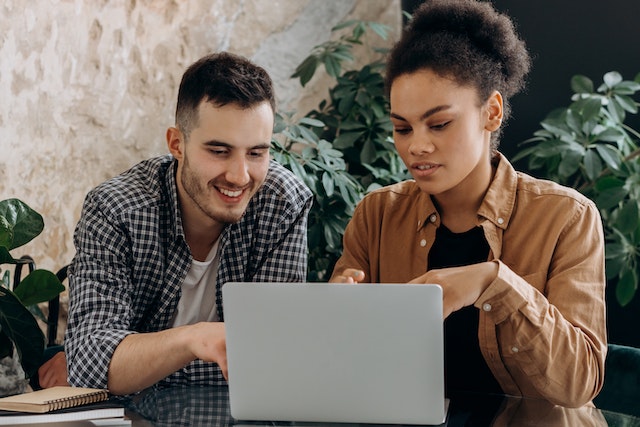 These are the four main types of marketing outreach campaigns that apply to most businesses. Each one has a unique purpose, brings specific benefits, and is designed for a certain type of connection, customer, or lead.
Before we dive into the perfect outreach marketing process, it's important you know how to tailor it for each of these core campaigns.
1. Cold Sales
Generating new leads and sales is fundamental to any business. Although you can do this through referral marketing, advertising, and content marketing, the right outreach strategy can connect you with your ideal avatar.
The opportunity is great these days, especially with social media platforms like LinkedIn. With just a little research you can build a relevant and specific list of potential leads, find their email address and introduce yourself and your business to them.
That's the purpose here… to get on their radar.
Start a conversation…
Arrange a phone call…
Visit their business…
Perform a live demo…
This outreach campaign applies to everyone but is especially relevant if you have a B2B or service- oriented business. It's also a great approach if you have a high-ticket offer, as effective outreach strategies like this create a one-to-one connection.
It allows you to build instant trust and rapport, and it gives your potential new client direct access to you.
So long as you build a relevant list of potential leads, you can expect strong results with this outreach campaign. But a relevant list is key! If you go too broad or buy a general list of emails, it doesn't matter how strong your message is, it likely won't hit home.
2. Networking
With Cold Sales Outreach strategy there's often a clear ask and motive. You have something to sell and you think the other person will benefit from it. With a Networking Outreach Campaign like this one, the intention isn't as obvious.
This does have its issues, though, because most people are skeptical about emails from new people.
It's your job to cut through this initial skepticism.
The purpose here is to build your network and form new connections with like-minded people. When you build a list of people like this it can be more varied: those in the press, potential collaborators or partners, thought-leaders in your industry, podcasters, bloggers, suppliers, future team members, referrals…
This outreach campaign is a must for everyone!
It doesn't matter who you are or what your business is, we all need to build a strong network.
It often doesn't produce immediate results, but almost always leads to great opportunities down the line. It's an amazing approach few people take advantage of, mainly because there's no immediate ROI.
This is a great opportunity for you to stand out from the crowd.
But again, it's important you're clear of your intention and come across as genuine.
3. Link Building
This is probably the most common form of outreach marketing, which is often what leads to it getting a bad name. After all, we've all received emails like this one: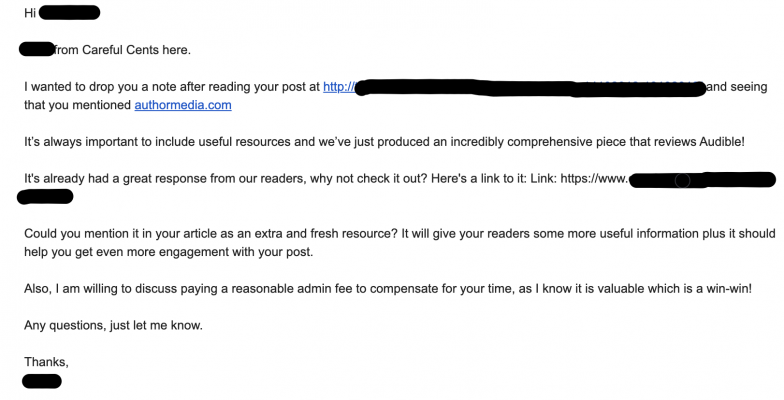 Or this…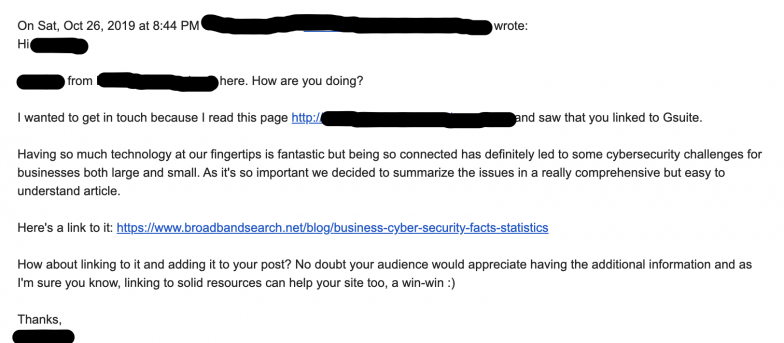 Or this terrible example:

Link building is a modern essential for most online businesses. The purpose is to create backlinks to and from other websites so you can rank well with Google. There's a lot that goes into SEO, and it's an art form that continues to evolve each time Google performs an update.
Yet link building is a foundational part of the process and it isn't set to change anytime soon.
Results here are often less effective and does require more of an email blitz approach. But done correctly it can produce impactful results that rank you on the first page of Google across many searches.
4. Blogger Outreach
Bloggers, podcasters, vloggers, influencers – these people are the modern-day journalist who has the power to put you on the map overnight.
Take the Tim Ferriss Effect, and how it helped Michael Ellsberg reach as high as #43 in the Amazon charts after a single guest post on Tim's blog. In contrast, his New York Times article only took his book as high as #335, and his appearance on CNN didn't crack the top 100 either.
This is the power of today's blogger and podcaster.
Whatever your business, gaining positive (and relevant) press always helps. Unlike any generation before, today's business owner and marketer have the power to reach millions of people simply by making a connection with one or two of the "right" people.
That's the purpose of this form of blogger outreach campaign… to connect with those who have a strong platform.
Maybe you want to write a guest post for their site…
Maybe you wish to appear on their podcast or video channel…
Maybe you hope they'll review your product…
Of course, this works the other way around too. Maybe you're the blogger, podcaster or vlogger wishing to have a thought-leader appear on your show. The approach is the same either way.
Done right, the impact it can have both now and in the future is huge.
So… what does the "right" way look like?
The Proven Outreach Marketing Process That Delivers Huge Results
Regardless of your marketing outreach campaign, there's a process you can follow to improve engagement, traction, and results. You can tailor this process around you and your business, and deliver it in a way that is most relevant to your audience.
The most important takeaway you can leave this article with is to make this outreach marketing strategy work for you.
But before we get to what you should do, let's first look at what you should not do!
Why Most Outreach Templates Don't Work
The reason most outreach campaigns fail comes down to these three things.
1. The Recipient Gets These Types of Emails All The Time
This comes down to the love-hate relationship everyone has with email.
The person you're emailing gets these sorts of emails every day. They can sense a spammy email without having to open it. They're skeptical of messages from someone they don't know.
Even if they do open your email their first thought is… what does this person want?
2. They Do Not Focus on Value
Here's an email I received recently: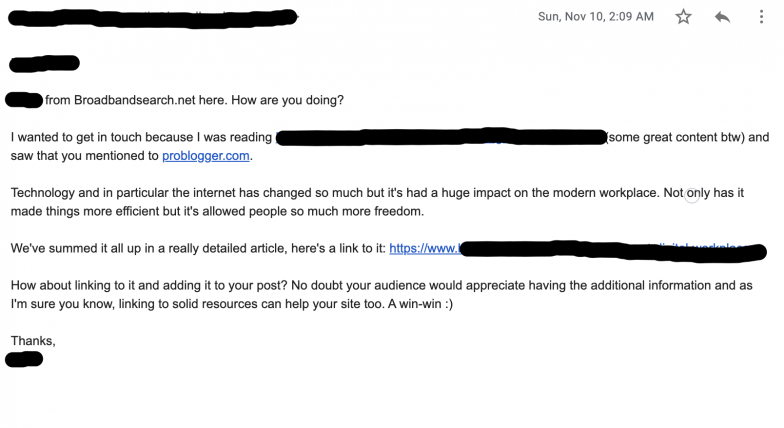 At the end, they talk about how this creates a win-win… but does it?
Where's my win? Other than adding a link to an article I wrote years ago that I don't actively promote, where is the value? What's the value for my audience?
If I add a link to their site, they win. But there's no clear win in this for me, so I'm likely to just ignore this email.
3. They Are NOT Personalized
Here's another email I recently received: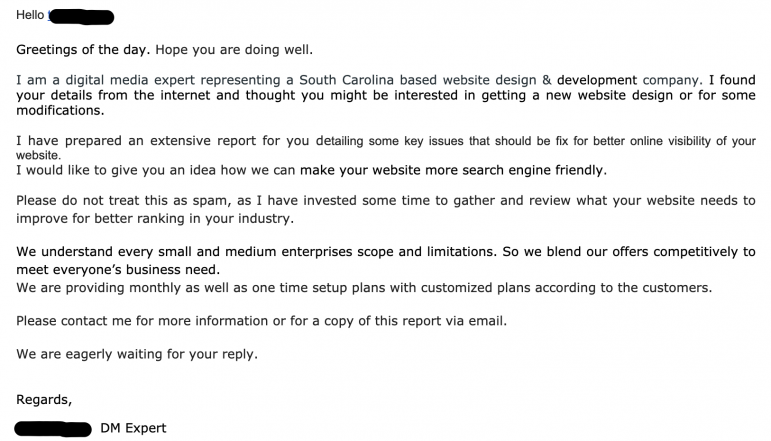 It's obvious this exact email was sent to hundreds, maybe even thousands of other people.
It starts off by referring to my website, not my name!
It's generic, with zero references to my story or business!
It mentions an extensive report, but doesn't offer any specific details!
It even says, "please do not treat this as spam, as I have invested some time…"
No, they have not. It's clear this is a generic email that's been sent to tons of people.
You've received countless emails like this, I'm sure. These are why most outreach strategies fail, and it's why most of the outreach templates you find online do not work.
They simply don't take into account the simple fact that the person you're emailing is a person.
You need to treat them as such.
This is why the outreach marketing strategy we're about to share with you does work.
Three messages sent over a period of 7 to 10 days. Whether you build a sales, networking, link building or blogger outreach campaign, this three-step process will have a huge impact on your results.
Let's dive in…
OUTREACH EMAIL 1: The Introduction
First impressions count, so this initial email is important. Yet this process begins before email itself, as your first task is to create a list of relevant people you want to reach out to.
Less is often more, so a simple Google Spreadsheet is enough.
The information you need to gather includes:
Contact Name
Email Address
Website Link
Social Media
Notes
The notes section is the most important part of this process as it allows you to zero in on something noteworthy so you can better personalize your emails. This can include one of their recent articles, an interview they've done, a campaign or launch, or one of their hobbies and/or interests.
Anything that shows you have taken the time to get to know them and personally reach out.
To save time later, put in a little foundational work now!
This is often something you can delegate or hire out to a VA or service like FancyHands. It gives you all the information you need when you need it, which is important because this is how you make sure your Introduction email gets opened, read, and replied to.
So, what information does your Introduction Email need to have? There are 4 essential elements.
1. Extreme Personalization
Don't worry, you can create a single template and use this to send all your marketing outreach emails.
(We'll share 4 powerful templates with you at the end of this article.)
But at least 25 percent of your email should be unique. This begins by starting the email with their actual name – not with the person's website address!
Assuming you create a spreadsheet, you already have this information on hand, as well as some unique notes that help you personalize the opening line of your email. This is important because most people won't read past the first line if they don't like what they hear.
Be specific.
Be complimentary.
Mention something that proves you're not a bot!
Here's an example:
Hi Danny, I hope life in Montreal is treating you well. My name is Matthew, and I recently came across a podcast interview you did with Ian Brodie about authority marketing. Great episode. I took a lot of notes about how to reach my audience, so thanks for sharing your story.
This takes 30 seconds to write, and because you already have this information in your spreadsheet you don't waste time trying to find something unique.
The final part of extreme personalization comes at the end of your email…
Keep it short, but once more prove to them you're a real person.
2. Authority
Social proof is important these days because the person you're messaging is just as overwhelmed as the rest of us. The saying may suggest we shouldn't judge a book by its cover, but the reality is that we do.
It's important to remember this when sending your marketing outreach emails.
So, what can you include in your email that helps you stand out?
An impressive title (CEO, Founder, Chairman…)
An accolade (New York Times Bestselling Author…)
An accomplishment (worked with Coca-Cola, Harvard graduate…)
A standout statistic (30+ years experience, 1,000 clients…)
You shouldn't center your entire email around this as it may come across as arrogant. But by subtly including a little authority and social proof, you improve your chances of standing out from the crowd and having your email read and replied to.
3. Value
You have to create a true WIN-WIN! It doesn't matter who you're emailing or why, you need to make it less about you and more about them.
The bulk of your outreach email should focus on what they get out of it.
By starting a relationship with you, how will they benefit?
This largely depends on the type of outreach campaign you run.
Cold Sales = how will you help save them time and/or make them money?
Networking = why will connecting with you benefit their business and/or life?
Link Building = why will your article benefit them and their audience?
Blogger = how will you increase their traffic and reach?
You need to get clear on this and specifically show them how they benefit. Once they know how this will help them and their audience, they're more likely to reply and begin a conversation with you.
A good approach is to offer them a freebie of some kind, simply for taking the time to read your email.
This might consist of:
A free e-book
A free trial or membership
A PDF report
Again, this has to be aimed at them!
Only offer a freebie if it brings them value.
If it doesn't it will come across as an empty gesture.
4. Micro-Commitment
Your main aim with your introduction email is to get a reply. If you can get the person to reply and say yes once, you're more likely to get another yes further down the line.
No matter what outreach campaign you run, you should always consider how you can get them to reply, say yes, and make it a no-brainer. One of the best ways to do this is to avoid including a link/ask in this email, but rather ask them if you can send it to them later.
For example, this is what most people do:
I recently wrote this article on 21 Incredible Copywriting Examples: https://mirasee.com/blog/copywriting-examples/ that I believe would be a perfect addition to your own article on copywriting best practices.
By giving them the link straight away, you remove the chance of a micro-commitment. Instead, write:
I recently wrote an article on 21 Incredible Copywriting Examples that I believe would be a perfect addition to your own article on copywriting best-practices.
Is it okay if I send you this article to look at?
Alternatively, I could send you an overview of the article's main takeaways?
You've now created curiosity. It's a low burden ask that often leads the other person to reply with something like, "Sure, send it over."
At this point, you send your article to them, but because they've already started a conversation with you they're more likely to take action and read your article.
These four elements help turn your introduction email into something the other person will likely open, read, and reply to.
Of course, not everyone will reply to this introduction email.
Which is fine, because the power often lies with the follow-up.
OUTREACH EMAIL 2: The Creative Follow-Up
Will everyone reply to your first email? No!
Will everyone even see your first email? No!
You have no idea what the other person is going through, but it's safe to say that they get a lot of emails and yours may have got caught up in some spam folder, filter, or whatever else.
So if you don't hear anything after 3 to 5 days, presume they didn't get your first email.
Standard practice, right?
You send a follow-up.
You've heard this advice many times before.
So, you send an email like this one…

I found this in my spam folder, along with the first email they sent.
I never saw the follow-up, because why would I if the first email failed?
This is where the creative follow-up comes into play.
Rather than sending another email about your previous email, get out of their inbox and message the person on:
Facebook
Twitter
Instagram
LinkedIn
Think outside the box and leave a short, informal message on a platform that is not email.
This is where your initial research once again proves useful because you've already made a note on a few of the platforms they use.
If you're connected with them already, DM or message them.
If not, tag them in a tweet or comment on one of their posts.
Above all, keep it simple. Here's an example.
Danny, I hope you're having a good week. I sent you an email a few days ago but imagine you have a full inbox so may have missed it. I wanted to check in to see if you saw it… if not, I can resend it or send it here on Facebook. Thoughts?
Short and sweet, and once again creates a micro-commitment with a low-burden question.
Maybe they did see your email but figured it was spam. This proves you're a real person.
Maybe they saw your email but didn't get a chance to read it. This reminds them to do so.
Maybe they never saw your email in the first place. This gives you another chance to send it.
By getting out of their inbox, you prove yourself to be different and more creative than most.
The point here is to get on their radar and prove yourself to be unlike everyone else.
OUTREACH EMAIL 3. The Final Follow-Up
If your first two messages don't succeed, it's time to get back into their inbox and try one final time.
There's a difference between persistence and annoyance, and the line is fine.
If you send one follow-up after another, you'll come across as annoying and spammy.
If you creatively show up a few times and provide value, you're seen as persistent.
Most people respect persistence and perseverance, but nobody respects anyone who's annoying!
After 7 to 10 days, send one final follow-up email.
The same rules apply here as with your introduction:
Personalize it.
Provide social proof.
Add value.
Create a micro-commitment.
The main difference here is that now is the time to include the link or ask in your email.
Instead of asking if they want you to send them your link, just share it with them.
However, there is still a way to include a micro-commitment and use a little human psychology to force them into action. In today's society, it's known as FOMO (the fear of missing out).
Here's an example:
Danny, this will be the last time I message you about this. I appreciate your time and don't wish to waste it. So, if I don't hear anything from you in the next few days I'll make a note to close your account. Is this okay, Danny? Should I close your account, or would you like to discuss this further?
This example once again makes it personal, using their name a few times. It's also complimentary and respectful, recognizing and valuing their time.
Yet the focus then turns toward the closing of their account.
If they don't reply now, they won't hear from you again.
This is often enough motivation for them to stop and think.
"Do I really want to miss out on this opportunity?" they ask themselves
And because you ask them a question, you invite them one final time to interact with you and start a conversation.
Regardless of whether your outreach strategy focuses on cold sales, networking, link building, or blogger outreach, this three-step process will help get your email opened, read, and replied to.
This process helps you stand out for the better, proves you're a real person, and treats the other person as a human being. It does take more time than the standard outreach strategy that most businesses send. But that's the point because this helps you stand out for the better.
The good news is, you can template part of this process. We'd like to share some of these templates with you now so you can take your outreach marketing ideas to new heights.
4 Incredibly Effective Outreach Templates (by Category)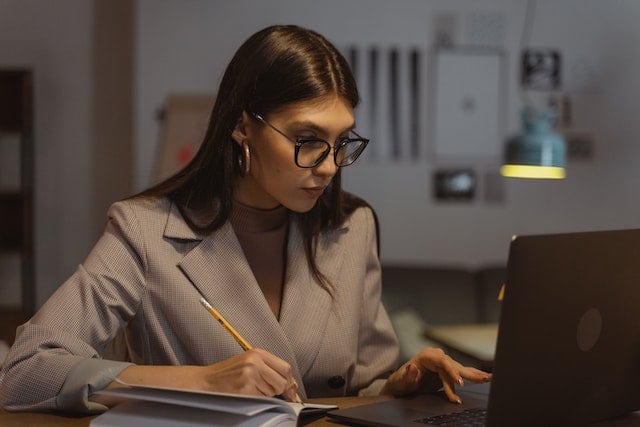 Here are four proven outreach templates from Hunter Branch at Rank Tree you can use for your Introduction Emails. They all use the elements highlighted in this article but differ slightly based on their outreach campaign type.
Use these as a guide to transform your own outreach marketing ideas from good to great.
1. The Cold Sales Outreach Template
Hey, [THEIR NAME]!
My name is [YOUR NAME] and I [WORK WITH X PERSON OR OWN X BUSINESS].
I've been a fan of yours for a while now—love the great work you're doing!
[TALK ABOUT SOMETHING SPECIFIC THEY'VE DONE RECENTLY].
I noticed something about your site the other day…
[INTRODUCE THE PROBLEM…either a problem you think they might have or one you can see that they have (and point to where it is specifically)].
[EXPLAIN HOW THIS PROBLEM COSTS THEM MONEY].
Are you aware of this?
I wanted to bring it to your attention because I've learned from the work I've done with my clients that fixing this issue can [SPECIFIC BENEFIT].
I fixed a similar issue for one of my clients, [CLIENT NAME], and we saw a few shocking things happen.
If you like, I can send you some of those results and overview what we did to solve their problem.
Is it okay if I send you this short report, [THEIR NAME]?
Looking forward to hearing from you!
[YOUR NAME]
2. The Networking Outreach Template
Hey there, [THEIR NAME]!
My name is [YOUR NAME] and I [WORK WITH X PERSON OR OWN X BUSINESS].
I recently found [THEIR BLOG] and [SPECIFIC COMPLIMENT ABOUT THEIR SITE OR A PARTICULAR PIECE OF CONTENT].
I just wanted to reach out to connect with you and offer you a free copy of [FREEBIE / COURSE / BOOK] that [QUICK BENEFIT-DRIVEN SENTENCE SELLING THEM ON THE VALUE].
Based on some of the content on your blog, (especially posts like this [URL OF ONE OF THEIR POSTS] that talk about [TOPIC FROM THEIR POST THAT YOU ALSO TALK ABOUT] I thought you might find it intriguing.
Is it okay if I send you the [FREEBIE] to look at?
Thanks—really like your work!
[YOUR NAME]
3. The Link Building Outreach Template
Hey, [THEIR NAME]!
My name is [YOUR NAME] and I [WORK WITH X PERSON OR OWN X BUSINESS].
I recently found [THEIR BLOG] and [SPECIFIC COMPLIMENT ABOUT THEIR SITE OR A PARTICULAR PIECE OF CONTENT]!
I noticed you wrote a fantastic post on [TOPIC OF THEIR POST] that [MENTION HOW IT CONNECTS TO THE POST YOU'RE ABOUT TO PITCH].
[I / MY COMPANY / MY CLIENT] actually recently released an in-depth blog post on [TOPIC OF YOUR POST] that [SPECIFIC BENEFITS THE POST GIVES AND WHY IT'S BETTER THAN OTHER POSTS ON THE TOPIC].
I believe you'll find this to be a valuable resource… is it okay if I send you a link to this article so you can see if it's a good fit?
Whether you're interested or not, I'd love to offer you [MENTION A FREEBIE AND GIVE A QUICK SENTENCE SELLING THEM ON THE VALUE].
Let me know your thoughts, [THEIR NAME]–I'd love to connect with you!
Thanks!
[YOUR NAME]
4. The Blogger Outreach Template
Hey, [THEIR NAME]!
My name is [YOUR NAME] and I [WORK WITH X PERSON OR OWN X BUSINESS].
I recently found [THEIR BLOG] and [SPECIFIC COMPLIMENT ABOUT THEIR SITE OR A PARTICULAR PIECE OF CONTENT]!
Quick question: Are you accepting guest posts?
If so, [I / MY CLIENT] would love to write one for your audience.
I have a few article ideas I'd love to share with you… can I send you my 3 ideas, [THEIR NAME]?
Thanks!
Ready to Give Outreach Marketing a Try?
Simply learning about this winning approach to outreach marketing isn't enough. No matter what your business, at least one of these outreach campaigns will benefit you.
But only if you take action.
So right now, I want you to choose an outreach strategy to focus on and commit to taking action. Create a spreadsheet, research relevant people, and in the coming days connect with these people and deliver value.
The sooner you take this first step, the sooner you'll reap the rewards.
To help get you started, you may like to read our guide on the 50 Best Lead Generation Tools you can use to drive your marketing. Many of the tools on this list will help you deliver a more effective outreach campaign. You can check out this guide here.