11 Online Course Examples to Inspire Your Course-Building Efforts
Matthew Turner
The world DOES NOT need your online course!
OR DOES IT?
Maybe you flip between these two thoughts…one day you say, "Yes. This is amazing. I need to do this." Then the next day comes and you're less sure: "Does the marketplace really need any more interactive online courses? I feel like this could be a big waste of my time."
You want to do it, but you don't.
You know you have the content and expertise.
But where to begin? How can YOU make sure YOUR course stands out against the hundreds of thousands already available?
It's enough to make you want to…push paper off of your desk.
After all, creating an online course takes time…
If it doesn't do well, you could lose money…
There are so many other projects you could focus on instead…
It's decided then. The world doesn't need your online course.
BUT… what if it does?
You are, after all, experienced at what you do and already have a huge impact on your audience. The interactive eLearning courses you see currently available aren't that great. In fact, most of them are below average.
You could do better.
You could do A LOT better.
And your audience deserves better.
So, why not you? Why not your course?
Done properly, you'll increase your passive income and create a new revenue stream. You'll have more time to scale your business, grow your team and have more time for your family.
More importantly, think about the impact it will have on those you serve. You can help an exponential number of people where you've previously had to work one-on-one or in small groups.
So, it's decided then. The world DOES need your online course.
Ah, the indecision. It's enough to make you want to…push paper off of your desk. Again. And again.
It's true… there are far too many online courses already available.
Yet at the same time, there's not nearly enough.
The online education market continues to grow year-on-year. By 2025 it's expected to reach $325 billion per year. This isn't a trend. This is the future!
The way people learn is evolving, transitioning away from the classroom and into the digital realm. The world is more connected than ever, and for the first time, people who previously didn't have access to knowledge now do.
So it's not that the world doesn't need more online courses… it just needs less terrible ones.
This is bad news for people who are great at "selling" and jump from trend to trend. Yet this could be great news for you if you're an expert at what you do and have real, practical advice to share.
So, what's an expert to do? How can YOU get started?
How To Create a Memorable Interactive eLearning Experience…
If you're committed to creating an eLearning course that has an impact, you're in the right place. This article won't show you how to structure your online course or generate the perfect idea, but rather share some of the world's finest online course examples.
These best-in-class online training examples will inspire you.
They'll show you what the best educators and trainers use to engage their students.
They introduce you to innovative techniques so you can stand out from the crowd.
This article will show you what to do, so you can avoid what all the other online courses get wrong!

---
Need More Than These Online Course Examples?
Dive into these other free resources and eLearning examples that show you how…
This article will introduce you to 11 exceptional online course examples. Each one focuses on a different topic/industry, and every one demonstrates a unique element that sets it apart from those with no reach, no engagement, and no impact.
Here's the list of the best online course examples in the world:
** NOTE ** Before we begin, I encourage you to actively learn as you read this article:
Have a pen and notepad in hand.
Don't just read my notes… take your own.
Spend 5 minutes on each online training example: what do you like? what stands out?
Apply EVERYTHING you read to YOUR own course!
Your aim is to create an online course that ends up on a list like this in the future. You won't achieve that with reading alone. Take action, starting with our first online course example…
---
Steve Kamb helps you get healthy and lose weight. But instead of trying to appeal to the masses, he specifically works with those who embrace "nerd" culture. The Nerd Fitness Academy is one of the most successful on this list.
Established over 8 years ago, 35,000 students have gone through the course.
So, why does this online course work? There's a lot to admire about it, but the stand out feature is how Steve uses gamification to create immense engagement from his students. These are self-confessed nerds, after all, so the idea of turning their weight-loss into a game appeals to them.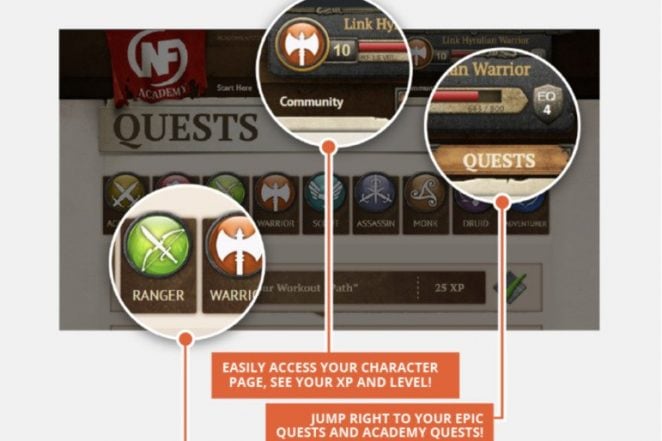 You don't complete tasks, you take part in quests. You build your own character and join a community of like-minded gamers, comic book fans, and movie nerds who wish to get healthy and lose weight.
Steve Kamb has built a service for a specific group of people. More so, he understands what they like and what motivates them.
What You Can Learn From This Online Training Example:
Make your course fun. If you want your students to actually consume your content and take action on it, you need to make it fun. Like Steve, consider how you can incorporate badges, rewards, and gifts into your course. Give them something to aim for, and give them a reason to show up day after day.
Author and speaker Dorie Clark has built a huge reputation over the last decade. She's written for some of the best publications on the planet, including the Harvard Business Review, Forbes, and Inc. She knows what it takes to write for high-profile publications. She knows how to help others do the same.
However, having an established name like Dorie isn't enough. Many people think it is, and that this is why an influencer like Dorie succeeds.
"The reality is, a high-quality online course is what helps you establish authority in the first place."

Tweet Me
Despite her experience, Dorie still needed to prove that her course was better than the others available. One of the ways she achieved this is by SHOWING her audience what they would get.
Not the standard copywriting practices of showing the benefits, but literally highlighting the step-by-step journey you will take when you join her online training. You get to see what you get in Chapter 1, what each video focuses on, and the other resources that accompany them. This establishes instant trust.
What You Can Learn From This Online Training Example:
Show your audience what they will get. Break down step-by-step what's inside, and show them the overall journey they will take. Don't worry about hiding this or sharing too much. Open the door for your audience and let them see what's on the other side.
Shannon Rogers achieves what both Dorie Clark and Steve Kamb did above: appeal to a specific niche and establish immediate trust by showing what's inside the course.
Woodwork training won't appeal to the masses, but those who want to learn how to do it need tangible advice. They need to be shown what to do and when, so it's an ideal candidate for an online training course. Like Dorie, Shannon Rogers shows his students what they will get once they enroll.
Yet he goes one better than Dorie by producing a short "highlights reel" of each lesson. It breaks down exactly what you get inside the lesson, as well as showing how the whole course is laid out.
Yet the standout feature of The Handtool School is the use of Semesters.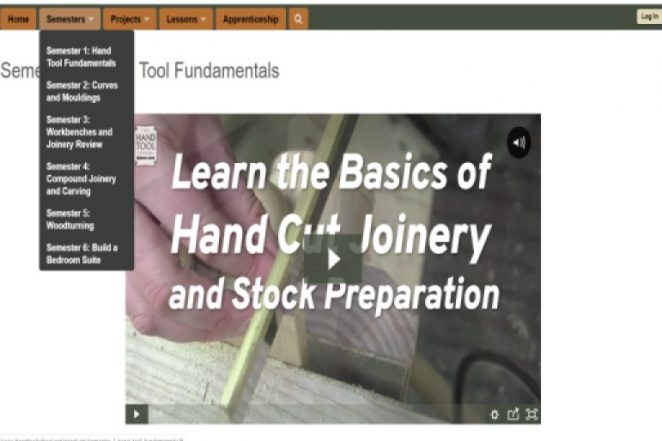 There's a specific journey that takes you from beginner to expert. This provides a relevant course for everyone, no matter how experienced they are. It gives the student a roadmap, literally showing them how they can evolve from where they are to where they want to be.
What You Can Learn From This Online Training Example:
No matter who your student is, they have a desire to grow. By giving them access to different levels, you create an attainable journey for them that sets your course apart from the rest. Wherever possible, think about how you break up your course so it isn't overwhelming.
More so, ensure you give them what they need when they need it.
A true success story of the self-publishing era, Joanna Penn not only knows how to write a good book, but how to publish and market it. She offers several eLearning course examples for both fiction and non-fiction authors, and each course offers the same high quality.
Like Dorie Clark, Joanna shows her potential students what they get. Yet what stands out in her online courses is the use of expert interviews, case studies and masterclasses.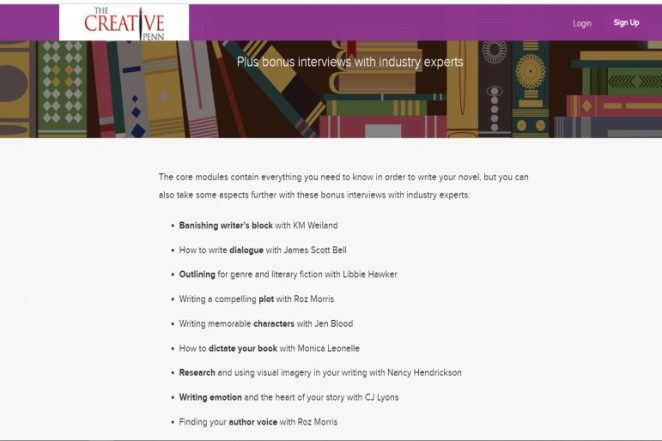 After a decade of writing and publishing both via the traditional and self-publishing route, Joanna has established a strong network of writers, publishers, editors, and agents. She gives you access to them via her courses, meaning you not only tap into her expertise but other experts' too.
What You Can Learn From This Online Training Example:
Your students may purchase your course because of your expertise, but that isn't to say you can't add further value by involving others. You may have access to people your students don't. Involve them. You can create immense authority through guest interviews, masterclasses, and live events.
Charlie Hoehn is an author and keynote speaker who's worked with the likes of Tim Ferris, Tucker Max, Remit Sethi, and Gary Vaynerchuk. He speaks and advises on several subjects, but one of his core strengths surrounds Career Building.
His online course Land a Job You Love is a testament to this.
There's a lot to love about this online training example, but one of the standout features is how Charlie structures everything around his S.T.A.G.E.S Technique.
From the sales copy to the course material itself, his S.T.A.G.E.S Technique appears everywhere. It's the basis of his online course, and it's a genius way of structuring, selling and promoting an online course.
What You Can Learn From This Online Training Example:
As well as proving value, make your students' lives as easy as possible. They face a lot of information each day. You need to stand out from the white noise, and get a clear message through that removes uncertainty. Having a technique, method or process helps achieve this.
It's memorable, easy to communicate and above all… scaleable.
When you join Todd Herman's flagship program, you know what journey awaits you. You will, for 90 days, work towards the goals you set. Everything involved centers around these 90 days.
You embark on a specific journey. There's ascension as you start at the bottom of the mountain and are shown what awaits you at the top. Day-by-day, week-on-week, month-after-month… there's a clear customer journey designed for YOU.
Like Charlie Hoehn, Todd Herman ensures his course sticks in your mind. You may not know all the details. You don't need to know all the details! What you do know is that you'll achieve rapid progress over a 90 day period.
What You Can Learn From This Online Training Example:
"No matter what your course is, the journey you take your student on is key. There needs to be a clear ascension up the mountain, guiding them from where they are to where they want to be. "

Tweet Me
Make it easy for them. Remove all doubt. Ensure they knew exactly what their journey looks like.
Make it clear and attainable. Uncertainty is the barrier that stops many people from buying. Remove this by showing them how powerful the journey ahead is.
This is an online course example that demonstrates how powerful a course can be when you transform it into so much more. Desislava Dobreva focuses everything around her community. She makes it about the collective, above any one individual.
A strong community is often at the heart of any successful online course. It creates accountability, shared knowledge and empathy. Above all, there's a sense of competition and desire to keep up with everyone else in the community.
Desislava provides a huge vault of content and course material, but at no point is the focus on the content. It will have a huge impact on her students, but only if they first integrate with the wider community.
This approach establishes trust and engagement, but also the foundation for a strong referral system. The community takes on a life of its own, selling on your behalf and showing up when you need them to. You just have to follow Desislava on Facebook to see how her students turn up for her, promote her, and endorse her far and wide.
What You Can Learn From This Online Training Example:
Whoever your audience is, they are people; human beings!
We're a social species attracted to strong communities of like-minded individuals. We often learn, progress and grow faster when surrounded by others. It creates a sense of belonging, but also competition. Building a strong community won't only serve them, but also lay much stronger foundations for you.
8: YouTube For Bosses by Sunny Lenarduzzi
One of the biggest differences between an online course that succeeds versus one that doesn't is the Big Promise on offer.
If someone enrolls in your course, what will they achieve after they take it?
This not only needs to be powerful, but simple and clear. Sunny Lenarduzzi does this with her YouTube For Bosses course.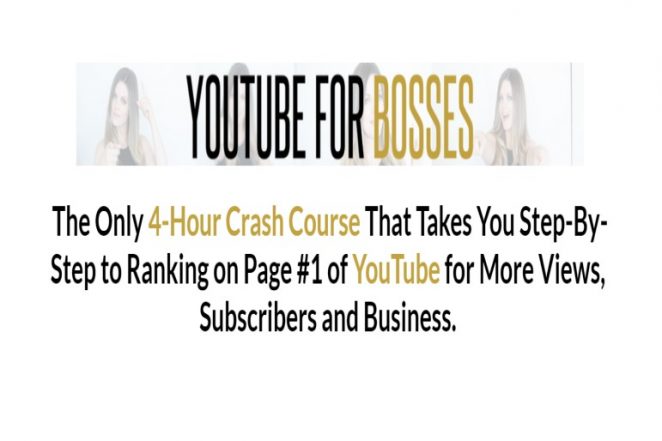 This course takes 4 hours.
If you follow it step-by-step, you'll rank page #1 on YouTube
This will bring you more views, subscribers and business.
This is Sunny's promise to you. It's simple. It's clear.
So… What promise do you make to your students?
What You Can Learn From This Online Training Example:
If your online course doesn't provide a strong, clear promise… it's likely too complicated.
Instead of trying to solve every problem under one course, split it up into semesters like Shannon Rogers does. Keep it simple. Have a clear message and a clear promise that's both attainable and impactful.
It's important to create an online course that solves a specific pain for your students. However, they will often have multiple pain points. So if you can solve a few of these with a single course, it's worth considering.
This may seem to contradict the previous point, but it doesn't. It's a fine line for sure because you don't want to overcomplicate your course.
Yet if you get this right, the results can be powerful. Jeff Goins is a great example of this, as he hit a true home run with his Tribe Writers program.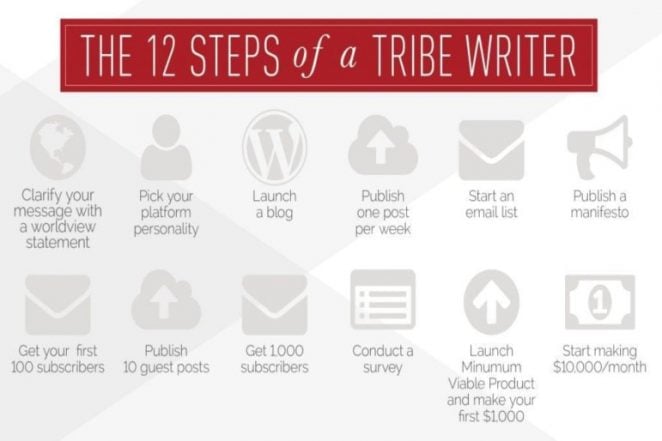 This 12 step process is a fantastic example of mapping out your student's journey. Yet Jeff doesn't focus on one pain, but rather two.
Writing and finding your voice
Publishing your writing and building an audience
No matter what a writer writes, these two pain points follow them everywhere. It isn't enough to be a good writer. You must also build a tribe and get your writing seen. The opposite is also true, as good marketing won't fix poor writing.
Jeff Goins helps his students overcome both of these problems, ensuring they develop a platform that aids their writing for years to come. He promises to solve two painful problems while keeping his entire message and journey clear and simple.
What You Can Learn From This Online Training Example:
You need to know your audience on a deep level. The better you know them the more you'll understand and appreciate what keeps them up at night. Often their biggest pain will come accompanied with 1-2 other pain-points. Think about how you can solve them all — so long as you don't overwhelm!
10: Kill The Chaos by Charles Byrd
This online course example focuses less on the course itself and more on how Charles Byrd promotes it. The Kill the Chaos online course ticks off many of the boxes we've already focused on in this article. Yet it's how Charles built his audience that truly stands out.
Through Joint Ventures and Webinars, he's created a vast network of partnerships.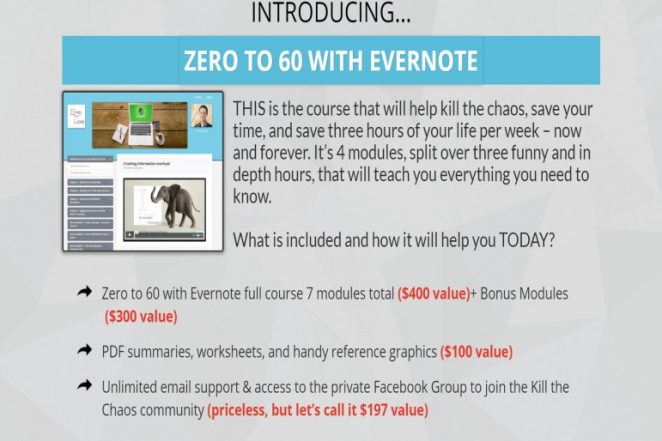 It's important to remember that your online course is only the first step. It's often the easiest step too, because what comes next is ensuring the right people hear about it.
Unless you already have a massive audience, you'll need to grow it. A great way to achieve this is by tapping into other people's audiences. Through association, you build immediate trust.
Webinars and JV's don't seem to have the same appeal or impact as they did a few years ago, but they're still one of the best ways to build your audience and get your online course in front of the right people.
What You Can Learn From This Online Training Example:
Think about who your audience already follows. Sometimes this will be a competitor of yours, yet often it will be someone who provides a service that compliments your own (for example, if you're a copywriter, you could form partnerships with people who focus on online advertising, funnel creation, or social media marketing).
Don't get fixated on the size of their audience, either. It's much better to form a partnership with someone who has a small but engaged audience than a large yet generic one.
11: B School by Marie Forleo
Finally, this has to be one of the finest online course examples available. Over the last decade, Marie Forleo hasn't just built an audience, but rather a cult following. Fans of Marie follow her without question.
In short, she's developed a movement!
This is, of course, easier to say than do. Few people achieve cult status as Marie has, but it is possible to do if you create a conscious journey for your audience. When her B School program opens each year, you cannot escape the dozens of influencers who take part in her joint venture strategy.
It doesn't stop with influencers, though.
It's her existing students that lead the charge.
"Whatever course you build, approach it with the intent of building a movement that grows way beyond you."

Tweet Me
Marie Forleo provides a powerful example of how this is done. Today, she reaps the rewards as hundreds of people sell her course for her.
Yet it began with her developing immense trust with her audience. She got to know them. She created content for them. She solved their problems.
Not everyone will build a movement as large as hers, but the opportunity to create something bigger than just a course is available to you! What Marie has achieved with her course, and what everyone else on this list has is something you can replicate.
Not copy or steal, but take great inspiration from.
So… here's what you can do right now to set your own course up for great success.
Use These eLearning Course Examples to Inspire You to Take Action
Online courses are not a fad or trend set to fade. They form part of the future of education. Not just with a younger generation more adept to the online world, but those in developing countries with fewer opportunities beyond eLearning examples like this.
Above all, the working world continues to evolve and change. More and more people are leaving their jobs, setting up businesses and working for themselves. They're embracing a location-free existence, setting up portfolio careers and living life on their terms.
Chances are you too fit this demographic. You have expertise after years working in the field and you now want to share this with more people. You want to create a passive income stream, or at least one that has the power to scale without you having to work one-to-one with clients.
The opportunities to achieve this are available to you.
The 11 Online Course Examples in this article prove this.
These are some of the most successful online training examples currently available. Some of the people on this list came through our training here at Mirasee. Some of them had a great idea but were unsure how to execute on it.
Others had no great idea but knew they had the expertise to create an amazing course…
You need more than a good idea. You need more than an established brand or name. You need more than a series of videos with a few worksheets attached to them. This is the reality of most online courses, and it's why so many of them fail.
It's likely why you're on the fence, worried you'll waste your time and/or money!
These 11 Online Course Examples show you how it's done. So don't just read this and forget about it. Right now I challenge you to revisit each one of those examples and:
Spend at least 5-10 minutes on each page, studying their sales copy and course structure.
Highlight section that stands out to you, and consider what will work for your course.
Where possible, buy or trial 2-3 of the courses on this list (literally see how they do it).
Don't just read and learn. Learn and take action. If you do, you may create an online course that lands on a future edition of this article. And if you would like further help with designing your online course, you may be interested in the Course Builder's Bootcamp, which teaches you exactly how to create, market, and profit from your own online course.