The Ultimate Tech Guide to Building Your Online Course
Rocky Kev
If you're an online course creator, or aspiring to be one, chances are, you struggle with technology.
You feel mystified, confused, and even overwhelmed with all the teaching platforms available to you.
Thousands of articles compare different teaching platforms and features, but very little content tells you what you absolutely need to deliver your course successfully.
The truth is, you won't know exactly what technology you need until you've actually started building your courses. But don't let that stop you from starting in the first place. As we like to say in Mirasee, just begin and then pivot as necessary.
Before I continue, let me tell you where I'm coming from.
As Mirasee's course technologist, I've seen and responded to a lot of our students' struggles with technology. In the past year alone, I was in charge of deploying eight online courses for Mirasee. I also have access to a vast collection of online courses, all using different learning management systems.
[I'm also super humble and attractive (sorry ladies, I'm taken.)]
That's why I put together this guide to the must-have elements that we believe constitutes a high-quality course. You could ignore some of them, but if you do, you would have an infoproduct, not a course.
Each section is divided into "Noob" and "Pro":
In gaming language, "Noob" refers to a newbie. This section is for you if you're not comfortable with web technology and aren't inclined to hire somebody else to take care of it for you. Look at the Noob sections also if you want inexpensive options.
"Pro" refers to the professional or expert. This section is for you if either you're familiar with web tech (for example, you can do simple HTML coding) or you have an IT person or VA helping you with the tech side of things.
I want to stress that Mirasee has a team who creates courses. We have full-time staff who write the scripts, record the video content, and support our students through coaching. My entire job is to handle the tech side of building courses, and I'm just one piece of this big puzzle.
So if you're a soloprenuer or have a small team, it's unfair for you to compare your course to ours. But rest assured that Danny started creating his online courses with a staff of one. And look at Mirasee now 😉
Your Course Delivery Mechanism
Making and selling a course online requires a process to handle registration, deliver course content, and protect your content from non-students.
It's common for students to get swayed by fancy technology, fantasizing about an elaborate badge system, an attractive navigation, and dozens of integrations with other pieces of software. Trying to find the perfect learning platform is procrastination and putting the carriage before the horse.
"Choosing your course platform isn't a marriage; you're not tied to it forever. "

Tweet Me
Don't worry about finding the perfect platform right now. Choosing your course platform isn't a marriage; you're not tied to it forever. You could always move your course or build new courses on other platforms later on. Read this post to learn how to evaluate platforms in more detail.
Noob
If this is your first time building a course, focus on whatever platform can deliver your content as quickly and effortlessly as possible. Leave your big dreams to version 2 of your magnum opus course, after you've enrolled hundreds of students and made thousands of dollars in the process. Read about what successful online course creators have to say about technology here.
Your best options are:
PayPal or other payment processors. An online payment processor lets you accept payments, including credit cards, without getting your own merchant account. It integrates with different email service providers so that, as soon as somebody pays you, they get automatically added to your students' mailing list and will automatically start receiving your email lessons.
Email Service Provider. You can use your personal email and send emails manually or, better yet, use an email service provider like AWeber and Mailchimp so you can schedule the email lessons to go out automatically.
Google Hangouts, Skype Group Calls, Join.me, or Zoom, for Live Video. If this is your first time teaching an online course and you want to use video, teaching live is the best way to validate if you're as good as you say you are. We call this process "piloting" in the Course Builders Laboratory. You invite a small group of people to test your training. This piloting process helps shape how the "real" course will look like when you open it to the world. You can see your students' reactions in real time and make the necessary adjustments as you go along. You can't do this with recorded video.
The technology requirement for live video is lower than for recorded video. Video conferencing software will let you teach live, share your desktop, deliver a slide presentation, and even record it for those who were unable to attend it live.
Third-party hosted platforms like Teachable, Ruzuku, or Thinkific. These platforms take care of the technology, provide templates, and integrate with online shopping carts and email service providers. They'll let you upload recorded videos, eliminating the need for you to host your videos on YouTube.
Pro
If you can handle more technology, then you have options that give you more control over your own courses. Of course, any of the newbie options could work for you as well.
Zippy Courses, WP-Courseware, Amember Pro, or similar plugins. If you want to host your courses on your own WordPress site, look into WordPress membership or course plugins.
GotoWebinar, Adobe Connect, or other webinar software for live video. These are robust and more complicated (also more expensive) ways to deliver lessons live through web conferencing.
Recorded Video. This is the most common online class format. Why is video important? "Like your favorite teacher in a classroom, video allows us to engage with our students much more than mere text on a screen," Jim Hopkinson, Mirasee's Director of Courses, explains, "When paired with supporting text, photos, and graphics, you not only get the content, but also the excitement, the emotion, and the nuances of what we're teaching."
Each lesson delivers one core idea within a single video. Lessons are grouped together for structure. Recorded video lessons can be hosted on a course marketplace (like Udemy), on an LMS platform like Teachable and Ruzuku, or hosted on your website using a course plug-in. I'll explain how to host videos a little later in the post.
Unlike live video, recorded video lets you get students' feedback only after the fact (for example, when you see that most of your students don't finish watching a certain video). And if you want to make changes, you'll have to record, edit, and publish the video all over again. This is another reason why recorded video is a Pro option.
Big-Picture Roadmap
A student joins your program because you've convinced them that after taking your course, they will achieve a transformation. Maybe they start from internet novice to Web designer, or a shy introvert to a professional speaker, or someone who used to microwave eggs to a gourmet chef.
"With a Big-Picture Roadmap, you are providing your students the steps to go from zero to hero."

Tweet Me
With a Big-Picture Roadmap, you are providing your students the steps to go from zero to hero.
There are two ways you can provide that Big-Picture Roadmap of your course.
1. Graphics. Why not turn it into an actual map? In the Course Builders Laboratory, for example, students can download this roadmap:
Noob
PowerPoint, Keynote (Mac only), or Google Presentation
Canva, PicMonkey, or other web-based graphics app
Pro
Gimp, Pixelmator for Mac, or Photoshop
2. Course Structure. If you're teaching a 5-step system to Baking the Best Gluten-free Donuts in the world, then enforce that 5-step process through your lessons. It wouldn't make sense to call it a 5-step system and then have eight modules and 33 videos!
In our mini-course, Blog Post Ideas, for instance, we present 21 methods to transform students from being stuck at a blank page to generating blog content fast and efficiently. There are 21 ideas, each with its own video. Inside the course, students know that if they're on Idea #10, there are 11 more ideas left to inspire them.
Course Content
Course content is the material in your online course. The common course elements are:
1. Written Content
This includes an article, email, or short report. Additional elements include PDF files, documents, and visuals to enhance the teaching.
By itself, written content isn't a very powerful mechanism for teaching (you've practically just given them a book.) You'll need to combine it with other must-haves on this list to turn it into a course.
Noob
Email. Each lesson is a single email, with multiple lessons sent over a period of time. Email is an easy method for course delivery. There's no website to log-in to, you don't have to manage students, and technical issues are low.
Google Docs. Instead of email, you can put your lessons on Google documents you share with your students. Google Docs lets you export to PDF.
Microsoft Word or other word processor. Use whatever word processor you're already familiar with to create your text-based lessons.
Google Forms. If you want to use fillable forms, this is the simplest option-and it's free.
Pro
Web page. Put your text-based lessons on a page on your own website.
Adobe Acrobat for fillable PDFs.
2. Video
Video content can range in difficulty. At one end of the spectrum, you can involve a team of writers, actors, sound designers, and technicians carrying filming equipment and shooting on a stage with complete scripts.
On the other end, it's just you in front of your smartphone or computer. Production time starts when you hit the record button and ends when you press stop. Below are your options for video equipment, software, and hosting.
Noob
Blue Snowball or another inexpensive USB microphone. Audio is more important than video quality. If students can't hear you, then you have no course.
Webcam or smartphone. To capture video of your face, use the camera that came with your computer, an external web camera, or the camera on your smartphone. (Note: If you're using a smartphone, you'll need an external microphone for it rather than a USB mic.)
PowerPoint, Keynote (Mac only), or Google Presentation. Excellent courses teach with both audio and visuals. It's why classrooms have either chalkboards or whiteboards. Use presentation software to provide visual elements to enhance your teaching. Some even let you record the presentation as a video, complete with your voice-over narration.
MovieMaker for Windows or iMovie for Macs. If you must record video, editing software lets you cut out your mistakes, insert other related media, and enhance the video to create a better experience for your students. Your computer and smartphone also probably came bundled with video editing software, and they're good enough for basic editing.
YouTube for video hosting. If you want to record your live video classes for students to review later on, the easiest way to share the recording with your students is through YouTube. Make it a private video so only those with the link can see it. Incidentally, YouTube also allows you to stream your video live, but we don't recommend it, since you can't see your students and get immediate feedback from them.
Pro
Blue Yeti, Audio-Technica ATR2100, or other USB microphone. These slightly more expensive mics give you better audio.
Logitech c920 or other external webcam. External webcams let you capture video in High Definition (HD), for sharper, crisper online videos. But before you buy one, check your smartphone. it might record in HD already, saving you yet another purchase. Again, if you decide to use your smartphone, you'll need a lavalier microphone for it instead of a USB mic.
Camtasia, Screenflow (Mac only), or Jing. These screen capture applications are necessary if you want to record your screen, such as if you're demonstrating software.
Adobe Premiere Pro or Adobe After Effects. These video editing applications give you more robust features.
Vimeo or Wistia for video hosting. After shooting video, you still need to put it online. If you're using a course platform, look at its documentation about how to handle video. If you're putting it on your website, you can upload your file to a video hosting provider and then embed it in your web pages. You can also share your videos through a file hosting service like Dropbox or Google Drive.
Optional bells and whistles include a teleprompter software, studio lights, green screen backdrop, and backdrop supports. For our mini-course, Quit your Job – The Right way, Mirasee's Director of Courses, Jim Hopkinson, acted out the pre-written script in front of a green screen. The setup included cameras, studio lighting, a teleprompter, and camera man. Here are Jim and Danny in Mirasee's "studio":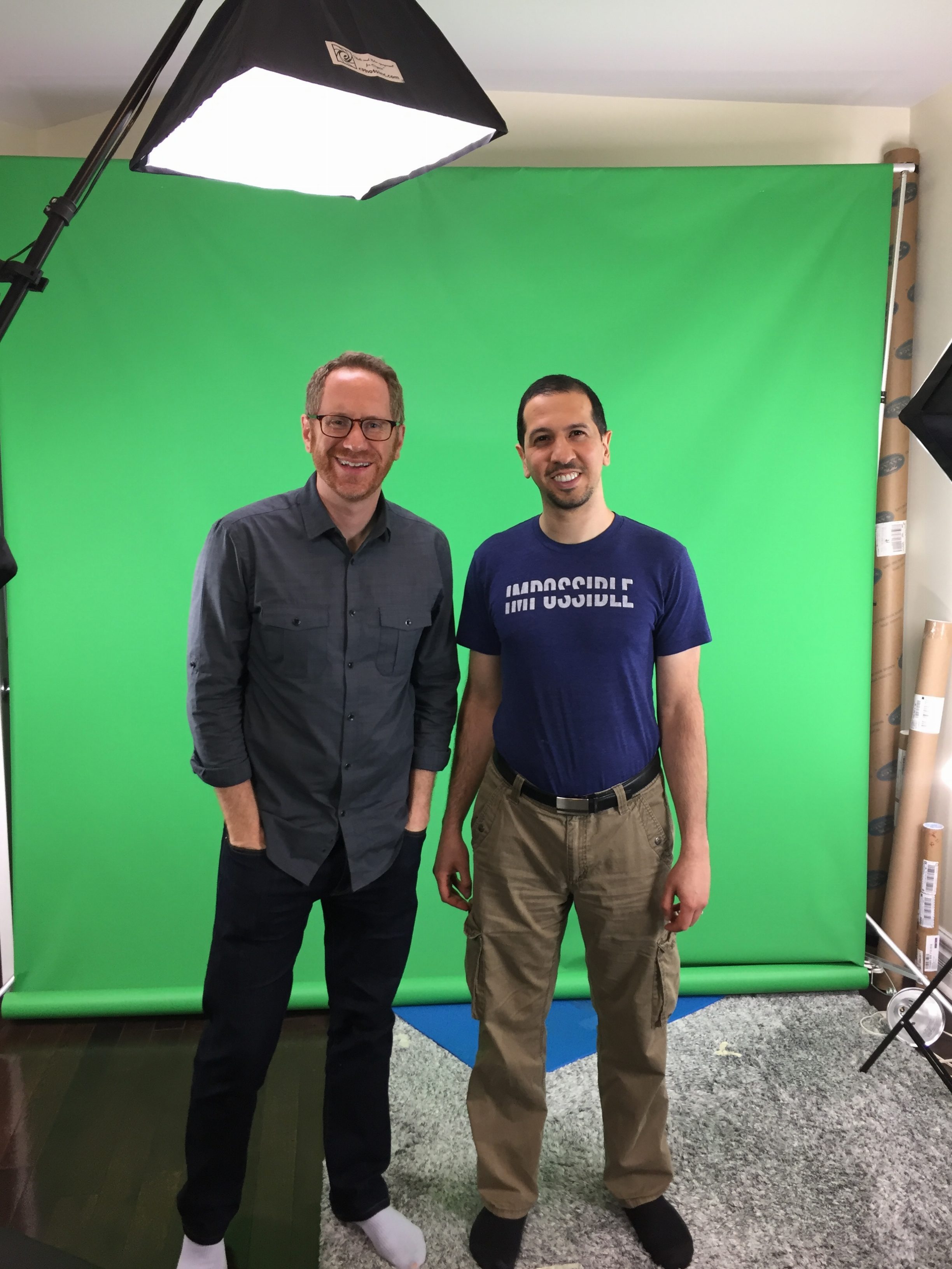 This is something you can aim for as your online course empire grows. It's certainly not necessary for you to publish your course and start earning income from it. Danny's first successful online course, Write Like Freddy, was a set of slides with his voiceover.
3. Student Support and Interaction
Student support is one of the key things that differentiates online education from information. Quickly becoming popular in course building is adding more interactivity between teacher and student, and among students themselves, through technology.
Interactive courses require a lot more forethought to delivering, and the technology behind it can get complex. Unfortunately, it's custom to your needs as a course creator. You may have to use whatever out-of-the-box technology you can find to make this work. The important thing is to have a method for students to get help when they need it.
Noob
Email. The simplest way to receive questions from your students and reply to them is through email. It's easy and familiar to most. The only downside is that it's private. If several students ask the same questions, you'll have to respond to them individually.
FAQ document. As an instructor, you may get the same issues over and over again, but your students don't know that. An FAQ page is a repository to empower students to help themselves. Use your favorite word processor to create an FAQ document with the most commonly-asked questions and their answers.
Email-based Discussion Group – These discussion groups live in email. Conversations are threaded, and messages between the group happen daily. You can set one up using Google Groups.
Facebook Group. If your students are already on Facebook, this is a simple way to interact with them. They get to interact with each other, too.
Google Hangouts, Skype Group Call, Join.me, Zoom, or Facebook Live. Schedule "office hours" where students can ask you any question related to the calls. Participants get to see and interact with each other. And the calls are recorded for reference (if you're using Skype, you'll need another app like Pamela for Windows or Call Recorder for Mac to record the calls).
Pro
Forum. If you want a forum on your WordPress site, look at plugins like bbPress.
FAQ page. You can use a web page and fill it with questions and answers, or for WordPress users, plugins like FAQ Responsive will make it attractive.
Slack or other chatroom. Another option for interaction and support is through a chatroom. If you're looking for a chatroom on your WordPress site, use WPMUDEV's Chat plugin.
Homework
Imagine if you went to a university and the professor gave you a book and told you to study it. By the end of the class, you might memorize some things. How will the professor know if you actually know how to use it in the real world?
For that, teachers need a way to test the student's comprehension and fluency.
There're two types of homework:
Quizzes – These are multiple choice questions that test the student's knowledge of the course content. These quizzes have only one right answer. In a course on How to Make a Cake, quiz questions can be "What temperature do you bake at?"
Exercises – While a quiz tests the knowledge of the course, exercises test the application. There's no right or wrong answer. For example, in your course on public speaking, one exercise question to ask might be, "When you're feeling stage fright, what can you do to relax?"
You can deliver homework in many different ways. The simplest homework assignments include templates where they fill in the blanks and worksheets with question prompts.
Noob
Email. The simplest way for students to submit homework is through email.
Google Forms. Create worksheets for students to fill in and receive them automatically after they've submitted them.
Third-party hosted platforms. Many give you the ability to create quizzes inside your course.
Pro
Cognito Forms or Gravity Forms. Use these if you want to take it up a notch and review students' work by using an online form inside your course.
WordPress plugins, Qzzr, or other quiz software. If you're using a WordPress course plugin, chances are, it has a quiz feature. You can also look into third-party quiz software that allows you to embed quizzes in your course site.
Email Reminders
It's optimistic to believe every student who joins your course will leave an expert. But in fact, most people don't complete the courses they purchase. People are busy, and life pulls them out of the course just when they were getting started. It happens.
"Most people don't complete courses they purchase. How to nudge students there's more to do:"

Tweet Me
Email is the easiest way to gently nudge students that there's still more work to do. You can automate email reminders that send on particular moments of time.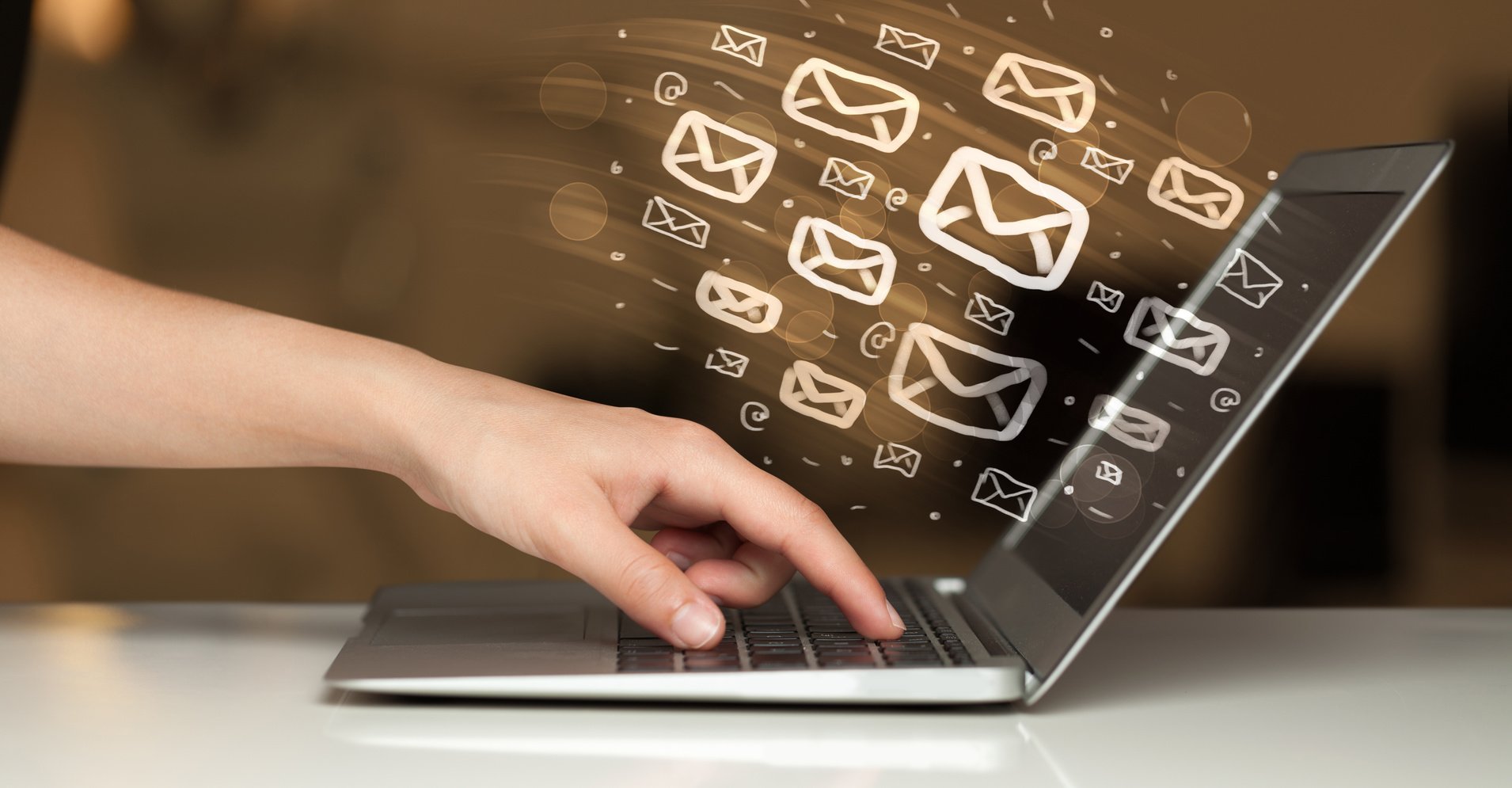 This works if you are releasing content slowly, like once a week. This is known as a drip-release course. In this case, send an email every time a new lesson or module becomes available, like this:
Day 0 – Intro – Username/password
Day 0 – Welcome to the course [Lesson 1 Unlocked]
Day 7 – Lesson 2 is unlocked
Day 14 – Lesson 3 is unlocked
…
Day 70 – Lesson 11 is unlocked
If your course is all-access, meaning all of the lessons are available immediately on the day of purchase, then it doesn't make sense to email them every time you release a new lesson. Send email reminders without making any assumption on the student's progress level. For example:
Day 0 – Intro – Username/password
Day 0 – Welcome to the course
Day 7 – Do you have questions
Day 14 – Have you seen the bonus content
Noob
Use your email service provider to pre-schedule the appropriate emails whether your course is drip-release or all-access.
Pro
Students receive additional email reminders after a specific amount of time has passed from the date of purchase, based on specific milestones they should be reaching by a certain time. For example, in ABM, know that by the first month, students should have their landing pages prepared along with a First Impression Incentive. By the second month, they should have already been reached out to influencers to guest post. So, we send the following reminders:
Day 30 –  Tips on your Landing Page
Day 60 –  Tips on reaching out to influencers
Day 180 – Reminder email
Another Pro thing you can do is to send emails depending on the students' behavior on the course site. Your LMS probably lets you track students' progress, and you can tie emails to this. You can trigger an email to be sent out, for example, when a student hasn't logged into the course site for over 30 days.
This is a pretty long post and, by now, you're probably overwhelmed.
Keep in mind that you don't have to let technology get in the way of you becoming an online course creator. As we've learned from the speakers at The Future & Opportunity of Online Education Summit, many course creators who are successful today began with the bare-minimum technology they had access to.
Matt Clark, co-founder of Amazing.com, created his very first online course with just a USB headset and slides recorded as video. He didn't even know how to edit them, so he didn't.
And Vanessa Van Edwards of ScienceofPeople.com recorded her lessons with her iPhone propped up on cookbooks. She does get points for using an inexpensive microphone from Amazon.
Moral of the story: If you want to teach online, go ahead and do it!
What are your biggest tech concerns as an online course creator or an aspiring one? What's your biggest headache? And where are you looking for solutions?
Find a Sellable Topic for Your Online Course!
Get this primer and learn our process for identifying a viable topic for your very first online course.