The State of Online Courses [Industry Survey of 1,128 Entrepreneurs]
Lexi Rodrigo
Editor's Note: The State of Online Courses is now The State of Online Learning. Read the 2018 report here.
Imagine this.
You're no longer trading hours for dollars. You've done the work once, and now you teach eager learners over and over again.
Without ever leaving your house, stepping into a classroom, or going onstage, you're impacting people as far away as India.

You wake up to see your account full of payments from new students.
This is what it's like to have a successful online course — one that's always full of satisfied students gladly paying your fee.
No wonder online course creation is so popular.
In fact, Global Industry Analysts expects the online education industry to reach $107 billion in 2015. Given the size of the market and the low barrier to entry for online entrepreneurs, we wanted to know: are they cashing in?
If so, how successful have they been? If not, what's keeping them from diving into such a promising industry? What challenges do they face? What is online course creation really like?
Wanting to pull back the curtain on online course creation, we ran a survey.
We turned to our community of mostly entrepreneurs, coaches, and freelancers who promote their products and services online, with beginner to intermediate online marketing skills: those subscribed to our free content as well as those enrolled in any of our paid programs.
A total of 1,128 respondents completed our brief questionnaire through Survey Monkey.

Keep reading to learn what we found.
A Genuine Desire to Make an Impact
Mixed, Inconsistent Results

Online Course Creators Need Help

Our Take
A Genuine Desire to Make an Impact
Survey Says…
Online courses are extremely popular with our respondents.
Out of 1,128 surveyed, more than half (55.8%) are thinking about creating an online course. About 19.9% are currently creating an online course, and 14.6% have already created one or more. Only 9.8% have no desire to do so.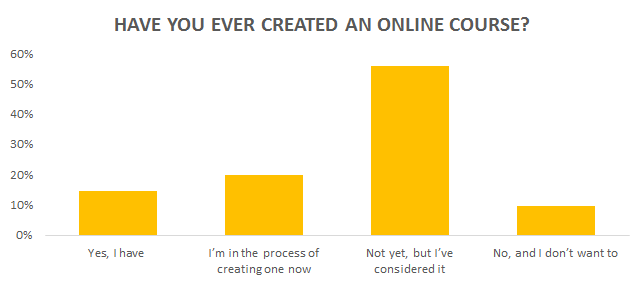 When asked about their motivation for creating online courses, the most popular response is to share their knowledge in a leveraged way, a way made possible by the Internet (66.1%).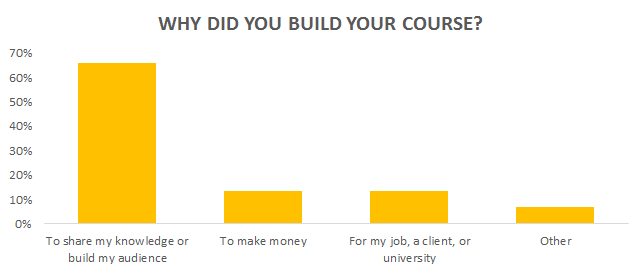 In their own words
"I want to share what I know, make the world a better place, and get paid doing it."
"To leverage my knowledge to a wider audience."
"To make an impact on the world with the lessons I'm trying to teach."
For those who choose to create an online course (rather than those who need to do it for a client or as part of their jobs), money is a secondary motivator (13.6%) but still an important one.
Respondents recognize the profitability of being able to reach many students with a single effort and create one product they can sell over and over again.
Some respondents want to replace their current income and attain financial security.
In their own words
"I want to quit my full-time job, work from home, be my own boss, and be financially secure."
"I started offering courses as a more profitable use of my time: a one-to-many model."
"I wanted steady, ongoing income, and to help more people at reasonable price points."
Respondents interested in creating an online course, but have not yet done so, have similar motivations.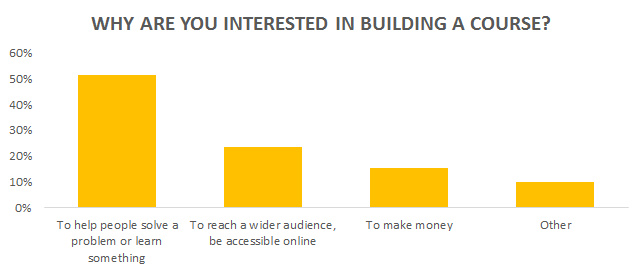 The Bottom Line on Motivation
Survey respondents are aware that creating online courses is a huge opportunity to leverage their knowledge with a broader audience and to create a sustainable income.
Most are in various stages of conceptualizing and creating their course.
They're motivated, first, by the desire to make a positive impact on a larger audience, and next, by the prospect of earning passive income with the freedom and flexibility of having their own business.
Are they able to carry out these goals?
Mixed, Inconsistent Results
Survey Says…
How do entrepreneurs measure the success of their online courses?
More than a third (35.5%) define success by their students' success: whether they completed the course, acquired new knowledge and skills, and gave positive feedback on the course.
Their next success indicator is having enough people who take the course (33.1%). And their third measure of success is reaching their monetary goals (19.8%).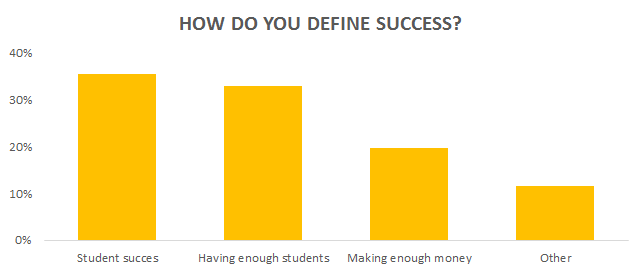 In their own words
"I want to have a 'full' class and hear success stories from people who apply their newfound skills."
"If I had people regularly signing up, that would be a success."
"[Success would be to] build the right funnel for this course and then produce a six-figure launch."
Based on these success indicators, almost half of online course creators (46.7%) consider their courses to be somewhat successful. A third of the respondents (30.8%) say their courses were successful, while some (22.5%) consider their courses unsuccessful.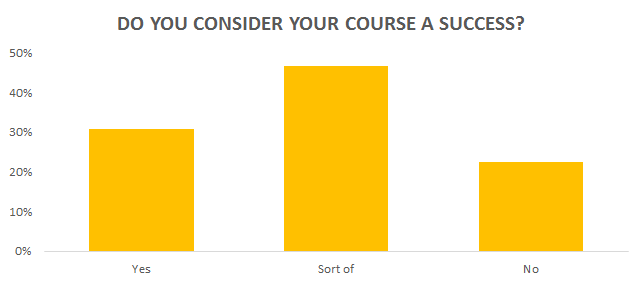 In their own words
"What makes me feel my courses have been successful is that moment of eye-opening I've seen in many of my students where something beyond them suddenly makes sense."
"I haven't done any promotion of the courses and there aren't a huge amount of people who have used the paid courses… but the feedback on the courses has been good."
"I was hoping to achieve a $25,000 launch. It was only a few thousand dollars."
While many felt their students successfully learned from the course and gave positive feedback, some course creators were dissatisfied with the number of students they attracted.
Remember, one-third of course creators define success as having enough students. And yet more than half (55%) have had fewer than 50 students. Nearly one-third have had 51-300 (27.5%). Only 17.5% of course creators have had more than 300 students.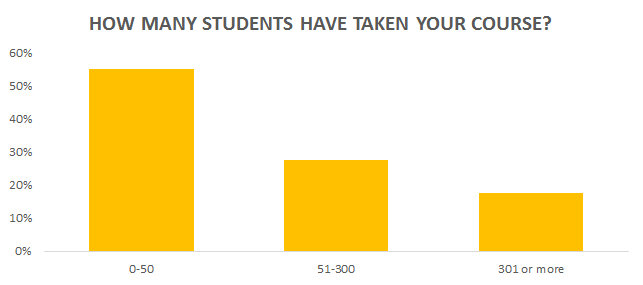 In terms of making money from online courses, the respondents' results have been spotty as well. More than half of course creators charged anywhere from $1-99 (54.2%).
On the other hand, nearly half (46.7%) charged $100-999 for their online course. A significant number (31.7%) use online courses for lead generation and don't charge for them at all. A minority (11.7%) charged $1000 or more.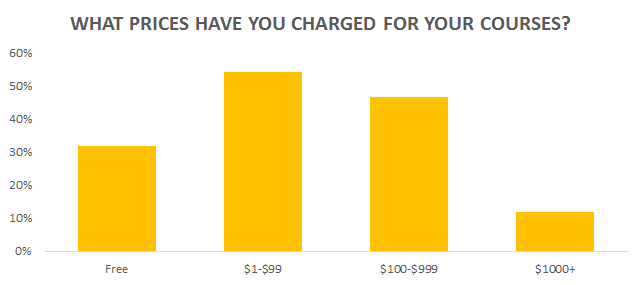 Looking at both student enrollment and course price, we see a majority of course creators (85.8%) charge less than $100 per student for their course. A similar majority (82.5%) have had fewer than 300 students.
Of the 1,128 people who took the survey, only 10 (1% of survey takers, or 6.1% of those who have created courses) charged at least $300 for their courses AND have had at least 50 students enroll.
The Bottom Line on Success
Entrepreneurs judge the success of their online courses by the achievements of their students, the number of students who take the course, and the income they earn from the course.
It's encouraging that nearly half feel somewhat successful, and one-third consider their online course a success. But others fall short of their student number and financial goals.
The combination of low student number and low price points could be the reason some course creators feel they've failed.
Expert Perspective
"Many course creators fail to understand what "real success" looks like from the student's perspective. Even well-intentioned course creators can easily wind up designing a course that helps people learn some interesting things… without necessarily taking any action or getting any significant result from the course. The best courses combine motivation, information, opportunities for action-taking, and supportive communities." 
– Abe Crystal, Ruzuku
Online Course Creators Need Help to Succeed
Survey Says…
Online course creators can do better.
When asked what their biggest challenges and frustrations have been, 34.5% cite marketing-related problems, like getting the course off the ground and attracting enough students to take the course.
The next most common challenges are narrowing their focus and teaching method (18.5%), managing technology (16.8%), and having enough time to create and maintain the course (16%).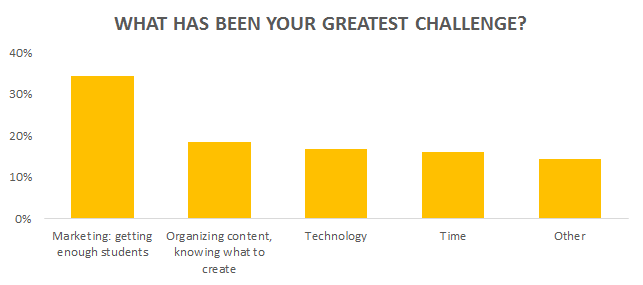 In their own words
"Developing the course is easy for me; the marketing is the challenge."
"Marketing and reaching my ideal clients."
"Finding the ideal messaging and positioning to demonstrate the usefulness of the course material."
"Biggest challenge is marketing. Learning how to market online is very different."
"The balance between what I know about and what people want to buy."
Respondents who have yet to create online courses perceive time as their biggest challenge (26.3%).
Their next obstacle is not having the confidence, knowledge, or experience (23.2%), followed closely by the need to narrow their focus and teaching method to suit prospective learners (21.2%). Fewer consider marketing (18.4%) and technology (10.3%) as challenges.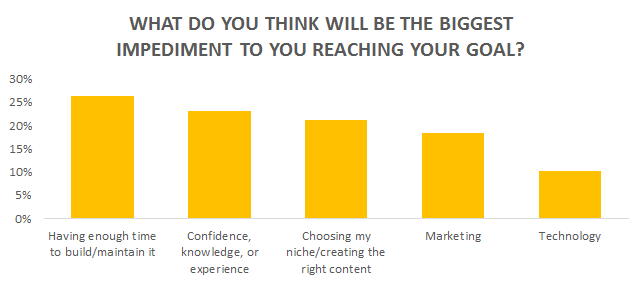 In their own words
"I'm swamped – I'm so stuck for time I don't know if I'm coming or going half the time."
"Self-doubt. Wondering if I chose the right topic, delivered it in the correct way… second guessing if I'm marketing the right way."
"When I start to create a course, I find myself dissatisfied with what I've created… then I cancel everything I've done and start fresh. As a result, the project becomes big and intimidating, which leads to procrastination on my part."
"Getting the expertise I need before I can actually coach someone/give them valuable advice."
The Bottom Line on Challenges
Online course creators need help launching and filling their courses – and they know it.
Zeroing in on a niche and creating the "right" content can also be considered aspects of marketing, since they require matching their knowledge with the market. Some struggle with the technology involved in creating and delivering online courses.
Another concern is finding the time to first create and then maintain the online course. For those who want to create an online course, not surprisingly, time is the biggest challenge.
Not having enough confidence to teach, and feeling their knowledge and skills are inadequate are also significant challenges for them. Marketing and technology, while they are concerns, are farther from their minds.
Expert Perspective
"The biggest challenge for me was making absolutely sure I understood the topic inside and out, and that I could teach it well without confusing my students… I had to immerse myself in it and learn about three times more than what I knew going in so that I could teach it. Offering it as a pilot gave me the chance to hear a few great ideas from my students on how I can make the content even easier to absorb when I launch."
– Joan Stewart, The Publicity Hound
Our Take
Online courses aren't going away anytime soon, and online entrepreneurs are trying to cash in on this opportunity.
Yes, they want to replace or surpass their current incomes while enjoying a more flexible and fulfilling lifestyle.
But the financial rewards are not the primary drivers for online entrepreneurs. Sharing their knowledge, reaching a wider audience, and making a bigger impact are more gratifying.
However, course creators' enthusiasm for creating online courses hasn't been matched by their results. While happy with their students' success, most course creators have not achieved their targeted number of students and income.
They charge little for their courses — very few have premium products — and yet have been unable to attract many students.
Time and marketing are the biggest hurdles to success. Aspiring course creators are overwhelmed by the time and effort it takes to create a good, if not great, course.
There are no shortcuts to creating a good online course. But they do need a proven system to create their course and get it to market in a reasonable amount of time.
Those who have already created and launched their courses struggle to fill them — an important endeavor if they are to achieve the impact and income they aspire for.
If entrepreneurs could overcome these hurdles, more of them would be creating online courses and succeeding. Until then, the online learning market remains largely untapped by entrepreneurs.
How about you? Where are you in terms of online course creation? Do you consider yourself successful? If not, what do you need to succeed?