What is Digital Marketing? (Definition+ How To Do It)
Diane Fanucchi
Updated by Tara Malone
If you have a business of any kind, you've probably been told you need some kind of digital marketing plan.
After all, we're living in a digital age, where the average consumer spends a considerable amount of time online. If your business doesn't have an online presence – and a digital marketing plan – you're missing out on an opportunity to reach people where they're spending time.
You're also less likely to be found and to come to mind when someone needs your product or service.
And if you run an online business, digital marketing is even more essential.
You likely know all this is true, but chances are you have some questions about digital marketing. What is it, really, and how do you even begin building a digital marketing strategy?
In this article, we'll explain exactly what digital marketing is, how it works, and how to get started with digital marketing.
What is Digital Marketing?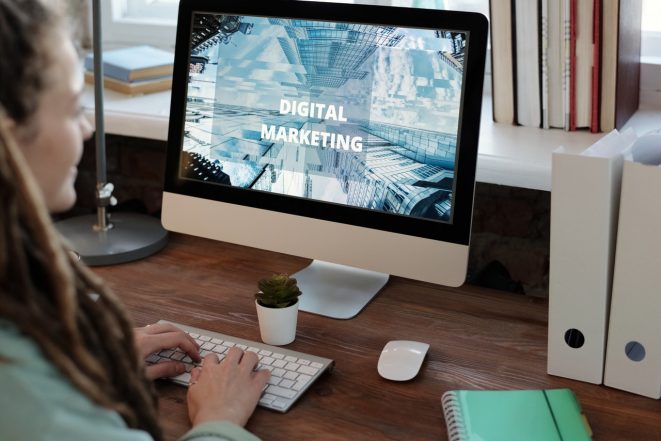 Let's begin by looking at a brief definition of digital marketing.
In short, digital marketing refers to any kind of marketing that takes place online and uses digital channels such as search engines, social media, email, websites, and mobile apps. It involves creating valuable online content for a specific audience in order to generate more traffic, leads, and sales.
Digital marketing offers many benefits for businesses. For one thing, it allows you to reach more people at a lower cost than many other marketing methods. It also gives you the chance to track your marketing campaigns in real-time, so you can get a sense of how well your marketing efforts are working and make adjustments as needed to boost your performance.
Another advantage of digital marketing is it gives you the opportunity to actually connect with and interact with your audience in many different ways, whether that's over email or on a social media platform. This gives you a chance to really engage your audience, make them feel heard, and begin building relationships with them.
As you can see, digital marketing takes many forms and has great potential for reaching your audience and converting them into clients or customers.
Inbound Marketing vs. Digital Marketing
Another type of marketing that has some overlap with digital marketing is inbound marketing. While they share some similarities, they are actually distinct forms of marketing.
Inbound marketing and digital marketing are similar in that they both involve the use of digital channels to promote products and services, and to attract and engage with potential customers.
The key difference is that inbound marketing focuses specifically on creating valuable content that engages and educates potential leads and customers. Digital marketing, on the other hand, uses many different tactics, including pay-per-click advertising and email marketing.
Inbound marketing is also a customer-centric approach that focuses on providing customers with solutions and information to solve a specific problem they're facing. While digital marketing can be customer-centric, in many cases it specifically focuses on promoting products and services.
B2B vs. B2C Digital Marketing
Digital marketing can be divided into two main categories: B2B (business-to-business) and B2C (business-to-consumer). Here are the primary differences between B2B and B2C digital marketing.
B2B Digital Marketing:
Focuses on promoting products and services to other businesses.
The target audience is usually other companies or professionals who are interested in purchasing goods or services for their own business.
Marketing messages are more likely to use technical language and stress the business benefits of the product or service.
In many cases, B2B marketing has a longer sales cycle that relies heavily on lead generation, nurturing, and sales outreach.
B2C Digital Marketing:
Focuses on promoting goods or services to individual consumers for their own personal use.
The target audience can be more expansive and include individuals with diverse backgrounds and interests.
Marketing messages tend to be more emotion-based and focus on the benefits the product or service can provide.
Often has a shorter sales cycle and may rely less on lead generation and nurturing.
What Are the Different Types of Digital Marketing?
There are many different types of digital marketing, and in this section we're going to look at some of the more popular options.
As you read through this list, remember that you don't have to do everything all at once.
Just start with one or two types of digital marketing and work on mastering those first. Then you can gradually add more digital channels from there if you choose.
1. Social Media
Nearly everyone has heard of social media platforms, such as Facebook, Instagram, and LinkedIn. The number of platforms grows at a dizzying rate, and different ones better meet the needs of different demographics and types of businesses.
Most social media posts are brief and snappy in nature. They often make liberal use of visual images, video, and sometimes sound.
Social media marketing can accomplish many objectives. You can use it to build brand recognition, reach and understand your target customer, and engage with them in an interactive way, almost like a conversation.
It also comes with ways to keep track of who you're attracting, and what is and isn't working.
2. Content Marketing
Content marketing focuses on building brand authority and customer relationships through the use of content like blog posts, articles, email newsletters, and case studies.
Less focused on making an immediate sale than other types of digital marketing, it takes a long-term, informational approach. Audiences who are increasingly wary of being sold to may appreciate this type of digital marketing.
You provide useful "non-salesy" information that helps people get to know your brand and trust you as an authority in your field.
Ideally the content you provide is engaging enough that people will consume it for its own sake, but also persuasive enough to help you reach your long-term goals of wider recognition, more sales, and customer loyalty.
3. Email Marketing
Email marketing is one of the most cost-effective ways to market your business. Marketing emails can take many forms, some more directly promotional than others. But they are all targeted to a particular audience and received with the customer's permission.
Since the emails arrive in a prospect's inbox, email marketing can be a more direct way to approach prospects than waiting for them to come searching for you.
And since you already know what they're expecting when they sign up, you know what type of content will likely appeal to them.
4. Pay-Per-Click (PPC) Ads
PPC advertising encompasses different types of ad copy on various platforms, such as Facebook and Instagram
Like the name says, you only pay when someone clicks on your ad.
These tend to involve a much higher upfront expense, but may also yield quicker results than some other digital marketers' tools.
Your budget, timeline, and goals will help determine whether PPC ads are worth investing in, especially when you're starting out.
5. Mobile Marketing
While you'll want to make sure your digital marketing methods are optimized to work well on mobile devices, there are other types of marketing specifically for mobile devices.
Some examples include text message marketing and in-app ads.
Again, people spend considerable time on their smartphones, wherever they happen to be. So, mobile marketing is another way to reach people where they're already spending time.
6. Affiliate Marketing
Affiliate marketing is a kind of marketing where a business recruits people known as affiliates to promote their products or services through their website, blog, or social media channels.
When a member of the affiliate's audience purchases the business's product or service, the affiliate then receives a commission from the sale. The commission is most commonly either a percentage of the sale or a set fee per conversion.
Affiliate marketing is a popular strategy for businesses who want to increase their reach and boost sales without investing in traditional advertising.
7. Search Engine Optimization
SEO, or Search Engine Optimization, refers to the practice of optimizing a website's content to help it rank higher on search engines like Google and Bing.
If the site ranks high in the search engines, it will be much more visible to potential customers, and will likely bring in a steady stream of organic (unpaid) traffic.
SEO involves a range of techniques, including keyword research, on-page optimization, link building, and content creation.
8. Native Advertising
Native advertising refers to a kind of paid advertising where the ads blend in with the content of a platform.
This makes them a non-disruptive form of advertising that fits seamlessly into the user experience. Some popular kinds of native advertising include sponsored articles, videos, or social media posts, which are typically marked as "sponsored" or "promoted" content.
The benefit of native advertising is that it allows businesses to increase brand awareness and obtain leads without disrupting the user experience.
9. Marketing Automation
Marketing automation involves using software to automate repetitive marketing tasks such as lead generation, email marketing, social media management, and analytics.
The automation of these tasks benefits businesses in many ways. For example, it lets them save time and money while improving efficiency, frees them up to focus on more critical tasks, and helps them personalize their marketing message more effectively.
Marketing automation is a powerful strategy businesses can use to optimize their marketing efforts and improve ROI.
10. Inbound Marketing
As we mentioned earlier, inbound marketing is a customer-centric marketing strategy that aims to attract potential leads and customers through the use of valuable and relevant content.
The content addresses the needs and pain points of the target audience and educates them on the kinds of solutions that are available to help them overcome a specific problem they're facing.
The long-term goal of inbound marketing is to generate and nurture leads, convert them into customers, and build lasting relationships with them.
What are the Benefits of Digital Marketing?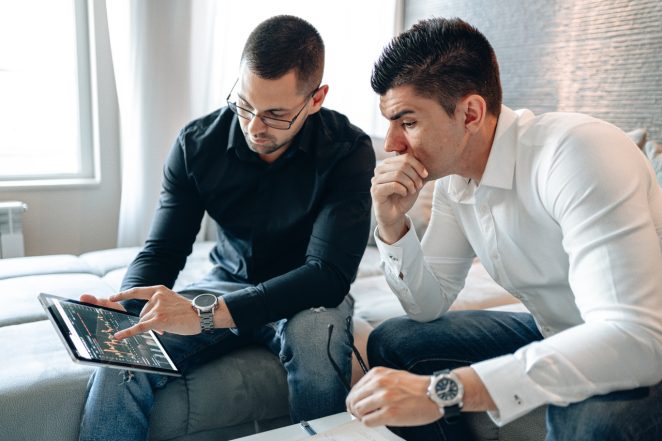 1. More Cost-Effective Than Other Methods
Compared to print and television advertising, direct mail campaigns, and other forms of traditional marketing, most forms of digital marketing cost less, and have the potential to deliver a much better ROI.
You can reach more people for the same amount of investment in time and money.
Also, you can start with the less expensive options, such as content and social media marketing, and add in more formats as your following and budget increase.
2. Not Constrained By Geography
Since people can go online anywhere in the world and see the content you place there, you're not limited to a particular part of the country or even the world.
You can reach people globally for no extra expenditure of time, effort, or money.
Of course, you can target some of your digital marketing efforts to a local market if you choose to, but you aren't limited by any kind of physical barriers in who you can reach.
You also aren't constrained by time barriers. If someone isn't tuned in when a radio or television ad airs, you don't reach them. But with many digital efforts, you can reach people when they're ready.
3. Helps Build Relationships With Customers
Much of what you put on the internet stays there to be consumed when and where your audience wants, so they'll likely keep thinking of you when they've read your post, article, email, or ad.
They'll come to know and trust you over time, and they'll also know where to find you when they need you.
And since they can comment, respond, and even help shape your message, they'll feel heard, seen and valued. They may even become ambassadors for your business who will want to tell others about their good experiences.
4. Produces Measurable Results
Whether it's comments, shares, clicks, spending, or responses to marketing emails, you get detailed information on what's working, what isn't, and why.
Some results come in specific metrics, so you don't only see responses, but can also access a tangible record of the actions, purchases, and revenue that result.
This information can help you decide how to adapt your efforts for optimal effectiveness.
5. Digital Marketing is Adaptable and Responsive
Once you have the specific information mentioned above, you'll have a clearer idea of how to adapt your message and strategy to better meet the needs of your audience – and better achieve your end goals.
You can make some of these changes quickly and on short notice, because of the nature of digital efforts, which are accessible, dynamic, and easy to adjust.
6. Easy to Personalize
Digital marketing offers a variety of ways to tailor marketing messages to specific customers or audiences.
For example, you can send personalized emails to individual customers based on their interests and past behavior, or create customized landing pages for specific target audiences.
By providing a more personalized experience for your potential customers, you can increase engagement and boost conversion rates.
7. Lets You Reach People Where They're Already Spending Time
As we've already shown, people spend time in the digital world anyway. They visit websites, read blogs, visit social media sites, check email, and use their smartphones for pretty much everything.
If you incorporate your marketing into what people are already doing, you're taking advantage of a rich resource.
If you don't, you not only miss out on opportunities, but will likely get overlooked in favor of businesses who do fully utilize the digital space.
How to Plan a Digital Marketing Strategy
For digital marketing to be effective, it's crucial to have a well-crafted digital marketing strategy . Here are some steps for designing a digital marketing strategy that works.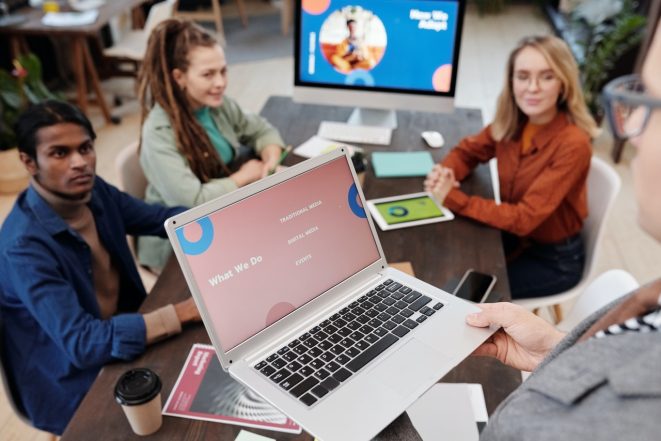 Step 1: Identify Your Marketing Goals
Before you invest time and money in a marketing plan, you want to know what your initial goals are. Where possible, these goals should be measurable and time-specific.
This way, you'll be clear on what you're trying to achieve and also have a better idea of what components to include in your strategy.
And you'll be able to see which parts of your strategy deliver those results most effectively.
Of course with any marketing plan your ultimate goal is to increase sales or revenue. That said, there are many other goals you may want your digital marketing efforts to achieve.
These could include:
Building authority: becoming known as a knowledgeable and trustworthy expert in your field
Brand recognition: your company and product become easily recognizable and stand out from the crowd
Customer loyalty: instead of making one purchase, your ideal customer will continue to do business with you, and even provide referrals
More subscribers: increase subscribers for your email list or other service
More traffic: increase traffic to your website or activity on your blog and social media accounts
Once you know what goals you want to work toward, this can help you decide what kind of marketing to do, how to measure the results, and how to adjust your efforts based on those results.
Step 2: Understand Your Target Audience
To effectively reach your target audience, you need to know who they are. There might even be a few smaller segments within your larger audience, but you want to know what each of them is like, in detail.
This will help you craft your message and choose your channels.
This detailed picture of your target audience is often referred to as a customer profile. It includes things like their age, gender, income, hobbies, values, and key problems you can help them solve.
The better you know who you're doing business with, the more adept you'll be at finding them, communicating effectively with them, and giving them good reason to choose your products or services.
Step 3: Choose Your Marketing Channels
Once you know your primary goals and your target audience, you'll have a better idea of the digital marketing channels and formats that have the most potential for you.
You'll want to know where your prospects spend time and money. Which social media channels do they use? Do they prefer short or long content? Do they spend more time reading, watching, or listening?
If, for example, your target audience is young professionals who think Facebook is for their parents, you might not want to spend a fortune on Facebook ads or spend much of your marketing efforts there.
If they don't read much, you may decide to forgo a newsletter or long-form blog posts.
You'll want to answer questions such as:
Where do they spend time online?
How do they like to consume information?
What channels do they use?
What gets their attention, builds their trust, and leads to results?
Of course you'll also need to take the specifics of your business into consideration. What is your business size and type? How big – or small – is your budget? How much time do you have to implement your plan? Are you just starting out or looking to grow?
After taking all of this into consideration, hopefully you'll have a much clearer idea of where to focus your digital marketing efforts. Of course you'll have to make some educated guesses, but it gives you a place to start.
Step 4: Set Clear Benchmarks for Success
Since you already have clear goals in place, you also want to set clear ways of measuring if, how, and where you're reaching those goals.
You'll want to have a plan to use all the metrics available to you to check in frequently and see how you're doing and where you need to adjust.
Some goals, such as a certain number of additional email subscribers or sales numbers, will be easier to measure.
Others, such as brand and authority building may be less tangible and take more time.
However, if you decide ahead of time what specifically to look for you'll have a better idea of the quality of your results, and what changes to make as you go forward.
Step 5: Conduct Keyword Research
Now that you've researched your audience, identified your marketing channels, and set clear goals, it's time to start conducting some keyword research.
Keyword research is crucial for your digital marketing strategy because it helps you figure out what terms your potential customers are using to search for products or services online. You can then leverage these keywords when creating website content, blog posts, and social media posts to boost your visibility in the search results and drive more relevant traffic to your site.
Here are a few steps you should take when conducting keyword research for your digital marketing strategy:
List topics and themes relevant to your target audience.
Use a keyword research tool (such as Ahrefs, SEMRush, or Moz) to uncover a list of relevant keywords related to these topics.
Review the search volume, keyword difficulty, and relevance of each keyword and list the ones that are most relevant to your strategy.
Organize the keywords into logical categories (also known as clusters).
Utilize these keywords in your web content, blog posts, social media posts and PPC ads.
Keep track of your keyword performance and adjust your strategy accordingly based on the insights you uncover.
When conducting keyword research, focus on the keywords that are most relevant to your audience and are relatively easy to rank for. Ideally, they should also have a monthly search volume of at least 500 if possible.
Focusing on the right keywords is an important way to optimize your digital marketing strategy and achieve better results.
Step 6: Create Engaging Content
No matter what kind of digital channels you choose to focus on, it's crucial to create engaging content that really resonates with your audience.
Best practices can vary depending on what platforms and channels you're using, but here are some general guidelines for creating engaging digital marketing content.
Understand your audience: If you truly know your target audience and understand their interests, hopes, dreams, and pain points, you'll be much more likely to create content that truly speaks to them, engages them, and adds value to their lives.
Create compelling headlines: Be sure to follow headline best practices and create engaging headlines that make people want to click and learn more about the products or services you offer.
Include visuals: When you create content, be sure to include high-quality images, videos, and infographics to make your content more attractive and engaging and to convey your message more effectively.
Provide value: Always aim to create content that provides real value to your audience. Some of the most powerful ways to do this include offering insights, helpful tips, or solutions to the problems they're dealing with.
Use a friendly, approachable tone: Be sure to use a friendly, conversational tone and avoid using jargon or technical terms that your audience might not understand.
Don't forget the CTAs: Encourage your audience to engage with your content by using strategic calls-to-action (CTAs). For example, you might ask them a question, invite comments, or provide incentives to motivate them to share, like, and comment on your content.
Step 7: Optimize for Mobile
As you create your digital marketing content, you'll need to ensure everything is optimized for mobile. This is crucial for the success of your strategy, since so many people access the internet using their mobile devices.
Here are some best practices for optimizing your digital marketing strategy and content for mobile:
Use a responsive design for your website and landing pages so they can accommodate different devices. This provides a better user experience and can help reduce bounce rates.
Be sure to optimize your website and content for speed so the pages load as quickly as possible.
Keep your messaging as concise as possible so the text is easy to read on small screens.
Make use of mobile-specific features such as click-to-call buttons, maps, and mobile payment options. Utilizing these features can provide a better experience for your users and makes it easier for them to interact with your business.
It's important to remember that mobile optimization is an ongoing process. You'll want to keep track of your mobile performance and take quick action if any issues arise.
Step 8: Launch Your Strategy
Now that you have your entire digital marketing strategy mapped out, it's time to start putting it into action.
To launch your digital marketing strategy, here are the steps you need to take:
Set up or optimize your digital marketing channels: You'll need to ensure that all your digital marketing channels are set up and ready to go. These include your website, social media profiles, email marketing platform, and PPC advertising accounts. If you already have these channels set up, be sure to optimize them before adding new content.
Create and publish your content: Now you can start creating your content and publishing it on your various channels. It's best to create a calendar and schedule so you know exactly what content you'll be publishing in a given week.
Promote your content: Once your content is published, you'll need to promote it on all your active digital marketing channels. Be sure to take advantage of available targeting options on each platform to ensure your content reaches your desired audience.
Connect with your audience: It's crucial to engage with your audience as much as you can through comments, direct messages, and emails, to name a few. Always provide value, answer questions, and build rapport with your audience to build trust and loyalty.
Step 9: Adjust and Optimize Your Strategy Over Time
After your digital marketing campaigns are up and running, you'll want to keep track of how everything is performing and continue to optimize your strategy.
One of the obvious benefits of any digital marketing strategy is that you can quickly, easily, and inexpensively make changes along the way if needed.
By now you know what goals you want to achieve, and how to measure your progress, so if some of your strategy isn't delivering as well as you'd hoped, you can change course. And if something is working surprisingly well, you can do more of that.
Your digital marketing plan, like your business, is a growing, changing, dynamic entity.
The beauty of it is that you can shape it as you go along, armed with the information the digital world so readily provides.
Ready to Create Your Digital Marketing Plan?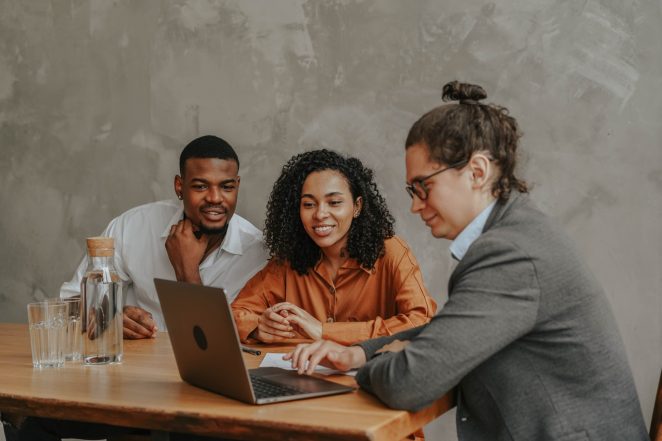 Now that you have a better idea of what digital marketing is, some of its popular forms, and specific ways it can benefit your business, you probably can't wait to get started.
Maybe you're starting to form your digital marketing strategy, or at least some idea of how to do digital marketing in a way that fits your business.
You may have an idea of which channels you'd like to try first, and some of the steps you can take to plan and implement your strategy.
Whatever your first step might be, we encourage you to go ahead and take it now!