Facebook Marketing: A Beginner's Guide for 2023
Emjae Williams
In January 2023 Facebook had approximately 3 billion active users making it the most widely used social media platform globally. With about 37% of the world having a Facebook account this does not come as a surprise. 
Due to its popularity, companies consider it a goldmine, and rightly so. However, simply having a Facebook account and regularly posting isn't enough to make a mark. This is where Facebook marketing comes into play.
While Facebook can seem like a challenge to understand, if you're able to understand the basic principles, you can create an effective Facebook marketing strategy.
We'll be covering some of the most asked questions about Facebook and highlighting the practices successful marketers use in their ad strategy.
What Is Facebook Marketing?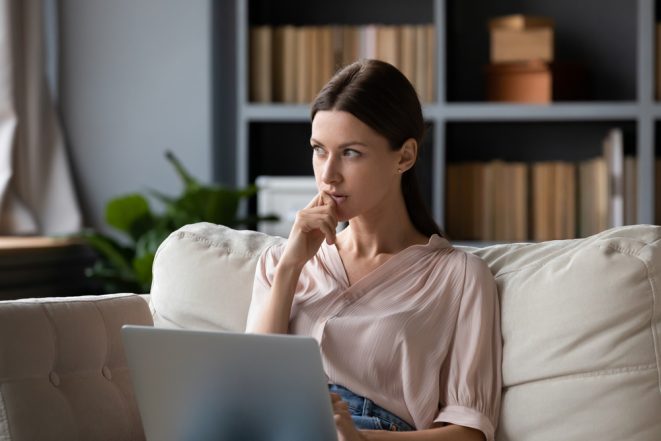 Facebook marketing is the use of Facebook to promote a brand or company. This includes both free/organic and paid content, but in most circles the focus is on the paid aspect. Like traditional advertising, Facebook marketing uses paid content to gain more leads, sales, or build a brand's reputation. Or in Facebook lingo, 'boosting'. One of the major differences between this and traditional marketing is that Facebook allows you to create audience profiles to increase your odds of reaching the right audience.
Sounds interesting and a bit complicated, doesn't it? Well, we're getting down to the basics to give you everything you need to know to run effective ads!
Facebook Marketing 2023: A Guide for Beginners
While the platform is free to set up, you need to ensure it's optimized for success if you want to see great results. We'll be breaking the key steps you need to take before getting started.
Step 1: Clarify Your Facebook Marketing Goals
Before you get started with a marketing strategy you need to identify your goals. This is the foundation you'll build on because your objectives ultimately determine the steps you need to take to get there. For instance, your strategy for increasing awareness will differ from your strategy for increasing sales.
You should also note that your strategy should tie into the immediate needs of your business. If you're just starting out or rebranding you'll want to focus more on awareness than sales or building a community. If you're planning a launch, your goal would quite likely be to gather more viable leads and less on gaining more followers.
That doesn't mean you'll be limited to what you can do with your Facebook strategy. That said, you do need to prioritize specific goals that align with where your business is. You can run multiple campaigns at once but the aim is to ensure that your efforts are serving you well.
Step 2: Set Up or Optimize Your Facebook Business Page
Creating a Facebook business page is completely free and fairly simple. You need to create a Facebook account before you can create a page for your business.
On your personal account, you'll notice an icon (a 3×3 grid) next to your profile picture. When you click on that a drop-down menu will appear giving you the option to create various types of content or a page.
Click on the Page option and you'll be taken to a new page which is the first step to setting up your business page.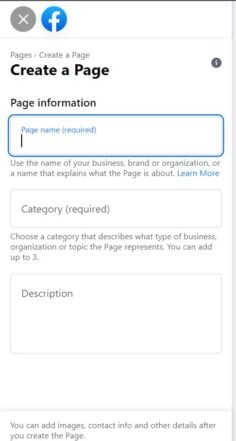 In the Page Name box, you'll want to use the actual name of your business. Your audience should be able to immediately recognize your page or ads when they come up in their timelines.
Next, fill in the category or categories that your business best fits. Is it a Writing Service, Digital Product, Consultant? You can add up to 3 categories to help you properly niche down. Then comes the real fun – your description.
This is where you get to share who your business is, the people you serve, and what makes you unique. Be as detailed as possible but try to keep it succinct. You want to be clear and appealing without losing your reader's attention.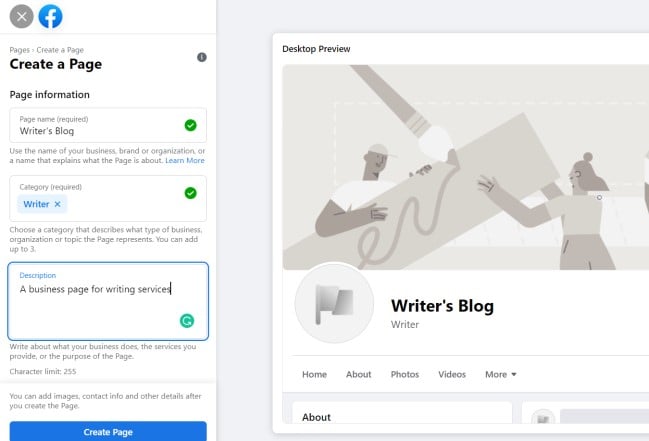 While working you'll be able to view a preview so you can see what potential followers will see when looking at your page. Once you're satisfied with the information you've added, select Create Page.
The next step will require you to visual content – your profile picture and cover photo. A good rule of thumb is to use your company's logo as your profile picture. The required dimension is 170 x 170px.
Cover photos add a nice touch to our page and can be any image that relates to your brand – art, a team photo, a quote. The idea is to make it personal and impactful. The recommended size for cover photos is 851 x 315px.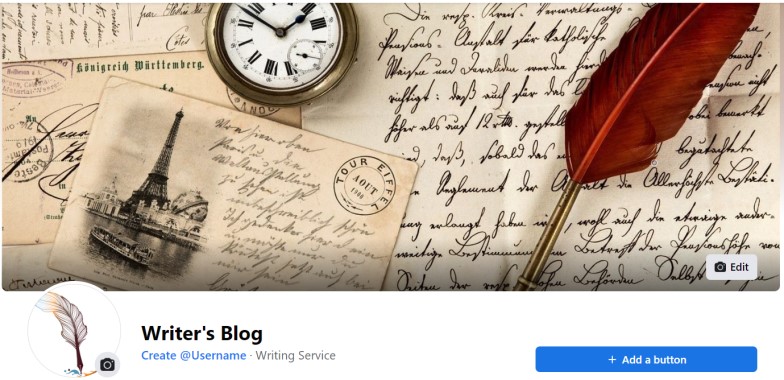 You'll also need to add contact information such as your email address, location, and business number. Since Whatsapp and Facebook are within the same company, you'll also be given the option to connect your page to WhatsApp so you can prompt content on Whatsapp as well.
The more detailed you are in this step, the more likely your page is to pop up in Facebook users' recommendations. It also allows users to trust your page because it legitimizes it. With these steps done your business page has now successfully been set up.
And just like that – you're ready to begin posting!
Step 3: Understand the Different Kinds of Facebook Posts
Which leads you to the question – What do I post?
Now before you go down the rabbit hole of planning content and coming up with snazzy copy – let's take a look at the different kinds of posts and Facebook best practices you need to keep in mind for each.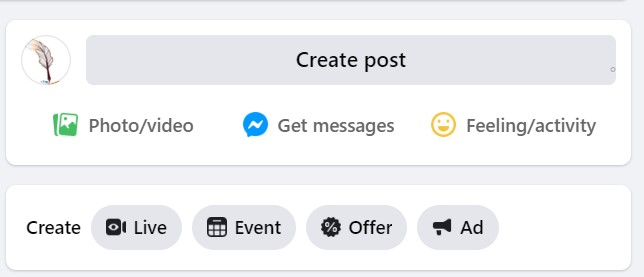 Plain Text
These types of posts are typically used to deliver informative content. Facebook's limit of 63,000 characters gives you plenty of room to get your message out there. For most audiences, these types of posts don't tend to perform well. That's why it is crucial to understand who your audience is when developing your Facebook marketing strategies.
Photos
These include single images, slideshows/carousels, and photo albums. You can post these by themselves or pair them with relevant text (or captions) to make your message stronger. The recommended size is 1200 x 630px for single images or albums and 1200 x 1200px for carousels. Photo posts perform better than plain text for most audiences because the visual elements immediately grab a user's attention.
Videos
Videos are the Grand Poobah of Facebook. With features such as autoplay and captions making it easier for users to view your content, you're more likely to get the kind of engagement you need by sharing videos. They also allow you to inject more personality into your page and give you more room to create. An image is a frozen moment in time but a video is a series of moments that make up a whole story.
While Facebook allows you to share a video of up to 240 minutes they recommend keeping your videos short as these perform better.
Live Videos
Unlike the videos we just highlighted, live videos aren't pre-recorded – they're live (see how the name came to be?) These are perfect for live Q&As, webinars, check-ins, and event launches… they're pretty multifaceted! They add even more personality than your typical edited content because followers get to sneak peek behind the scenes. Live videos can go for as long as 8 hours and can remain on your page even after they've ended.
Stories
These are short clips or photos that only last up to 24 hours on your page. They are perfect for event updates, teasing a big launch, or doing a quick shout-out to followers. Videos shared in Stories can be 5 to 20 seconds long and the recommended size is 1080 x 1080px.
Linked Content
If you have a blog post or podcast episode you want to promote, linked posts come in very handy! Once you add a link to a post Facebook automatically fetches a thumbnail from the original content saving you the trouble of creating new artwork. You can add links to any of the other types of posts or simply share them by themselves.
Events
Webinars, launches, live Q&As, offers – if your business has an event coming up, event posts are perfect! Event posts allow you to include all the relevant details. These include date, time, what will be happening, links or locations, and FAQs. Followers can RSVP to your event to receive frequent reminders leading up to the big day. It's an easy way to build anticipation and stay top of mind with little effort on your part.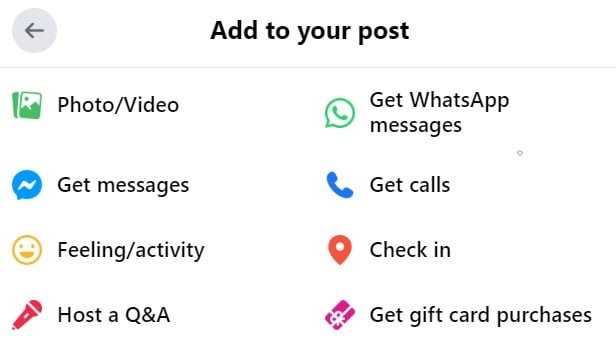 There are also a number of features that allow you to make your content more dynamic such as the fun feeling/activity option or setting the objective to get more messages. When you're just starting out it will take some time to figure out what works best for your audience. So don't be afraid to play around as long as you're staying true to your brand persona.
Step 4: Develop a Facebook Ads Strategy
Now that you have an idea of the types of posts you can share on Facebook you'll want to start working on your Facebook marketing strategy. It's worth noting that not all types of content can be boosted. On top of this, your content might not be approved if it goes against Facebook's guidelines.
Some important things to consider are:
Your audience – the people you want to reach which might differ from the people you're currently attracting.
How many posts you intend to boost – in some cases you can create an ad, but if you've identified a post that is performing well you might want to boost that.
The budget you will allocate to your Facebook ads – you can boost for as little as $5 and as much as you want but it's wise to work out a budget. How much will you spend on each post, will the amount differ based on the content type? Some objectives come at a higher cost. For example, it costs more to have someone like your page than it does to have them like a post.
What do you hope to achieve – are you trying to get more leads? More sales? More messages? You need to tailor your strategies to these specific goals.
How long you'll run each ad – there is no time limit for how long you can run an ad but over time they no longer perform as well. You might consider running one ad for a week and another for two weeks to see how well the numbers stack up. Testing is very important in refining your strategy.
Answering these questions will help you to create an effective strategy that can meet your objectives. For instance, if you want to increase the number of followers on your page you'll run what Facebook calls a 'Like ad'. Facebook will serve your ad to users whose profile either aligns with the audience profile you've created or the persona of your page. If your page offers writing services, Facebook will target budding writers or editors who have a genuine interest in your type of services.
Without a concrete strategy, you'll be left to learn by trial and error which can be costly. The more frequently you run these ads the more data you'll have to analyze and adjust your strategy to better meet your objectives.
Step 5: Use Facebook Insights to Track and Measure Your Results
If you aren't paying attention to the numbers from your ads you aren't seeing the whole picture. There are different statistics you can pay attention to but the most common ones are post engagement (likes, shares, and comments), page engagement (likes), and video views. These give you an idea of how well your content or page is performing and how well your chosen audience is responding.
You can use the insights from your ads and organic content to guide future content or adjust your general strategy. You might have been targeting moms between the ages of 35 and 45 years old but the numbers reflect that your content performs better with moms between 25 and 35 years old. That gives you the insight you need to decide if you want to double down on the original target or adjust to embrace the new audience.
Your insights are another reason it is so crucial to start with a strategy and objective. If the numbers show that your current strategy is not allowing you to meet your objectives within the expected timeline you need to take immediate action. If things are going better than expected you can consider shifting your focus to another objective or broadening your scope.
The purpose of analyzing your page's performance is to be sure that the approach you've chosen is serving you so you can take the necessary actions as soon as possible.
Using Facebook Marketing for Your Business
With approximately 3 billion active users on its platform, Facebook reigns among social media platforms. And chances are your people are in that crowd.
Since Facebook for business can seem overwhelming to navigate, we've covered the basic steps you need to take if you plan to utilize Facebook marketing.
With so many tools that you can draw on, you owe it to yourself to give it your best shot!
From lead generation to conversion, engagement, and sales, Facebook gives you everything you need to meet your marketing goals!