WP Courseware Review: Is It the Easiest WordPress Plugin for Creating Your Online Course?
Kristine Goad
I dreaded testing another WordPress plugin for course creation.
My previous experience with a WordPress LMS plugin resulted in me locking myself out of the backend dashboard of my website when I created—and subsequently deleted—a course login feature for students! The panic of that experience was still fresh, and I wasn't keen on breaking anything else on my site.
"The verdict is out - our WP Courseware reviewer tells all. "

Tweet Me
Needless to say, I reviewed the WP Courseware plugin with serious trepidation.
I'm neither a WordPress nor online course creation pro. I've had a modest WordPress website that I have built and rebuilt myself several times over the past six years, but I know nothing about HTML, PHP, or CSS. I'm a drag-and-drop kind of girl, so I needed the WP Courseware plugin to make good on its promise of making course creation drag-and-drop easy.

The "Ease of Drag & Drop" Promise Fulfilled?
Turns out, WP Courseware was quite easy to use!
Not only did I not break anything, but I created my online course in about 90 minutes and found the process to be logical and intuitive.
Plus, the creators had thought of small things that made a huge impact on the ease of creating my course and on creating a positive experience for the student. These include:
a dashboard page where you could create all of the possible messaging that might pop up as a student moved through a course (such as error messages if the person wasn't logged in, was trying to access a lesson that hadn't been released yet, or had successfully completed the course or a quiz)
automatic navigation buttons to guide students through the course
If you have any experience using WordPress for blogging or for maintaining a website, I think you'll find WP Courseware a comfortable fit. The plugin walks you through the course creation process in an orderly way. It has several standard fields already created that you just fill in with information about your course. And it's easy for you to structure your content and your content delivery (whether the modules are all available immediately, unlock at certain time intervals, or unlock based on a student's progress) to suit your needs and teaching style.
And it's easy for you to structure your content and your content delivery (whether the modules are all available immediately, unlock at certain time intervals, or unlock based on a student's progress) to suit your needs and teaching style.
The Magic Dashboard Page
This page at the top of the plugin menu was a delightful surprise—and my favorite thing about this plugin.
You'll notice in the screenshot below, there are several options here to customize your course, configure how students will be given access to the course, plan and manage your communications with students as they progress through the course, set up your email, create certificates, and set course prerequisites.
This dashboard, for me, is the genius of WP Courseware. It lets you make all the necessary decisions about your course delivery and student experience in one place. And then automates all of the student communication processes with just a few clicks!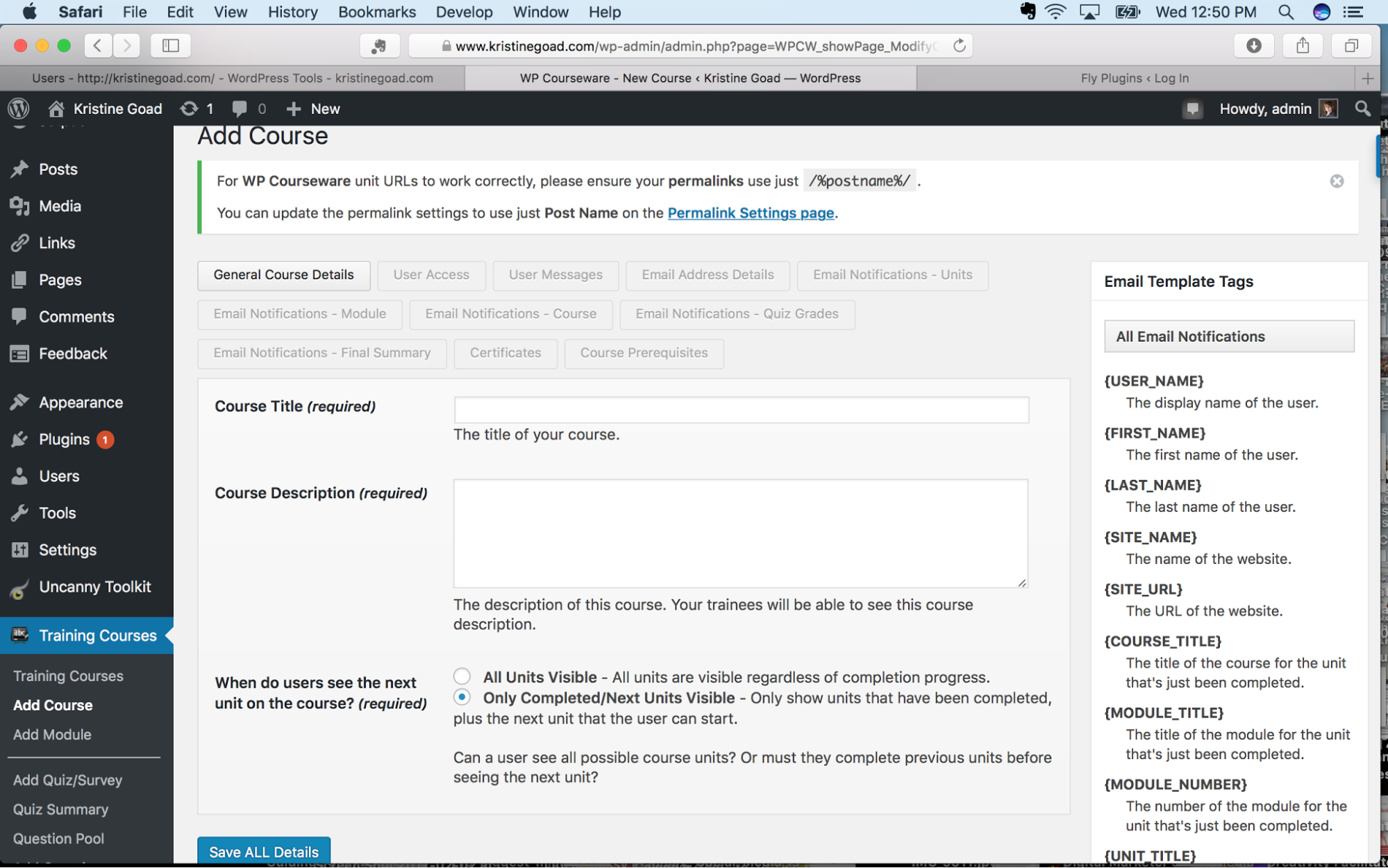 Here's a look at the User Messages configuration page, where you can create all of the messages a student will encounter as they take actions in the course: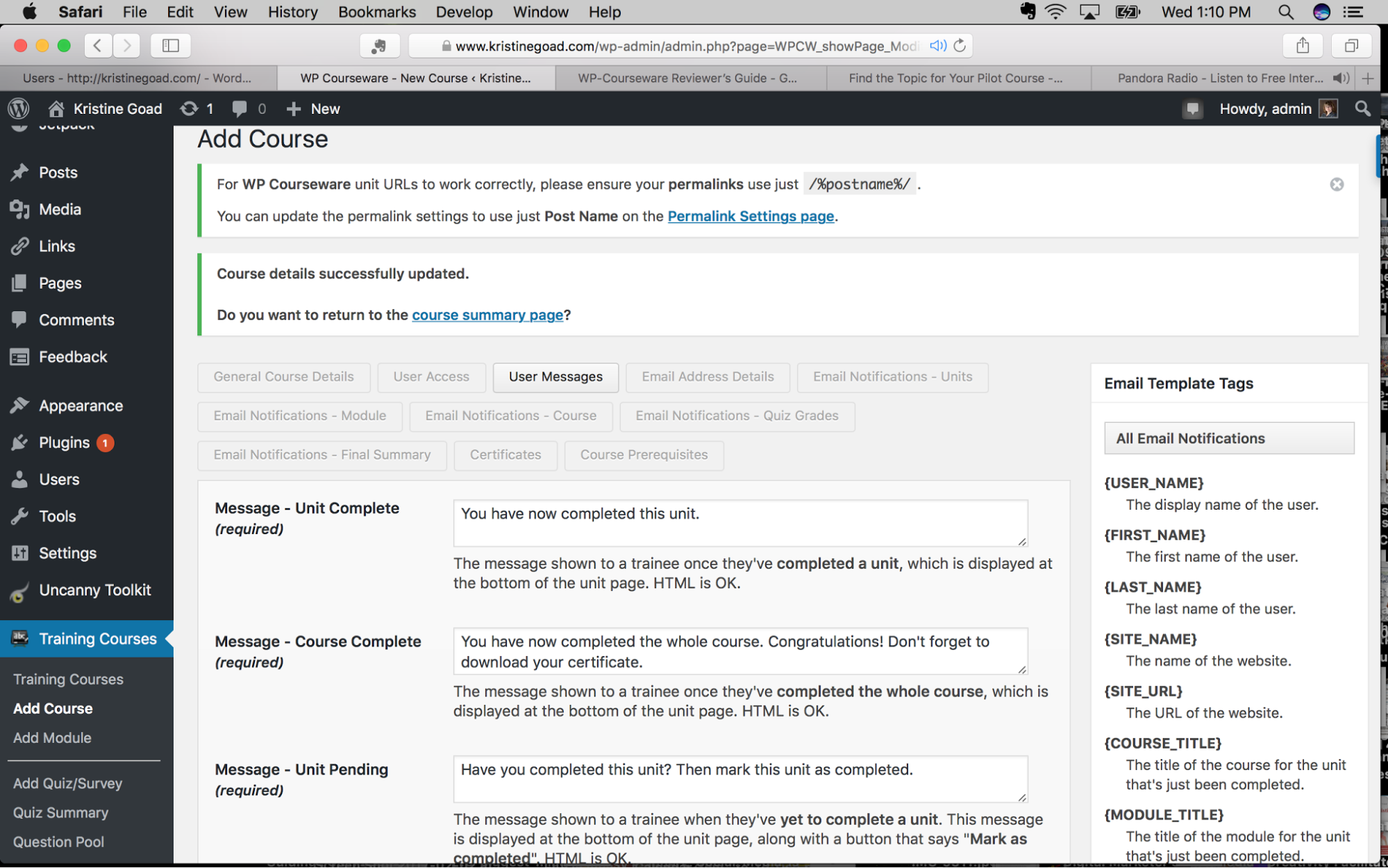 And take a look at the page where you configure the Email Notifications your students receive as they complete modules. Notice on the right side, there is a column of tags you can use to customize your messages, so you essentially have your own email contact system built right into your course.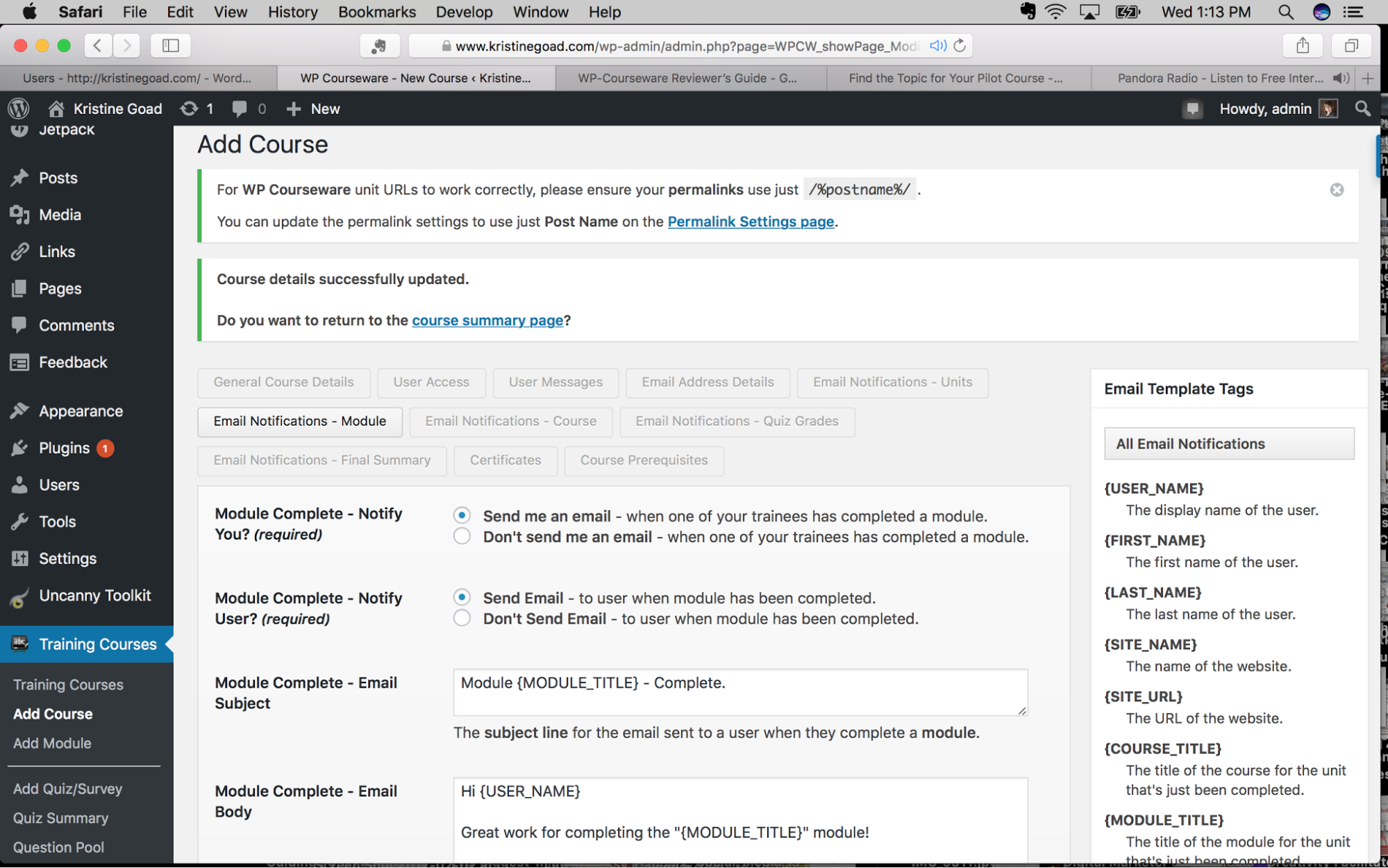 Here's a look at the Final Summary Email you can send your student when they complete your course. Note that you can assign a final grade, include a summary of quiz results, and provide the link for the student to download and print their completion certificate.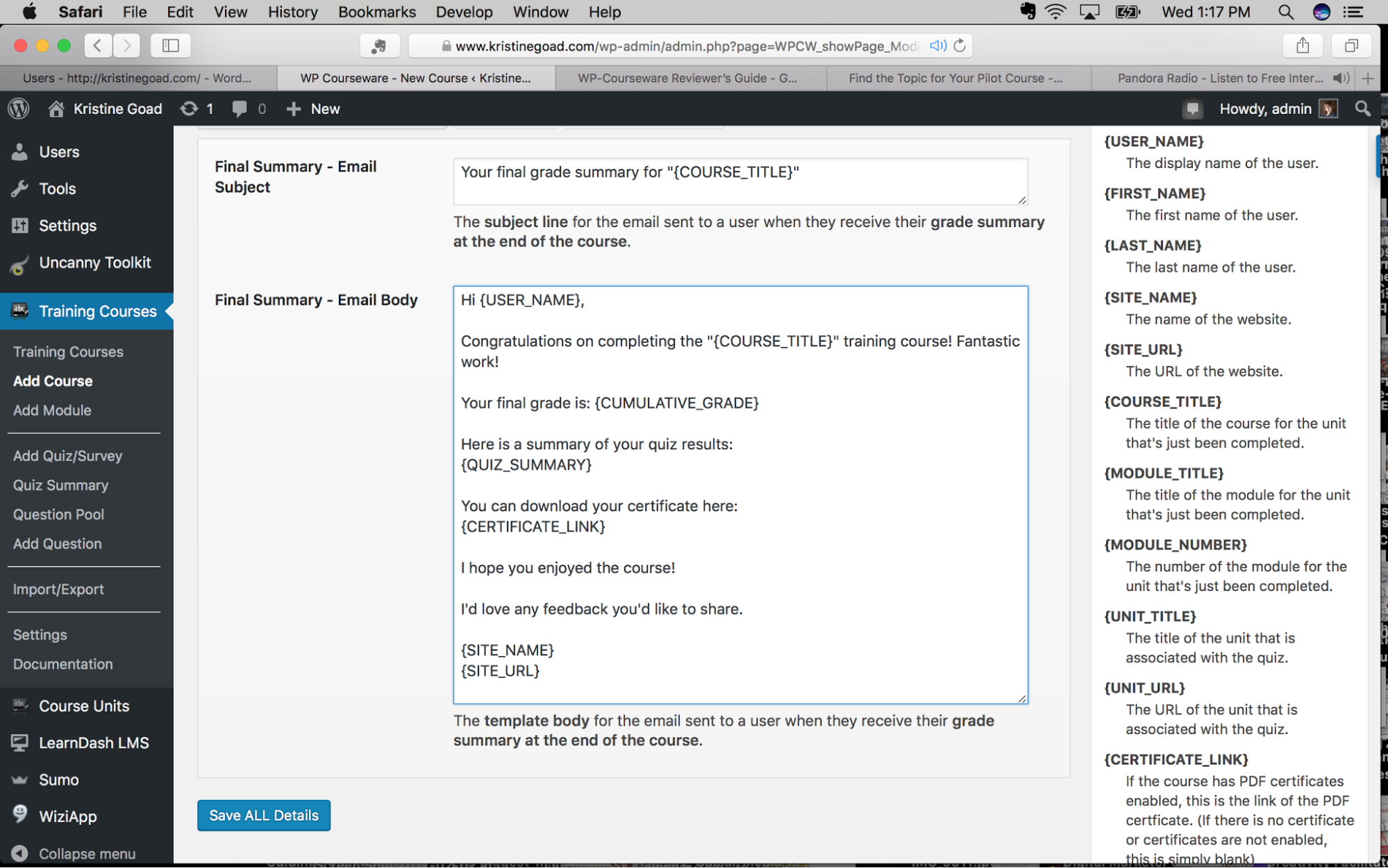 The course completion certificate is a built-in option in the WP Courseware plugin (this is not true of other LMS platforms). You also have the option to either upload and configure your own certificate or use the provided certificate.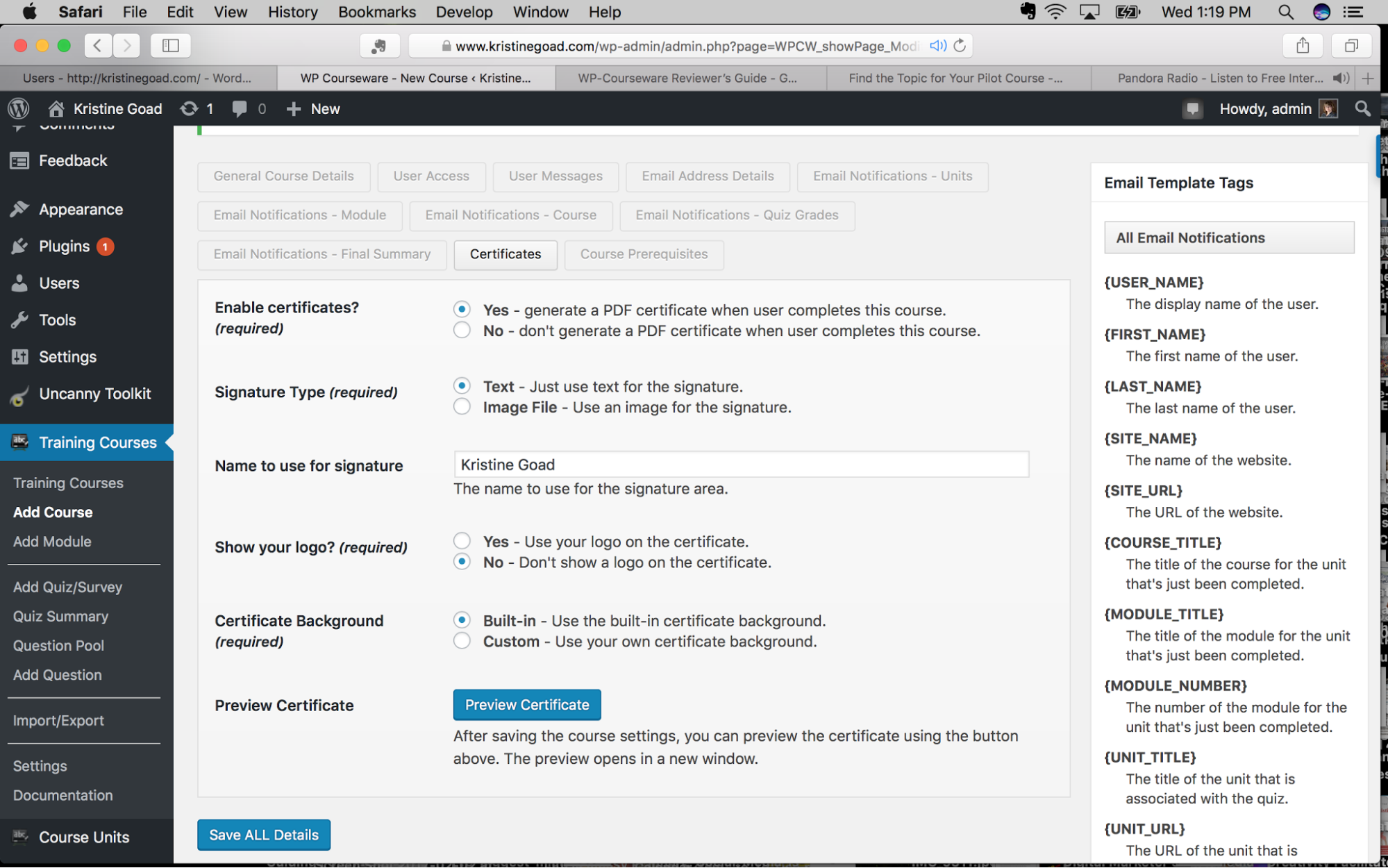 Adding and Organizing Course Content
You create your course material in the same WordPress visual/text editor with which you may already be familiar. This means you can customize your page as much as you'd like, including adding links out to other materials or sites, adding video or audio, and sharing PDFs or other downloadable materials.
You begin by creating Modules and their descriptions: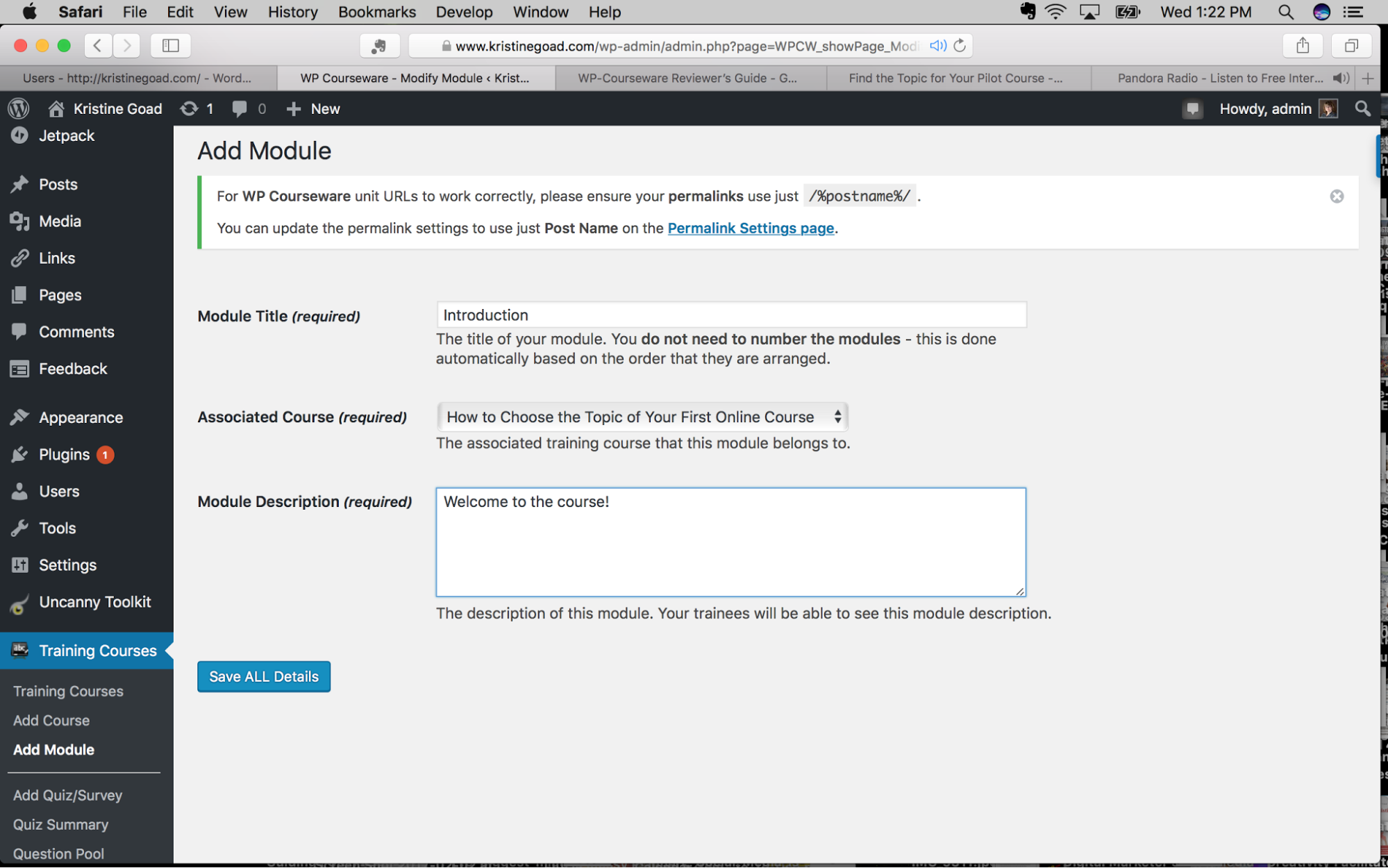 And then create the Units that will go inside the modules. Here's a look at that from the Text Editor view: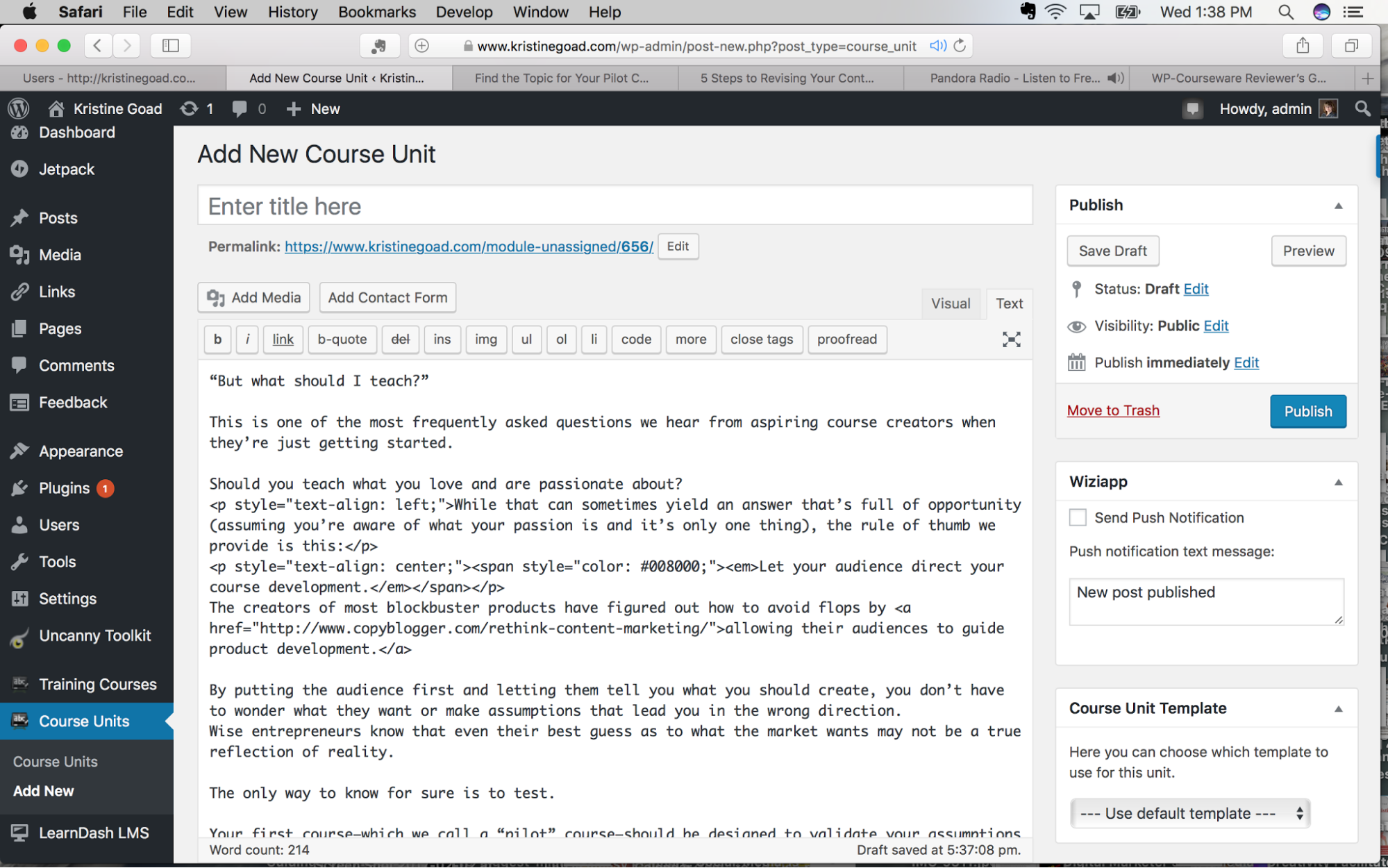 And from the Visual Editor view: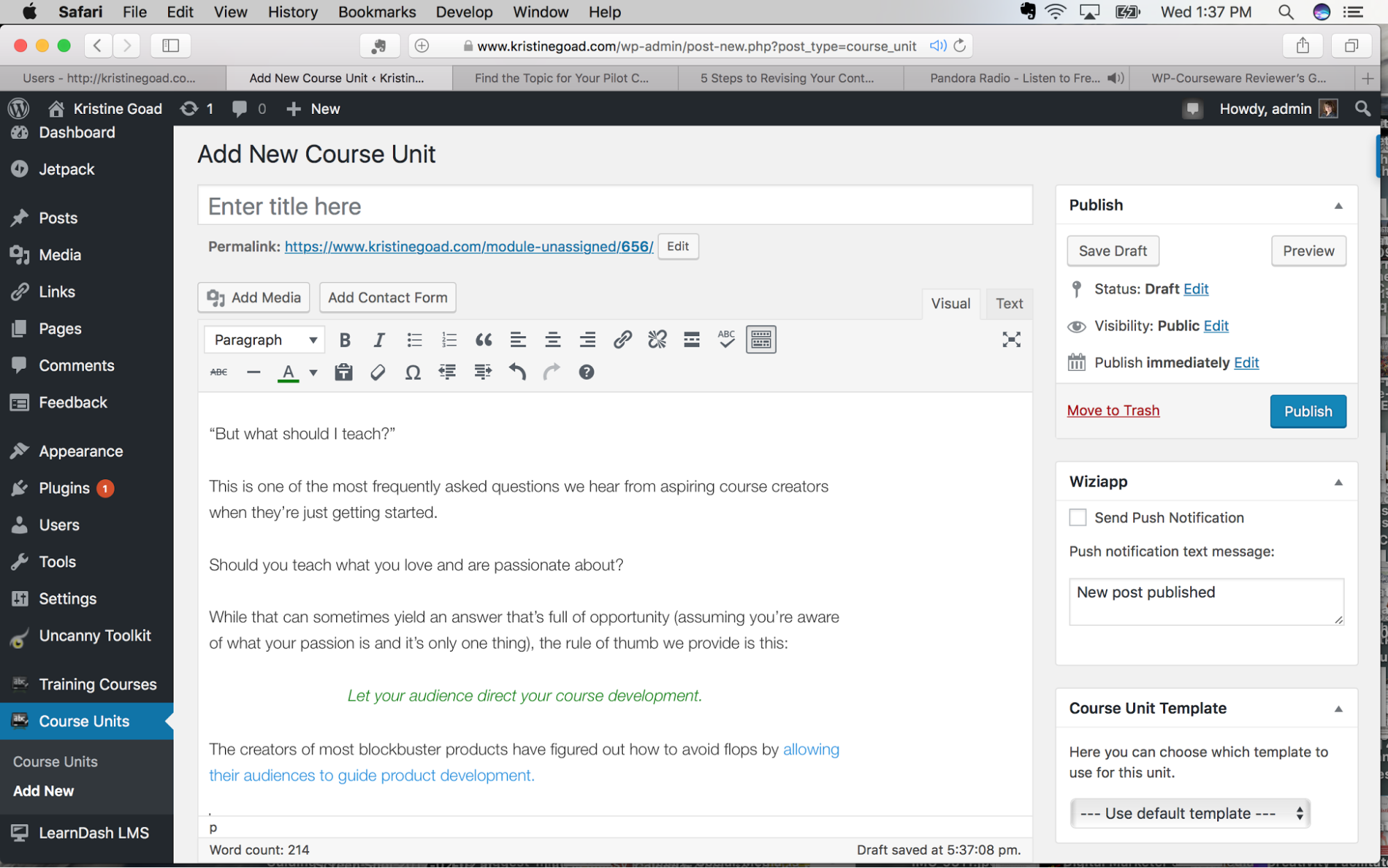 Then, you order your course content using the promised "drag & drop" feature, pulling the units into the modules. This gives you a lot of flexibility to easily change your course if you decide that you're teaching things in the wrong order, or if you realize there's a gap and you need to insert an additional unit or quiz.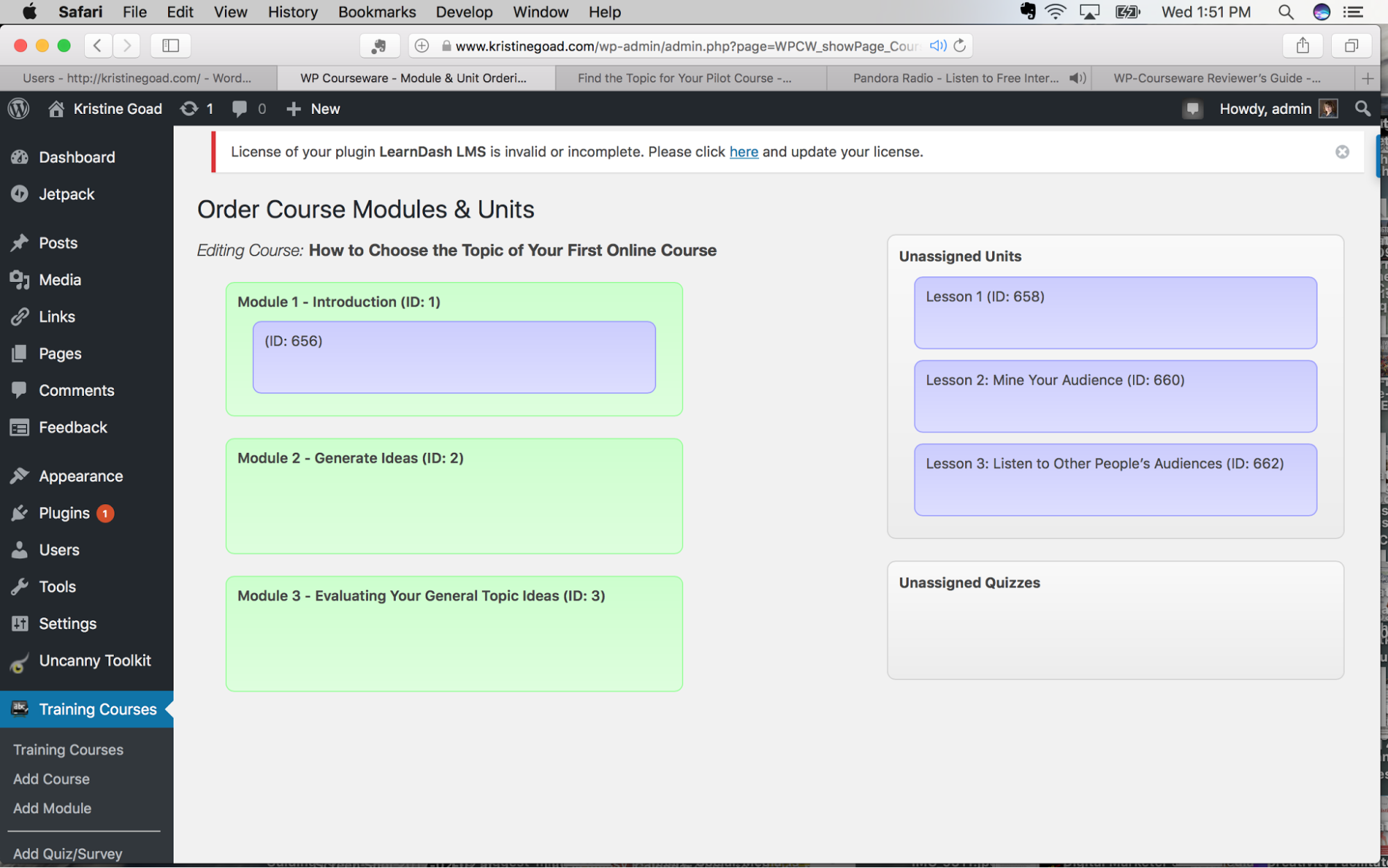 Quizzes
There are several quiz question options to choose from: multiple choice, true/false, open-ended, and an option that requires a student to upload a file. While it might be nice to have a sorting or matching question format, this list seems perfectly adequate for most needs.
WP Courseware also offers you the option to either have all of your quiz questions available in a single view (as though it were a standard quiz on paper) or to paginate your quiz so individual questions or question formats appear on separate pages of the quiz that students move through.
The quiz creation process is super quick and easy. There are three nice options:
You can add questions to a Question Pool so you can re-use them in other quizzes later.
You can decide whether to randomize answers on a question-by-question basis.
You can decide whether a student must pass the quiz before allowing them to continue to the next unit or module.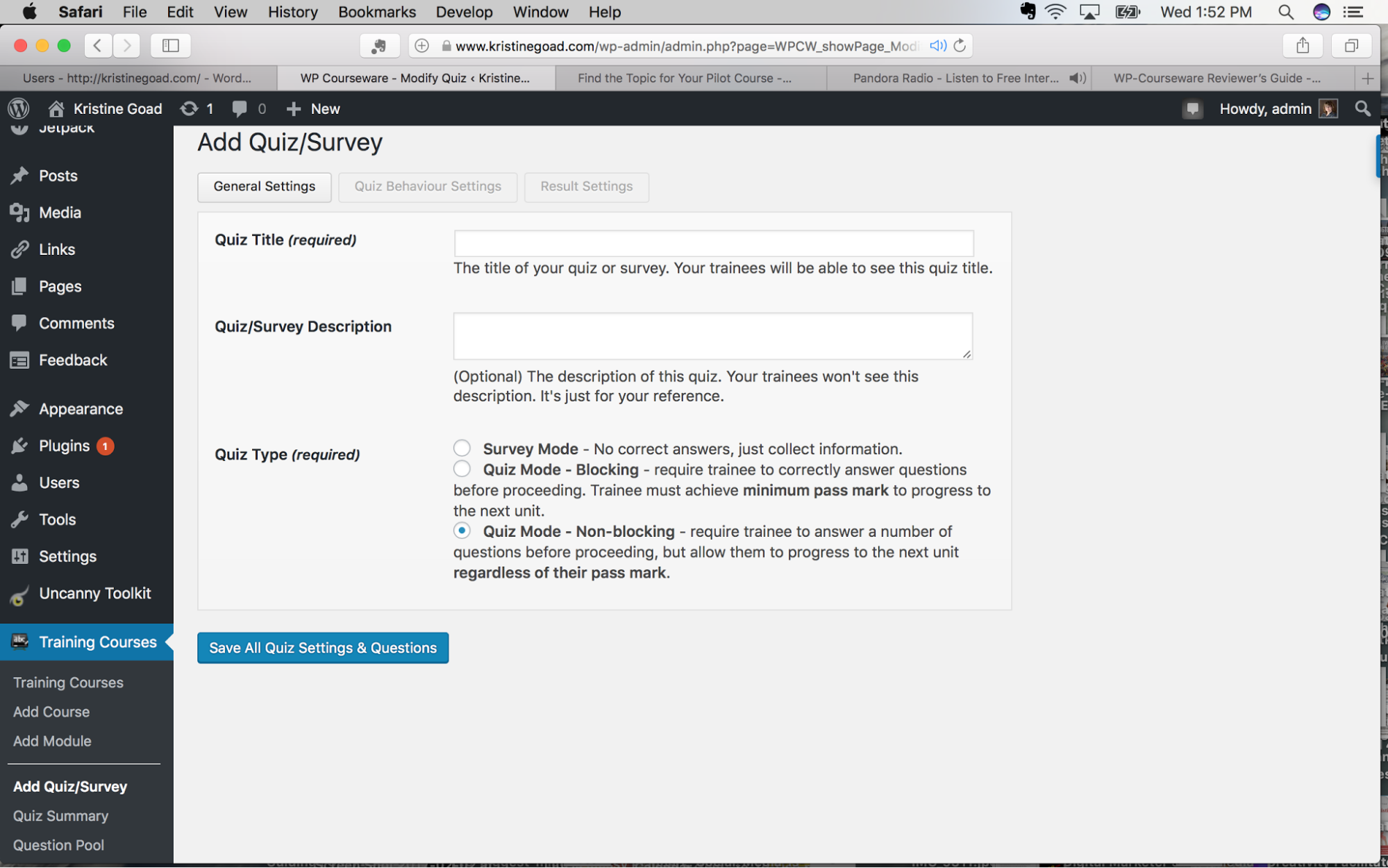 Here's a sample of the student view of an unpaginated quiz: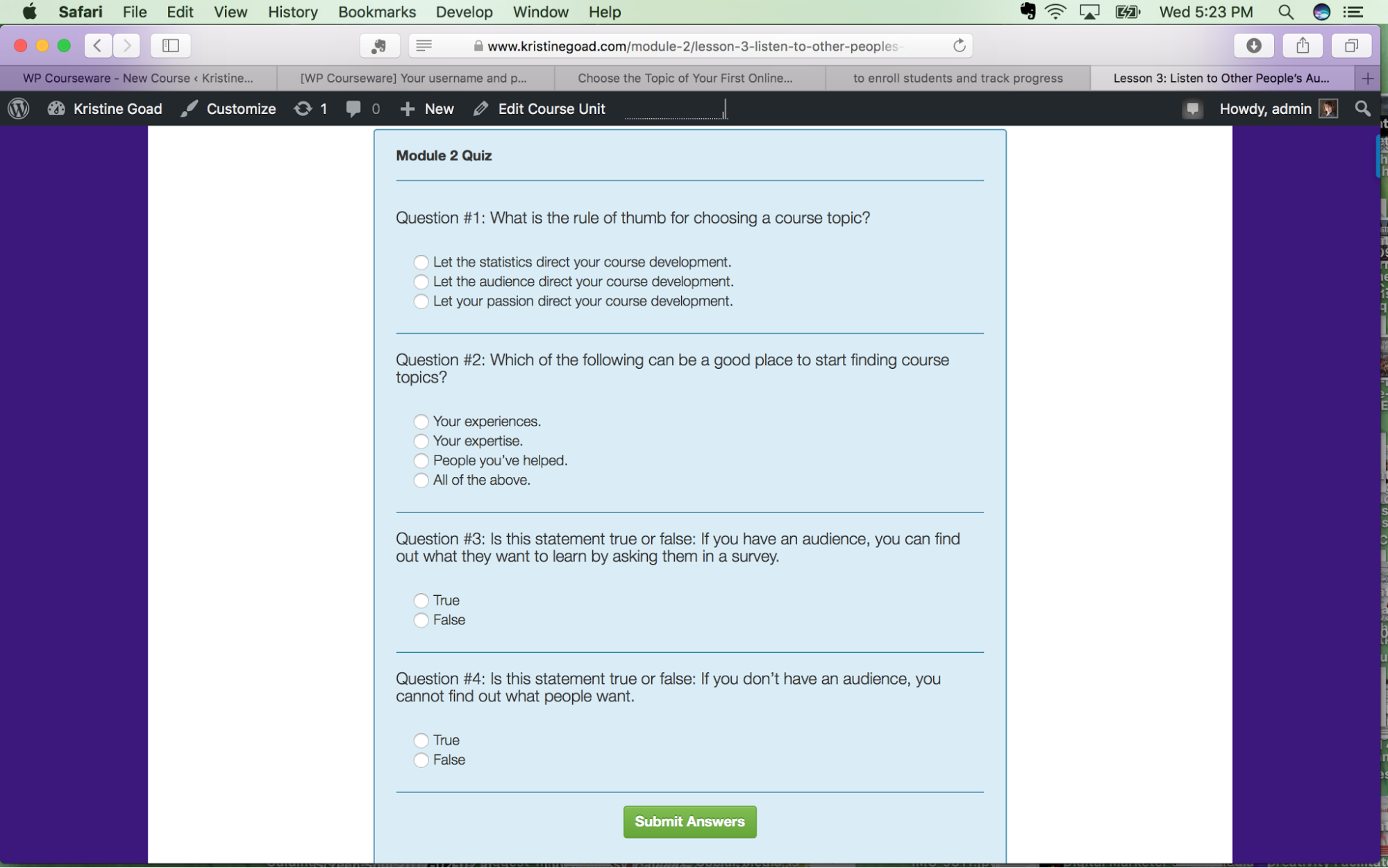 And this is what a student sees upon completion of a quiz (note the ability to download the results and the option of automatically emailing the results to the student and the instructor):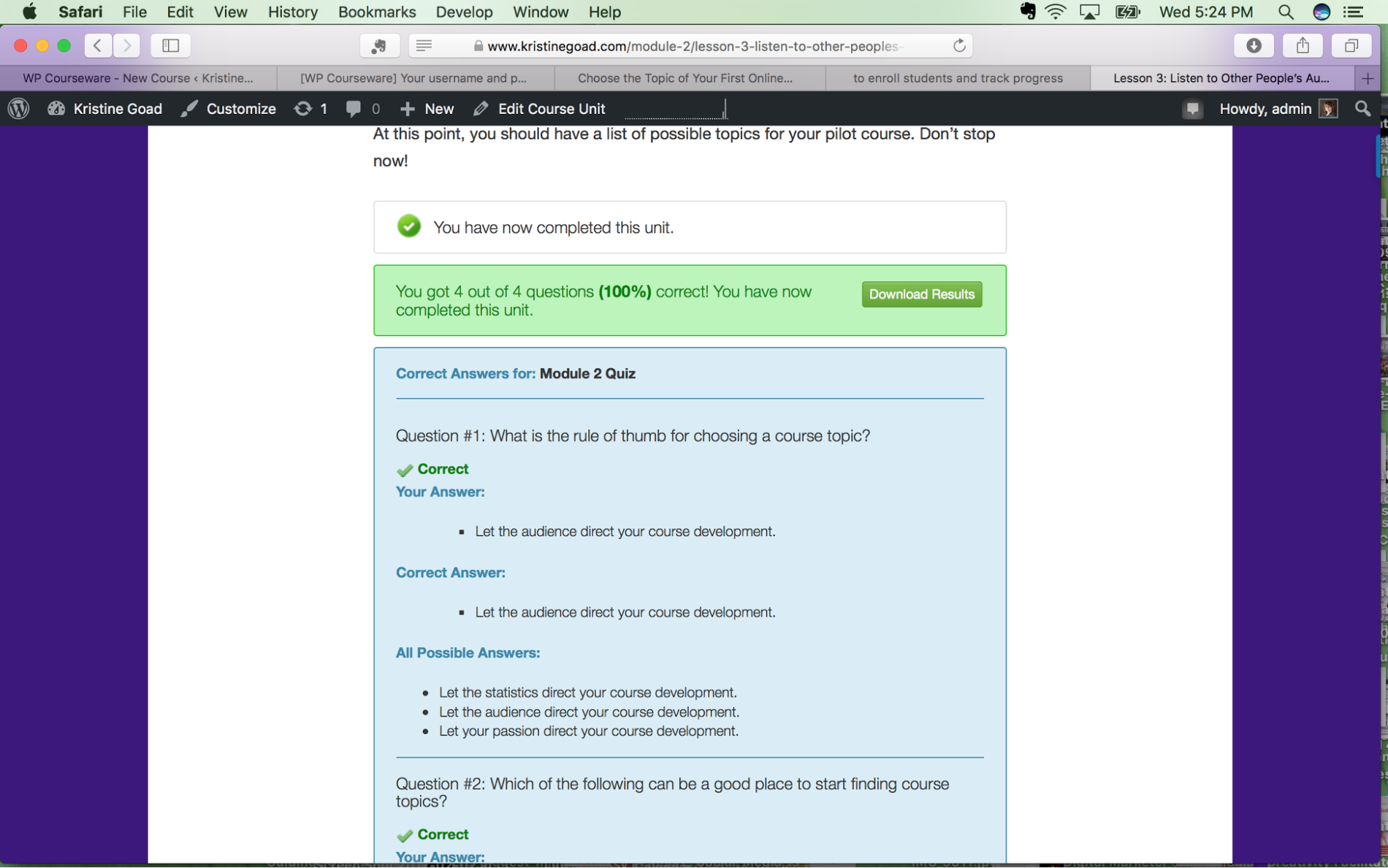 Where Things Got Tricky for Me
After you have uploaded all of your course content, created your quizzes, and dragged all of the Modules, Units, and Quizzes into the order you want them to appear, your course is complete.
Sort of.
"Here's where things got tricky with WP Courseware:"

Tweet Me
The problem is, you can't yet access it as a course until you create a course index page. While it would be awesome if the plugin did this for you automatically, there's a video tutorial on how to do it. It's super simple to do using shortcodes available in the plugin.
Here's what my course index page looks like using the shortcode to create the index and the shortcode to add an "enroll now" button: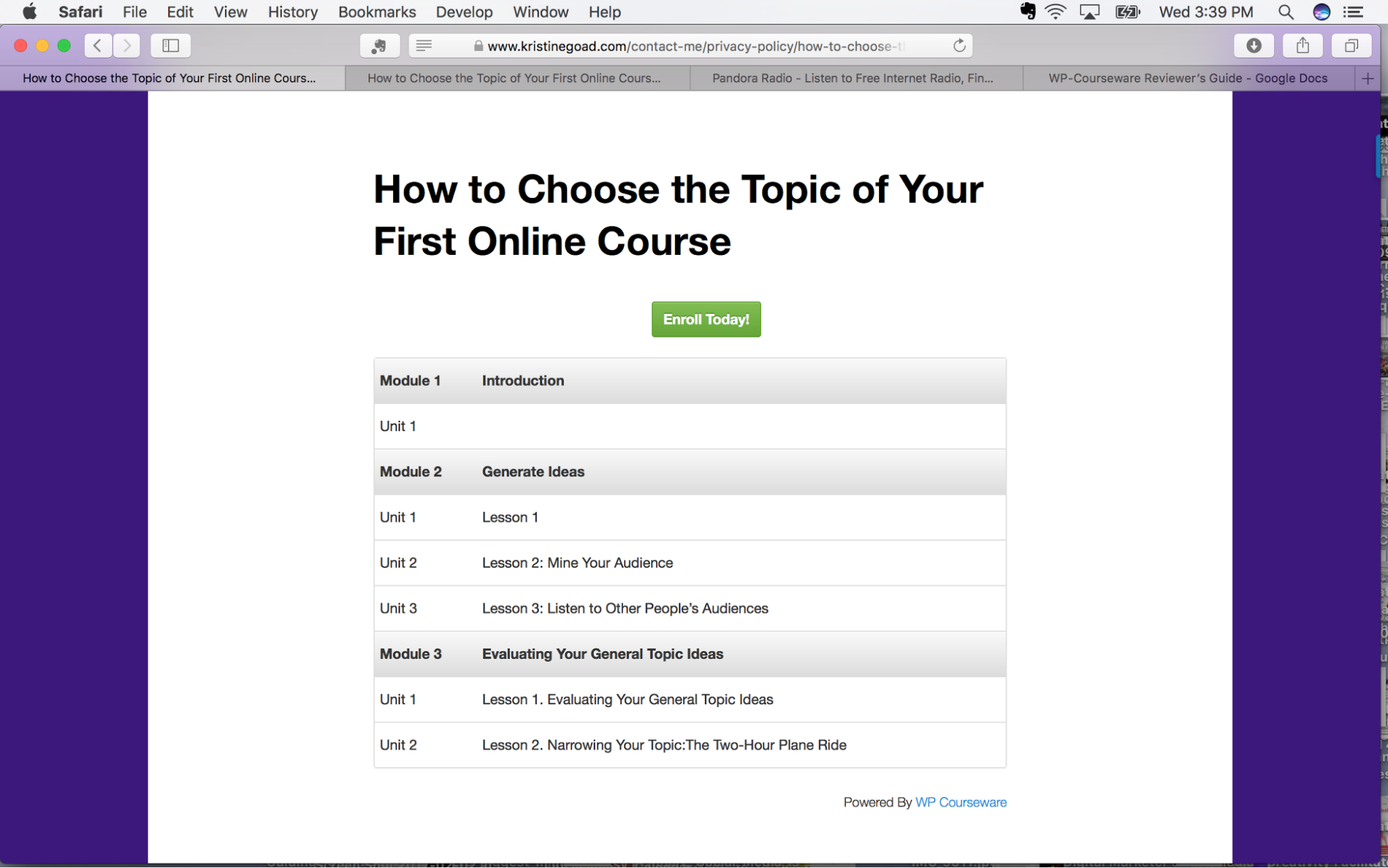 After a student enrolls, the course content will become hyperlinks to take the student through the course. If you are dripping content or requiring students to complete the modules and units in order, only the first unit will be hyperlinked.
As a student marks the content complete, check marks will appear next to completed content in the index. So far, so good.
The tricky thing for me is pointing someone to this page as soon as they enroll. Remember, I'm not a WordPress whiz. I'm sure there's a fairly straightforward and simple process that I don't yet understand about creating Users on a WordPress site—which is exactly what you do when someone enrolls in your course.
Once they enroll (if you allow them automatic access), a student is taken to a WordPress dashboard page that lets them configure their color choice and profile… but doesn't immediately direct them to the course index page. I'm confident that figuring out this final piece of the puzzle will be the cherry on top of an otherwise intuitive, easy, and pleasant course-building experience!
Summary of Features
FEATURES
YES, NO, AND/OR DETAILS
Number of Courses and Students
Unlimited Courses and Students
Course Content

Drip according to schedule

Yes

Self-directed (unlock next module as student completes previous)

Yes

All modules available as soon as student enrolls

Yes

For third-party platforms: Hosted by the vendor (If so, what are the file size limits?) or do you need to host the files yourself (such as on AS3)?

All files are self-hosted
Yes
Yes
Yes
No
Sales Page
You would create this as a WordPress page or in your e-commerce integration
No
As much as WordPress allows

Other landing pages available (if so, what?)

You would create this as a WordPress page, in your e-commerce integration, or using another application
Payments
Multiple integrations available for additional charge

Integration with payment processors

WooCommerce, Easy Digital Downloads (Stripe or PayPal options), Ontraport; range of Membership Site integrations

Can you set up different payment arrangements:

Depends on Integration option you choose
Integration options available
Integration options available
Integration options available
Email Marketing

Integration with which email service providers

MailChimp; AWeber; Constant Contact
Yes, and easy set-up!
Quizzes- Quiz types available
BONUSES:

can create a Question Pool to use questions in multiple quizzes;
ability to randomize answer order
Gradebook included

Yes
Yes
True/False; Open-ended; File upload
Assignments
All files will be uploaded to your site, so you decide what you want to host
Yes
Yes
Yes
Yes (may prefer to have student send link so you don't have to host)
Community/Discussion forum
Add via additional Integration/Plugin, such as BuddyPress

What type? (e.g., student forum; comments at the bottom of each lesson; etc.)

Ability to add comments at bottom of lessons

Features? (e.g., search within the forum; can students share images/video)

N/A
Badges/Certificates
Certificates included; may be able to add badges through additional plugin
Completion of course
No
Analytics
Available through Dashboard and via email to instructor; can download CSV file

Which metrics are available?

Lesson & Module completion; % course completion; quiz results

Individual student tracking

Yes
Available through additional Integration
Affiliate management
No
Customer Support
Current Pricing
Teacher: $99, 2-site license
Professor: $125, 10-site license
Guru: $175, 25-site license
Pricing is for one year and includes all upgrades and email support.
Renewals at end of the first year are discounted 30%.
An extensive array of integrations available is (108 choices currently) for additional annual fees to extend functionality, such as Slack (for course notifications), BuddyPress (for community building), or Freshbooks (for accounting).
Integrations – The Starter Package lets you pick-and-choose your integrations and affords a 30% discount over purchasing separately.
Takeaways
What I Liked Most
I liked a WHOLE LOT about this plugin! It really was drag and drop easy and a pleasure to use.
My favorite feature, though, is what I am calling the Magic Dashboard that lets you set up your course structure, communication with students, and the overall student experience. This feature combines much of the done-for-you functionality you would find on a stand-alone online course marketplace site with the ability to customize your course and create it on a site you own and control.
One other plus is that there is the availability of both short video and text support documents, so you can choose based on your preferred learning style. I emphasize the "short" video segments as a plus. This way, you watch a video about your specific question or problem, without having to sit through a bunch of extraneous information or fast-forward searching for the piece that's relevant for you.
What I Liked Least
I love the huge range of Integrations that work with WP Courseware to extend the functionality of the course, but I'm not excited about the cost of adding those integrations. As far as I can see, I can create my own "Buy Now" button with PayPal and put it on a sales page I create and host on WordPress and all that would cost me is a bit of time.
However, if I want to use any of the e-commerce integrations, such as WooCommerce or Easy Digital Downloads (which has an extension that will work with Stripe or PayPal Pro), there will be an additional charge. NOTE: If you are going to use Integrations, check out the Starter Package option that will allow you to create your own package and provide a savings of 30%.
Who WP Courseware is Best Suited For
WP Courseware is a great option for someone who wants to create a course on a website they own and manage, have flexibility in customizing their course, and still enjoy the support, structure, and comfort of having much of the course functionality and architecture already configured. WP Courseware combines the ease and structure of an online learning marketplace with the flexibility and customization of a plugin.
You may pay more for this plugin than others if you use additional Integrations, but the ease of use may make up for that, especially if you are not a WordPress pro but want to look like one.
Tips for Making the Most of Your First Course-Building Experience on WP Courseware
Before you begin creating your course online:
Create a course outline with the title of each module and/or lesson, a description of what your students will learn in each, and a list of downloadable resources you want to include.
Create or curate the content for each lesson, including writing the text, creating videos, recording audios, selecting photos, writing quizzes, or designing infographics (Remember: it doesn't have to be fancy to be effective! Play to your strengths and don't spend a lot of time learning new techniques in the beginning.).
Decide whether you will upload videos directly to your website or host them on Vimeo, Wistia, or somewhere else, and take care of any uploading to those hosting sites.
Decide whether you will integrate payment into the course with one of the e-commerce or membership Integrations with which WP Courseware partners, create your own simple PayPal button, or manage sales elsewhere.
Decide whether you will create a sales page and where that will live.
Decide whether you will want to extend the functionality of your site through the Integrations WP Courseware offers and create your Starter Package.
When you are ready to begin building your course online:
Enroll in the WP Courseware demo course (on the Demo.WPCourseware.com site), "Online eLearning 101." The course is set to require that you complete each module before unlocking the next, but if you don't want to spend the time going through everything, you can just click each module complete with the button at the bottom, use common sense to complete the single quiz, and then skip around the content as you have questions building your own site.
Bookmark the support.wpcourseware.com page. You won't spend a lot of time there, but it will have the answers you need if you get stuck.
Bookmark this playlist of tutorial videos, so you'll have ready access to the how-to demos in sequence.
The Verdict
I would recommend this plugin to anyone who wants to quickly and easily create a professional-looking, online course on a website they own. There are plenty of options for customization, personal creativity, and adaptation to your teaching style and learning outcome goals. Nevertheless, you won't find yourself confused or overwhelmed along the way.
The huge range of available integrations adds the ability to include community engagement, monthly membership or payment plan options, marketing, and accounting functions. There's a whole lot of other things I didn't have the opportunity to explore, making this a versatile plugin that will grow with you as your expertise grows and your needs change.
What feature are you most looking for in a platform? If you have built courses in the past and are looking at switching platforms, what problem are you hoping a new platform will help you solve? Let us know below so we can offer suggestions!
Find a Sellable Topic for Your Online Course!
Get this primer and learn our process for identifying a viable topic for your very first online course.