The Ultimate MemberPress Review: How to Build the Perfect Membership Site
Matthew Turner
One of the most common conversations we have with online course creators is how they can turn their course (or courses) into a Membership Site.
Creating and selling online courses is great, but so often it results in a one-time sale.
And if you sell your course on a platform like Udemy or Skillshare, you don't get your students' details.
In the beginning, maybe this isn't a problem…
Yet once you build some momentum, you want to provide greater value to your students and scale your operations. One of the holy grails of this is to create a Recurring Revenue Stream (where your students send you money (automatically) each month).
Doing this through an online course isn't easy.
Which is where creating a Membership Site comes in…
How Course Creators Become Business Owners
Maybe you already own a business. Maybe you created an online course to generate a new income stream. Or if you've succeeded in launching a course, maybe you feel like you're only scratching the surface with your students.
Maybe you see that they need more from you, and maybe you want to give them more!
Or MAYBE…you created your online course because you simply wanted to share your expertise.
Here at Mirasee, we've worked with hundreds of course creators. Each person has their own reason for creating their course, but whatever their reason is, they almost always get to this point in the process.
The point where they have built momentum and are unsure of what to do next!
As you already know, planning, building, and selling a course isn't easy. It takes time and energy. If the only way you can generate more money is to create more courses, there's a limit to what you can do.
Maybe you've reached that limit.
Maybe you want to serve your students in a more powerful way.
AND generate a recurring revenue stream as you provide this greater value!
The goods news is, there's a relatively simple process you can follow to achieve this. Without having to create a new course, you can repurpose your content so it serves your existing and new students alike.
Better yet, they send you money each month to be part of this service.
It's delivered to you automatically, without you having to set up invoices!
And you take what you offer through your online courses to the next level because with this approach you enter them into a community of like-minded learners. They don't only learn what you teach, but they're held accountable.
It takes the value you offer from good to great!
Saving you time and making you more money in the process.
Membership Sites: How Course Creators Level Up!
A Membership Site is a gated community where only those who subscribe can access your content.
Within this site, you can link to your online course.
Or if you have two…three…ten online courses, you can give them access to each.
In addition to this you can offer them:
Downloadable guides or books
Videos, interviews, and masterclasses
Online challenges
Private podcast episodes or video tutorials
Articles, blog posts, and case studies
"But the most powerful part of a Membership Site is the community you build. Through a forum or private group, you provide a platform where your students engage with one another. In this noisy world we live in where everyone's overwhelmed with content, a community like this sets you apart.
Other course creators can copy your content.
But nobody can replicate the trust you build through an engaged community!
In many ways, a Membership Site is a natural progression for an online course. Once you build a course that helps people and gather some momentum, a community like this makes sense.
Not just for you, but for your students.
The problem that most course creators face, however, is that they have no idea where to begin.
For starters, it seems complex.
How do you set it up so only certain students get access to certain areas?
How do you build a forum or group so students can engage with each other?
These are the questions we hear when we speak to the course creators we help. They're worried about the time involved, the technical know-how that they're sure they do not have, and, of course, the cost.
All these moving parts…it surely requires a bunch of different tools and software.
A Membership Site sounds like a great idea. But not if it costs $1,000 to maintain each month…
Don't worry. The cost to do this isn't high. The time you'll spend on this isn't much.
In fact, if you follow the right process you may save more time than you currently are.
(And you need next to ZERO technical know-how to make this happen).
There's one tool that does all the hard work for you…
In this article, we provide an Ultimate Review of what it is, how it works, and why YOU may need it.
The Ultimate MemberPress Review
This is MemberPress.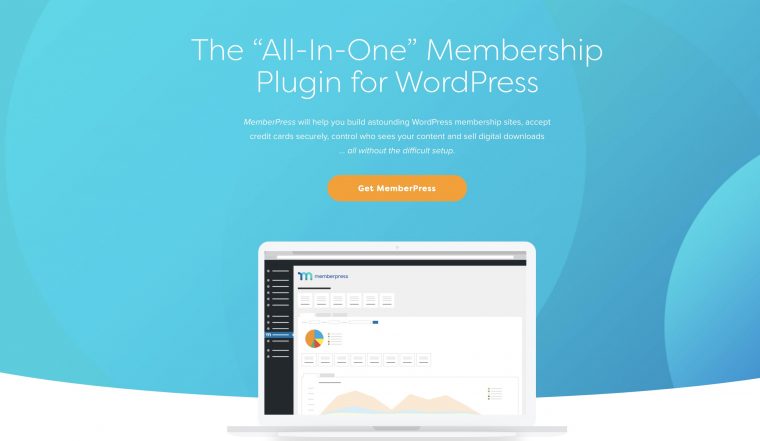 As they state loud and clear on their site, they offer an "All-in-One Membership Plugin for WordPress."
What this means is if you host your website using WordPress, this is the tool you need.
In this Ultimate MemberPress Review, we'll give you everything you need to know about what it does and how it works:
As you work through this Ultimate MemberPress Review, make sure you relate everything to you, your course, and your students. A Membership Site doesn't make sense for all course creators. Even if one does make sense for you, how you go about building yours is unique to you and…your students!
Read each section in this MemberPress Review in full.
Make notes throughout (have a pen and notebook at the ready).
During each section ask yourself: how does this relate to my course(s)?
Active learning is the only way to get any true value from a MemberPress Review like this.
With that in mind, let's start…
---
BEFORE YOU DIVE INTO THIS ULTIMATE MEMBERPRESS REVIEW…
You may like to bookmark some of the other tools we review for course creators like you:
---
What is the MemberPress Plugin?
The MemberPress Plugin is an "all-in-one" solution for creating a Membership Site in WordPress.
It allows you to:
Charge your students on a recurring basis (automatically)
Manage and track membership subscriptions
Grant and restrict access to certain online course material and other content
Create a private forum or group where your members can engage
Integrate with other tools and software (email marketing, payment processing, etc…)
Build an affiliate program for members and joint venture partners
Best of all, it integrates fully with your existing WordPress website. Meaning no third-party logins or platforms to use, or the hassle of having to send your students away from your site.
Everything remains in your control.
As you create more content, you can easily add it to your membership site (making it accessible ONLY to those who need to see it). This means you can have multiple subscription levels, allowing you to scale your Membership Site as you wish.
MemberPress Pricing
The MemberPress Pricing is one of the most appealing aspects of this review as it centers around a one time payment. Where most other online course builders like Thinkific, Kajabi, and Teachable provide a monthly fee, you get lifetime access to the MemberPress Plugin for one relatively low fee.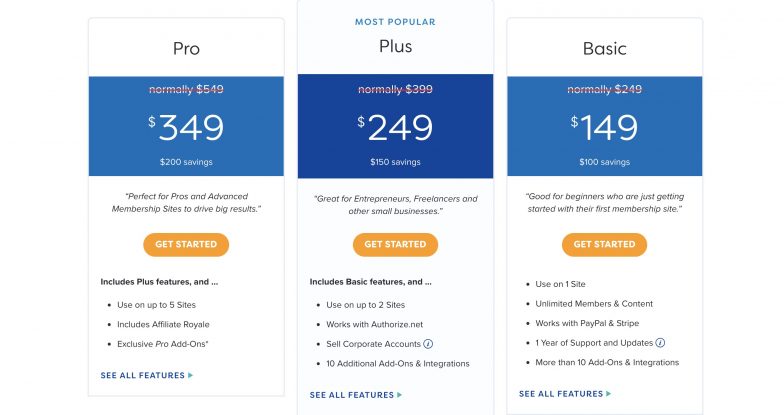 Starting at just $149, you can have almost ALL the features you will ever need for one website. For most online course creators, this is enough. It's a remarkable price when you consider the features you get.
(More on these features next).
HOWEVER…it's important to note that other costs could arise when using a plugin like this.
Unlike with a platform like Kajabi, YOU are responsible for hosting, user privacy, and fixing any potential website issues. Because of this (and especially as your members grow), it's important you consider:
Reliable and FAST Hosting options for your website
WordPress privacy and security services and/or plugins
Regular site maintenance (from an expert who can fix issues before they arise)
In the beginning, these costs won't be high. But as you grow your Membership Site, you need to ensure your hosting and security grows with it.
ALSO…you need to take into account the other tools you will use to get the most out of the MemberPress Plugin. We'll explain the various integrations you can set up later, and although you won't use them all, you'll likely use some.
So yes…the $149 MemberPress Pricing is great.
Yet in reality, there are other ongoing costs to consider.
Summary of MemberPress Features
The MemberPress Plugin truly does offer A LOT of features. As with most tools like this, there are certain features you won't need or use (at least, not when you first create your Membership Site).
There are some fundamental features relevant to all course creators, though.
Here are some of our favorite features you'll get the most instant value out of.
It Works with Any WordPress Theme
It's important the MemberPress Plugin works with your existing site. The last thing you want to do is change your website just so you can implement this plugin. The good news is that so long as your website's hosted using WordPress, this plugin should work.
No matter what your theme (even if it's a custom one), the MemberPress Plugin should work without issue. This is a huge first hurdle to overcome, and it's a question many course creators ask.
Payment Integration
One of the most overwhelming parts of creating a Membership Site like this is trying to figure out how to charge your students (and for this process to repeat automatically each month).
The MemberPress Plugin has you covered, integrating with PayPal, Stripe, and Authorize.net.
Once you integrate your payment gateway of choice with MemberPress, everything happens effortlessly, removing any friction for either you or your students.
Subscription Management
MemberPress leverages the automated billing systems on the payment gateway's side, so there's nothing you need to do to ensure your students are charged each month.
You may want to update some of their details, though, as well as add some members manually.
The MemberPress Plugin Subscription Management is both easy to use and gives you all you need.
You can:
Create
Update
Upgrade
Give Access To
Restrict Access
and Cancel their membership all from within your website.
It's an intuitive system that makes managing and maintaining your membership site a breeze.
Access Rules
This is possibly the most important feature of all because granting certain access to certain members is imperative when building, running, and growing a Membership Site.
The MemberPress Plugin gives you fine-grained control over what students can access based on what membership or digital products they've purchased.
You can allow and restrict access to certain pages, posts, custom post types, categories, tags, and almost anything else inside your website. No matter how many courses you have and how much content you intend to create, YOU keep control over what people see and how they access it.
Premium Community Forums
This is the other big feature that any successful Membership Site needs…a community.
Through the MemberPress Plugin, you can build your own password-protected community. It integrates with BBPress and many other WordPress forum plugins, allowing you to build the forum you need.
From there, you can once again grant certain access and restrictions, make members moderators, and create a highly engaged community that builds trust, loyalty, and authority.
Drip Content
If you like, you can give your new members access to all your content at once.
Or, if you prefer, you can drip this content to them over time.
Be it your course modules, workbooks, articles, or downloadable content…you can create a simple drip sequence where they're given certain access at certain times.
This not only minimizes overwhelm but can help build greater engagement as you onboard your new members or launch your next online course.
Sales/Price Page Creation
One of the great parts of building a Membership Site is that it organically grows over time. Your members tell you what they need, be it coaching, accountability groups, or a mastermind program.
Through the MemberPress Plugin, you can create simple, clear, and "pretty" Pricing Pages that showcase your different membership options. If you're good with code, you can customize your pages as you wish.
But even if you aren't experienced with CSS or HTML, you can use existing templates to create a clear and attractive page in minutes.
Coupons
As a course creator, you already appreciate the type of marketing effort needed to grow your courses.
Promotions and giveaways play a vital role, and through MemberPress you can set up unique coupons to power this.
You can generate as many coupons as you want and control when they expire. This not only saves you time but can save you money (not having to use other third-party promotional apps).
Automatic Email Reminders
Many Membership Sites include an annual membership or first-year subscription offered at a lower price. Communicating with your members around these expiration periods is important, but difficult for you to manage manually.
The MemberPress Plugin takes care of this for you, allowing you to automatically send email reminders as their subscription is about to end. You can send one email or ten, choose the times you send them and even edit the email copy.
As your Membership Site grows, this feature is a real lifesaver.
Affiliate Programs
Speaking of growing your Membership Site…one of the best ways to do this is to partner with existing members, fellow course creators, bloggers, vloggers, and anyone with an email list.
MemberPress effortlessly integrates with another WordPress Plugin, Affiliate Royale, to generate sophisticated affiliate programs that are easy to manage. As you build momentum and wish to scale your Membership Site, this is another feature that may prove a lifesaver.
Comprehensive Reporting
It's impossible to build a successful anything unless you track and analyze its progress.
A Membership Site is no different, and through the MemberPress Plugin, you can generate and run comprehensive reports to track revenue, subscriber numbers, engagement, issues, and anything else you need to know to ensure your members get the best service possible.
Mass Integrations!
The MemberPress Plugin integrates with A LOT of other tools, software, and platforms.
Although you can do most of what you need to inside the plugin itself, you'll likely wish to integrate your Membership Site with an email marketing provider and other tools you couldn't live without.
MemberPress integrates with many of them, including:
f Menu
BBPress
Blubrry PowerPress
Avalara Tax Rates
Quaderno VAT Tax
AWeber
Constant Contact
GetResponse
Mailchimp
MailPoet
Mailster
Math Captcha
MemberPress Importer
MemberPress User Roles
Active Campaign
Amazon Web Services
BuddyPress
ConvertKit
Corporate Accounts
Developer Tools
Drip
HelpScout
Stripe
PayPal
Authorize.net
There are many more features we could mention but these are the essential ones most course creators need. They allow you to build an engaged and loyal Membership Site that can grow and grow and grow.
So…how does this all work? This is where we turn our attention next, looking behind the scenes as you set up your MemberPress Community.
MemberPress Tutorial: How to Navigate the Plugin
Once you've installed the MemberPress Plugin to your website, you'll notice a new MemberPress section appears in your WordPress dashboard.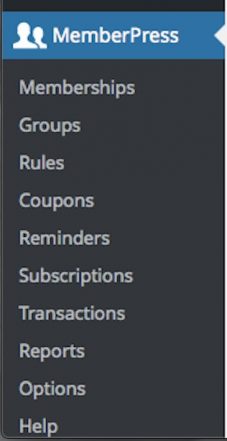 The first part you need to work on is the "Options" tab, as this allows you to set up the basic details your Membership Site needs.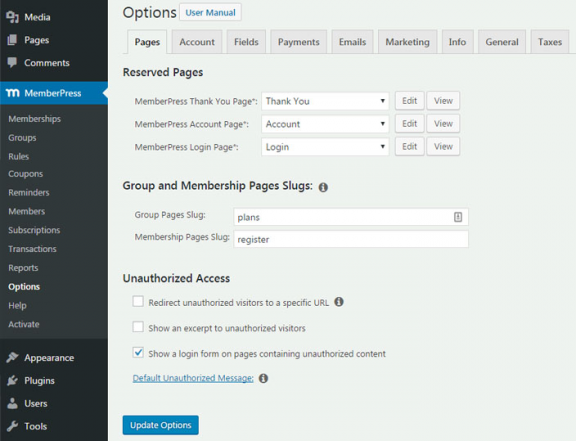 You'll notice on the top of the screen a new set of tabs:
PAGES: this is where you configure and customize your reserved pages, group, and create your membership page slugs. Certain reserved pages are automatically created by the plugin as they are essential for a membership site.
ACCOUNT: this includes options for configuring your member information in four main sections:
Permissions,
Registration,
Login and logout,
Account page welcome message.
FIELDS: This tab includes options to enable or disable fields, as well as configuring new fields on membership registration forms and the user account pages.
It has two user information fields by default: Name and Address. You can change these, remove them, or add further ones that your new students have to fill in.
PAYMENTS: this is where you configure your payment settings, so is an important part of the process. There are a few options you can choose from: PayPal, Authorize.net, and Stripe.
You can configure multiple payment methods if you wish, and choose whether to show payment labels, icons, and their descriptions.
EMAILS: This is another important section to complete as it allows you to customize and configure your reminder emails (as well as your welcome email and payment receipt).
You can change the copy of these emails, customize it so it comes from your personal email account, and even change when each email is sent.
MARKETING: This is where you integrate the MemberPress Plugin to your email marketing software, including the likes of: Mailchimp, ConvertKit, and Aweber.
INFO: This tab provides you with options to enter, manage, and edit your business address and other important personal details.
GENERAL: The general tab has options for internationalization (language code, currency), theme compatibility, SEO, PayWall, rewrite rules, and background jobs. You'll more than likely leave these settings in their default mode.
TAXES: This final tab allows you to enable or disable tax calculations and manage settings for these.
Once you've completed this section you're ready to build your Membership Site. Remember, you don't have to have everything in working order from day one. Your Membership Site WILL evolve over time, so take your time to lay the foundations and get the basics right.
From there, you can add, tweak, and iterate as you need to (often based on what your students tell you).
But to ensure you remain on the right path, here are some further useful videos produced by The MemberPress Plugin team that shows you how to get started on some of the core features.
How to Create Memberships
How to Create a Manual Transaction
How to Set Certain "Rules" for Your Content
How to Create Groups Inside Your Membership Site
How to Set Up and View Reports
MemberPress has an amazing Support Page with further articles, step-by-step instructions, and videos to help you set up, configure, and implement every aspect of the plugin. We highly recommend you spend some time on this Support Page as you begin to build your own Membership Site.
MemberPress Pros and Cons
As with any new tool you use, you'll find features you love and features you don't. The MemberPress Plugin isn't perfect, so before we move on let's highlight some of the core MemberPress Pros and Cons.
Let's start with the good stuff:
PROS of the MemberPress Plugin
User-friendly and easy to set up: despite this plugin having a lot of features, everything remains simple to use and set up. This is always a worry when using a new tool, but MemberPress keeps the whole process simple and clear.
Drip feed content: giving new members access to everything from day one can prove overwhelming. Creating high engagement is important, and it's proven that drip-fed content helps increase this.
Multiple payment options: not only does this give you greater options, but multiple payment options mean more freedom for your students, and fewer barriers to sale.
LOTS of integrations: this plugin integrates with a lot of other useful tools, especially email providers like ConvertKit and Mailchimp. As you grow your membership site and wish to communicate with your members, this proves a valuable feature.
Powerful access rules: as your Membership site grows, you'll want to get more sophisticated with who can and cannot access certain content. The MemberPress Plugin allows you to go deep in this regard, so you can build the community you need to.
CONS of the MemberPress Plugin
Few updates: the MemberPress Plugin doesn't seem to get many updates, including new integrations or support. This is always a red flag when planning to use a tool for the long term. As WordPress is updated (and the online world in general), it's important to know the tools and plugins you use will grow with them.
Questionable marketing tactics: whenever you visit the MemberPress website, you're met with a "special discount" offer and a ticking timer. Yet this timer always resets the next day. Such scarcity tactics are a turn-off, and bring into question the company values.
Front end design is somewhat outdated: the pages that your students see, although fine, are somewhat outdated.
These are some of the MemberPress Pros and Cons we feel worth noting. Overall, the MemberPress Plugin is a great one. It offers you all you need to build a great Membership Site and community.
But it isn't perfect, and these imperfections are worth considering before you make your final decision.
MemberPress: Key Takeaways
Before we conclude and bring this Ultimate MemberPress Review to a close, here are a few high-level takeaways we'd like to leave you with.
What We Like the Most:
Overall, the MemberPress Plugin does everything you need it to. It works with almost any WordPress theme, integrates with other important WordPress plugins and also integrates with many of the key tools you use every day.
If you wish to build a Membership site that breeds a loyal community, this plugin is what you need.
It's clean, easy to use, and simple by design.
You can go deep into the various access features, or keep things simple for you and your students. The choice is yours, and you feel like you have complete freedom at all times.
In short, this can grow with you, whatever your plans for the future are.
What We Like the Least:
As well as the lack of recent updates, the price is the main issue we came across.
Although the plugin itself is very affordable (starting at $149), the hidden fees can soon add up. When you take into account the other tools you may need (email marketing, for instance) and the fact that YOU are responsible for hosting, security, and website reliability…the costs can (and will) increase over time.
You have to take this into consideration when using the MemberPress Plugin.
Who Needs the MemberPress Plugin the Most
If you're new to the online course world, this may not be what you need…yet.
A Membership Site like this is best suited for those with multiple online courses that have already built some momentum. To get the most out of this plugin and its various features, you need an active community.
When you first launch your online course, you may not have this.
Will you need a Membership Site in the future? Yes, probably.
Do you need one right now? Possibly not.
3 Tips For New MemberPress Users
If you do decide to build your own Membership Site and consider the MemberPress Plugin the tool you need, here are a few tips to get you started TODAY:
1: Read the MemberPress Support Page. Set aside some time to watch the videos and familiarize yourself with ALL the features. This not only saves you in the long run but leads to fewer mistakes.
2: Before you begin building your Membership Site, have a clear picture of who your core customer is. The most important person in this whole process is the person you're building this for. To help you create your own Customer Profile, you may like to read this separate guide we created for you.
3: Start simple and make continuous updates and improvements. What puts a lot of course creators off is the thought they have to create a perfect community from day one. You don't. Create a simple Membership Site, test it with a Beta Group of Students and iterate what you offer based on their feedback. Building something is better than planning for perfection.
As with using any new tool, there's a period of transition. By following these three tips, you'll save time and make fewer mistakes when first using the MemberPress Plugin.
MemberPress Alternatives
Finally, before we share our final notes in this Ultimate MemberPress Review, here are some alternative Membership Site Builders you can use. We believe MemberPress is a great option, as we talk about next.
But it isn't the only option on the market.
If you're still unsure whether the MemberPress Plugin is for you, research the following:
1: WooCommerce Memberships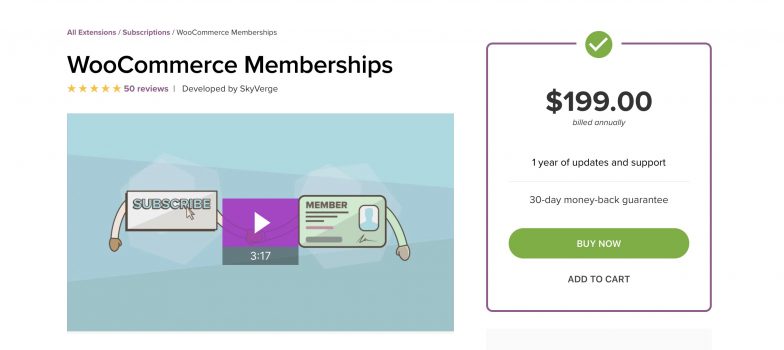 A fellow WordPress plugin that integrates with other WooCommerce products. If you already use WooCommerce on your site, this may be the plugin you need.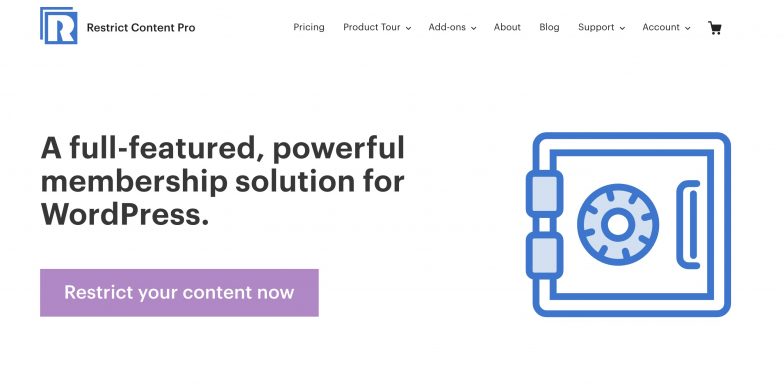 Similar to MemberPress, but with a higher price bracket and more features and integrations on offer.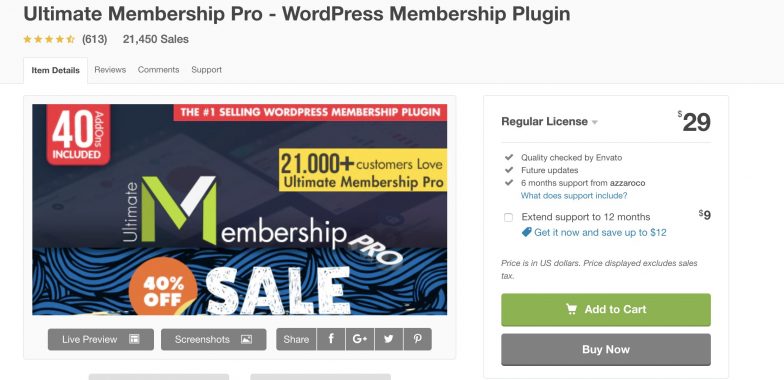 A simple WordPress plugin with a low price to match. Offers many of the features you need, but not nearly as in-depth as MemberPress Plugin or Restrict Content Pro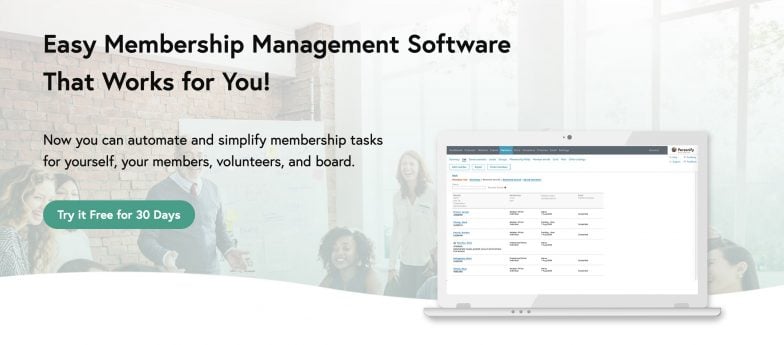 The first non-WordPress plugin on this list. It's a sophisticated Membership Site builder that gives you a great deal of freedom and flexibility to build a community that scales.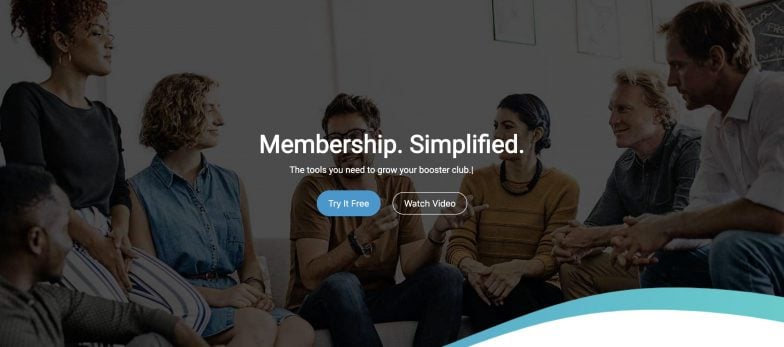 Another standalone Membership Site Builder that allows you to create a more sophisticated community.
The Ultimate MemberPress Review: Conclusions
Once you build momentum with your online course(s), your biggest focus goes toward turning that momentum into a recurring revenue stream. This not only gives you more money but greater freedom to pursue new projects.
Building a Membership Site is one of the most effective ways to do this.
For most course creators, it presents a natural evolution of what they're already doing.
As well as opening them up to new opportunities: coaching, mentorship, accountability groups, and consultancy. The MemberPress Plugin is one of the easiest and most affordable ways to achieve this.
Having read this Ultimate MemberPress Review, you now know whether it's the tool for you.
If you already own a WordPress hosted website, it's often the most sensible option you can take.
But MemberPress isn't the only WordPress Plugin that can help a course creator leverage their momentum. We've compiled a list of other WordPress plugins you can use to turn your website into an online course platform. To access this list for FREE, sign up here.