5 Student Retention Strategies That Prevent Churn
Here's an interesting statistic for you: 65% of a company's business comes from existing customers, and it costs five times as much to attract a new customer than to keep an existing one satisfied (source).
Did you know that 65% of a company's business comes from existing customers?
Click To Tweet
This means that, as a course creator, you'll want to focus more on keeping your existing customers happy versus constantly investing in marketing initiatives to attract new ones. If your current customers are happy, they will buy from you more than once, and recommend your courses to others as well.
On the other hand, if they aren't happy, they will leave. This is the dreaded churn. You put in all that effort marketing your courses and membership site, only for students to lose interest and discontinue your programs.
In the end, you're left with a leaky bucket. You're continuously spending time and money to fill the bucket with new leads only to have them drop out the other end.
Fortunately, it doesn't take a lot to keep your existing students satisfied. Whether you have a membership site with a recurring subscription fee or one-off courses, these 5 strategies will keep your students coming back for more:
The 5 Student Retention Strategies
1. Set Up Re-Engagement and Reminder Emails
Life happens. Your students will begin your course or join your membership site with great enthusiasm. Ten minutes later, they're distracted by a YouTube video of a cat dancing to Despacito, and you've lost them.
Track your students' progress and activity on your site so you know when someone stops logging in. Most students will keep coming back of their own volition but some will become inactive after a while. When this happens, they're at risk of canceling.
This is where the re-engagement email comes in. Send them a polite and personalized check-in email to find out if everything is ok. In many cases, people just get too busy and forget about your training. Checking in shows that you care about them and reminds them to log in again. For some ideas on re-engagement emails, have a look at this cheatsheet.
You can also be proactive and set up a weekly reminder email. These emails can go out each week to remind customers that they're in your course and how much they have left to go before they complete it.
Here's an example of a reminder email I received after signing up for one of our employee training programs at Thinkific. Yes, I signed up as Mr. Treasure-Horse. I only completed 14% of the course, and the automatic email reminder lets me know I should resume the course to complete it.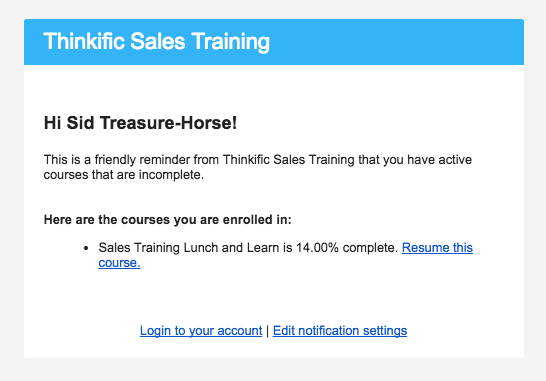 The above email was generated using Thinkific's built-in automatic notifications feature. If you have a different setup, you can use an email marketing software to create automated emails that go out on a regular basis.
2. Survey Existing Students for Content Ideas
A big mistake course creators make is to assume they know what students want to learn. Yes, you've been there and you're teaching your students the way you learned. But you're at a higher level right now and things that seem obvious to you may not be to them.
A big mistake course creators make is to assume they know what students want to learn.
Click To Tweet
Additionally, in many industries, things change at a rapid pace. What may have worked for you in the past might not work the same way for your students today. You'll need to constantly learn new things and update your course accordingly.
So, instead of making assumptions, make a survey! Ask your students what they'd like to learn or where they're getting stuck. You can embed surveys at various points in your course, like the screenshot below. Ideally, add a survey at the end of every module in the course and collect feedback about that module specifically.
If you notice several students asking about the same topic, that's what you should be creating next. This is one of the best ways to ensure that the content you create is relevant and helpful.
You can also send out surveys by email. For example, if you have a membership site, you could create an automated email that contains a link to a survey (Typeform is a great survey tool), and schedule it to be sent out 2 months after they join.
If you find you're not getting enough responses to your surveys, use some of these strategies to improve the response rate.
3. Set Students Up With Accountability Partners
Accountability partners are a powerful way to get things done. This is a concept that's often taught by productivity experts and something your students can benefit from.
It's not just theory. We decided to test this out at Thinkific by creating an online course to teach people how to use the platform and set up their own courses. Yes, very meta.
We put 120 people through this course and split them into two groups. One group (the control) did the course on their own, while the other group was paired with accountability partners. We set up the partners by sending out a survey to ask about their business and finding someone compatible based on their needs and time zone.
We measured both groups to see the effect of accountability partners on their course progress and completion, as well as whether they actually did the work and set up their own online courses.
The results were eye-opening. The people who had partners were 33% more likely to watch the entire course and complete all the modules than the control group. They were also 20% more likely to go on and publish their own courses.
People with accountability partners were 33% more likely to watch the entire course...
Click To Tweet
Clearly, accountability partners work. However, it's up to students to ensure their partner takes action towards their goals. We helped facilitate this by sending them reminder emails each week to get on a check-in call, and we sent follow-up emails if there was no response.
If done right, each student will make sure their partner keeps logging in and going through your course material. If you have assignments or action items, your students will be more likely to complete them and see real progress. This leads to higher rates of success and a higher likelihood that students will purchase your next course.
4. Throw In Special Student Perks
If you recommend certain products or services in your courses, reach out to those companies and partner up to offer your students an exclusive discount or perk of some kind.
This is especially powerful if you have a membership site. Knowing they will lose access to these offers helps encourage members to maintain an active subscription to your site.
Nathan Chan of Foundr Magazine, for example, offers discounts on numerous software products to customers of Foundr Club, a membership site for entrepreneurs. These are products that entrepreneurs are highly likely to use for their business, like Freshbooks for accounting, Stripe for payments, Olark for live chat, and so on. It's a total of $10,000 in discounts for products that their students would otherwise have paid full price for.

If products aren't a good fit, partner up with another course creator and offer their courses as a freebie. For example, if you're teaching courses about fitness then it makes sense to partner with someone who has a course on dieting and offer it as a bonus to students.
There are a couple of ways to do this. If the other course creator has a high-priced course, you can negotiate a discounted price that you'd pay out for each student who signs up for that course. You'd need to make sure you're not paying more than what the student pays you or you'd run a loss.
The easiest way to do this would be to get a low-priced course and not pay for students. The other course creator will agree to this if they have follow-up courses and can make that amount back through upsells.
Product and course discounts aren't the only way to go, though. You can also over-deliver and add new modules or mini-courses to keep providing value to students.
Scott Oldford does this well for his Facebook Ads Masterclass. When he launched it, he had planned for only 6 modules, but as time went on he started to throw in bonus modules based on the latest changes in Facebook. If he launches another course in the future, you can be sure his current students will want to sign up again.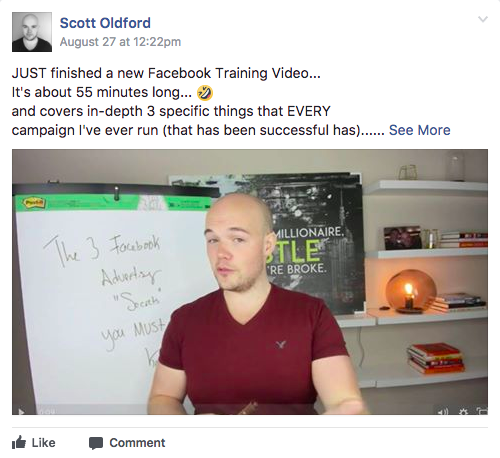 5. Meet Your Students In Person
There's nothing quite like that in-person touch to solidify a connection that's made online. With online courses, it's often a one-way relationship. Your students see your online avatar and you don't really get to know them. So while you can build a relationship online, it's not as strong as when you connect off-line.
Whenever you're traveling to a new city, reach out to your students to see who's around. Simply letting your students know where you are tells them you're approachable. If there are a few around, set up a short coffee meetup.
This can also be a great learning experience for you. You get to understand your customers on a deeper level and see exactly what they're going through. Plus, they'll be so excited you're spending time with them, they'll share pictures online and in your community!
As your community or membership site grows, you might even find your students arranging to meet with each other on their own. When that happens, you'll know you've built a true community around your membership site.
And, who knows, maybe someday you might even want to create an in-person conference like Mirasee did!
Let The Student Retention Begin
Don't fall into the trap of focusing only on new students or you'll soon find that you're neglecting your existing students and they'll start canceling.
By implementing some or all of these strategies, your students will have higher success rates and they'll become your ambassadors, providing you with positive testimonials and recommending you to their friends. At the very least, start with the re-engagement emails and surveys because they're the easiest to implement.
If you're using an online course platform with reminders and surveys built-in, you can set these up with just a few clicks. If not, you'll need to use a combination of an email marketing platform and a survey tool.
Have you had students churn from your courses before? If so, what did you do to address the problem?
Find a Sellable Topic for Your Online Course!
Get this primer and learn our process for identifying a viable topic for your very first online course.