8 Student Retention Strategies That Prevent Churn
Sid Bharath
Post updated by Jessica Glendinning
Did you know? 65% of a company's business comes from existing customers, and it costs five times as much to attract a new customer than to keep an existing one satisfied.
"Did you know that 65% of a company's business comes from existing customers? "

Tweet Me
For a course creator, this means you'll want to focus more on keeping your existing customers happy versus constantly investing in marketing initiatives to attract new ones. If your current customers are happy, they will buy from you more than once, and recommend your courses to others as well.
On the other hand, if they aren't happy, they will leave. This is the dreaded churn. You put in all that effort marketing your courses and membership site, only for students to lose interest and discontinue your programs.
In the end, you're left with a leaky bucket. You're continuously spending time and money to fill the bucket with new leads only to have them drop out the other end.
What is Student Retention?
On the surface, student retention may seem like a straightforward thing. Step one: get students. Step two: keep students.
But it can be a little more complicated than that. When you pay attention to your student churn rates, it also makes sense to look into the sticking points your students might encounter in their time with you.
There are a number of different reasons your students might be having a hard time. Let's look at three of the top reasons:
1. Online Learning is Harder Than You Think
You might think that online learning is easy. Log on… learn something… repeat. Simple, right?
But while it might appear easy on the surface – you don't have to leave your house, you can learn on your own schedule – there are also major challenges for online learners.
Yes, you can learn at home on your own schedule, but online learning takes a ton of discipline. It can be exciting to start a new learning endeavor… and also incredibly hard to keep motivated once you're a week or two into the course.
According to the 2018 Mirasee State of Online Learning report, only about 42% of students say they complete the online courses they've enrolled in. (And that's counting "completion" as anywhere between 81-100% of the course.)
2. Students Don't Get the Support They Need
While there may be an upswing in the level of support online educators are providing to their students, online course creators still leave their students hanging sometimes.
Student retention rates can be affected by lower-priced course offerings that only provide email support, new course creators who don't know what level of support will be necessary for student success, or a lack of proactive outreach on the part of the student.
One of the reasons Mirasee recommends piloting your course idea is to identify the level of support that will help your students succeed, as well as determining the places where students might get stuck and disappear without asking for help.
3. Community Connection is Missing
Part of the reason in-person learning is so successful is the connections students make with fellow learners. When you take the learning environment and put it online, you take away the obvious opportunities for those types of connections.
The challenge (and opportunity) for online course creators is to figure out how to recreate a similar space for interaction — the content sharing, collaborative learning, and active participation students might otherwise miss.
But despite these issues, there are ways for enterprising course creators to turn the challenges into possibilities.
Whether you have a membership site with a recurring subscription fee or one-off courses, the following strategies will keep your students coming back for more.
8 Student Retention Strategies to Eliminate Churn
Rather than approaching student retention as a problem to be solved, it can be helpful to look at it as an opportunity to better serve your students. That process begins before they even sign up.
1. Attract the Right Prospects
Before you decide to move forward with an online course idea, you have to know who want to serve.
Who are the people in your target market? What problems are they trying to solve? And why is your online course the right solution for them?
Retention begins with getting the right students in the door.
Ideally, your course is a win-win. Your students benefit by solving their pressing problems (or achieving their wildest desires), and you benefit both financially and professionally. By attracting the right students, you eliminate the first major factor in high churn rates.
Once you have the correct people enrolled, what's next?
2. Welcome Students Warmly
You only get one chance to make a first impression.
It's true in life, and in online courses. When your students first join your course, you get to either wow them with your welcome, or leave them feeling like they've been left out in the cold.
Include Enough Information
Good first impressions aren't just about being welcoming. When a student first enrolls in your online course, they have a general idea of what they're going to learn, but it's up to you to make sure they have everything necessary to succeed.
As part of your onboarding process, include any relevant materials, links, and suggestions to help them get the most out of your course. Not in an overwhelming "here are all the things all at once" way, but in a "here's the first step you'll take and here's exactly what you need to accomplish it" way. 😉
Be Yourself!
When we polled Mirasee students about the retention strategies that have worked best for them, one of our favorites was: be true to yourself and your style. (Hat tip to Andrea!)
If something doesn't feel authentic to you, it's probably not going to work. When you internally shudder about something you "should" be doing to retain students… don't do it. The "oh yuck" factor is a great indicator that you should probably look for a strategy or tactic that does feel right for you.
Foster Connection Outside Your Course
Who are your favorite teachers or the "big" online names you follow? Why do you like those people so much?
Chances are you've connected with them on social media, and you read their blogs, watch their YouTube videos, subscribe to their emails… It's so easy in this day and age to connect with your students, and to give them a glimpse of the person behind the course.
Give your students the chance to get to know you — whether by encouraging them to dialogue with you on your social media platform of choice, or to subscribe to your mailing list.
Set Up Re-Engagement and Reminder Emails
Life happens. Your students will begin your course or join your membership site with great enthusiasm. Ten minutes later, they're distracted by a hilarious cat video trending on YouTube, and you've lost them.
Track your students' progress and activity on your site so you know when someone stops logging in. Most students will keep coming back of their own volition but some will become inactive after a while. When this happens, they're at risk of disappearing, or (even worse) asking for a refund.
This is where the re-engagement email comes in. Send them a polite and personalized check-in email to find out if everything is ok. In many cases, people just get too busy and forget about your training. Checking in shows that you care about them and reminds them to log in again.
You can also be proactive and set up a weekly reminder email. These emails can go out each week to remind customers that they're in your course and how much they have left to go before they complete it.
Here's an example of a reminder email I received after signing up for one of the employee training programs at Thinkific a while back. Yes, I signed up as Mr. Treasure-Horse. I only completed 14% of the course, and the automatic email reminder lets me know I should resume the course to complete it.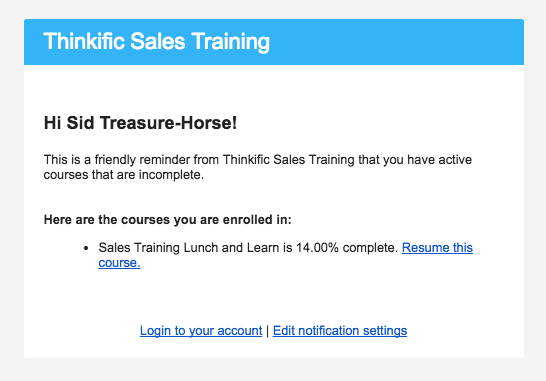 The above email was generated using Thinkific's built-in automatic notifications feature. If you have a different setup, you can use an email marketing software to create automated emails that go out on a regular basis.
Participation Starts With You
Your leadership will determine how willing students are to participate in and engage with your course.
As part of your onboarding emails, let your students know the benefits they'll gain by actively participating in the course from beginning to end. Give examples or include testimonials (if you have them) of how former students boosted their results by participating.
---
When you map out your course, plan for and design student engagement into every aspect of the curriculum — which brings us to the next key to reducing student churn: instructional design.
3. Apply Instructional Design Practices
Instructional design is a complex field, and you could spend an entire career learning about it. But since we only have the length of a blog post, it's primarily about designing learning that delivers on the promises you make.
And thankfully, there are some simple steps you can take to help your students achieve the promised outcome(s) of your online course.
Teach Goal Setting and Good Habits
Part of planning for success is helping your students establish beneficial habits.
For example, if you know that most of your students are relatively new to online learning, include tips in your welcome emails to help them:
Understand how online learning is different from traditional education,
Figure out how to find and block out time for learning, and
Get up to speed with anything else they need to know right away.
Specific goals can make or break a student's learning experience. Your course should help students identify exactly how the course material applies to them, and decide on a plan for how to achieve the result they desire.
Help Students Discover What Success Means For Them
Not everyone has the same goals and desires in life. The same is true for the students in your course.
While there is a stated result or outcome your course promises to deliver, the motivations for wanting to achieve those results will vary from student to student. Part of your intention as an instructor is to help each student determine their own definition of success.
As part of your instructional design planning, consider how you can create meaning for your students. Where can you include relevant examples and opportunities to practice the skills they are learning? How can you give them opportunities to see or experience the results and outcomes of their learning (and doing)?
When you give your students a chance to apply what they learn, they're much more likely to see success, and the learning will stick with them for the long run.
Tell Stories for Maximum Impact
Give your lessons a narrative arc — tell stories and use examples as part of your teaching, so students can see themselves in the scenarios you present.
Then, create tension between where they are now and where they want to be by the end of the lesson. Finally, teach them how to close the gap.
---
Once your course is designed and students are enrolled, you get to help those students succeed!
4. Employ Great Student Support
The support you provide your students can make or break their experience — so it pays to do it right.
Something to keep in mind, though: "support" doesn't just come from you. Outside support from employers, family, and friends is important, too. Family obligations affect student retention.
For example, have you ever had to step back from a commitment because something came up in your personal life? It happens to all of us at some point, and chances are you'll encounter at least one student with life challenges.
When it comes to the support you provide, there are a number of ways you can make sure your students feel supported:
Establish office hours, or utilize a group coaching approach.
Communicate clearly, and often.
Provide personalized (constructive) feedback for each student.
Ask open-ended questions that help your students think, do, or reflect on what they just learned.
Set up students with accountability partners or peer tutoring.
---
Speaking of peer accountability, let's dive into the next area where you can improve your student retention results: community.
5. Build Community
Student success rates improve when students have the chance to develop relationships with their fellow learners.
To achieve this, you might use a cohort-based model of enrollment, where every student in a cohort begins their coursework at the same time. This helps students develop the feeling that they're "all in this together."
As an instructor, you can also look to the knowledge and insight of your course participants to deepen the group experience. Give students a safe place to share and build connections with each other, and you might be amazed at what happens.
And if you have students who are super engaged, encourage them to start and facilitate discussions. Chances are, the other less-engaged students will enjoy seeing a different perspective, and will be encouraged to join in the conversation.
You might even pair up a quieter student with a more engaged one, or use the buddy system.
Set Students Up With Accountability Partners
Accountability partners are a powerful way to get things done. This is a concept that's often taught by productivity experts and something your students can benefit from.
It's not just theory. Thinkific decided to test this out by creating an online course to teach people how to use the platform and set up their own courses. Yes, very meta.
They put 120 people through this course and split them into two groups. One group (the control) did the course on their own, while the other group was paired with accountability partners. They set up the partners by sending out a survey to ask about their business and found someone compatible based on their needs and time zone.
Thinkific measured both groups to see the effect of accountability partners on their course progress and completion, as well as whether they actually did the work and set up their own online courses.
The results were eye-opening. The people who had partners were 33% more likely to watch the entire course and complete all the modules than the control group. They were also 20% more likely to go on and publish their own courses.
"People with accountability partners were 33% more likely to watch the entire course..."

Tweet Me
Clearly, accountability partners work. However, it's up to students to ensure their partner takes action towards their goals. Thinkific helped facilitate this by sending reminder emails each week to get on a check-in call, and follow-up emails if there was no response.
If done right, each student will make sure their partner keeps logging in and going through your course material. If you have assignments or action items, your students will be more likely to complete them and see real progress.
This leads to higher rates of success and a higher likelihood that students will purchase your next course.
---
Another way to boost your success is to go above and beyond for your students.
6. Surprise and Delight Your Students
"Surprise and Delight" — it's always been a part of the Mirasee student retention strategy.
From the brownies that were sent to new Course Builder's Laboratory students, to the special surprises to students who are going through a rough patch, the company wants their customers to know that they matter.
There are a few different ways to approach this in your own course business.
Throw In Special Student Perks
If you recommend certain products or services in your courses, reach out to those companies and partner up to offer your students an exclusive discount or perk of some kind.
This is especially powerful if you have a membership site. Knowing they will lose access to these offers helps encourage members to maintain an active subscription to your site.
Nathan Chan of Foundr Magazine, for example, offered discounts on numerous software products to customers of Foundr Club, a membership site for entrepreneurs.
These are products that entrepreneurs were highly likely to use for their business, like Freshbooks for accounting, Stripe for payments, Olark for live chat, and so on. It's a total of $10,000 in discounts for products that their students would otherwise have paid full price for.

If products aren't a good fit, partner up with another course creator and offer their courses as a freebie. For example, if you're teaching courses about fitness then it makes sense to partner with someone who has a course on dieting and offer it as a bonus to students.
There are a couple of ways to do this. If the other course creator has a high-priced course, you can negotiate a discounted price that you'd pay out for each student who signs up for that course. You'd need to make sure you're not paying more than what the student pays you or you'd run a loss.
The easiest way to do this would be to get a low-priced course and not pay for students. The other course creator will agree to this if they have follow-up courses and can make that amount back through upsells.
Product and course discounts aren't the only way to go, though. You can also over-deliver and add new modules or mini-courses to keep providing value to students.
Scott Oldford does this well for his Facebook Ads Masterclass. When he launched it, he had planned for only 6 modules, but as time went on he started to throw in bonus modules based on the latest changes in Facebook.
If he launches another course in the future, you can be sure his current students will want to sign up again.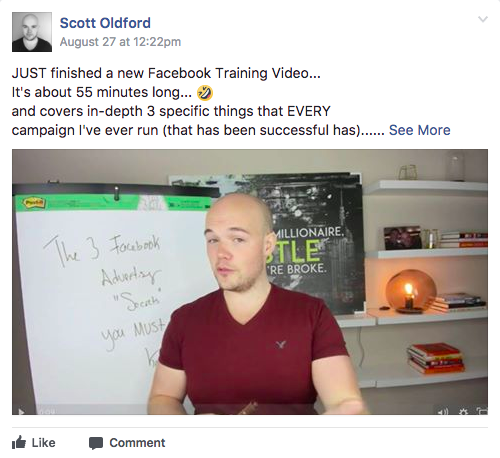 But special perks aren't the only way to surprise and delight.
Send Students Something Special
Much like the brownies Mirasee sends, you might decide to send your students a small gift at the beginning of the course to let them know you appreciate them.
And for an extra-special touch when they complete your course, you could send successful students a hand-written card thanking them for taking the course and congratulating them on the milestone. (Or if you have too many students to write the cards by hand, use a service that does it for you.)
Special gifts aren't the only way to help your students feel appreciated.
Treat Your Students Like People
This might go without saying, but it can be easy to slip into the mode of thinking where your students are reduced to numbers (or dollar signs).
Instead, talk to your students like they're real people. Your course probably teaches a solution you developed through trial and error. Tap into your experience before you solved the problem, and build empathy with your students.
Start conversations, and don't wait for them to come to you. The more you engage with your students, the more you'll hold their interest.
---
One great way to remember that your students are real people – just like you – is to meet them in person.
7. Meet Your Students In Person
There's nothing quite like that in-person touch to solidify a connection that was originally made online.
With online courses, it's often a one-way relationship. Your students see your online avatar and you don't really get to know them, unless you've put in the hard work to implement the steps above. So while you can build a relationship online, it's not as strong as when you connect offline.
Whenever you're traveling to a new city, reach out to your students to see who's around. Simply letting your students know where you are tells them you're approachable. If there are a few around, set up a short coffee meetup.
This can also be a great learning experience for you. You get to understand your customers on a deeper level and see exactly what they're going through. Plus, they'll be so excited you're spending time with them, they'll share pictures online and in your community!
As your community or membership site grows, you might even find your students arranging to meet with each other on their own. When that happens, you'll know you've built a true community around your membership site.
And, who knows, maybe someday you might even want to create an in-person conference like Mirasee's in-person event LIFT!
---
So now you know how to theoretically get and keep your students happy. But how can you tell if your retention strategies are working?
8. Get to Know (and Like) Your Data
Talk to any number of online business experts, and they'll tell you the importance of testing out your ideas and gathering data. But what should you be measuring? And what do you eventually do with all that data?
Measure Meaningful Metrics
There are more possible metrics to measure in today's data-driven world than you can shake a stick at.
CTR, ROI, BR, CPC, PPC, UV… oh my!
With so many possibilities, how does a course creator even know where to begin? And which sets of metrics actually mean something for your course business?
The answer is, it depends. In order to measure the proper things, you need to understand what you're solving for.
If you want to measure student retention, you might track the following:
Student progress — including consistency of participation and how quickly students moved through the content.
Learner outcomes — how well your students understand and can apply what they learned in your course.
Instructor effectiveness — drawn from questions students asked during the course, as well as reviews at the end.
Overall student satisfaction — measured by how many become repeat customers and online reviews or testimonials.
Course completion rates — including how far the students who disappeared got through the content before they bailed.
And once you've measured your data, the key to making it meaningful… is to do something with it.
What lessons can you learn from your experience? Do you see any obvious issues you can fix right away? How can you use what you learned to make the process better for your next batch of students?
Another way to utilize "data" is to ask your students what they want next.
Survey Existing Students for Content Ideas
A big mistake course creators make is to assume they know what students want to learn. Yes, you've been there and you're teaching your students the way you learned. But you're at a higher level right now and things that seem obvious to you may not be to them.
"A big mistake course creators make is to assume they know what students want to learn. "

Tweet Me
Additionally, in many industries, things change at a rapid pace. What may have worked for you in the past might not work the same way for your students today. You'll need to constantly learn new things and update your course accordingly.
So, instead of making assumptions, make a survey! Ask your students what they'd like to learn or where they're getting stuck. You can embed surveys at various points in your course, like the screenshot below. Ideally, add a survey at the end of every module in the course and collect feedback about that module specifically.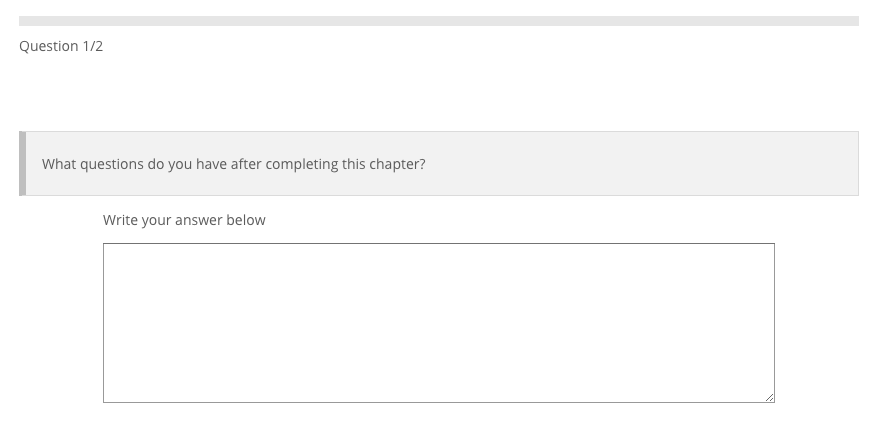 If you notice several students asking about the same topic, that's what you should be creating next. This is one of the best ways to ensure that the content you create is relevant and helpful.
You can also send out surveys by email. For example, if you have a membership site, you could create an automated email that contains a link to a survey (Typeform is a great survey tool), and schedule it to be sent out 2 months after they join.
If you find you're not getting enough responses to your surveys, use some of these strategies to improve the response rate.
---
Now that you've learned eight different ways to improve your student retention, it's time to put your new ideas into action.
Let The Student Retention Begin
Don't fall into the trap of focusing only on new students or you'll soon find that you're neglecting your existing students and they'll start asking for refunds.
By implementing some or all of these strategies, your students will have higher success rates and they'll become your ambassadors, providing you with positive testimonials and recommending you to their friends.
At the very least, start with the re-engagement emails and surveys because they're the easiest to implement. If you're using an online course platform with reminders and surveys built-in, you can set these up with just a few clicks. If not, you'll need to use a combination of an email marketing platform and a survey tool.
Have you had students churn from your courses before? If so, what did you do to address the problem?
Find a Sellable Topic for Your Online Course!
Get this primer and learn our process for identifying a viable topic for your very first online course.