Top Online Learning Platforms of 2023 (Moodle, Thinkific & More)
Kris Freeman
Updated by Tara Malone
Reviews are mixed regarding online learning, largely because it challenges traditional face-to-face instruction.
However, online learning serves a student and work population moving towards more remote environments, and Covid-19 only accelerated this trend.
Today, there are countless online learning platforms, serving students of all ages, from early childhood to adult learners.
But with so many options for online learning, how do you know which platform is right for your students?
In this article, we'll delve into the ins and outs of online learning platforms and profile some of the best ones on the market today.
What is an Online Learning Platform?
So what is an online learning platform anyway? Essentially, it's a digital tool that allows individuals to access educational resources and participate in online courses from a remote location.
These platforms offer many different features, such as video lectures, quizzes, and discussion boards, to facilitate learning and engagement. Some of them give students the ability to track their progress, receive feedback, and interact with instructors and classmates.
Online learning platforms are extremely versatile, and can be used for primary and secondary education, professional development, continuing education, and much more.
Online Learning Platforms vs. Online Course Platforms
Now that you have a sense of what online learning platforms are, you might be wondering if they are the same thing as an online course platform.
The short answer is, an online learning platform and an online course platform have both similarities and differences.
They're similar in that both provide access to educational resources and opportunities for online learning, but there are some key differences between the two.
The term "online learning platform" is more general, and covers many different kinds of online learning tools and resources. An online learning platform can provide access to a wide range of resources, such as video lectures, quizzes, discussion boards, and progress tracking, and are better able to support various types of learning and engagement.
An online course platform, on the other hand, is specifically designed for hosting and delivering online courses. These platforms typically provide a more structured learning experience, with a set curriculum, assignments, and deadlines. They may also offer more interactive features, such as live virtual classrooms and real-time communication with instructors and classmates.
What are the Pros and Cons of an Online Learning Platform?
As with any system, there will always be pros and cons.
First, let's talk about the pros of an online learning platform.
Pros:
Convenience: As long as you have a computer and an internet connection, you can access an online learning platform anywhere, at any time. This makes online learning convenient for those with busy schedules, or those who live in remote areas.
Lots of options: Online learning platforms offer a wide range of options for learners. They can be used for primary and secondary education, professional development, and continuing education. They also offer a wide range of subjects and courses.
Cost-effective: Online learning platforms can be more cost-effective than traditional in-person education. This is in part because they do not require additional expenses such as transportation and accommodation.
Access to a global audience: Online learning platforms allow learners to connect and interact with a global audience, providing them with a diverse range of perspectives and cultural experiences.
Cons:
Next, let's dive into some of the cons that come with e-learning platforms.
Can feel impersonal: One of the main disadvantages of online learning platforms is the lack of personal interaction with instructors and classmates. This can make it more difficult to ask questions, receive feedback, and build relationships.

Technology issues: Online learning platforms can be subject to technical difficulties such as internet connectivity issues, which can interrupt learning and make it difficult to access certain resources.
Harder to stay motivated: Online learning platforms rely heavily on the learner's self-motivation, which can be a challenge for some individuals. Without the structure of a physical classroom and the accountability of an in-person instructor, it can be easy to procrastinate or lose focus.

Feedback might be limited: Online learning platforms can be less effective in providing learners with feedback and guidance, which is essential for improving their understanding of the material and for making progress.
The Top Online Learning Platforms of 2023
Now that you are clear on what online learning platforms are and some of the major pros and cons, let's turn our attention to some of the top online learning platforms of 2023.
1. Google Classroom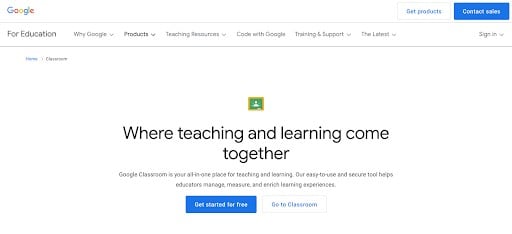 Google Classroom offers a cloud-based online learning experience. And if you already use Google, it can seamlessly integrate with your other classroom tools.
And best of all, Google Classroom supports a wide range of users from pre-K to university students.
Key Features:
Manage multiple classes in one central location
Quick and easy installation
Collaborate and teach face-to-face with Google Meet
Robust online app
Cons:
Lack of direct customer support
No separate licensing option
Pricing:
Offers a free option
The paid version requires a consultation with their sales department.
2. Adobe Captivate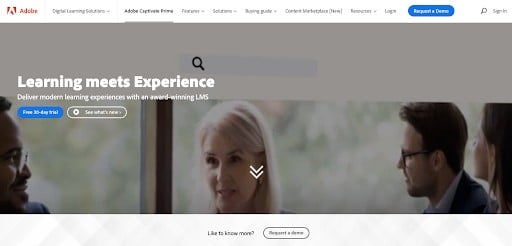 Adobe Captivate is geared towards the professional sector and has been adopted by leading brands worldwide.
Key Features:
Customer education programs to enhance product utilization
Detailed reporting allowing for better customer retention
A variety of uploadable sources, including screen shares that can be done automatically by importing PowerPoint presentations
Proactive employee reskilling utilizing gamification, certifications, and badges
Cons:
Limited support
Cancellation fee
Instability of their app
Pricing:
Free 30-day-trial
Tiered pricing starting at $4 per registered user
Course pricing begins at $16 per learner per year
3. Blackboard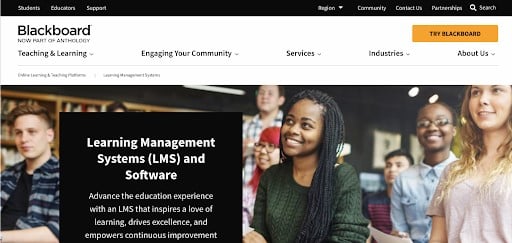 Blackboard is an e-learning LMS platform aimed at teaching pre-K to university students. In addition, it also supports training solutions for business and government institutions.
Key Features:
Intuitive, responsive interface
Plagiarism checker to grade student assignments
Enhanced communication between students and professors
Built-in tracking of student progress
Americans with Disabilities (ADA) compliant
IOS app is highly rated
Cons:
Limited support
Apps are buggy, especially in the Android version
Pricing:
Free 30-day-trial
Contact sales for a customized quote
4. Acorn LMS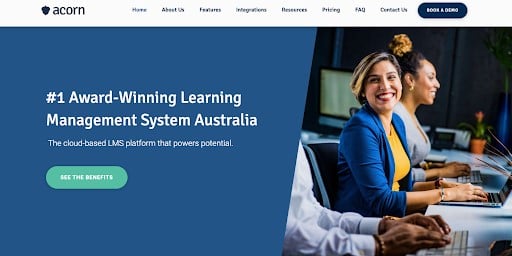 Acorn is an award-winning cloud-based LMS out of Australia targeted at business professionals looking to boost their skills.
Key Features:
Gamification and tailored training content
Real-time reporting
24/7 onshore customer support based in Australia
Task automation
Transparent pricing
Imports for video content
Drag and drop course builder
Cons:
Advanced support options lacking
No Android app
Pricing:
60-day free trial
Tiered pricing starts at 100 users, $375 for LMS Only, and $500 for LMS & Content Combined.
5. Moodle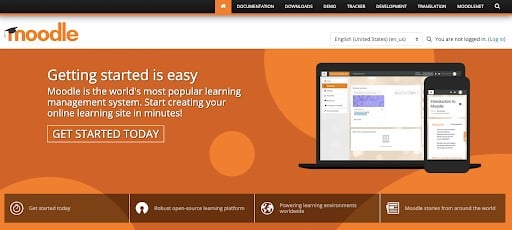 Moodle is an open-source LMS that boasts over 200+ million users — these include the Shell corporation, the State University of New York (SUNY), and the London School of Economics.
Key Features:
Integrated calendar
Smartphone apps
Support to insert 3rd party cloud-based services
Advanced features include a text editor
Cons:
Limited support options
Certified service providers needed for additional support at an additional cost
Apps are buggy
Pricing:
6. Canvas LMS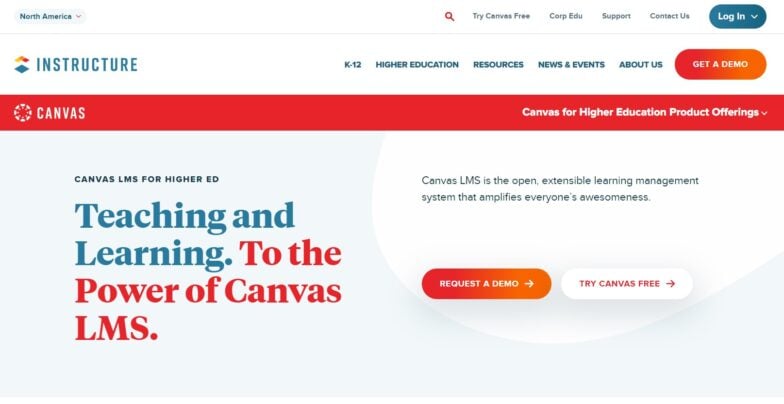 Canvas LMS is a web-based platform that allows educators to create and manage online courses, track student progress, and communicate with students and other instructors.
Key Features:
Supports personalized learning paths
Numerous customizable course building and management tools
Integrates with G Suite, Microsoft Teams, Adobe, and hundreds of other tools.
Many different student collaboration tools
Cons:
Significant learning curve for new users
Few gamification features
Pricing:
Offers free account for teachers
7. edX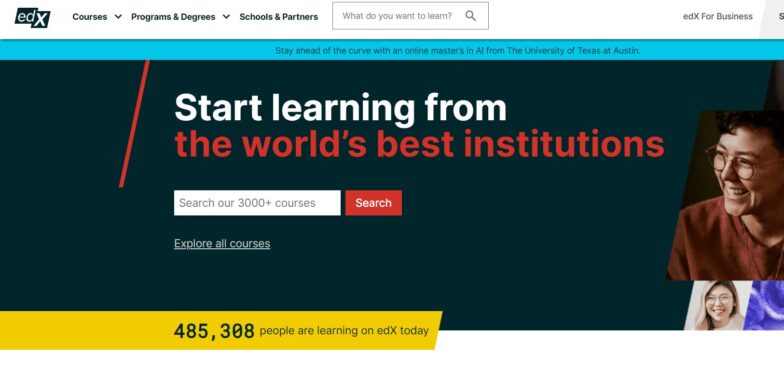 edX is an online learning platform that offers free and paid online courses from some of the world's top universities and organizations.
Key Features:
Allows students to take courses from top universities like Harvard
Offers professional certificate programs
Large number of courses are self-paced
Cons:
Fewer number of courses than many other platforms
Interface can be challenging to navigate
Pricing:
Offers some free courses
"Verified Track" courses can range from $50 to $300
edX for Business is $349 per learner/year for small businesses
8. Docebo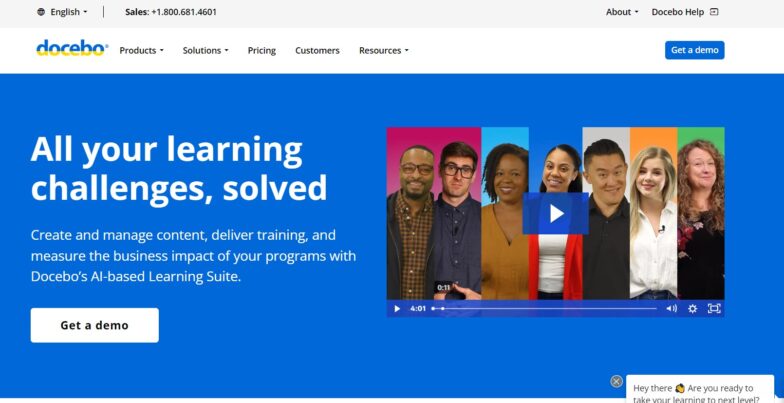 Docebo is an enterprise-level LMS that provides businesses and organizations with a platform to create, deliver, and manage training programs.
Key Features:
Allows users to create and manage online courses
Cloud-based software
Built-in analytics and reporting tools
Gamification features
Cons:
Limited customer support
Low rated smartphone apps
Pricing:
Need to request a custom quote
9. LinkedIn Learning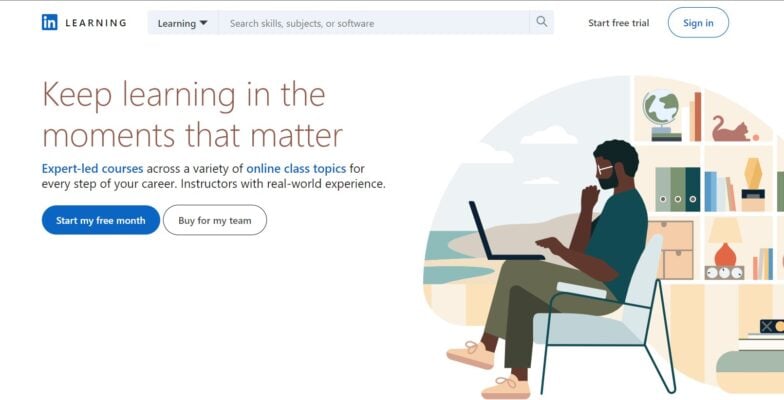 LinkedIn Learning (formerly Lynda.com) is an online learning platform that provides access to a wide range of video courses on business, technology, and creative skills, all taught by industry experts.
Key Features:
Offers self-paced courses that can be accessed at any time
Lets you test your progress with quizzes
Provides certificates of completion
Cons:
Quality of the courses can be inconsistent
Can be challenging to become a LinkedIn Learning instructor
Pricing:
Monthly plan: 1-month free trial, then $29.99/month
Annual plan: 1-month free trial, then $19.99/month
10. LearnWorlds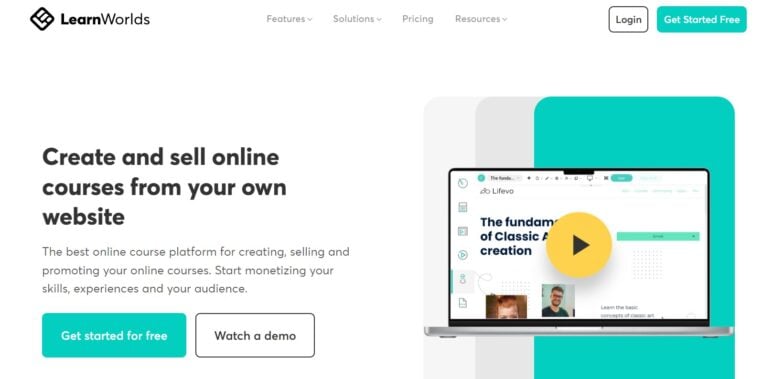 LearnWorlds is an online course platform that allows individuals and organizations to create, market and sell online courses from their own website.
Key Features:
Cloud-based software for building online courses
Extensive marketing and sales tools to help users promote courses
Includes a powerful website builder
Cons:
Not all plans offer 24/7 customer support
The more comprehensive plans start at $249/month
Pricing:
Starter Plan: $24/month on annual plan, $29/month on monthly plan
Pro Trainer Plan: $79/month on annual plan, $99/month on monthly plan
Learning Center Plan: $249/month on annual plan, $299/month on monthly plan
Corporate Plan: Need to call for a custom quote
For more online learning options, be sure to check out this resource that lists "The 10 Best Online Course Creators for 2021," incorporating an LMS or LMS online marketplace.
And if you are a course creator utilizing WordPress, this post might be helpful as well.
Ready to Choose an Online Learning Platform?
While there are critics of the online learning movement, it's pretty clear that online learning is here to stay.
Hopefully at this stage, you have a better understanding of what an online learning platform is, and if any of the online learning options featured might work for your students.
If so, we encourage you to test out a few online learning platforms until you zero in on the one that's right for your business.
And if you want to learn more about the process of creating your own online course, we encourage you to check out our free Hybrid Courses Bootcamp.
Let's Start Building Your Online Course!
In our FREE Hybrid Courses Bootcamp, we'll walk you through how to transform your knowledge and expertise into a profitable online course… one your students will love.