What is Online Learning? (+ Pros, Cons, and Best Platforms)
Kris Freeman
Reviews are mixed regarding online learning, largely because it challenges traditional face-to-face instruction.
However, online learning serves a student and work population moving towards more remote environments.
And while some blame the pandemic for this trend, the truth is that the e-learning marketplace has been experiencing unprecedented growth for the last decade.
According to the National Center for Education Statistics, 6.9 million undergraduate students were enrolled in distance learning programs in 2018, with 3.3 million enrolled in post-secondary institutions.
Couple this with a labor force that wants to work remotely, as evidenced by Global WorkPlace Analytics, and you can see why online learning is exploding.
So let's jump in and learn more about this online movement.
What is Online Learning?
Online learning is education or training facilitated through a webspace or an online portal.
You will often see online learning referred to as e-learning.
So, why is the e-learning market so popular today?
One big reason is that online learning compensates for traditional education that's quickly becoming outdated due to rapid declines in college enrollment and the global pandemic.
Combine that with a rapid increase of innovative e-learning technologies, and you will find students learning in ways that make a traditional classroom obsolete.
And with the online education market projecting a growth rate of $350 billion by 2025, it's safe to say that e-learning is here to stay.
You may be asking what makes e-learning an attractive way to learn?
Among its many benefits, e-learning facilitates:
Learning from home
Self-paced learning
Lower overhead
Less time commuting
Better time management
Efficient progress tracking for students and teachers
Interaction with other students
With this in mind, you will find that online learning is best suited for topics that require no hands-on training. Learning a new language or earning an SEO certification are perfect areas of study on an e-learning platform.
Subjects like public speaking, dental hygiene, and surgery are not candidates for online training for obvious reasons.
In case you're wondering how this all works, let's take a look at the different types of online learning platforms:
Learning Destination Sites (LDS)
Learning destination sites are feature websites like Udemy or Coursera that host multiple class offerings. It's like shopping for products online, but you are looking for courses instead. An LDS feeds the desire of a casual learner or someone needing to enhance their certifications by facilitating a self-paced learning experience.
Learning Management Systems (LMS)
An LMS is internal software an organization like a university or institution uses to create its course offerings. The software can be accessed online by students or created as a downloadable link that takes them to the course. Examples of LMS's include Blackboard, Edmodo, and Moodle.
Learning Management Ecosystems
Learning management ecosystems host multiple software solutions and resources, acting as an all-in-one stop for your learning needs. Larger institutions such as hospitals, universities, or large corporations often utilize these systems. These can include adaptive learning engines, learning content management features, and course authoring software.
Pros and Cons of Online Learning
As with any system, there will always be pros and cons.
First, let's talk about the pros of e-learning:
Global Applications: as long as you have a computer and an internet connection, you can access online learning anywhere. Connecting with students from all over the world creates and capitalizes on the advantages of having a diverse community.
Unlimited Accessibility: the great thing about e-learning is its 24/7 availability. Are your students more creative in the evening, morning, or afternoon? Do they have responsibilities they have to tend to before studying? With online learning, students choose the when and where of their education.
Unique Communication Opportunities: when you have a face-to-face conversation with someone, it can feel like a situation that requires an immediate explanation you may not be able to produce. With online learning, you can take your time in responding to students and ensure you're giving them a well-thought out answer.
Next, let's dive into some of the cons that come with e-learning:
Technology Inaccessibility: sure, you may be able to reach the majority of your students with e-learning, but what about those students who live in rural locations and those who cannot afford a computer or internet access? Inaccessibility is a shortcoming of online learning, which means it may not be suitable for all student populations.
Age-Specific Requirements: despite its benefits, online learning is not for everyone. Younger students that are elementary or secondary school age are considered dependent learners, and most are not yet prepared to take responsibility for independent learning that requires an e-learning experience.
Facilitator Competency: teachers or facilitators must know how to compensate for students' lack of physical involvement. Creating an environment where students feel comfortable joining in and participating is a necessary element of e-learning.
What Are Some Online Learning Platforms?
Let's explore five reputable online learning programs that may catch your eye.
1. Google Classroom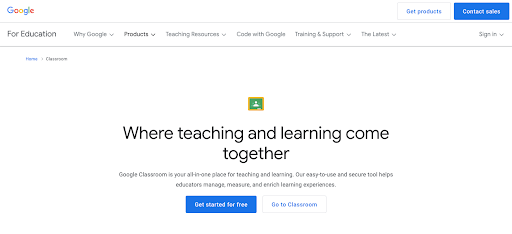 Google Classroom offers a cloud-based online learning experience. And if you already use Google, it can seamlessly integrate with your other classroom tools.
And best of all, Google Classroom supports a wide range of users from pre-K to university students.
Key Features:
Manage multiple classes in one central location
Quick and easy installation
Collaborate and teach face-to-face with Google Meet
Robust online app
Cons:
Lack of direct customer support
No separate licensing option
Pricing:
Offers a free option
The paid version requires a consultation with their sales department.
2. Adobe Captivate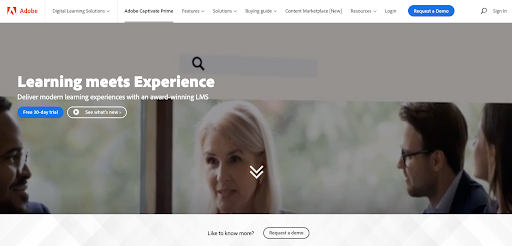 Adobe Captivate is geared towards the professional sector and has been adopted by leading brands worldwide.
Key Features:
Customer education programs to enhance product utilization
Detailed reporting allowing for better customer retention
A variety of uploadable sources, including screen shares that can be done automatically by importing PowerPoint presentations
Proactive employee reskilling utilizing gamification, certifications, and badges
Cons:
Limited support
Cancellation fee
Instability of their app
Pricing:
Free 30-day-trial
Tiered pricing starting at $4 per registered user
Course pricing begins at $16 per learner per year
3. Blackboard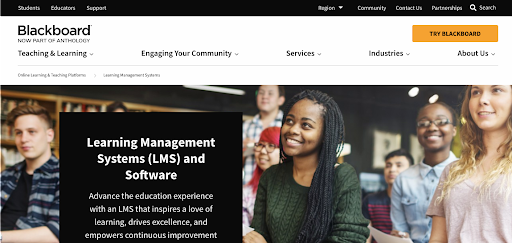 Blackboard is an e-learning LMS platform aimed at teaching pre-K to university students. In addition, it also supports training solutions for business and government institutions.
Key Features:
Intuitive, responsive interface
Plagiarism checker to grade student assignments
Enhanced communication between students and professors
Built-in tracking of student progress
Americans with Disabilities (ADA) compliant
IOS app is highly rated
Cons:
Limited support
Apps are buggy, especially in the Android version
Pricing:
Free 30-day-trial
Contact sales for a customized quote
4. Acorn LMS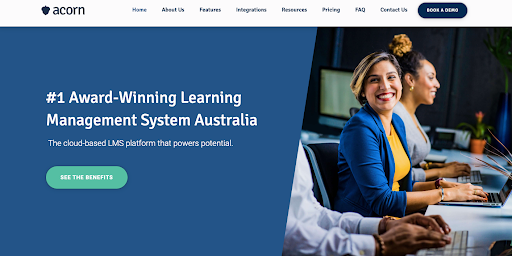 Acorn is an award-winning cloud-based LMS out of Australia targeted at business professionals.
Key Features:
Gamification and tailored training content
Real-time reporting
24/7 onshore customer support based in Australia
Task automation
Transparent pricing
Imports for video content
Drag and drop course builder
Cons:
Advanced support options lacking
No Android app
Pricing:
60-day free trial
Tiered pricing starts at 100 users, $375 for LMS Only, and $500 for LMS & Content Combined.
5. Moodle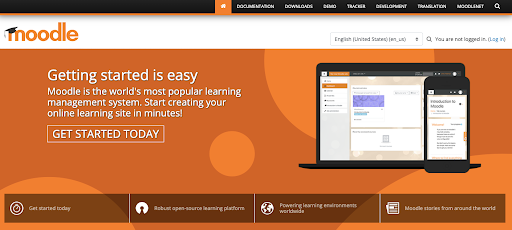 Moodle is an open-source LMS that boasts over 200+ million users — these include the Shell corporation, the State University of New York (SUNY), and the London School of Economics.
Key Features:
Integrated calendar
Smartphone apps
Support to insert 3rd party cloud-based services
Advanced features include a text editor
Cons:
Limited support options
Certified service providers needed for additional support at an additional cost
Apps are buggy
Pricing:
For more online learning options, be sure to check out this resource that lists "The 10 Best Online Course Creators for 2021," incorporating an LMS or LMS online marketplace.
And if you are a course creator utilizing WordPress, this post can be helpful.
Ready to Join the Online Learning Movement?
While there are critics of the online learning movement, they can't argue with an audience demanding a distance interface that allows them to communicate and collaborate without physical proximity.
Factors such as the pandemic and global audiences requiring remote education and work from home solutions drive a tremendous need to facilitate e-learning experiences that replace traditional face-to-face learning.
It's clear that online learning is here to stay, so if you are a teacher, facilitator, or course creator we encourage you to take a leap of faith and join the online learning movement.