What is LinkedIn Learning? (+ What You Need to Know About It)
Emjae Williams
Updated by Tara Malone
In the digital age, access to information has never been easier. But with this access comes the question – what sources can we rely on to truly add value? In a sea of social sites and learning platforms, LinkedIn stands out for two major reasons. It provides a clear focus on professional growth and has a strong commitment to helping individuals improve themselves.
To this end, they've placed special emphasis on providing their users access to dynamic content through their LinkedIn Learning platform.
That still leads to the question – is it reliable? This review of LinkedIn Learning will focus on the value it offers, what sets it apart from other platforms, and will help you decide if it's worth investing in.
What is LinkedIn Learning?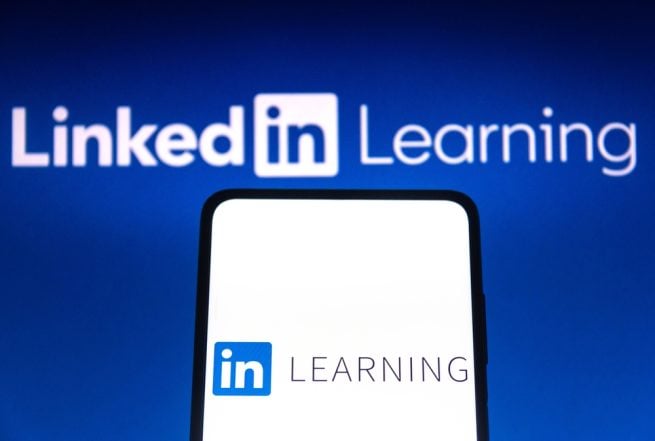 In 1995, Lynda Weinman created an online learning platform called Lynda.com to support her books and classes. The idea of online learning was not as popular then as it is now, but Lynda.com soon became a highly successful venture. In 2015, LinkedIn purchased Lynda.com. Until that point, LinkedIn was known as a professional networking platform but the acquisition of Lynda.com expanded their scope.
Lynda.com was soon renamed LinkedIn Learning and is now considered to be one of the top learning platforms globally. The site offers over 16,000 courses broken down into three categories – Creative, Business, and Technology. New courses are added each week to ensure the information shared is relevant, up-to-date, and credible. These courses are taught by experts within their fields and cover topics suited for any stage of learning.
The courses are taught using a similar format as universities with notes, supplemental materials, and quizzes to test your knowledge as you learn. Once you finish a course, the site recommends future courses that either relate to the one you've just completed or that align with your professional focus. At the end of the course, you'll receive a certificate that can be added to your LinkedIn profile.
Who is LinkedIn Learning For?
The LinkedIn Learning platform is suitable for many different types of learners. If you fall under any of the following categories, you will likely be able to find courses on the platform that meet your learning needs:
Job seekers: LinkedIn learning can help job seekers to develop specific skills, earn certificates that demonstrate their expertise, and network with other professionals in their industry.
Professionals: The platform can benefit working professionals who want to learn new skills, stay up-to-date with the latest trends and technologies in their industry, and advance their careers.
Entrepreneurs: LinkedIn Learning offers a wide range of courses for entrepreneurs that can help them learn strategies for growing their business and overcoming common obstacles.
Students: With LinkedIn Learning, university students can take courses on many different subjects, such as marketing, business, and technology to develop skills that will give them a competitive edge when they enter the job market.
Organizations: The platform is also ideal for companies that want to provide their employees with additional learning opportunities and training to improve their job performance and productivity.
Getting Started With LinkedIn Learning
In order to access LinkedIn Learning, you first need to create a LinkedIn account. Joining the site is completely free for basic accounts. LinkedIn also offers the option to upgrade to a premium account starting at $29.99 per month.
When creating your LinkedIn account, you can sign in with an existing Gmail account or using another email address.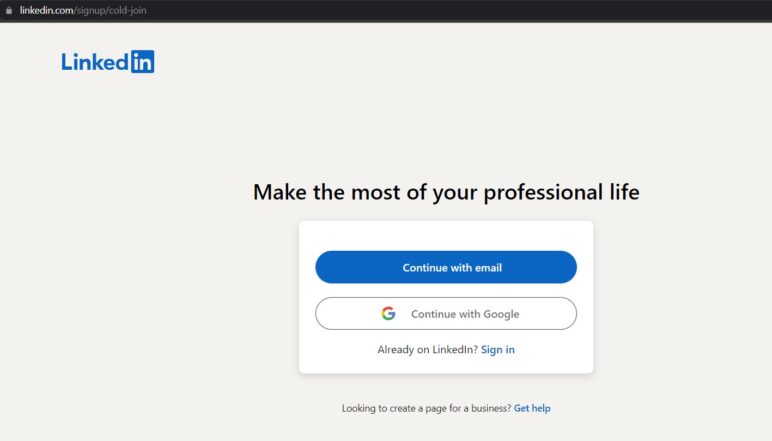 Other users will not be able to see your contact information so you can use any email address you prefer. You must use your real name when creating your account, as covered by their user agreement.
Once you've completed this first step, LinkedIn will prompt you to:
Add a profile picture
Write a brief bio
Add data about your educational and professional background
These are steps that you can skip if you choose. But keep in mind that the purpose of the platform is to foster professional connections and these details make it easier for you to do so. Your final step to complete the set-up process is to verify the email address linked to your profile (this can be changed at any time).
Now that you're all set up on LinkedIn, you can immediately access the LinkedIn Learning tool. To do so, navigate to the bar at the top of the page, click on the arrow at the Work icon, and select Learning from their list of products.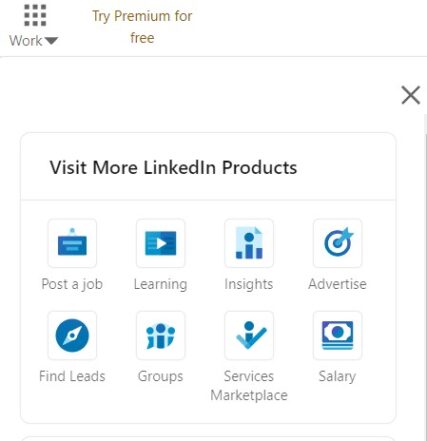 Here you'll be able to select courses from your top picks, which LinkedIn generates automatically. If you're planning to learn something outside of your field, you can filter results based on that area by adding it to the search bar. Before you begin a course, you'll receive a prompt to start your free one-month trial.
How Much Does LinkedIn Learning Cost?
As an individual user, you can access LinkedIn Learning for $29.99 per month after your free month has ended. Alternatively, you can pay a fee of $239.99 annually or $19.99 per month. If you already upgraded to LinkedIn Premium, this is included in your plan. Your new subscription plan will automatically begin at the end of your trial period unless you've canceled your subscription.
LinkedIn also offers you the option to purchase each course individually. However, this is the more expensive route as prices can be as high as $49.99 per course. Several free courses are available on the platform but these tend to be more general topics or only include the first portion of a larger course.
Subscriptions can be canceled at any time, which takes effect at the end of your next billing cycle. Once you cancel your subscription, you no longer have access to courses in that plan and can remove your payment information.
These subscription plans are non-refundable once a purchase has been made. For this reason, it's worth setting a reminder if you don't intend to make a payment after the 30-day period. You can, however, receive a refund on individual courses if you make a request within 30 days of purchasing.
You can renew your subscription at any time but note that if you made your initial purchase during a promotional period, this discounted price will no longer apply.
Pros and Cons of LinkedIn Learning
As with any learning platform, LinkedIn Learning has both pros and cons, and it may not be suited for every type of learner.
Here are some of the benefits and drawbacks of the platform for you to consider.
Pros of LinkedIn Learning
Huge Variety of Courses
There is a vast selection of courses available on LinkedIn Learning, and they cover every topic imaginable. This makes the platform an affordable and valuable resource for professional development, whether a learner is a student, working professional, or entrepreneur.
Personalized Learning Experiences
The platform excels at personalized learning, offering courses that learners can complete at their own pace and can easily work into their schedule. Users can also access their courses anywhere they have an internet connection, allowing them to learn on the go.
Integrates with LinkedIn
Since the platform is part of LinkedIn, learners can easily connect with other professionals in their field and grow their network, and can also tap into valuable career development opportunities.
Many Courses Offer Certification
A large number of courses on LinkedIn Learning offer certificates that learners can then add to their LinkedIn profiles. This can help them demonstrate their skills and expertise to potential employers.
Cons of LinkedIn Learning
Some Courses Lack Depth
Many courses on the platform provide a high-level overview of a specific topic, as opposed to going deep into the subject matter. This means many course are not suitable for learners who need more in-depth knowledge.
Quality of Courses Can Vary
Although many courses on LinkedIn Learning are high-quality, this isn't the case for all courses. The quality of courses can vary considerably, so learners would do well to look at the reviews before signing up for a course.
No Direct Contact With Instructors
Unlike in-person instruction or some online courses, there is no direct interaction with the instructors on LinkedIn Learning. This can result in a somewhat impersonal experience, and makes it difficult to get extra help and support.
Platform Usability
The LinkedIn Learning platform is designed to be user-friendly, but like all platforms, there is a learning curve and new users might find it challenging to navigate at first.
Popular Courses on LinkedIn Learning
As we mentioned above, LinkedIn Learning offers a vast array of courses on covering topics in the business, tech, and creative spheres.
To give you a sampling of the kinds of courses that are available on LinkedIn Learning, here's an overview of three popular courses on the platform.
Excel Essential Training by Dennis Taylor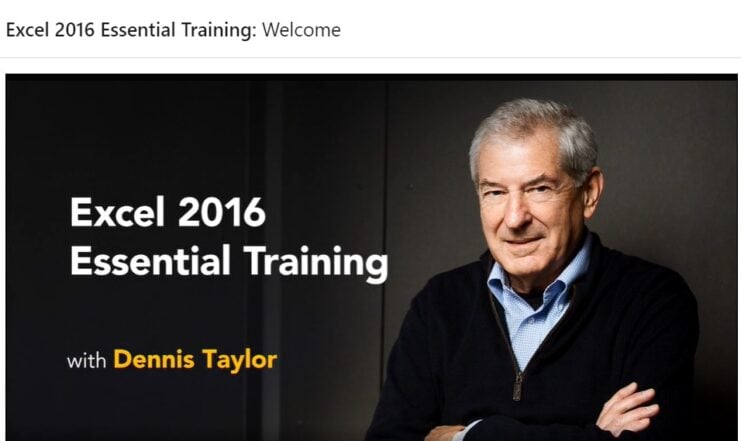 Excel Essential Training provides a comprehensive overview of the main functions and features of Excel. Some of the topics covered in the course include creating and formatting spreadsheets, working with formulas and functions, manipulating data, and creating charts and graphs. The course is designed to be accessible to complete beginners as well as more experienced users. It also includes many practical examples and assignments to help learners develop the skills they need to gain proficiency in Excel.
Programming Foundations: Fundamentals by Annyce Davis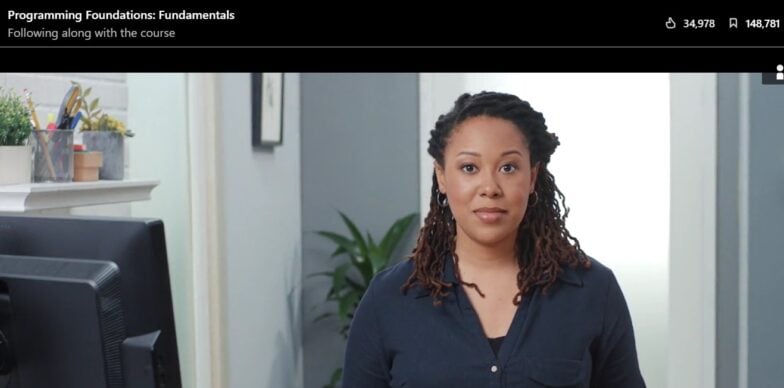 Fundamentals by Annyce Davis is a beginner-level course that introduces learners to the foundational concepts of programming. It covers topics that provide users with a strong foundation in programming, including variables, data types, conditional statements, loops, functions, and object-oriented programming. Annyce has a friendly, approachable teaching style and provides lots of practical examples and exercises to help learners develop their skills and gain confidence in their programming abilities.
Leading with Emotional Intelligence by Britt Andreatta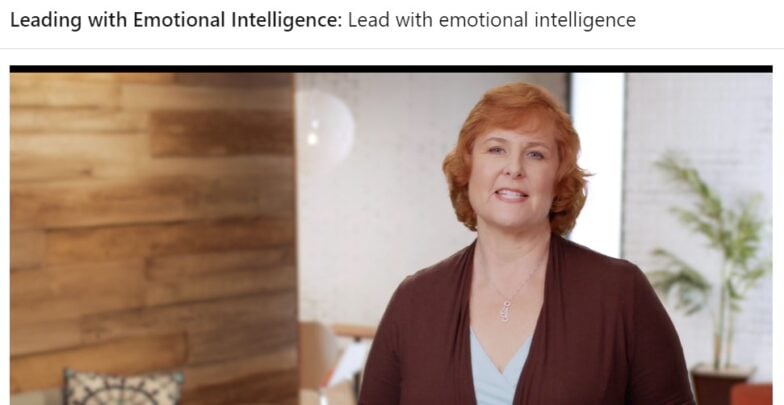 Britt Andreatta's course offers a comprehensive guide to incorporating emotional intelligence into leadership roles. She covers key concepts such as self-awareness, empathy, and relationship management, and provides practical techniques for developing these skills. Learners will discover how to recognize and regulate their emotions, communicate effectively with team members, and build positive working relationships. Through engaging lectures, interactive activities, and real-world examples, this course offers valuable insights and strategies for becoming a more emotionally intelligent and effective leader.
Is LinkedIn Learning Worth It?
If you've read this far, there's a good chance you're wondering if investing in LinkedIn Learning is really worth your time and money.
In this case, you might want to take advantage of the free subscription offer to find out if LinkedIn Learning is a worthwhile investment for you. Through this trial, you can browse through the course offerings to see if they meet your specific needs and would be worth an individual purchase or monthly subscription.
As you explore your free trial, here are a few factors to consider when determining if LinkedIn Learning is right for you:
Cost of plans vs. individual courses
While individual courses can run on the more expensive side, the subscription plan provides an affordable solution. Before committing to a subscription you'll want to consider how frequently you'll be using the tool. If you'll only be doing courses every few months, you could consider subscribing for those months. On the other hand, if you're looking to be more consistent, then an annual package would be best suited.
Quality of the information
LinkedIn partners with experts to deliver their courses so you're guaranteed to receive credible information. The topics also range from beginner to advanced so you can explore a completely new area or brush up on a topic. With numerous instructors covering similar topics, you can explore the various perspectives on any given topic to truly expand your views.
Certificates of completion
While LinkedIn offers certificates after completing their courses, these certificates cannot be used in place of formal accreditation. They serve more as verification that a user has completed a course and is knowledgeable in a particular area by LinkedIn's standards. If you're seeking an accredited course, this would not be the recommended platform.
Availability of courses in various languages
Non-native English speakers have the option to learn in French, German, Japanese, Spanish, Mandarin, and Portuguese, though not all courses and features are available in these languages. The trial period is a great time to explore the courses available in the language you're most comfortable learning.
Your learning goals
It's also important to take your individual learning goals into account when deciding whether to utilize LinkedIn Learning. If your goal is to develop your professional skills or learn new ones, the platform can be a valuable resource, since it houses a vast library of courses geared to helping you boost your business, tech, or creative skills.
Your willingness to engage
The value of LinkedIn Learning also depends on your willingness to actively engage with the content and actually apply the skills you learn. It's important to select courses that align with your goals and to make time to fully engage with the material. LinkedIn Learning can be a valuable investment in professional development as long as you are committed to putting in the effort.
LinkedIn Learning Alternatives
If you find that LinkedIn Learning is not quite suited to your specific needs, there are many other learning platforms to choose from, such as:
Skillshare
The Skillshare library consists of over 27,000 video courses, segmented into four main categories – Business, Creative, Technology, and Lifestyle. The content is delivered by experts in each field and focuses heavily on the more creative aspects of the topics explored. Courses are offered through subscriptions at $32 per month or $168 annually. Users with a valid .edu email address receive a 50% discount in keeping with their mission to make their content accessible.
MasterClass
MasterClass takes a different approach than most online learning platforms. They have just over 150 courses and each course has an average of 20 lessons with a run time of 10-minutes. These lessons are taught by celebrity instructors who are the experts on the subject matter and their courses are broken down into 11 main categories, from Food to Sports and Politics. Though courses are shown as $15 per month, MasterClass only offers a $180 annual subscription.
Udemy
Udemy boasts an extensive collection of video courses that cover a wide range of topics. From personal development to more hands-on skills such as photography, Udemy has over 183,000 courses and adds new content each month. Until April 2020, Udemy offered thousands of free courses but has since changed that model. Now only about 600 of their courses are free while paid courses start at $13.99 and can go to as much as $199.99 each. Unlike LinkedIn Learning, there is no subscription plan available for individual users.
As with LinkedIn Learning, the certificates awarded by these platforms are not accredited and can only be used as a supplement to industry-required qualifications.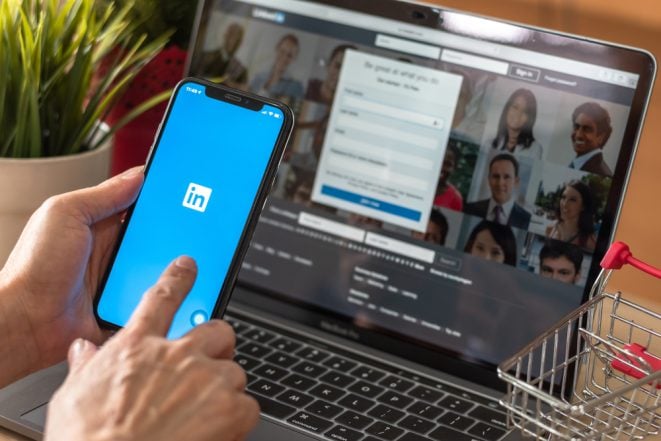 LinkedIn Learning FAQs
Is there a limit to the number of courses I can access?
As a subscribed learner you can unlock up to 10 courses each month. However, you can't unlock more than 5 within 24 hours. Non-subscribed learnings are limited to 1 course every 24 hours. You can't unlock this course after the time has expired nor can you request an extension.
What support is offered to assist me with course material?
As a self-learning platform, there isn't individual course support but some courses have study groups. This allows like-minded learners to collaborate, hold each other accountable, and gain new perspectives on topics covered.
Are there specific system requirements to use LinkedIn Learning?
You can access LinkedIn Learning on the current or most up-to-date versions of the following browsers:
Microsoft Edge
Firefox
Safari
Chrome
Opera
Some course features and functions are incompatible with older versions of these browsers.
How do I receive certification?
LinkedIn offers certificates of completion at the end of video courses or once users have completed all the courses in a learning path. When you complete each course or learning path, you can add your certificate to your LinkedIn profile. These certificates serve as a mark of your progress rather than proof of mastery.
Making the Most of LinkedIn Learning
LinedkIn's mission is to guide individuals along their professional journey by connecting them to opportunities and valuable resources. One way they have been able to achieve this is through their learning platform, LinkedIn Learning.
With a wide range of courses, users have access to tools that can help them learn a new skill or improve on their existing abilities.
If you want to dive into online learning platforms but you're hesitant because you aren't sure you'll be able to stick to it, check out these tips on how to be a better learner. No matter what tool you choose, remember that the most important thing to consider is how well it meets your specific needs.
So if you feel that LinkedIn Learning might be a good fit for your learning needs, sign up for a free trial to see if it's right for you.