Online Courses: Missed Opportunities and Enduring Hope
Editor's Note: The State of Online Courses is now The State of Online Learning. Read the 2018 report here.
"If you teach, you will grow rich." Danny Iny, Teach and Grow Rich
Is this the experience of online entrepreneurs? Especially those who are just getting started?
And if they succeed, what would be the impact on their businesses? And their lives?
We wanted to find out and that's why we added a second part to our annual state of online courses survey.
Our audience of service providers, coaches, consultants, and other independent professionals responded. The first part of the survey focused on their interest and experience with online courses. The second part asked more specifically about their revenues, and what impact online courses and other opportunities could possibly make on them.
We've found that there's plenty of unfulfilled opportunity in online courses, regardless of where respondents are in their course creation journey. They want to earn more from online courses, but so far, this is true for a tiny minority of respondents.
There's plenty of unfulfilled opportunity in online courses.
Click To Tweet
Nevertheless, the interest—and hope—remain high. As you'll see later on, a significant number of respondents want online courses to be their main source of revenue.  
Let's dig into the findings:
How the Other Half Lives
Our respondents are equally divided when it comes to revenue. Almost half of them have businesses that have a revenue source (45%) and the other half have businesses that don't (47%). It's worrying that so many of our audience members (at least those who took the survey), aren't seeing revenue yet. We must do something about that!
Among those who have revenue, 61% say their single, biggest revenue source is services. The rest are spread out among physical products, blogging, speaking, or other audience-based activities, online courses, and digital products. Only 8% of all respondents said their biggest source of revenue is online courses.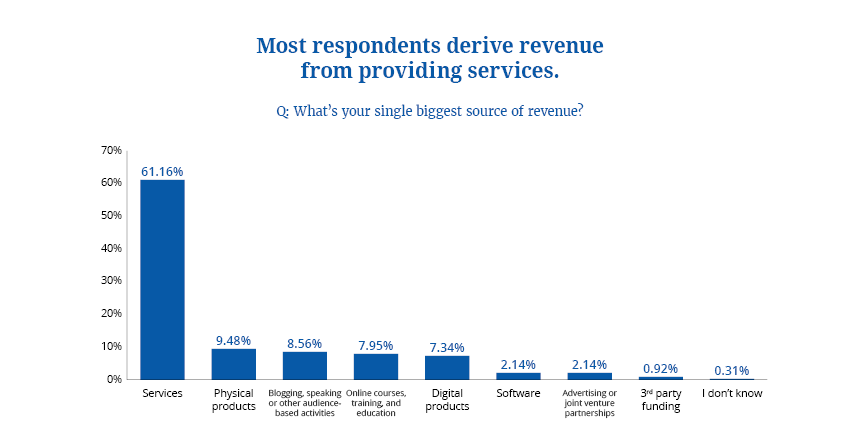 And almost half (48%) say their main revenue source brings in 91-100% of their total revenue. This situation raises red flags since it appears that these entrepreneurs have all their eggs in one basket.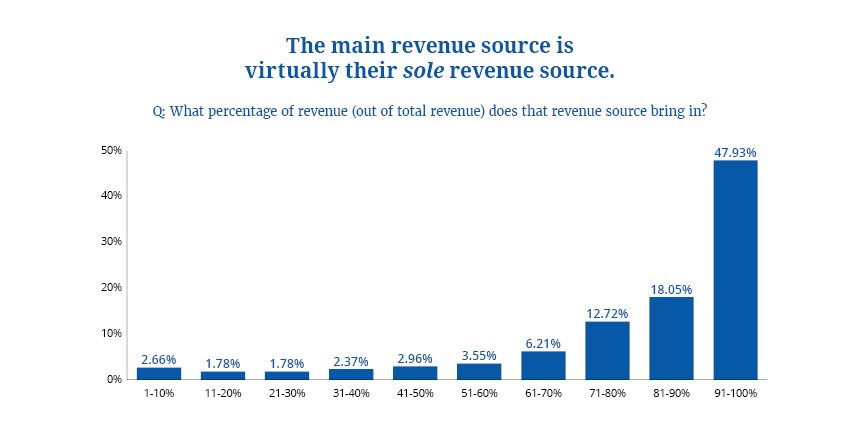 Future Revenue: Expectations
Is there hope? Do our respondents see a brighter future ahead of them?
The majority of them do, and they expect to see the most revenue growth from… more services (34%). Let's stop and ponder this for a second. I'm thinking there are several ways to explain this.
One possibility is that they're truly underbooked and have time to take in more clients.
The other possibility is that they've over-estimated how many clients they can realistically serve, which means they don't actually have time to get more clients; they only think they do.
Or the third possibility is that they plan to charge more. So, they can have the same number of clients—or even fewer—and still earn more revenue.
Either way, a third of the respondents don't see themselves diversifying their sources of revenue. It makes sense that, since they're already making money through services, then they see that as something that will continue working for them.
Not much farther behind are online courses, with 18% of respondents seeing most revenue growth from that source.
But what's this?
20% of the survey takers aren't expecting any revenue growth at all! Whether this reflects pessimism or contentment, unfortunately, is beyond the scope of the survey.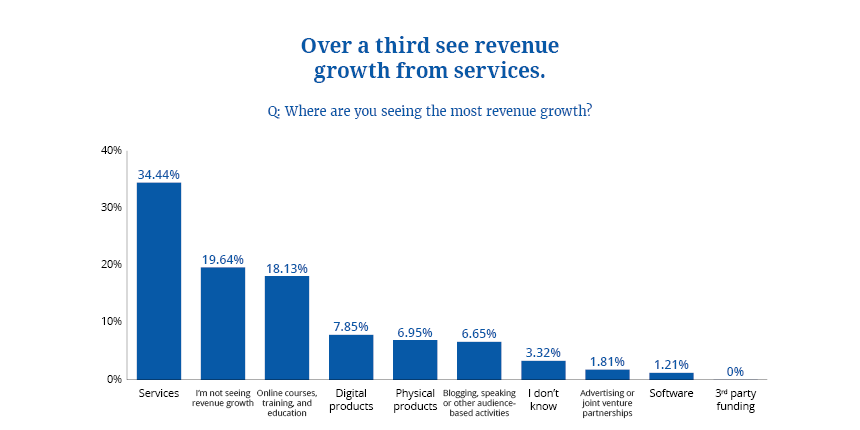 Future Revenue: Desires
It appears that respondents want to rely less on services as an income source. Regardless of any revenue they're currently making (or not making), 42% of them said that, in the future, they would like their greatest source of revenue to come from (drum roll…) online courses!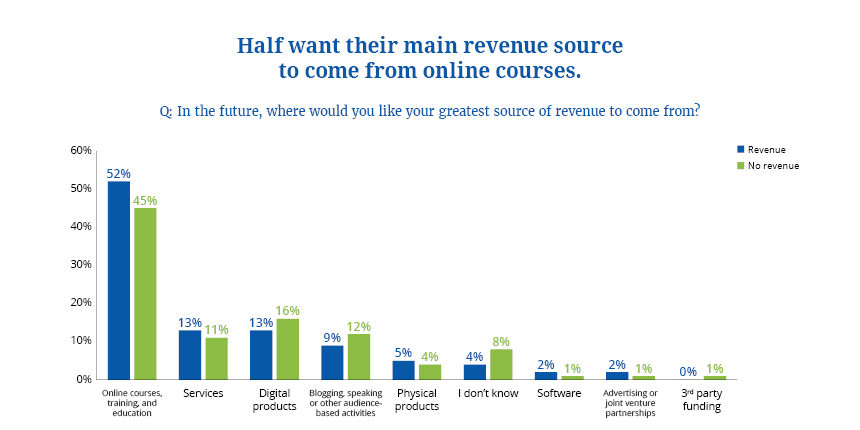 Online Course Creators: A Different Breed?
In terms of revenue, the picture is slightly better for those who are online course creators: a whopping 70% of them said their business brings in at least some revenue. In comparison, 44% of those considering online courses, 43% of those who aren't interested in courses, and 37% of those who are working on their online courses are seeing revenue.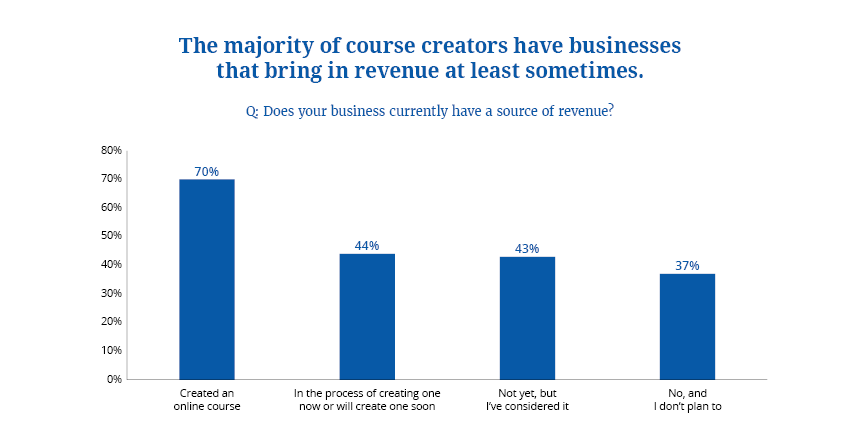 It's possible that the revenue is allowing these respondents to take the time to work on their online courses. They're also probably the ones with more experience and success in marketing and selling their services—skills that make them more successful online course creators as well. In this sense, success breeds more success.
In terms of where the revenue is coming from, however, online course creators aren't much different from their peers. 51% of online course creators derive their biggest revenue from services as well.
But for 21% of online course creators, online courses are the single biggest source of revenue! And among them, 62% said online courses bring in 71-100% of their total revenue.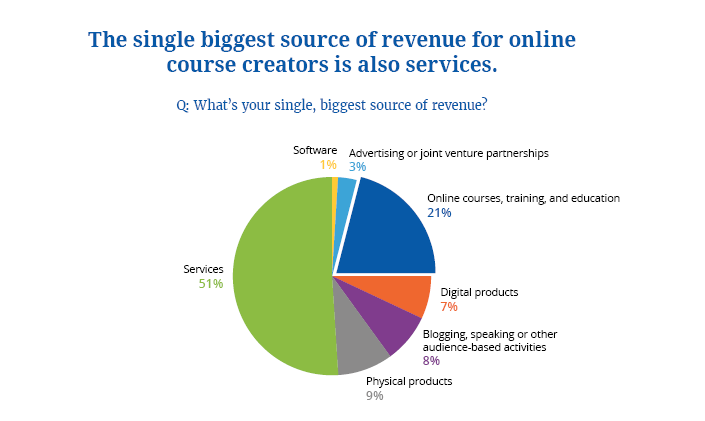 This seems to contradict our earlier observation that most online course creators aren't enrolling as many students as they expect to and at the price they would like to charge. But keep in mind that this sub-group of course creators is small: only 26 respondents rely on online courses for revenue, and only 8 respondents depend on online courses for greater than 90% of their revenue.
How can we help more online course creators derive more income from their courses?
Click To Tweet
They're the ones who are starting to actualize the opportunity of online courses. The question is, how can we help more online course creators derive more income from their courses? How can we make this the reality for the majority of course creators?
For online course creators whose main source of revenue is not online courses, 60% said that online courses bring 1-10% of their total revenue. This is consistent with our earlier findings which show that online courses haven't been profitable for the respondents. And yet, surprisingly, 70% said their courses were partially to completely successful!
Future Revenue: Expectations
When it comes to revenue growth, online course creators are more optimistic about online courses than other groups are. An almost equal percentage of course creators expect to see the most revenue growth from services (34%) and from online courses (31%). 24% of those who are creating their courses are seeing the most revenue growth in online courses. In contrast, only 7% of those who are still considering online courses feel the same way.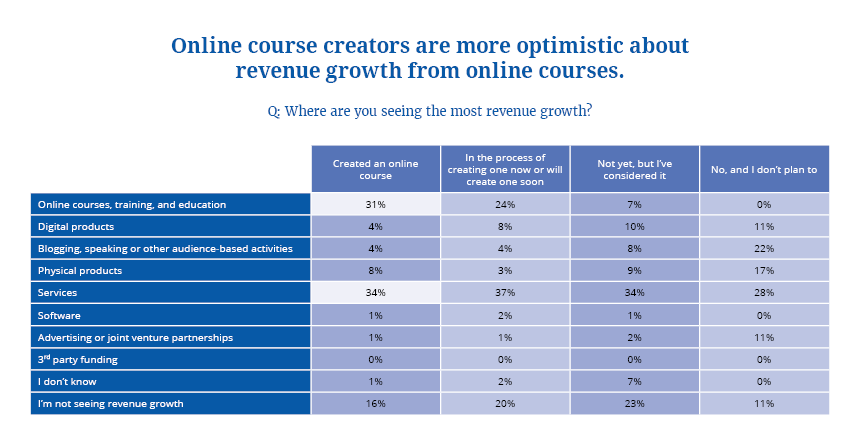 It appears that, despite the disappointing results, course creators see improved revenues from their courses.
They know they're on to something; they just haven't made it work yet!
Future Revenue: Desires
Compared to the whole group of survey takers, those who have some experience with online courses have the greatest desire to earn their income mostly from online courses. A significant 74% of those in the process of creating a course and 63% of course creators would like their greatest source of revenue to come from online courses.
This signifies the hope that they're placing on online courses to be their main income source.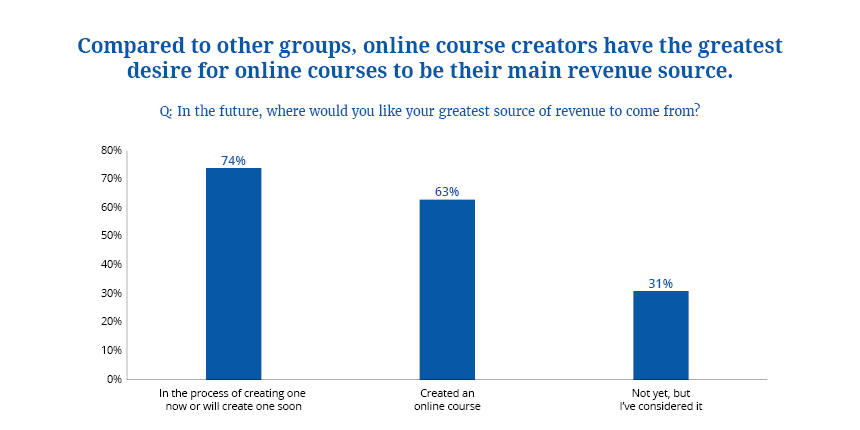 Again, despite whatever disappointments they may have experienced in terms of student enrolment and course fees, online course creators continue to pine for greater revenues from their courses. They want this business model to work!
What story do these numbers and charts weave for us?
I see a group of people who've been trading hours for dollars as service providers, with inconsistent results in terms of revenue. Some of them have tried their hand at offering online courses, but a very small number of those are succeeding to the extent that they can rely on courses as their main source of income.
But no matter how much revenue they're generating, no matter where they are in their course creation journey, a significant number of them see the opportunity in online course creation. And the ones who've had a taste of online courses are the most hopeful and optimistic of them all.
Succeeding in online courses can have a tremendous impact on the lives of course creators as well as their students. Not only can they derive more revenue, they can also diversify their revenue streams and enjoy greater financial security.
Do you see the opportunity in online courses? Is online course building a viable business model or a pipe dream? What impact would succeeding as a course creator have on your life?

Find a Sellable Topic for Your Online Course!
Get this primer and learn our process for identifying a viable topic for your very first online course.