High-Ticket Power (Joel Erway)
Joel Erway is the creator of The Webinar Agency, a company that helps course creators and coaches create webinars to boost sales. He is the author of High Ticket Courses and hosts two weekly podcasts highlighting his proven methods of crafting high-converting offers.
In this episode, Danny, Abe and Joel walk us through the details of Joel's proven "power offer" model and reveal how to apply it to any course. Joel offers comprehensive instructions and examples that course creators can use to reconstruct their business model without reconstructing the whole course. Grab a pen and paper, because you'll want to take notes!
In this episode we discuss:
Identifying the specific benefits of your course to your target audience (your "power offer").
How to scale a single course with different levels of support.
How to avoid over-selling or over-delivering services.
Designing your course as a scalable business.
Creating long-term viability into your course/business model.
Ways to do less while serving more.
Danny and Abe's debrief.
"When we lead with an offer, and we speak to people who want to change their life, then we attract a different caliber of lead." "

"The numbers might look good, initially, but it's inherently building a broken business model, and you're going to be burned out and not really know what to do."

Joel Erway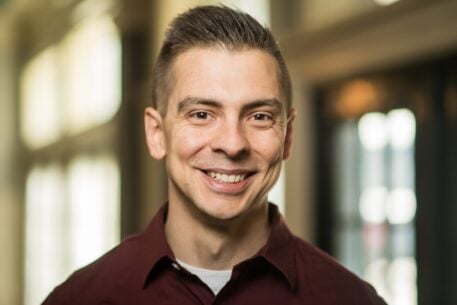 People call Joel Erway "The Webinar Guy", but that's just a tiny slice of his expertise. Joel is a master at crafting high-converting offers and helping experts scale their business with High Ticket Courses.
He authored the book, High Ticket Courses to help show Experts how to create leveraged offers to scale their business with programs valued at $2,000 or more.
Between his own personal sales and his clients, he's helped generate $50+ million over the past few years. He's also a long-time podcaster and the host of Sold With Webinars and Experts Unleashed.
Resources or websites mentioned in this episode:
Credits:
Guest: Joel Erway
Hosts: Danny Iny & Abe Crystal
Producer: Cynthia Lamb
Executive producer: Danny Iny
Assembled by: Geoff Govertsen
Audio Post Supervisor: Evan Miles, Christopher Martin
Audio Post Production: Post Office Sound
Music soundscape: Chad Michael Snavely
If you don't want to miss future episodes of Course Lab, please subscribe to Apple podcasts or Spotify or wherever you're listening right now. And if you liked the show, please leave us a starred review. It's the best way to help us get these ideas to more people.
Music and SFX credits:
Track Title: Bossa BB
Artist Name(s): Marie
Writer Name: Chelsea McGough
Publisher Name: A SOUNDSTRIPE PRODUCTION
Track Title: Grace
Artist Name(s): Shimmer
Writer Name: Matthew Wigton
Publisher Name: BOSS SOUNDSTRIPE PRODUCTIONS
Track Title: Carousel Lights
Artist Name(s): Chelsea McGough
Writer Name: Chelsea McGough
Writer Name: Matthew Wigton
Publisher Name: A SOUNDSTRIPE PRODUCTION
Publisher Name: BOSS SOUNDSTRIPE PRODUCTIONS
Track Title: Coo Coos
Artist Name(s): Dresden, The Flamingo
Writer Name: Matthew Wigton
Publisher Name: A SOUNDSTRIPE PRODUCTION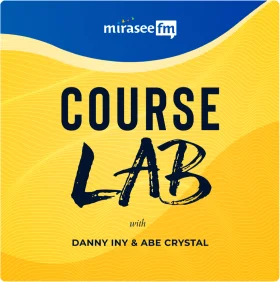 Course Lab
Ever wondered how online courses could be even better? What would that next level look like? Those are the questions driving online course experts Danny Iny (founder of Mirasee) and Abe Crystal (co-founder of Ruzuku) in Course Lab. In each episode, they bring on an innovative course creator and deconstruct what makes their course (and course business) work for them and their students.