Marketing Blueprints, and a Debrief on Our Latest Launch (Marketing Insights Podcast)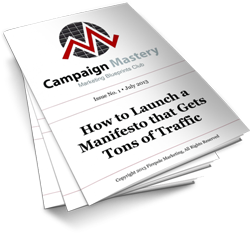 You may have received some emails from us recently about a new product we're offering called the Campaign Mastery Marketing Blueprints Club – it's all about great copywriting and powerful launches, and in the spirit of the campaign, we thought we'd share some of the details of this very launch with you!
There were some real ups and downs in the first few days of the campaign launch, and because of that we've learned a ton.
In this podcast, Danny and Megan discuss the business challenges that we faced during the first day of the launch, what made us stumble, and how we got back on the horse and turned the launch around.
If you'd like to get in on the Campaign Mastery Marketing Blueprints Club, there's a link at the bottom of the post – and we'd love to have you on board to share in all of our secrets on how to run successful campaigns!
Now sit back and listen to the tale of a turbulent new product launch!
Distilled Wisdom
Campaign and launch are often used interchangeably, but they're not the same thing. You can run a campaign for most anything, like getting more subscribers or getting more sales. A campaign is just a group of marketing materials that, in aggregate together, are meant to achieve a specific outcome, in a way that a singular thing couldn't.
A campaign blue print is the idea of finding another campaign that is similar to what you'd like to be doing – in terms of its narrative arc, or customers or offer. Use this as a model for what it is you want to create. It's about saving people a lot of time and trouble involved in finding a good blueprint.
We decided on a print campaign for the Campaign Mastery Marketing Blueprints Club because, while digital is more and more ubiquitous, it's getting a bit saturated. We didn't just want this club to be something you throw in a folder on your desktop and forget about. There is a different feeling of value to print, there is a physical, tangible reminder. Print is permanent, and it enforces a level of quality that can often be absent from the industry.
The campaign, over all, is looking pretty good but it did not go smoothly to begin with. Ironically, it's because of the very need the project is supposed to address. Because we were figuring out how to launch a new (for us!) product, we had no blueprint on which to model it off and so we had to adjust and pivot as we went.
What you know is not necessarily what your customers know. With our launch, there was confusion over what IS a campaign and what exactly is a marketing blueprint and how can I use it to better my business?
Pivoting during a launch is incredibly difficult to do, even if you're very well attuned to what your audience wants and you're a good writer, it's incredibly time consuming. In essence though, it's not complicated. You just want to listen to your audience's questions, find out what they are and aren't understanding, and then analyzing what's missing in your copy.
The very first Campaign Mastery issue is the deconstruction of our launch for the Naked Marketing manifesto, which was free, and got us over 3,000 tweets and 700 subscribers in just 9 days!
The biggest takeaway is that as hard as this launch was, it was easier than it was 6 or 12 months ago, there is a value and a weight to experience and it does get easier. Even when you stumble, it becomes easier to pick yourself up and do it better.
In the meanwhile – do YOU have any campaign launch secrets you want to share with us or other Marketing Insights Listeners? Let us know in the comments beneath the blog post.