Why Guest Blogging is Like Doing Laundry (And How to Get Both Done)!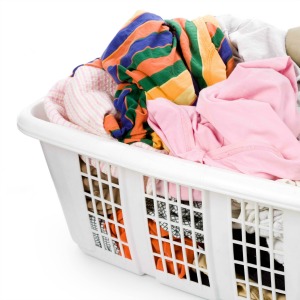 When you're trying to get the word out about your new business, building your audience, and making connections, there's a lot of guest blogging to do.
I'm assuming you're pretty aware of this since you're here on Freddy Krueger's site. And just like tackling the never-ending cycles of laundry in your household (especially if you have kids), it can seem overwhelming at first.
But there's a simple process to doing both…
You've Got to Capture Your Stuff
When you change clothes, or take something off before showering, it's a lot easier to keep up with your future laundry if you take the extra second and a half to put your clothes in the hamper. It's not hard. It's already there in your hand. How much more effort does it take to toss it in the hamper versus throwing it on the floor? Not much.
It's the same when you're preparing to write or pitch guest blog posts. Sometime during the day or night, you'll have great post ideas that you can either shed onto the floor (and good luck gathering up all those scattered thoughts when it's time to write!) or you can take an extra second to jot it down in a notebook, a smartphone app, a voice memo, or wherever you like to keep track of them.
Hamper, notebook, whatever. You need your stuff in one place, where you can find it.
Sort as You Go
You can add one extra tiny step when you're tossing your clothes in the hamper. Sorting light and dark clothing will make it even easier to throw a load into the washer when you're ready. By the way, you can add separate containers for delicates, dry cleaning, etc. – if that applies to you.
But hey, I'm a work-at-home-mama with 2 young kiddos, so not much in the way of clothing items with special care needs is allowed to come into my home at all. You're probably in a similar situation, working from home a lot of the time, so lights and darks is all it'll take. Simple.
With guest blogging, it's the same idea. You can just jot down your headline idea. Or, you can take a few extra seconds to write out your quick outline. I had the idea for this post as I was falling asleep a few nights ago.
Had I just written down "Guest posting = laundry!" I would have woken up just as confused and intrigued as you probably were when you saw this title (after all, you are reading it for a reason). But I wouldn't have the benefit of my own explanation.
That's all I would have, and I would've had to force the connection in a way that didn't make sense to me, or waste a lot of time attempting to remember my falling-asleep revelation.
So really. Sort as you go. Outline your post as soon as you get the idea.
Be there. Focus.
I know I'm not the only one who has thought, "I've got a few minutes, so I'll just toss in a load of laundry before I ____." But that can backfire. If you're not present when the load finishes washing, you end up with soggy wet clothes sitting in the machine for who knows how long! And if it gets really bad? You come back to stinky mildewing dampness, and have to start the cycle all over again.
It's like that with writing blog posts too. It's better to sit down and write when you have time to be present for the whole thing. Set a timer if that helps you. Focus. Stick with it until the end, and if you absolutely can't, make sure you come back to it as soon as possible.
Don't lose your momentum, and don't lose your focus. No one wants to read a stinky mildewed post. So if you get lost along the way, you'll probably have to start all over again.
If you're not fully present, you're wasting your time, and you'll just have to start over again anyway.
Finish the Job
We say the chore is "washing clothes" but really, drying is a good chunk of the job! Some of it can be handled automatically, with the machine dryer, but certain items really need you to take care of them separately. You need to hang dry things that can't go in the dryer, or lay them flat on a towel. Shrunken or stretched-out clothing is no longer clothing. It's trash.
When writing your guest blog post, the final stages of proofreading are just like the drying cycle. Sure, you can use automatic spell check along the way while you're writing, but proofreading is absolutely necessary. And sometimes you'll need to cut rambling parts, edit, or rephrase things. That has to be done manually, by someone with a brain, not just a microchip.
But it's worth it to make sure it's done correctly. No one wants to read an unedited post. It's trash.
Mindfully complete the task you started, or you might end up with trash.
Share What You've Done
If you don't fold the clothes once they're clean and dry, and put them into everyone's drawers (or at least on their beds so they can put it away themselves), what's the point of all the work you've just done?
Your kiddo will have a really hard time picking out an outfit with her favorite shirt if that shirt is in a hamper of clean clothes somewhere in your bedroom "to fold later." Even if it's not perfectly uniformly folded (who does that?), it's still done. So put it out there.
I could stop this post in its final revision stage. I could save it on my hard drive and never send it to Felicity for consideration. I really think it could help someone simplify the guest posting process and get the word out about their blog and their ideas, but it can't help even one person if it's locked away in my files.
So I won't do that. I'm not going to let perfect be the enemy of DONE. I'm sending it on and trusting that the people who need this post will find it.
Don't allow yourself to be paralyzed by fear or perfectionism. Your ideas (or clean and folded clothes) are only worth something if you put them where people can find them.
Ready to Tackle Your Next Guest Post (and Your Laundry?)
You've done thousands of loads of laundry in your lifetime. And maybe your system wasn't perfect every time, but you got the job done. I know you did. Because you got dressed every day (er, most days).
Guest posting is just like that. There are tips and tricks to make the system run more smoothly, to get your ideas into the world. And even if you don't do it perfectly every single time, at least they're out there.
What about you? Do you have some laundry or guest blogging tips or tricks to share? I'd love to hear them in the comments!