What is a Sales Funnel? (5 Sales Funnel Stages + Examples)
Tara Malone
Updated for 2022
You've heard it a million times by now.
If you're going to grow a successful online business, you need a sales funnel.
There's just one problem. You only have a vague notion of what a sales funnel is and don't have the slightest idea how to build one.
You've spent hours on Google trying to figure out sales funnels, but haven't found a guide that clearly explains how they work or how to create one.
If you can relate, you've come to the right place. Our guide will walk you through each of the sales funnel stages and give you clear examples of each stage.
We'll also cover what you need to develop a successful sales funnel for your business.
Ready to get started?
Great! Let's begin by looking at what a sales funnel is in the first place.
What is a Sales Funnel?
To put it simply, a sales funnel is a marketing concept that represents the different stages of the customer journey.
Here's a handy diagram to help you visualize what we mean: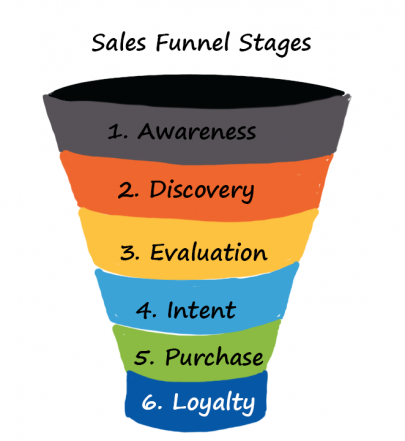 As you can see, the funnel is widest at the top and narrowest at the bottom. This represents the fact that many of your site visitors will have some interest in your offerings, but only a small percentage of them will actually become paying customers.
The different stages of a sales funnel correspond to the different phases of the customer journey. At every stage of the funnel only the most qualified prospects move on to the next stage.
A sales funnel is important because it helps you to understand your prospects and to gauge their interest. This gives you a better sense of the kind of content you should send them and when to pitch your offerings.
Using a sales funnel as your guide, you can meet customers where they're at with the right kind of content. This prevents you from losing prospective customers by overloading them with information or pitching them before they're ready.
A sales funnel helps you meet customers where they're at, and with the right kind of content.
The sales funnel also helps filter out less qualified prospects. This lets you focus your efforts on the ones who have a good chance of becoming paying customers.
That's all well and good, but how do you actually go about creating a sales funnel for your business?
Let's go behind the scenes and see what's involved.
The 3 Ingredients of a Successful Sales Funnel
Ready to learn how to build a sales funnel for your business? Then listen up.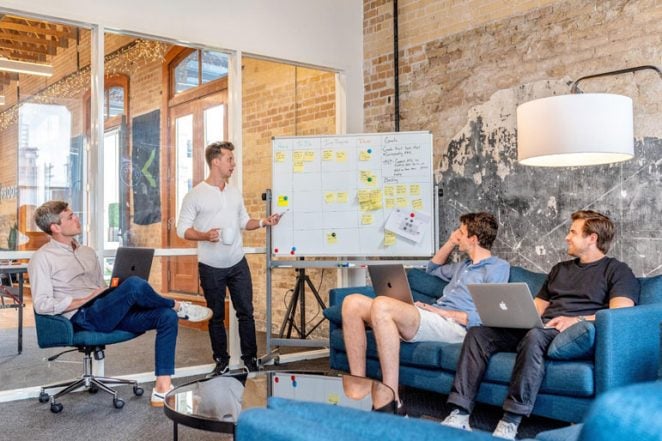 If you want your funnel to actually win over customers, there's a few things you'll need before you start. Here they are:
1. A defined customer avatar
You need to be totally clear on who you're trying to reach before you start building your sales funnel.
To get some clarity, you need a customer avatar, also known as a buyer persona or customer profile. This is a description of someone who personifies your target customer. It can be based on an actual person, or might be an entirely fictional character.
Your avatar needs to be extremely detailed and to paint a clear picture of your ideal customer. Be sure to include this person's age, gender, and occupation, and specific details about their personal lives. For example, where do they live, what's their favorite store, and what kind of car do they drive? Also include information about their fears, hopes, and dreams.
Having a defined customer avatar gives you a clear sense of who you're marketing to and how to best communicate with them. It helps you figure out what problems your target customer is facing, and how you can help them.
As an added bonus, a customer avatar also helps you develop relevant content at each stage of the sales funnel.
2. Proven products
The second component is products that meet your ideal customers' needs. For your funnel to work, you need to make sure there's a market for your products or services. In other words, you need people who want the items you're producing.
For online businesses, these proven products are most commonly digital in nature, and fall into two main categories:
High-Value, DIY: These products teach customers high-value skills that they want to learn for themselves. Very often, these are online courses that cover anything from learning digital marketing, to how to start a freelance design business, to how to become a social media influencer. Online courses are the best type of product you can offer in this category. However, you can also offer PDF worksheets, templates, and other downloadable learning materials.

Low-Value, DFY: These products help people accomplish things they can't or won't do for themselves, without costing much money. An example would be Netflix, which entertains people for hours and is very affordable. There's tons of different kinds of low-value, DFY products you could sell, including software apps, artwork, ebooks, or design templates. That said, be aware that you'd need to sell an awful lot of these products to make good money.
3. An objective and measurable goal
For your funnel to be effective, you need to know why you're building it in the first place. This is why you need to have a specific goal for your funnel.
In general terms, the goal of your sales funnel should be to nurture a relationship with your customers, and to convince them to respond to a call to action.
In other words, what exactly do you want your prospects to do when they get to the end of the funnel? Do you want them to buy your online courses? Pay for your consulting or coaching services?

Your goal needs to be extremely specific and measurable. For example, to sell 100 copies of your digital marketing e-book in December. Or to earn $5,000 in revenue from your online courses next month.
By putting a number on it, you can see if your funnel is helping you meet your marketing goals and grow your business at the rate you want.
Now that you know what you need to design an effective sales funnel, let's take a closer look at the actual stages of the funnel and how you can apply them to your business.
The 5 Sales Funnel Stages
If you want your sales funnel to work like it's supposed to, you need to understand what the different stages are. But there's more to this than just learning the definition of each stage.
You also need to understand exactly how to apply these stages to your own business when you're designing your funnel. This way, you can make sure your funnel effectively moves the most qualified leads forward and filters out the unqualified ones.
Now let's take a look at the five different stages of the sales funnel — and some examples of how to apply them.
1. Awareness
In the first stage of the funnel your goal is to make prospective customers aware of your company and products. At this stage, your prospects learn what your business is, what products and services you offer, and what makes you different from your competitors.
Most commonly, prospects learn this information from visiting your website for the very first time. They've probably discovered your site from an ad, Google search, or social media post.
At this point, they're probably not considering buying anything, so avoid making any direct offers.
Instead, focus on sharing useful ideas and information, advice or solutions to a problem your ideal audience is facing. You can do this through content like blog posts, sponsored social media posts, videos, or webinars to name a few.
Your content needs to be informative, but also engaging and interesting.
What does all this look like in real life? Let's take a look at a (fictional) example:
Example: Avi and Sara, owners of a small web-design agency
Avi and Sara are the co-founders of a boutique web design agency that caters to small business owners. Their ideal customer is Christine, a 38-year-old from Long Island who recently started a dog grooming business. Christine wants to create a website to establish an online presence and promote her business.
Still, Christine has a number of concerns:
"I'm on a tight budget and don't know if I want to invest in a website right now."
"There's a lot of web-building tools out there, maybe I can learn those and save money."
"If I invest in a professional website, I want it to pay off."
Avi and Sara kept Christine and her concerns in mind when they created their own site. On their About page, they explain that they specialize in helping small business owners. They also write lots of blog posts and upload videos with tips on how to create a professional website on a tight budget.
When Christine does a Google search for local web designers, she finds Avi and Sara's website and checks them out. On her first visit to the website, she looks at their About page, browses their blog, and watches a few of their videos.
She also checks out their online portfolio and is impressed with their work. Their website content reassures Christine that it's possible to develop a professional business website without cleaning out her savings.
2. Discovery
In the Discovery phase, your prospects are interested in your company and products and want to know more. In this stage, you need to share valuable content that addresses their specific problem.
Your goal is to make them more familiar with your brand and to provide them with content that interests them enough to move to the next stage.
You should educate them on the problem that your company can help them solve without pitching them directly.
When it comes to content, you need to deliver something that's extremely valuable to your prospect so they're engaged enough to continue through the funnel. This can include: blog posts, podcasts, infographics, digital magazines, videos, email newsletters, or downloadable guides.
Example: Avi and Sara
Christine looks at some other web design companies but none are as helpful as Avi and Sara's agency. She goes back to their website several more times to read their blog posts and to watch more videos.
She's also happy to find that they offer several free downloadable guides on how to design a website on a budget — both with a web designer and on your own.
Avi and Sara know that their prospective clients are considering whether they should invest in a web designer or try to go at it themselves. To help them make a choice, they've developed detailed guides to help them decide which option is best for them. Christine is eager to learn more about her options, so she enters her email address in exchange for the guides.
3. Evaluation
During the Evaluation stage, your prospect takes a closer look at your company and the products and services you offer. They're also looking at your competitors to see how your offerings measure up.
At this stage, prospects want to know more about how you can help them solve a problem or issue they're facing. But they're still not ready to consider making a purchase from you.
Your aim at this point is to begin nurturing a relationship with your leads. This will help you understand what their end goal is and to show them how you can help them meet it. Some of the ways you can nurture your leads are through email campaigns, newsletters, free email courses, or free trials.
Example: Avi and Sara
After reading Avi and Sara's guides, Christine decides that she wants to build her site on WordPress. But she realizes that building her own WordPress website involves more tech knowledge than she has.
At this point, she'd rather spend her time growing her business instead of learning how to develop her own WordPress site. She decides to work with a web designer, but she needs one who will work with her budget.
Avi and Sara mention on their site that they work with new business owners with limited budgets, and this is reflected in their web content. This is how they demonstrate to their target customers how they're different from other web design agencies.
Browsing their site, Christine feels they understand her situation and wants to learn more about how they can help her. She signs up for their free email series explaining how new business owners can find a web designer that meets their needs.
4. Intent
At the Intent stage, your prospect makes the transition to the lower funnel. They're now interested in buying your product, but haven't made the purchase just yet. They might indicate their interest by taking a survey, watching a product demo, or placing an item in their shopping cart.
At this point, they're usually planning to buy but first want to make sure your product meets all their needs and is at a price they're willing to pay. Here's where you have the chance to explain why your product is the best choice for a buyer.
Example: Avi and Sara
After completing the email series, Christine feels that Avi and Sara might be the best designers to build her site. She fills out their Start a Project webform with the details of her project.
Still, she's not ready to buy just yet. Christine needs to know that their web design services meet her needs and that they actually can work with her proposed budget.
Avi and Sara review Christine's project and budget and design a cost-effective plan. They respond to her by email with their website proposal, and set up a phone call with Christine to review it in more detail.
During the phone call, they walk her through their proposed plan, and arrange a payment plan that works with her budget. Christine is extremely impressed with their service, and the fact that they took her needs and budget into account.
5. Purchase
Once customers reach the Purchase stage, they're ready to buy. This is the point where it's safe to make your final pitch. Now you know for sure that they're interested in your offerings. All that's left is to convince them that your offerings are worth spending their money on.
Some ways to convince them to make the sale include: testimonials, reviews, and a streamlined, trustworthy sales process. The type of content you can use at this stage includes: special offers, product trainings, and package bundles.
If all goes well and the deal is closed, your prospect officially becomes a paying customer.
Example: Avi and Sara
After the phone call, Christine reviews the proposal and budgeting in more detail and feels ready to move forward. She looks at Avi and Sara's portfolio and their glowing testimonial page once more and feels confident that they are the right web designers for her.
She emails them back telling them she accepts their proposal, and submits her initial deposit.
Avi and Sara email her back later that day, thanking her for the deposit and outlining the next steps and proposed timeline for the project. Their professionalism and attentiveness really impress Christine, and she feels confident that she made the right choice.
(Bonus) Retention
Now that you've won over new customers, you want to keep them engaged and loyal for the long-term. At the Retention stage, your focus is on keeping your customers happy so they'll become repeat customers.
To accomplish this, you need to help them make the most of your product and to resolve any problems they might have. You want to re-engage with these happy customers to encourage them to buy from you again and to refer you to their family and friends.
Some of the content you can use in this stage includes: Emails, special offers, surveys, outreach, and follow ups, product usage guides, and technical assistance or support resources.
Other ideas include: referral programs, upsell campaigns, re-engagement email campaigns, product-specific webinars and tutorials, and live demos. You'll want to continue to create offers, content, and improvements to keep them engaged.
Example: Avi and Sara
Now that Christine is a paying customer, Avi and Sara's goal is to keep her engaged for the long-term. They want her to call on them if she needs any upgrades or improvements to her website. And ideally, to refer other small business owners to them as well.
After launching her website, Avi and Sara put Christine in contact with their tech support specialist in case she runs into any problems. They also inform her of their policy that all tech support requests are answered within 1 business day.
In addition, they send her a survey 6 weeks after launching the site to assess her satisfaction level with the website. Christine states that she is very happy with her website and would refer other small business owners to Avi and Sara's agency. When she refers a friend to them several months later, they send her a thank you email and a 25 percent discount on her next website upgrade.
Christine really appreciates that Avi and Sara continue to make her feel like a valued customer and is happy to continue doing business with them.
We've covered a lot of ground here, and you've learned all about the different stages of the sales funnel.
But what does a sales funnel look like in real life? Let's go check out some sales funnels from actual companies.
3 Real-Life Sales Funnel Examples
Now that we've seen all the stages of a sales funnel in action, let's turn to some real-life examples of sales funnels.
Example 1: Leadpages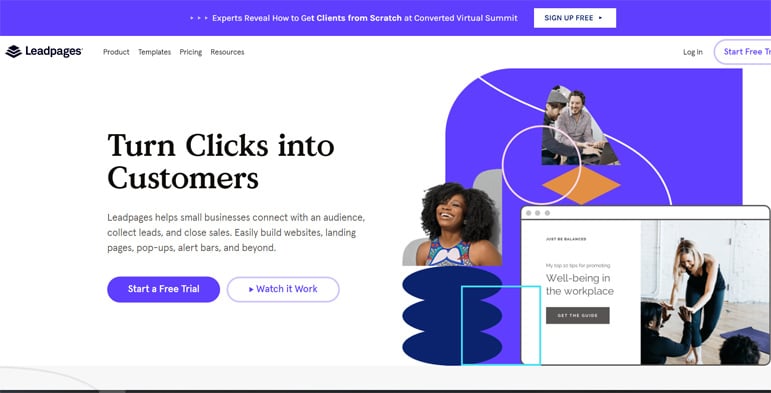 Leadpages is a website and landing page builder that gives customers plenty of options for creating and publishing high-quality websites and landing pages.
Leadpages: Top of the funnel
Potential customers can easily find Leadpages by searching for the keyword "Landing page builder." A Google Ad for Leadpages appears at the top of the page, and Leadpages consistently appears in round-ups of the best landing page builders.
Customers can also find out about Leadpages through their blog.
If they visit the Leadpages website, they can either look at a Leadpages demo, start a free trial, or sign up to attend a virtual conference on how to get clients.
If they sign up for the conference, they'll be added to the Leadpages email list, or if they opt for a free trial they'll be prompted to set up a free account.
Leadpages: Middle of the funnel
If the website visitor likes what they see from the demo or enjoys the virtual conference, they can opt for a free trial.
To sign up for a free trial, the website visitors need to create an account and select the plan that appeals to them the most. They have 14 days to test out the plan and decide if Leadpages is right for them.
They can cancel the plan if they decide not to proceed with Leadpages, or they can opt to stay with the plan.
Leadpages: Bottom of the funnel
The leads who stay with Leadpages after the 14-day trial will be billed for the plan that they selected and become a paid subscriber, at which point they're officially a customer.
Example 2: Hubspot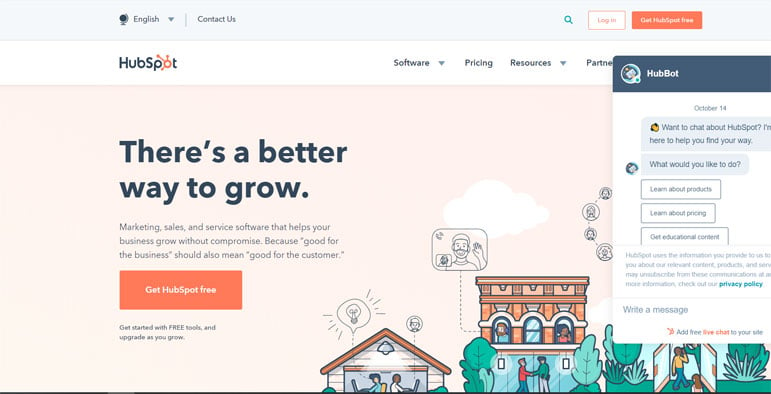 Hubspot: Top of the funnel
Marketing software leader Hubspot has mastered the art of the sales funnel. Prospective customers can easily find Hubspot through a Google search for the keyword "Marketing" or for other marketing-related topics.
If they visit the Hubspot website, they're given the option to get Hubspot for free or to submit questions through a chatbot.
Visitors who want to try Hubspot for free need to submit their names and email addresses and answer a series of questions to create their Hubspot account.
Hubspot: Middle of the funnel
Those who try Hubspot for free have tons of free tools and resources they can explore. They are also added to the Hubspot mailing list and regularly receive email campaigns showing them how to make the most of Hubspot.
If they find Hubspot to be beneficial in helping them grow their businesses, they can explore different Hubspot plans and pricing options. They also have access to a Calculate Your Price tool to help them figure out what plan best meets their needs. They can also talk to a sales representative to help them explore their options.
Hubspot: Bottom of the funnel
After testing out Hubspot for free, exploring the plans, and possibly talking to a sales representative, prospects have either been filtered out or are ready to buy.
They can select the Buy Now option on their desired plan to make their purchase, at which point they become a customer.
Example 3: Mailchimp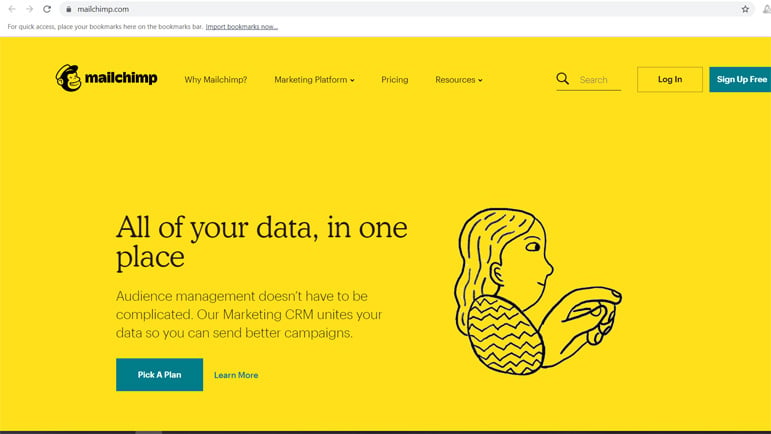 Mailchimp: Top of the funnel
Mailchimp is an email marketing platform that helps companies manage their online marketing and grow their email lists. Users can easily find Mailchimp by doing a Google keyword search for email marketing.
When a visitor first arrives on Mailchimp's site, they're given the option to pick a plan, sign up for free, or learn more. Those who opt to learn more are directed to a webpage where they can read about Mailchimp's features and services.
Visitors who sign up enter their name and email in exchange for a free account, and those who want to pick a plan are sent to a webpage where they can view the different options.
Mailchimp: Middle of the funnel
Those who sign up for a free account make the transition from a website visitor to a lead, and are automatically enrolled in Mailchimp's free plan. With the free plan, they can explore a huge variety of features, send up to 10,000 emails each month and can add up to 2,000 contacts to their email list.
If these leads find they need more features than the free plan provides or reach the 2,000 contact limit, they can upgrade to a paid plan.
Mailchimp: Bottom of the funnel
After testing the waters with Mailchimp's free plan, the leads might decide Mailchimp isn't for them, which filters them out of the sales funnel. Those who like the features Mailchimp provides can stick with the free plan until they run out of contacts or need more marketing features.
At this point, they can review the paid plans in more detail and make a purchase decision. When they purchase a plan, they make the switch from being leads to being customers.
Those are just a few examples of what an effective sales funnel looks like.
Now that you've seen how everything works, you're probably wondering how to create a sales funnel for your own business.
Let's look at how to put what you've learned into practice.
Ready to Start Building Your Sales Funnel?
Feeling overwhelmed by all this talk about sales funnels?
If the answer is yes, don't worry. Sure, it sounds like a ton of information, but you don't have to do everything at once.
The best way to go about building a sales funnel for your business is to break things up into stages.
And the first step is to clearly define your customer avatar. Who are they, and what are their hopes, dreams, and fears? And most importantly, what needs do they have that your business will address?
Only after you understand your customers can you develop content that's relevant to them at each stage.
This way, when they read your content they'll feel like you truly understand their needs and concerns.
That's the single most powerful thing you can do to win them over at every stage of your sales funnel.
As you develop your sales funnel, you might find yourself struggling to define your customer avatar. In that case, download our free customer persona template to gain clarity on your ideal customer.