What is Digital Marketing? Surprise! It's Just Marketing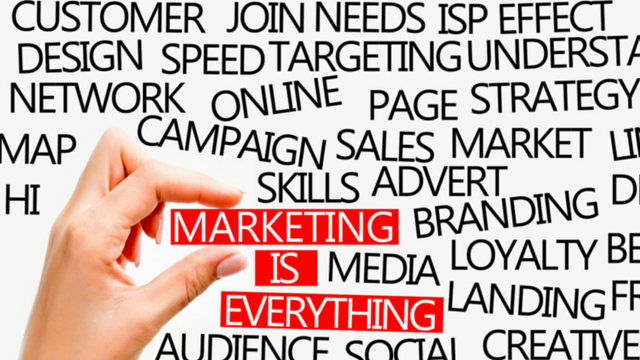 I hate to break up the party and congratulatory celebration of "digital" and "content" marketing royalty. After all, they seem to love wearing their Cheshire Cat grins with hints of sparkling tiaras shining through here and there.
They're enjoying their pats on the back and bubbling champagne toasts while the crowd swells, and the bandwagon keeps growing.
But when PepsiCo's global beverage group president, Brad Jakeman spoke at a recent conference and said, "There is no such thing as digital marketing. There is marketing—most of which happens to be digital," it's like if he fired a bullet into the crowd popping all the party balloons.
And… I agree.
I don't claim to be a marketing diva, maven, or guru, but as the owner/operator of a boutique catering production and event design company for the past 25 years, I do know a thing or two about marketing a business.
And not only do I agree with Mr. Jakeman, I also suggest that marketing—both digital and content—is all just marketing. Period.
That's right. Marketing is the same as it has always been, essentially, a driver for business.
Let's dissect.
The Role of Marketing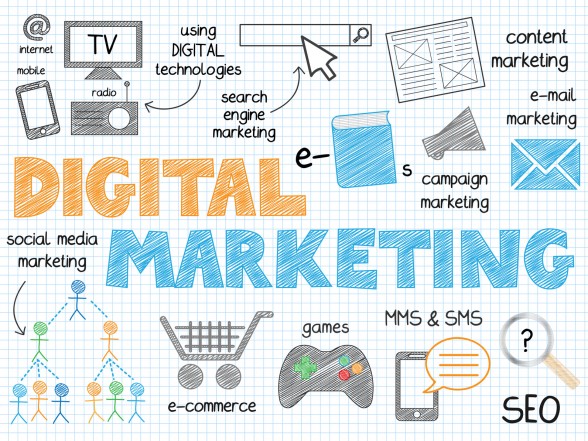 Everything you do in business IS marketing because all of your actions and interactions reflect back to your company/brand.
Marketing is so much more than a department or singular function. At the very least, your marketing works in tandem with operations.
Encompassing all company communications, marketing presents the how and why you exist as well as framing how your audience will define you. But, on its most minuscule level, the concept of marketing equates to sales.
The Marketing Doctor, Dr. John Tantillo says, "Marketing is sales with a college education."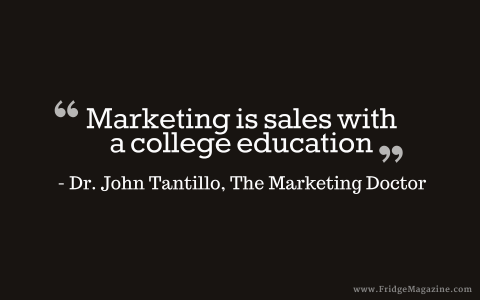 However, as much as I see that sales are the bottom line for a business (or why be in business?), I find in my experience, business is about so much more.
And that's why I stress this idea: Business is marketing, and marketing is business. 
Advertising and marketing for business stayed relatively the same for many years—print, radio, and TV.
Then came the website, a new marketing venue offering unknown possibilities.
A website, most companies' first venture into the digital world, was then only a mere component of marketing, if considered at all. In most cases, it often amounted to a stagnant online brochure posing as a site, making your web presence an online business listing.
Websites for businesses started out as the only digital channel in a marketing plan.
And only bigger companies with IT or tech departments, and a budget could get into the digital game. Smaller companies were out, let alone companies of one, like so many online businesses happen to be today.
But even for the big companies, websites were a headache. Making changes to a site was not easy. It ranged from nerve-racking to slightly irritating, expensive, slow as molasses, and darn near impossible. And again, too overwhelming in countless ways for small businesses.
Websites, the beginning of the digital "touch," were an off-shoot of a company's marketing campaign, maybe.
Then suddenly…
With the barrier to entry lowering with each new advancement, an expansive array of digital channels became more easily available, and the accessibility to website ownership for any size company became possible.
But, with the monumental explosion of noise on the Internet and its impact, the current definition of a web presence represents a far different, evolving, growing and disruptive digital environment today.
Websites are now active and interactive. And social media is a marketing game changer.
But still, even with all of that, it IS all just marketing. Digital marketing is just marketing on a digital channel.
And on this digital channel, content marketing lives and continues to grow at—in some views—alarming proportions.
What Makes Content Marketing a Thing?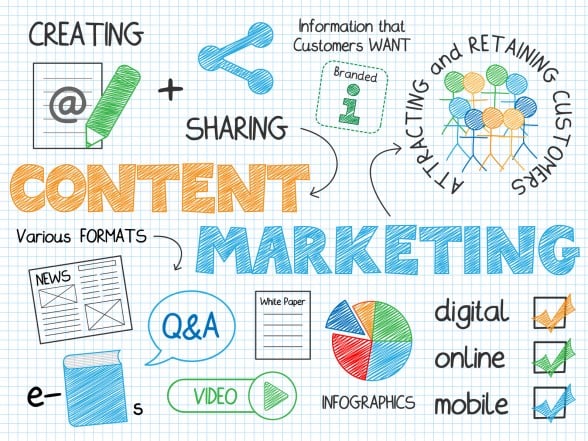 Content marketing is another tool for marketing your business, digitally or otherwise.
The distinction is that the content you produce is on the internet—or digital—rather than in print, on TV, or on the radio.
It's just another component in your marketing mix, albeit a very important one. I'll go ahead and say it, content marketing is just marketing but uses the internet to convey it.
No matter what you call it, your online content drives the digital channels of your marketing machine and shoulders an enormous responsibility for businesses.
It's how your customers and prospects get to know you.
Your online content is living, breathing, working, and no longer a one-sided conversation like TV or print but seeks and encourages interaction and engagement.
While the internet was founded on, and continues to be, a rich exchange of information, the nature of digital, its robust growth, and the speed of change in technology as well as its universal use has turned marketing upside down.
Marketing to your customer has become marketing with them.
Click To Tweet
GoPro is a perfect example of this, illustrating a full-blown success story showcasing the user perspective or user generated content (UGC). Using user—aka buyer—produced content to sell for them, in a way most likely they couldn't duplicate in-house, is brilliant, not to mention effective.
UGC is an ongoing process, not a one-time project or campaign. Consistency plays a major part when using online content, digital channels, and embracing audience interaction into your brand story.
Marketing is now a two-way conversation through this newfound engagement. Keeping your ears open to your audience helps you improve your business and marketing efforts, along with your products and services.
Digital channels with strong, creatively crafted and smart content have no doubt contributed to the quickly evolving marketing scene, particularly online, but what is the core shift that changes everything?
Finding the Pulse
The bottom line is not at all about the purpose of marketing, the terms, or current buzzwords used for marketing. It's not the incredible digital possibilities and tools that are now intricately entrenched in the marketing mix, but something has changed.
And guess what? That something has also stayed the same, and is the lifeblood of every business. Because without this one thing, business is dead and over.
If you're jumping up and down yelling, "Sales, revenue, profit, markup, money!" or the like, you could not be more wrong!
Dig deeper, and you'll realize the cash to your business stems from somewhere—customers. You know, that special someone who gladly buys from you, and maybe even show you some other love, too.
Connecting to your ideal customer and creating a meaningful impression that leads to an ongoing relationship is hard enough, but the challenge is expanded, almost as exponentially as the space of the World Wide Web itself.
The marketplace has grown, and the channels to and communication with an audience are different and changing at breakneck speed.
Meeting your customers where they are is shifting the whole dynamic in the business of marketing, targeting, and reaching desired results.
Roll Out the Welcome Mat for Gen C
Marketing to the connected consumer transcends typical demographics because Gen C (generation: connected) is any age, sex, income, education, etc. person who functions and participates in the digital space and marketplace—comfortably participates.
Active participation on the part of your customer, like the earlier GoPro example, and way beyond, is what I see as the game changer for marketing into the future. And for better (or worse), your audience has a BIG voice, transforming two-way communications into two-way marketing!
Kathryn Aragon Media presents an idea she calls, NewGen Marketing and describes her insight on this realignment.
The Gen C customer uses digital channels that demand you market in that same space or risk a disconnect.
Further, Kathryn clarifies why a different customer requires a different kind of marketing. Some of her key points are well worth paying attention to.
She expresses the connected customer wants, likes, and expects:
To create their own experience, so customization is imperative
To find the good fit, one that relates to them specifically
To scan and use visual cues, as part of today's "attention economy" trend, requiring you to respect their time (and use it wisely)
To share—tweets, bytes, memes, etc.—and be part of something bigger, so give them something to help market you and spread your message
To have a voice and to use it, (this is a biggie) transforming one-sided marketing/advertising to a two-way conversation and exchange of information
To be social by making human connections, so you need to humanize your company or brand to build relationships
To be viewed as a smarter consumer, with the option of giving you permission to connect, thereby allowing you in to build trust and market to them, directly
On a deeper level, serving your market becomes the true objective for marketing efforts, rather than an emphasis on selling your product/service.
And that's exactly what General Mills understood when their famous tagline "TRIX are for kids" and that silly rabbit was established to sell their TRIX cereal brand in 1954.
That 60-year impression (and still going strong) demonstrates their success in using the essential core to marketing—connecting with their (kids) market—to create marketing gold.
And, that's what marketing's all about. Then and now, online or off.
It's a conversation with your ideal customer.
It doesn't matter whether you use content marketing or digital channels in your marketing mix, but rather, companies must meet their customers where they are, engaging their heart, before their mind, or their money.
And that's just marketing. Sorry digital and content party-goers, but why change marketing gold?
OR, in the case of TRIX, a fruity rainbow of successful marketing?
It's your turn! Let us know in the comments. Do you agree that all this content/digital marketing hoopla is just marketing? Or do you think it's different?