We Put 200 Students through a Survivor-Style Bootcamp (And 124 Made It Through)
Lexi Rodrigo
No less than 700 wanted to get in.
After a stringent screening process, only 200 went through the doors.
Every two weeks, those who didn't deliver had to leave.
It was a test of commitment, determination, and drive. But only the most steadfast could stay.
"It was a test of commitment, determination, and drive. But only the most steadfast could stay."

Tweet Me
When the dust settled, 124 were left standing.
They survived. They won.
It sounds like something straight out of a reality TV show.
But, no, it wasn't Survivor or The Bachelor or Big Brother.
It was the Business Ignition Bootcamp, a rigorous, six-week training program Mirasee provided—for FREE.

The One Thing Online Entrepreneurs Need… And Nobody Else Is Teaching
The Business Ignition Bootcamp is the only online business education program of its kind.
It's the brainchild of Danny Iny, Mirasee's founder and CEO, after he noticed a gap in the business education of online entrepreneurs.
"A lot of people go through various online business training programs that are tactical and specific. Even if the training is very good, they lack the frame to integrate that knowledge," he says.
It's like the difference between trade school and university, Danny says. Typical online training programs are like trade schools. They teach you to do something specific, whether it's running Facebook ads, copywriting, or marketing on Instagram.
In contrast, universities train you for everything. If you have a degree in business administration, for example, then you're expected to be able to manage any business.
There isn't anything comparable to a university degree for online entrepreneurs. As a result, Danny says, "they don't have the context or the tools to make judgments around what they should be paying attention to and what they shouldn't. There's this fundamental, underlying layer of business knowledge that's lacking."
Could Mirasee fill that gap? Could we deliver that knowledge?
The answer is "Yes!"
We found that out the first time we offered the Business Ignition Bootcamp in 2013.
But it wasn't all smooth sailing back then…
"It Was a Disaster"
Aside from its content, the Business Ignition Bootcamp differs from other online courses in another way: it requires homework and peer reviews. All participants are obliged, not only to complete their homework, but also to review the submissions of their peers—and to do both within deadlines. Those who fail to do so are booted out of the program.
This requires a system for receiving homework, giving feedback, and tracking everything so we know who stays and who goes. Back in 2013, we didn't have the technology to make this a smooth and painless process for everyone involved. Behind the scenes, Danny recalls, "it was duct tape and chicken wire."
This could explain the high attrition rate of the Bootcamp back then, when only about 35% completed the program. In addition, the Mirasee team was under intense pressure to organize and deliver the training. Clearly, we still had a lot to figure out.
We set out to discover if we could.
Sounds Cool, But Why?
That may not make any sense from a business perspective. After all, the Bootcamp is a free program yet it takes tons of staff time to put together. Why do it at all?
We had extremely good reasons for running the Bootcamp again:
The 2013 Bootcamp was an amazing audience engagement experience, possibly the most successful one we've ever done. Since we want to re-invigorate the connection with our audience, it's only logical for us to do what's worked best in the past.
To validate the assumptions we have for some of our future projects.
We intend to change online business education. The Bootcamp would help us test our assumptions about what it takes to do that. Aside from validating the content, we also wanted to see if it was possible to deliver the kind of learning experience we wanted, in a manner that's scalable to hundreds, even thousands, of students. (What are those plans? Sorry, can't tell you. You'll have to stay tuned to find out!)
To connect with future students.
The previous Bootcamp had an unexpected benefit: many of those who joined eventually became some of our best students—even if they didn't complete the Bootcamp. Clearly, it was an excellent way to lay the foundation for more growth and deeper relationships with our audience.
Compared to 2013, we have many things going for us this time:
The Mirasee team is bigger than it was in 2013. This time we have three people dedicated to course content creation and another three IT people. All told, 16 Mirasee team members were involved in the Bootcamp in one way or another. We also brought in two freelancers: Erik Hogan, a video editor, and Veronica Chin, a graphic designer.
We learned a lot from the previous Bootcamp, as well as from every other online course we've ever created and delivered since then. We've even tested different ways of systematizing peer reviews in a number of other programs.
We have better technology.
Web technology in 2017 is light-years ahead of what it was in 2013. We have better tools at our fingertips. Whereas the previous Bootcamp relied on Google Forms, this time we had Gravity Forms, Zippy Courses, Slack, and tons of custom coding, including our very own WordPress plugin.
Given all this, we had loftier targets this time around. We wanted more participants to complete the Bootcamp. A success rate below 50% simply wouldn't be good enough (even though the first Bootcamp fared much better than some university online courses with average completion rates of 4%).
And we wanted the peer reviews to go much more smoothly than ever before. We wanted the process to be painless, not just for participants, but also for the Mirasee staff. We didn't want to spend 10 hours a day sorting things out behind the scenes. Otherwise, it would be unscalable and unsustainable.

An Educational Experiment: The Results
We brought all of Mirasee's strengths to bear on the Bootcamp: not just the team's skills and talents but also everything we've ever learned from the first Bootcamp and all the training programs we've developed. All this shows in the results:
Higher Success Rate
In 2013, 35% of the participants completed the Bootcamp. This time, 62% did.
"In 2013, 35% of the participants completed the Bootcamp. This time, 62% did."

Tweet Me
Quite impressive for a program that required a significant commitment: going through lessons, doing research, completing homework, and giving feedback on other people's homework.
But those who stuck it out received their just rewards: They went away with a solid grasp of business concepts that will help them succeed in any business.
"Thank you for stretching me in the area of business (which generally didn't interest me and honestly intimidated me)," said participant Linda Osmond, "What a wonderful learning and personal growth opportunity."
Better Student Experience
And this time, it was far from duct tape and chicken wire.
"OMG super fun!," Diane Kobrynowicz said about giving and getting feedback from her peers. "The peer review structure is simple and easy to follow. Just get set and go—they are actually very quick to complete, and the system working 100% easy and smooth for me. I'm now actually looking forward to the next assignment!"
Now that's the kind of feedback we like to hear!
And the whole experience was better for the Mirasee staff as well. They were more relaxed and had fewer fires to put out.
Finally, A Peer Review System that Works
After several iterations of a peer review system, we finally have one that works smoothly and does what we want it to do—with minimal frustrations for our students and a reasonable amount of intervention from Mirasee staff.
This is exciting for future online courses. "Instead of once every four years, it could be once every four months," Danny declares, "Maybe it could be 1,000 at a time, instead of 200."
Unexpected Results
And then there were the results we never even dreamed of.
For one thing, the team members involved became experts at the material. "As we develop a better and more interesting curriculum and we become adept enough to deliver it, we necessarily acquire those skills internally," Danny says.
For example, Lizzie Merritt, Mirasee's Director of Education, admits she initially had misgivings about hosting the Q&A calls. But after going through her own intensive training with Danny, "by the time I got to the first Q&A call, I found that I was prepared to answer all the questions that came up, after all," she says. "It's very learnable and very understandable if you just give it the time and effort to figure it out."
But the best results were those involving our students.
"They created additional levels of support we didn't even foresee," Jim Hopkinson, Mirasee's Director of Courses, shares. For instance, some students created Slack channels specific to the homework, so they could share information with each other more systematically. "They did a lot of deep-dive research on their own, uncovering articles and data for their case studies beyond what we provided them," he adds.
The participants supported each other so well that they didn't ask for as much coach support as we had expected.
"People were working together and valuing each other's opinions and helping each other out," notes Hanna Woodside, Mirasee Student Coach. "We were prepared, if need be, to step in, but we didn't have to."
The Struggle Continues…
Which is not to say we didn't have trying times.
Yes, we've gotten much better at this, but challenges seem to be part and parcel of putting together an effective online course.
In particular, we came across four difficulties:
1. Racing Against Time
Between the time Danny announced the revival of the Bootcamp to the day we opened its doors, we had a total of 55 business days to:
write the content for the 3 modules of the Bootcamp
shoot and edit videos
formulate homework for each module
create the Bootcamp website and upload the content
set up the homework submission process and platform
set up the peer review process
test all the technology to make sure everything's working smoothly
promote the bootcamp to our audience
accept and review applications
onboard successful applicants
(I'm sure I'm missing a few other things)
Oh, did I mention we were launching two other courses at the same time?
"It was a crazy few weeks of intense focus," is how Jim describes the challenge of getting the course content ready on time. He spent five straight days pounding out several thousand words a day on his MacBook Air. But he met his deadlines.
2. Teaching Challenging Material
Even though the Bootcamp taught the fundamentals of business, it was far from basic or "beginner-level" business education. Instead, it's the kind of knowledge you'd get in an MBA program: foundational and applicable to all types of businesses, whether online or brick-and-mortar, startup or established, mom-and-pop or Fortune 500.
For Jim, who, along with Danny, was in charge of putting the lessons together, the challenge went even deeper: "A fun challenge was mapping learnings from established business books and then putting our own Mirasee perspective on it," he says. (In case you're wondering, those business books are Getting to Plan B and The Goal—highly recommended reading!)
Jim addressed this challenge by using Mirasee (as well as other businesses) in the examples. He says that, aside from being able to give real-life examples of the principles we're teaching, we were able to show our students that "we're a real company and these principles also apply to us."
3. Overcoming The Curse of Knowledge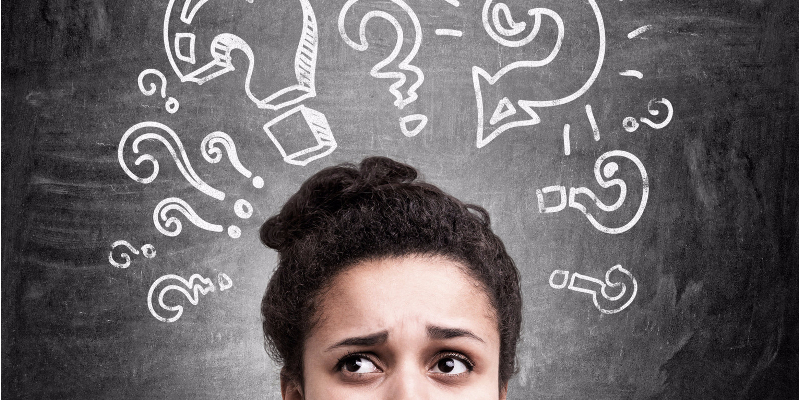 Every teacher experiences this: when you know the material so well that it's impossible to put yourself in the shoes of a complete beginner once again and to teach from their perspective.
Danny himself went through this when we were putting the modules together. "I, like everyone, have a tendency of underestimating the challenge of getting your head around subject matter that I already understand very well."
He thought he gave clear and straightforward directions for specific modules, but when he saw them, he realized that he hadn't. This resulted in a lot of back and forth with the courses team, including getting on Zoom calls with them to talk through the Bootcamp content.
But all that effort paid off.
"That was instructive in and of itself," Danny says. "It was a really valuable added layer, because if the courses team is getting confused, then the students are absolutely going to get confused. Having that extra layer helped us create a much better course."
The rest of the Bootcamp team also experienced the curse of knowledge. They put together what they thought was an intuitive, user-friendly interface, but in a few pages, some participants still didn't know where to click or how to find what they needed. They said, "I didn't know that's what you meant. That's not how I understood it."
4. Slaying the Technology Dragon
Just because we had more technology at our disposal didn't mean it was completely problem-free. After all, the technology is only the tool. Choosing the right tool for the job and using it properly are the bigger challenges.
That was the case for Maureen Lauder, Mirasee's Senior Manager for IT.
"For the peer review," she recalls, "the hardest thing was wrapping my head around what the requirements were, what we actually needed to build, and how we were going to build it."
As it turned out, the technology for the type of peer review system we had in mind didn't exist yet. We ended up having to custom code everything and create our very own peer review plugin.
And then, Maureen had to make sure everything didn't end up a big mess like it did in our previous iterations of peer reviews. This time, she designed a more systematic and rigorous way of testing the system before it went live.
"The problem with that [most recent] peer review was not that it didn't work as intended," she says. "It's that our design of it was flawed, and then we didn't know until we put 300 people in there and it just went all haywire."
No less than 15 Mirasee team members were involved in conceptualizing, designing, and testing the peer review system. "That was designed not just to make sure the plugin functioned properly," Maureen explains, "but to make sure that the way we designed it actually could achieve what we needed it to do."
This time, we knew the system would work—before we let 200 participants into the program.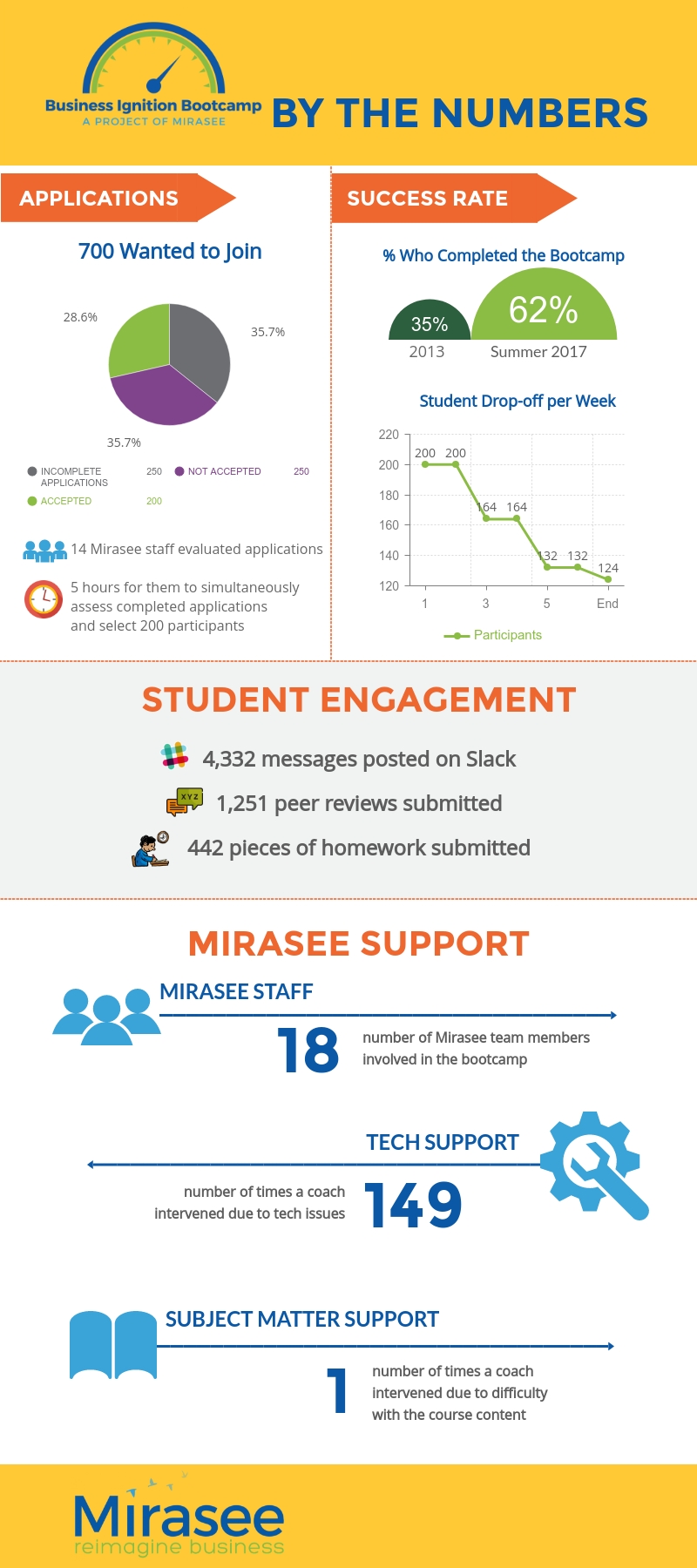 What All This Means for You
By sharing some of the behind-the-scenes of the Bootcamp with you, we hope you'll be inspired to launch some of your own online course experiments. As you've seen, even when the course is free, it can be worthwhile in the long run.
What can you learn from the Bootcamp?
Dare to do something scary. Sometimes, like Danny, you get an idea that's so bold and so new that it terrifies you. Go for it. It won't be easy. It will take a lot of work. You'll have your own duct-taped disasters, but the lessons you learn will be worth it and will bring you closer to your vision.
Work with others. If there's one theme running through our experience, it's teamwork. We've gone this far only by working together, sharing our strengths and talents with each other, and helping when we can. The same can be said of the bootcamp participants, who collaborated with each other even without the promise of rewards. If you don't have your own team, seek the inputs of family, friends, mentors, and other entrepreneurs. (We're strong believers of masterminds.)
Have a plan. We didn't bring back the Bootcamp just for the fun of it (although that was partly the reason). We did it because it served our long-term business plans. In the same way, let your long-term plan be your north star, helping you navigate the speed bumps and detours of your entrepreneurial journey.
The Business Ignition Bootcamp Summer 2017 was a success, but Mirasee doesn't rest on its laurels. We want to keep making it better. We'd like to see even higher completion rates, fewer tech glitches, a more user-friendly course website, and even more committed participants.
Joey Gourdji, the Bootcamp's project manager, says they plan to "look at the areas where students had difficulty getting through their homework or peer review, and then tighten those areas up," she says, "Everything worked well, it's just a matter of looking at what could work even better."
And you can be the judge of that.
Do You Have What It Takes to Survive?
"Do you have what it takes to survive the Business Ignition Bootcamp?"

Tweet Me
If you would also like to have a solid understanding of the fundamentals of business, one that will help you identify sound business models, evaluate strategies and tactics, pinpoint the weak areas of your (or any) business, and determine which area to work on to make any business more profitable, then get ready because…
We're opening the Business Ignition Bootcamp again!
It takes a very special entrepreneur to get accepted into the Bootcamp and to successfully complete it.
Is that you?
If you want to find out, then apply to the Fall 2017 Business Ignition Bootcamp. We're accepting applications starting today, September 25th. Set aside at least 20 minutes to complete the application, so you can submit thoughtful answers. We will go through each and everyone to find the ones who are most likely to succeed.
What do you think? Are you inclined to challenge yourself in the Bootcamp? If you've joined the Bootcamp, either recently or in 2013, what was the experience like for you? Do share!
Find a Sellable Topic for Your Online Course!
Get this primer and learn our process for identifying a viable topic for your very first online course.