7 Creative Assets You Need To Promote Your Online Course
Tiffany Ruder
An online course is a great way for creators to monetize content, for service providers to diversify their revenue, and for people with any kind of specialized expertise to build a side business. They are ideal for anyone with a skillset that's in demand or with knowledge that people are eager to acquire.
Running online courses can be a business in itself, or it can be a way to promote your content, boost your authority, and build your audience. But succeeding requires more than creating an awesome course – it also depends on raising awareness among the right audience, forging trust, and keeping the momentum going with savvy marketing.
There are a number of ways to promote your course, but they all require content and creative assets that you'll share on different platforms and communication channels. Here are seven assets you really need to successfully market your online course.
1. Videos for Social Media Ads
Video is one of the most powerful content types around, with 89% of consumers saying that they've bought a product or service because of the brand's video. As a course creator, it's a good idea to develop a short video that highlights the key points of your course, to create excitement and generate interest.
Don't worry – you can easily produce this using a video editing tool like Videoleap to cut and combine clips from the course content you've already prepared. Videoleap offer loads of additional content like stickers, filters, transitions, sound effects, and fonts, and everything else you need to make an engaging promotional video. You can also take advantage of the wide range of high-quality After Effects templates available online to create a professional-looking promotional video quickly and easily.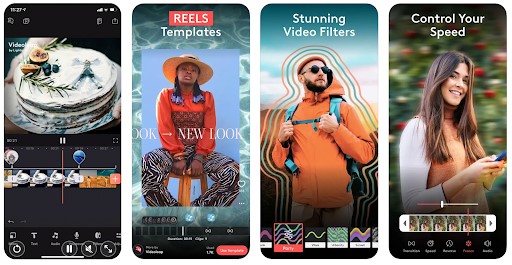 What's more, the app has an extensive community of users who often post their creations as reusable templates, which you can browse by category, so creating a video promo is as easy as finding a relevant template, plugging in your lesson excerpts, and adjusting the titles.
2. Testimonials from Previous Students
We're social beings by nature, so we feel more confident about buying anything new to us if someone else has tried it first. That's why testimonials are so important, especially if they're from someone we know and trust.
For this reason, we recommend contacting previous students to ask them to record a video testimonial or write a review of your course, and then showcase them on your website and social media channels to build trust and credibility.
Make sure to request permission to use their real name and, if possible, their headshot or social media profile image – it adds authenticity.
3. Images and Graphics
Before you start your marketing campaigns, build up a store of eye-catching graphics and visuals that highlight key points and benefits of your course.
Draw on these for your emails, social media posts, and other promotional content to help attract attention and make your course stand out.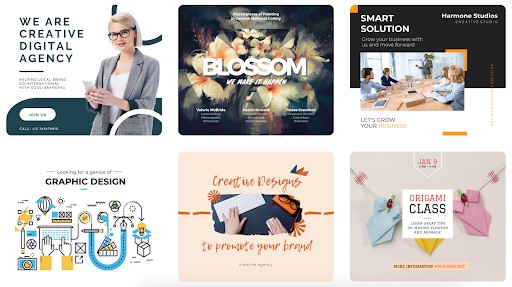 A tool like VistaCreate makes it easy to create image posts with key quotes and takeaways that people will want to share. The platform includes plenty of free templates, and intuitive editing tools so that even design klutzes can produce impressive images.
4. Landing Pages for Potential Students
Every marketing campaign needs a well-designed landing page with short, relevant forms that are quick to complete. Depending on the platform you use to build and distribute your course, you likely have access to templates that are easy to customize and have already been optimized to maximize opt-in conversions.
Effective copywriting is crucial when it comes to convincing potential students to enroll in your course. It grabs the visitor's attention with compelling headlines and outlines their pain points in a way that resonates with the reader and makes them feel like your course can solve their problems. Powerful copywriting presents the ways that your course will make their life better, and encourages them to take action to benefit from your offering.
You can also incorporate other creative assets like video clips and testimonials into your landing page. Include a summary of the course content, briefly mention the impact of your course, and share vital details like pricing, teaching medium, and course duration and frequency.
5. Social Media Posts
Nothing spreads the word better than engaging social media posts. Exercise your copywriting skills to produce compelling captions for your images, and hashtags that catch on with the crowd.
It's best to combine different types of media, like image posts, video posts, and relevant curated content from other accounts. Of course, the types of posts you create will also vary depending on who your audience is.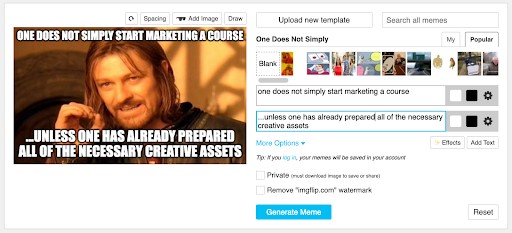 For example, if your target audience consists of Gen Z and Millennials who love memes, you might want to use a meme generator like Imgflip to create original memes that reflect the zeitgeist while communicating the benefits of your course.
It's also important to keep in mind that in order to get the most impact from your social media posts, you'll need to have a strategy behind them. Check out this post to learn how to develop an effective social media strategy.
6. Enticing Copy for Nurture Emails
Targeted, well-crafted marketing emails are still among the most effective ways of converting new customers. They should ideally be tailored to different segments of your audience and personalized, because this is a key part of their appeal.
When developing emails, write copy that communicates valuable information about your course, and keep it short and to the point. Key elements of effective email copywriting include a concise but captivating subject line, persuasive language with emotional triggers to create a sense of urgency, and a clear call to action at the end. Avoid jargon and confusingly long sentences, and make sure to include social proof like testimonials to build trust.
Also include other assets like video clips together with your carefully-worded text when appropriate.
7. Infographics
Informative infographics that highlight key data related to your course topic can help establish your authority as a subject matter expert. They also make it easy for people to understand trends and statistics, and are highly shareable, which helps spread the word about your course.
You can embed these on your blog and share cropped versions, showcasing different sections, in your email and social media promotions.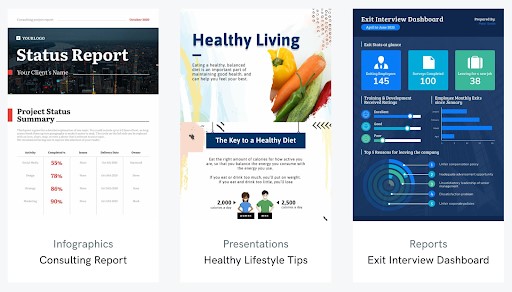 Tools like Piktochart simplify the process of producing impactful infographics from your top content, so it doesn't have to take hours. As an added bonus, your marketing infographics can be used in your course content as well.
The Right Assets Can Make or Break Your Online Course
The right creative assets play a major role in getting your online course before the right eyes, and converting people to paying customers and returning learners.
Powerful creative assets are the building blocks you need to put together an effective marketing campaign. All these elements work together to capture people's attention, communicate the information they need to know about your course, and encourage them to visit your website and sign up as your new students.
So what are you waiting for? Start building your creative assets today, and soon you'll be well on your way to successfully marketing your course!
Want to learn more about creating and promoting an online course? Then you might want to consider enrolling in our Free Hybrid Courses Bootcamp. It's totally free to join, takes just a week to complete, and will help you to lay the foundation for creating and selling successful online courses.
Let's Start Building Your Online Course!
In our FREE Hybrid Courses Bootcamp, we'll walk you through how to transform your knowledge and expertise into a profitable online course… one your students will love.