The Ultimate Udacity Review for 2023 (Features, Pricing & More)
Matthew Turner
Updated by Tara Malone
If you want to build an online course but you're unsure if you have the time to do everything yourself, we may have the perfect online course platform for you.
This platform allows you to create a course with a team of experts to help you every step of the way. It lets you showcase your skills and focus your time and energy on teaching. It's different from many of the online course builders we share on this site, but that may be good news for you.
What is this unique platform? Udacity.
After reading this Udacity review in full, you'll know whether it's ideal for you.
What is Udacity?
Udacity is designed for those wishing to get hired by some of the world's largest tech companies. Considered an alternative to tech bootcamps and in-person events, Udacity offers self-paced learning that's intended to supplement traditional education.
It's a very specific online course platform, focusing solely on the tech industry:
Data science
Artificial intelligence
Programming
System creation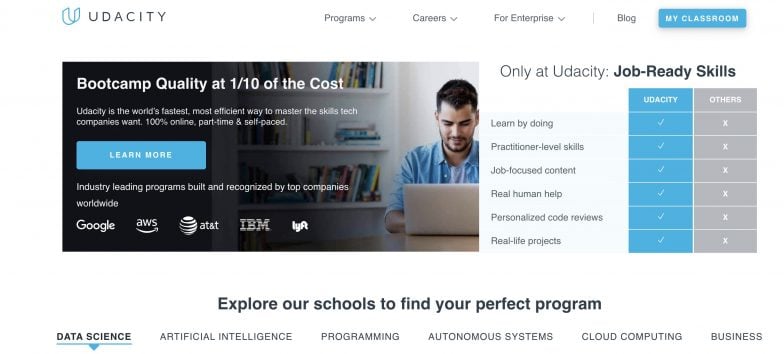 Udacity is NOT an open platform that anyone can join. You must apply to become an instructor, and it's not necessarily easy to get accepted. That's because Udacity seeks established industry professionals that have worked at Fortune 500 organizations or owned their own successful tech businesses. 
If you qualify though, Udacity provides you with many perks.
Udacity Pricing
The way you earn money through Udacity is completely different from most other online course platforms. You're paid based on your experience rather than the number of courses you sell. It's more aligned with how colleges pay their professors, bringing the traditional learning model online.
The ceiling is lower compared to other platforms where you potentially earn much more, but it does offer greater security and gives you more time to focus on teaching rather than marketing and sales.
At Udacity it doesn't matter how successful and popular your courses are. You're compensated based on your skillset, demand, experience, and authority.
You're paid regardless of how popular your courses are.
So long as you fulfill your role, you're compensated accordingly.
It's an interesting comparison to platforms like Udemy and Skillshare. For some, it's the ideal relationship. For others, not so much. If you think it may be what you're looking for, read on to learn how to apply to become a Udacity instructor.
How to Become an Udacity Instructor
Udacity is looking for experienced professionals who can teach their talented and already well-educated students. It's a program many people don't get accepted into, so the sooner you apply to become an instructor, the better.
To start off, you must first create a new Udacity account: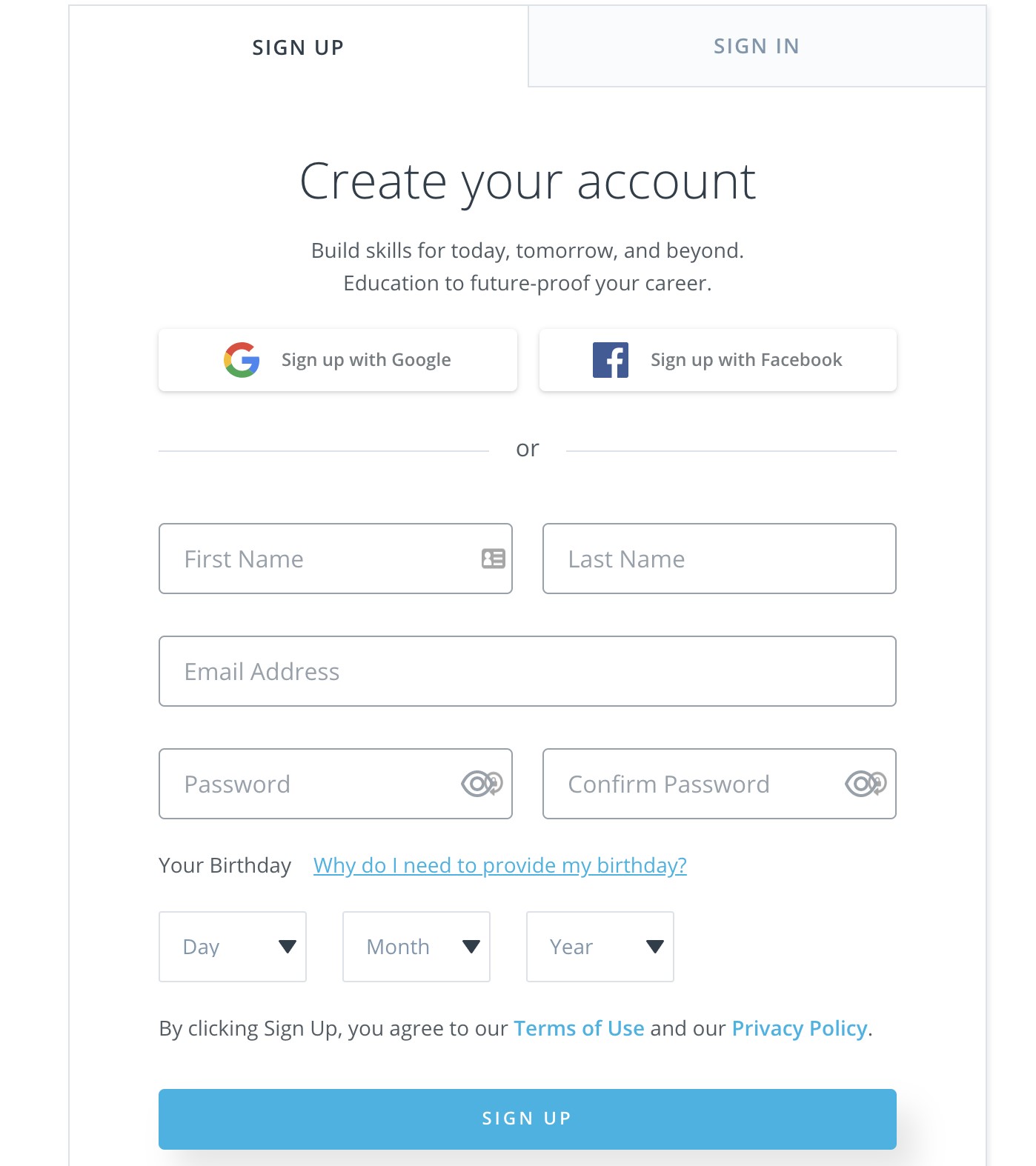 Step 1: Start Your Application
Once you're signed up, you'll automatically get redirected to an application page so you can begin the process. You must complete a few essential details such as your name, email address, and the company you work for/own.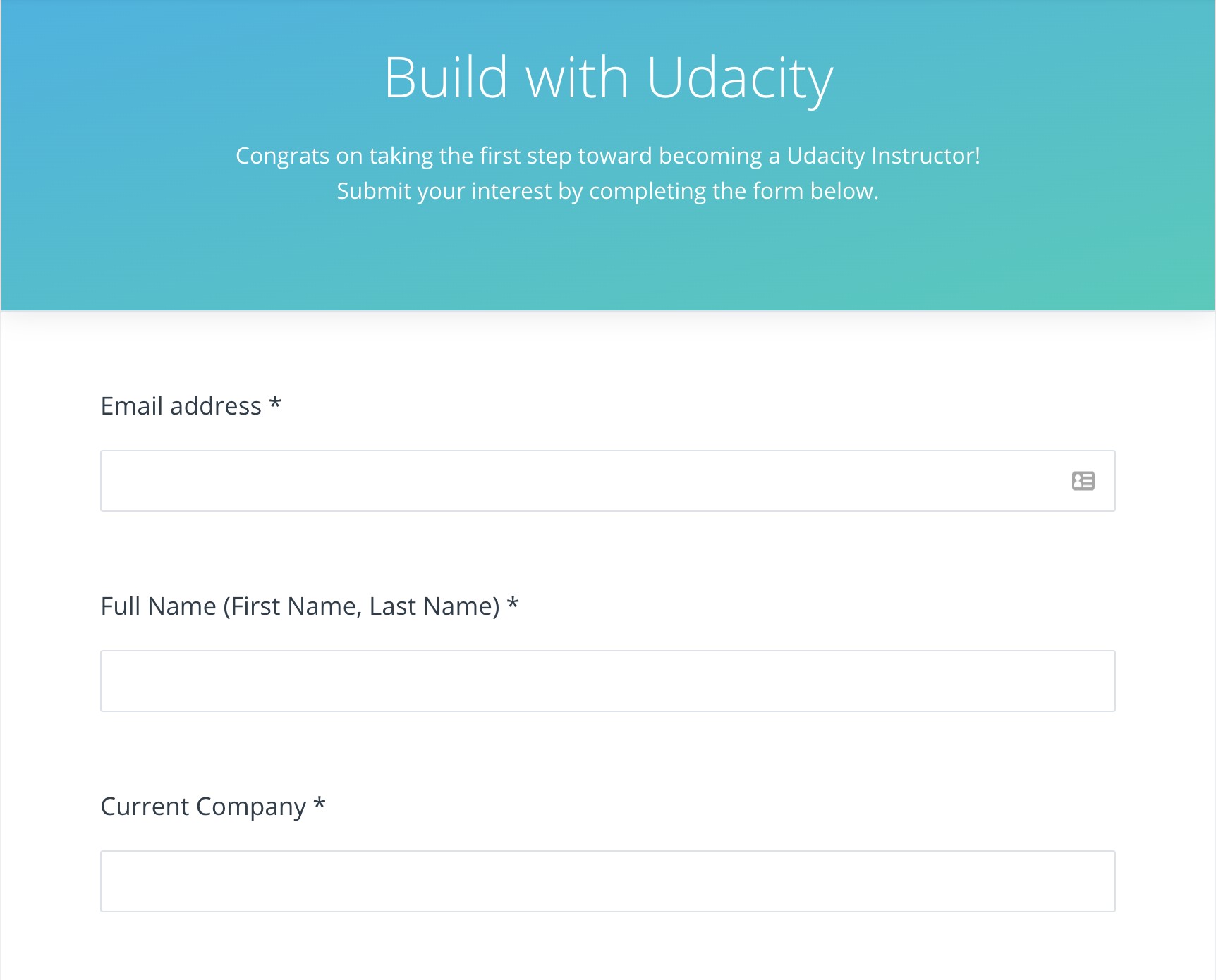 Step 2: Provide Your Employment Details and Credentials
You're then asked to fill in your role at your company as well as a link to your LinkedIn profile so they can verify what you say. 
You then link to a shareable document (Google Doc, Dropbox) that acts as a resume for your past work, projects, and accomplishments. This is where you must highlight your expertise and authority, so you'll need to create a comprehensive resume that showcases everything you have to offer.
Finally, you must state whether you have any legal or immigration-related limitations.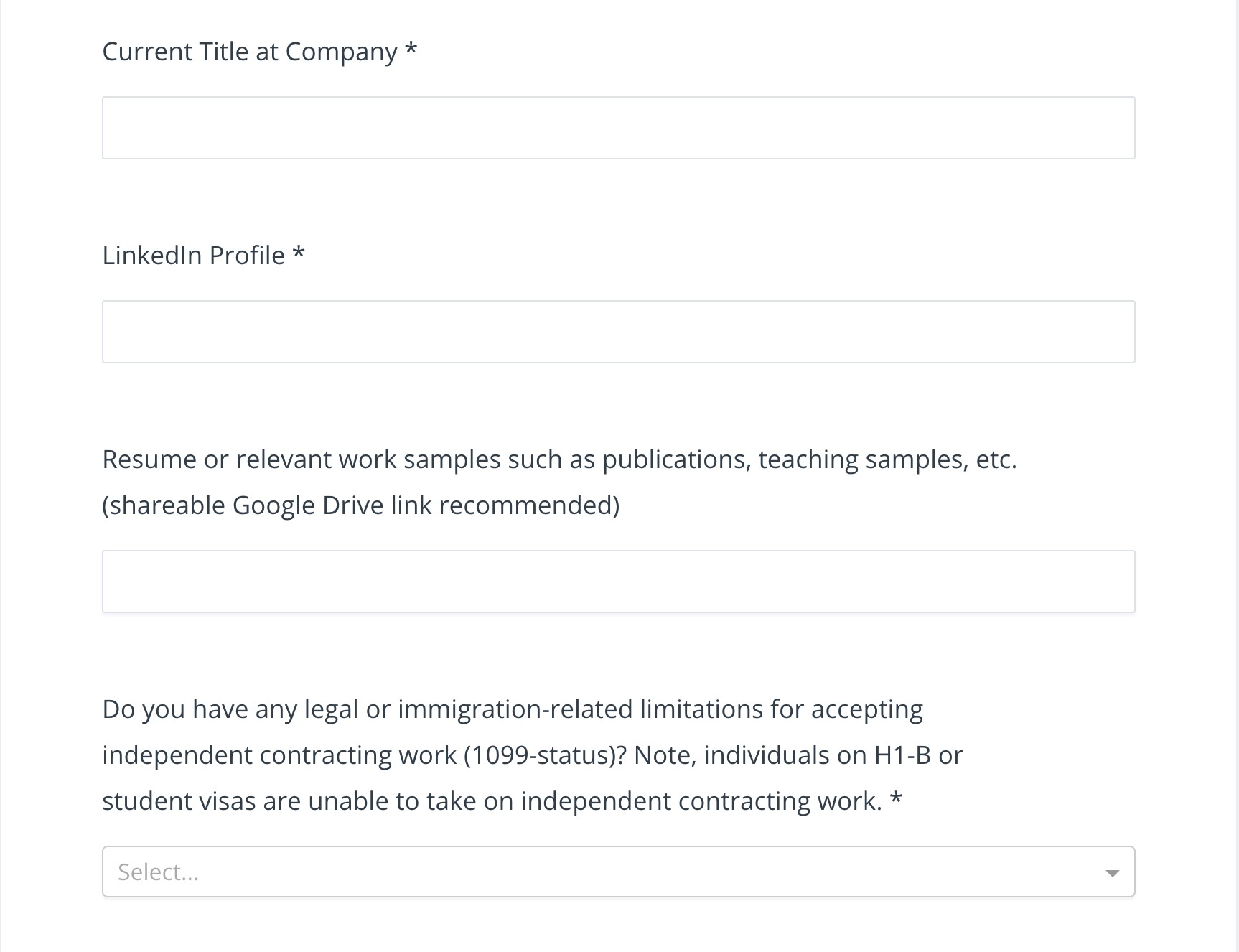 Step 3: State Your Availability
Next, you need to state how many hours you can commit to each week. Overall, they expect most instructors to work at least 7 to 10 hours per week. The more you're able to focus on their students, the more likely you are to get accepted.
They also ask if you've taken an Udacity course before.
It's not essential to have done so, but may improve your chances.
Finally, you must specifically discuss your previous teaching, coaching, and education experience. It isn't essential that you've had prior teaching experience, but it does help your cause. 
Ultimately, your application is based on your expertise and industry experience.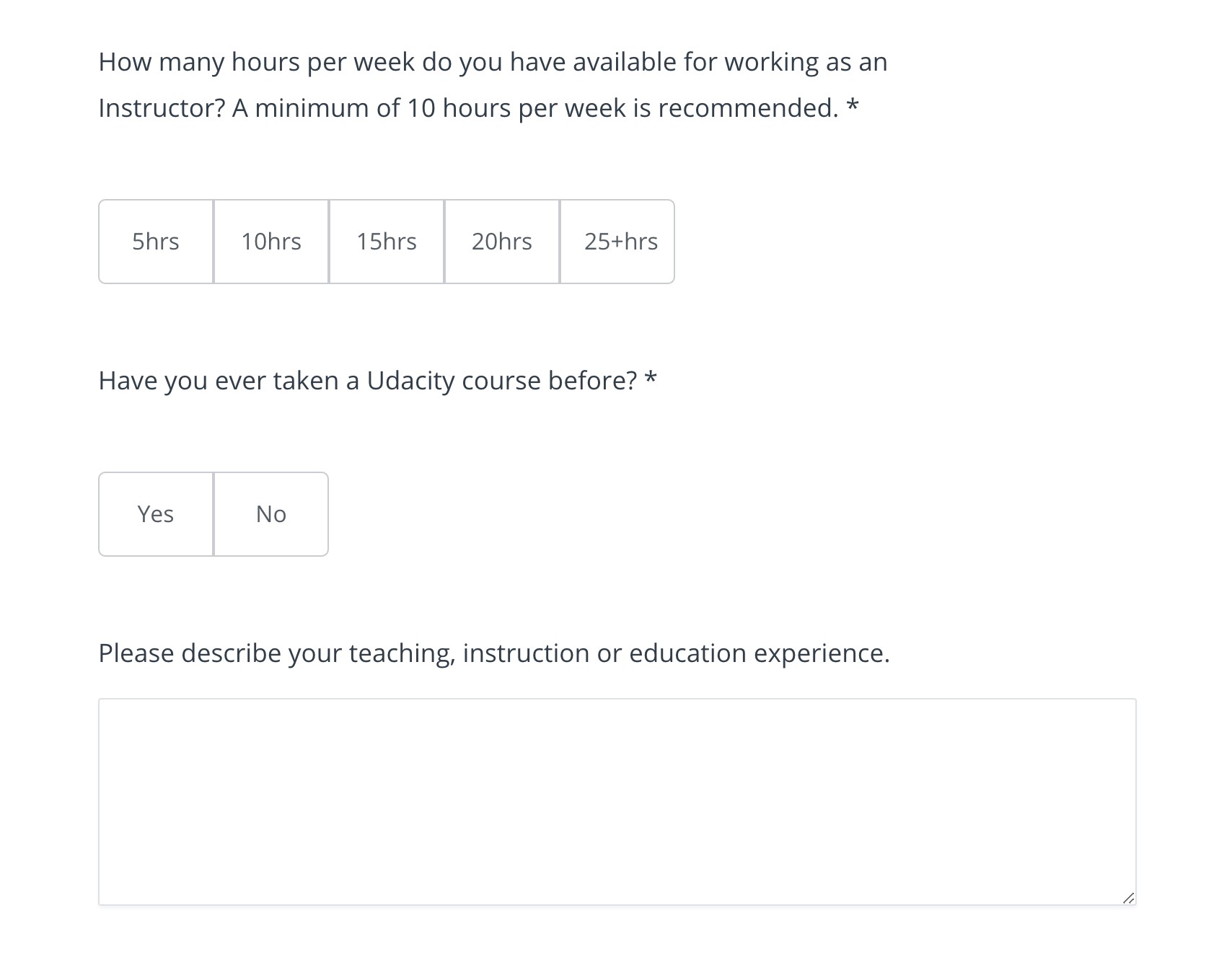 Step 4: Select Your Areas of Interest
At this stage, you must tick the subjects you are interested in teaching. These must align with your experience and background, so only choose those you have relevant knowledge of.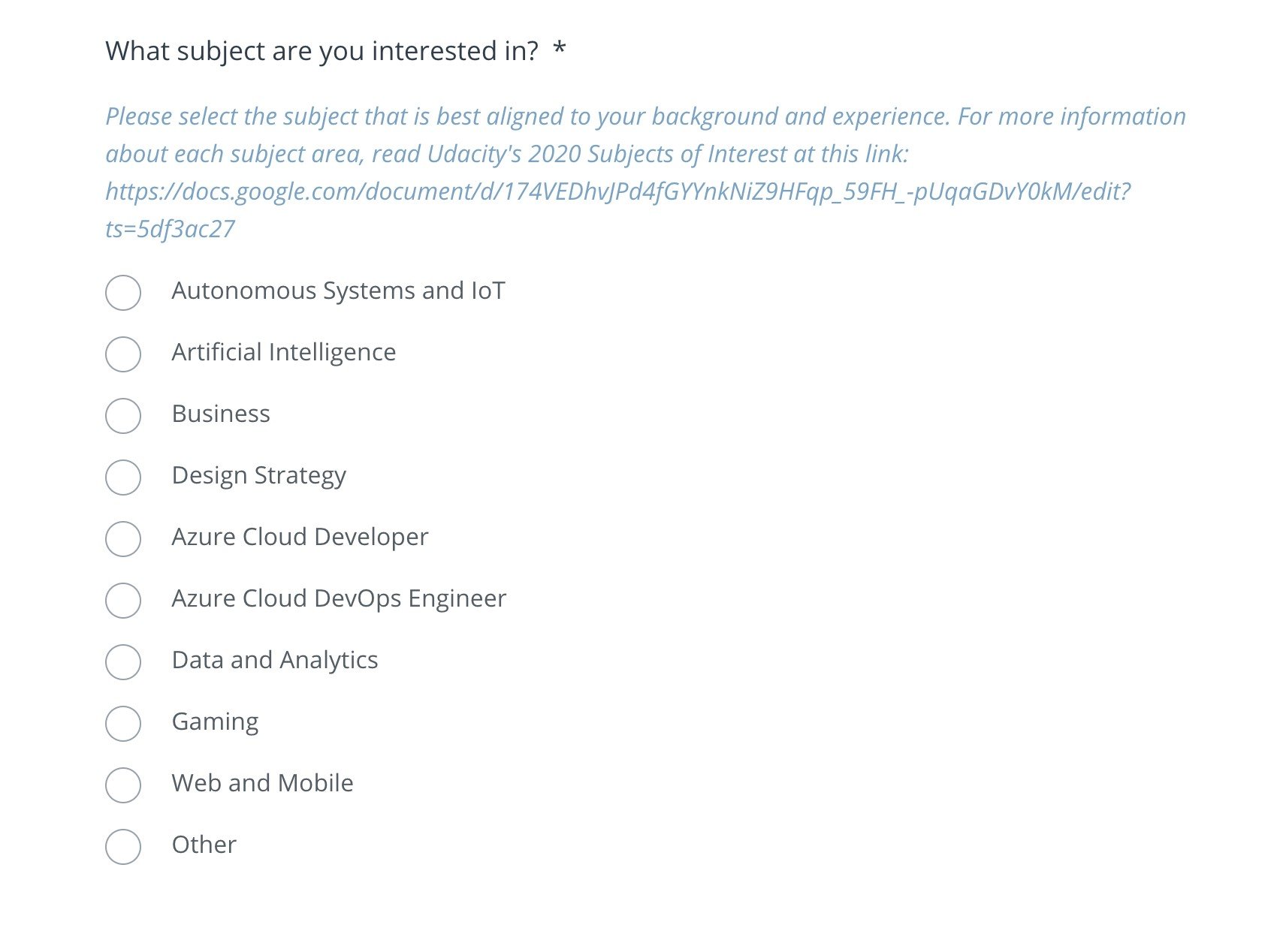 You must then explain the types of topics you would like to teach for each of the categories (or schools) you have chosen. For instance, if you ticked "Business", you may go into further detail by explaining how you can teach: Marketing Strategy, Financial Forecasting, and Business Plan Strategy.
Step 5: Explain Why You Want to Become an Instructor
Finally, you must rate how important each of the following areas is to you:
Career Development & Advancement
Giving Back to Students & Your Field
Growth in Pedagogy & Education
Financial Incentives & Awards
Professional & Personal Branding
This helps Udacity know why you want to become an instructor.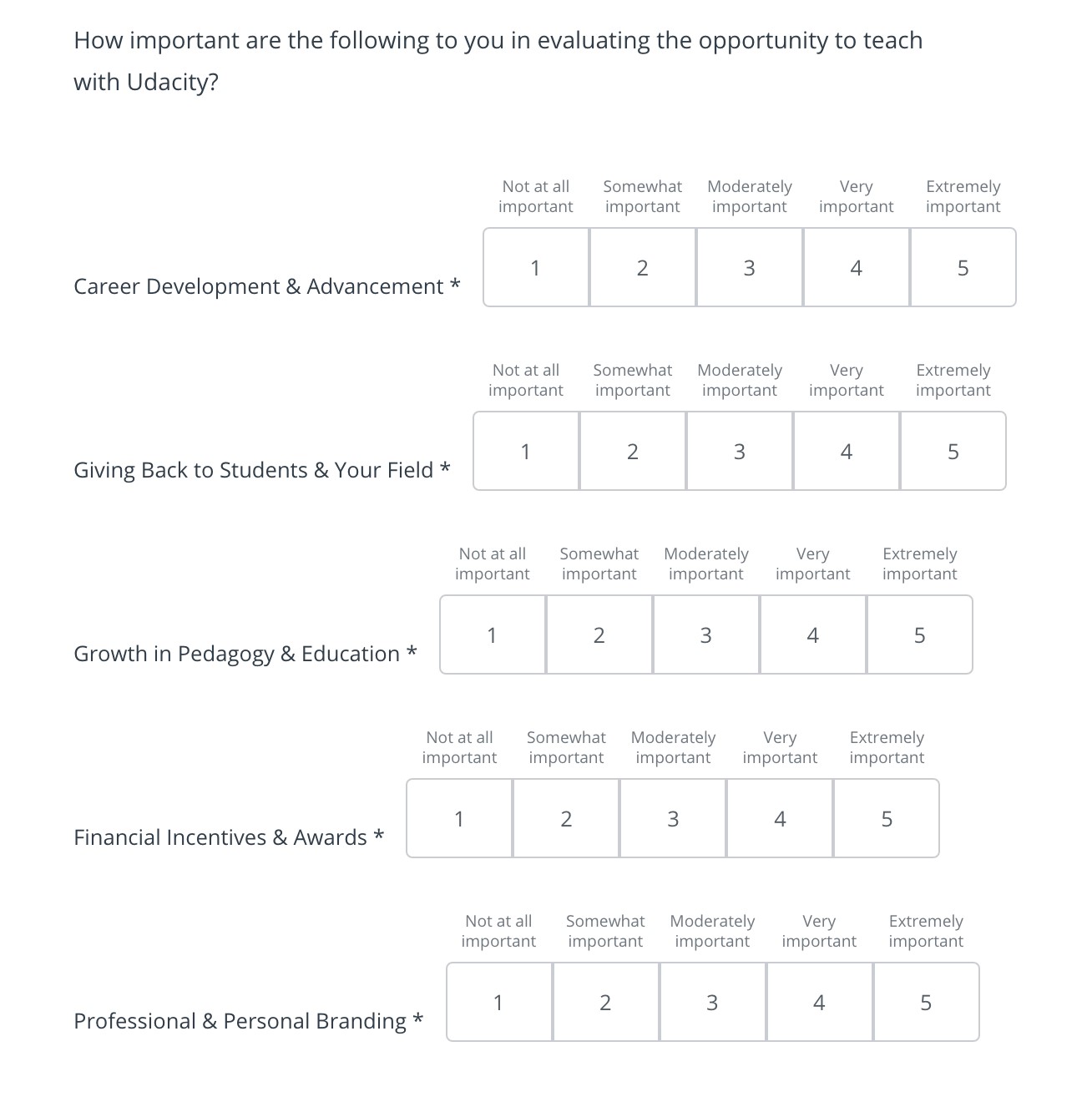 You're now ready to submit your application and wait to see if you're successful. It's a very different process to most other online course platforms, and if accepted, they walk you through HOW to create your course in person.
You'll work with a dedicated member of their content team, as well as other members of Udacity with specific skill sets such as video production, editing, and user experience.
It's an interesting platform that offers unique features to both their instructors and students, as well as several compelling benefits you may like to experience yourself
Udacity Features and Benefits
Udacity provides many features and benefits to both their instructors and students. Some of the standout ones include:
Support: You get a great deal of support from the Udacity team to help create your course.
Udacity Content Team: You continue to have full access to the Udacity Content Team even after your course launches.
Udacity Mentors: Udacity Mentors are available to help both you and your students, releasing some of the burden from your shoulders.
Remote Working: You're able to work remotely at all times.
Annual Retreat: Each year, you're flown out to California to film content at the Udacity production studios.
Pay: You're paid based on your experience rather than the number of courses sold.
Marketing and Sales: For the most part, Udacity takes care of all marketing and sales (all you have to do is focus on content creation and teaching).
Collaboration: You get to collaborate with other Udacity Instructors, who are also experts in their fields.
Student Success: You get to work with some very talented students who go on to work at some of the world's largest companies.
On-Hand Developers: There's a wide selection of course features available to you, and developers who can help you build the course you need to.
As an Udacity instructor, you truly do get help each step of the way. You're set up for success, allowing you to focus your time and energy on your students. It's not an ideal platform for all, but for some, it makes the most sense.
Udacity Review: Pros and Cons
As with any online course platform, Udacity comes with the good and the bad.
It's important to appreciate what these are before you make your decisions, so here are the main pros and cons of the Udacity platform.
PROS:
Verified certificates for students who graduate
A wide range of courses designed with the tech industries in mind
A simple, user-friendly design that caters to both students and instructors
High student success rate, both in graduating the course and finding high-quality employment
Strong mentor support for instructors, as well as access to a dedicated content team
CONS:
Limited language support for both students and instructors
Not the best "engagement" tools, such as forums and discussion threads
Overall, a lack of community and classroom learning
No dedicated Udacity app
An expensive platform for students and a tough one for instructors to get accepted into
Udacity is the ideal platform for course creators that don't want to get involved in marketing and sales, and those with a lot of experience in the tech fields. However, the decision you make isn't just about you, but rather the students you will teach and how you can best serve them.
Is Udacity Worth it for Students?
Udacity prices most of its courses at $399+ per month, with the duration of each course differing. They do offer some free courses, yet these are not accredited and not what most of their students need. 
As such, Udacity is the more appealing option for young professionals who are very focused on the type of career they want. It isn't ideal for students still exploring their options.
It's largely focused on the tech industries and appeals to those that have already gained prior degrees or experience in these. It's not a good platform for beginners, as they may find themselves getting left behind.
Finally, Udacity isn't renowned for community or group learning. A lot of a student's experience will be on their own, working in their own time and then with you, as the instructor.
So, is Udacity worth it for students? That depends on the student.
If they're focused on their career and know what they want from it, Udacity sets them up for success. They're guaranteed to get high-quality guidance from experienced instructors, as well as a foot in the tech industries.
Is Udacity Worth it for Course Creators?
As a course creator, there are a few things to consider before applying to Udacity:
1. Time Commitment
How much time can you commit to your online course?
With a platform like Udacity, you're expected to commit at least 7-10 hours per week for as long as you're part of their program. This doesn't only include creating content but continuing to teach students as they progress.
2. Income
Another important aspect to consider is income (not only how much, but how passive you want it to be).
Udacity doesn't provide a good source of passive income. You have to continue to work on your course, and you're unable to outsource any coaching or mentorship like you may choose to do with other online course platforms.
Still, if accepted into Udacity, you're guaranteed a salary. So it comes down to what you're looking for in terms of income, and how risk-averse you are.
3. Marketing
Do you enjoy sales and marketing? Are you good at it?
If you don't, Udacity may be the platform for you.
Their team takes care of everything, leaving you more time to focus on your content.
4. Experience
Finally, it's important you consider how much experience you have in your industry. Not just experience in terms of years, but success and authority that you can back up with proof.
Are you considered a leader in your field?
Have you appeared in multiple, highly credible publications?
Have you worked your way up the ladder (or built a successful business)?
Udacity only wants experts. If you don't fit this bill, you'll struggle to get past the application.
Udacity Review: Is It the Right Choice for You?
Is Udacity worth it? It really comes down to what you're looking for.
It offers a lower ceiling than many other online course platforms because you're limited by how much you can earn. You won't create a passive income stream if you become an Udacity instructor. You won't get the freedom to necessarily create the course you want to.
But if you're an expert who simply wants to teach, it could be what you're looking for. Guaranteed a salary, you can focus all your time on your students. With just 7 to 10 hours per week, you too can become a valued part of the Udacity team.
So take your time to weigh the pros and cons, and soon you'll be able to determine if Udacity is right for you.
Want to learn more about the online course creation process? We invite you to enroll in our Free Course Builder's Bootcamp so you can set yourself up for long-term success.
FREE Course Builder's Bootcamp!
In just 6 days, learn all the essentials to create a successful online course!