10 Teachable Alternatives for 2022: Udemy, Podia & More
Lyn Marler
Looking to uncover some of the best Teachable alternatives?
You've come to the right place.
Whether you're a veteran course creator or shopping around to create your first course…
You must create a course your students LOVE, or you'll look like an amateur.
You know that your platform choice will have an impact on your course success.
Not to mention your bottom line…
Plus, I'm sure you'd like to be part of this growing $325 billion industry.
So here's what we're going to do.
First, we'll run through Teachable's bells and whistles (and identify some places where they fall short).
Then, we'll pull back the curtain on ten Teachable competitors.
Sound good?
Let's go…
What are Some Teachable Pros and Cons?
Teachable pledges to help you " transform your knowledge and know-how into a thriving business." Their 100,000 instructors have earned over $500 million in revenue so far.
They offer four membership plans geared to different kinds of course creators: Free, Basic ($29 per month), Pro ($99 per month), and Business ($249 per month).
Now let's take a quick look at some Teachable pros and cons.
Pros:
Easy-to-use course builder with no tech or coding skills needed
Unlimited courses and students
Paid plans offer access to communities for students and teachers
Business plan gives you functionality for 20 administrators
Integrated email marketing
Integrated tracking system for clicks and sales
Free Teachable offers a solid starter kit with no time limit
Zero transaction fees with higher plans
Cons:
Caching can be slow
Customer support is often reviewed as "terrible"
Platform is often down for maintenance
No marketplace and no inbuilt student buyers
Courses certificates limited to higher plans
No white-labeling so your students see the generic "Teachable" login
Not mobile-friendly
Key takeaways: Teachable courses are versatile with easy set-up, but the teacher and student experiences are lacking, as are some marketing tools.
The Best Teachable Alternatives for Your Online Course
Not sure if Teachable is the best platform for your online course? Fear not, because there are plenty of other sites like Teachable for you to choose from!

Here are some of the best Teachable alternatives for your online course (listed in no particular order). Let's take a look at what each platform offers, along with the pros and cons of each.
1. Thinkific
Thinkific, like Teachable, is a robust course creator. This platform works best inside the USA for course sales.
They offer the following six membership plans:

Pros:
Powerful course builder with no tech or coding skills needed
Flexible learning experience includes live lessons, videos, and assessments
Interactive community groups to share ideas, inspiration, and strategies
Sizable reference libraries for course creation and marketing
Excellent customer service and contact options
Mobile friendly
Paid plans have zero transaction fees
Free plan has no transaction fee for selling your first course
Here's a look at the step-by-step course builder on the Thinkific platform: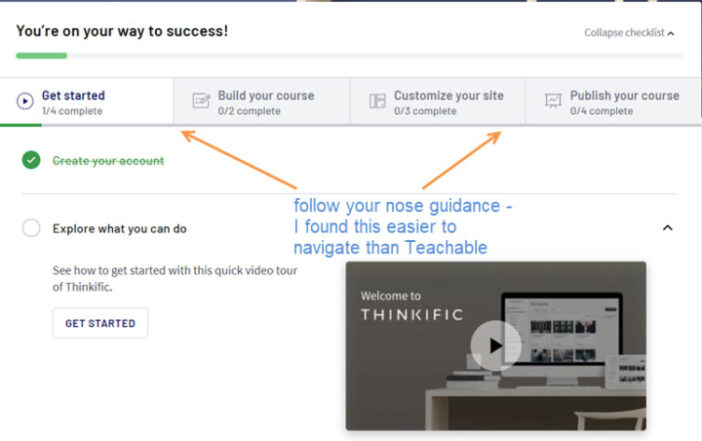 Cons:
Limited size and type of videos you can upload
Video feature can be unreliable
No email marketing tools or funnel building
Payment systems can be problematic outside the US
Key takeaways: Thinkific vs Teachable? They're both effective course creators, but Thinkific has a better user experience for instructors and students.
2. Kajabi
Kajabi is a dynamic all-in-one course creation and marketing platform.
They offer three membership plans:

Pros:
Intuitive course builder
Full branding and blog features
Quality video hosting
Inbuilt sales pipeline tools including landing page and funnel creation
Has smartphone applications
Affiliate marketing (selling added digital products like e-books)
14-day free trial
No transaction fees
Excellent 24/7 customer support
Cons:
Kajabi's inbuilt email system isn't user-friendly
No completion certificates in any plan
Interface is not as easy to use as other course builders
No support for EU VAT (European tax)
Key takeaways: Although Kajabi has an all-in-one approach, serious course creators may find they prefer to use some outside marketing tools. Also, when comparing Teachable with Kajabi for ease of use, reviews show Teachable is easier to learn, while Kajabi offers more customizable options.
3. Podia
Podia gives you the advantage of adding some personal touches and sales opportunities.
They offer three membership plans:

Pros:
Easy setup with no code or tech skills needed
Personalization of storefront, landing pages, and courses
Affiliate marketing residual income selling digital products
Ability to set up and host your own community
Integrated email marketing
Great 24/7 support
Can migrate information from elsewhere
14-day free trial includes "Shaker" plan functionality
No transaction fees
Here's the simple choices page that appeared when I signed up for a Podia trial:

Cons:
Built-in analytic and reporting tools aren't as effective as other platforms
No mobile applications
They invoice EU VAT, an extra accounting step
Only accepts payment via "Stripe" payment system
Key Takeaways: Podia is worth checking out if you want a unique touch. Also making a residual income from affiliate marketing works well when your site is personal.
4. Udemy
Udemy is a HUGE course creation and marketplace platform with no membership fees, which means its business model differs from Teachable's.
The platform makes money from two kinds of commissions:
Instructor coupon: instructor pays 3% of course cost to Udemy
Organic sale: 50% split with Udemy
Here's a screenshot of a course I completed using Udemy. The instructor, Jeremiah, recorded videos of his lessons with PowerPoint visuals which he uploaded to the platform: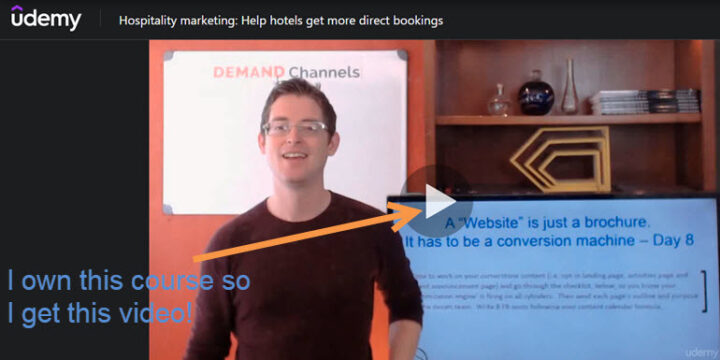 Pros:
Udemy's marketplace has over 8 million students as prospective buyers
Easy-to-use course template for content upload
Google often favors Udemy with high rankings so courses get noticed
Extensive self-help library and good email support
Courses can be video, text, or audio with in-depth quizzes
Course completion certificates
Cons:
Course ratings from students help drive your sales, but getting five-star reviews can be challenging
Udemy can slash course prices in "store-wide sales"
No personalized branding
Key takeaways: More than half of your course must be presented in video format. So, if that's how you'd like to teach, Udemy's a great option.
5. LearnDash
LearnDash is a WordPress plugin. So, you can add their course creation functionality to a website that's up and running, or to a brand-new website.
They offer three license packages:

Pros:
Full control over customization
Unlimited courses and students
Ability to build advanced quizzes
Course forum creation
Drip feed lessons
Achievement certificates and badges
Advanced course quizzes
30-day money-back guarantee
Here's an example of how to easily access the plugin on the dashboard when you download LearnDash to any WordPress site: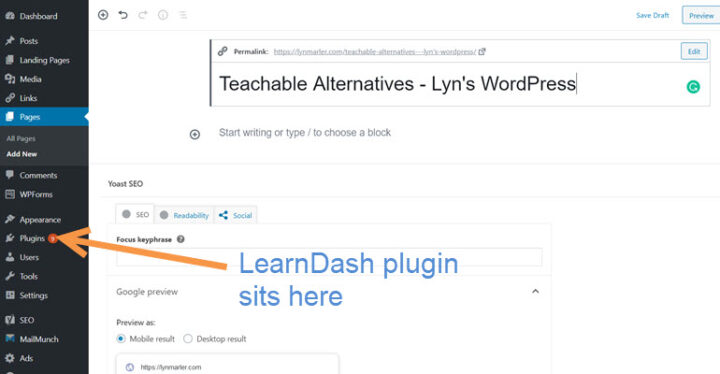 Cons:
Cost of customization can be hefty
Not for tech greenies
Maintenance costs aren't included
Hosting fees cost extra
Key takeaways: LearnDash is for course owners who want complete control. For course creators who are WordPress savvy, or have the cash to pay for tech, you'll be able to create unique, high-end courses.
6. LearnWorlds
LearnWorlds is a highly interactive course creator that doubles as an all-in-one marketing solution (well, almost).
They offer four membership plans:

Pros:
Interactive focus that benefits students
Learning Center plan offers video transcripts and subtitles (the only platform I found that offers this)
Custom mobile app
Customizable branding including domain
Ability to create your own community
Affiliate marketing features with upselling and cross-selling
SCORM and HTML5 support
Advanced analytics
30-day satisfaction guarantee
Cons:
Limited integration with other tools
Starter and Pro Planner only offer email support
No student marketplace
Key Takeaways: LearnWorlds packs features that benefit the student with a next-level experience. Plus, it offers loads of customization for instructors. Also, many users say that they pay extra for an outside email service provider for their marketing.
7. Academy of Mine
Academy of Mine is a popular choice for small to medium-sized businesses to create in-house training. Also, their platform works well for independent course creators.
They offer three membership plans:

Pros:
Support runs 24/7, 365 days a year
On-demand Learning Management System team provides customization and development
Easy customization of text, PDF docs, video, audio, and more
Superior automation so your course virtually runs itself
Easy to manage your students and upload assignments
Ability to package courses for special promotions
Allows for upload of SCORM files
Integrated customer relationship management (CRM)
Cons:
Reference library for course building guidance could be better
Interface takes a while to master
No inbuilt marketplace
Key takeaways: Academy of Mine stands out as a high-end all-in-one platform for course creation, student experience, and course marketing.
8. Teachery
Teachery works for instructors who want to create courses for "self-taught" students. If you're looking for warm and fuzzy instructor/student interaction, Teachery isn't for you.
The Teachery platform's simplicity reflects in their membership plans: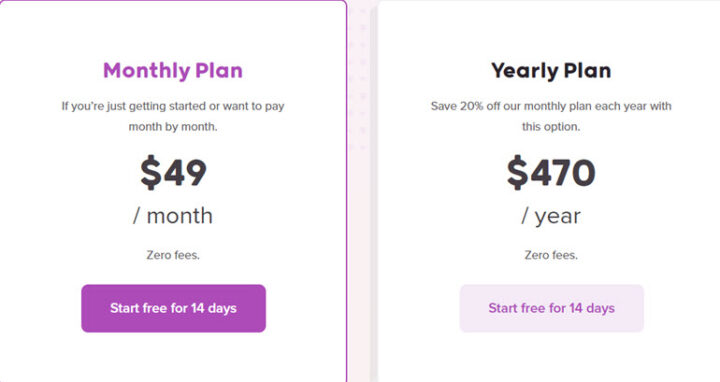 Pros:
Easy-to-use course builder
Unlimited courses and students
Unlimited landing (sales) pages
Custom domain creation
Custom HTML support
Affiliate program for residual income
Promo codes and discount options
Zero transaction fees
Cons:
No course schedule for students
Limited hosting for course content
Course content must be embedded as there's no upload feature
No course quiz creation tool
No student completion certificates
Limited email integration
Payment acceptance outside of "Stripe" can be complicated
No affiliate management tools
No marketplace
Key takeaways: Teachery is our alternative to Teachable with limited, but solid tools, at a reasonable price without the pressure of upselling to higher plans.
9. Ruzuku
Ruzuku offers a friendly interactive instructor and student course experience. It's ideal for instructors who like to stay involved with students as they progress.
They offer three membership plans with large discounts for annual payment:

Pros:
Easy-to-use course builder
Create live calendar-based courses
Create self-paced courses that drip content
Copy and re-run previous courses
Generous hosting and streaming of audio, video, and files
Students can post images, PDFs, and videos
Course-wide Q&A and forum
Includes course completion tracking features
Email integrated with Mailchimp email provider
Student onboarding support for payments and course access
14-day free trial
Zero transaction fees
Here's the simple platform. I signed up and was directed straight to this course building page:
Cons:
Limited design and course creation flexibility
No free plan
Sales pages offer limited flexibility and customization
Key takeaways: Ruzuku is ideal for course creators who want flexibility in the kinds of teaching tools they use, with features such as generous file sizes for uploads and hosting.
10. Skillshare
Skillshare is a playground for visual creatives. Their marketplace platform has an engaged community that's thirsty for courses to share and the ability to hone their skills.
They offer three membership plans:

Pros:
Sandbox for video-based course creators
Platform includes options for illustrators and animators, plus photo and film
Easy tips and lesson content are well-received
Over 2 million students, hungry for more courses
Diverse marketplace of potential customers
Here's an independent video review that shows examples and discusses Skillshare's value for money: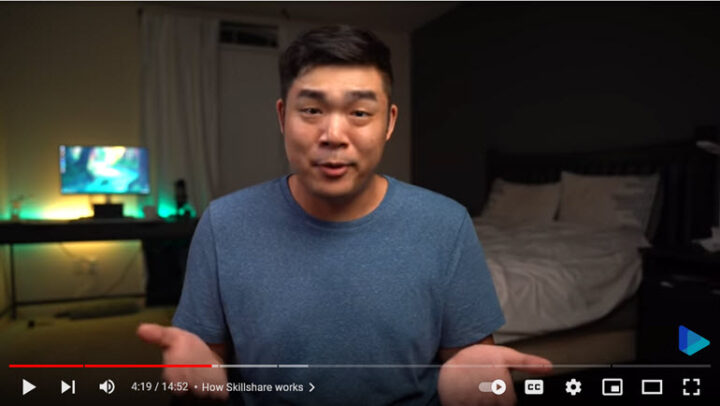 Fierce competition inside the marketplace
25 student minimum to make course income
No access to students' contact details
Minimal profit of $1 to $2 per student
Limited power over course promotion and pricing
Few options to brand yourself
Key takeaways: Skillshare's "Starter" plan helps you to increase your video production knowledge as you create courses. That's a plus for superior online course creation, even if you decide to use this skill and move to a different platform.
It's Time to Take Your Teachable Alternatives for a Test Drive
If you're a veteran course creator, and I've given you a lightbulb moment (I hope so), you've narrowed down your choices.
You've noticed the free options speckled throughout this post.
I encourage you to join some free platforms like Teachable and tinker around.
Make your list of pros and cons.
Then test drive your course on the platforms you think fit the bill.
And before you know it, you'll move from researching course-building platforms to being a masterful course creator!
Ready… Set… Go.
Want to learn more about the online course creation process? We invite you to enroll in our Free Hybrid Courses Bootcamp so you can set yourself up for long-term success.
Let's Start Building Your Online Course!
In our FREE Hybrid Courses Bootcamp, we'll walk you through how to transform your knowledge and expertise into a profitable online course… one your students will love.