3 Live Video Broadcasting Formats That Will Captivate Customers and Make You More Money in 2013
Tommy Walker
The following post was an entry by one of our spectacular finalists in our Awesome Engagement Strategies Contest. Finalists showcased their ideas, and whoever got the most traction (i.e. comments and social shares) within five days of publication was crowned the winner. Check out this post for the complete list of Engagement Strategies Contest finalists!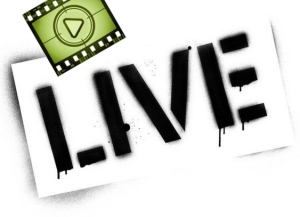 So it's 2013.
My plan for engagement is to incorporate Live video broadcasting into my content strategy, like, A LOT.
Bandwidth is cheap. 62% of american adults have access to high-speed internet.
Webcams are cheap. Decent audio, also cheap.
The argument for broadcasting video live from my webcam is fairly simple. To grow my own reach and deepen my engagement, I could either
A.) Spend 20 hours researching a blog's audience, pitching the publisher, then take another 15 hours to write a guest post, hoping it'll get some comments. or…
B.) Spend the same time researching the audience and working with that blogger to do something live for an hour, offering viewers one on one, real time interaction.
With option B.) I'm still doing research and preparation, but the content creation lasts as long as you're broadcasting.
Also, viewers don't "scan" a live stream. There's no "skipping to the good parts" they're either there, or they're not…
All of this makes for a more captive audience that chooses to participate. That captivation is even stronger when there's a structure what's being presented.
If for no other reason, we're all wishing for moments like this (watch Jimmy Fallon)
This year, I'm incorporating Live Streaming to deepen engagement, provide loads more value, and open up additional revenue streams.
Here are three ways I plan on doing it…
If at any point an idea inspires you, jot down how you could use it, then share your thoughts in the comments. It's fascinating how people use this technology, and I'd love to learn from what you're doing too.
Pen ready? Ok, here we go…
Expert Panels – Live Q&A, Google+ Hangouts: On Air
Back in December, Nate Wright of Small Biz Triage approached me about merging our networks in a fun and informative way.
My network = Online Marketing/Blogging
His network = Hollywood filmmaker/writers.
This discussion quickly turned into us realizing we could organize a panel with Brian Clark of Copyblogger, Doug Pray, director of Art & Copy (and several Google commercials), and John Jacobson, director of The Film School.
Seeing that success in both marketing and filmmaking rely heavily on storytelling, we wondered just what kind of debates would arise when copywriters and screenwriters discussed what makes a story good.
Now if this were a few short years ago, a panel like this could only happen if everyone were at the same conference at the same time. However, all we had to do was make sure everyone was on Google+ hangouts at 7pm. This format also allowed us to open up Q&A for viewers, which normally, these panelists aren't available for so publicly.
A few emails later, we confirmed everyone's schedule and set a date.
Of course, when we realized just how easy that was, we created a google doc, listed our contacts and their proficiencies so we could start mashing up more panels.
The plan now is to establish a following & seek sponsorship. This opens up an additional revenue stream and the only real overhead involved is the time it takes to get it all together.
Any business could do this.
All it requires is:
Taking inventory of who is in your network
Email to confirm schedules
A webcam
and a Google+ account.
For Example: Let's say you're a real estate professional.
You could regularly host panels with top financial advisors, credit repair specialists, and loan officers to discuss the ways to prepare for homeownership.
The audience could be targeted towards renters in their mid 20s to late 30s with children.
The idea is by extending the top of your marketing funnel and helping renters transition into being responsible homeowners, it would keep you top of mind when they're in the position to buy.
The bonus is if the panelists think these sessions are valuable to their customers, they'll share it, putting you in front of the people in their network.
And in case you're wondering how you can figure out where the overlaps with yours and other's niches, try the exercise in this video.
Live Video Broadcasting Access To Set
For this to make sense, you have to know I host an online show, "Inside The Mind."
Now we haven't started filming Season 2 yet, but when we do, our new producer Shay will be running all the technical stuff that'll make me look good. What's exciting about Shay is that he's run production for major television networks, directed music videos, and now he's working with me!
That being said, it would be selfish to keep his production knowledge all to myself.
Which is why we'll be creating a membership site that gives viewers live streaming access to everything that happens on the front end production of the show.
In real time, we'll explain different light setups, how camera rigs improve the look of a video, how to build said camera rigs, how to build a teleprompter, and answer any questions viewers might have at the time.
We'll also be Live streaming music video shoots, action sequences, "on set" segments, and various sketches, so viewers know what it's like shooting under various conditions & we'll be answering questions along the way.
To keep things interesting, we'll stream multiple cameras and use a switching program to cover multiple angles at once.
Translation: it'll be like watching a live reality show but without Snookie and with really useful information.
Members will also be an influential part of the show's comedic segments. The plan is to incorporate "Who's Line Is It Anyway?" improv style prompts, taking cues from the audience that could lead to potentially ridiculous situations.
This is WAY more involved than the "Hangouts" Q&A, it's not impossible for the "Membership" premise to be adapted to other kinds of businesses.
For Example:
Independent bands could create a membership area to Live stream rehearsals & concerts, charging members for a "season pass".
Music teachers could teach lessons virtually.
Public speakers could create a membership site for you to "follow" their live speaking events around the world.
Conferences could include "live stream" as an attendance option.
Decorators can live stream when they're decorating a room.
The rule of thumb with this style of live streaming is that when there's an audience, and a way to capture the action with a webcam, you can probably turn it into a live stream based membership site.
With a membership site too, it's important to realize the live streaming is only one part of the experience. Give members exclusive resources like worksheets & audio recordings, and a way to network with each other too. That network will put you at the center of an experience that's for more valuable than anything you could provide 100% alone.
Live Streaming Video Editing
Let's be real, not all action takes place in real life.
Frequently, much of the action happens on this screen. The very screen you're reading this on now is used to edit documents, make digital music, and even cut video.
This is a fairly straightforward, low budget use of live streaming technology.
For Example: Shay has cut shows for Discovery Channel and Travel Network and will be showing members live how he edits every episode.
This'll cover things like creating titles, inserting visual effects into a shot, color correction, finding music, best methods for rendering how to overall make a better videos.
Of course, while the stream is happening, members can ask questions, give creative input, and even work on parts of the show if they so desire.
Other applications could be:
Did I mention it's also ideal for people who are afraid to have their face on camera?
Using the membership model, a copy editor could live stream while they're editing, walking members through their thought process as they hack away at unnecessary words.
Imagine watching a well known blogger's screen as they write? Would you pay to watch as they wrote sales emails, promoted blog posts, or write landing pages?
How valuable would it be to watch a Google Adwords pro's screen and ask questions while they were creating and targeting their ad sets?
Really, the possibilities are wide open and I look forward to embracing them.
There are so many valuable lessons that can come from watching someone's computer screen, and with live streaming technology, you can share that with the world.
To me, nothing will beat real one on one interaction, and now that the technology is accessible enough to make almost as real as being there, I say bring it on.
BONUS: Most services record your live streams so all the best stuff can be weaved back into your content strategy for long lasting value.
Imagine the possibilities. Imagine the community, and the referrals that can come from it.
Ok, enough about how I plan on using this, I hope you've been taking notes because I'm about to turn it over to you.
How do you think you could incorporate live streams into your business?
I'd love to hear your thoughts, and there are no wrong answers, (heck steal mine if you want).
If you can't think of a way, then share what you do online. I will personally look at your web presence and we'll brainstorm some killer ideas for you to use.
One lucky commenter with the best idea will get a Logitech HD webcam, on me.