7+ Tools You Need to Get Started as a Solopreneur
Sharon Hurley Hall
You can't start your solopreneur career or freelance successfully without the right tools, especially if freelancing is your business and not just a hobby.
Sure, you've probably got some of what you need lying around at home, but if you want to take a professional approach you'll need to invest in the tools and technology necessary to make it easy to run a business that your clients will love.
I've been freelancing for more than 10 years, and here are the tools I use to keep my writing business running daily.
1. The Right Computer
Most people we know, at least in the US, have multiple connected devices, and if you're just starting out, your existing tablet or desktop computer just might be adequate.
But that's just a maybe. In my experience the average tablet won't work well for writing and designing if you're a professional who needs to turn out work regularly, or if you need to use special software to work efficiently.
I usually have multiple browser tabs open, as well as a few key programs I use daily (more on those later). And I sometimes need to interview people online for the articles I write. That means I need a computer that has good audio and video and works well with an external microphone.
My recommendation: the more processing power you have, the better, which means a fast chip and plenty of RAM. You also need enough disk space to store and run your essential programs, plus some extra. With more storage happening in the cloud, this may be less important, but I personally like having lots of disk space.
2. A Printer
I don't know about you, but I print WAY less stuff than I used to. So much of my work is stored online and sent by email that I hardly need to turn on a printer at all.
But this does not mean printers are obsolete. I've found that some companies I deal with don't use electronic signatures, so occasionally I need to print and sign something before sending it back.
But keep in mind occasional printer use has its own problems. Some inkjet printers seize up if you don't use them regularly. I made the switch to a laser printer a long time ago, and will never go back. With the amount of printing I do, the toner cartridge lasts forever, which takes some of the sting out of the high replacement cost.
And on the rare occasion when I need to print in color, there's a copy shop 5 minutes away that is pretty cheap.
Sidenote: when I started freelancing you still needed a scanner. But scanner apps and plain old photos on mobile devices work just as well, if not better, so I don't think I'll ever buy a scanner again.
3. A Solid Web Connection
When I started freelancing, my web connection was OK, no more. Then I moved and ended up on dial-up. Ugh! Doing online research was a slow process, and emailing or uploading completed articles with accompanying images was even slower.
Even today when many of us have high-speed broadband, internet connectivity can be patchy depending on the service or weather conditions.
I recommend you spring for the fastest web connection you can afford. It will make the rest of your freelancing life work better.
Recently, I was interviewing a client on Skype, and the call was crystal clear with no dropouts. I was grateful, because I remember the days when you never knew what would happen on any call.
The smoother the experience for the person you're talking to, the more professional you look. That's why investing in superfast internet is good for business.
4. The Right Software
Whatever your business, there's a lot of free software out there that will help you do your job better. But there's also stuff you have to pay for if you want to achieve maximum efficiency.
Here's what I've found particularly useful:
A Writing Tool
Google makes great software available for free, and these days it's better than ever before. I use Google Docs a lot because:
It works on all my devices.
It auto saves.
I can easily collaborate on documents with others.
It's got dictation, which it calls voice typing (more on that later)
If I have to be on the move, the whole Google suite allows me to work on my documents or spreadsheets and then sync them back to my main work folder when I get back home. As I type this, I'm hot desking in New Jersey and Google Docs is saving my life.
Docs has other great attributes like inline research and linking that can be real time savers. And with recent improvements, it's now almost as good as Microsoft Word (a tool that's still worth paying for.)
Managing Writing with Scrivener
I've managed my writing in many ways over the years, but a couple of years ago, I converted to using Scrivener. It's software originally for novel writers, but it's useful if you do any project that requires research.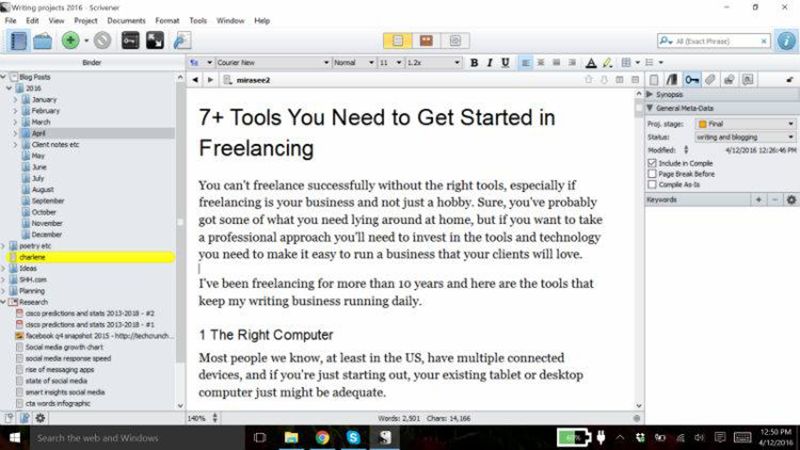 As a writer, I can use Scrivener for everything. And even though I use other software to do some of my writing, Scrivener is where I keep it all together.
That includes a research folder where I keep links to the latest studies and infographics on the topics I write about and color coding for the different project stages. With a little setup, it automatically backs up my work to the cloud, making it easy for me to retrieve the latest backup file and carry on where I left off on a different device. At $40, it's money well spent.
Save Your Wrists with Dictation Software
If you have carpal tunnel/repetitive strain injury issues, it's also worth investing in dictation software.
Sure, the built-in voice recognition in Windows and Google Docs work for some people, but if you want a comprehensive tool, there's nothing better than Dragon NaturallySpeaking. I draft all my articles with it.
You can also use it for web browsing. The basic version is $70.
An Invoicing and Income Tracking Tool
Any successful freelancer needs to invoice clients, so it's useful to have a tool for this. A good starting point is customizing an invoicing template for Word, Excel or Google Docs for billing your clients. You can also use a spreadsheet to track your income.
I did this for years, and it works, but when it's time to do your taxes, you may want a more robust system.
Many people go down the Quickbooks or Sage route, but those were too complex for me. Still others use a tool like FreshBooks or similar, in conjunction with Shoeboxed, to track everything.
My pick, though, is a tool that's simple to use, looks great, and tracks income and expenses in multiple categories: Wave Accounting.
Even better: it's free.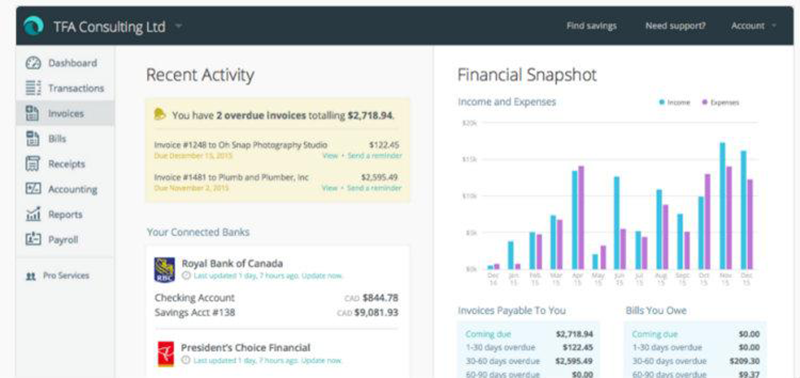 With Wave you can;
Manage both business and personal accounts.
Integrate with your bank and Paypal (another online must-have for freelancers)
Set up different types of work
Easily add new clients
Generate automatically numbered invoices (this is a biggie) and send them from within the system, download them as PDFs or use Gmail to send them.
Create estimates
Send invoice reminders
There's much more, and I'm still amazed this is available for the price of looking at a few sidebar ads (which are not that intrusive).
Related to this, you can also consider a tool that allows you to create proposals, turn them into invoices and get contracts signed. Options for this include Contractually, Quote Roller, BidSketch and Bonsai. Many freelancers love these, though I personally stick with Wave for everything.
A Project Management Tool
If you're working on a project that has multiple participants and levels of approval, then a project management tool is a must. If you don't have one yourself, you'll probably end up using one your client has chosen. That's not always easy, because they all work slightly differently and you may not want to learn a new system.
I've been lucky, because most of my clients use Trello, where I already had an account. Like any good project management tool, it allows you to track project stages, assign tasks and get a broad overview of where everything's at.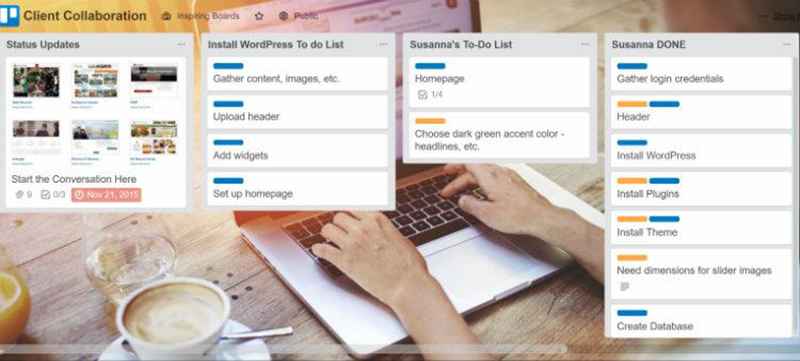 Trello is a kanban style tool which works with boards and lists. For example, one of my clients has a space set up to manage freelancers, with boards for stages of the editorial process (ideas, approved ideas, in production, reviewed, ready to post).
Each of those boards has lists of articles, and different freelancers are assigned to each article. You can upload articles or link to Google Docs and have a conversation on each article, @ mentioning anyone who needs to do. Each separate article also has a to do list.
Other options for freelance project management include:
There are dozens to choose from, so pick one that suits your workflow.
Managing Clients on Your Computer
Even without a project management tool, you need some kind of client organization system.
I have a work folder for each year, with subfolders for each client. Each document includes the client's initials (whether I'm working in Scrivener, Google Docs or Word) and is filed in the right folder.
At the end of each year, all current client folders move into the next year's folder, leaving dormant clients where they are. It works well, and I can always find what I need. Estimates and invoices have their own folder, and I also have a separate folder for client guidelines.
A Task Manager (Maybe)
Over the years I've struggled to find a task manager I really love, because managing tasks and deadlines is at the heart of any freelancer's working life.
There are a lot to choose from, so I guess my failure to find the perfect one is something to do with how my brain is wired.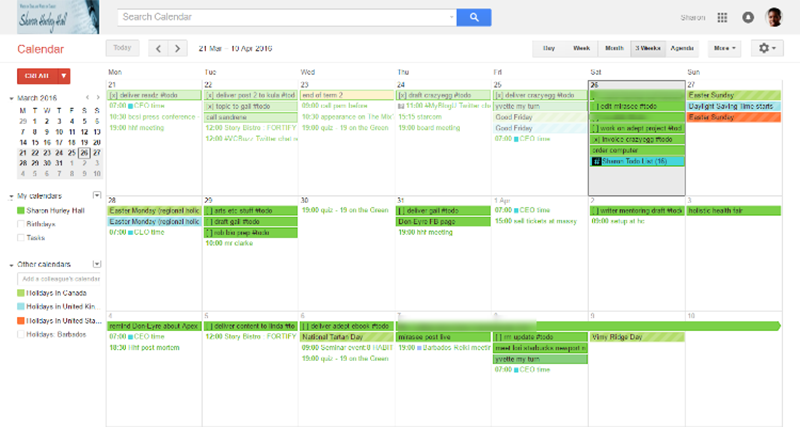 Now, I just use Google Calendar, as I've mentioned in another post. I use all day events as tasks, adding entries for research, drafting and final editing, with reminders where necessary.
A Note Taker
Although this is listed under software, it doesn't have to be, because you can use a notebook and pen or a dictaphone. The point is to have a way to capture those little flashes of inspiration or reminders about mundane tasks the minute you think of them.
My tool of choice here is Google Keep. It works offline, is available on every device and on the web, and syncs seamlessly. You can use it for notes, checklists or drawings, and can color code and add reminders to notes. Good alternatives to Keep are OneNote and Evernote.
A Time Tracker
As a freelancer, it's key to know how you are spending your time. It's the only way to be sure you are really productive and it helps with client billing too.
I like RescueTime for this. Once installed on your computer and mobile devices, it automatically tracks your activity, categorizes it, and produces reports. If you want a time tracker that's more integrated with your invoicing process, try one of the ones on this list.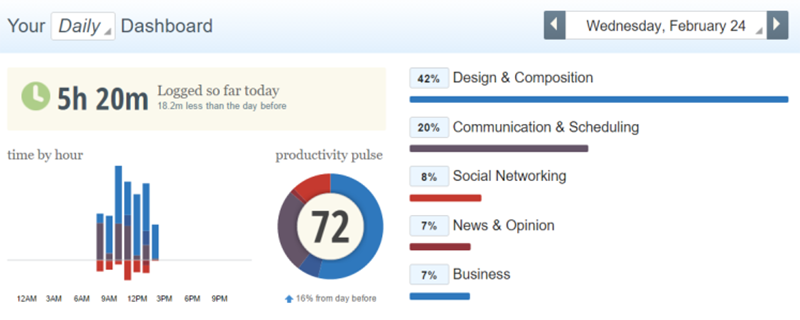 An Online Meeting Solution
If you're working remotely, you'll need to attend or call an online meeting at some point. There are plenty of solutions to choose from.
I use Skype for my meetings, because I'm often doing client interviews and I've found a recording tool called Amolto Call Recorder that integrates with it. But you can also use Google Hangouts, WebEx, Zoom, AnyMeeting or another solution.
5. A Backup Regime
Whatever your business, you need to backup your work.
My advice? Be paranoid. That means you must have multiple redundant backup solutions. During my freelancing career, I've had laptops die without warning and external hard drives mysteriously fail to load, so I think my backup paranoia is justified.
I'm always tweaking my setup but here's what it looks like today:
I have Carbonite installed on my main computer and mobile devices, backing up all my work.
On my main PC, I have moved the main work folder to Dropbox, so it's accessible on all my devices.
I also backup all images on Dropbox and Google Photos.
There's still some room for improvement. I've never replaced the portable hard disk that failed, which I used as my external backup source. To replace that, I have a Mega account, so everything is backed up in two places.
6. A Website
Not everyone thinks of a website as a tool, but I do: it's a client attraction tool.
More importantly, it's an online space that you own for as long as you pay your bills. It creates a professional image and it gives potential clients somewhere to find and interact with you.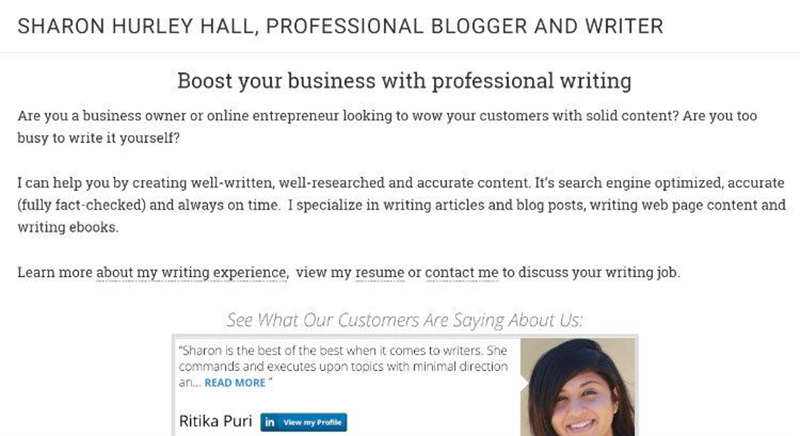 While it's true that a social media profile can also do much of that, there's one important reason why neither Facebook nor any other social media site should be your only online presence: you don't own it and the social media powers that be can take it away instantly without reference to you.
It's happened to lots of people; don't let it happen to you.
Keep your website simple at the start with a homepage, an about page, a list of services that you offer (and rates, if you want to add those), a portfolio page, and a contact page. Spend the money to get your own domain (rather than free branded web hosting) for an even more professional look.
Along with your website, set up a LinkedIn profile (you need to be visible where potential clients hang out) and an online portfolio. I like Contently for my writing, but there are many to choose from depending on what your freelance career is.
7. A Client Communication System
Email is fine for daily client communication, but if I had to do it all again, I'd also use email marketing software from the start. That's because it would make it easy to see which clients were interacting with my emails when I sent them an important update.
Free, easy options for this include MailChimp and TinyLetter, but there are many others.
Even when you're not working on a project, regular communication with clients keeps you top of mind. I occasionally email clients about web updates I think will interest them, such as articles related to their business.
And I usually send an email once or twice a year to check in with them. The last time I did that, I landed three new projects from an old client.
Your Turn
So that's my pick list for the tools that help you run a successful freelance business. If you still want more, check out Bonsai's freelance pack for even more suggestions.
Now, over to you? What are your business essentials?