How to Sell More in 5 Steps: The Essential Guide to Marketing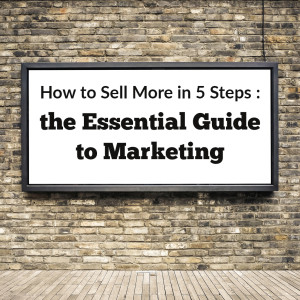 So, you have a product or a service to sell. And you know who'd benefit from buying it.
Are you constantly hiring more people due to the overwhelming amount of orders you're getting?
If not, then check these five steps of marketing to see where you are going wrong and learn how to sell more.
Honestly, if you have something to sell that's worth buying, there's no reason you couldn't sell more of it.
Or do you use any of these excuses?

"People don't understand the value of my product."
"They already own my product."
"They're using my competitors' products.
These are all excuses and the five links in the chain of marketing will get you past them.
The links aren't clearly separate; instead they all work together and build on top of each other. And you can't skip any of them if you want your business to succeed.
1. What's Your Problem?
The first link in the chain of marketing is interest. Without interest you will never sell anything. But you want to know how to sell more.
But you can also easily interest lots of people and still sell nothing. How? By interesting the wrong people.
So, you need to interest the "right" people and that's quite easy when you understand these three points:
1. Concentrate on problems.
When you talk about my biggest problems, I listen to you intently. You'd do the same. And so does everybody else.
You attract the right people when you talk about the most important problems you can solve. Most people don't actively look for solutions to their problems. But even when they do, they notice the problem more easily than the solution.
For example people with dandruff, Google the word "dandruff". They don't search for "The Miracle Super-Caring Dandruff-Killing Shampoo with The Secret Formula Found in The Tombs of The Forgotten Maya".
So, even if you happen to sell exactly that, don't lead with it (and consider a more Twitter-friendly name). Instead talk about dandruff, the problem.
2. Use your prospects' language.
I know every respected marketing expert around has said this, but I'm still going to repeat it once more:
Forget fancy words. Forget sounding like an expert. Forget impressing your potential customers with your literary skills.
Well, maybe that's not exactly what others have said, but the point remains the same: your goal is to create interest and you do that when you use their language. In other words, describe the problems like your potential customers would.
3. You must fascinate your listeners.
Your potential customers have the attention span of a gold fish (that's about 9 seconds). If you fail to fascinate them in that time, most of them will move on.
There are seven triggers for fascination. Though they produce a slightly different feeling, the result is the same; you have full attention. And that attention translates into more engagement, which in turn leads to more sales.
Which trigger you should use depends on what you're selling, whom you're selling it to, where you're selling it, how much it costs, and especially what your product means to the customer…
If you already have a well-created framework for your marketing, then you know which triggers to use and what are the most effective problems for marketing your products.
So, the first link in the chain of marketing is attracting the interest of the right people. Here are the key points again:
Talk about their biggest problems (that you can solve).
Use the language they can relate to easily.
Create fascination to keep people interested.
2. Are You Huggable?
So, you've got some attention. And not just any attention, but the attention of people who may actually buy from you.
Next, give your listeners a hug.
Would you buy something you don't feel good about?
No, and neither will your potential customers.
In other words: Give your listeners a mental hug that tells them they're in the right place, that your product is good for them, and that they can trust you.
This link is all about creating a connection – a connection between your product and the life your listeners want.
Understanding and mastering this link is the most important advertising skill.
Mental Hugging 101
There are countless ways to give mental hugs. Here are some of the most effective ways:
Talk about the problems your product solves. Painkiller ads quite literally talk about the pain they solve. Note that the focus is usually the pain, instead of the relief (which is the benefit.)
Showcase your product's benefits. Pretty much every detergent bottle has a picture of a shining kitchen or a before/after pic. They both showcase the benefit of the product.
Show how to become a "better" person. Clothing is almost always advertised with the idea that you become something "better" with the advertised clothes. H&M is young, cool, and trendy. Armani is classy, expensive, and prestigious.
Engage with important values and tie them to your products. I can't remember a car ad that wouldn't be about values. The most common values in car ads nowadays are status, comfort, safety, and environmental thinking.
You start giving the mental hugs when you create initial interest (often by talking about problems or values). When you give all sorts of hugs, you engage all sorts of people, so try to include a bit of everything in your messaging.
But be consistent with your "main hug"; be clear whether you're a problem solver (the first two types of hugs) or a trusted friend (the second two types of hugs).
People get easily confused, so stick to what's most important to your customers and only hint at the other stuff.
3. Kick your Customers' Butts
You've attracted the interest of the right people and made a connection with them.
It's time to make an offer.
People generally thing that the offer is when you ask someone to buy your product.
That's often a mistake.
Actually the offer is this: You ask your listeners to do something (not necessarily to buy).
In the online world that something could be subscribing to a newsletter. In the offline world it could be test-driving a car or just telling you what they want (in a store or over the phone).
What you can ask for with the offer, is proportional to how much trust you've earned and how engaged your listeners are.
If you ask too much, you lose the hard-earned trust, and the fascination you've created.
The point is to continue engaging your listeners and get them to engage you back.
As long as the engagement is unidirectional (they're not engaging you back), you can't sell anything. Conditioning people to engage you will eventually lead to buying your products.
There's one more really important point here: Buying from you has to be easy and the call to action has to be clear. This is especially true in the online world where one click could either mean buying your product or leaving your site forever.
When I evaluate landing pages, poor call to action and not-simple-enough-buying are among the five most common problems. The problems are the same with opt-in pages, sales letters, and every other type of page/site. And they're the same with offline businesses too.
For example clothing stores lose a lot of sales because of the same problems (poor call to action and difficult buying). They invite people to "browse" without the thought of selling anything. And they often don't even train their staff to make buying easy.
So, this link is about three steps that will lead to buying:
Make an offer that's appropriate for the level of trust you've created.
Build more trust and engagement.
Repeat steps 1. and 2. until you sell something (for money).
4. Make Them Stop You
This link is an extension of the previous link. But this link just might be the best way to increase your revenue.
So, you got someone to buy your product. Congratulations for that, but just one question, "Why didn't you sell more?"
Do you know what are the most common reasons for not getting return customer and upselling more?
1. You don't have anything more to sell.
Lets say you sell billiard tables. You'd obviously upsell me billiard balls and a bunch of other stuff that you always sell with the table.
But what do you do after that? Do you say: "Thank you and good bye?"
After the basic stuff you could sell a floor mat (that protects my new balls if they drop on the floor…), some lights to put to the ceiling (so I can see my shiny new balls better…), and so on. You should always have more to offer until I say "no more."
Use affiliations and other forms of cooperation to do that.
2. You don't tell your customers what more they can get from you.
I hate to say it, but a lot of people suck at upselling.
The moment when a customer has just said, "yes" to buying something, is the best moment for upselling. Don't waste the opportunity.
The principle from the last link still applies here: Your offers always have to meet the trust you've created. If you try to exceed the trust, you lose the sales.
5. Start the Party!
Want to know what the best source of new customers is? The source for the kinds of customers who ask few if any questions except for: "Where and how much can I pay you?"
Please don't think this is easy just because it's obvious; most businesses never learn how to do it well. If you really know how to use this one marketing method, you'll never, ever run out of new customers.
The magic word is of course, "referrals."
You can ask people to share your message (please tweet this post if you think it's worth a tweet, and leave a comment too 😉 ) even before they've bought anything from you.
(BTW: Do you know the 5 reasons why you get your best customers by giving referrals?)
To ask for a referral or not to ask for a referral…
Asking for a referral or a testimonial is awkward for many. Sorry to be this blunt but:
Get over it!
There are two steps in getting referrals:
Ask for them.
Reward for them.
Fortunately you don't have to sound cheesy when you ask for referrals. And you don't always have to pay for it either. Here's how to get referrals:
Straightforward asking: It's often totally appropriate to just ask for someone to refer you if they think you're worth it.
Encouraged referrals: This is very powerful if you do it well. For example you could give two discount coupons for every customer. One is for the customer, and the other has the name "Best Friend" on it.
Affiliate programs. They're simple to set up if you sell digital products, but you can use them with an offline business as well: "When your friends buy from us, you get a discount if they mention your name."
And Finally…
I know most blog posts don't really make a difference in your business. You know why? Because you don't act on them. And you know why you don't act on them?
Because when you reach the end (like now) you've forgotten where to start.
So, here's what you can do right now for your business's sake.
 Find out what your prospects want most. One simple way is to use the keyword tool that comes with Google AdWords account (it's free.) Just type in your most important keywords and see which related words are most searched. And then start talking (write a blog post, create ads, etc.) about related problems.
Figure out ways to create trust. This is a part of your marketing framework, but if you haven't created yours yet, then just guess which of these is most important to your customers: the pain caused by the problem, the solution you offer, how your product makes them feel, or what your product stands for.
Create a list of offers you can make. Start from the smallest possible offer you can make (leave a comment if you found this article useful) and build from there.
Get more things to sell. Find at least three related businesses you could partner with, so you could sell more to your customers. Use joint marketing, create your own referral network, or become an affiliate.
Think how you would get more referrals. Who could you ask for a referral right now? Call them. How could you ask for referrals from future customers? Find at least three ways. How could you offer an affiliate "program?" If you sell online, check out ShareASale.com. If you run an offline business, think of ways you could give incentives for your referring customers.
Ready to put these ideas into practice? Join our FREE community and get a step-by-step checklist that will help you put this advice into action!