10+ Tips On How To Market An Online Course
Burkhard Berger
Effective marketing for your online course can lead to a profitable and successful business. There are many ways to market your course effectively, but not every marketing strategy out there is for you. You need to stick to the proven ones to entice your market to take your online course.
As a result of the Covid-19 pandemic, a large number of educators and academics have gone online. They're creating their own online courses and using a wide variety of digital platforms to market them. But there's much more to marketing an online course than simply posting an ad on social media.
In this article, we are going to go through 10+ ways to market your online course to potential students, as well as other vital facts you should know about marketing online courses.
By the end of this post, you'll have a clear sense of how to start marketing your own online course.
Keep reading to find out more about this topic.
1. Create Engaging Content
This is a proven strategy used by many content creators. Some of the online courses you see on popular platforms are developed by people who have an online presence.
So a great way to let people know about your online course would be by creating a blog post about that topic or recording a vlog that relates to what you taught. Partnering with an influencer is also a good idea to effectively market your content to your target audience.
Promoting your course on your blog is particularly effective if you consistently provide free content relating to the subject matter of your course. Ideally, your blog should complement the interests and needs of the potential students for your online course.
On a related note, the top bar of your website at the conclusion of each blog post, your sidebar, and your About Page are all good locations to promote your course.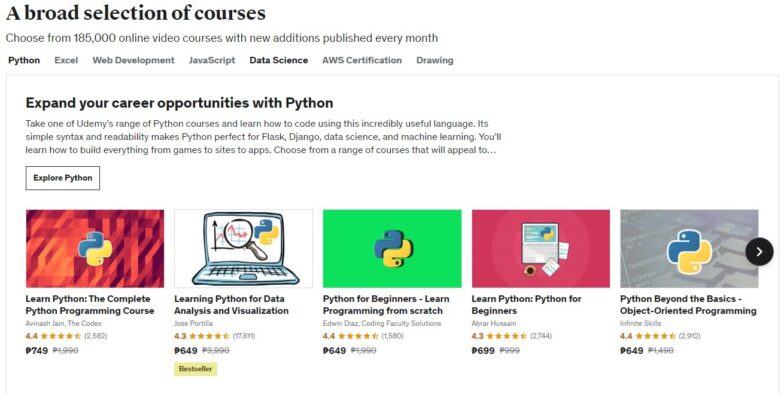 Image Source
2. Identify And Display Its Unique Selling Proposition
To entice people to take your online course, you need to identify what makes it different. Answer the question, "Why would people take my online course instead of the other ones?"
Take some time to research what students need that other online courses do not offer. You need to ensure that you can satisfy their demands before you can effectively market your online course. The idea here is to figure out how your course will stand out from the others. In what ways are you going to differentiate yourself from the competition? What unique contribution can you provide to your students that isn't already covered by others?
Make a note of your course's unique selling proposition and incorporate it in all of your marketing communications. If you can find a great answer to that question, it will be much easier for you to market it.
3. Add Testimonials And Positive Reviews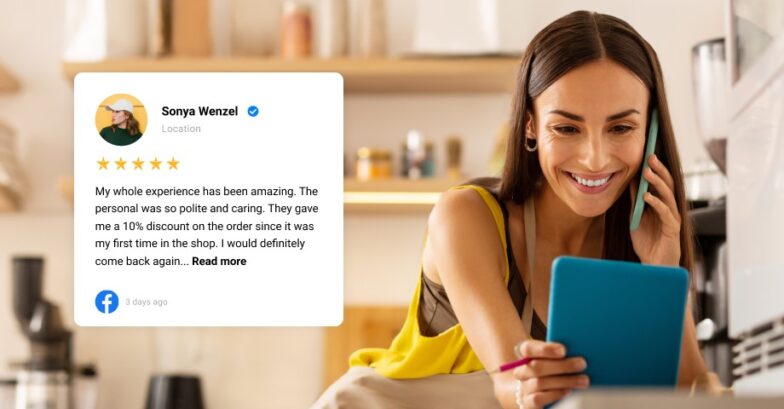 Feedback is one of the best ways to convince someone to try a product out. Businesses big and small utilize user-generated content to further convince people of their quality and credibility.
The same thing can be done with your online course. If you gather plenty of positive reviews and testimonials, let the world know. Create social media content highlighting all that positive feedback. It will greatly help in getting the attention and interest of your market.
At some point in your online course, ask your students to provide a review or testimonial for your course. This simple request will help you obtain a continual stream of good evaluations from your learners, which you can then utilize in your digital marketing strategies. If you get any unfavorable ratings from your students, utilize those to enhance your course to guarantee a better learning experience for all future students.
A buyer's decision-making process is heavily influenced by social proof. There aren't many individuals who like the idea of being the first to buy anything. Your potential customers are eager to find out whether other people have taken your course and had a favorable experience with it.
With this in mind, add a few testimonials from students who have taken your course on your course sales page. It's also a good idea to recruit a few individuals to take your course without charge in return for a positive review.
4. Book Guest Appearances In Shows
By shows, I mean podcasts, interviews, and YouTube videos. These are the prominent mediums that people consume on a daily basis. It's such a huge deal when you're a guest on any show in your niche because it puts you in front of their audience immediately.
Find podcasts that are relevant to your subject and have listeners who might be interested in your course. It's easy to find podcasts by searching on iTunes. Make a list of the podcasts that come up when you do a search using keywords relevant to your subject. Before contacting a podcast host, make sure you read the show's description and listen to a couple of their episodes. Each podcast presenter should get a tailored email from you introducing yourself and stating your reasons for wanting to join their show.
Remember that the goal of doing a podcast interview is to provide value to the audience. Your interview isn't a chance to make a hard sell on your program. At the conclusion of the interview, you'll have an opportunity let the listeners know how they can contact you and learn more about your programs.
5. Show Snippets Of Your Online Course
Sometimes, people need to see what's inside your course to become interested. In this case, you need to show a preview that can pique their interest.
Along with your snippets, develop engaging and eye-catching posts to attract people. Create eye-catching social media posts with icon animation and trending pictures and expect to have more potential customers getting interested about your online course in no time.
Based on SEO keyword analysis, come up with a catchy course title for your content marketing campaigns. Take a minute to imagine that you're doing research on your subject. What keywords would you use in order to locate the data you require? You can use these keywords to optimize your course topic online.
6. Promote In Every Medium Possible
Don't limit your marketing efforts to a social media platform alone. If you're using different mediums to distribute content, make sure to leverage each and every one of them. It's time to let the world know the value of your online course.
YouTube ads, Google ads, and Facebook ads are proven to increase sales so you must allot an advertising budget for your course.
You should also know how to promote your digital product on Reddit forums, LinkedIn, Quora, Amazon, Facebook groups, YouTube channels, and other social media channels to increase your brand awareness. These are excellent places to build your professional network, leading to speaking engagements, business partnerships, and client referrals.
Writing guest posts is also a simple approach to obtain a lot of exposure quickly. A guest post is a piece of material written by an author for another site under their own name.
As the need for a digital presence progresses, software outsourcing to have your own online channel has also become a common practice that fixes the technological gap while also reducing project costs.
7. Run A Price Promotion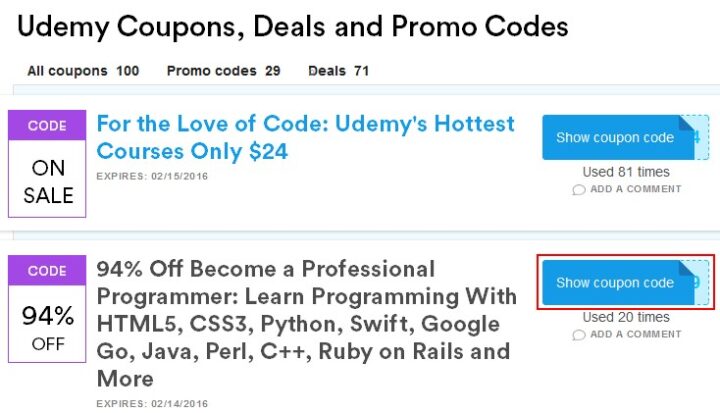 Sales and one-time deals are used by businesses because they're effective. It puts pressure on people who are thinking about taking your online course. Even people with the slightest interest in taking it might reconsider when they realize they can get a great deal if they act now.
Selling your online course at a discount for a limited time is a fantastic method to boost sales. Schedule your price reductions to correspond with well-known holidays, such as Boxing Day or Black Friday. It's better to wait for a particular holiday to offer a discount for your course rather than reducing it at random.
8. Conduct Live Webinars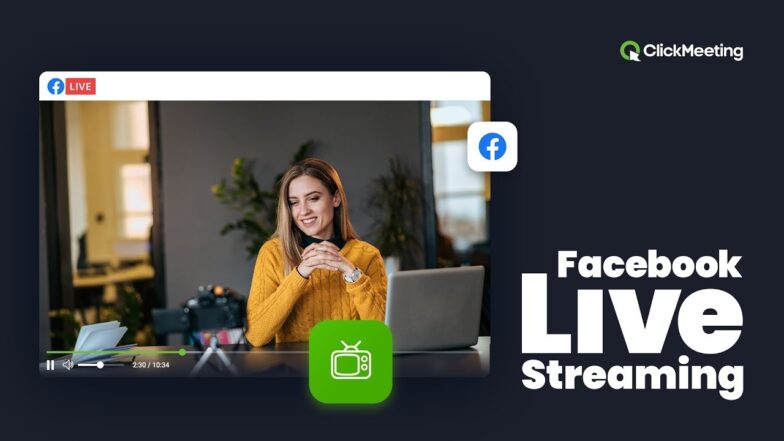 When you conduct live webinars for promotional purposes, make sure the topic is related to your online course. Webinars are a great avenue for you to showcase your expertise. Once you've done everything right, your audience will be coming back for more – this is where you can add a call to action to compel them to take your online course.
Live webinars are an excellent technique for attracting potential customers who are interested in your e-learning product or service. Be sure to share some of your valuable lessons for free on the webinar. This will help you to establish yourself as an authority figure in your field and gain credibility with your target audience.
If your live webinar is a success, you can then repurpose the recording into social media or website content to increase your course sales. Attendees of your live webinar who were unable to make it should be contacted via email and provided with a link to the recording. An automated webinar that uses the recording can then be used for email marketing and to drive sales for the foreseeable future.
9. Offer Free Access
Another way to hook your audience is by giving them free access to your online course. It doesn't have to include all the lessons, you can set it so that only the first three lessons could be accessed for free. This is enough to give them a glimpse of what they're taking if they decide to buy your course.
You should offer lead magnets as part of your marketing campaigns as well. Offer free trial subscriptions, free consultations, a free mini-course, e-newspapers, and samples of online marketing strategy. For example, Unscramblex has been known to offer free use of their platform's services and functions.
It's a win-win for every party. Your customers get to see what you offer while you get to hook them by giving free access to a few lessons.
10. Add More Value To The Online Course
This marketing tip involves attaching more value to your online course. An example would be that first users can undergo a three month mentorship program for you. Or the first 10 students can get free access to your eBook library.
The value of a product may be defined as the set of advantages it gives to the clients it is intended for. The degree to which a product lives up to or surpasses the anticipations of its target market determines the extent of its total worth. The price strategy and product design are directly influenced by the value of the product. When it comes to prioritizing, improving targeting, and crafting brand messages, companies depend on the value of their products.
You should also improve your customer service by leveraging emotion analytics as well as using a customer self-service software to empower your customers to solve their concerns as effectively as possible.
Strategies like this convinces your market that you are presenting them a great deal. With the additional incentives, you can make your offer and course more attractive.
11. Create A Dedicated Landing Page
Creating a landing page for your online course can increase your conversions greatly. If that landing page is constructed in a way that intrigues your market on what you have to offer, then you'll see tons of signups in no time.
Use Shopify, WordPress, and other online course platforms to create a landing page for your online course business. Make sure to build a unique and amazing website design for your potential students. You should try looking at these eye-catching eBay templates as an inspiration for your sales page design.
Here is an example of an eye-catching landing page from KURU footwear that attracts more customers for their business.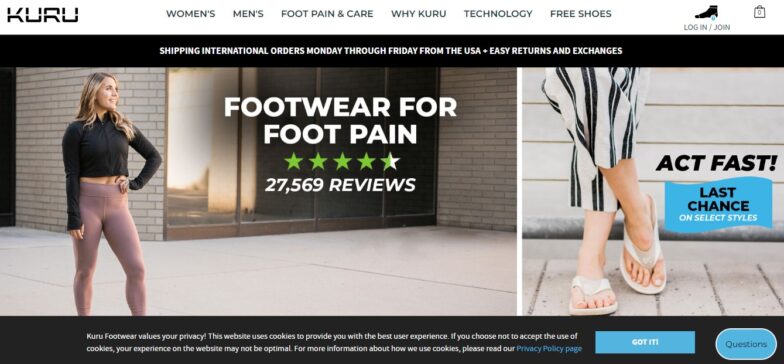 To help you sell your online course, create a sales funnel on your landing page. A sales funnel is a precise procedure that directs a prospective customer to enroll in your online course.
Several of the above-mentioned marketing strategies need to be integrated into a coherent sales funnel if you want to boost course sales. You can increase your marketing efforts with confidence if you have a proven sales funnel that converts prospective students into paying clients.
12. Start An Affiliate Program
Having an affiliate marketing strategy encourages other people to promote your online course for you. In exchange, you offer them a commission on every sale they make.
If your payment structure is generous enough, you'll have no problem in finding affiliate marketers because they'll naturally come to you.
Create an affiliate program for your course and allow others to advertise in exchange for a portion of each transaction they bring in for your business. That said, just waiting for affiliates to discover you isn't going to cut it. Reach out to relevant people who could be interested in advertising your course as an affiliate and ask whether they'd be interested in doing so.
Ask bloggers in your field to evaluate your course. Your course sales will undoubtedly rise if you get a positive review from a well-known blog.
Then offer to put them in your affiliate program so they can earn a commission if someone who reads their review chooses to buy your course via their referral link. You can also reach your ideal future customers by using lead capture software.
Ready to Market Your Online Course?
Marketing an online course is not an easy task. It looks easy on paper but actually doing it requires a ton of effort from your end.
There are countless marketing strategies to choose from, but the hard part is designing a strategy that works for your specific course.
If you need further help with marketing your online course, we have many different programs and resources that can assist you. You can check out our post on how to properly sell online courses and hear from successful entrepreneurs their ideas and experience on handling their businesses to inspire your unique marketing tactic.
And if you want to create a new course and use it to grow a successful course business, you might like to register for our Course Builder's Bootcamp.
Entrepreneurs from all sorts of backgrounds can benefit from this free bootcamp, which will teach them how to create a successful online course that allows them to share their knowledge, earn a fair price, and have a positive influence on society.
Let's Start Building Your Online Course!
In our FREE Hybrid Courses Bootcamp, we'll walk you through how to transform your knowledge and expertise into a profitable online course… one your students will love.