On the Magic of Connection, Searching Our Souls, and the Humbling Devastation of Losing Your Way
Danny Iny
Sometimes the hardest things are surprisingly simple.
Not easy, but simple.
We set goals, and we strive to achieve them. We work, we reach, and we stretch in the direction we're trying to grow.
Sometimes, we find greater success than we ever expected.
Sometimes the goal posts move and, without realizing what happened, we just keep on chasing.
And sometimes we find that, in pursuit of those goals, we've veered off-course, to a very different place from where we thought we'd be.
In that moment, you realize you've lost your way, and the soul searching begins….
Doing Well… by All the Wrong Measures
Whether it's for me, for you, or for anyone else, the world of entrepreneurship is fraught with uncertainties, setbacks, and doubts.
It's not just that "two steps forward and one step back" is par for the course. The greater challenge is that human nature fixates on the step back and forgets the steps forward.
Entrepreneurs are constantly bombarded by voices calling us to give up on our dreams and retreat to the stability and security of a conventional life.
To keep moving forward and to keep from giving up, our conviction must be stronger than all those voices, and we're compelled to doggedly fixate on whatever seems to be working.
This is a critical defense mechanism of the entrepreneurial mind, and it comes with a fatal flaw:
Eventually, you move past that point of needing to grasp at every shred of reinforcement that you're moving in the right direction. With hard work, good strategy, time, and a bit of luck, you reach a place where the evidence of being on the right track is plentiful and even abundant.
That's what happened to us here at Mirasee, which led to the soul searching and conclusions that follow.
Because once we got on our way, evidence of being on the right track became very easy to find:
We're connected with and respected by nearly every thought leader in the industry.

Our vision is shared by an audience of nearly 100,000 subscribers and followers.

I work with 20 of the most brilliant and dedicated minds and hearts in our space.

I have a shoebox overflowing with thank you cards from

our students

.

Our programs and training programs are best-in-class, and they keep getting better.

We attract students who resonate with our vision of business that builds a better world.

I've published

multiple

best-selling

books

(with a combined 562 5-star reviews, and counting).

We work hard to innovate new ways of doing things and making a difference.

Our community has even convened in-person at our LIFT event in May 2017.
Oh, and for good measure, here's the giant number that everybody seems to care about and be dazzled by:
From January 1, 2014 until this post is published, we've generated exactly $10,512,474 in revenues.
Not too shabby, right?
By these measures, Mirasee seems to be doing great.
Now keep in mind, some of these measures (especially the ones with big numbers attached) are vanity metrics that hardly matter at all.
But even the measures that do matter are woefully incomplete, because they're meaningless without context.
Measuring Up Against the Ghost of Yesteryear
A lot can change in seven years.
When I started Firepole Marketing (which is now called Mirasee) in late 2010, I had just met the woman who would become my wife, and we spent the summer training for a marathon.
My previous startup company had imploded, leaving me with over a quarter of a million dollars in debt.
Not only that, but I had followed a career path that can only be described as unorthodox, leaving me without so much as a high school diploma.
In short, back then my #1 priority was to make enough money to service my debt, buy groceries, and pay the rent for my downtown studio apartment.
Yes, I cared about making an impact and doing things differently. I cared deeply about education.
But let's be honest: my top priority was to make some money!
And it wasn't easy. When I started this business, I had nothing to build on. No website traffic, no subscribers, no audience, no relationships with anyone in the industry, and no experience with any sort of online marketing.
Today, things look different.
I'm married, I have two kids, and I'm not nearly in the same shape I used to be. The hair on my head is thinning. The rent of my studio apartment has been replaced by a mortgage for my house in the suburbs. Amounts of money that would have seemed enormous to me back then seem paltry now (who knew kids were so expensive?!).
And the business has grown. Today we're blessed with a massive following and are recognized leaders in our space.
And yet, when I measure results in the present, I can't help but weigh it against the struggles of the past. Whether it's millions in revenues, a hundred thousand subscribers, hundreds of 5-star reviews, or dozens of employees…
…they all sound very impressive compared to the big fat ZERO where I started!
But I'm not at zero anymore, and I haven't been for a long time…
Bettering Your (Meaningful) Best: The Only Measure That Matters
So if we shouldn't measure against our humble beginnings…
…to what should we compare ourselves, to know if we're on track?
We have no choice but to look to ourselves. After all, the alternative is the discouragement and frustration of comparing our realities to other people's Facebook profiles and our beginnings to others' middles.
But the selves we should compare ourselves to are our very best selves.
The values we upheld in our greatest moments.
The work we did at our very best.
The impact we made that we are most proud of.
Those are the comparisons that provide real insight.
And when I look deeply and honestly at these measures and think about what really matters… that's when I know something has gone terribly, horribly wrong.
"The selves we should compare ourselves to are our very best selves."

Tweet Me
Mirasee Then vs. Mirasee Now
The insidious thing about slippery slopes is that they're usually so gradual, you don't realize you're slipping until you're far off the path.
But zoom the lens out a bit and you see that, as subtle as the changes may have been along the way, things have changed a lot!
Compare Mirasee  of a few years ago (Firepole Marketing, as we were called then) with Mirasee today:
There used to be a lot more of me.

Back in the day, posts like the one you're reading right now were commonplace on the blog. I used to write about

what was bugging me on a given day

,

what I believed

,

what I thought people needed to know

,

my own personal journey

, and

big milestones in my

l

ife

.

I also used to teach a lot more, personally. Some of the most popular content on our blog is stuff I wrote years ago, about

audience building

,

guest posting

,

effective writing

, and

business in general

.

There used to be a lot more of the team and our personalities.

We shared a lot more back then about

the personalities on the team

,

new

additions

, and

sad farewells

.

We used to be much more open and transparent. We debriefed launches (

the good

,

the bad

, and

the ugly

), and brought our audience

behind the scenes on our most exciting projects

.

We took more risks, innovated, and tried more things.

We

ran scavenger hunts

,

put on free bootcamps

, and

tried new things we were inspired to try

.
And besides all that, I was much more personally connected to our audience. I answered every email myself and knew many of our audience members by name.
Now, just to be clear, it's not like we've turned a full 180; we still do some of this. Just not nearly as much or as intensely as we used to.
Not by a long shot.
And does it matter? Is any of this even noticeable to anyone but me?
The Power of Connection in Cold, Hard Numbers
You bet it is.
A couple of weeks ago, we ran an epic, landmark survey of our audience to get a sense of how we're doing—what's working well and what we can do better.
Since all this was on my mind, I slipped in a few questions to help us get a sense of whether this was just my gut yearning for the good old days or something more.
The data came back, cold and stark, in the answers to these three questions:
"Are you a Mirasee student?" (i.e., have they invested in one or more of our courses?)

"Compared to other experts and companies that you follow, where does Mirasee rank?" (i.e., do they trust us over other voices in the industry?)

"How likely are you to recommend Mirasee's training programs to a friend or colleague?"
When you compare the answers of survey respondents who've known us since those good old days with the answers of respondents who just came to know us this year, the contrast is impossible to miss: those who knew us back in the day were dramatically more likely to invest in our programs, trust us over others in the industry, and recommend us to their peers.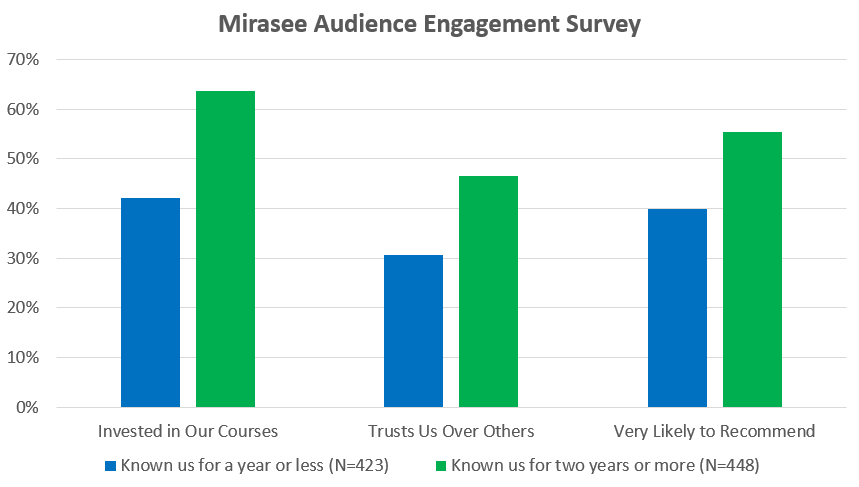 Clearly, this "magic of Mirasee" is more than just my personal nostalgia.
The magic matters.
So why has it gone away?
You Don't Know What You've Got 'Til It's Gone
Some changes were strategic—at least, that's what we intended them to be.
We've worked hard to raise the bar on everything we produced and to improve (even guarantee) results for our students. But any decision comes with trade-offs, and some of what got pushed off are the exact things I mentioned earlier.
Other changes were a simple matter of logistics.
After all, it's easier to be connected to 10,000 people than it is to 100,000. As our team grew and my role shifted from frontman entrepreneur to coordinating CEO, some of my old patterns were assigned to members of my team. Others just fell by the wayside. Too much to do, too little time.
And some changes… well, they just happened.
We never planned to stop sharing the behind-the-scenes picture of what we were doing, for example. Neither did we plan for me to stop writing for the blog. Both initiatives simply fell between the cracks.
The magic had always been there, so we took it for granted. We didn't realize just how valuable, special, or precious it was, so we didn't make the effort it took to preserve it.
That's a part of the story. But as I reflect, I realize there's more.
The more and deeper I looked, the clearer it became that only one person was responsible.
Me.
How an Energetic Entrepreneur Became a Cynical CEO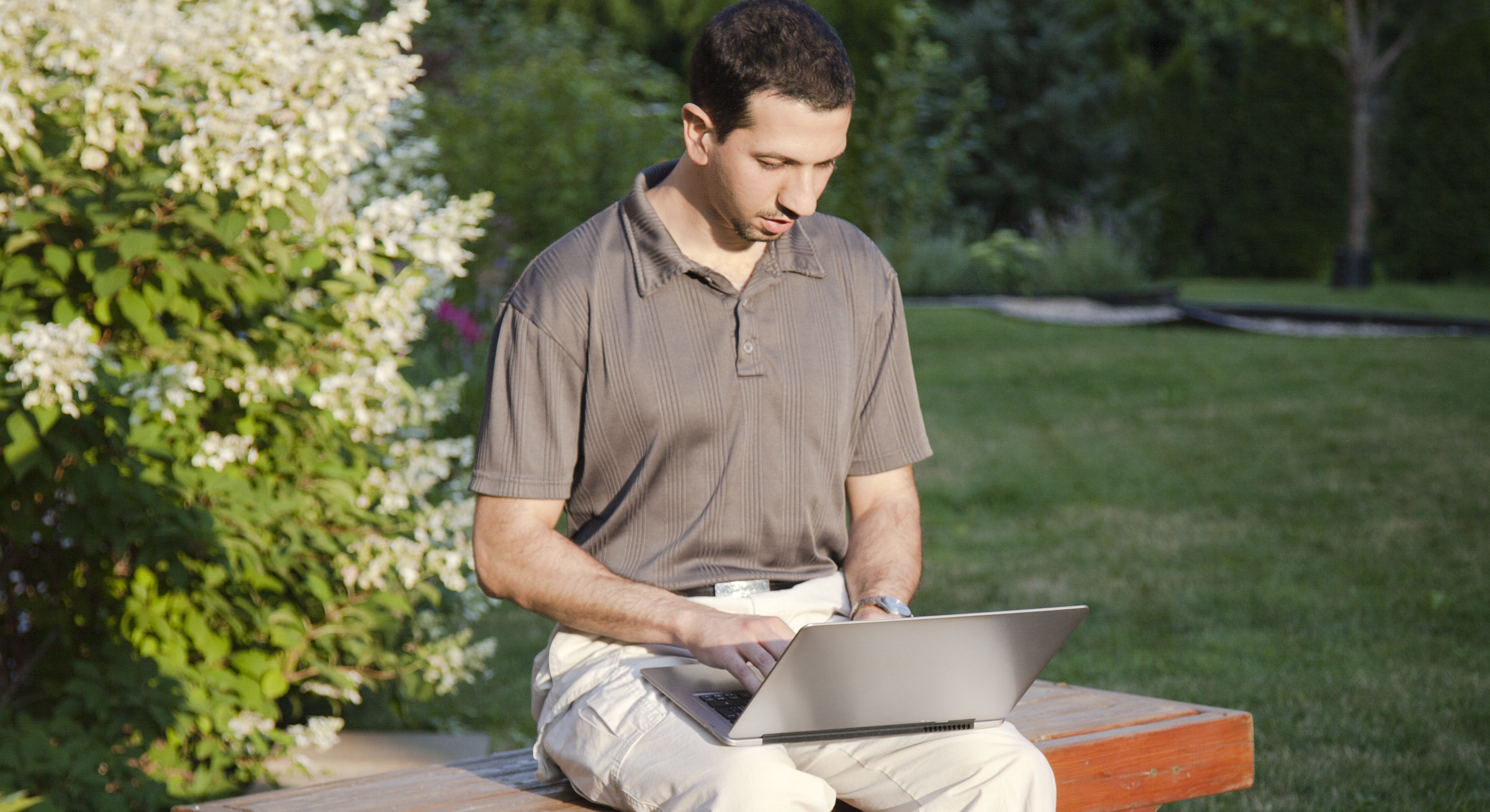 It's not just our efforts that had drifted off course.
It was also my personal energy and attention.
Because let's be honest. On a deep level, I always knew all this was important. I've felt it in my bones, talked about it in countless interviews, and credited it for our incredible success.
But leaning into that sort of magic takes an optimism, enthusiasm, and buoyancy of spirit about the work you do and the people for whom you do it.
That bright-eyed outlook can be difficult to maintain in the face of seven years of hard reality.
I've said frequently and publicly how wonderful this magical adventure has been for me and how grateful I am to be a part of it.
That's the truth… but not the whole truth.
The whole truth is that some parts of the journey have been difficult and painful, even heartbreaking.
I love and respect the people I work with, and I'm proud of their commitment, dedication, and talents.
But some have hurt me deeply, like the ones I mentored through the beginning of their careers… who left without so much as a perfunctory thank you.
Or the one for whom I went out on a limb to help through a difficult personal situation… who repaid me by stealing $20,000 from the company's bank accounts and disappearing into the night.
I hold my colleagues and partners in the highest esteem and count many as personal friends. But not the ones whose business practices turned out to be shady, who broke promises, who lied about what they could deliver, whose caring and values were all pretense and no substance, and whose bad actions ultimately damaged my reputation and credibility.
And I have nothing but appreciation and admiration for our students' aspirations and dedication to bettering themselves so they can better the world. I enjoy my interactions with them… except for the ones who never follow through on their commitments, who blame me and my team for their shortcomings, and who go so far as to heap insults, abuse, and even slander on us for our attempts to help them.
Now, to be fair, this sort of thing is a given when dealing with several dozen employees, hundreds of partners, thousands of students, or a hundred thousand audience members. Every so often Murphy's Law and the Law of Large Numbers simply converge. And, to be fair, these experiences are statistical rarities for us.
But as an audience and business grow, so too does a tiny percentage of it. In raw numbers, the volume only increased.
Nor is it just a matter of volume.
"In some ways, the role of CEO is like that of a high-school principal."

Tweet Me
In some ways, the role of CEO is like that of a high-school principal. The kids who get called into your office are almost never the good ones who love you and make you proud!
The raw numbers grew, as did my relative exposure to them as against all the good people we work with and serve. Now, I still love and respect the people I work with, hold my colleagues and partners in the highest esteem, and have nothing but appreciation for our students…
…and at the same time, slowly but surely, all the bad parts of the journey began to grate on me—especially over the last two years, which I experienced through a sleep-deprived haze, courtesy of my young children.
The Painful Challenge of Great Expectations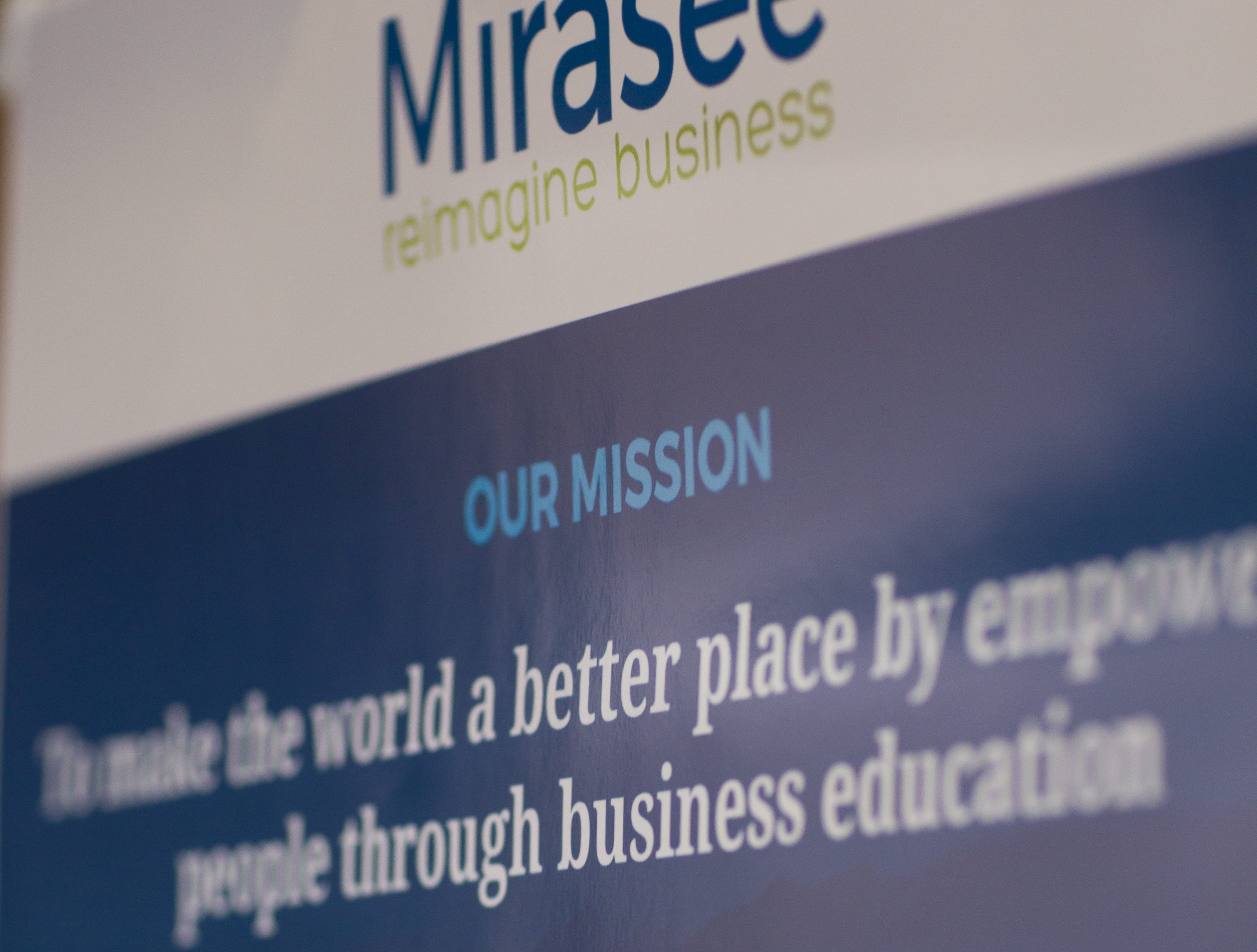 Early in this journey, in a moment of sore disappointment, my wife suggested that perhaps I expected too much of people.
I remember my answer clearly:
"If you have high expectations of people, you might often be disappointed. But sometimes they'll surprise you and meet, or even exceed those expectations. That's so much better than keeping your expectations low and having them met every time."
Yet lately, my habit has been to expect a lot less. And of course, my expectations are met every time.
So which of these is wisdom?
Could it be the development of better insight and judgment, combined with the preservation of optimism and beliefs that make them worthwhile?
That's as good a working definition as any, and it underscores how far I still have to go to be the CEO and leader (not to mention husband and father) I aspire to be.
Oh, and just to be clear, if it sounds like I'm being unfairly harsh on myself, I'm not. I know that, compared to a lot of people, I'm doing just fine. Compared to a lot of businesses, Mirasee is an example to be followed.
But those comparisons don't matter, do they?
The only comparison that matters is the one against the best version of ourselves.
"The only comparison that matters is against the best version of ourselves."

Tweet Me
As author and business consultant Nicole Dean challenges us to answer: "What would awesome you do?"
And on that measure, both I and Mirasee can—and must—do better.
3 Reasons Why….
After reading all this (assuming you're still with me!), your head might be swimming with questions.
And foremost in your mind is a simple one: "Why?"
Why are you sharing this with us, Danny?
What do you hope to accomplish?
What is your goal?
I can think of three reasons…
…and the first one is about ME.
I needed to think through all this and say it out loud (as it were) to affirm that I still care about all the things that once drove me.
Because jaded and cynical as I may sometimes be, I do still care.
The most meaningful moments of my professional life are the ones in which I learn about the impact and success of my students. I still believe wholeheartedly in the power of business education to change our world and in the power and romance of entrepreneurship—so much so that this simple video, which I've seen dozens of times, still brings a tear to my eye.
The second reason is about YOU.
If you've been part of our tribe since way back when, I want you to know how much I appreciate your sticking with us, and how committed I am to bringing back the connection we had in those good old days.
If you're relatively new to our world, I thank you for your leap of faith and vote of confidence, and I want you to know that, while things are pretty decent now, I'm committed to make things a whole lot better.
And if you've ever had a dream you drifted away from, know that it happens to the best of us (even though we don't always advertise the fact!). And I believe any path you can veer away from can be returned to.
Finally, the third reason is about US.
Because from the beginning, what made Mirasee special wasn't me or any other individual person.
Rather, it was those magical connections between people.
It was that magic of being in it together, in pursuit of and service to the better world we all know is there for us to create… just so long as we're brave, bold, and hopeful enough to keep reaching for it.
I was in a bit of a haze for a while, but I'm back to being hopeful and reaching.
And I hope reaching is something we can do together.