How To Be Persuasive? Advanced Tips from a 4 Year Old and a Girl Scout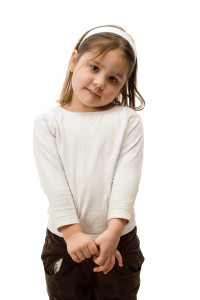 Isn't it amazing what you can learn from children?
I have a quick story I'd like to share with you:
The little one and I were out and about the other day. I needed to pick up a gift for my niece and the 4 year old wanted to come with.
I knew why he really wanted to come.
I said to him "Now buddy, you know that this is a shopping trip for your cousin's birthday and not you right?" He replied…
"I know, I just want to pick out something cool for her and don't need any more toys."
Here we are at the store and of course, everything he sees is cool and has to have. I reminded him of our mission and we got back on track.
We finally found the "perfect toy" for my niece. Then he simply said…
"Since we're here, how about I just get one toy." I replied – "I thought you didn't need any more toys?"
He got really excited then shouted:
"I know, but this is really cool because…"
Then he went on to name all the things he saw on the box. I was ready to leave (after I pretended not to give in a little longer) and then he asked…
"Why can't I just get this?"
Before I can answer again, he then said "How about this deal…"
He went on to name some deals that sounded good to him. He smiled, told me all the things him and I would have fun doing with this new amazing toy – and then he asked one final question…
"What do I have to do to get just this one toy today?"
The Magic Question, You See
He didn't realize it, but he actually already knows the "master persuasion secrets". What are they?
He showed genuine enthusiasm for the toy and having it. It wasn't fake enthusiasm, it was 100% real. He had true passion and was excited for this toy.
He built the connection because he included us playing together. We obviously had a rapport already, so he built on that.
He talked about all the things I'm going to be doing with this toy when we're playing together.
If I was speaking to a prospect or writing a sales letter, then this is what we call in copywriting, "future pacing". What is future pacing?
You're simply describing a scene in the future where your prospect has already bought from you. The prospect is enjoying the benefits of having and using your product or service.
My little one also wrapped it up and got down to the point by asking… what is it really going to take to make this toy all his today?
Showing genuine enthusiasm, building a connection, getting someone to imagine using your product or service, asking the right questions, getting the answers and using that info to your advantage.
This all benefits you and your customers.
A Win/Win.
That is the True "Persuasion Secret" in Life and Business
You can try all the little ninja persuasion tricks that the "gurus" are selling, but I guarantee you using this 4 year old's lessons will out-pull those sneaky persuasion tricks any day of the week, plus…
Doing this benefits you and your customers at the same time like we talked about.
Now before you go run off to put that into action, I promised you another kids "persuasion secrets". This next one comes from a girl scout.
I know your business most likely doesn't sell door to door, but there are some goodies in this lesson.
You may want stop for a moment, go grab your favorite drink, maybe a cookie (you'll see why in a minute) pull up your chair and dive into the rest of this. Ready?
O.K. Here We Go…
You may remember… Back in the day, before Jay Leno, Johnny Carson dominated the late night tv game.
One night amongst the stars appearing on Carson's show, he decided to mix it up a little.
How?
He had a girl scout come on. Now this was no ordinary girl scout. Her name was Markita Andrews. What was so special about this little girl?
She sold the most cookies that year for her girl scout troops.
As a matter of fact, she sold so many that year that her cookies sales record has never been broken. How in the world did she do it?
She Used a Simple Framing Strategy
What do I mean? Glad you asked because I'm going to share it with you right now…
She would simply walk up to a house, knock on the door and when they would openr, she said "Would you like to make a $30,000 donation to the Girl Scouts?".
Of course, no one said yes to that but…
When they said no to the huge donation, she would ask "Then would you at least buy a box of girl scout cookies?" and almost everyone did.
Now I know this is where some of you say…"Ya Eric, she sold a lot of cookies, but who's going say no to a little girl?"
That Helped, But the Point Is…
The few bucks for a box of cookies became nothing compared to the initial request.
As I am writing this to you now, it made me think of how I actually used this strategy in a way when I was around 10.
I was in baseball and we sold raffle tickets door to door to raise money for the league.
The 1st place winner would win a 10 speed bike, some cool electronics and get to make the line-up schedule for our team. I would go door to door and tell them the amount we're trying to reach, which I believe was something like 5,000 dollars.
Then I would say…
"Would you like to help us out by reaching our goal of $5000, by buying x raffle tickets today you get a chance at winning some cool prizes also."
The $5000 seems like a lot, but a few dollars a ticket seems like a real bargain now.
I actually did sell the most raffle tickets that year as well. I guess it was almost the same thing the girl scout did.
She asked for the large amount needed and then followed up with the cookies which became a real deal.
It's amazing, my little one and a girl scout are way ahead of so many sales people already.
I'm kinda getting hungry talking about all these cookies, so let me ask you this real quick…
How can you apply these simple but profitable strategies into your business starting right now?
Any business can use these tips, so how are you going to put these into place starting today?
You think on that, take action and watch how many toys and cookies you'll be able to buy really soon.