Traffic Hits: Choose Quality over Quantity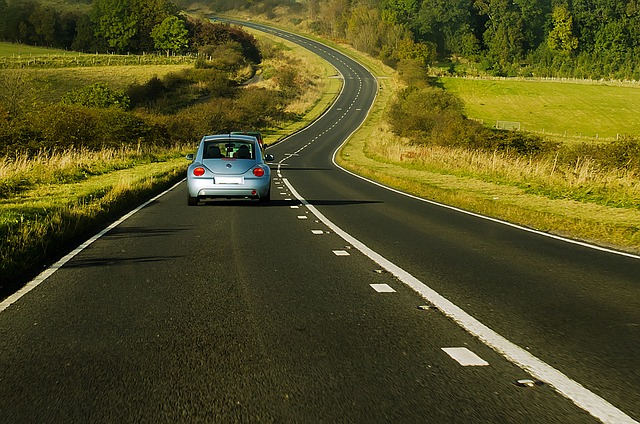 If you're a new-ish blogger like me, you probably share my not-so-secret obsession.
Traffic.
If you had never gotten into blogging you'd probably have a pretty negative impression of that word. For non-bloggers "traffic" conjures images of bumper to bumper commuters stacked up on the 101 frustrated and contemplating going all Michael Douglas on each other's asses.
But that's not what it means to you… to us.
To a blogger, traffic is an attractive… even sexy word. It's the narcotic of choice in the blogosphere.
"If only I could get some more traffic, I know my blog would be a huge hit."
We've all thought that – and we all know the frustration of watching visitors drip in one by one like a not-so-leaky faucet instead of flooding in like a big, cool wave.
Good News and Bad News
The good news is that in the early stages of building your audience, a lack of traffic doesn't necessarily indicate that you're doing something wrong.
The bad news is that lack of traffic early on is the norm. It's something you need to endure and overcome to get from square one until you get where you want to be.
Come to think of it, that's not really even bad news. That's just how things work on this planet. You put in the time, you perfect your craft, and you earn your stripes just like everyone else.
I have spent over 20 years in consumer and business to business sales from local to national levels. And you don't spend that long in such a competitive environment without learning a little bit about what makes people successful. One thing I can tell you for sure is that there is no such thing as instant success that lasts.
And I'm finding that to be just as true online as it is offline.
Dreams Of A Traffic Tsunami
When you're new to the blogging game, it's easy to get obsessed with devising some dramatic scheme that attracts massive amounts of traffic quickly. I feel like that mentality throws newer bloggers off their game and diverts attention from the things they should be doing to build a lasting, thriving audience.
What we should be doing is tightly defining our niches, relentlessly improving our writing, forming strong connections with other bloggers, seeking out educational opportunities from qualified mentors, and efficiently promoting our work.
I'm not suggesting you should ignore traffic generation. Not at all. But I am suggesting that you adopt a different attitude toward it.
The experts would tell you that when you define your target audience, you should hone it down to such minute detail that you can actually picture a single individual who represents your audience.
I decided early on to take a very focused approach to building my audience. Sure I want a lot of traffic hits. Who doesn't?
But I've learned enough at this point to know that what I really want is a lot of quality traffic. In fact, I get excited about even a moderate amount of quality traffic.
What Does Quality Traffic Look Like?
Recently, I began guest posting on other sites. My blog is about bringing real world business strategies online. I write about things like market creation, content marketing, selling with integrity, and the human side of business. So when I began to guest post, I targeted blogs whose audiences I felt would relate to those topics.
I was very fortunate to have landed some posts on some great sites that fit wonderfully with my topics: Write To Done (writing and content creation), Goodlife Zen (the human side and productivity) and here on Mirasee (marketing and sales).
All three guest posts brought a spike in traffic hits and new subscribers. All three posts also increased my traffic baseline. That means that after the spike went away, my average daily visits got a little higher – and stayed there.
Mirasee Data
While all three posts performed very well, the clearest illustration of quality traffic, coincidentally, came from you all here at Mirasee. Let's take a look.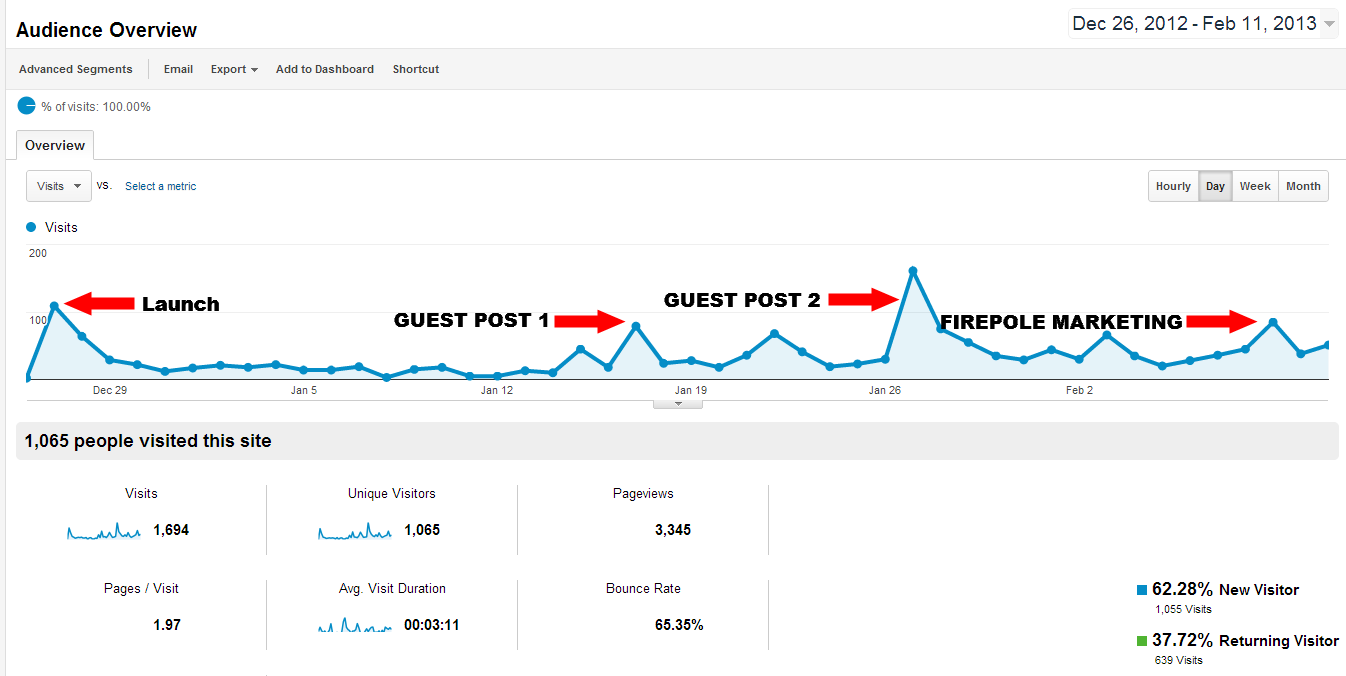 Ok. So the raw numbers are unimpressive at first blush. But you want the real story, right? This is it. The traffic looks a lot like what you might expect from a blog that started less than two months before this screen shot was taken.
There is an interesting lesson imbedded in these numbers.
Quality vs. Quantity
I decided to look at more than bulk traffic or numbers of subscribers when evaluating the quality of the traffic I received from these three guest posts. I wanted to know how many of my new visitors not only arrived on my landing page – but stayed and looked around a while.
Guest Post 1: Write To Done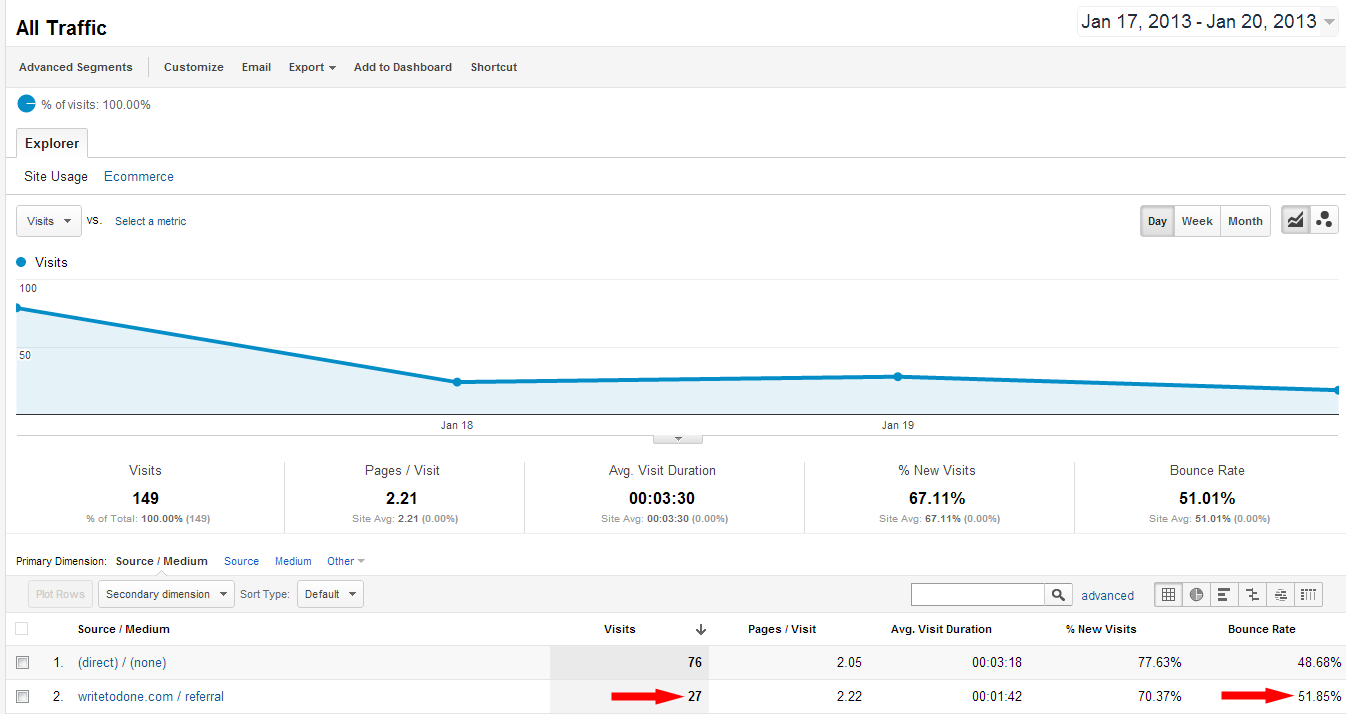 You might argue that 27 hits from my Write To Done post is nothing to do cartwheels over. I disagree.
First of all, many of those "direct" visits can be contributed to this post. Direct traffic may include book marks and such – but it also includes traffic that Google isn't able to attribute a referral source to. So if your direct traffic is normally 50 and you see it shoot up to 76 after a guest post like in this example, it's likely the guest post had something to do with it.
Of those 27 visitors, 24 subscribed to my email list. The post also received 22 Google +1's, 216 tweets, 88 likes, 59 stumbles, and 83 comments.
Possibly the most obvious indicator of the quality of the traffic is the bounce rate. Put simply, the bounce rate is the percentage of visitors who came to my blog, looked at one page, and left.
What's a good bounce rate? That depends who you ask. Most experts contend that 60% to 70% is a healthy range – and for the purposes of this post, we'll stick with that.
My bounce rate for visitors from this post was about 52%. That's really good by any standard. So while this post didn't generate huge numbers of visits, those who came to my blog from this post stayed for a while, subscribed, and still continue to come read my new content. I put that in the quality traffic category.
Guest Post 2: Goodlife Zen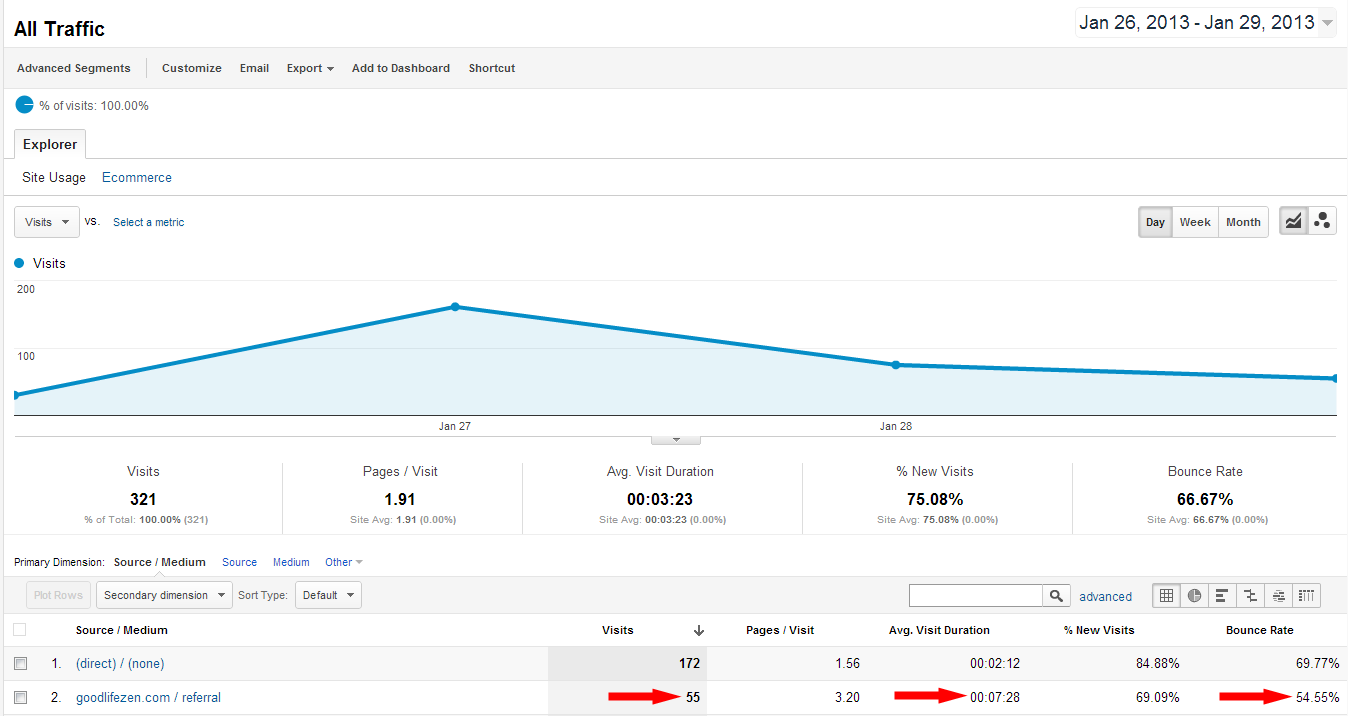 My Goodlife Zen post yielded 55 visits and 172 direct visits. I can confidently say that my one month old blog (at the time) wasn't routinely getting that type of direct traffic prior to this guest post.
Of the 55 visitors I can definitely attribute to this guest post, 41 subscribed, I received 28 comments, 32 tweets, 24 likes, and 112 Stumbles. The bounce rate for this post was again healthy – right about 55%. A high percentage of those people who visited and stuck around for a while. Many subscribed. Quality traffic!
Guest Post 3: Mirasee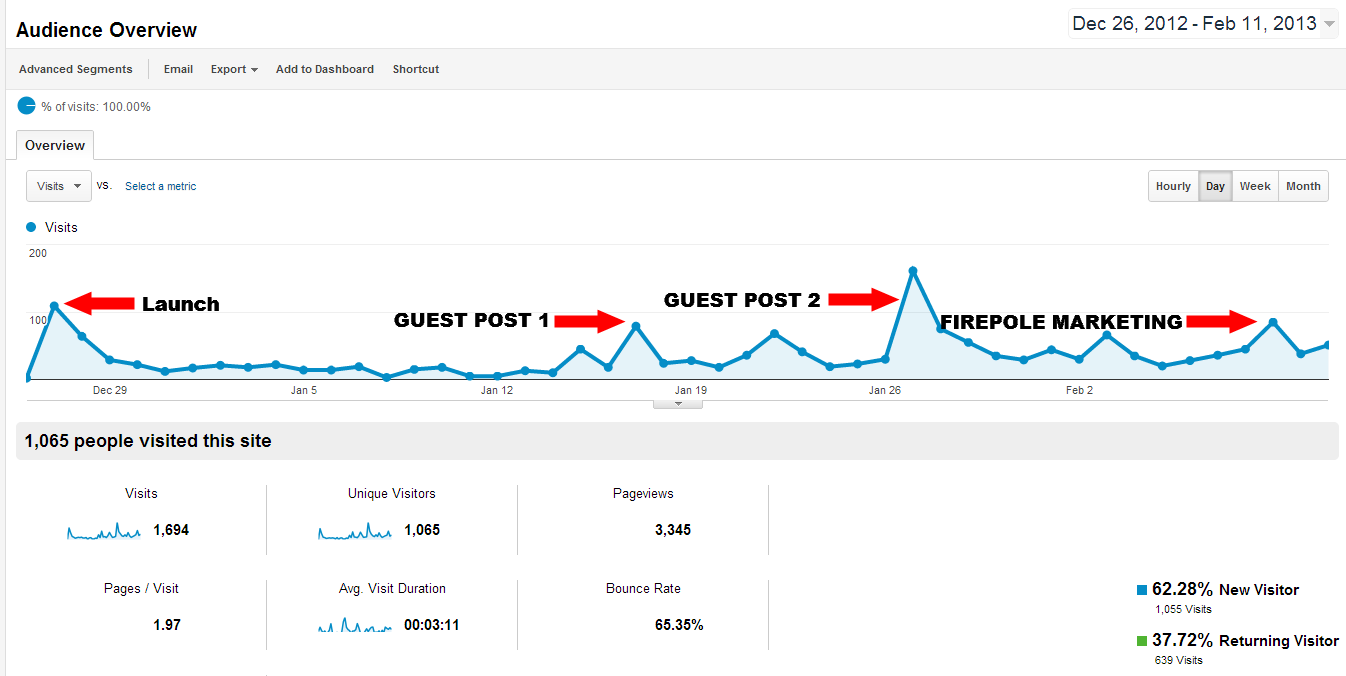 I said earlier that I think the highest quality traffic actually came from my Mirasee post. You might say, "But that post isn't even the biggest spike!" You're right. It's not, but let me show you why I believe it is high quality traffic.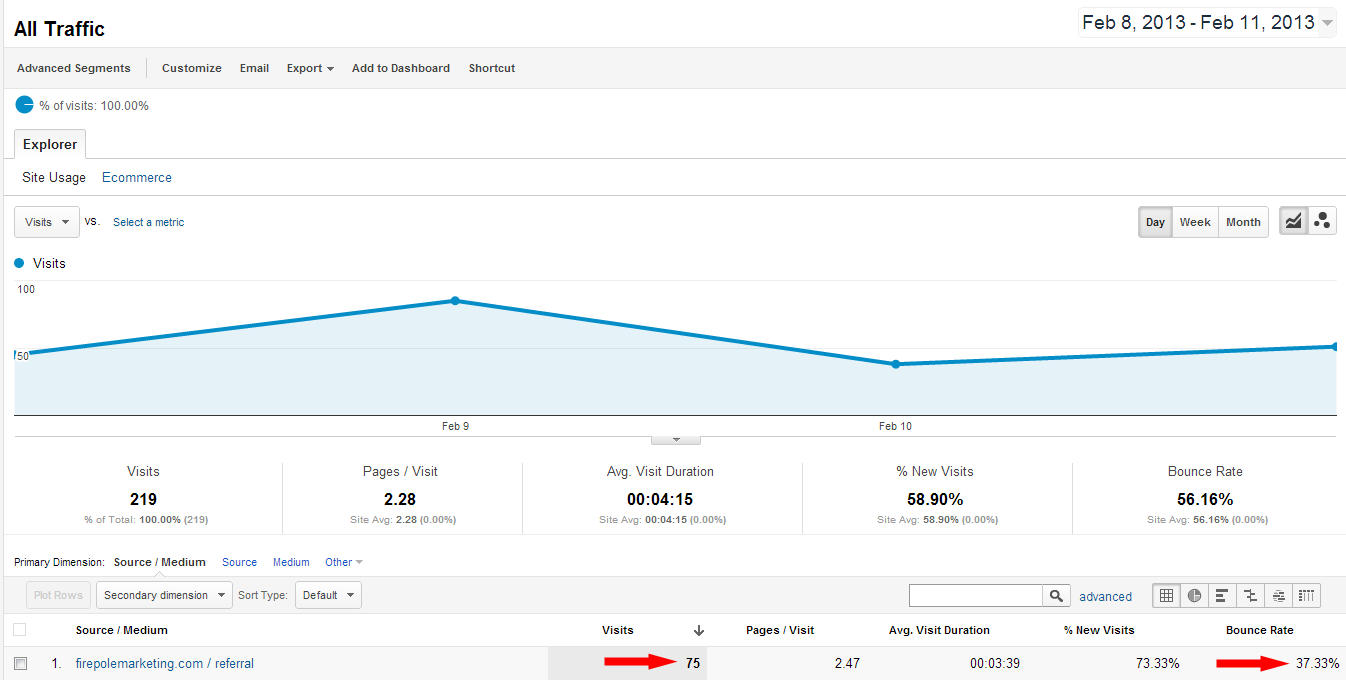 Over four days, I received 75 visits from the post. The post also yielded 44 comments, 66 tweets, 33 Facebook shares, 10 LinkedIn shares, 16 Google +1's, and 24 subscribers.
Good but not great, right? Not so fast.
Check out the bounce rate from Mirasee visitors. 37%!!!
That's about twice as good as what the experts would call a healthy bounce rate. It seems Mirasee readers liked what they saw at my site.
But that's not even the whole story.
Email Engagement
On my blog, I have a policy of sending a personal email to each new subscriber. No autoresponders or mail services involved. I actually write to each person thanking them for subscribing and asking them for their feedback on the site.
Normally, maybe one of every 20 new subscribers will write back. With this Mirasee post, almost half replied back to me – and some of those email conversations continued for weeks after the post. It was an absolute blast!
That's the kind of traffic hit I want every single day: quality traffic.
How To Generate Quality Traffic
So how did I engineer this influx of quality traffic? It was really pretty simple. I have no secrets, and it's nothing you haven't heard before.
1: Target quality blogs relevant to your topic to guest post for
The three guest posts mentioned in this post were all on blogs whose topics either overlapped with or were very similar to my topics.
2: Write quality content
There is no substitute for quality. When you do get the opportunity to
pitch a guest post to a relevant, popular bog – make it count. It should be your best work. And when your guest post visitors arrive on your site – make sure there's high quality content waiting for them there, too.
3: Personally engage your new visitors
When you get new visitors from a guest post, touch each and every one of them personally. Odds are they visit tons of different blogs. What exactly is it about yours that will stand out? (The answer should be you.) Reach out, get to know them, and ask for their feedback. Engaged readers interact – and share!
That's it. So if you're in the same boat as I am (building your audience in the early stages and trying to figure out how to get traffic to your blog) forget about those crazy schemes to attract hoards of people. Focus on attracting the right people and create quality traffic.
So What About You?

Share your quality and quantity traffic stories us.
Let's talk about it in the comments.