5 Social Media Tactics That Bring Results (And The Best Tools To Use)
Disha Dinesh
Do you spend hours putting together a blog post only to see it die without any activity on social media?
Are you a small team struggling to make an impact on the large landscape that is social media?
Do you barely see any buzz, leads, or sales to justify the effort you invest in your content?
It's true, content marketing—particularly social media marketing—can be slow to produce results.
You can waste a lot of time in trial and error. Why not do what's already working, instead?
The following are five social media marketing tactics that are working for businesses, and how you, too, can implement them using free or almost-free tools.
1. Be Consistent Or Die
Launching your marketing efforts on social media is simple. It takes little to create a social media account and even less to populate it with content.
But what happens next is more important. If you can't sustain your presence by regularly posting content, then that social media account may as well be non–existent.
Experts say consistent posting creates a huge impact on social media. For instance, consider the example of State Bicycle Company that increased its followers by about 100 times in three years by consistently posting engaging content.
Sometimes they post a preview of a bicycle with a simple question in the description, and it always gets plenty of engagement and exposure.
Try it: Think of a question you could ask your audience, enhance the question with a relevant image, and post it on your social media page.
Balance created with curated content to achieve the optimum frequency of posting. But never go overboard and spam; that can tarnish your brand identity.
Tools to Use:
Apps like DrumUp help source the latest content from top–notch publications on a daily basis. Find and share content with unique value even when you aren't the one creating it. Serving the latest and greatest content in one place is convenient and useful to your audience.
You can also create digital collections and share them with your audience using apps like Feedly.
2. Post Only Content You're Truly Proud Of
Have you optimized your business's appearance on social media? Let's look at some crucial elements of your social media presence: profile image, cover picture, and "about" descriptions.
Each of those elements must:
Appear neat, clear, and professional
Have the necessary information about your company and the products/services you offer
Have a unique, visually appealing and likable identity
Your social media content needs to connect with visitors. You can do that only by understanding your audience well.
Once you know your audience, the next step is to create text and visuals that connect with them.
5 Tips to Create Content Your Audience will Love:
Monitor relevant keywords to get interesting content ideas. For instance, monitor "[your brand/product] wish," or "[your brand/product] help" to discover problems you could solve with content.
Watch your competitors and other companies targeting the same audience as you for content inspiration.
Study heavily shared posts in your niche to discover what worked.
Browse through blog post comments, FAQs, and discussion communities like Quora or Inbound.org to find interesting questions to answer in a blog post.
Create a roundup post for your audience. For instance, identify the best posts in your niche this week and feature them in a write–up with your notes and comments.
Tools To use:
Two tools that can help: a visual editor with pre–made templates like Canva, and a headline analyzer like the Advanced Marketing Institute's Emotional Headline Analyzer.
Remember, when you post on social media only two fields are visible to your audience: the title and the lead image.
So make them count, because according to this study, 59% of all links on social media are never clicked on.
Think about it: text is a human invention, while visual processing is what the human brain naturally developed to do.
Studies have found that people process images 60,000 times quicker than they do text. One study, in particular, found that articles with visuals get 94% more views than those without.
So if you want to catch someone's attention, ensure that you have a relevant and captivating image.
3. There's No Faking Empathy and Generosity
The most important requirement that a marketer needs to have is empathy.
Unless you can view things from the standpoint of your potential buyer, you won't be well–positioned to design a content strategy that works.
The single most important use for content is for a giveaway. You put together a piece that's valuable to your audience and then give it away for free. The more generous you are, the better and more popular your piece will be.
"It takes courage to give away something of value without expectation of immediate return," Jay Baer, business and social media strategist, has said. "The best content is content so useful that people would pay for it if you asked them to do so."
Create content that helps your readers overcome a roadblock, learn a new skill, or improve the way they're doing something, and they will thank you with their loyalty.
To note: Your content must be unique. It could include an observation, inference, or understanding you have and choose to share with your social media followers. Share your experience with your followers, and show them that you can be trusted and relied upon.
For example, when you visit Bill Gates' Twitter page and read his profile, you are convinced that you can expect value by following him.
Like Bill Gates, you can tell your audience what they can expect from you, and work at delivering that to them.
4. Amplify Your Social Media Reach with Your Personal and Professional Networks
You can easily increase your social reach by getting your colleagues, customers, and partners involved.
The most influential sources of content on social media are friends and family. A Nielsen study found that "word-of-mouth formats, such as recommendations from family and friends and consumer opinions posted online, prompted the highest levels of action."
One way to leverage this is by enabling your employees, partners, and happy customers to be active and advocate for you on social media. This can increase your reach and impact.
About 80% of the businesses in this study claimed that employee presence on social media improved sales. Your employees already work with you on common goals, why not include them in your social media marketing efforts as well?
This tactic is especially powerful for medium to large organizations with hundreds or thousands of employees. If each of them shares with their networks, not only do you reach their social connections, but you also gain a word-of-mouth recommendation.
Swimwear brand BikiniLuxe, for example, implemented an employee advocacy program primarily to increase brand awareness. Right from recruitment, the brand insists on brand advocacy as an integral part of each employee's job description.
Simply by encouraging employees to post pictures wearing their products on social media and requesting them to get friends involved, the brand gained over 150,000 followers.
Here's an Instagram post by the photographer who shot pictures for the company and turned it into social media content. Note that she's wearing the company's product.
The more relatable you make your promotional social media posts, the more impact they're likely to have.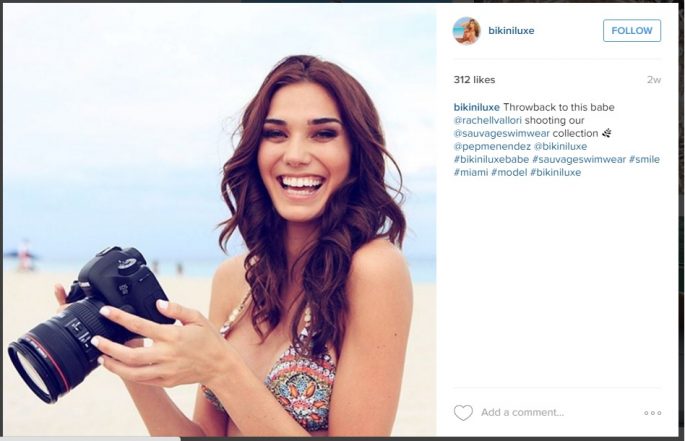 According to CEO Candice Galek the key is to make brand advocates feel special and to not let the advocate's number of followers fool you. An active advocate with 3,000 niche followers is more valuable than an inactive one with a million followers.
Why? Because what matters is relevant followers, people who belong to your target group. If your employees, partners, or friends are connected with these people on social media, you can reach them by running an advocacy or ambassador program.
5.  Personal Engagement Trumps Mass Targeting
Content is generally written for many to read, creating a distance between the company and potential/current clients. While content is an important tactic, it shouldn't be the only one you use. You need to extend your marketing to include networking on social media and one–on–one interaction.
What are the "networking events" on social media?
These could be Twitter chats, Blabs, Facebook and LinkedIn group discussions, interviews for social media posts, and comments right on your business page. You should ideally leverage all possible opportunities to network on social media.
The magic ingredient that makes your content marketing work is personal engagement. If you haven't personally communicated with people, why would they follow you or share your content?
The five channels or events mentioned above correspond to highly active and specific discussions. You could simply set Google Alerts or use a monitor app like Mention to track and participate in all the relevant conversations.
Follow these steps to set up a Google Alert:
Decide on the keywords you want to monitor, such as your brand, industry, and everything that Google's keyword planner suggests. To get suggestions from Google's keyword planner, you can enter a keyword or keyword phrase and click on the "more like this" option. Note down or copy the keywords that make sense into a text document.
Make interesting combinations (like the ones mentioned before: "[your brand]+wish" and [your brand]+help). Work backward to find these keywords. Assume that you have found an interesting conversation. What keyword is it likely to include?
For instance, a canine nutrition company could monitor "dog+birthday" and give away something to a birthday dog–an excellent way to acquire a customer and create an advocate at the same time. This tactic is also great for PR.
Go to Google Alerts and type your keywords into the field that says "Create an alert about." Click on "Show Options" to choose the sources you want to monitor (News or Blogs or Video), the geography, the frequency of reports you'd like to receive, and how many results you want included in the report (the best ones or all results). Click "Create Alert."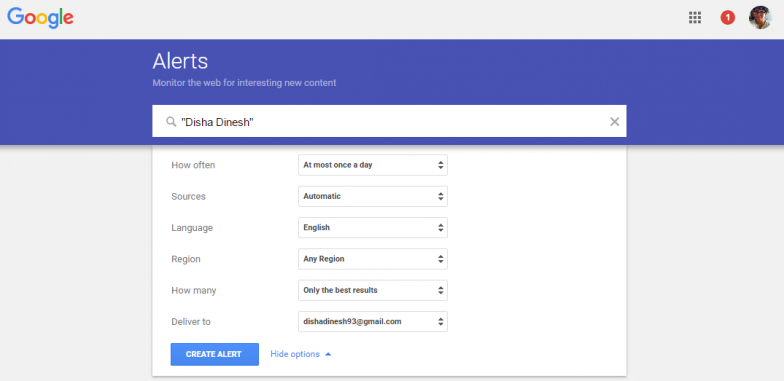 Your keyword alerts are just the beginning. Go beyond monitoring relevant keywords and build relationships with people by taking interest in their activities and opinions. And when you give something away, don't expect anything in return.
One way to do this is by monitoring the social media influencers in your market. Find opportunities to engage with them, such as by commenting on a post, suggesting a solution to their problem, or offering something relevant when they're looking for it.
One of the top digital marketers in the world, Sam Hurley, not only focuses on consistently posting useful content, but spends a good amount of time personally engaging with people over social media.
He says the trick is to always help others.
For example, a while back, Wideo.co tweeted Sam asking him a simple question. They didn't cite a reason or provide context. Busy as he is, Sam could have ignored the question and used his time for something else. But Sam took the trouble to answer the question.
The next thing he knew, his answer was featured on a post and shared on social media: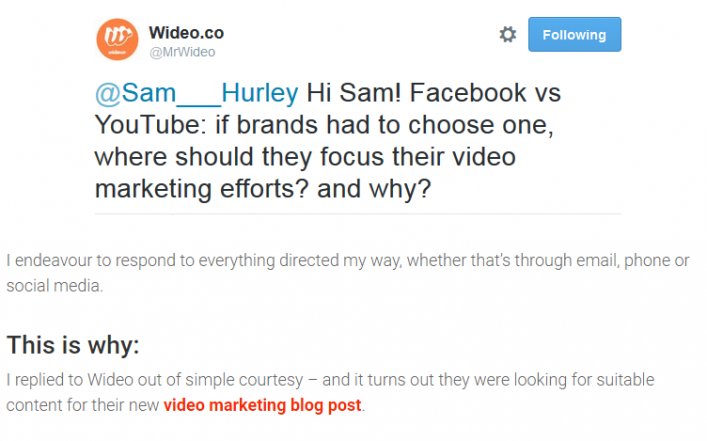 Never underestimate the power of making yourself useful. It makes you friends, an invaluable and irreplaceable element to being successful on social media.
"Giving a shit doesn't scale," says social media maven Gary Vaynerchuk. Your content strategy should make room for one–on–one interaction and support.
Successful content marketing is ultimately about building real and lasting relationships and creating a community around your brand.
If you don't, it is time to begin now. By intentionally applying each tactic discussed above in your social media marketing efforts, you will be sure to experience markedly better results.
How big a part of your marketing efforts is relationship building, empathy, and consistency in content? What areas do you want to improve on? Share your experience below.