Scaling a Blog Towards Seven Figures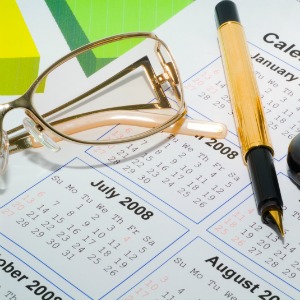 Note: This is a sequel to a post that we ran in September 2012 about how Mirasee makes money.
How often have you heard rags to riches stories about successful entrepreneurs and felt dissatisfied because of the lack of juicy details that describe their business' path to success? The assumption is that once a person hit upon something that worked, they just continued doing more of it. Eventually, they ended up with a big, profitable business with lots of employees, clients and money.
But, how did the rags to riches entrepreneur go from having a good idea and a few clients to having a solid business? In other words, how did the business scale? And more importantly, how can you apply these lessons to scale your business?
Looking Back at 2012
Last year, as I was doing a bit of clean-up of our old blog posts in preparation of our site re-launch, I stumbled upon a blog post that we had written in September 2012 where we described exactly how Mirasee made money. In that post we had this chart that depicted our different sources of revenue in 2012: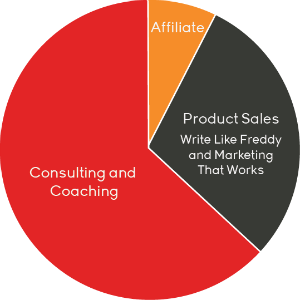 Looking at this chart and comparing to our current sources of revenue (which, as the Finance Lead, I have the joy of knowing like the back of my hand!), it was pretty evident that we had dramatically changed our business model during the course of 2013. And in the process, we tripled our revenues in one year!
Starting From Scratch: 2012 = Our First Big Break
As our regular readers will recognize, the big push in 2012 for Mirasee was building an engaged audience. During 2012, as the chart above shows, most of our revenues came from coaching and consulting clients that Danny took on while building an audience for Mirasee.
However, we did set the wheels in motion to shift our revenue model towards more product sales by focusing on building an engaged audience and relationships with key players in the industry.
The rest of 2012 followed naturally and easily from those relationships. They also led us to 2013.
2013: Focus on Products
Even with the successful launch of Write Like Freddy in 2012, product sales still only accounted for about a quarter of our 2012 revenues. A majority of our revenues came from Coaching and Consulting.
In 2013, we dramatically reduced our reliance on coaching and consulting and systematically moved away from directly trading time for money. Our product sales rose to account for about 70% of revenues.
Of course, products require tons of time and resources to put together, and student support is an ongoing part of our work. But, the relationship between our income and our hours worked is no longer so directly related.
Here's the lay of the land in 2013:
So What Changed in 2013?
1. Way more product sales!
In 2013, our big focus was to move away from coaching and consulting into product sales. Even though Danny was charging premium fees for his time, we realized that this approach wasn't scalable (there are only so many hours in a day). Moreover, we were failing to have the scale of impact we aspired to have because we were only reaching a few people who had the resources to afford it.
To remedy that, we created the Audience Business Masterclass (ABM), which is a robust 14-week program that lays out the blueprint for how to build a profitable business that is supported by a large and engaged audience. We pre-sold ABM in January 2013 and developed the training over the next 3 months. ABM sales accounted for two-thirds of our revenues in 2013.
We promoted the new program via webinars to our audience as well as through affiliate partners. Many of our affiliates were individuals with whom we had developed relationships in 2012 when writing Engagement From Scratch and promoting Write Like Freddy. Besides generating revenues, we also picked up about 10,000 subscribers over the course of 2013 from partner webinars alone.
2. Diversified our product offerings
We also launched a monthly subscription newsletter – Campaign Mastery. Each print issue is a detailed blueprint of some of Mirasee's most successful campaigns that readers can customize to launch their own campaigns. Some of these campaigns require a few hundred subscribers and some work better with a larger audience.
All of these campaigns are presented with our goals, our success, and our failures. And lots of juicy swipe copy (of course!) They are an incredibly good value for members of the club!
Besides being immensely valuable to our audience, the rationale behind this product was to bring further stability to our cashflow. As it is 6 payments of $97 each, the ABM sales follow a 6 month payment pattern . This means that when we do a big launch in January, we need to start building up more sales before June. If we don't, our revenue pipeline dries out. On the other hand, a recurring monthly subscription product like Campaign Mastery provides stable recurring cashflow.
3. Launched Services
A first for us in 2013 was launching services. These services were provided by the Mirasee team with oversight from Danny.
Some of our service offerings are related to the Audience Business Masterclass – we offer our students pretty extensive support, from looking over homework and helping our students with direction and vision for their blog to helping them with their technology challenges. These services are provided by the extended Mirasee team and charged to a client at minimal cost.
The main rationale for these services is to help people complete the ABM training and go on to having successful businesses of their own. Homework Review and Tech Support both fall into these categories, and are part of why we devote so many of our man hours to the products that we sell.
We also realized that some people want to accelerate their audience building efforts by focusing on what they do best – creating content and building relationships with people in their industry. We work more intensively with these students to help them figure out what market they should be targeting and what their value proposition should be within these markets. We also get them started with audience/followership building and set them up with a brand and a website.
The team loves getting involved in these projects, as they are specializing in their own Mirasee roles and helping other businesses with their expertise. Our clients benefit from a unique "Done-for-you" experience.
All in all, services accounted for just under 20% of our revenues in 2013. Not bad for the first year of a launch!
How Did We Engineer This Change?
We intentionally diversified and scaled as quickly as we did because we set the stage for it.
Here's how:
1. Investing in People
We steadily grew the team from just Megan and Danny till fall of 2012, to include Robyn and Amanda. Six months later, in the spring/summer of 2013 Nick, Steph, Christina and I joined the team,and Cris joined us in fall of 2013. In December 2013, we hired Sid and Felicity to help support the new cohort of Audience Business Masterclass students we were expecting in early 2014. We grew the team in advance of needing the extra bandwidth. We then leveraged the excess bandwidth to diversify into new territories and optimize our existing products and services.
Because not all good things last forever, we've also said goodbye to a few team members this year. Robyn and Nick both made the bittersweet decision to follow their passions elsewhere. Of course, we wished them the very best of luck, and the fondest of farewells.
We invested in hiring the right people, in training them and giving them opportunities to learn and to improve their performance. We also worked hard to generate loyalty and commitment by involving everyone in strategic discussions, listening to their needs and celebrating wins together (go here to learn more about our annual corporate retreat). The end result is a highly competent and engaged team of people who believe in the mission of Mirasee – helping people build their own successful businesses.
2. Experimenting
We used our healthy financial position (a result, you remember, of the successful ABM launch), to invest in growth and in experimentation of new products. We placed small bets on different projects, some of which made us a lot of money and some of which didn't. But regardless of how financially successful the projects were, we learned from all the projects.
3. Engaging our audience
Moreover, we continued to invest in increasing our subscriber base and engagement through projects like the Business Ignition Bootcamp, Scavenger Hunt and the Engagement Strategies Contest.
4. Diversifying our offerings
We diversified our product offerings by creating new products (Audience Business Masterclass and Campaign Mastery Marketing Blueprints Club, Done-For-You Business Service) and phasing out old products (Marketing That Works) to keep our products relevant to our audience.
5. Providing better experiences
In order to stay attuned to our subscribers and customers, we invested heavily in a more intimate, better subscriber/visitor experience. We re-designed Mirasee in Fall of 2013. The new site is a dramatic departure from our old one.
We added a bunch of more free content such as 9 industry-specific audience building reports that are relevant to all audience driven businesses and did a better job at organizing our old content.
The site's free membership structure also enables us to better understand our visitors and use that understanding to tailor the experience that visitors have with Mirasee.
6. Doing More With Less
We also put in place infrastructure to be able to do more with less:
a. Roles: We defined people's roles on the team better – instead of people being generalists, they evolved into taking on a specific area of expertise.
b. Introduced Trello…: Given the size of our team, it was getting difficult to keep track of what everyone was doing. To make that process easier to manage, we started using Trello.
c. …and Zendesk: We grew to over 800 ABM students to whom we promised excellent student support. With 4 people providing support, we needed something more robust than email, so we transitioned our support process to Zendesk.
d. Finances: We put in place financial planning and reporting processes to have better visibility on our profitability and runway.
e. Efficiency: We invested in optimizing processes to be more efficient and be able to do more with less.
7. Data-driven Decision Making
We invested in configuring the required Google Analytics for our site to better understand where our site visitors are coming from and what content they are engaging with.
We also made a big push to optimize our existing content for SEO to make it easier for people to find us and to attract new visitors that we haven't previously being reaching.
8. Setting stage for future
To be able to grow further, we worked to extend our cashflow runway so we could continue to invest in infrastructure, optimization and in building new products.
Where do we go from here?
In order to continue to grow and scale further, here are the priorities that we have laid out for ourselves in 2014:
Continue to rely less and less on consulting and coaching and more on product and services sales
Funnel excess cashflow to building up new sources of revenue that didn't exist in 2013
Continue to diversify our product offerings, reduce reliance on Audience Business Masterclass, look at possibly phasing it out and replacing with new product revenues
Leverage the knowledge and expertise of the team to offer more valuable services to our subscribers
Substantially grow our subscriber base through optimizing our content for SEO and reaching visitors that we are not reaching now
Leverage insights from Analytics to further improve site experience and conversions and keep more of the new visitors we are getting
The Importance of Being Intentional
As you might have noticed, we intentionally moved away from relying on consulting to diversifying into products and services. When we could afford it, we placed bets on different product offerings and tested them out in the market. Once something was working, we optimized our infrastructure to get the most out of it!
In summary, our experience with scaling an audience business suggests the following:
1. Build a base (subscribers, brand, profile)
2. Develop products with subscribers
3. Once it is working:
a. Optimize the sale and delivery of these products
b. Invest in people, processes and technology infrastructure
c. Start building and iterating future products and diversify
What strategies have you used or are currently using to scale your business?